Woke up at 8am as there weren't anything planned for this day, only activity was to get on the plane back to Singapore. There was't breakfast included and thus we had to rely on the Tim Tam that we purchased some days back. Prepared and checked out at 930am where we were given the tickets to the shuttle and paid the full $24aud for 2 persons return shuttle trip. Boarded the Sydney Super Shuttle to the international airport at 940am.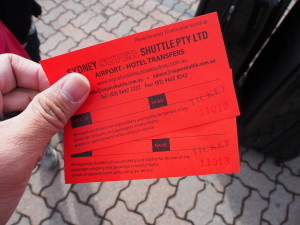 The trip to the airport was real quick about 10 mins max and we went direct to the check in counter of Scoot. the line was pretty long and there were only 3 active counters handling the crowd. It only improved after 1015am where 3 more counters opened up for check in. Concerned with the really long queue that we faced since the last Sydney trip, we went through departures only to find that there wasn't a queue at the immigration at all, I wondered what happened to see this remarkable improvement. Going through the customs were was a little bit longer but still it was fast.
Did a little shopping at duty free and bought some standard take home gifts of nougats and had lunch at the same Itacho restaurant that we did the previous trip. Was thinking of getting some Aussie stuff like Merino jackets but they were way off budget.
Boarding was quick although this was a huge 777 but the plane was eventually delayed for 1 hour by some passenger who was either very late or didn't board at all, but I wasn't aware of what really happened as I have fallen asleep. Long flight home was smooth overall.
This trip was planned as the final long haul before the arrival of our little one. Figured that it would not be easy to travel again, earliest being 2015, this was also planned with more relaxation in mind since it was not as easy for my preggy wife to move about. Overall we enjoyed this trip nonetheless.