Today we checked out the Cape Heritage Hotel for our onward journey to Hermanus. We spoke to the recept on leaving the bulk of our luggage at the hotel since we were coming back a few days later and they agreed! This would have helped us save some costs in terms of fuel since we would be carrying less load on this mini road trip.
We went to the Skinny Legs cafe for breakfast which was a few streets from our hotel. It was a modern design cafe with pretty good food!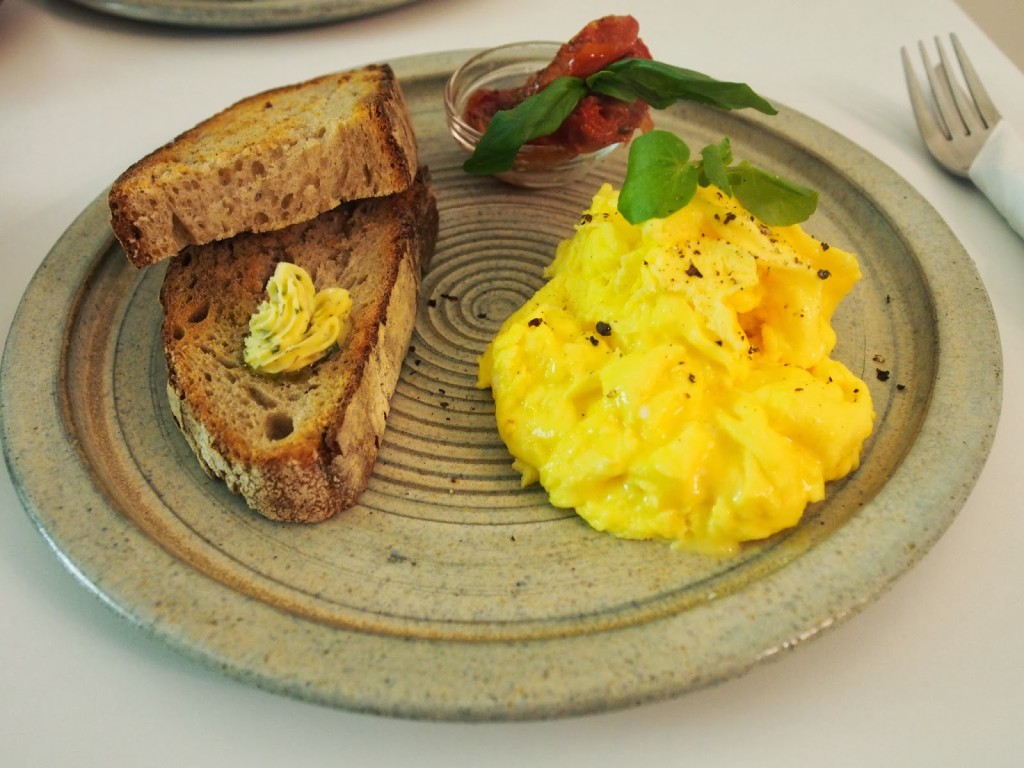 After breakfast, we packed a sandwich each for our Table mountain climb from the same cafe and went back to the hotel to wait for our pickup. The company "Around about Cars" sent a vehicle to picked us up to the company which was just around the corner. Gone through the usual procedures which was done pretty quickly, partly because there weren't many people there and we were soon off with our Nissan Latio equivalent with a GPS. 1st stop was Table Mountain.
Reached the climb entrance where there was a parking lot for a few cars. We stayed in the car for some 15 mins to observe the weather, hoping that it would really change for the better. But the cloud did not dissipate for as long as we waited so we decided to take a risk and tried climbing. After all, there were just steps and should not be too difficult.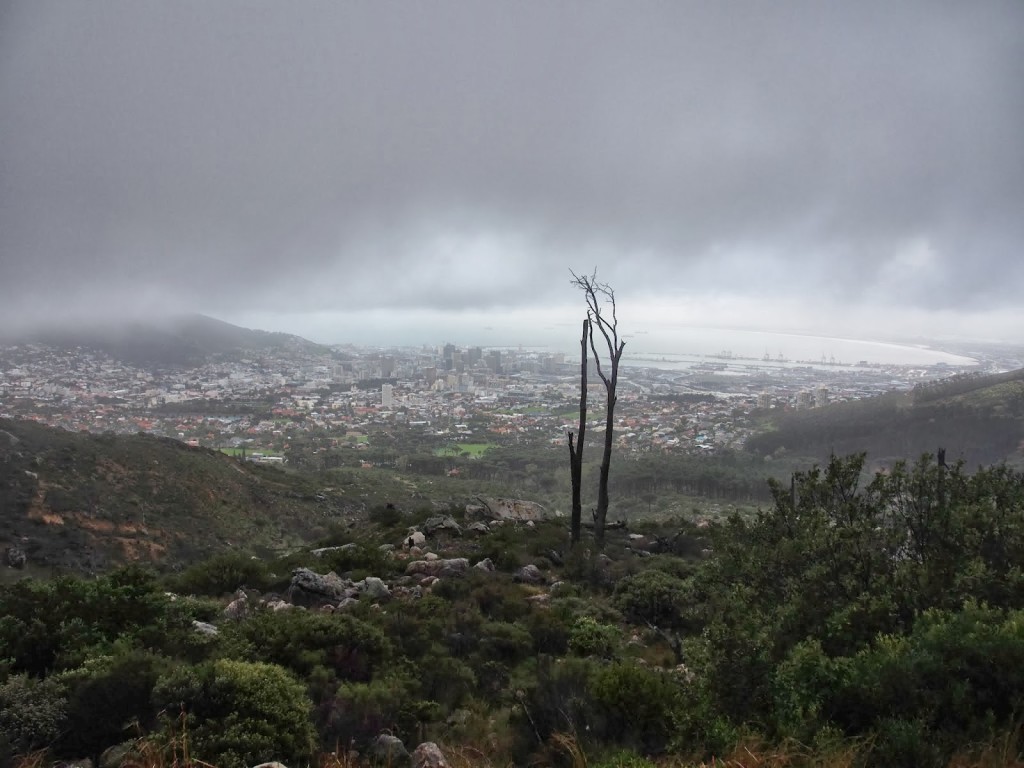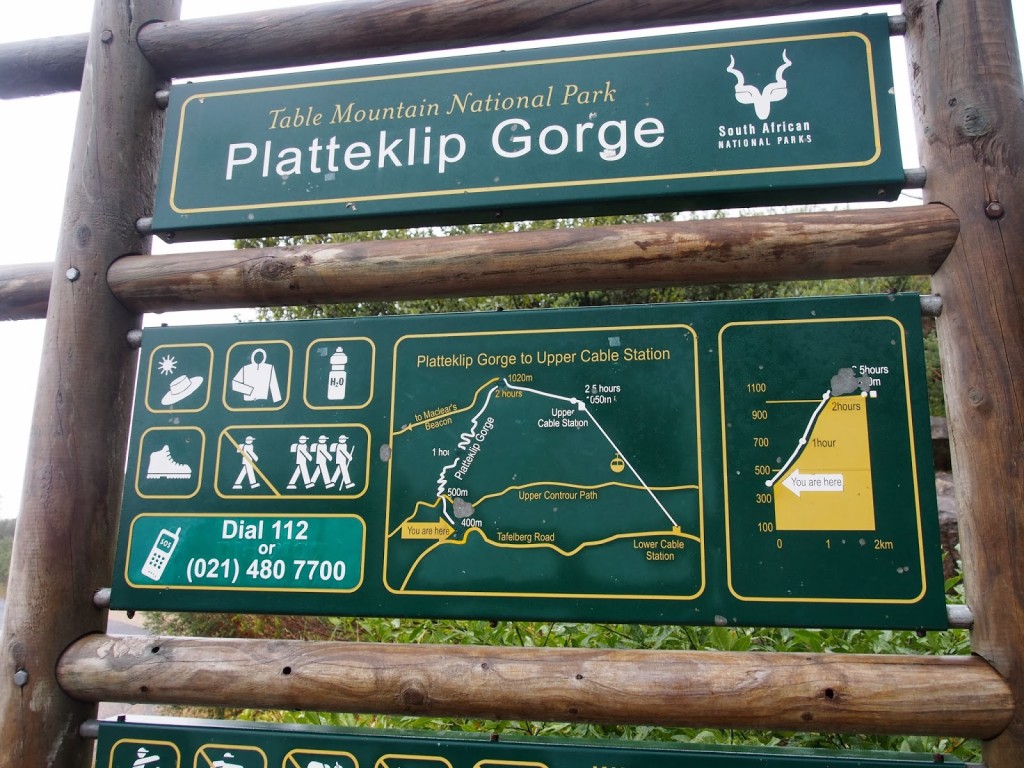 So we started going upwards. The weather was really cold but we wore enough to keep us warm. The steps were easy but a little slippery. Started climbing for about 10mins and was stopped abruptly. The flight of steps had a stream of water gushing across it and we weren't able to cross it and thus had to make a U-turn.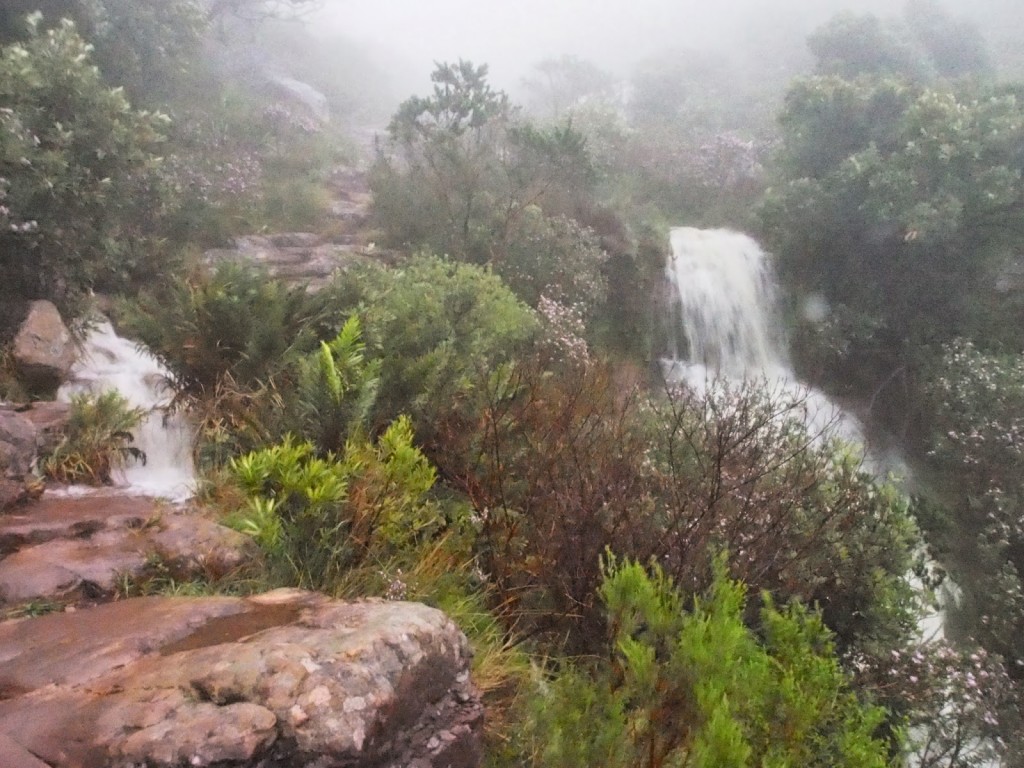 On the way down, we noticed a group of 3 locals also attempting the climb. We told them about the stream but they appeared unhindered and continued on. I supposed they were going to go for it. Upon reaching the car, we did not see the group coming back down so I guessed they really made it through. It was also a wonder how they managed to get up to the entrance in the first place as it was a really long walk up! Salute to these experienced walkers!
Punched in the next destination, Kirstenbosch National Botanical Garden, an Unesco heritage site. This was part of our contingency plan since we did not really know if we could do the climb. It was not too far away from Cape Town and also en-route to Hermanus so it was not a bad idea.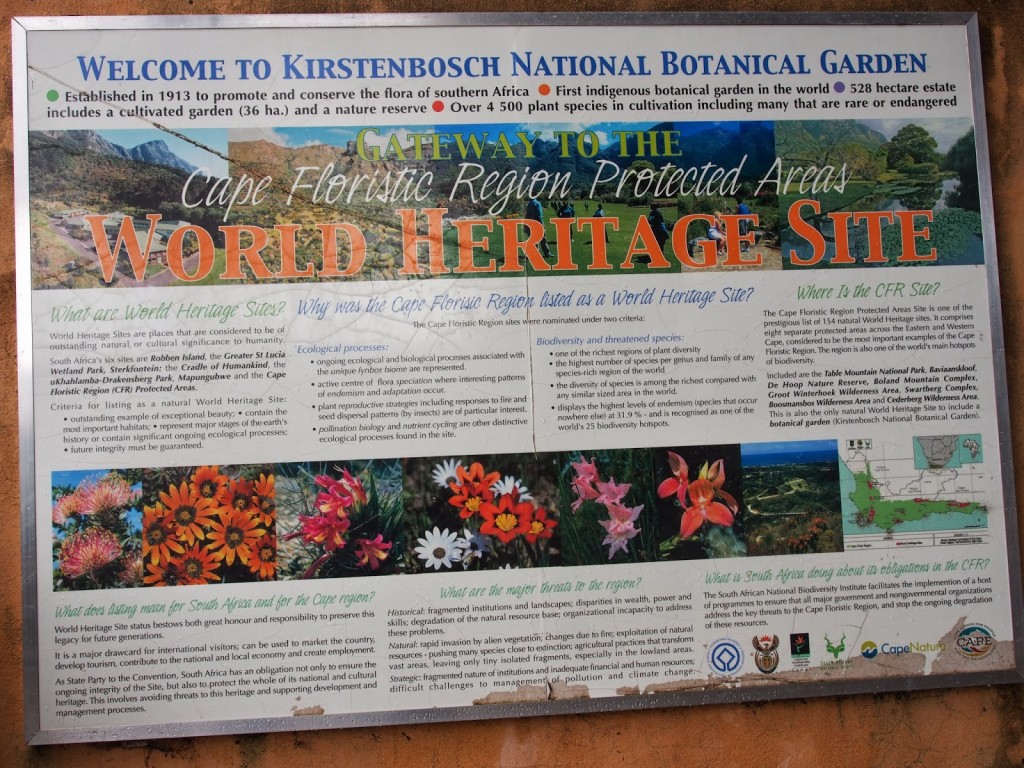 We also read that the garden had a nice collection of flowers and a lovely view of the city with the Table Mountain as the backdrop. It was not far off from expectation if not for the misty weather that plagued the city view and the Table Mountain. And it was still winter but there were still some flowers in bloom.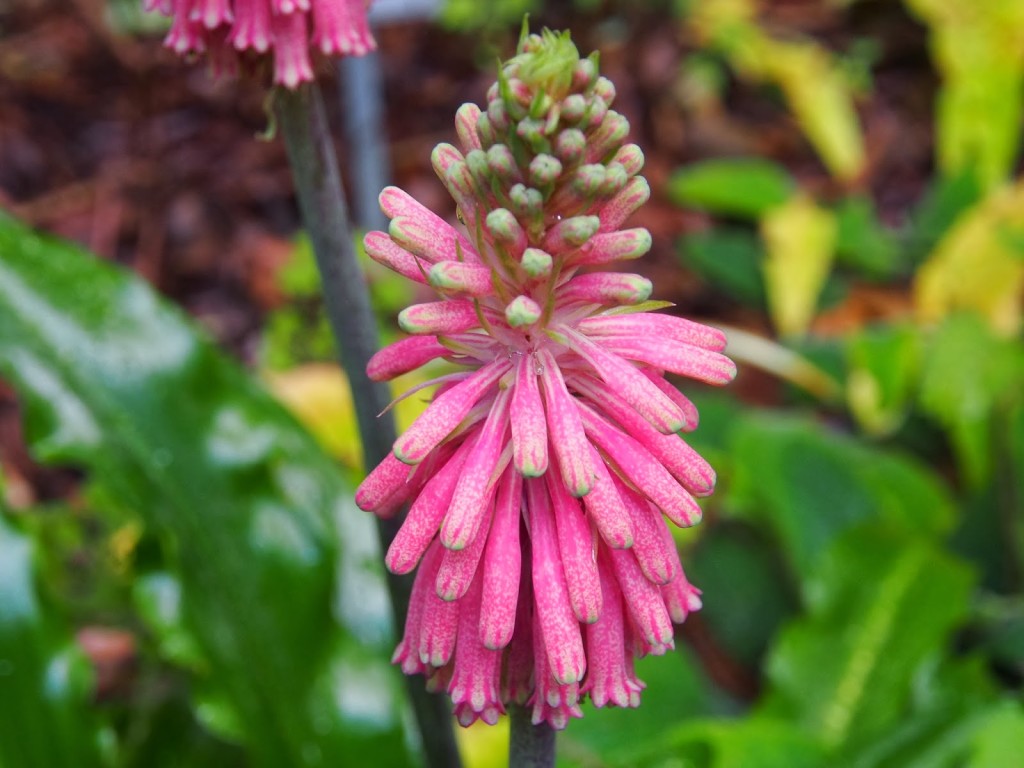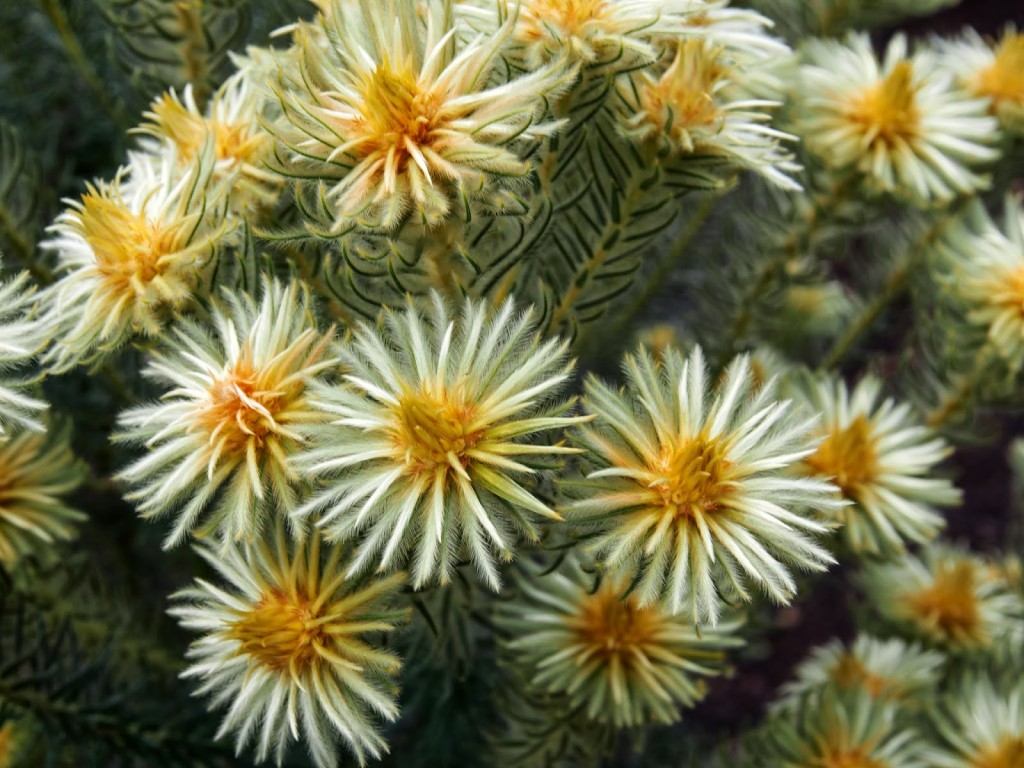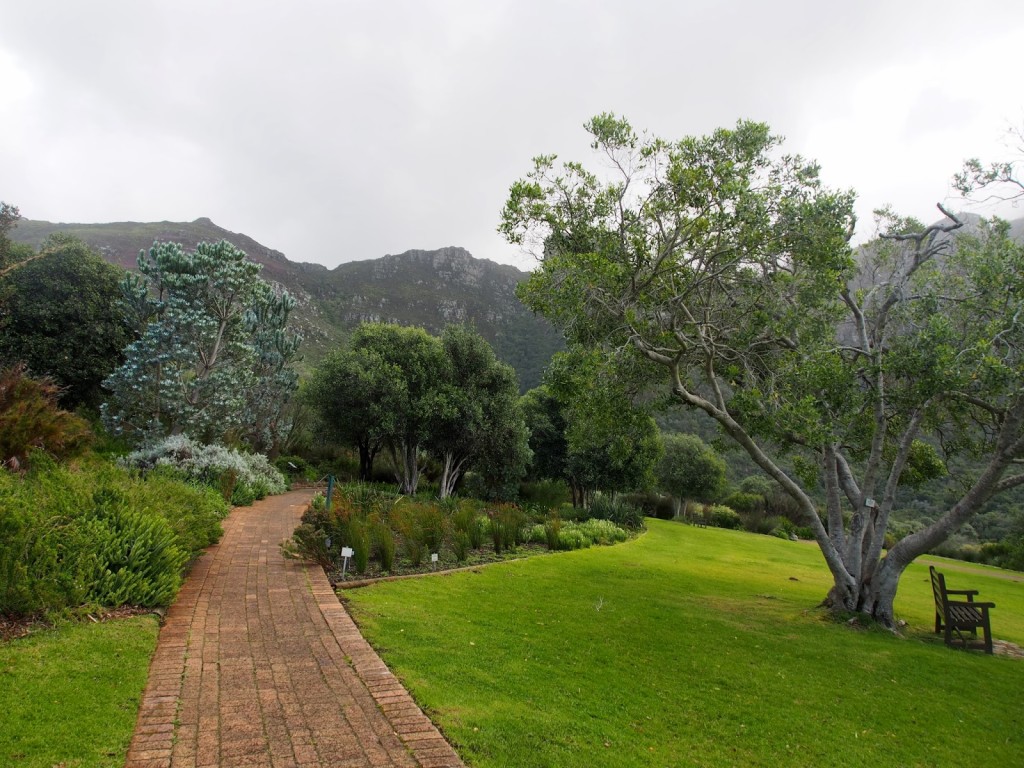 And of course, we were there to look for the National flower, King Protea.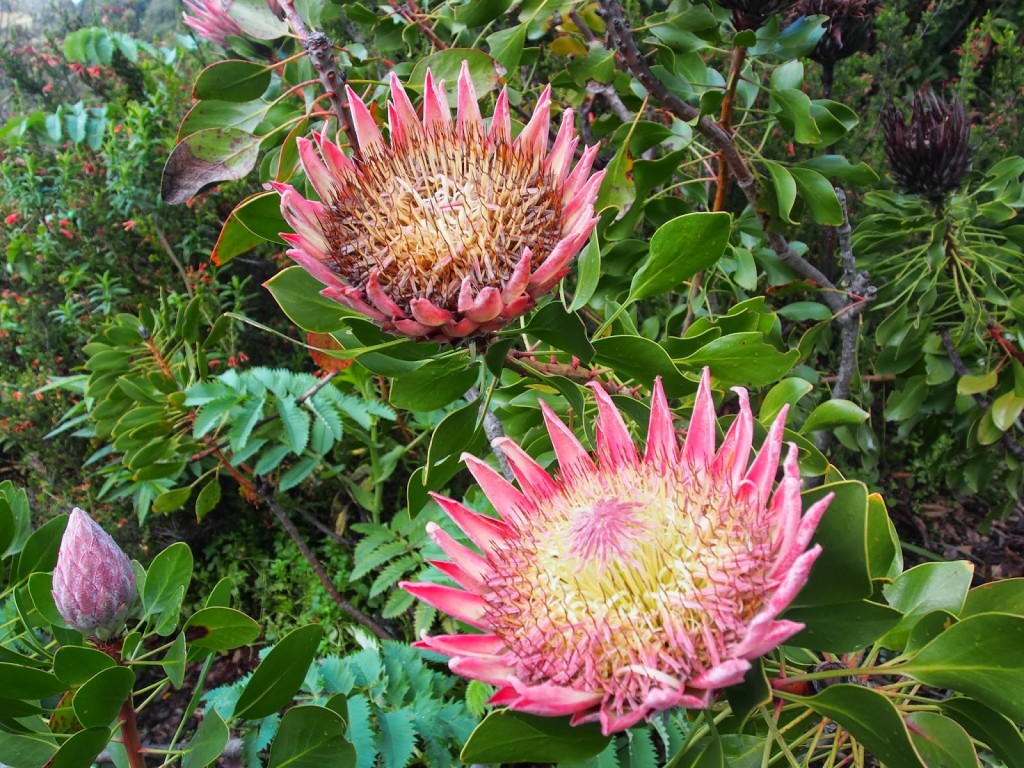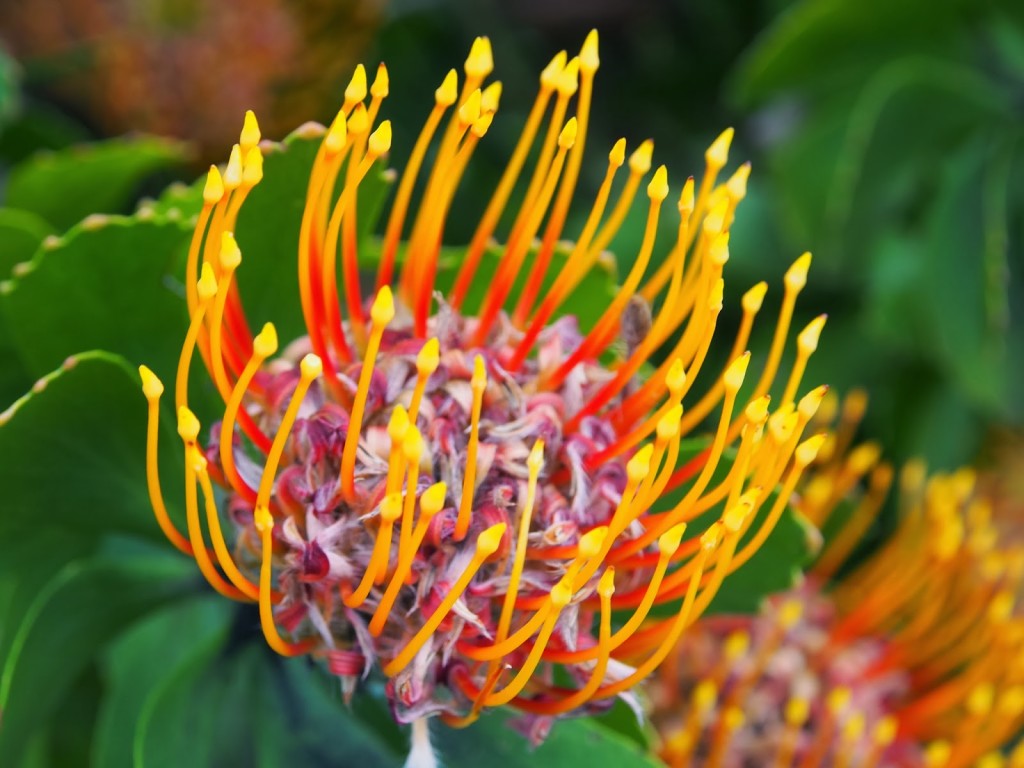 Walking around the garden didn't take too long. For one, we weren't exactly flower people and two, there was not much flowers due to the season. But it was a refreshing view from the city or the safari.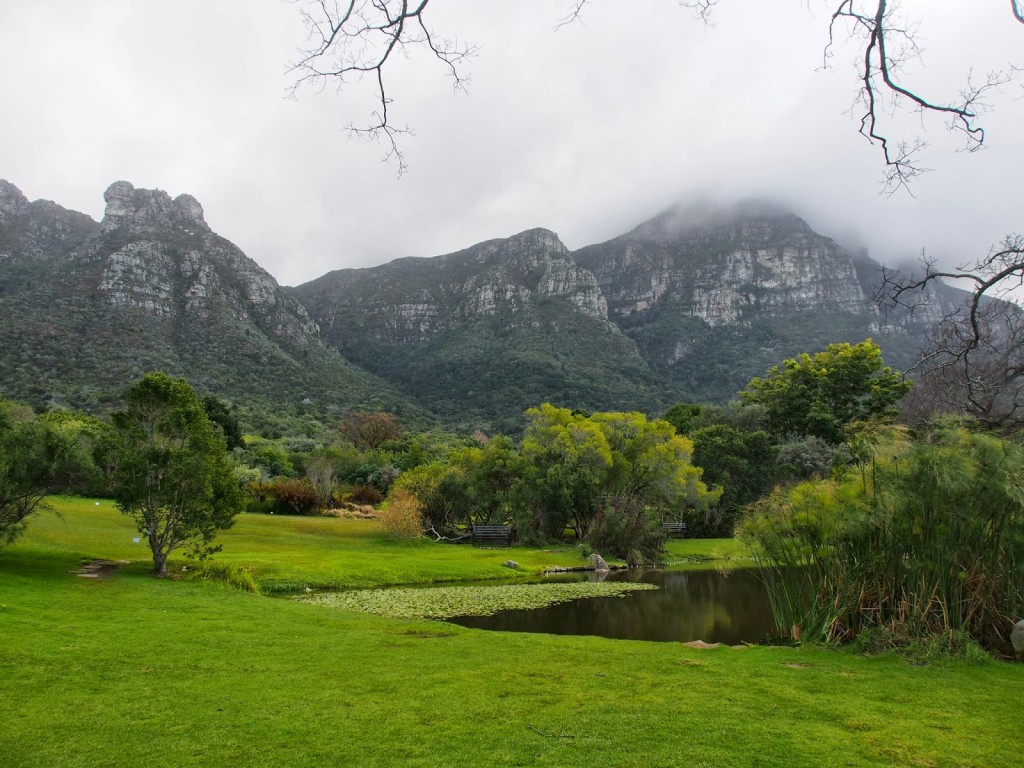 The garden was split into various sections, we chose some to visit and also attempted to explore a route that led to Skeleton gorge, which we didn't know any details about it and later gave up as it looked like an never ending route up to Table mountain. Had a coffee at the cafe in the gardens before it started to drizzle and then left the gardens during the periodic stop of the rain.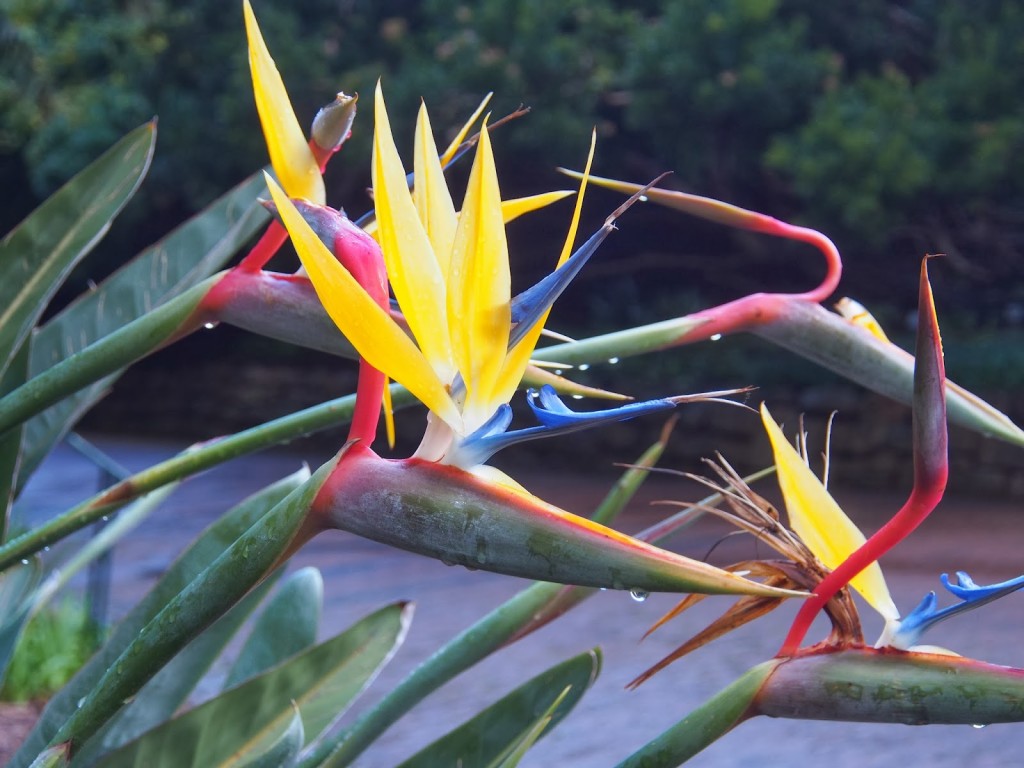 So we began our road trip towards Hermanus. The route was straight forward and driving on the highway was really easy. The initial plan was to take a boat trip out to sea for whale watching but it was also cancelled due to weather. So we decided to just do the whale watching from the shore, as many had claimed that the whales were close to shore for our viewing pleasure.
Short 1.5hrs of driving and we reached the Hermanus Beach Villa and checked into a Grotto suite on the 2nd floor that had a good view of the ocean. We were told that some whales were seen really close to the shore while the owners were preparing breakfast at the ground floor. That really got us excited. We stayed in the room for a while watching out in the far but did not manage to see anything. Then we went to Hermanus town where there were higher chances of whale sightings, as told to us by the lodge owners.
Town was just a 10 mins drive away. Parking was easy since there are many parking lots available. There were already some people near the stone shores looking out at the whales, and soon enough we could already see some parts of the whales when they surfaced for air!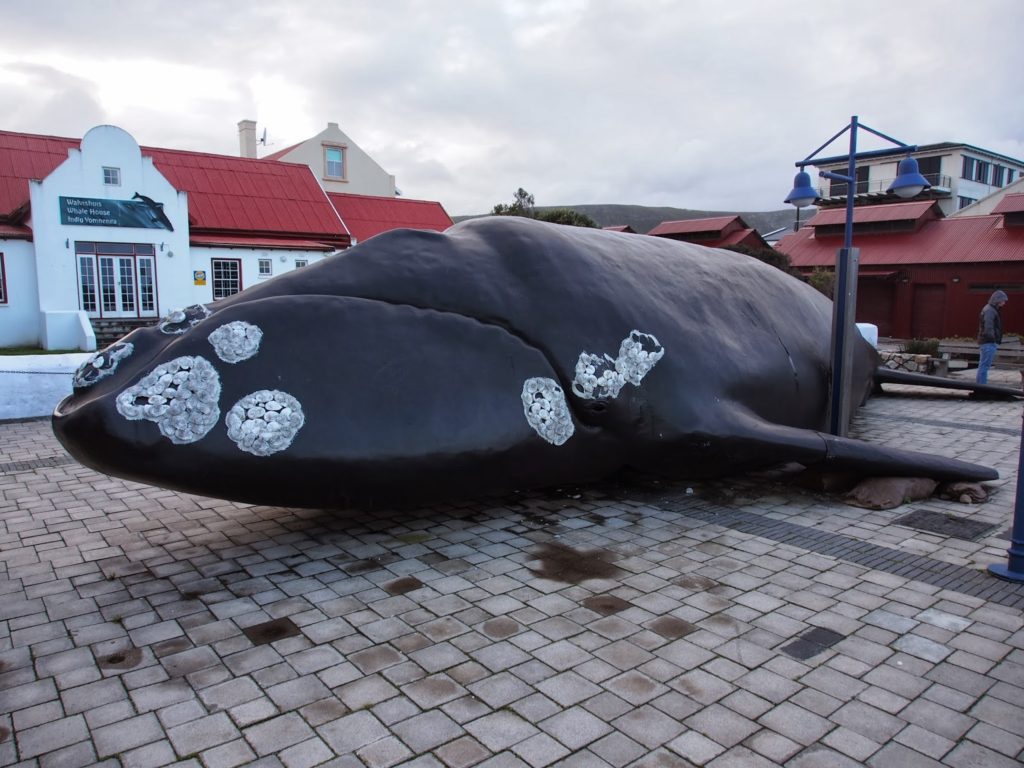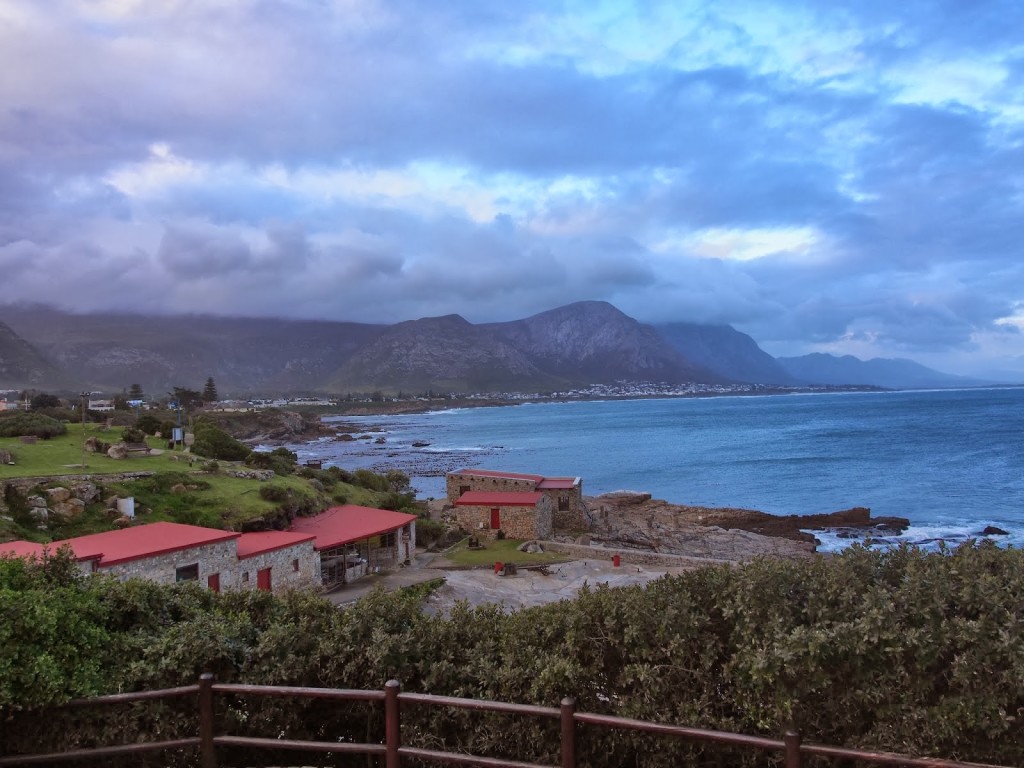 Again, although the whales were not too far away, it posed a challenge for my camera without a good telephoto lens. We had to depend on digital zoom.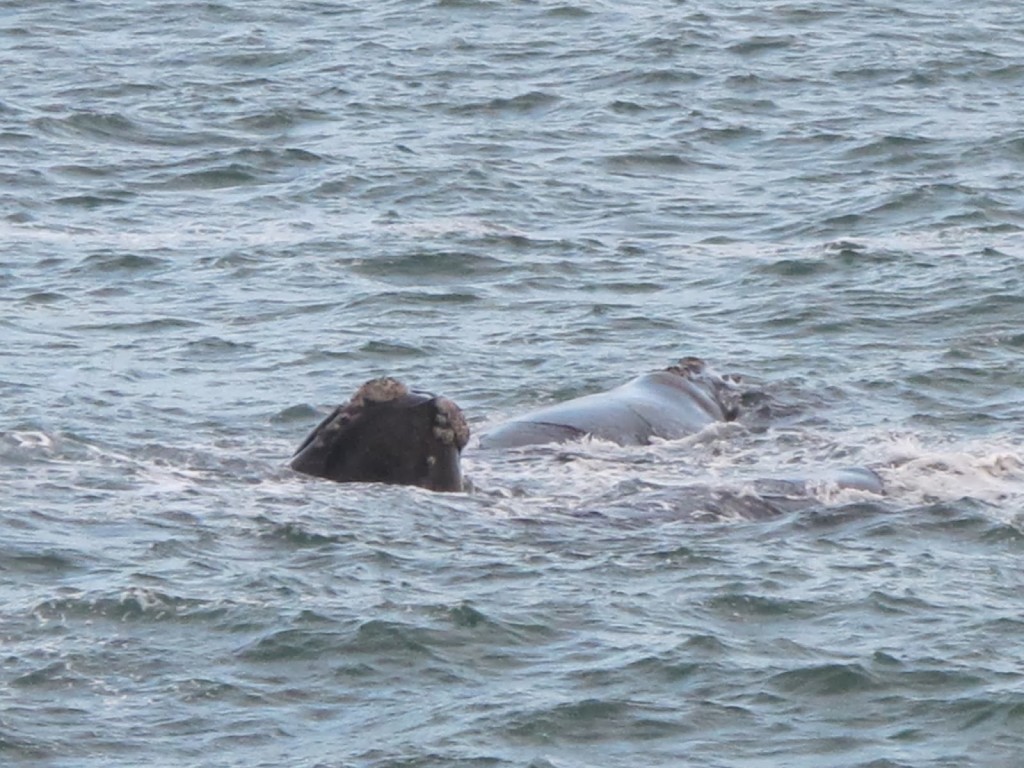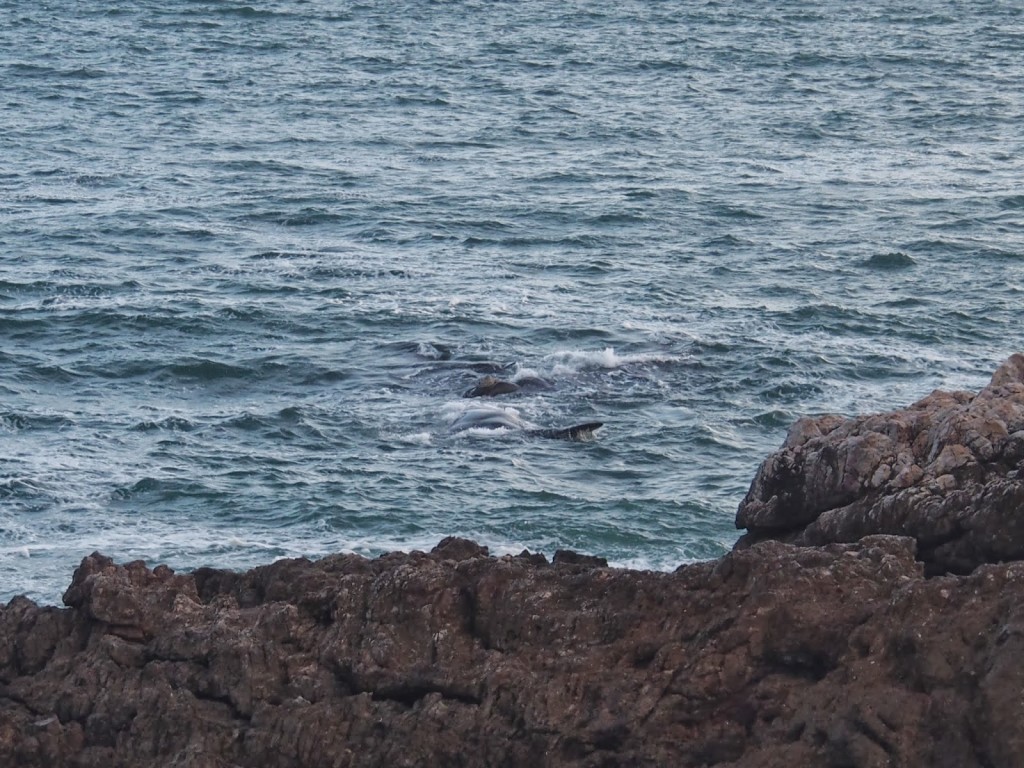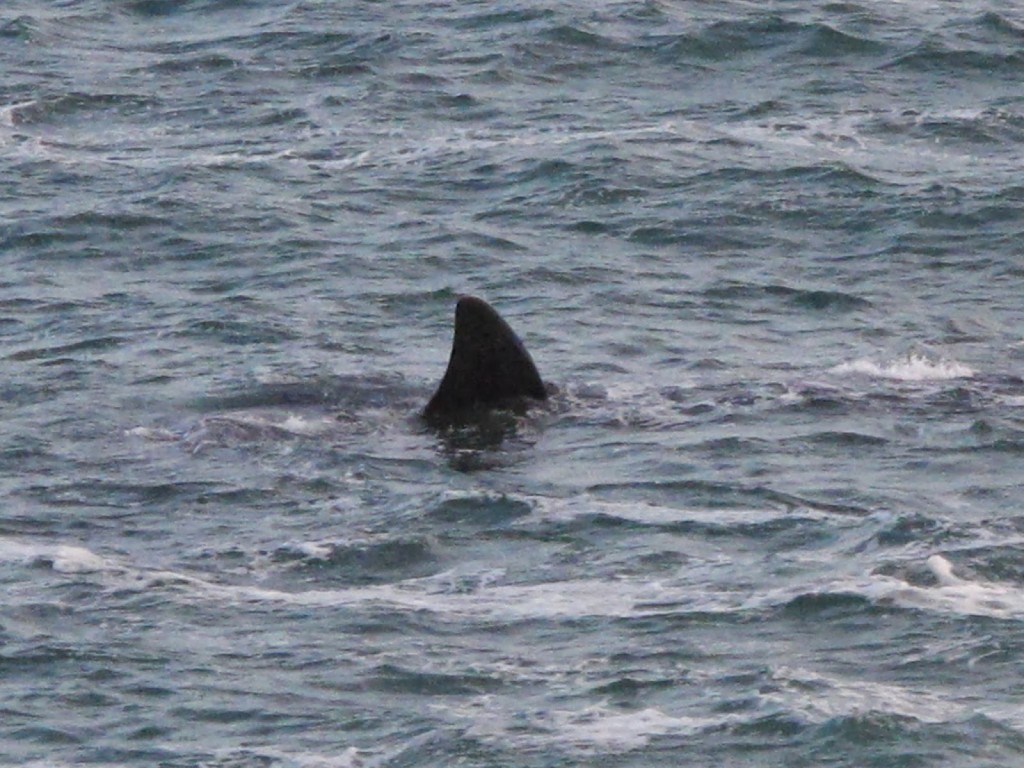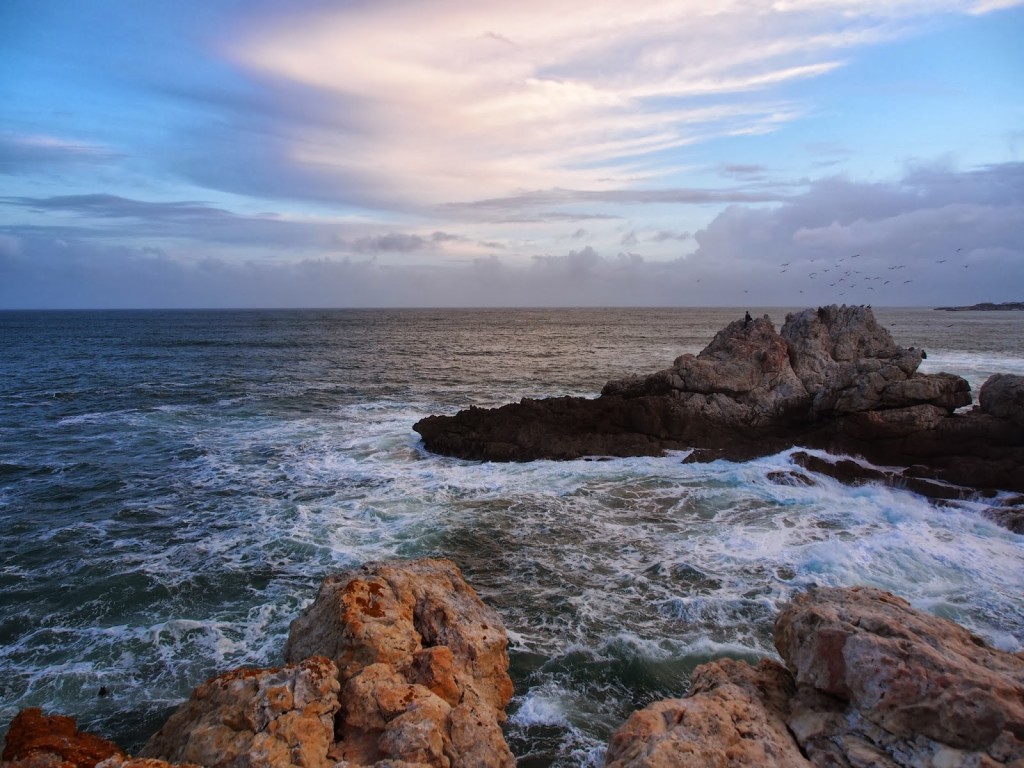 Stayed for at least an hour just watching these water mammals in sea was really amusing. Though it was really windy and cold, we can't help but had our eyes glued to the ocean just so that we didn't miss any actions. Would have spent more time if we could but the sun set and we went to the nearby Burgundy restaurant for dinner. Tripadvisor was accurate on this, the food was excellent!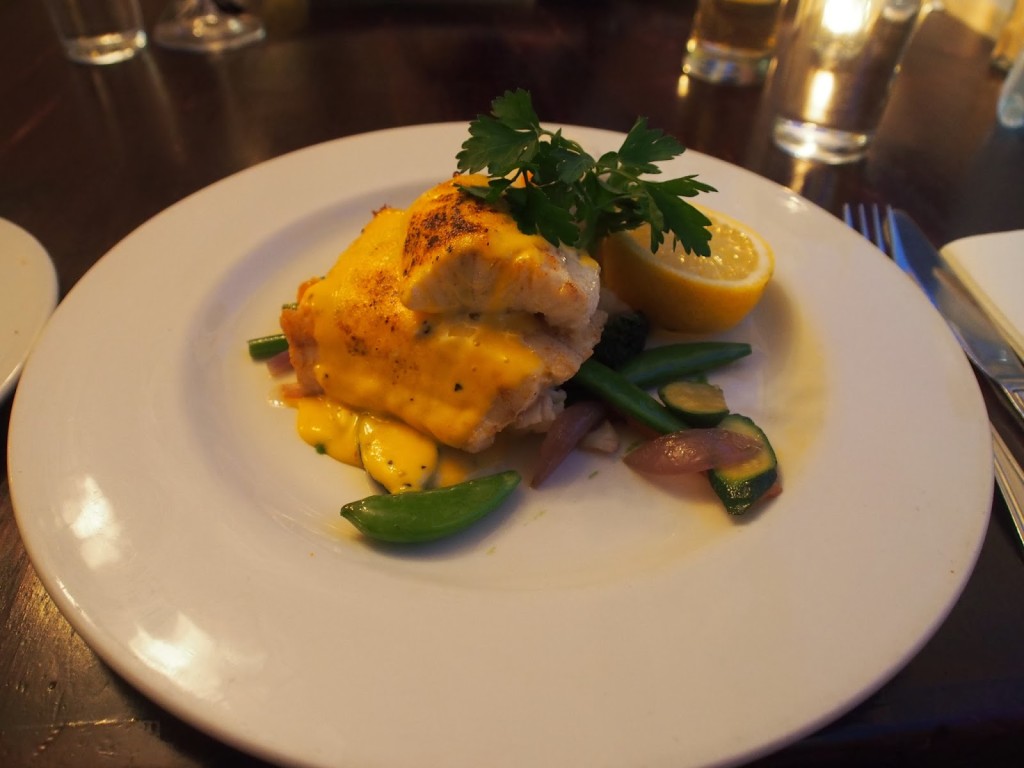 While at dinner, we took the window seat so that we could try to see some whales during our dinner. And then we caught a glimpse of whale jumping out of the water, once. The waiter who was staring outside witnessed the whole event and informed us but it was too late already. That's wildlife, nothing is planned and luck was all we had.
After dinner, we drove back to the lodge for our overnight stay. The temperature was really cold and so was the room. The helpers brought some some warm water bags to be placed under the sheets to provide warmth for our sleep, that made the stay so much heart warming too.