Woke up today feeling unwell. The weather outside remained gloomy but a rainbow soon appeared in full view from our room. Attempted to go to the beach for a little walk to see if we could catch sight of whales close by but after reaching the beach in the cold wind, my poor health status got the better of me and we trekked back for breakfast instead. Didn't eat a lot of the complimentary breakfast, which I thought looked really good and just had African Rooibos tea which was said to aid digestion. As I proceeded back to our room to take a rest, I approached the owners for some digestion pills and that helped improve my situation. Slept for a bit before we checked out the room and headed to town again for some whale watching and pills shopping. The plan was to drive to Oudtshoorn but since I wasn't feeling too well, we were thinking otherwise. What really changed our idea completely was when we saw the amount of whale activity going on at the same spot we were the previous evening and that got us hooked to whale watching for practically the whole morning!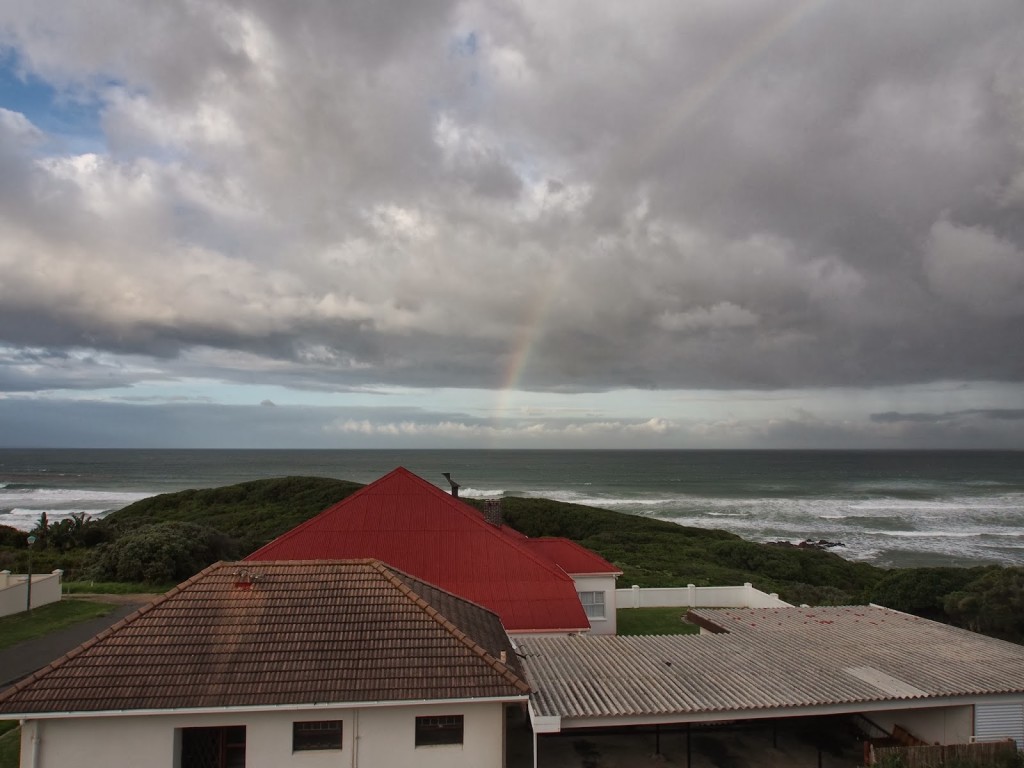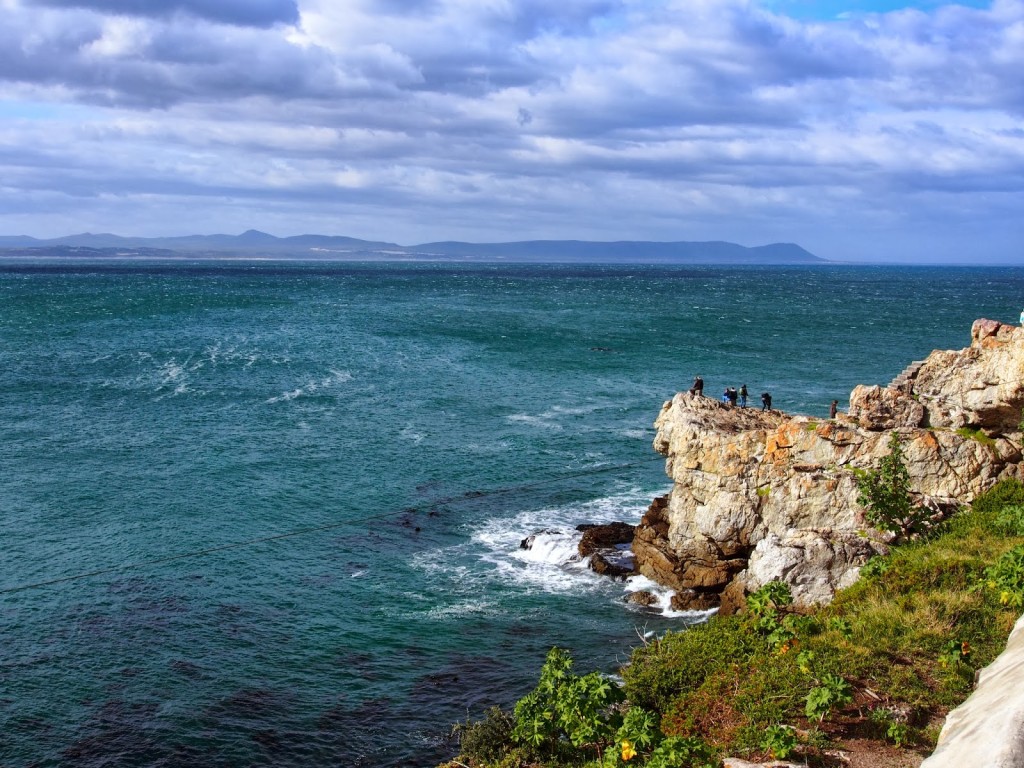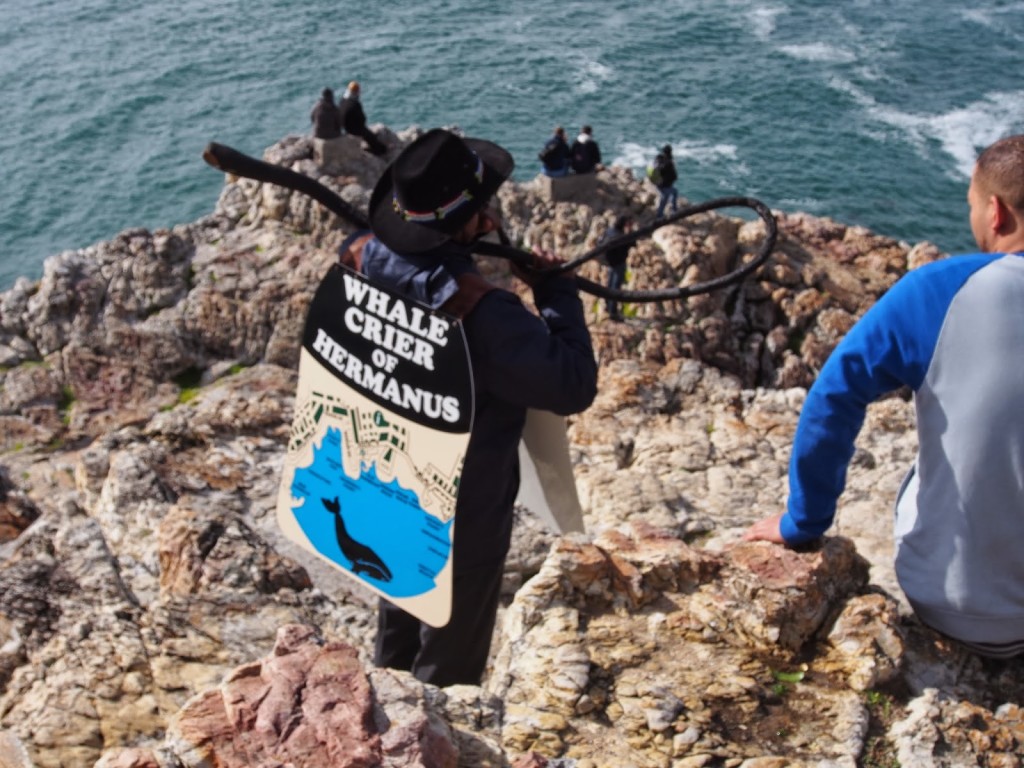 The whales were pretty active today. We wanted to get some pills first and so while walking near to the whale viewing spots, we saw whales coming out of the water. After we reached, the activity then lessened. Just when we thought it ended and started to turn around, the whales came out of the water again. We turned back and again the activity lessened. It was like hide and seek in a mean way. Finally we decided to just leave first, get the pills and whatever we needed from the shops and returned. It wasn't too bad an idea cause after we returned, we saw whales coming out from the water pretty frequently!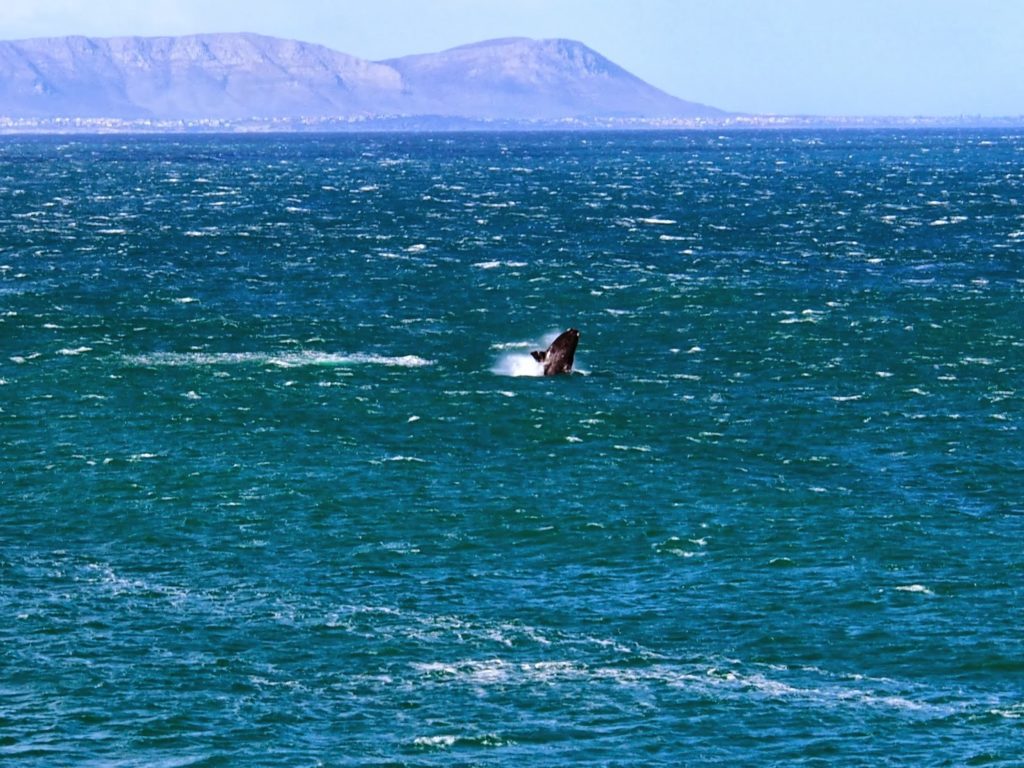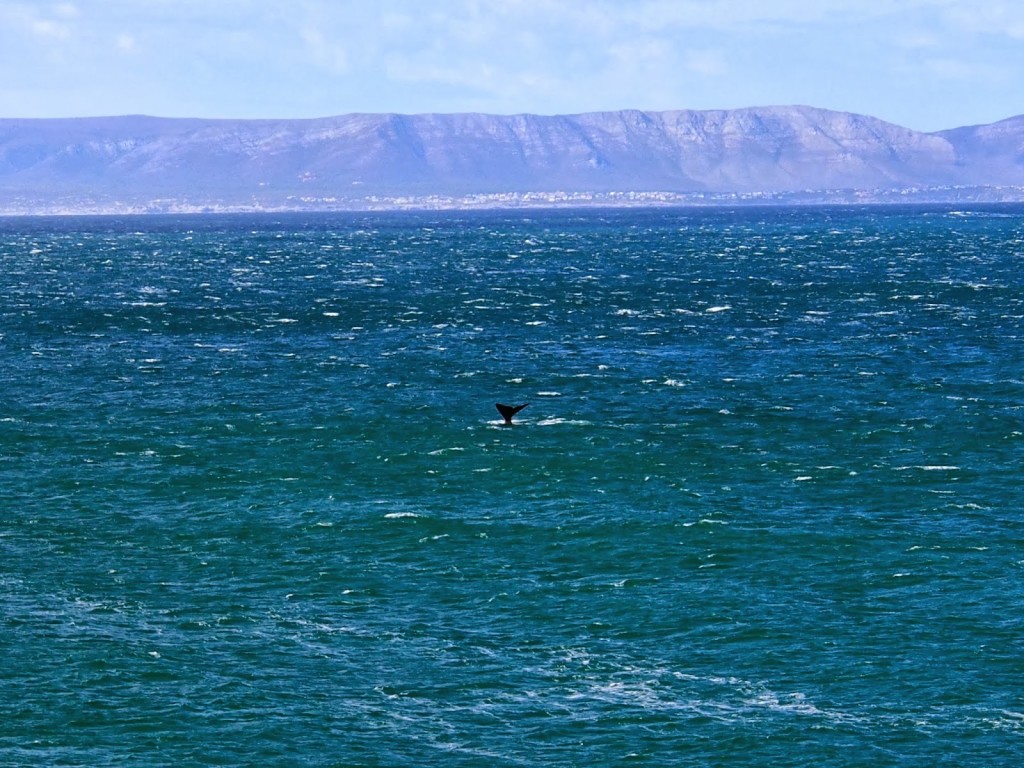 Hooked till it was close to noon and by then it was really late. As we need to get into Oudtshoorn for an Ostrich farm visit, 5hrs drive away, we figured it was too late and not a good option, since we need to return to Cape Town the following day early so as to get on the afternoon ferry to Robben Island, it definitely does not seemed like a good deal. Back to Cape Town.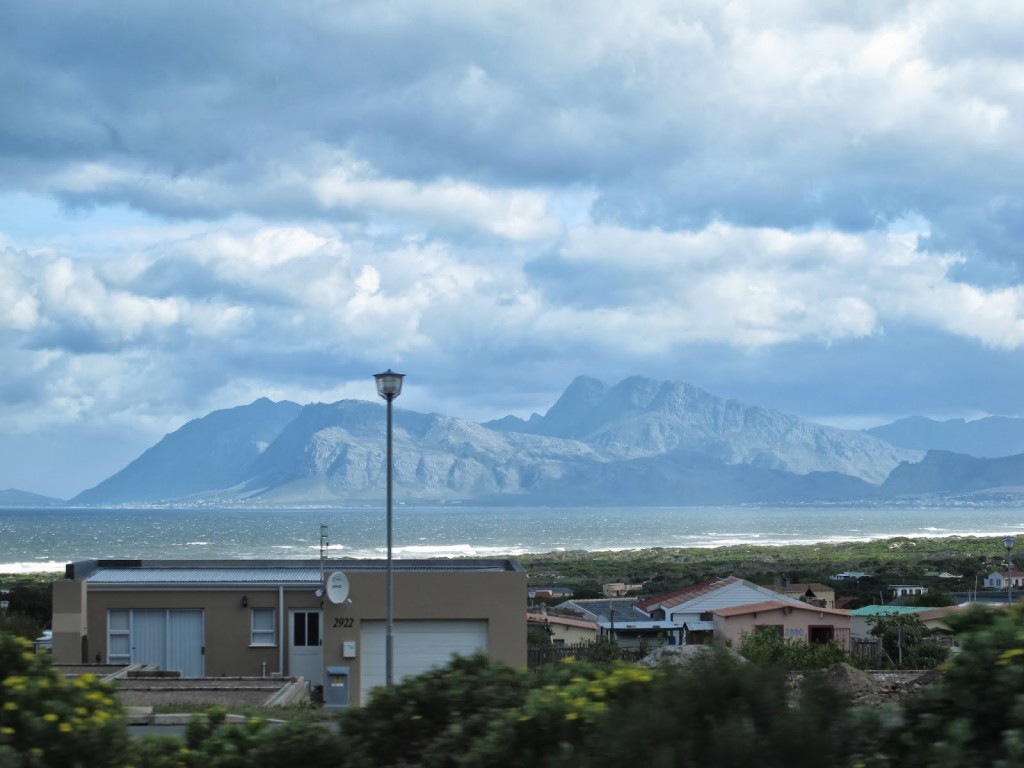 Since we planned for a ostrich farm visit, we decided to visit one too, not too far away from Cape Town. Punched in ostrich farm near destination Cape Town into Garmin and we were on our way. Cape Point Ostrich Farm.
The farm was situated at the location close to the Cape National Park which we found really familiar since we were there on the first day of our visit to Cape Town. The drive was really easy, not many vehicles on the road and both road signs and directions from GPS was easy to follow. Conditions of the road was good too. Took about 2hrs to reach the ostrich farm. Thought that there was some restaurants nearby but was not what expected – a simple restaurant at the farm but selling foodstuff from the farm itself. In the end we bought a muffin for lunch as I was still feeling bloated.
The tour ran every hour and we were able to join one soon after. It was a "private tour" in a sense since we were the only people there at the time. A guide from the farm met us at the waiting area and walked us around the farm, explaining what their farm did, how they breed the birds and stuff like that. Along the way, we saw birds of different ages, held in different holding area. Educational for people who were interested in these birds.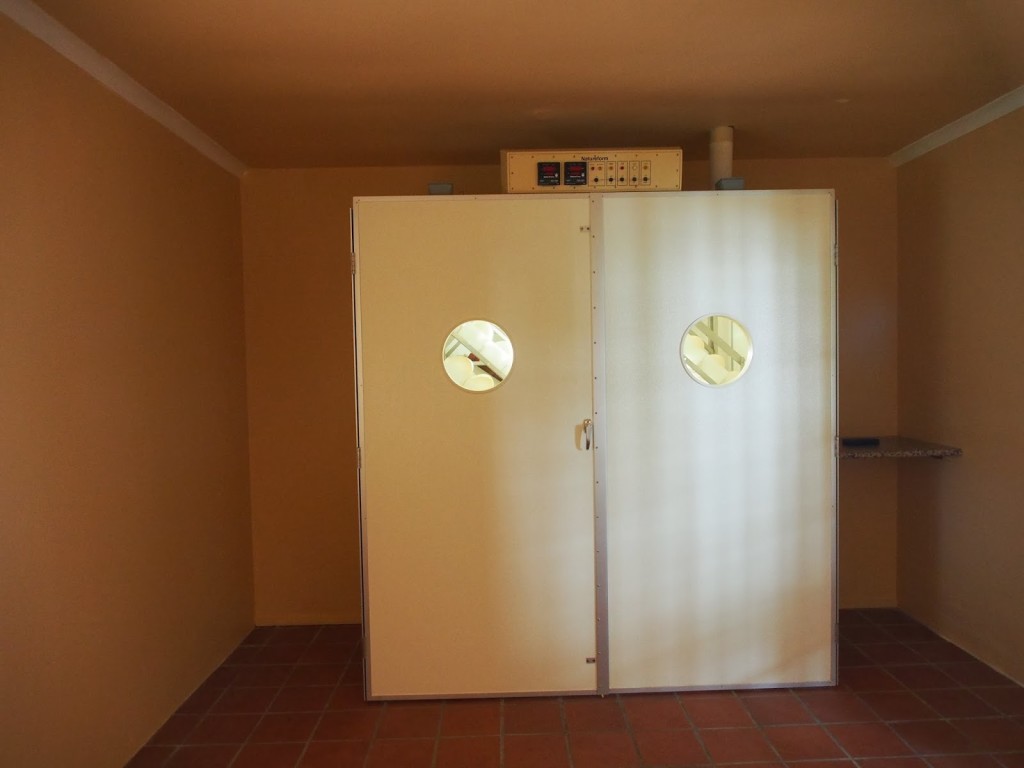 The tour was about 15-20 mins. There wasn't much interaction with the birds and you couldn't ride a bird there, a little different from those in Oudtshroon. Understood from the guide that it was cruel to ride one anyway and that usually those birds would get injured and often killed after that. Since theirs was a small establishment and they weren't keen to put the birds under stress, they did not have that. Point taken.
There was bird feed that was on sale at the waiting area which we bought to feed 2 birds that were out in the open fenced up area. They were left there so that they could mate. The wind was really strong but these 2 birds didn't seem much affected by it. It was really amusing to feed them as they weren't really smart, especially the male, which did not know how to reach my hand when I brought the feed close to the ground and it was obstructed by the top horizontal wooden log. The female stuck her head between the top and bottom log and managed to pick some feed off my hand. We were told during the tour that these birds weren't smart and had very small brains, but I guess the feeding experiment showed that the male bird had the smaller one.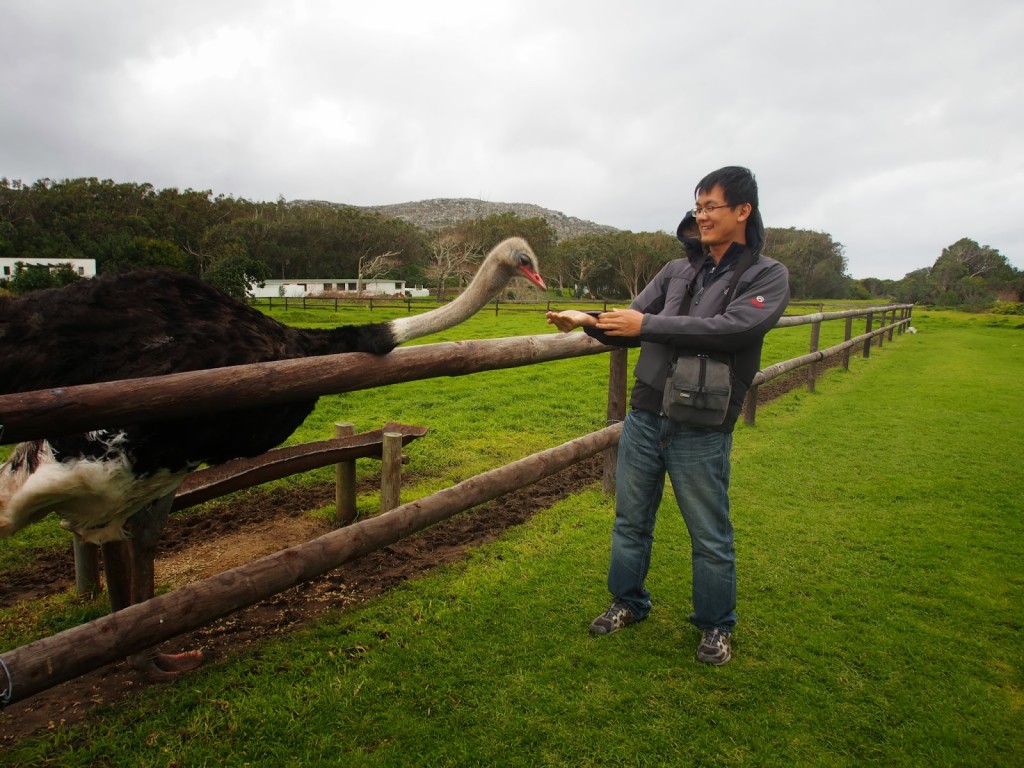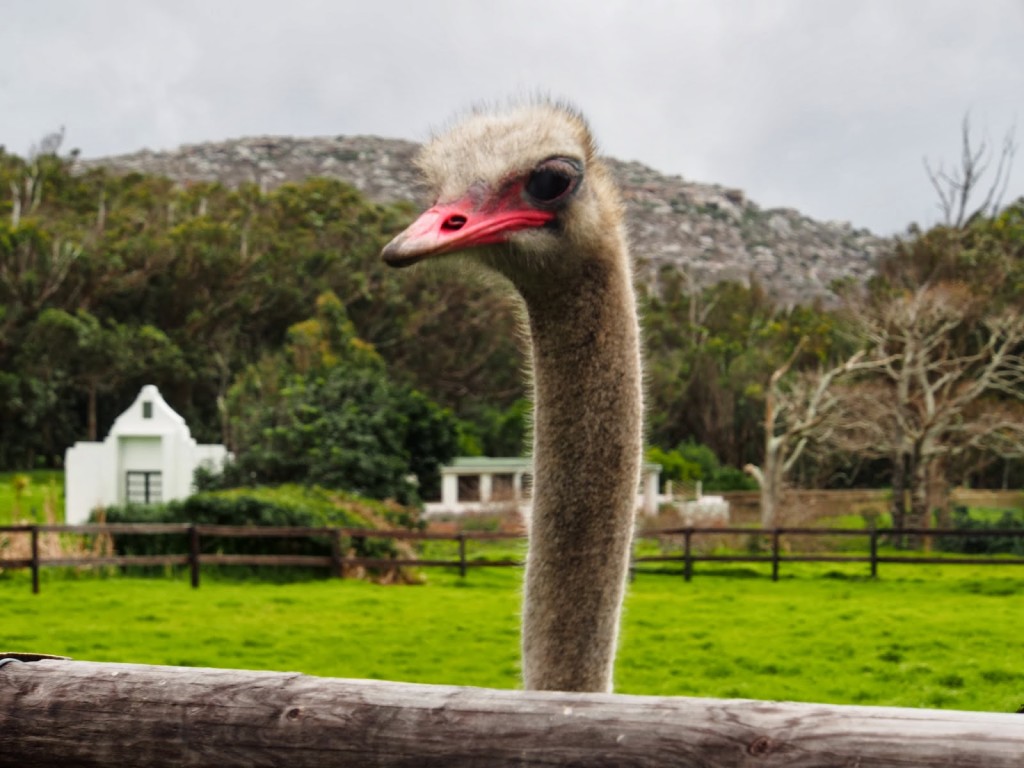 We didn't planned anything else that day and thus we decided to just drive around and stop at places with good views. Weather wasn't on our side so we didn't stop any many places either. Revisited Simonstown and parked at a location that was indicated panoramic viewpoint on the GPS. There was a rainbow yet again. We looked out for whales too but didn't see any. However, as we drove along the shore towards Cape Town, there were some places where we could also see whales sticking their fins out of the water.
We reached Cape Heritage hotel in the early evening and approached the receptionist for assistance since we didn't reserve a room. She was really helpful and managed to get one room for us such that we did not need to change room for the next night. It was a different one from the first time that we were there, designed differently but just as nice. The only complaint was that it was a just above the pantry and noise from the pantry was really audible in the room.
Had dinner at a Thai restaurant called "Simply Asia" around the corner and had some spicy food which really warmed us up in the balmy weather. The food was ok but a welcome change to the daily western cuisine that I was getting a little sick of. The small restaurant was busy and there was a commotion when someone who didn't pay for some takeaway left the restaurant. Also enjoyed watching the TV that was showing world athletics games, a channel that we didn't have in the hotel.
Back in the room, we went online to look at the options we had the next day if the Robben Island tour was to be cancelled again, which was very likely. We heard news the good weather would only return the following week after we left. That was really unfortunate.