6am and it's the start of a brand new eating journey. Packed our bags and got out at 630am for our journey back to Central station. Our breakfast starts at Tsui Wah restaurant. The empty shopping streets had a few overnighters that hadn't gone home since their night of fun at Lan Gui Fong, probably enjoying the World Cup match of Brazil vs Holland 3rd position playoff.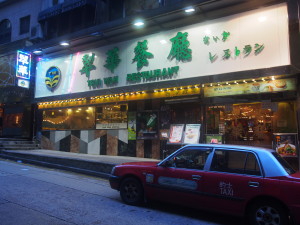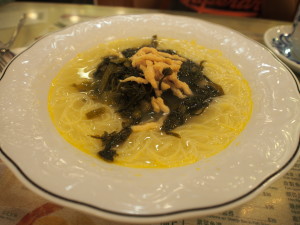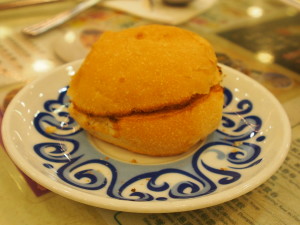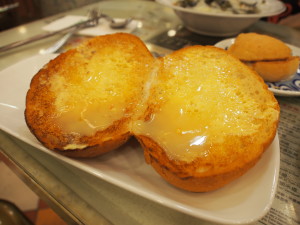 The restaurant was fairly busy at 7am, ordered some vermicelli and the popular sweetened milk toast. Although it was sweet, the toast volume balanced it out and the sum of it was a crispy sweet bread. Had the milk tea too but in my opinion it was just ok.
At 730am, we proceeded over to Jenny's bakery to buy biscuits. It was well known all over the web and we had to queue for it ourselves to see it. The shop opens at 10 and by the time we arrived at location, there was already a couple from Taiwan waiting. While waiting we chat with each other to pass time, and soon more and more people started to join. At about 930am there was already a line of at least ten people in front of the shop, even in the slight drizzle. There was even people with luggage waiting to lug the metal boxes of cookies back home. We saw a couple buying cookies from the shop beside, supposedly source from the same shop but marked up. Still everyone waited for the original. We also understood that the one at Tsim Sha Sui was worse, having to start waiting even at 5am. Madness.
945am and the queue had stretched pretty long. The shops owners were only just coming in and at 10am, the shop was opened. There was a notice to inform about the limitation of boxes that each could purchase, 4 boxes per person and so we bought ourselves 3 big ones consisting one 2×4 flavours and 1×8 flavour and 2 small ones with 4 flavours. We helped the ones in front of us to purchase another 3 small ones as they had promised their friends back at Taiwan to get some for them. There was another Taiwan family of 4 that was getting 16 boxes and they had came the previous day too, to purchase another 16. They brought along a luggage bag each time. Simply incredible.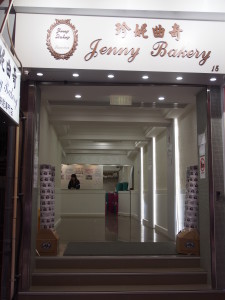 Visited the public toilet just opposite the cookie store and proceeded to walk towards the popular egg tart store on 35 Lyndhurst Terrace, Tai Cheong bakery. An easy 15 mins walk although upward sloping. There were few customers who like us were there for the egg tarts. We got ourselves one each and finished it. The egg tart was tasty, now sweetened egg center with a crispy tart. I liked it more if the tart was crispier but it was good enough.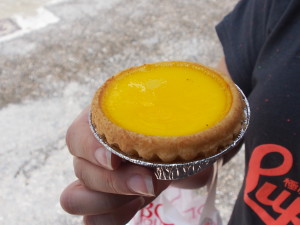 Bought some wife's biscuits and egg rolls at Kee Wah and brought all these back to our hotel, filling up my haversack, brought solely for this purpose.
Our limo picked is up at 12 noon after we checked out. The start of excellent service began there. Even before this, they called me to confirm my pick up time and driver and even send a memo to the hotel direct to my room just in case I didn't get the message. The huge Mercedes even had wifi in car and an ipad for use.
Once over at Ritz Carlton, immediately we stepped off the car, there was already a personal assistant to follow us from registration to room. We got into a lift that brought us from the 9th floor to the 103rd floor for check in. But having gotten the deluxe club room, we did our check in at the room itself. Brought to the room on 117th floor, the highest in the hotel and currently in the world, the view of Victoria harbour was simply breathtaking. This backed with the luxurious deco of the room and the complimentary amenities and facilities, made the romantic package pretty worth it. Made a few changes to the arrangements for in room dining (included) and airport transfer the next day, we were left to our room where we soaked in the view for a while before leaving for Mongkok.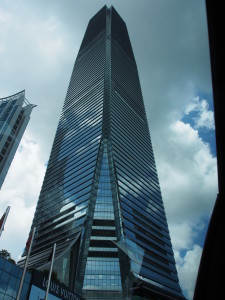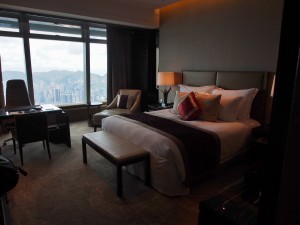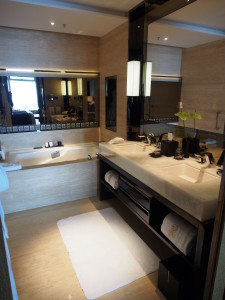 The only thing about the hotel was the indirect accessibility of it from the main shopping areas. We had to take the MTR to Hong Kong and loop back to Kowloon and there is a fair bit of walking at Hong Kong station to Central itself.
We arrived at Mongkok at around 2pm and went into Argyle Center and had our lunch at Cafe de Coral. It was an integrated food center but the place was super crowded. We had to find a seat by stalking people about the finish before lining up to pay first before lining 2 different lines for noodles and rice. The food was not particularly tasty but it had to do for this crowded shopping plaza.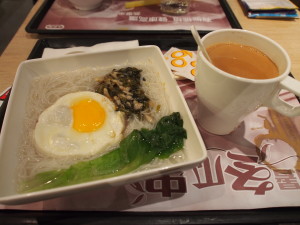 The center reminded me of Platinum Mall but the weekend crowd was really bad. We only got up to the 3rd floor before we decided to leave for another area, the products on offer not suited to my wife's liking and also the crowd and tight space was a turn off.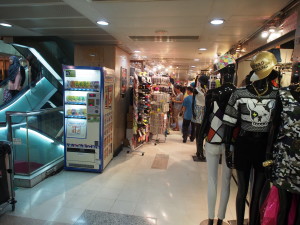 On the roads, it was just as crowded as well. This was like holiday weekend Singapore Orchard road crowd and people were just everywhere. Similarly, many domestic helpers could be seen, like in Singapore. MTR were packed just like Singapore. Sometimes I think it was much worse here.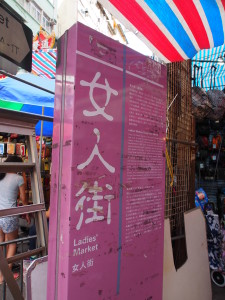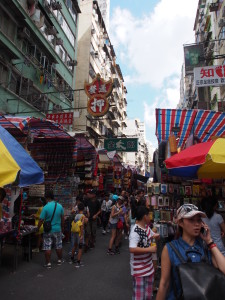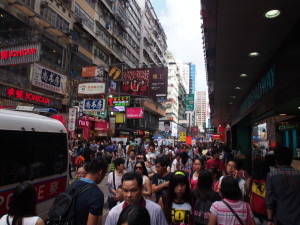 We walked around on the main streets but wasn't seeing much and proceeded over to Langham Place mall. Interesting shop layout but not much interest with the shops offering. It was not long before we left for Tsim Sha Tsui.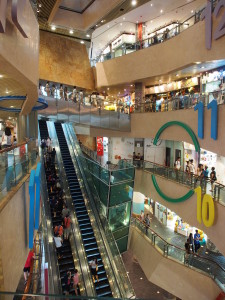 Once arrived, we walked towards the Avenue of Stars. That was a really long walk, maybe 15mins. And the weather wasn't helping. Quite tiring for me, not to mentioned for my preggy wife. We ended up sitting on the plastic seats when we arrived, just admiring the Hong Kong island view and the slight breeze from the sea as throngs of people arrived.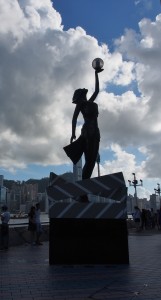 After that we went back towards the MTR station and got onto the main streets. The street view reminded us of similar shopping streets such as the previous Mongkok or Causeway Bay. Large malls around with various interspersed boutiques located around. Same same but different, maybe. Fatigued, we decided to stop at Xu Liu Shan for mango desert drink before taking the train back to our hotel.
Evening view from our room was great. Took a bath before our 3 course meal was delivered to our room. It was a great feeling, having restaurant made dinner within our room with a fantastic view. The ambience was right as we played the classical music from the iPod on dock in the room but because we were dining ourselves, it was just comfortable. All this come with a price but I think it was worth it for that once a lifetime splurge.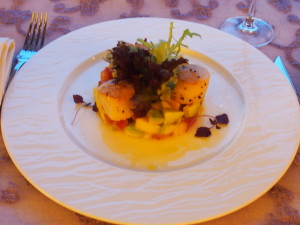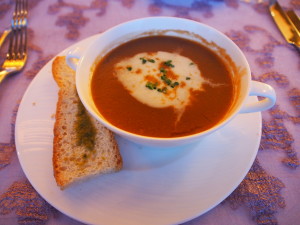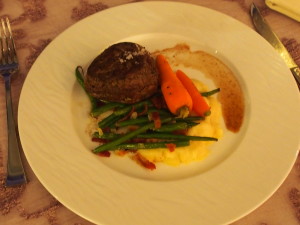 The staff was kind enough to deliver a second time our deserts and coffee and also a birthday cake for my wife. They even made a photoshopped photo of us in a room of theirs with handwritten well wishes as a momento. Definitely something different and close to the heart.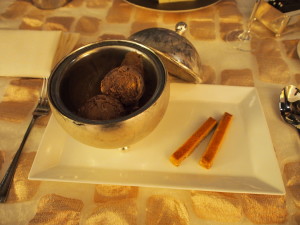 Our next activity was at 116 floor, a spa for two. As part of the package, we each had a 80 min massage by ESPA. There was maternity massage available and I had a lava massage, something about using warm sea shells to rub the tired muscles. It was enjoyable as we relaxed but nothing extraordinary in my opinion. We weren't brought to a room with a view although it was a suite. There were sauna available in the changing room but we didn't utilized it. After the massage, we left for our rooms to use the bath tub before turning in for the night. It was a long day after all.