Woke up late as we didn't had much planned today. Had initially wanted to skydive but due their record of an accident, we chose to forgo this activity. Proceeded to have breakfast at their one and only restaurant. Wasn't fantastic and costed almost 50Fjd (expensive!) but we didn't have much of a choice.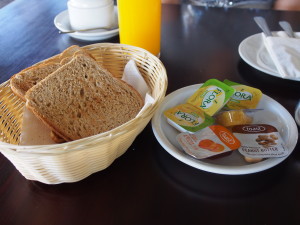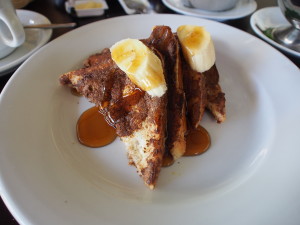 Took the resort cab to Nadi town, some 20 mins of driving and 15Fjd. Along the way, we passed by Namaka, small town compared to Nadi and Matinga, a place where there were some restaurants, informed by the taxi driver. There was only a straight street of shops on both sides of the road and pretty much single to double floors shops but mostly selling stuff that we didn't have interest in. We probably only spent 30mins there, visiting the supermarket for cheaper bottled water and cereals, and a local handicraft location of stores. At the handicraft place, the prices dropped the further we go inwards, and we bought a couple of souvenirs before taking a taxi to Port Denarau.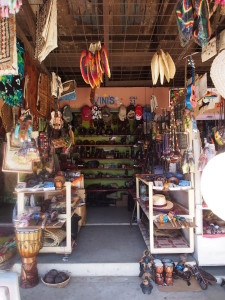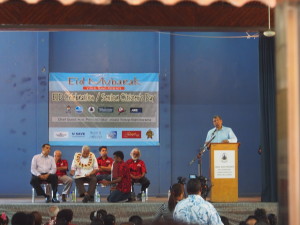 A quick drive of 10mins for 10Fjd on the local taxi and we arrived at the more modern and upmarket shopping place at Port Denarau. Visited the Hard Rock Cafe like we always do overseas and bought some tees. Walked about and bought a pair of shorts from Cloudbreak that looked like a local surf wear brand from Fiji.
Ate lunch at Nadina restaurant, which served local Fijian cuisine as claimed on their signboards. The food quality was pretty good, a lot better than what we had back in the resort. But correspondingly the price was higher as well. In total, we spent 90Fjd for 2 mains and 2 drinks inclusive of a beer.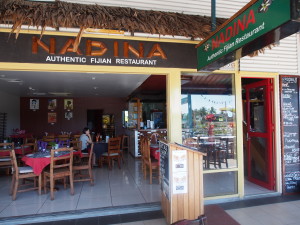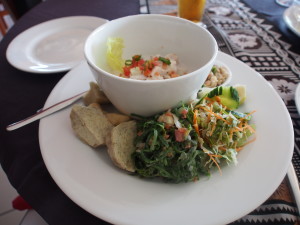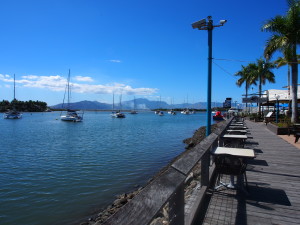 Took a taxi back and was quoted and astronomical amount 45Fjd, and the driver claimed that these fees rules were all set down by Port Denarau. We weren't going to pay that much but he was negotiating and we agreed on 30Fjd, still a high amount. While in the taxi, he informed us about the same price rules but also advised that we could take a bus to Nadi town and get another bus back if we wanted to save, since both trips were only 1Fjd per trip per person. Noted.
We arrived back at the resort about 20mins later. Rested a little before the transport from Robinson Crusoe picked us up for the Night Cruise at 335pm, very early for a night cruise. The driver was actually going around picking up customers and bringing them to a central location to transfer to another bus that would bring us to the jetty. No wonder the early timing.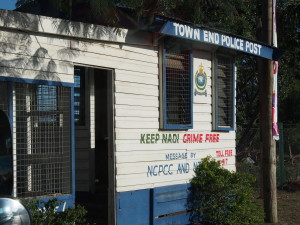 Once at the jetty after a good 30-40mins of driving on the slightly bumpy roads, we registered ourselves at the table that was set up for issuance of boarding passes. Used the loo that was there but there wasn't any water supply. Boarding commenced soon after that, with the captain collecting the passes from us.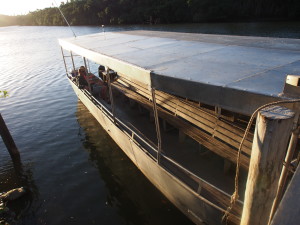 The ride was smooth but quite long, at least 30mins long, as it went around the bends of the river. As it did so, the sun also began to set. The boat was full capacity, about 40 people, making space a luxury. Tried to get some photos of sunset, though it was nothing unique about the 2 banks of vegetation and mangrove trees.
As we left the mouth of the river, an island appeared in sight, in front of the twilight. On the seashore was a group of people singing songs to welcome our arrival.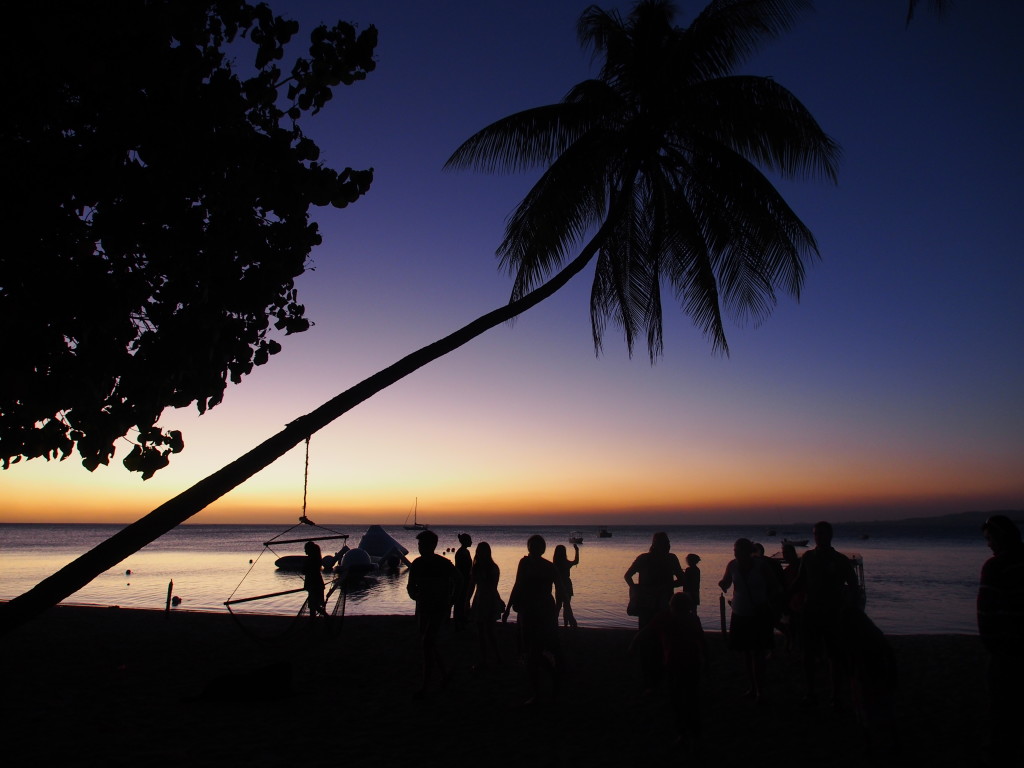 The program began with the Kava ceremony where the guide explained the various sequence of the ceremony. After the demonstration, we got to try out Kava, some local drink that was made of certain plant part. Drank a coconut bowl of it, and like most described, I thought it tasted like muddy water, without the solids. There wasn't any alcohol effect at all, as they claimed it wasn't.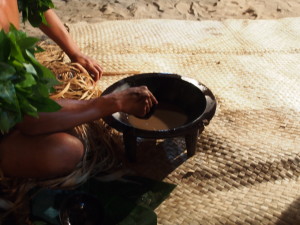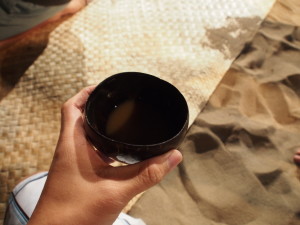 After the Kava, we were asked to gathered around a dug out where potatoes had been cooking on some stones. Some old style BBQ going about there called Lovo digging. After the food was removed, it was the fire walking event.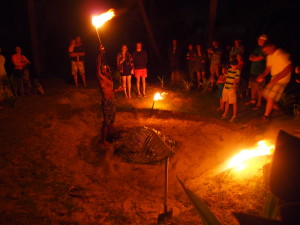 There wasn't a fire pit like what we have seen during Thaipusam in Singapore, just hot stones that were still hot as they pour water over it to show the steam arising. So the fire walkers would stand on these stones and move on them without any signs of pain. Ok but not within expectations.
Dinner started soon after at the buffet line that was dominated with vegetables with pork and beef at the end of the line. I thought the food tasted fine though wifey thought otherwise. Liked the spinach though. The only problem about the food was that I saw a dead small caterpillar on one of the beans. Wasn't comfortable eating afterwards.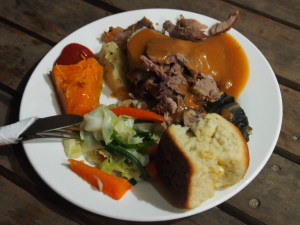 Drinks were separately charged and we ordered a banana smoothie which was a little too milky and a beer for 19Fjd.
The main show event started after dinner. It started off with some fire dancing and then went on to dances, and dances and more dances. Different tribes of dances were shown, man and woman. After a while, it was same same but different feeling. There were some engagements with the crowd too which made the shows fairly amusing.
The show went on for at least an hour, and ended with some really nice group fire dancing. Thought it was a little too long for the dances though.
The whole event ended after a get together hand in hand song item, and a photograph session with the dancers before getting onto the same boat back the same way. Only difference now was that it was dark with the only natural lights coming from the clear skies of twinkles and the winds were chilly.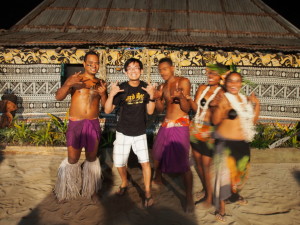 Boarded a mini bus this time and same way back, almost an hour since we were the last ones to alight. Then it was all packing for the outing to Matamanoa island the next day.
Night was disturbed by noisy kid making nuisance noises across our room and our neighbors were also talking quite loudly. We dozed off soon enough.