Day 3 started with the similar arrangements as day 2, only 30mins later. I blamed jet lag and sleeping late for the tiredness.
Baby K woke up earlier at 745. As we prepared for the day, we got baby K to munch on his breakfast cereal, leaving a mess as bits and pieces of the crunchy bar fell onto the floor as he walked around. Mommy went to buy pastry and pizza from same bakery as the previous day and Lavazza coffee from Caffe Pizzeria Blue Planet, also on the ground floor.
I went to check the car seat that I washed the night before and left it under the air-con to dry but it was still smelly. We decided to leave it in the room. I brought baby K to the supermarket to look for air freshener and prune juice as baby K seemed to be suffering from constipation. Eventually I didn't get the prune juice as baby K decided to poop in the supermarket while fiddling around with the goods.
After changing the soiled diapers back in the apartment, we were on our way to explore another city in another country. The car was still smelling like puke and we quickly put the air fresheners to use. Drove south east on 8 until a split to 223 where we hit a border crossing near a town Ivanica. It was a busy border and we managed to cross after 30 minutes. This time around, we had to predownload the Google map while we had wifi and used that as a check back with the recommended route by the GPS, so that we didn't get the longest route. Thankfully the downloaded map given by google map could still work even after the mifi dropped after crossing into Bosnia.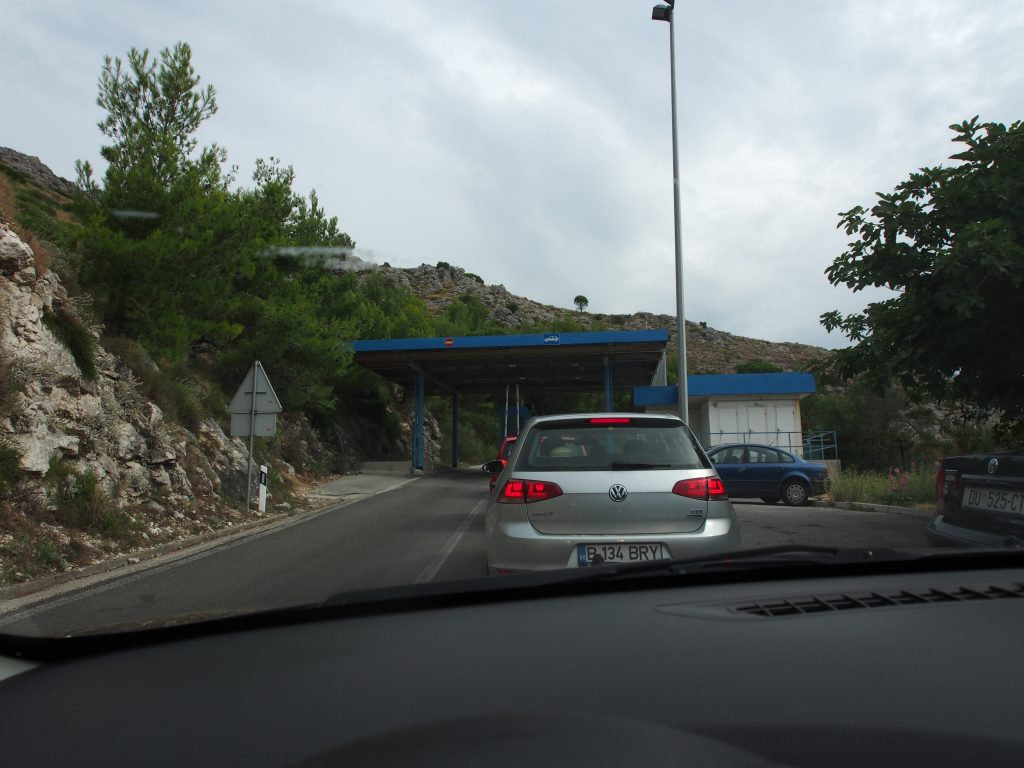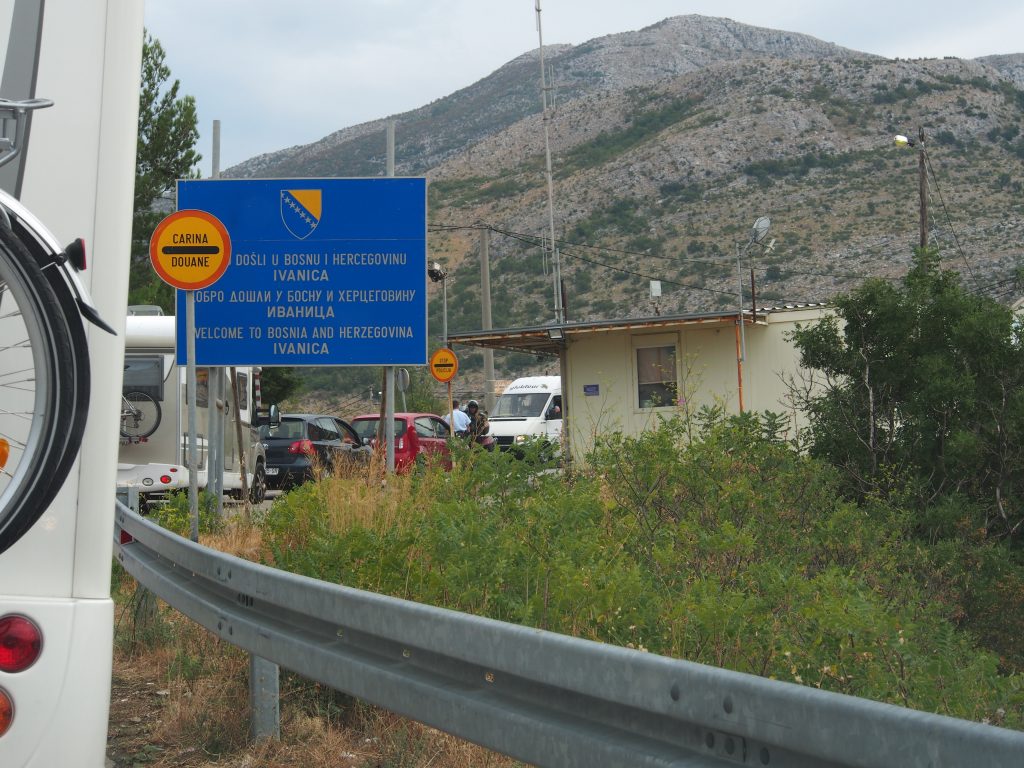 It was a really long drive and comparatively the paved roads here were quite bumpy. Baby K slept soon after. We only managed to reach Mostar at 130pm, about 3hrs of driving as baby K woke up at the same time. I have read in advance from somewhere to ignore and keep going forward when we see a carpark attendant when arriving into Mostar but had totally forgotten about that advice. Furthermore it was indicated clearly on my GPS that I had not arrived at the right carpark yet. So I scrolled down my window to talk to the man with a parking attendant tag and was told to follow a boy on a scooter to the car park lot. Scooter boy led me through a narrow street and into a compound where there were already many cars parked there and so I did the same. I was only told, after getting off the car, the parking fees. 200kunas. That translate to 40SGD, more expensive than parking in MBS (and this was not MBS)! I managed to come out with a "Errr too expensive" and was offered half day for 100kuna, and half day meant to 11pm apparently. Didn't want any trouble especially with my family around and also already arriving so late into Mostar, I accepted this VIP parking lot and left, walking towards the famous bridge. Upon entering the old town, we found public carpark at 1euros, the one that my GPS was initially bringing us to.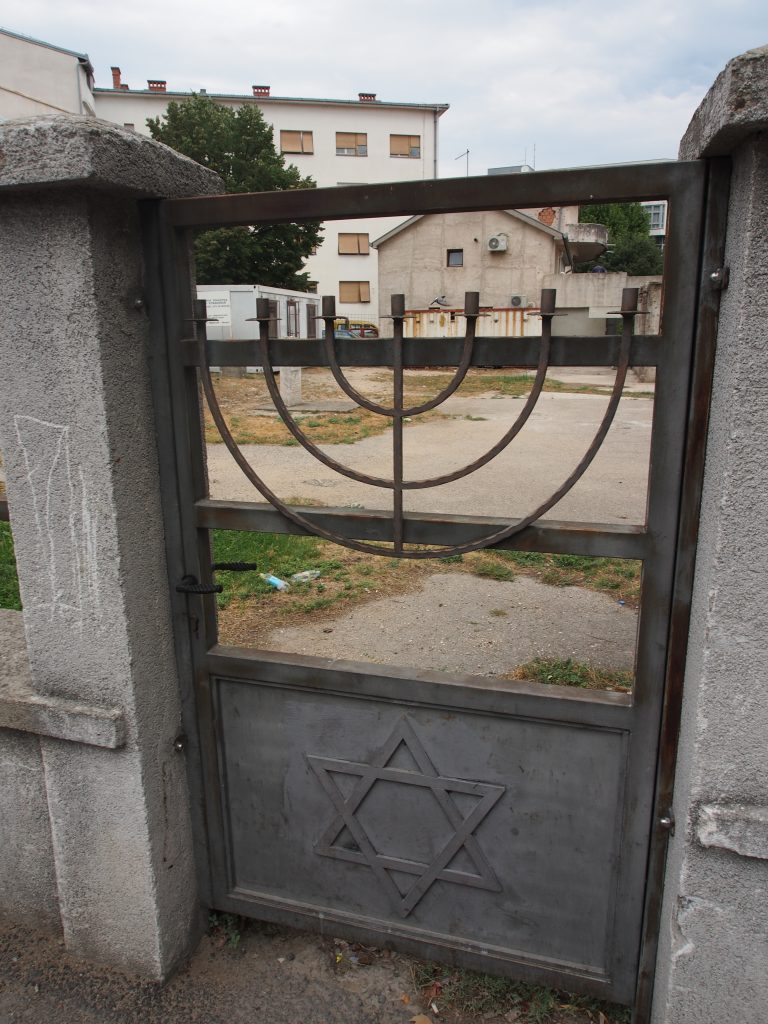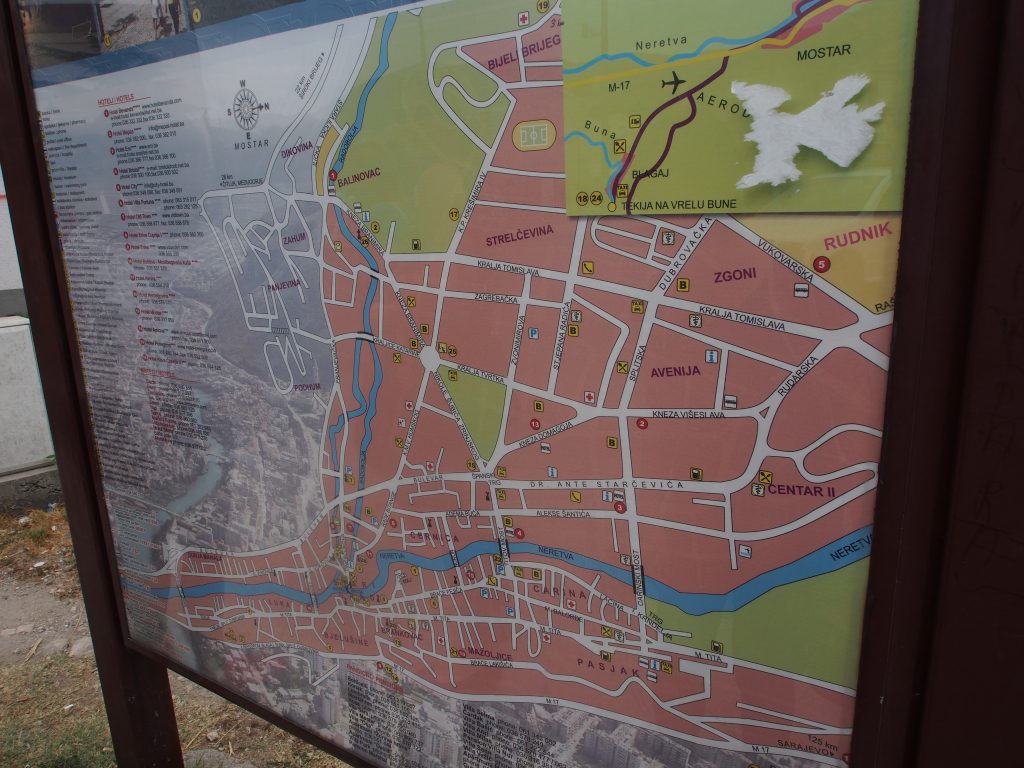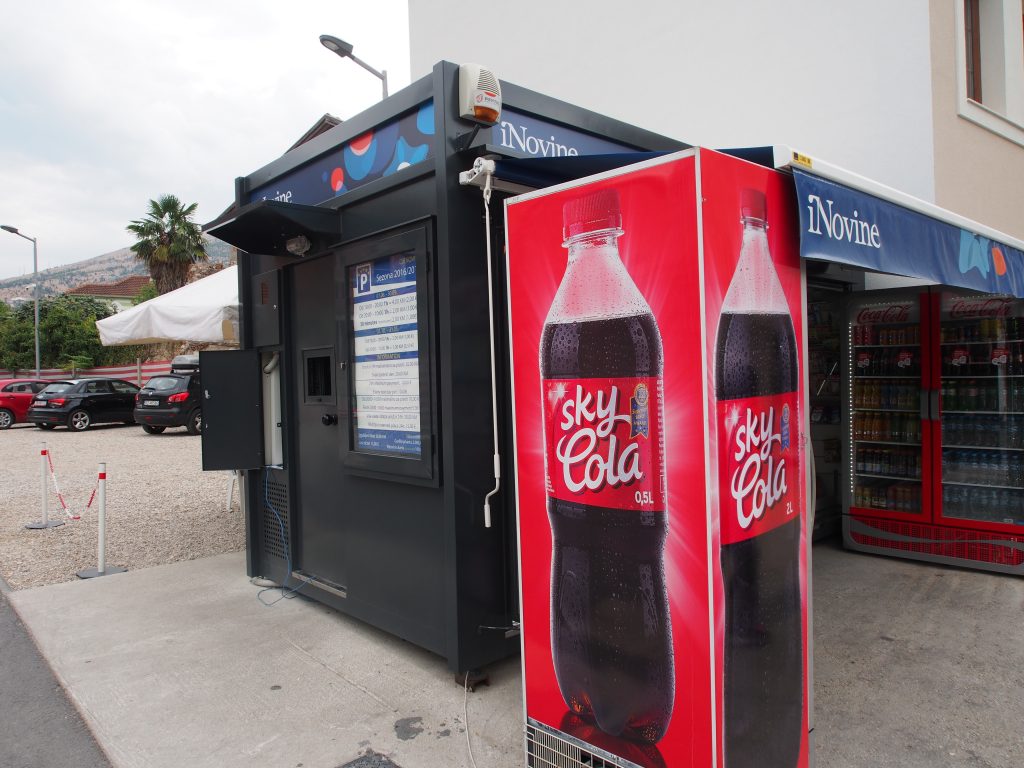 Just near the bridge we chose a restaurant Sadvran, with local Bosnian food and nice ambience. They had baby seat which was great as that would limit baby K's movement during lunch. Ordered veal and chicken fillet and they came in very big portions and at an affordable 17euros in all. Payment in all 3 currencies (Euros, Croatian and Bosnian Marks) available. As a hobby, I have also asked to change some Bosnian marks for currency collection at the restaurant.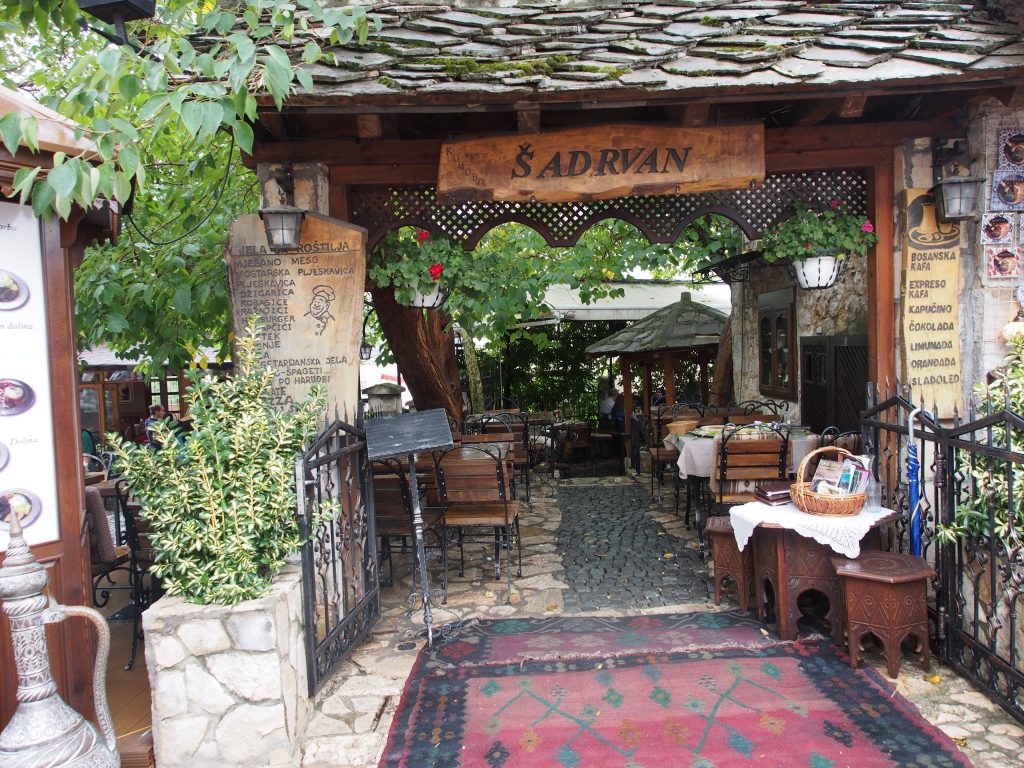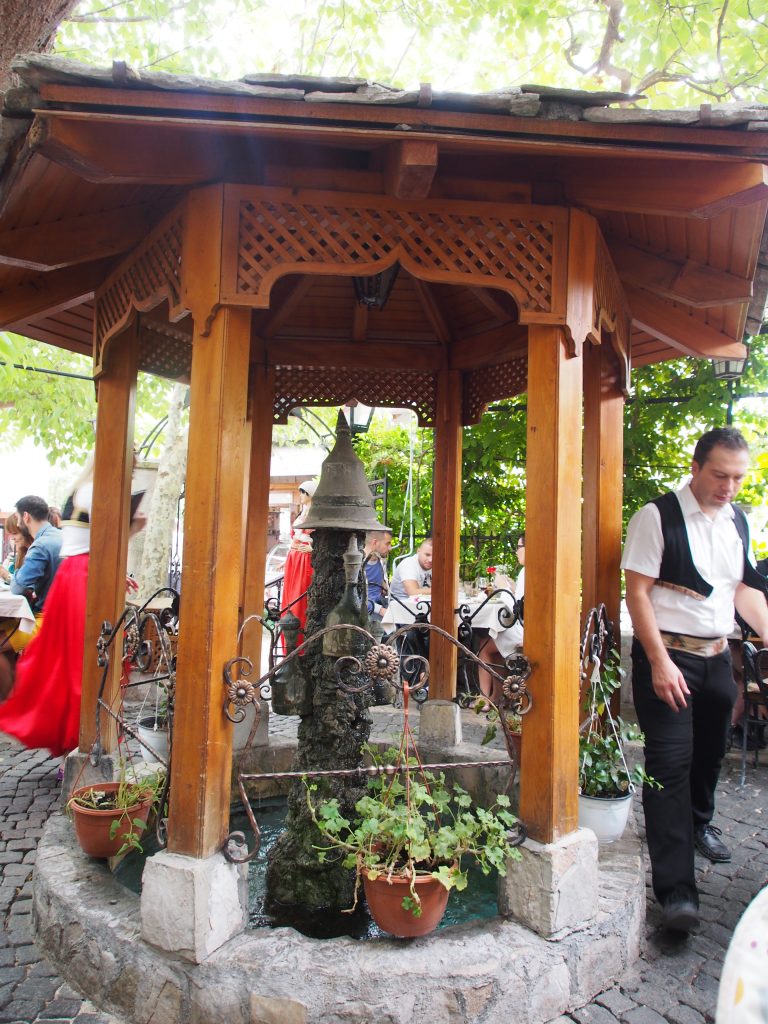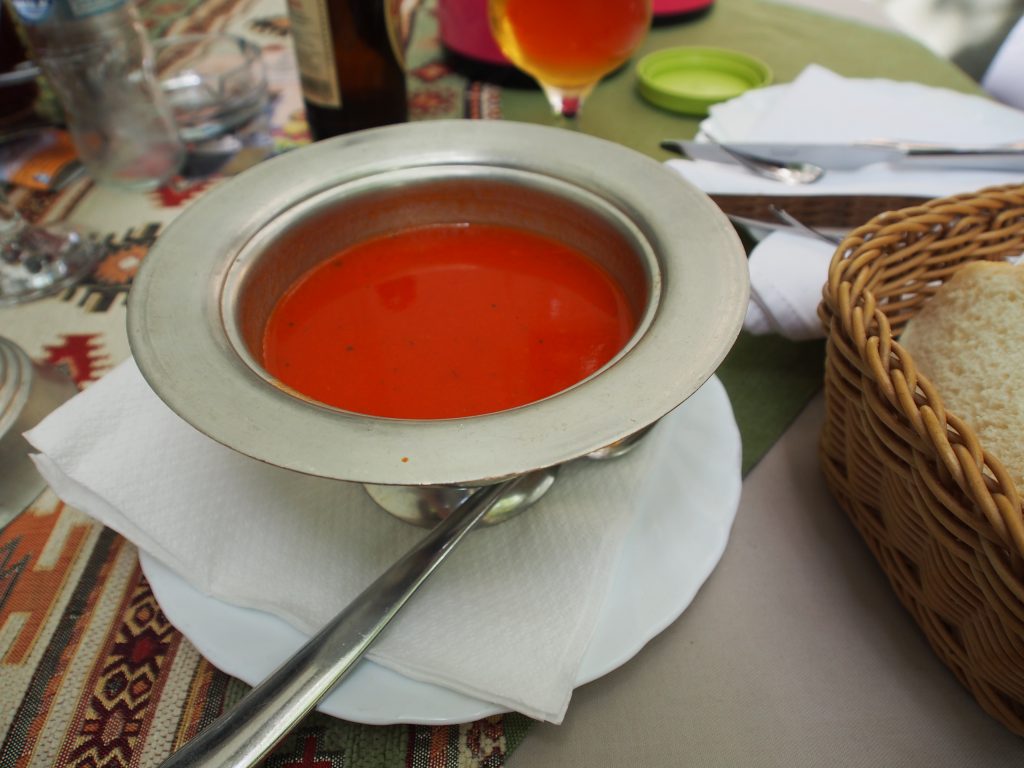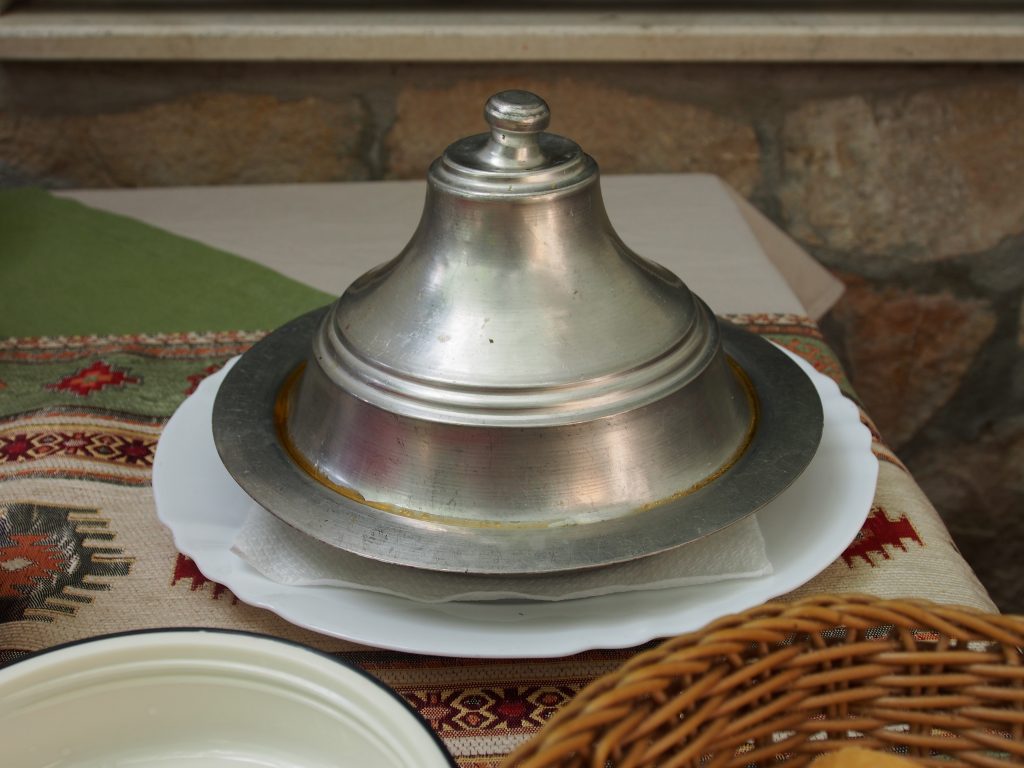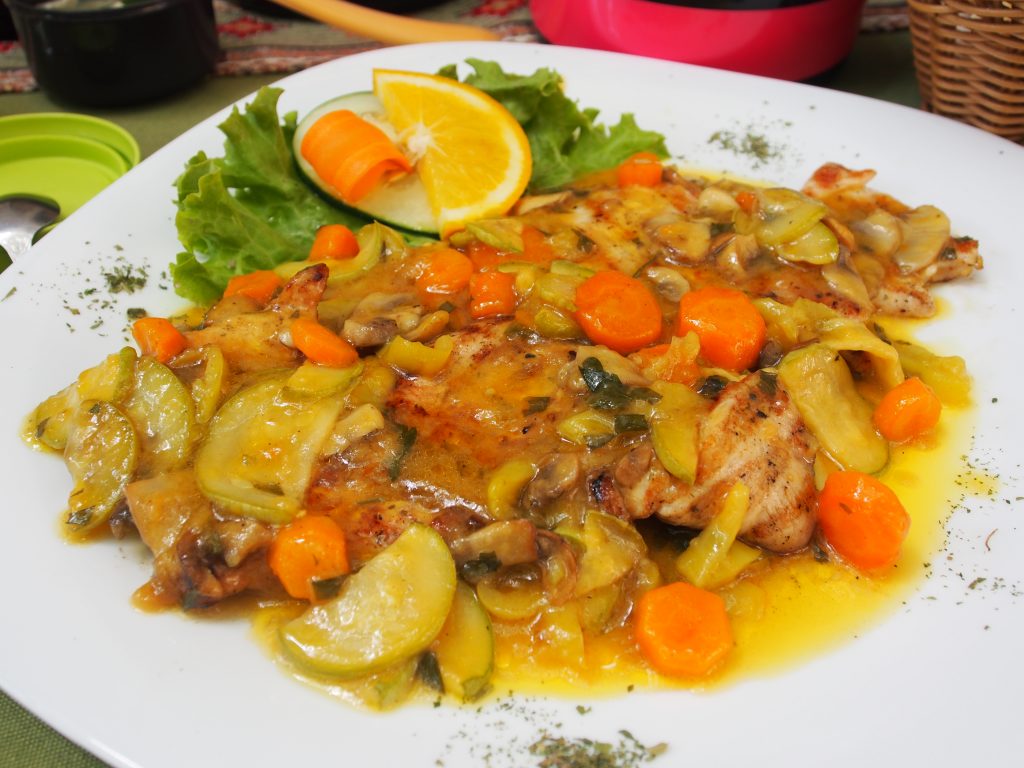 So it was mentioned that there would be a nice photo shoot point if we walked past the restaurants down the steps towards the river and true enough, it was a nice spot. After taking some photos, we crossed the UNESCO bridge, Stari Most, to the Bosniak side of town, where the buildings and culture reflect predominantly Islamic compared to the Catholic presence in the form of cathedrals before the bridge. We walked through the streets with shops on both sides of the cobbled street. Stopped at one shop to buy a souvenir of the famous bridge. There was no price tag and we were going to negotiate but didn't – the price was just 1euros! Walked to a small shopping mall nearby to use the toilet and change baby K diapers and while at it, change small currencies at the toilet for collection. Toilet lady was exceptionally helpful in getting the different coins for me.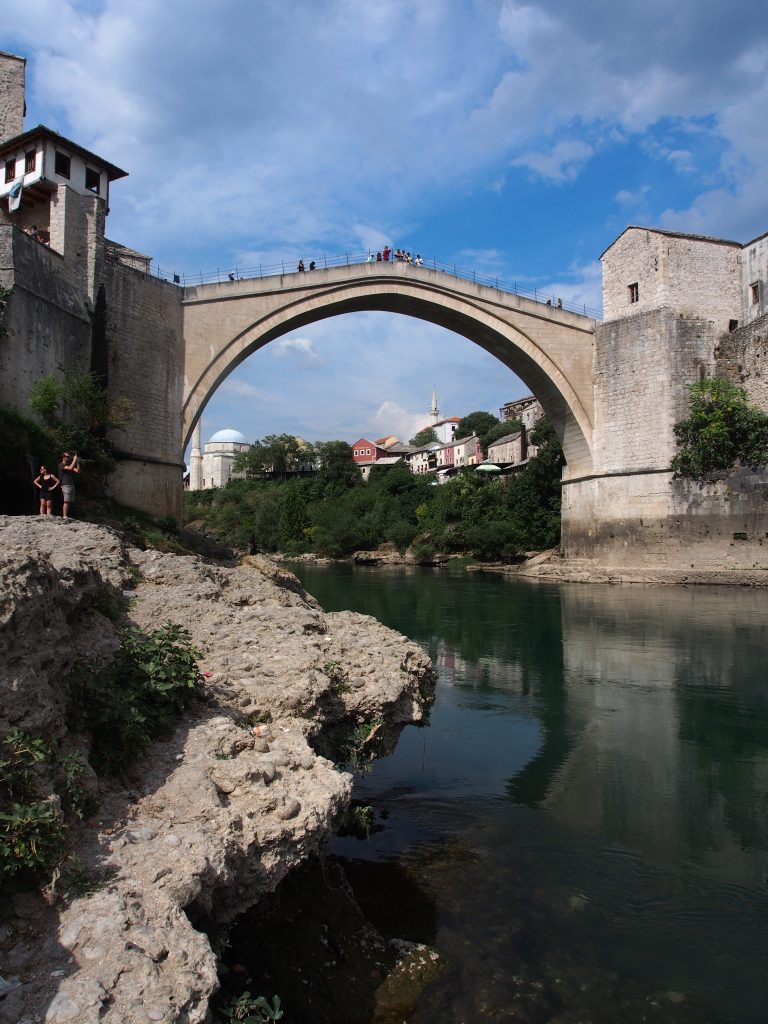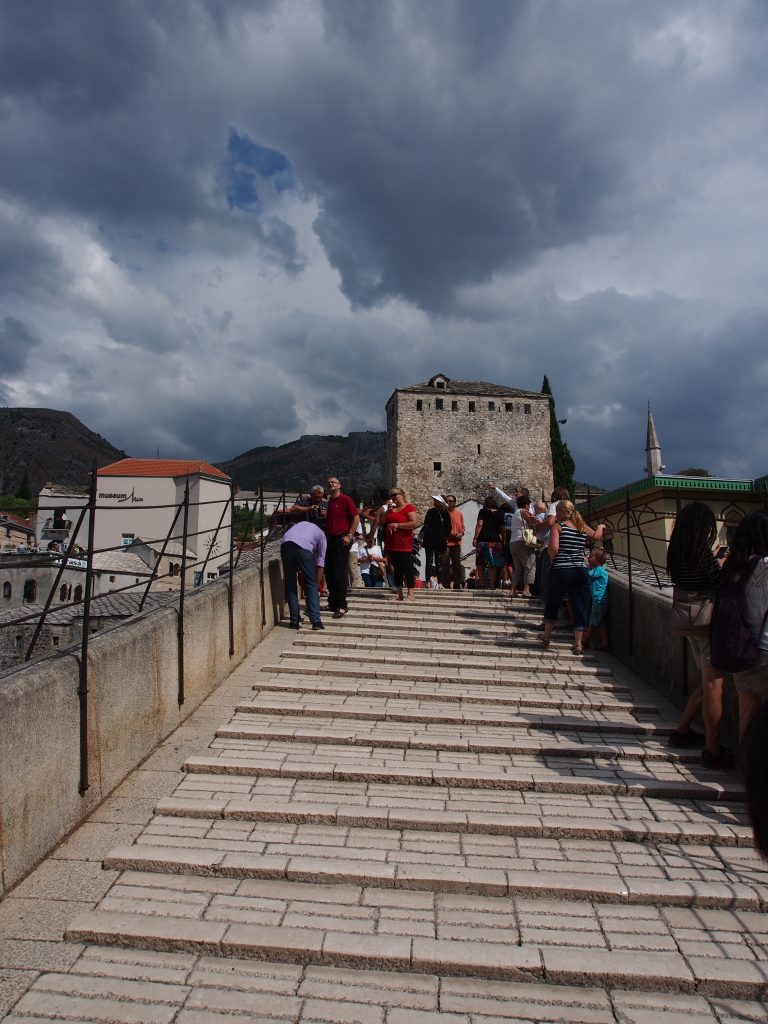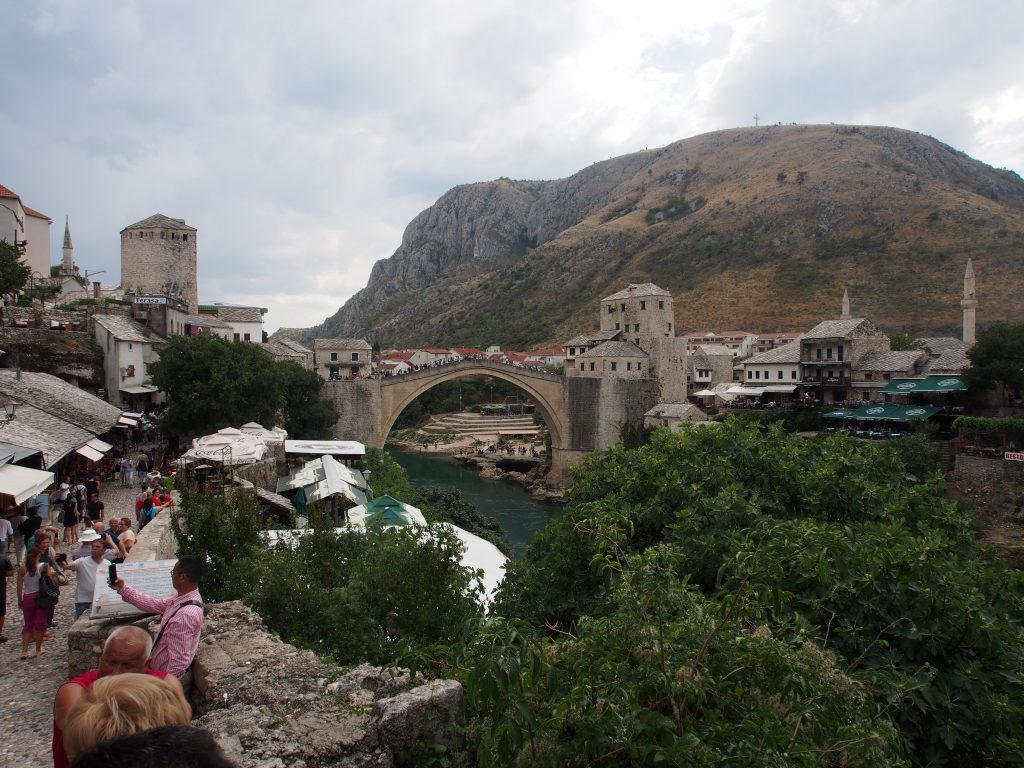 Wanted to follow walking route by Rick Steves but as we were about half way through, the skies began to trickle. We moved quickly backwards, getting past some heavy road works before managing to take refuge at a market before the heavy showers came. It was awful to have rain during our holidays but the weather had been especially kind as it was forecasted on online weather webby to be 4 days of showers which should have started on the day we arrived in Dubrovnik and it was not all that bad (there were passing showers) till now. We hanged around the market until the rain lightened to trickles. While waiting, I carried baby K and walked around looking at some of the local products on sale amongst the few stalls. We proceeded to walk back to the carpark and while on the bridge, we noticed some people that looked like they were going to jump and dive from the bridge (maybe the rain allowed the depth of the river to increase?) but seeing that there weren't any developments after 5mins, we left. I left Mostar with a slight sense of disappointment as it wasn't as what I had expected to see. My impression from reading the online reviews about how it was a town so devastated by war that old buildings with bullet holes could be seen or even a bombed up building. I have not seen anything of that and I thought that the town was kinda nice, one with a rustic feel.
Our next stop was a picture perfect Blagaj Tekke which was a short 15mins drive from Mostar. This time I just followed the GPS and went all the way in to the car park I had earlier bookmarked. The nearer we approached our destination, the narrower the roads became. We arrived at the entrance of the carpark guarded by a carpark attendant who charged a reasonable 2marks (about 1SGD) parking fee.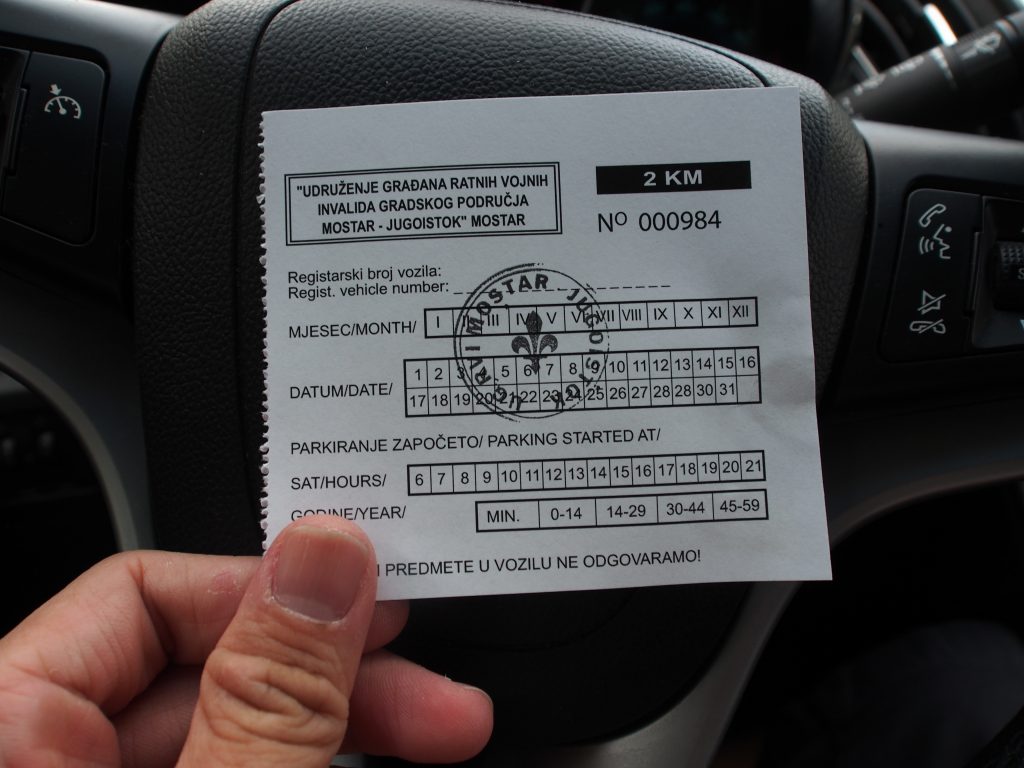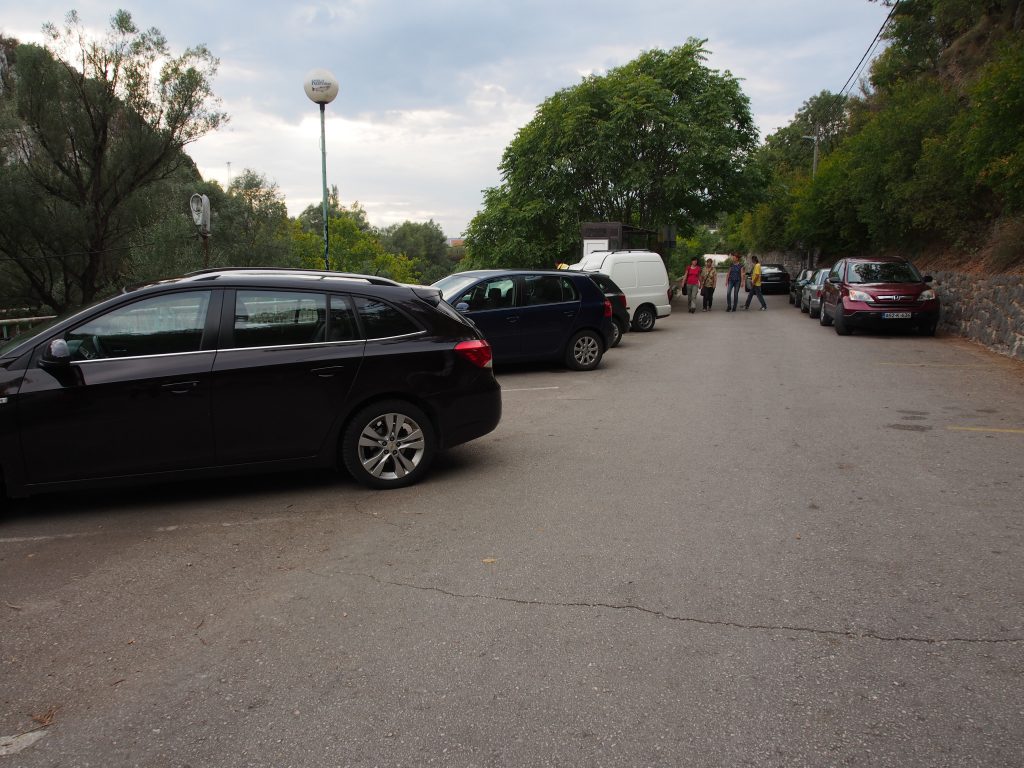 We walked the short distance in but didn't know what we were expecting and paid 8marks for 2 persons to enter the attraction. Only after we enter we found that we were not in the proper attire (wearing berms) and so didn't bother to enter as it didn't look all that interesting. I guessed we were there more for the view than the history and culture. We should have just explored the area a bit before heading to the tickets counter.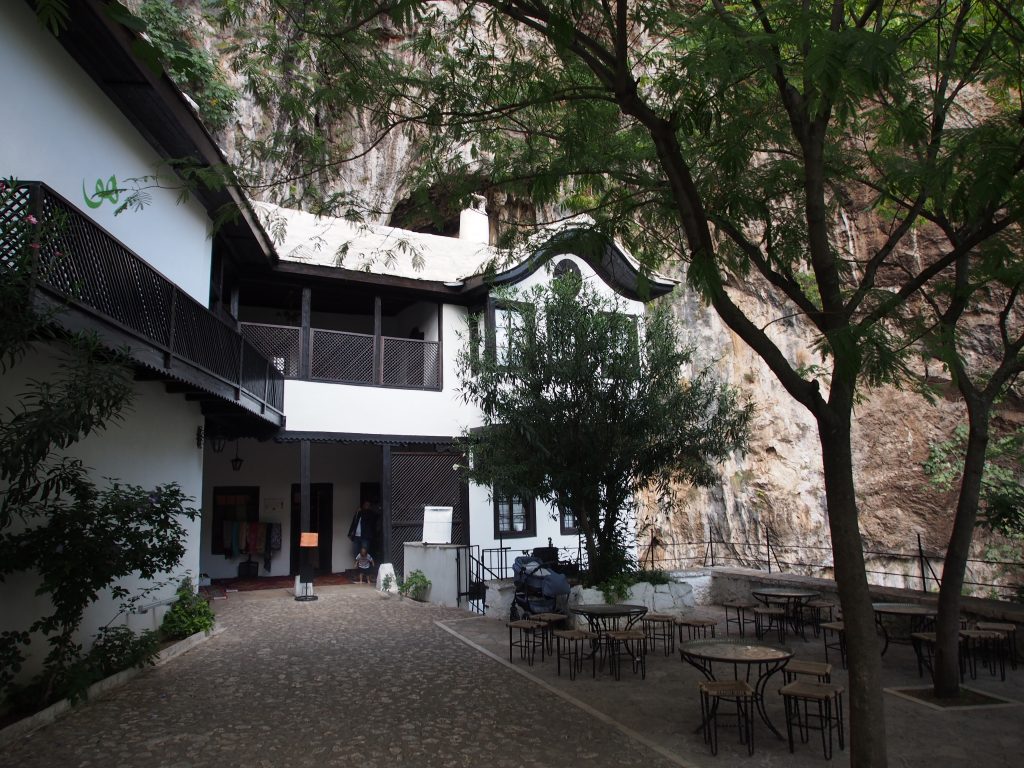 After using the rest room and accessing the balcony, we back tracked and crossed the closest bridge, walked thru a restaurant Vrelo and trekked towards cave opening in the mountains to take photos (where the view was). There were other activities available like kayaking in the river and taking a boat trip into cave but we didn't attempt those.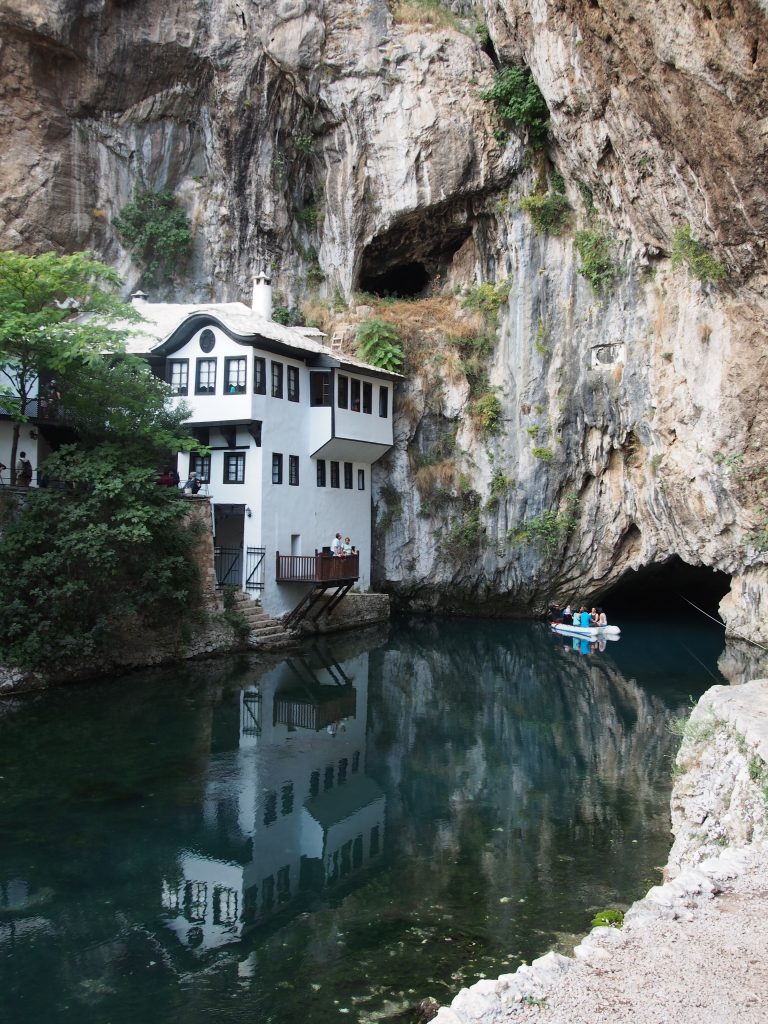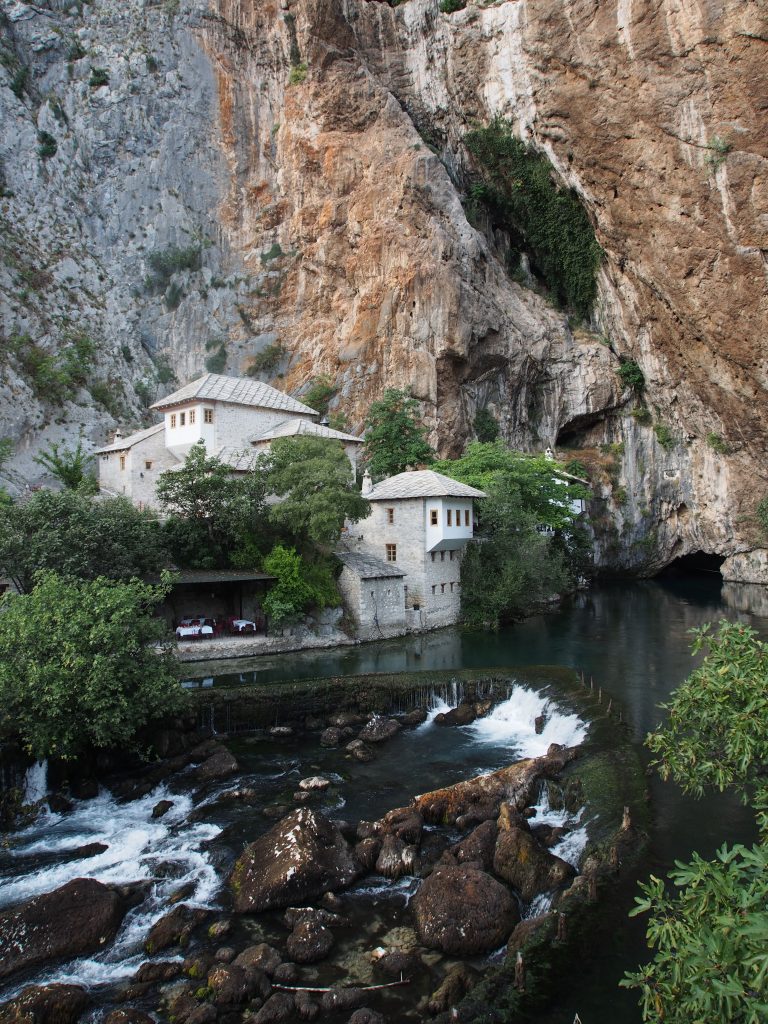 We returned to the Vrelo that we had passed through earlier on the way to the cave opening (where there was a waitress not impressed with us walking through the restaurant when I had asked for directions on how to get there instead of asking for the menu) and ordered Bosnian coffee (which I thought was one of the must-try) and red tea. The coffee came in a interesting pot which was very powdery but tasted nice. Maybe I didn't pour it properly. Paid only 2 marks for all which was good price but the service was quite slow.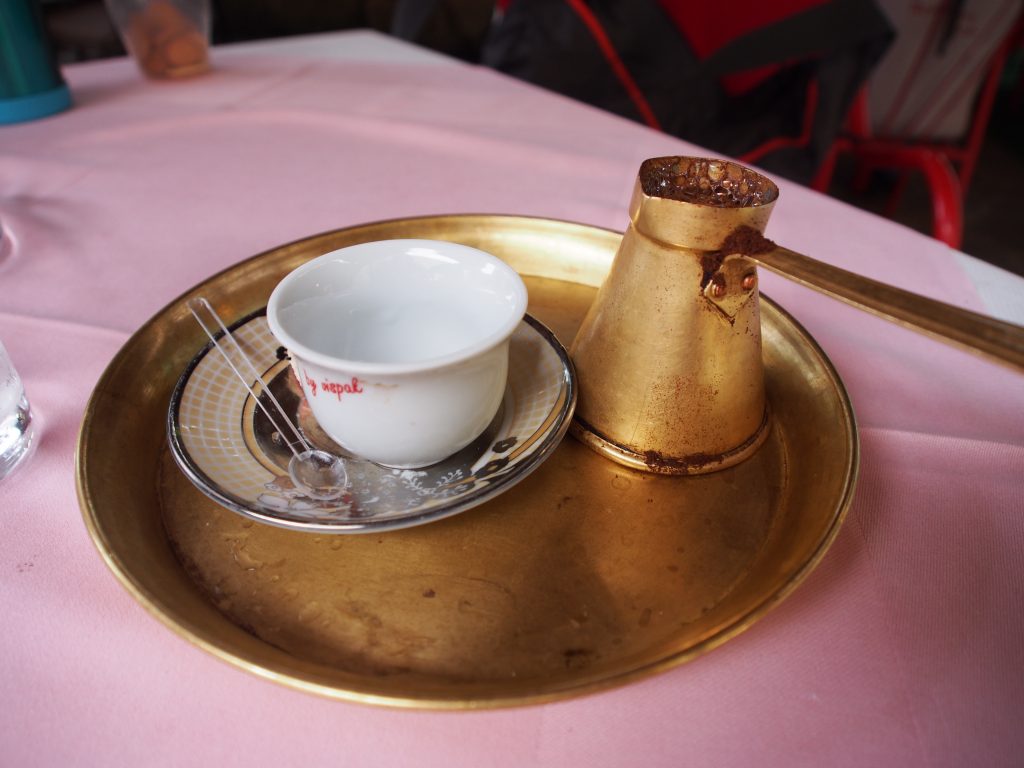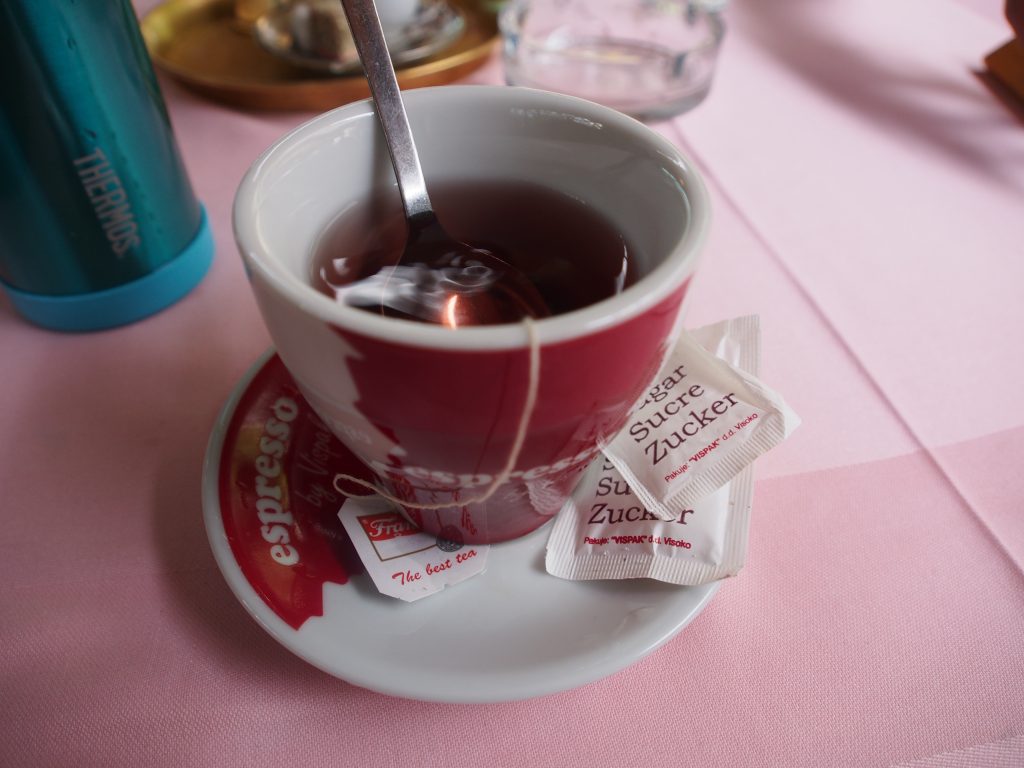 Getting back from Blagaj Tekke to Dubrovnik was hell of a long journey. Thankfully baby K fell asleep and slept for most of the journey. On this return journey we took a different route to the one we took as we drove towards Mostar and was quick to reach the border crossing. While Bosnian side officers waved us past quickly without even stamping, the Croatia side went through the stamping.
The very long drive happened as I ignored the GPS constant recommendations to take the small roads and my insistence to stay on M6 all the way got us on the west side of Neum, which meant we had to do another two border crossings as Dubrovnik was separated (funnily) from the main part of Croatia by this small part of Bosnia. However, as many drivers would pass this Bosnian territory in their daily commute, the border crossings were much easier and quicker as officials usually only glanced and waved us past, with the more detailed check on computer at the most. Their counters were even side by side, reducing the space to travel between counters and the need to stop frequently.
It was a race against the setting sun as I tried to drive as fast as I could manage around the winding coastal roads. With imminent darkness covering our horizon, I had to drive in complete darkness with only road reflectors as guidance and occasional headlamps of oncoming traffic for road vision, something I was not used to although it was not my first time doing so overseas.
We finally arrived at 830pm and baby K just woke from his long sleep. Went back to the apartment and mommy quickly cooked and fed baby K while I went to buy dinner at Lavazza, which they took quite a while to cook. Had initially wanted to check out what's available at beachside and I did see quite a few restaurants but pestering drizzles came and had to run back to the sheltered Lavazza instead. Our dinner consisted of pork burger and grilled fish for 134kunas. The taste was not the best especially since it was packed, the pork burger didn't taste like pork while grilled fish was just ok.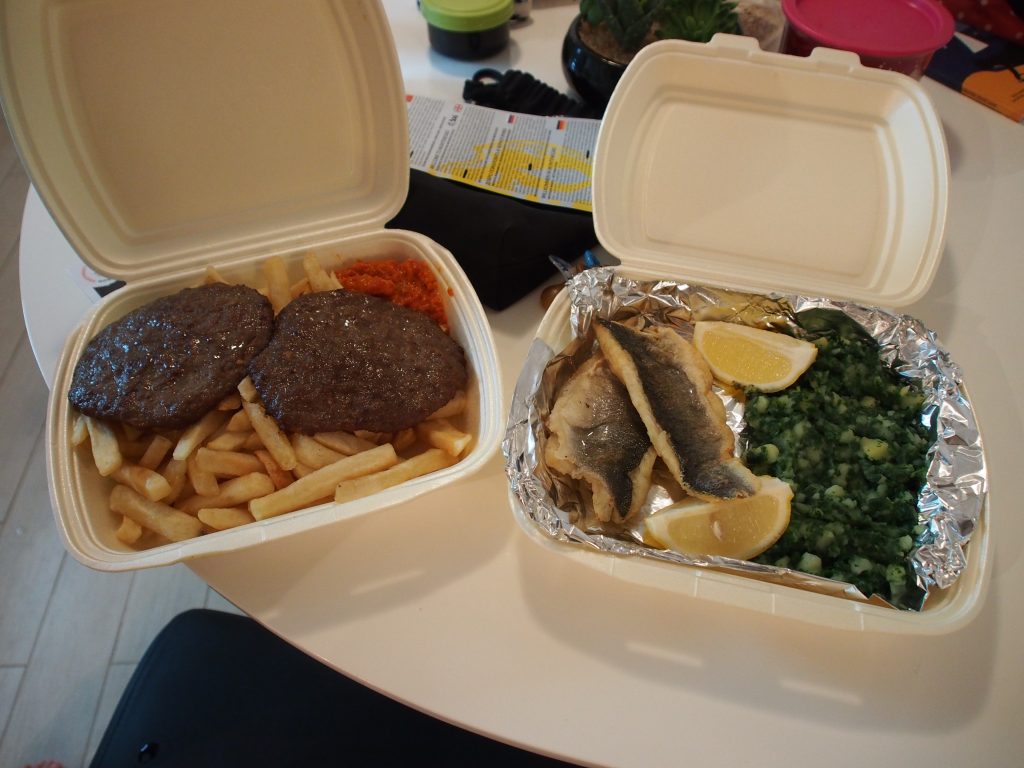 Night duty of bathing baby K done before I went down to try to wash the car seats and throw the trash at the rubbish bin center. Then it was round two of cleaning the baby seat back at the apartment, this time with more detergent. At long last, final duty to bath myself and got into bed for the well deserved rest. The next day we would be heading to Split and we had some more packing to be done in the morning.