Third day in Hong Kong and we slept in a little more. It was much more tiring than I thought, underestimating the effect of the growing K against overestimating my capability as I aged. We only woke up at 8ish and K at 9am, after switching on the TV for some time and letting the cartoons wake him up naturally.
Everything was pretty smooth up to the point where he wanted to watch more TV instead of leaving. Whined and cried until we had to leave him in the room to force him to obey. We could have stayed longer if there was the luxury of time.
We walked outside to explore the external facilities and found deco that mimicked a scene of Hollywood, with the famous sign. We took a photo with the ocean behind us and took K to the playground that instantly removed his grouch from the morning while I went to do the check out. It was pretty quick since there was no queue and we got to keep the door cards for remembrance.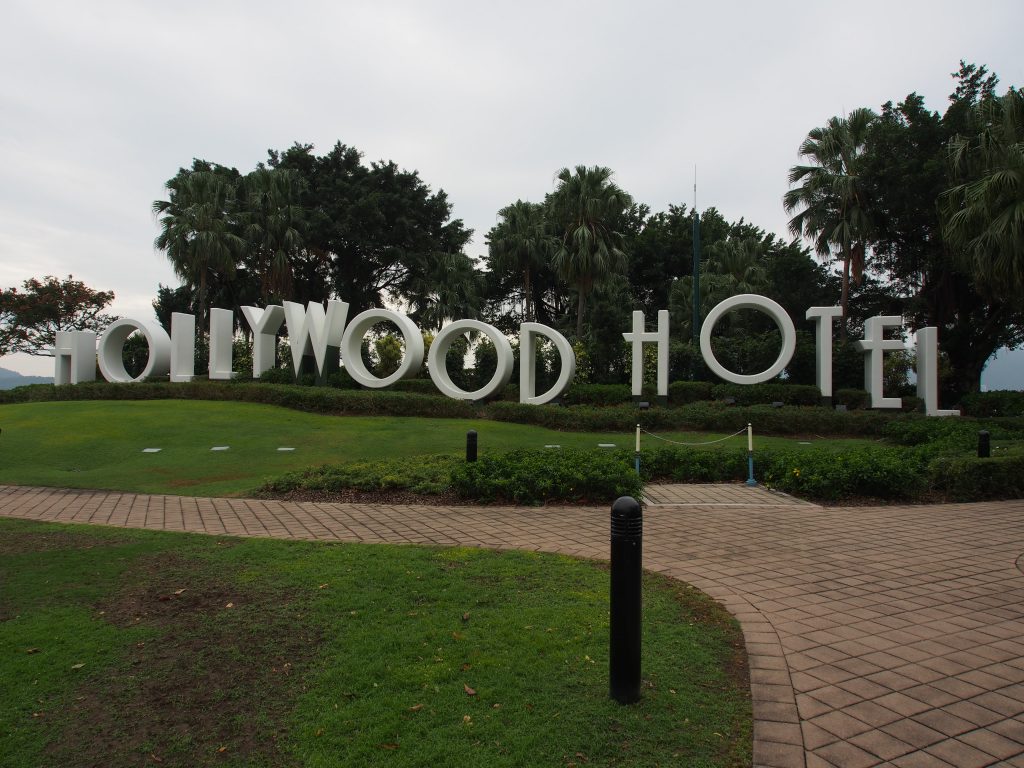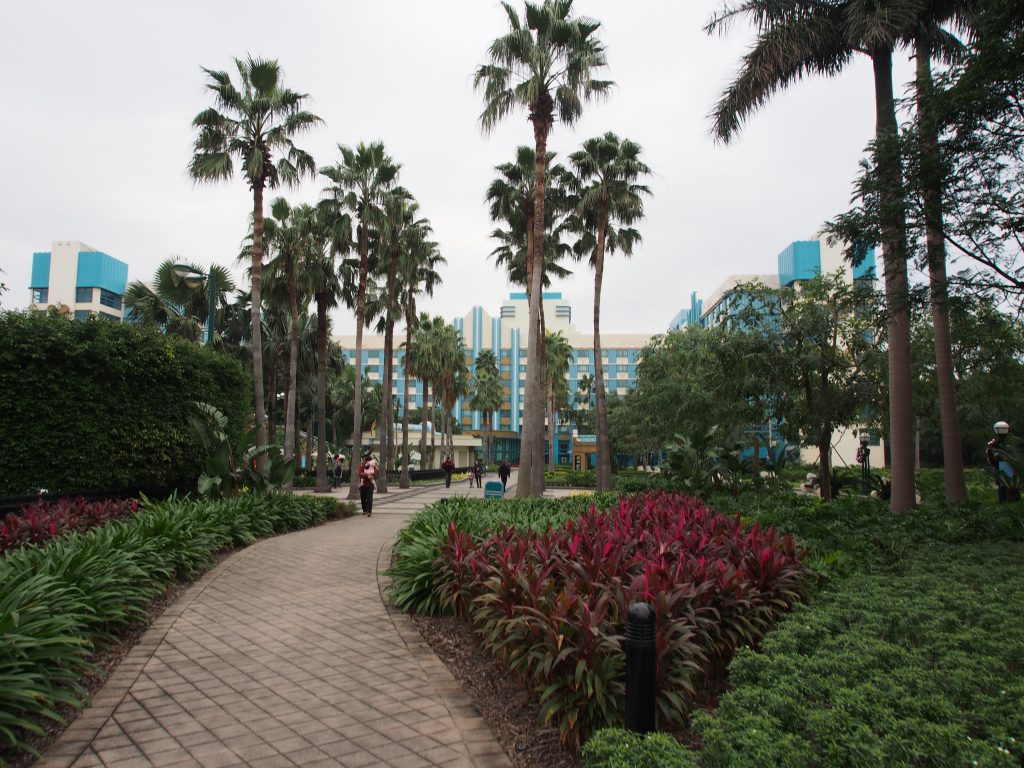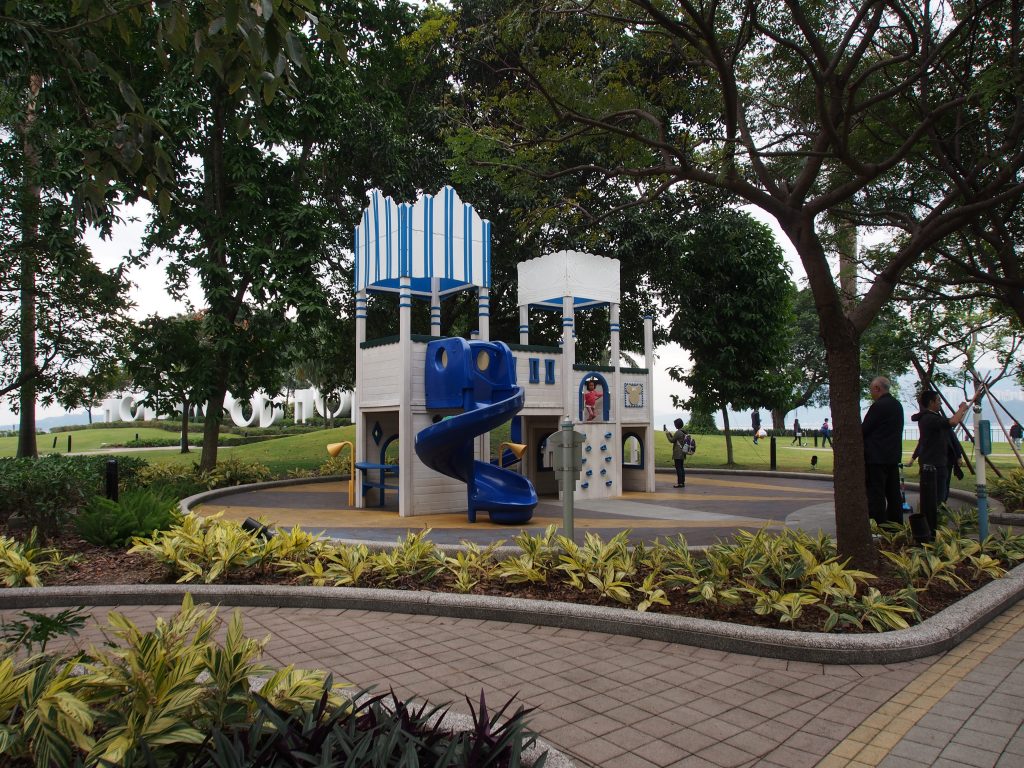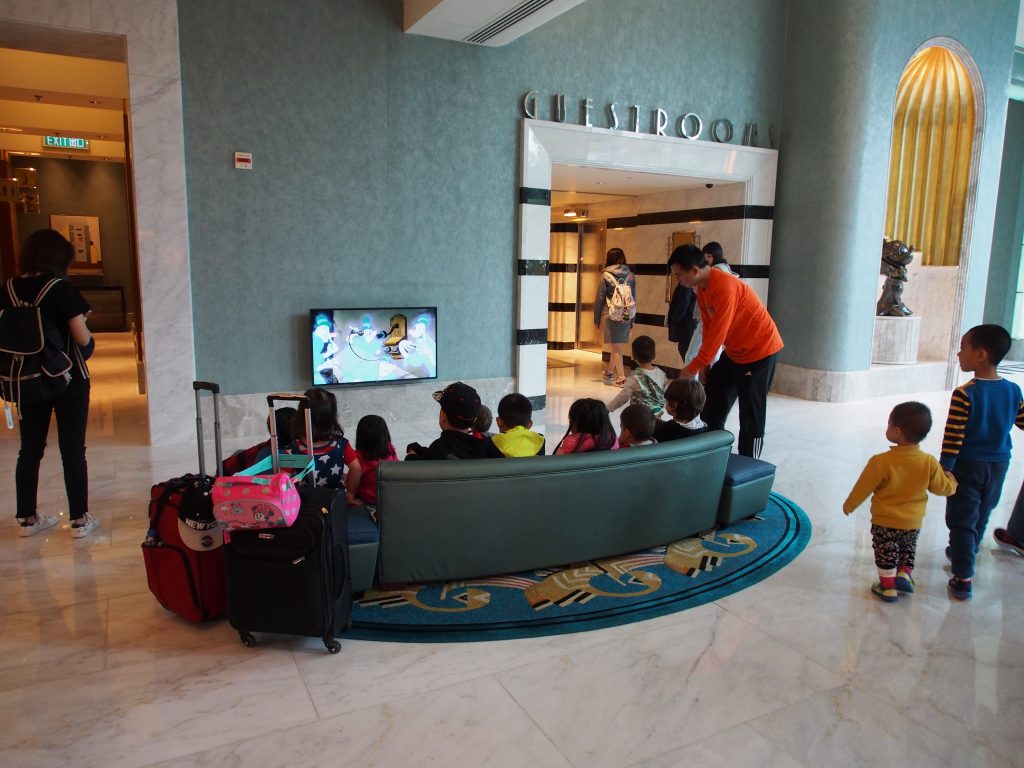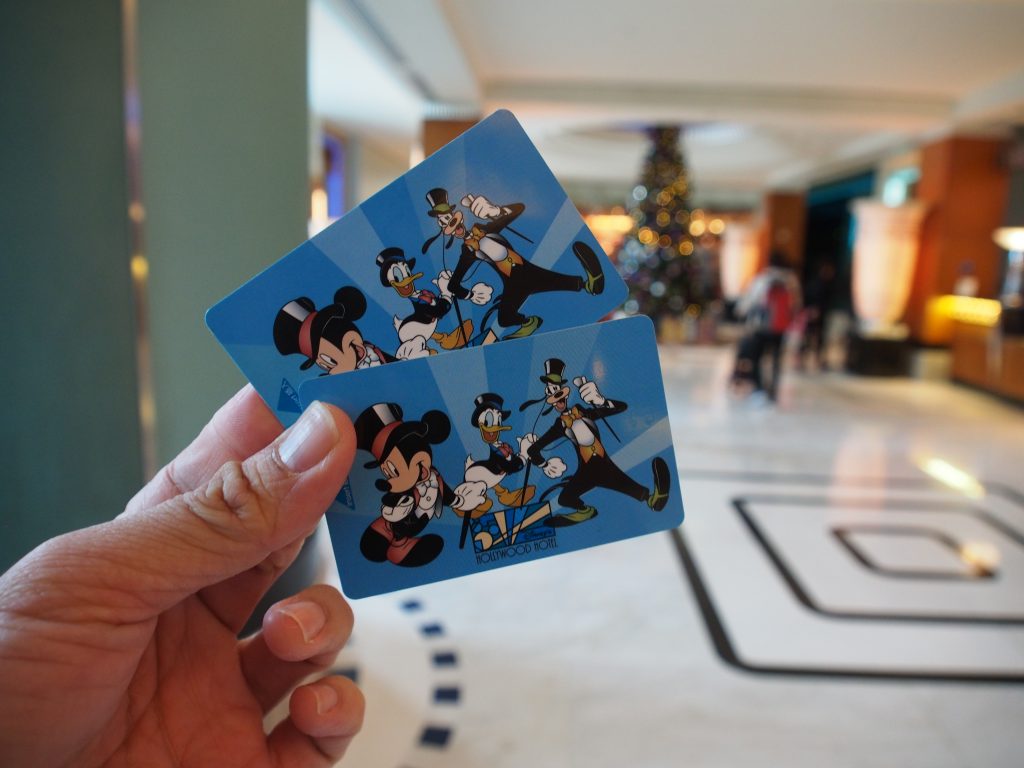 Back at the playground K finished his round of slides, tremendously happy and we went to the shuttle bus to bring us to the train station. There was a UNICEF run that morning and thus the roads were blocked with a line of traffic built up. Thankfully there wasn't much of an impact and we were soon at the MTR, paid a HKD15 per person to Tung Chung.
It was already 11am by the time I checked in my bags into lockers at Citygate outlet malls (HKD10 for 2 hrs, first 6hrs and subsequently doubled after that). There was only payment by notes and I paid HKD20 for it.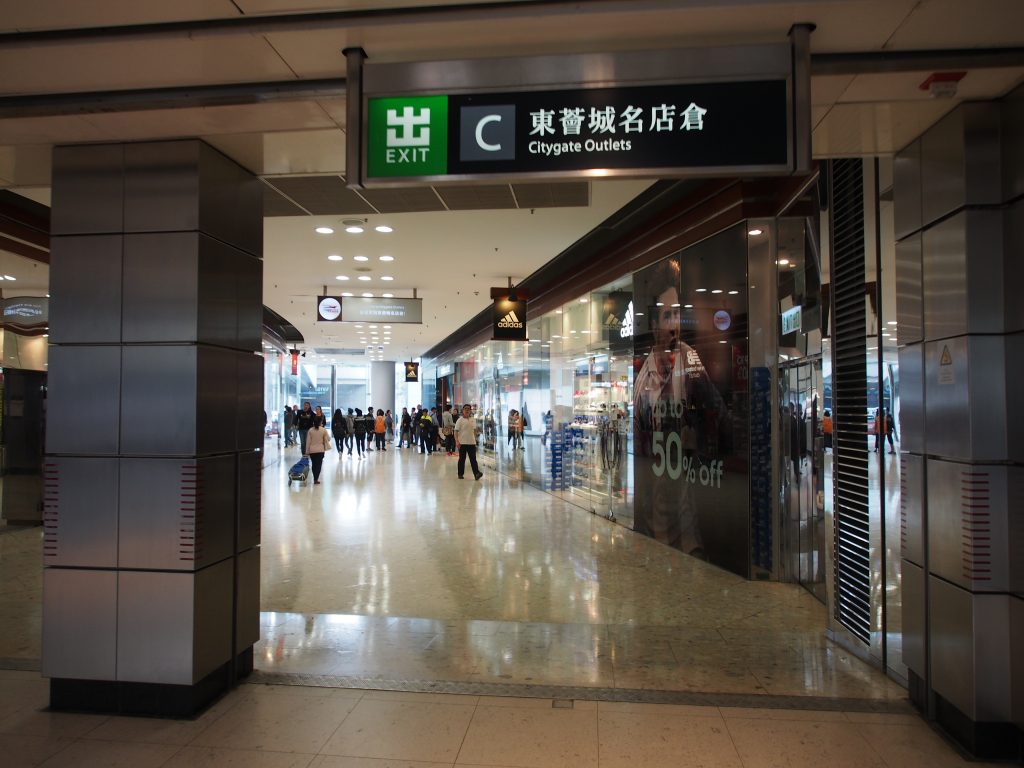 Went back through the MTR station to buy some breakfast from a bakery and proceeded to exit B on the other side, in the direction of the cable car station. Had our bread out in the open before a short stroll up the escalator and joining the queue at the prebooked line where again I have gotten my tickets from Klook. Since we had to redeemed at the counter, we had to wait again for almost 25mins before we got our tickets. Again it was a combination of a popular destination plus Sunday that summed up to the waiting time.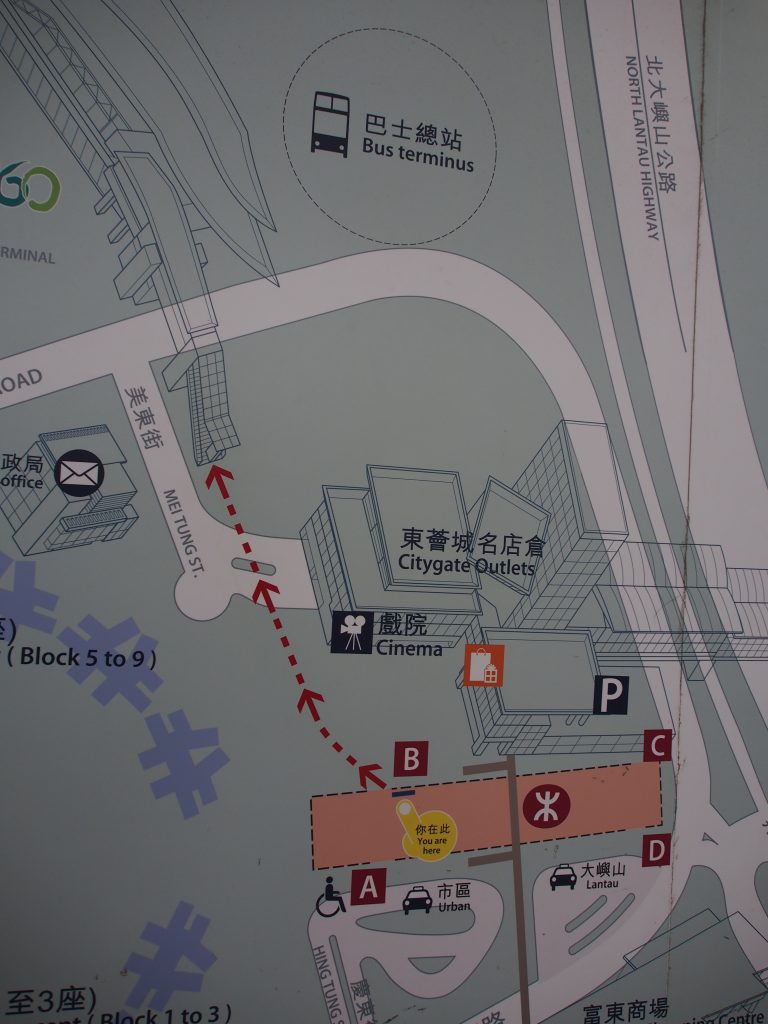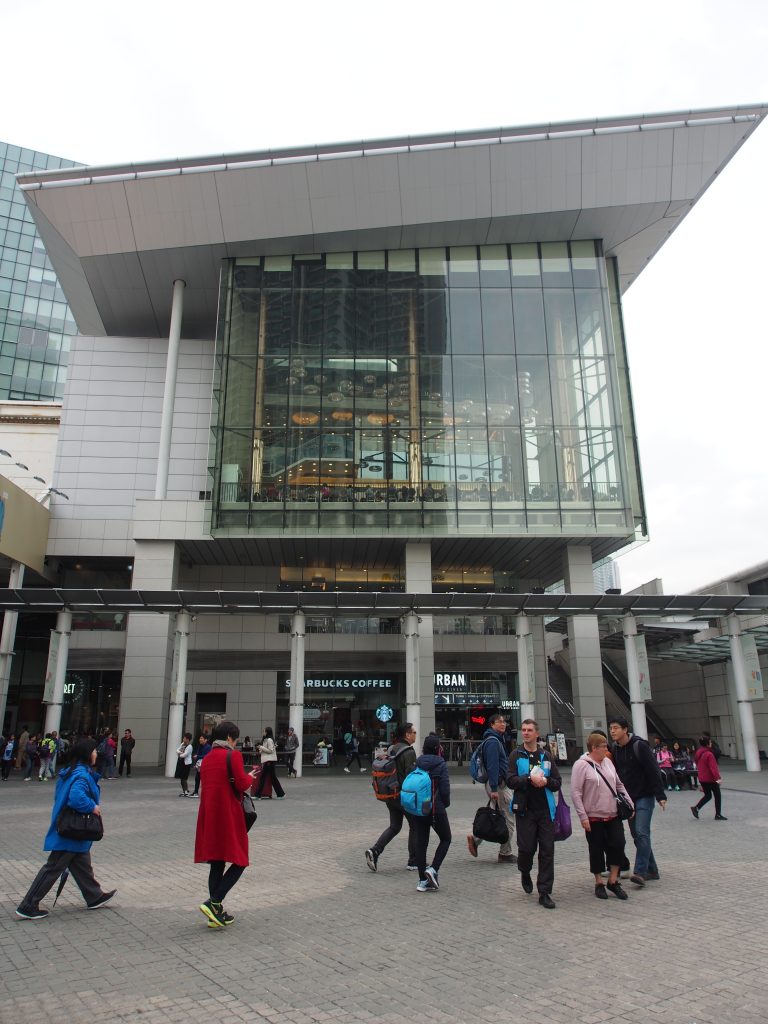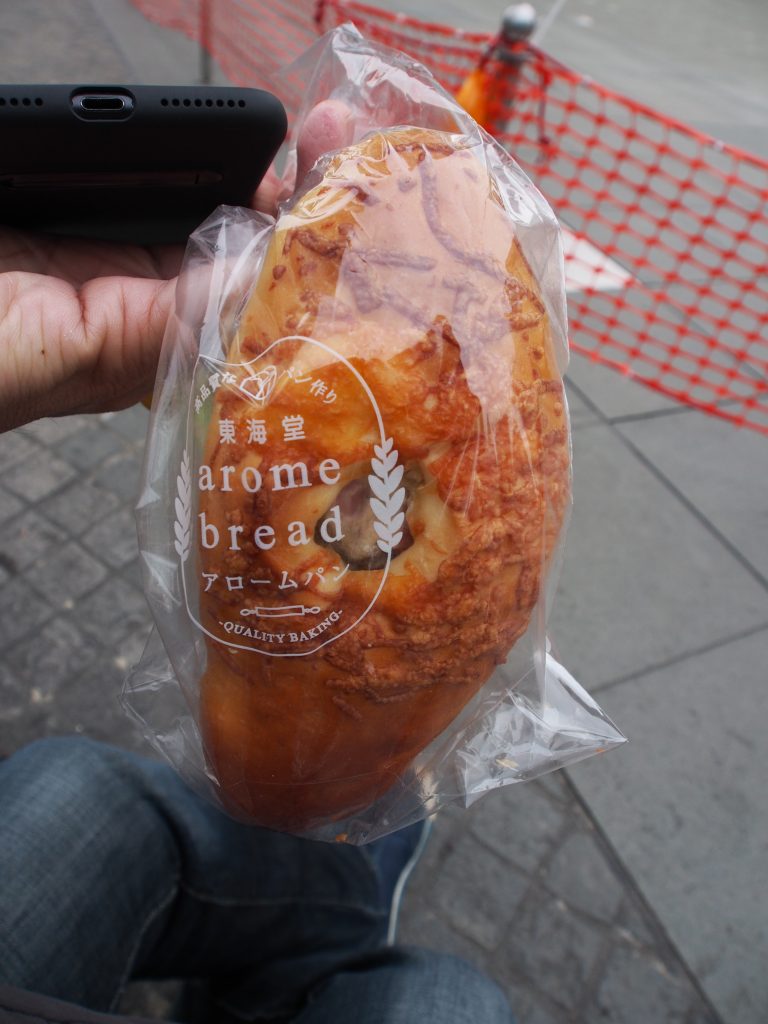 The cable car line was again long but because the cable cars were coming in fast and furious, we cleared the line in no time, in about 10mins. Luckily we didn't take the crystal cabin as it took a much longer time since the frequency of the cable cars were much lower but the line was long. We shared the cable car with another 2 groups as each one could take up to 10 people. Just before the cable car left the station, the staff would take photos for each group.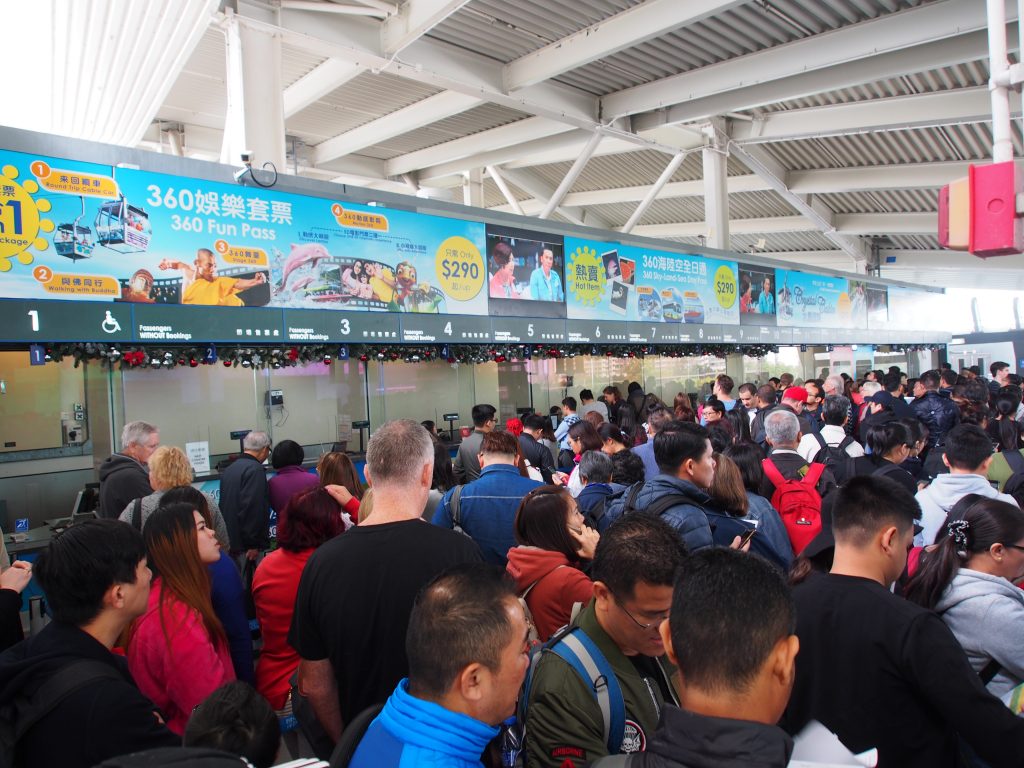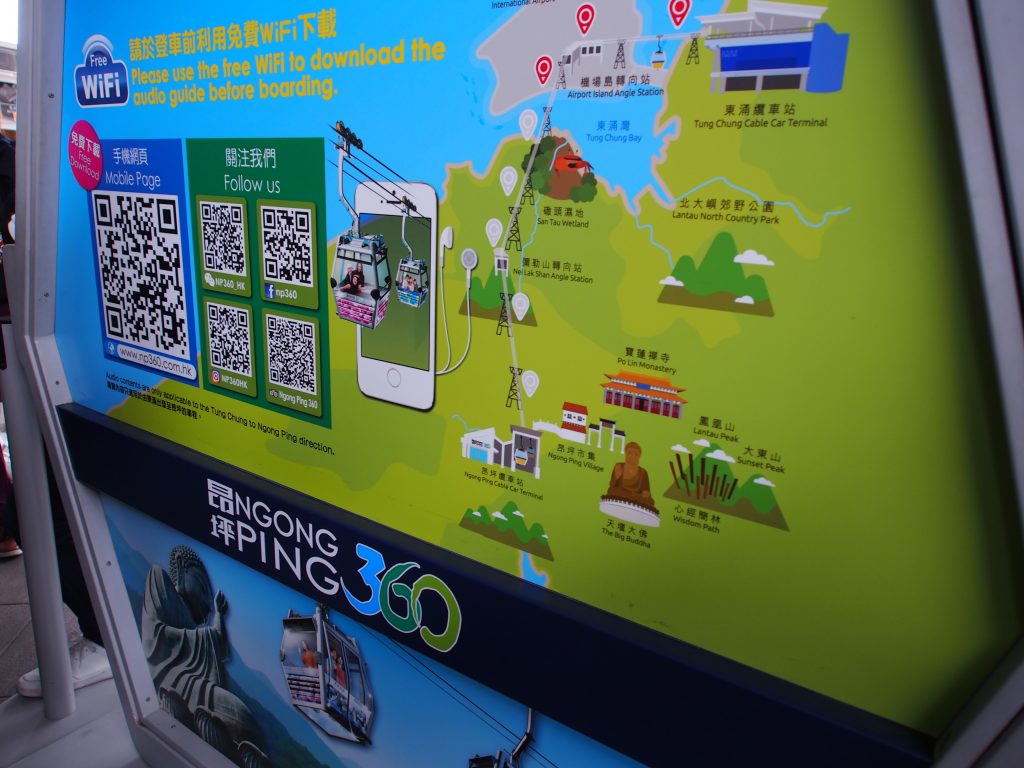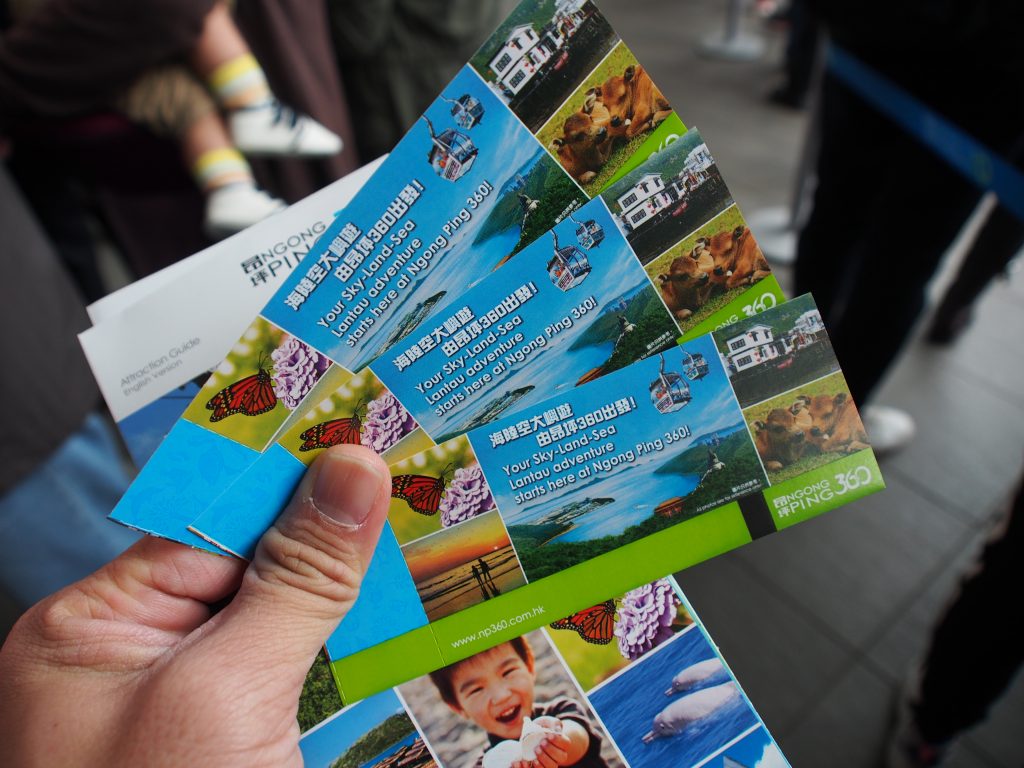 The journey took about 25mins crossing seas and climbing mountains. Along the way we saw trekkers taking the footpath making their way up. The view would have been awesome if not for the mist that shrouded the skies, blurring everything. We saw the Big Buddha seated on top a hill and we knew we were almost there, arriving at the station at about 1225pm.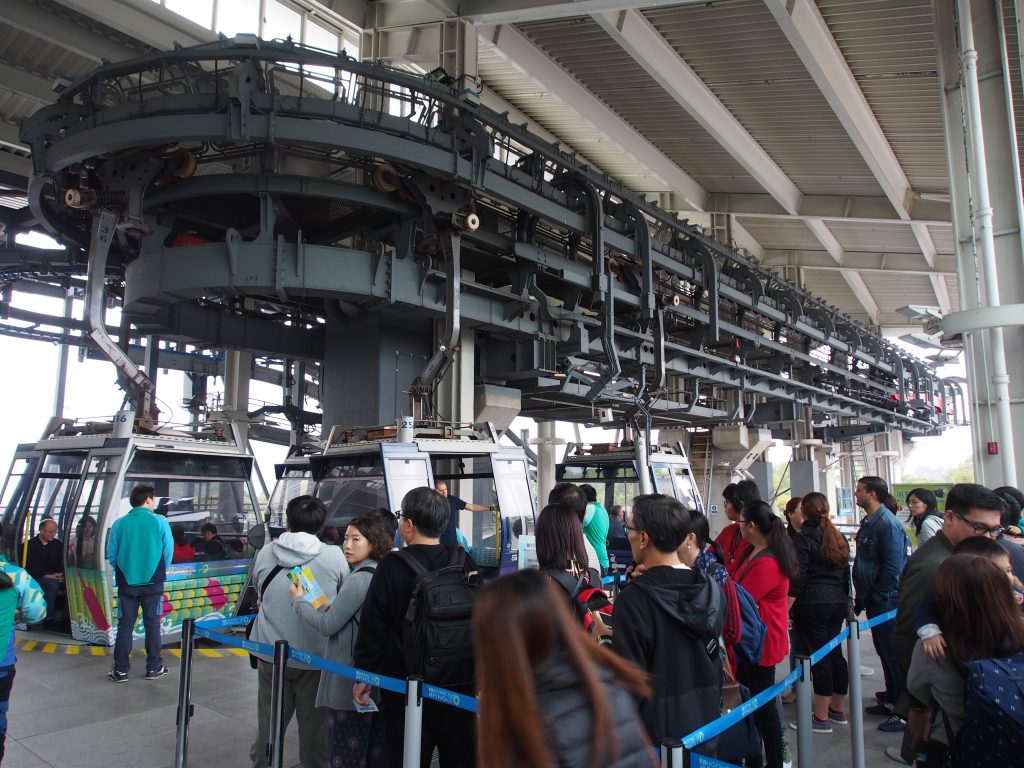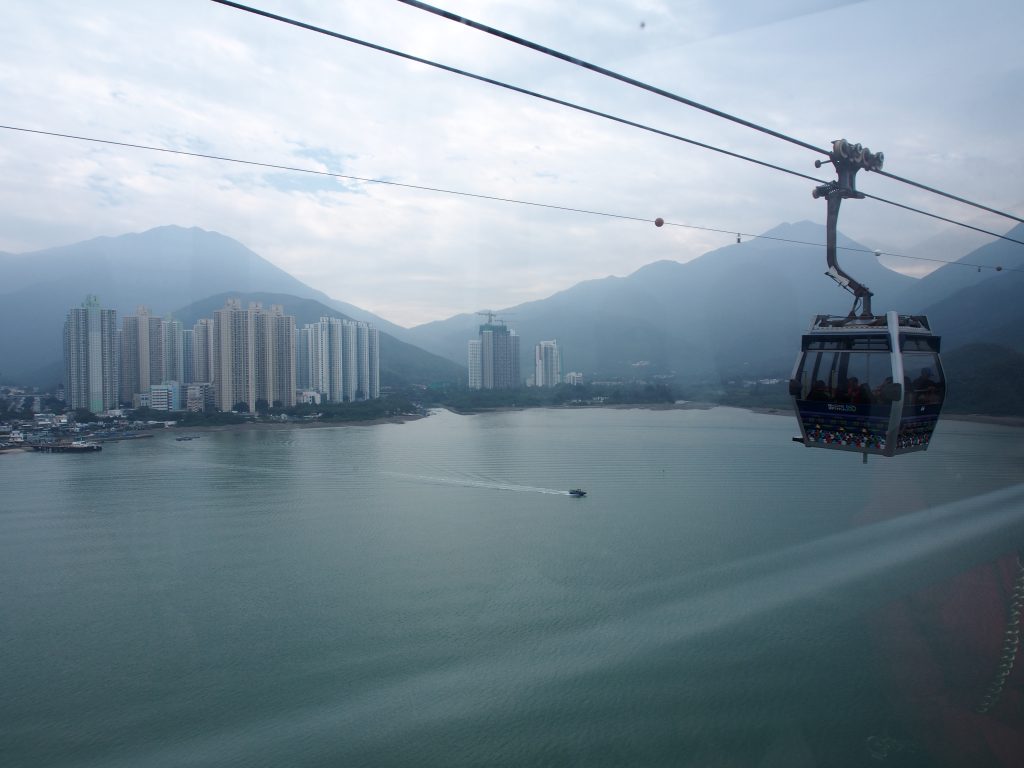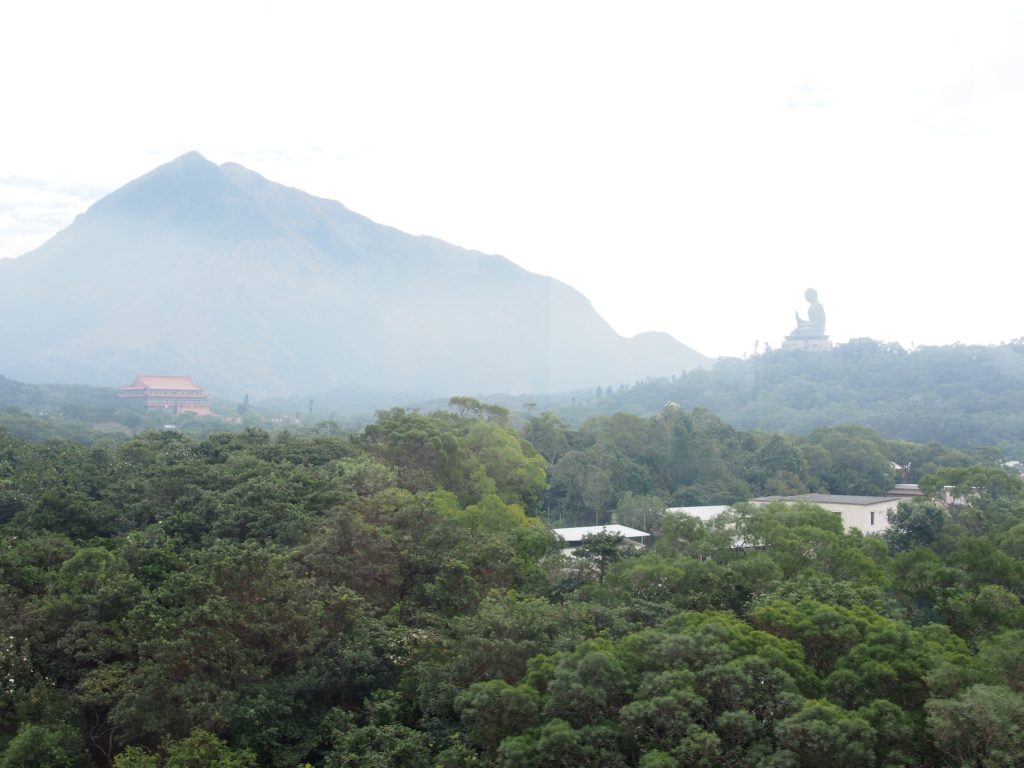 Walking through the modern ancient Ngong Ping village, we quickly used the restroom there before heading towards the Big Buddha for the arduous climb up many flights of stairs to the top. It was a lot of hard work especially carrying a 11kg load on my shoulder. Took a few photos along the way, enjoyed the scenery for a bit before descending down, equally challenging and quite painful for my ankles which was probably inflamed due to gout.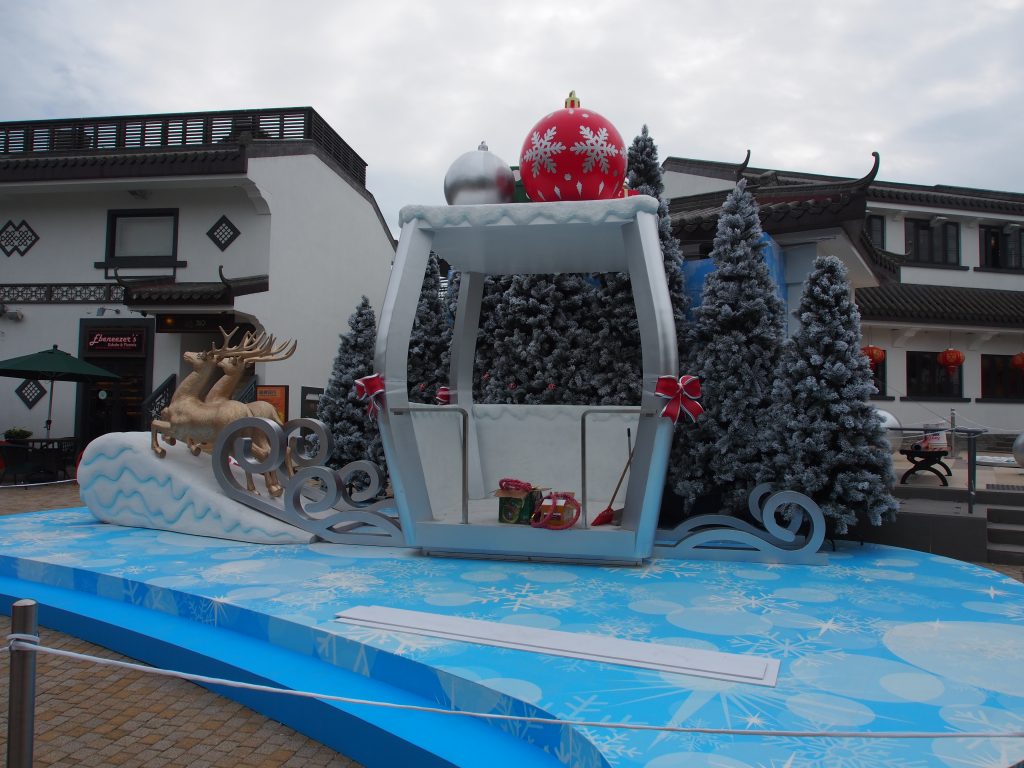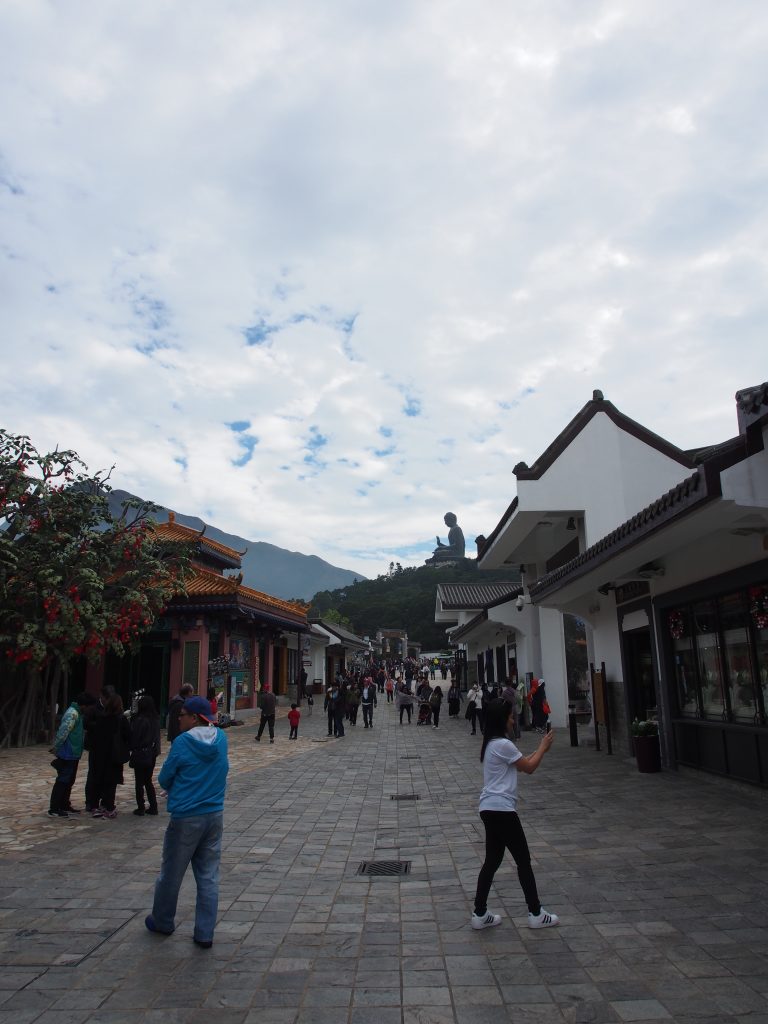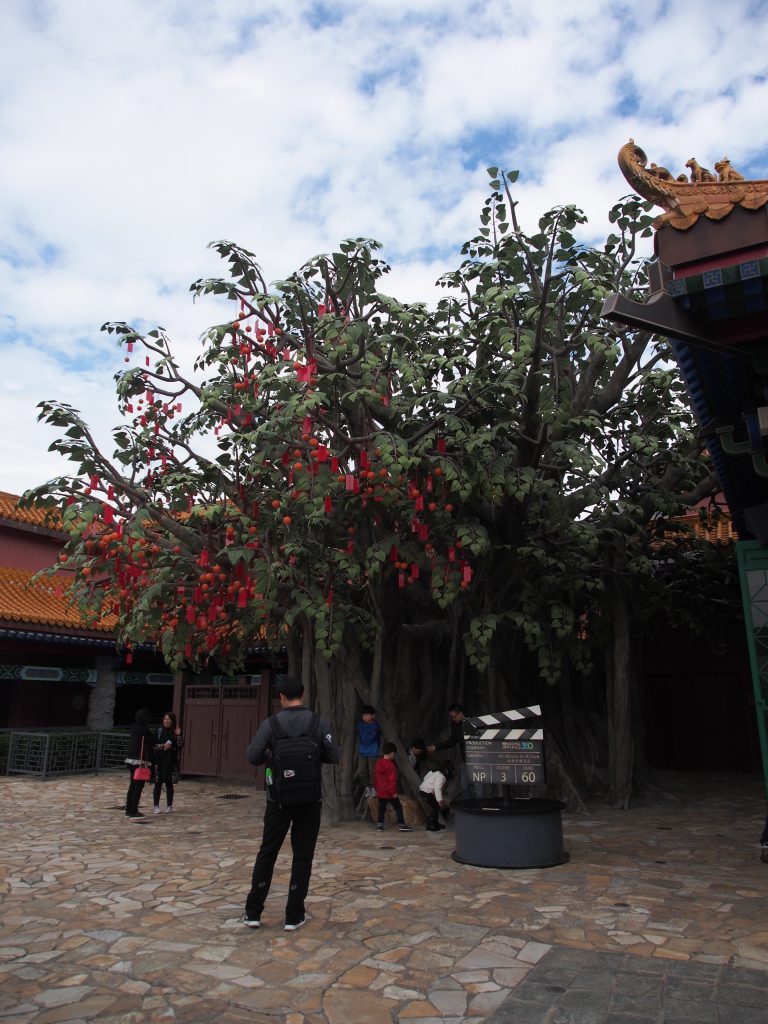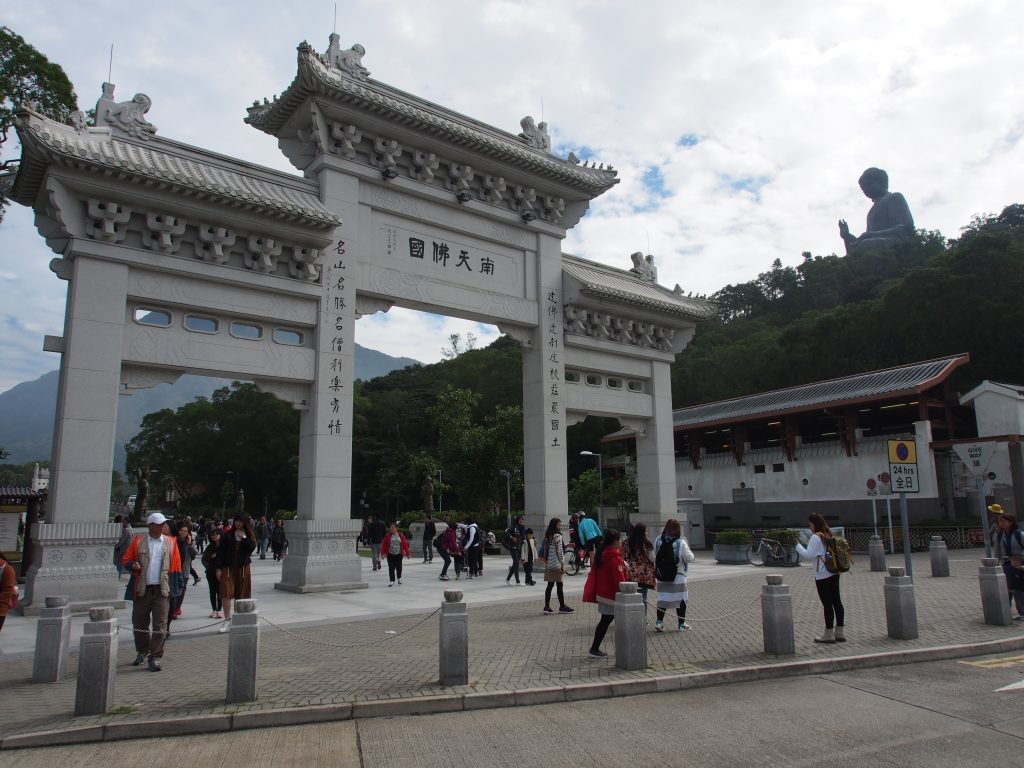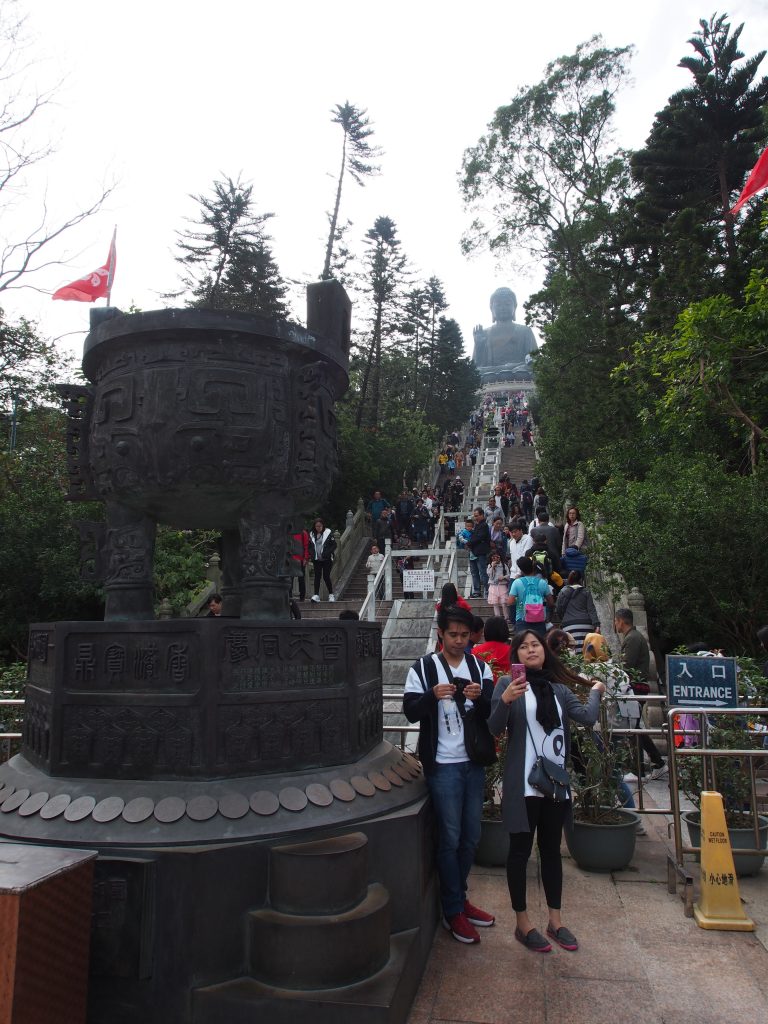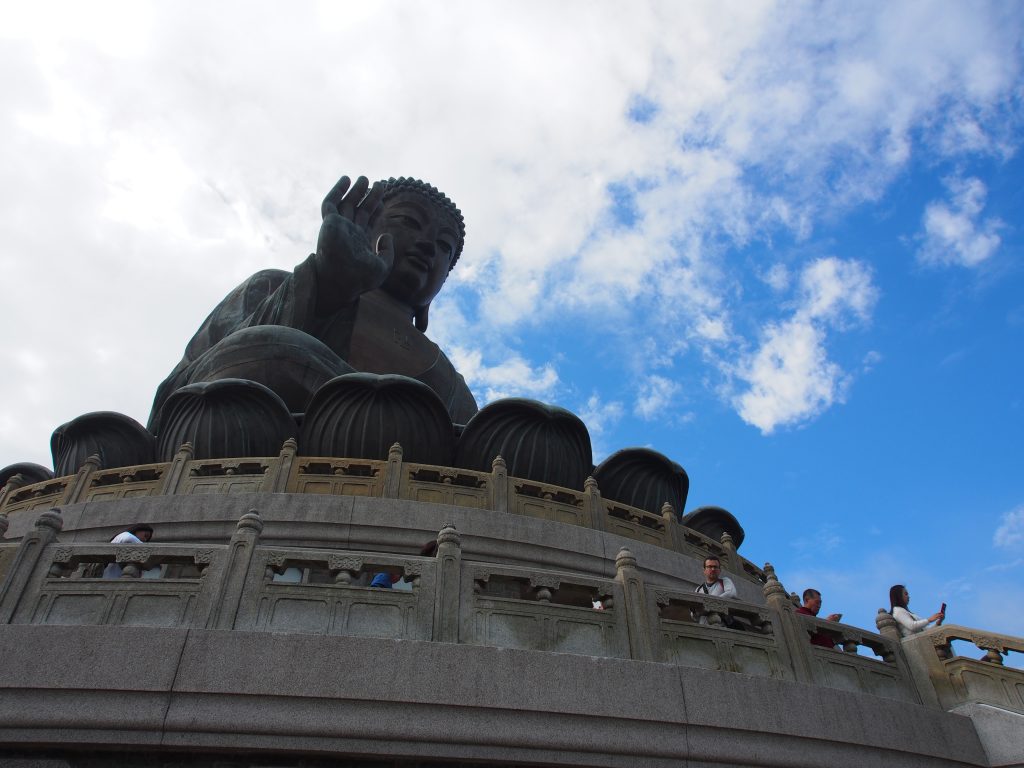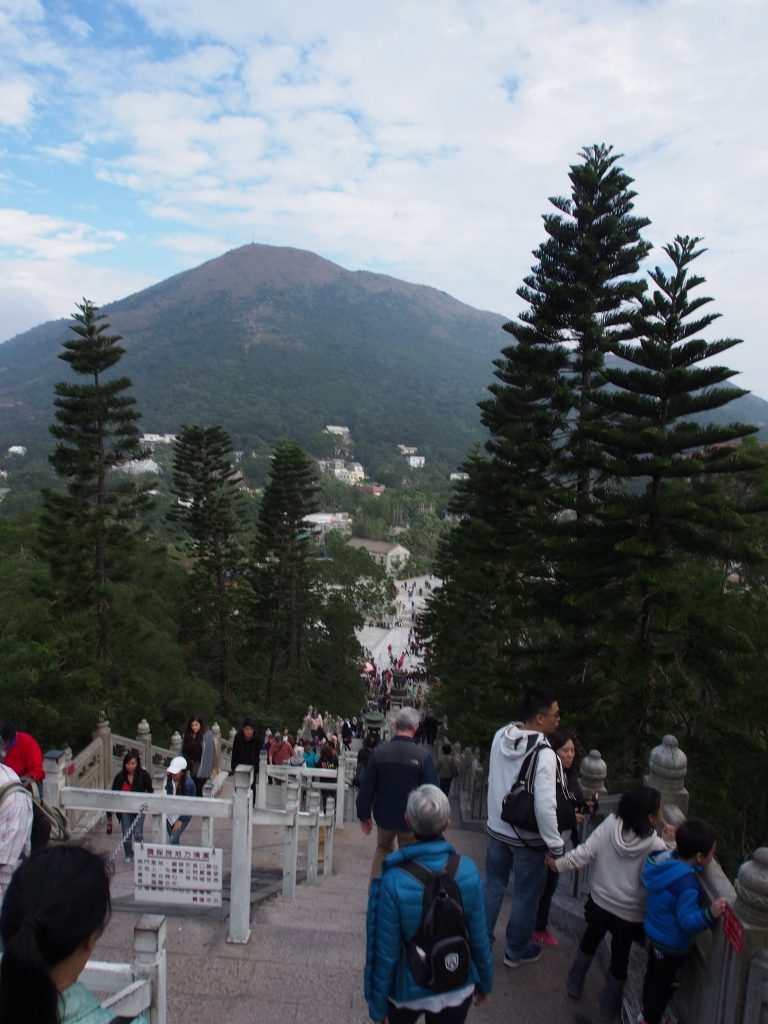 Then we wanted to visit the Wisdom Path, a place where the running man visited when they were in Hong Kong (a scene mommy remembered but I didn't have a clue). The sign indicated a 15mins walk which shouldn't be far. We saw a few free roaming cows along the way and then it was a footpath through the forest. We reached a clearing and then on the right were many tall pillars with inscriptions on it. Frankly I liked the majestic view of it and the nice weather and blue skies made walking there very much worth it. A short rest later, we took the return journey, distracting K with finding small sticks for him to break so that he could walk himself, which he did amazingly all the way back to start of the path.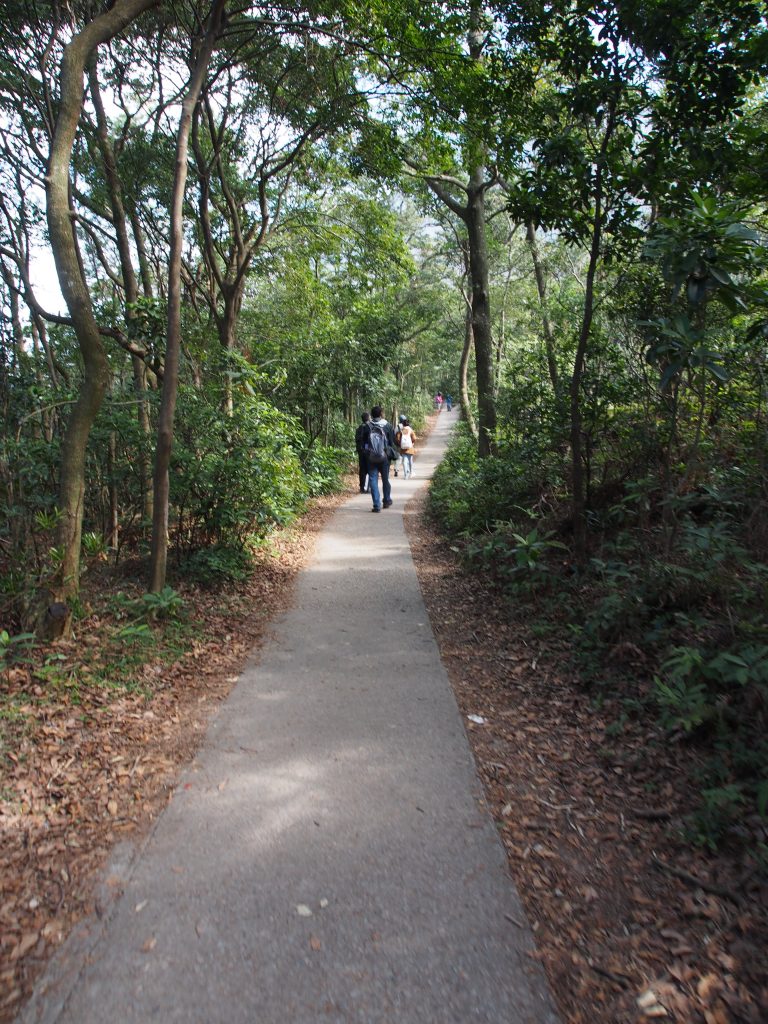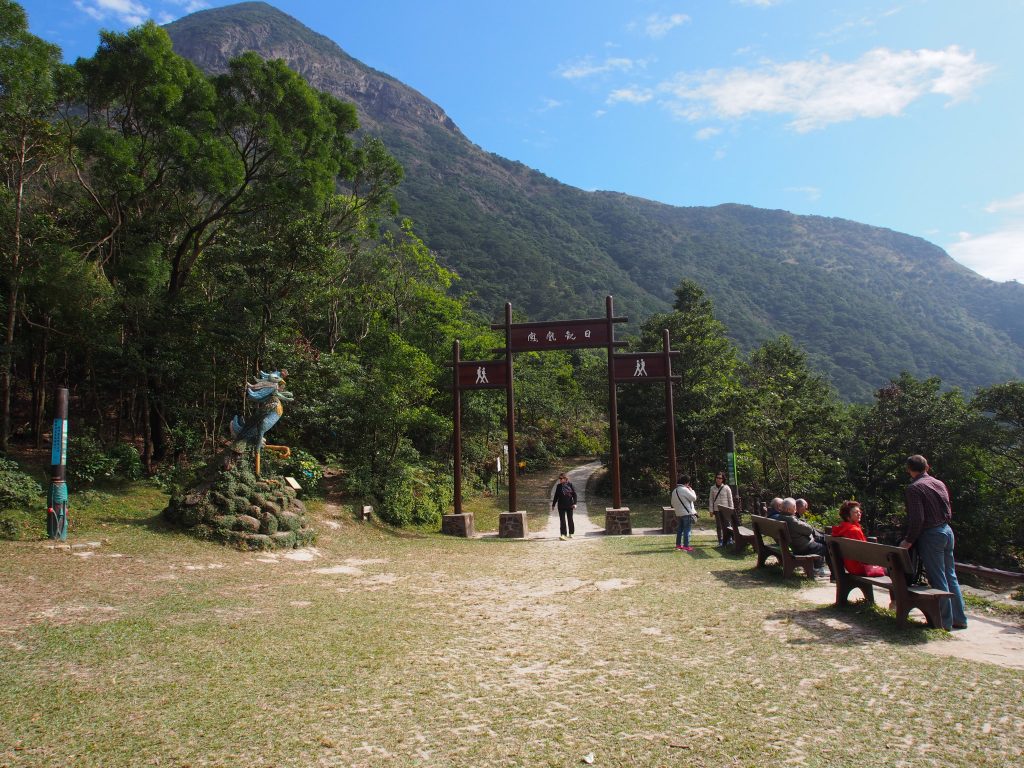 We skipped the visit to Po Lin monastery since it was already 140pm. Went into a Ngong Ping 360 shop to get some souvenirs before going to a wishing board to hang a wish tag (given by the shop). Then it was lunchtime at Zen Noodle cafe, where we ordered fried rice and ramen plus a big plate of xiao bai chai so that K could have some vegetables, at a price of HKD250.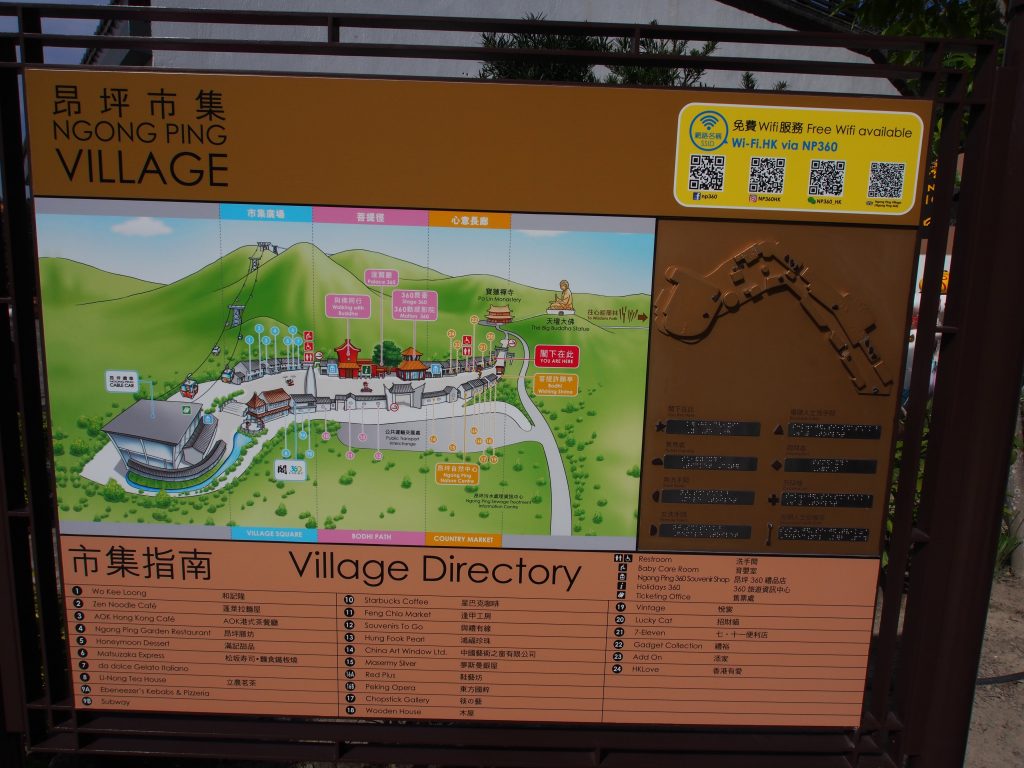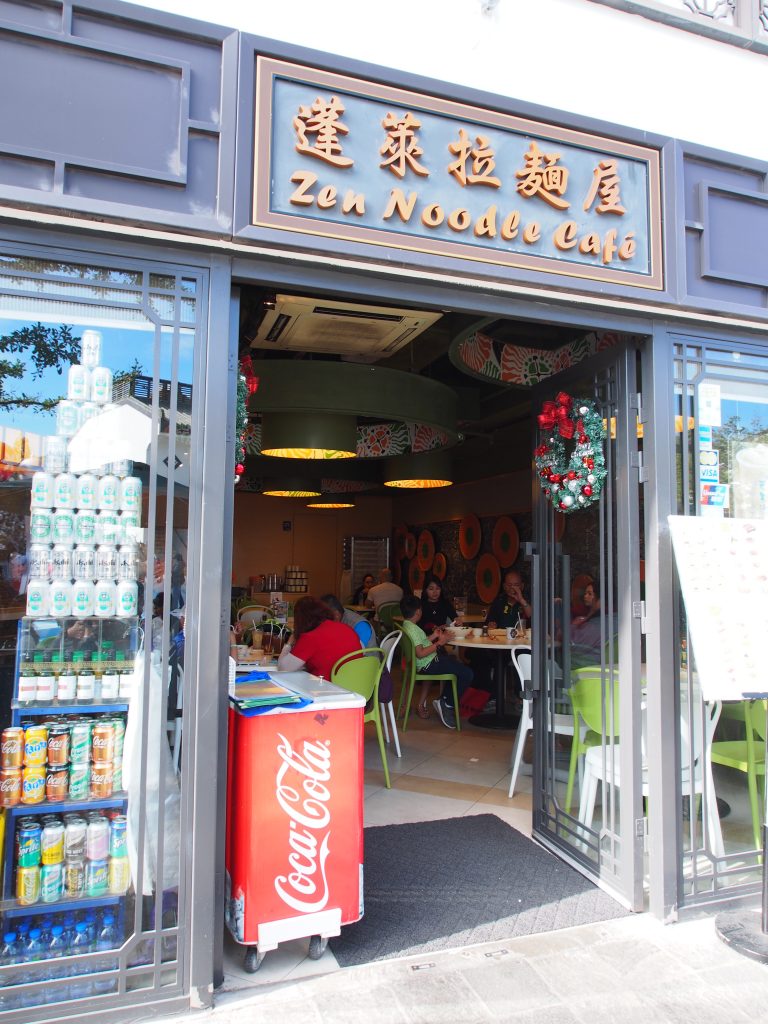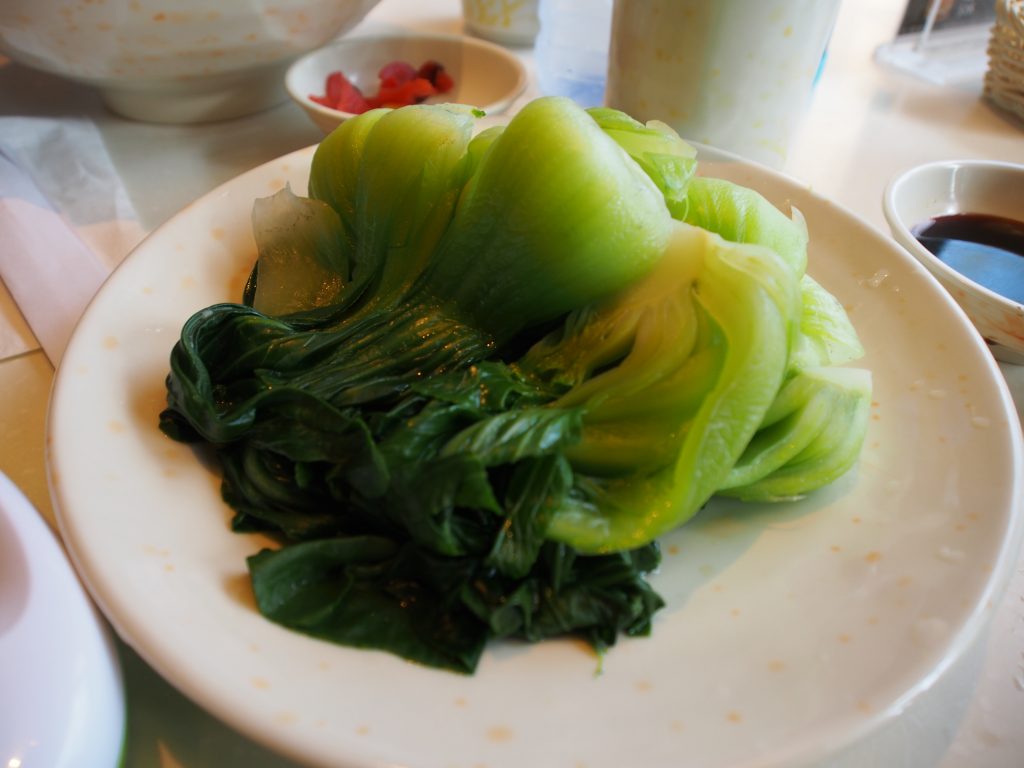 By the time we left for the station for the return trip down, it was already 250pm, and the line was much shorter. This time round the crystal cabin cleared faster too since there was a much shorter queue. So the better idea was to take a standard cabin up and a crystal cabin down, if anyone would like a taste of the crystal cabin. It didn't matter to us and again it was with 3 groups when we boarded the cable car.
The mist had cleared revealing the the blue of the skies and the nice scenery around. K was just as excited going down as when he was going up, talking really loudly and really chatty.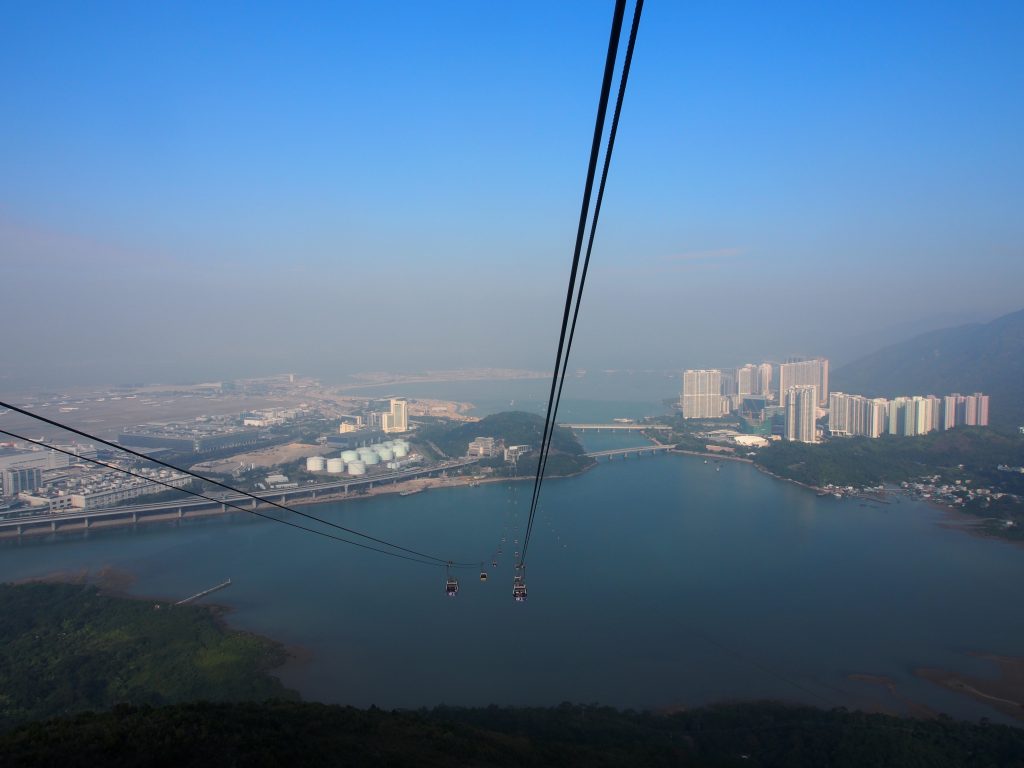 Back on the ground K was beginning to feel tired so we tried entering a restaurant with long cushion seating to get him to sleep but he didn't want. We decided and we would carry him till he dozed off which happened really quickly and then returned to the same Urban city diner and let him lay on the seat while I had some coffee and mommy carry out her shopping first.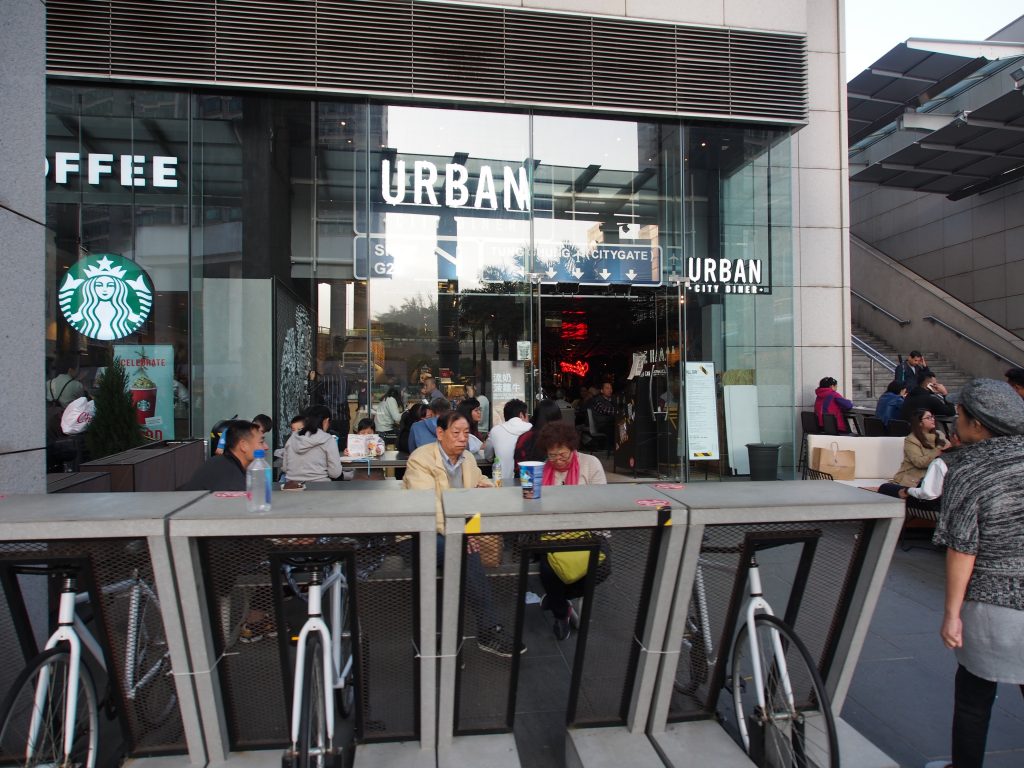 There wasn't free WiFi so I relied on my data roam to keep me entertained until mommy came back, half an hour later. She had a pair of jeans that she wanted to get and would combine with mine for an additional discount. Then placing K's head on a rolled up jacket, I left for my shopping time.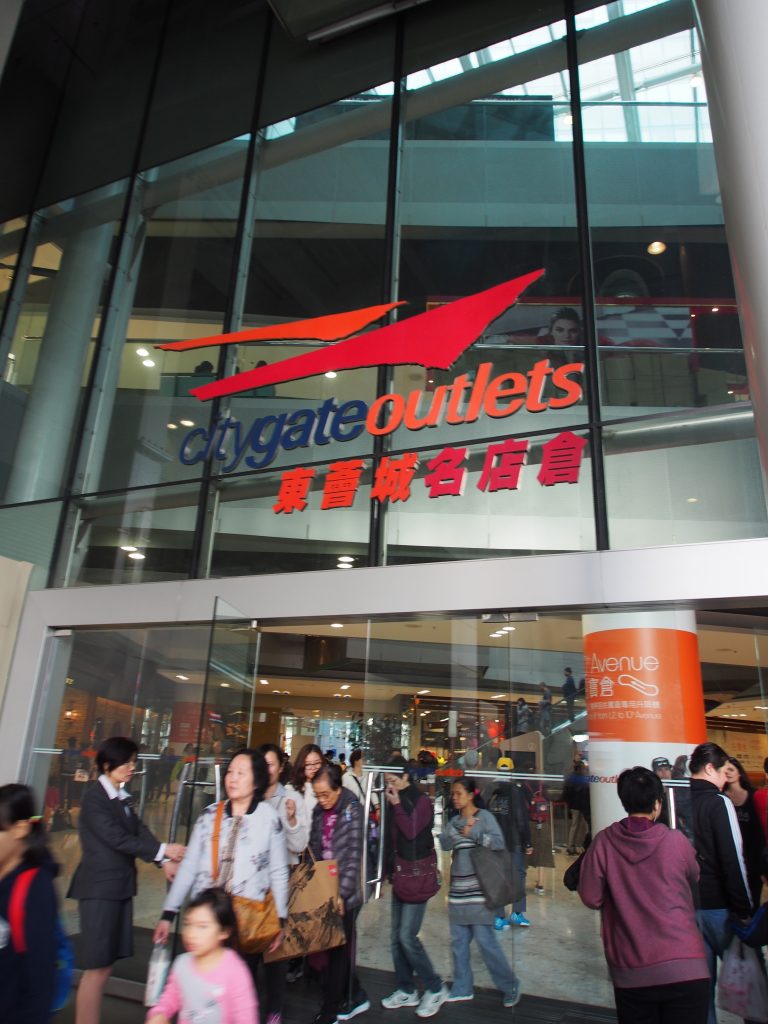 As the website of Citygate mentioned that there was free handphone charging so I went to the counter whom advised that the charging station was across the bridge at the other building. I proceeded to walk to the other building as approached the information counter there, expecting to see some lockers with charging cables. But when the staff brought me there, I was disappointed to see that it was an open area with 4 miserable cables, all fully utilized. Waste of time, I went back to start my shopping.
A sucker for jeans, the Evisu outlet was the store that I spent a lot of time there, and I scored a pair of jeans with 70% off plus a 10 that mommy wanted to get ( only thing was I had to return to check with her if that was the pair she left at the counter). After paying, I returned to the restaurant as K had woken up. We paid for the drinks and went to the 10th floor where 10th Avenue was, the entire floor dedicated to shoes.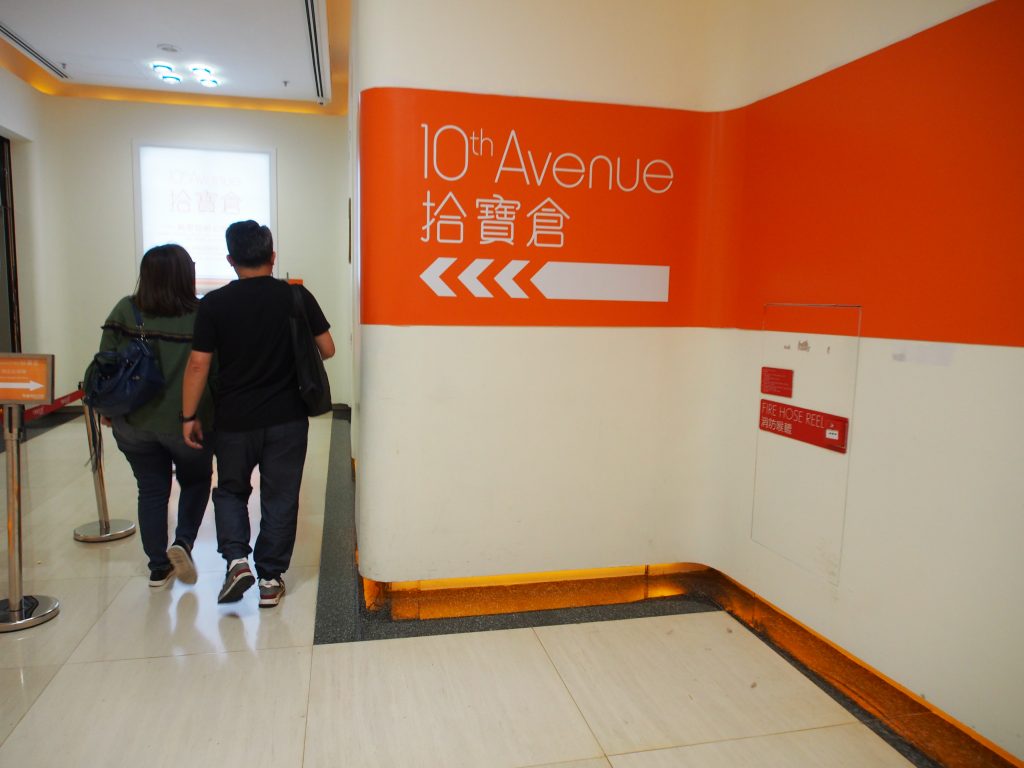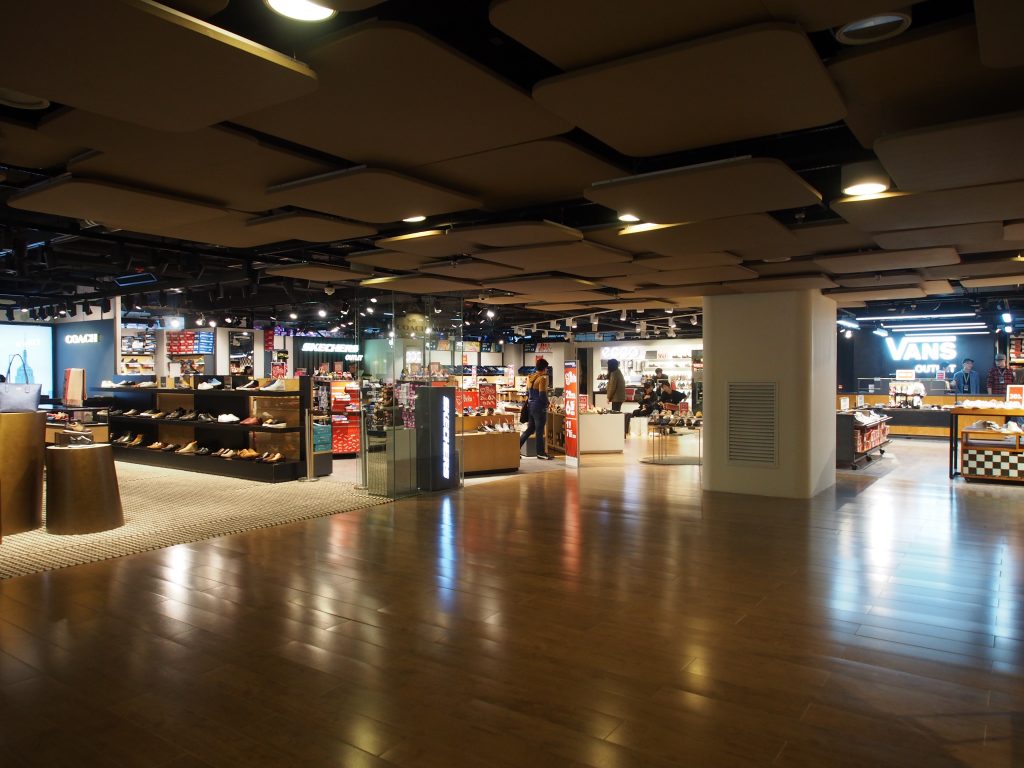 As I was looking for both a pair of running shoes and a pair of shoes for the new year, we all bought at least a pair from there. After K changed his diapers, we went to Hugo boss where I got myself some shirt (the cheaper ones, they were really comfortable). That was the end of my shopping experience but it had already added up the weight to lug back to the hotel.
Claiming the bag left in the locker, I had to pay an additional of HKD50, in which I paid 60 as I didn't have a 10 dollar note and there was no change given. Bought the tickets back to TST station for HKD19.5 each and we were on an hour journey back, including the long walk within the station (so thankful for the travelators as my back was breaking). We went to iSquare to visit a Maxim cake shop to get a small piece of cake for K as it was his actual day birthday and then returned to Citadines. Checked in was quick as the staff knew who we were as we had initially stayed there and gave us the keys.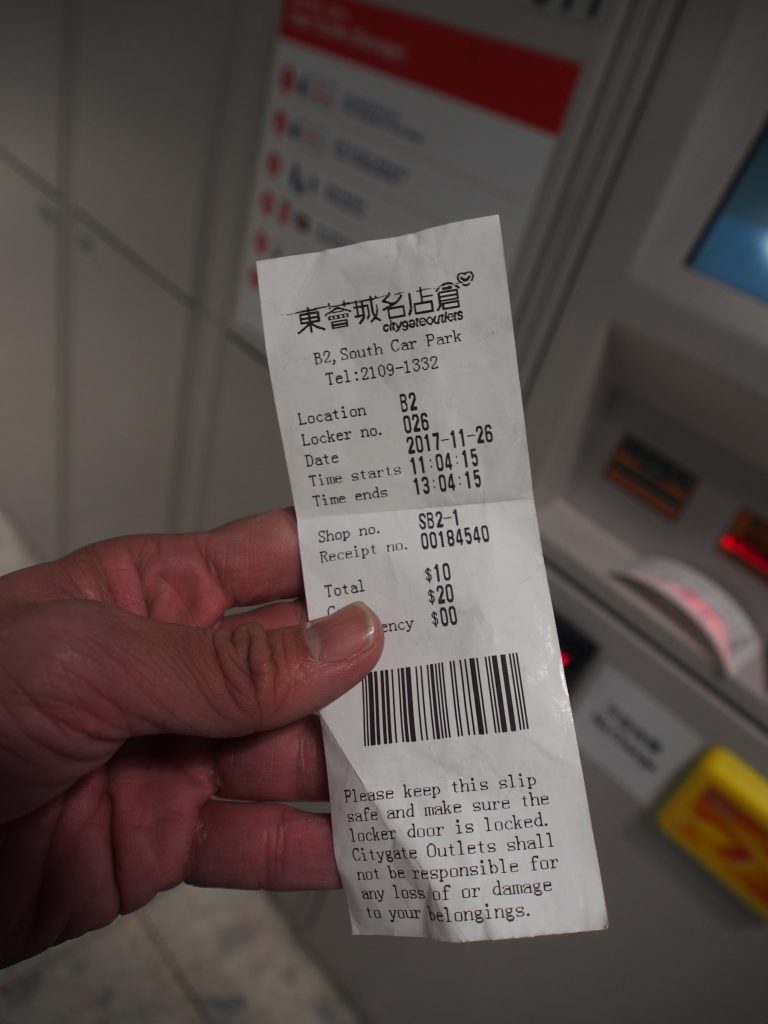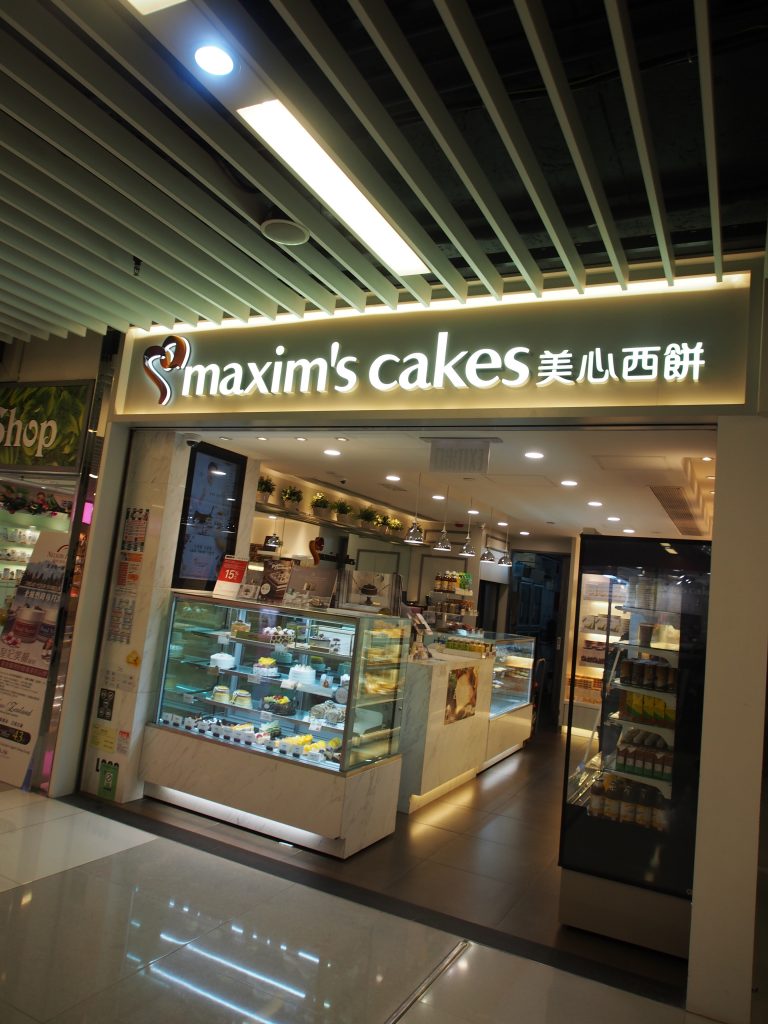 This time around, we were one floor higher but with the exact same design. We put everything down, rested a bit while K watched a video and then proceeded to a diner called Sweetheart Garden restaurant just across the street for dinner. Although mommy wanted to visit a Cha Chan Ting, we had to settle for this since it was almost 9pm already. Mommy ordered a sumptuous pork chop with fish and fried egg rice and a black pepper pork chop served on a hot plate. K shared the rice with mommy and I took pork chop.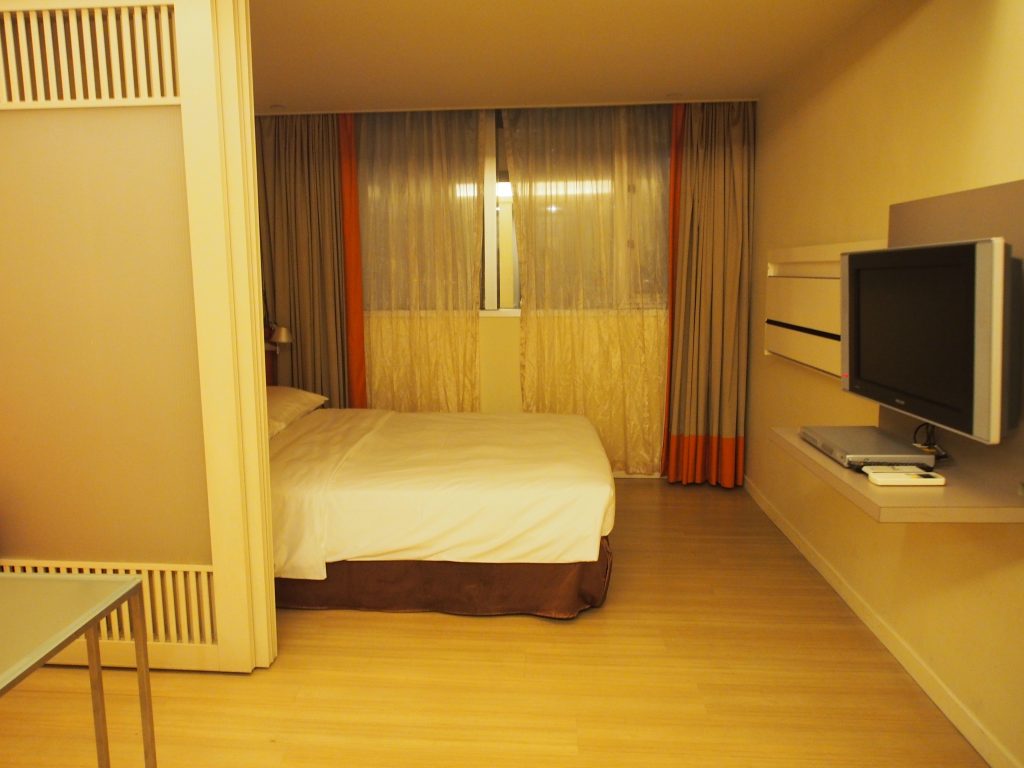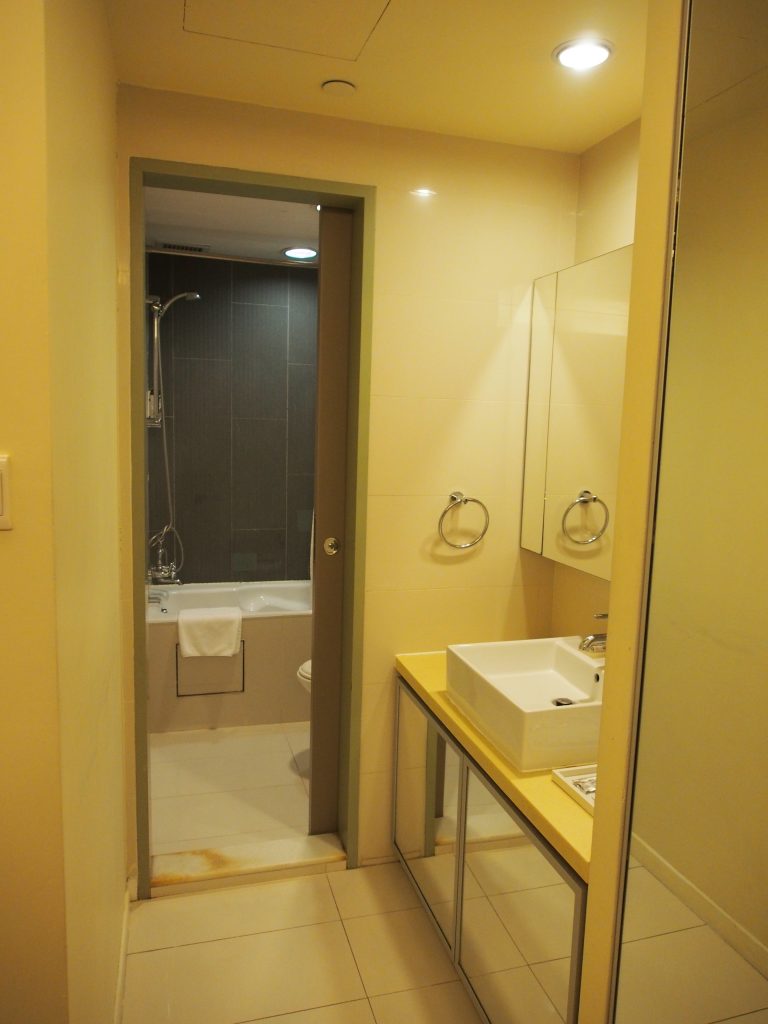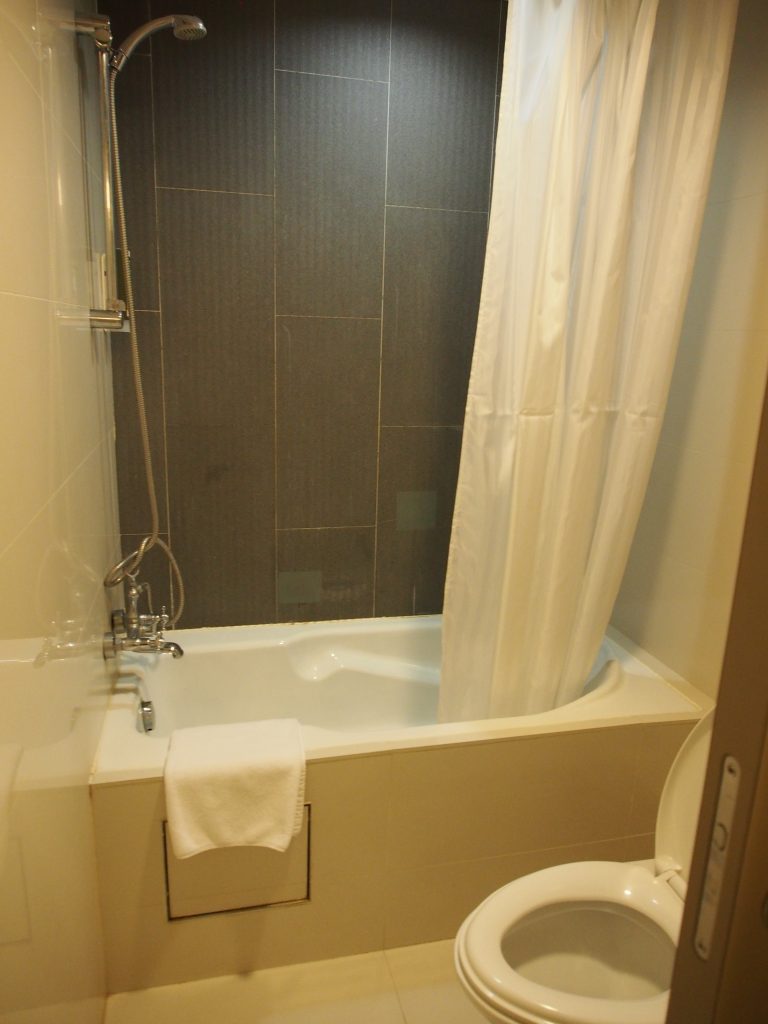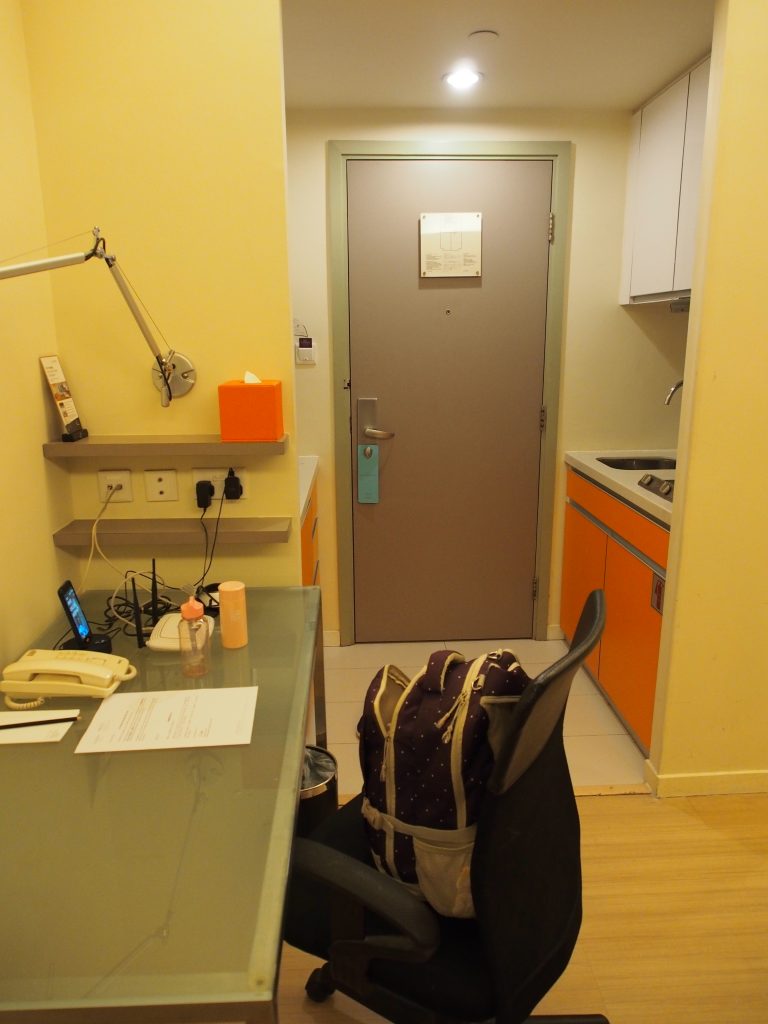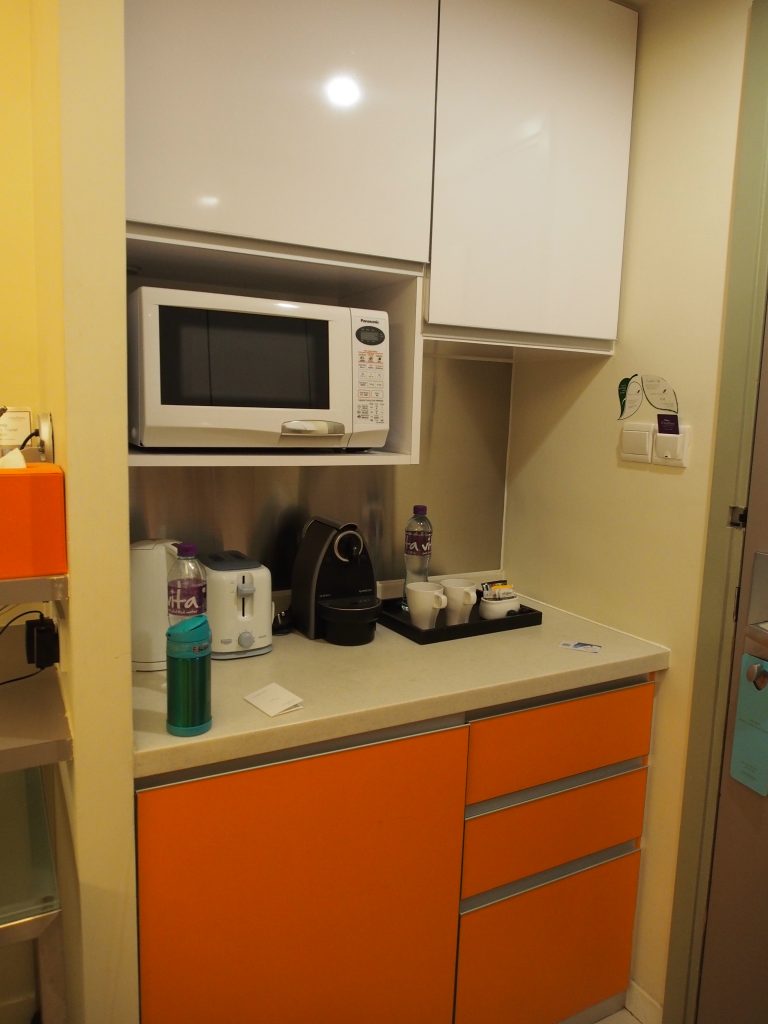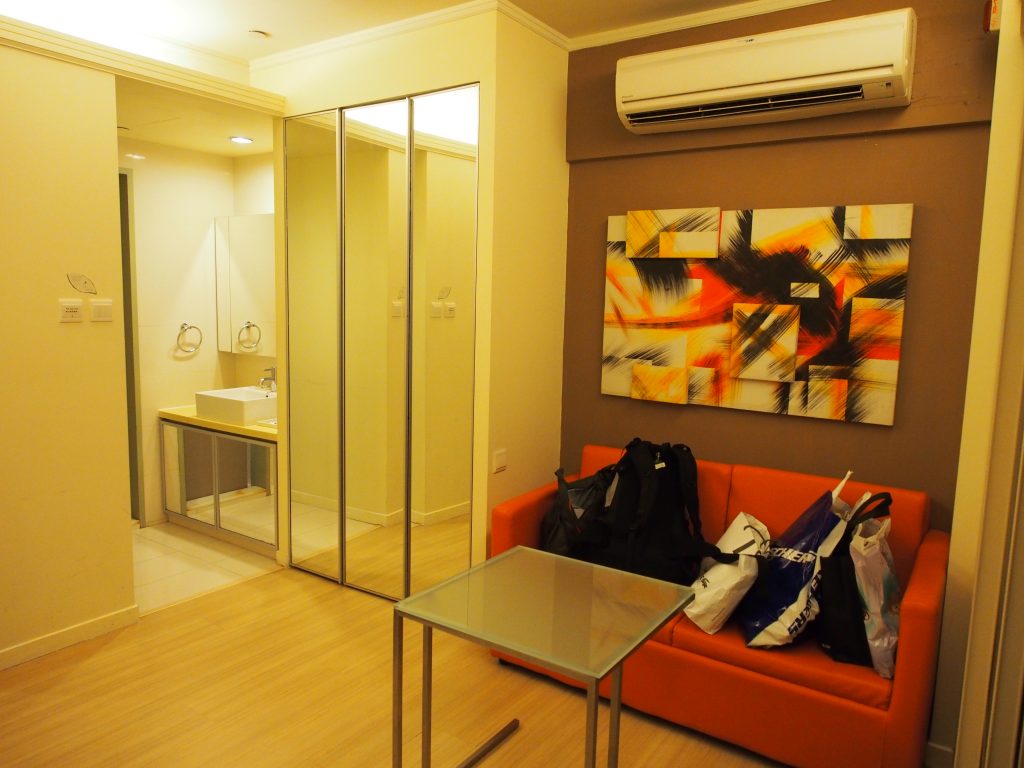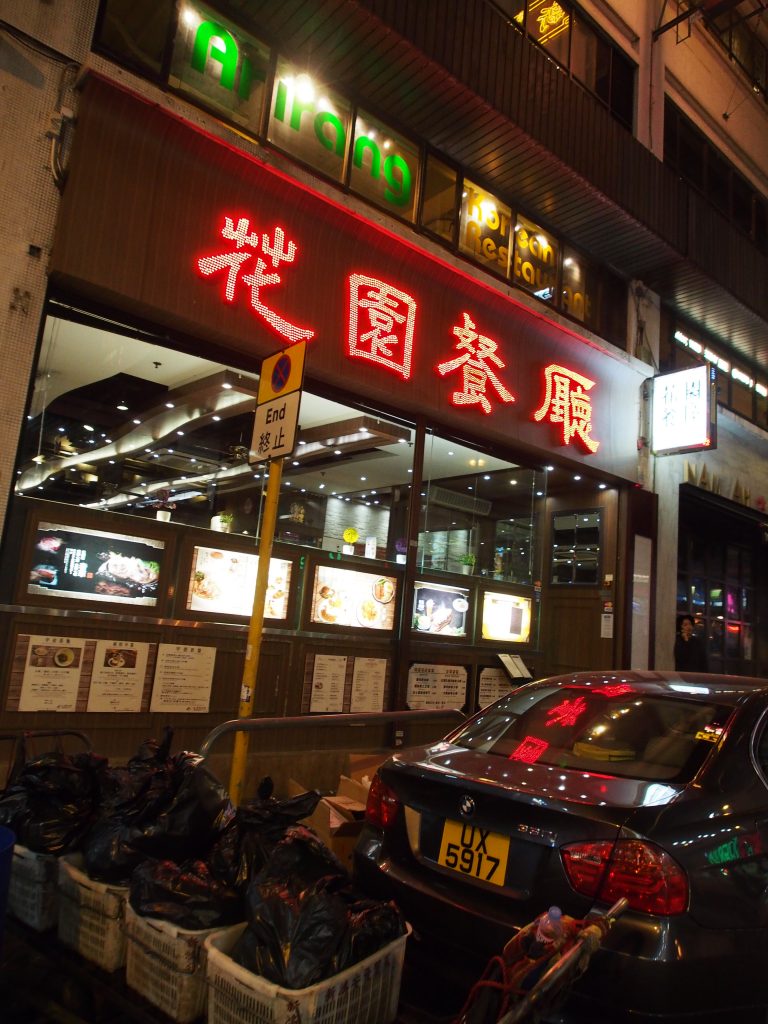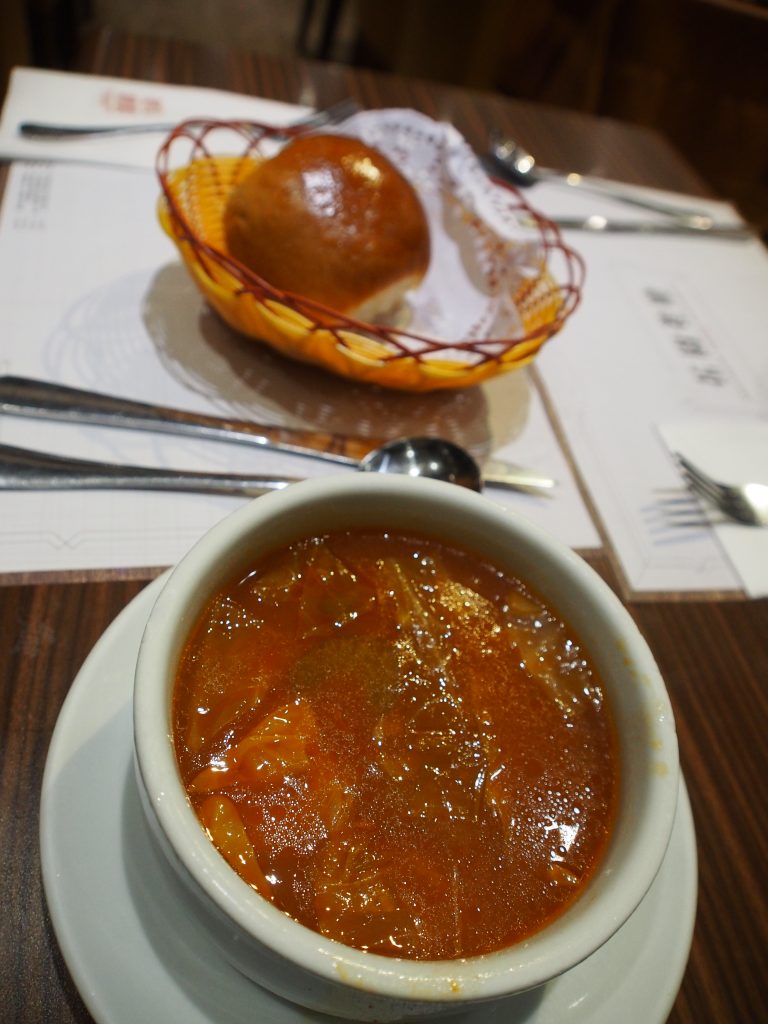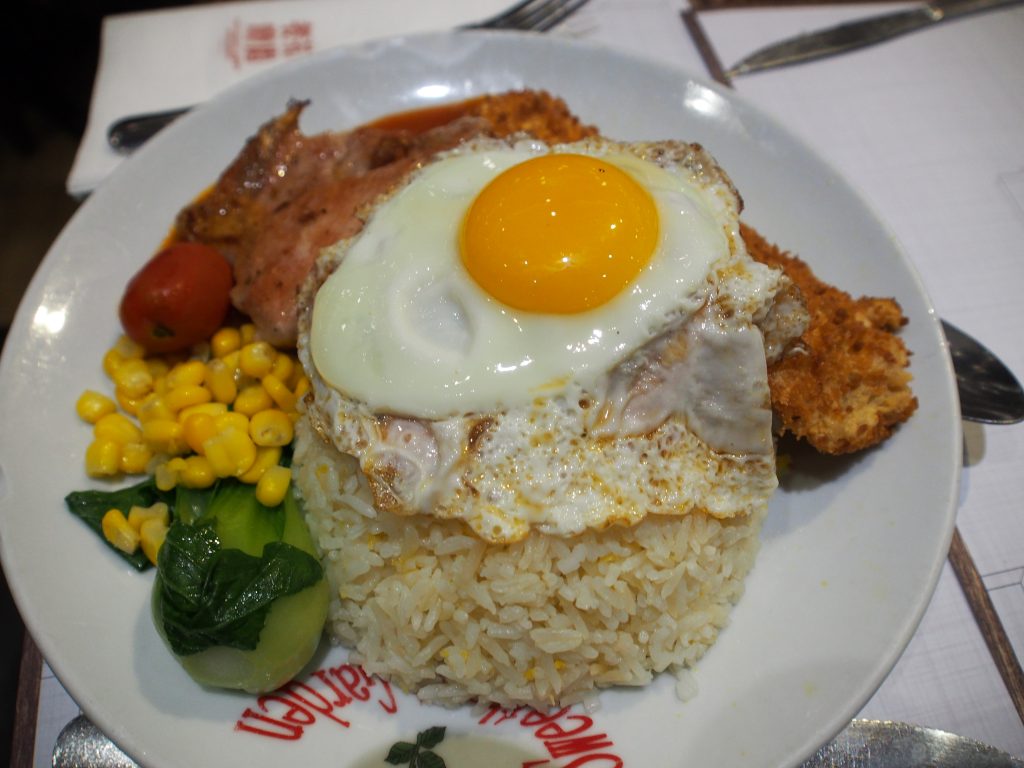 Halfway through, mommy and K returned to the room first as he said that he wanted to go poo. Left myself to finish whatever was on the table and paid around HKD 216. Retrieved our luggage and from reception and also our delivery from Door Door, super delicious nougat shop, and brought everything back to the room.
Went to reception to borrow a lighter for lighting up Ks candles but was informed that there wasn't one available but the staff could lend it to us as she was a smoker. Went to get it from the reception was told to return it only at check out, a nice gesture. Back at the room, we sang a birthday song for K and he blew out the 3 candles after multiple attempts, the 4th time this month he was celebrating (school, and with the grandparents). After a few mouthfuls of cakes, it was bath time, storytime and bedtime.
My ankles were still painful after taking some pills but the tiredness overtook the pain and drove me to dreamland quickly, a eventful day at Lantau island.