K's birthday trip to Hong Kong started early on Friday morning. To catch that 955am flight, the parents woke at 630 ish while K had the slightly luxury to wake 15mins later. Having down a bottle a milk, getting dressed dazed but knowing that he was going to get on a plane helped get him out of bed way faster than a normal school day. Dad drove us to the airport taking the PIE, and while we were aware that K might puke in the car, he didn't – traffic was light and we got to the airport in slightly more than half an hour.
We helped ourselves with the printing of the luggage tags and drop the luggage at the new hi tech looking bed drop and then we were through the departure and the immigrations. Sat ourselves at Pret A Manger (been a while since we visited) for some drinks while K had his chiffon cake for breakfast and plane watching for entertainment. We were also given by the Changi staff a airplane-neck pillow, which K enjoyed playing with.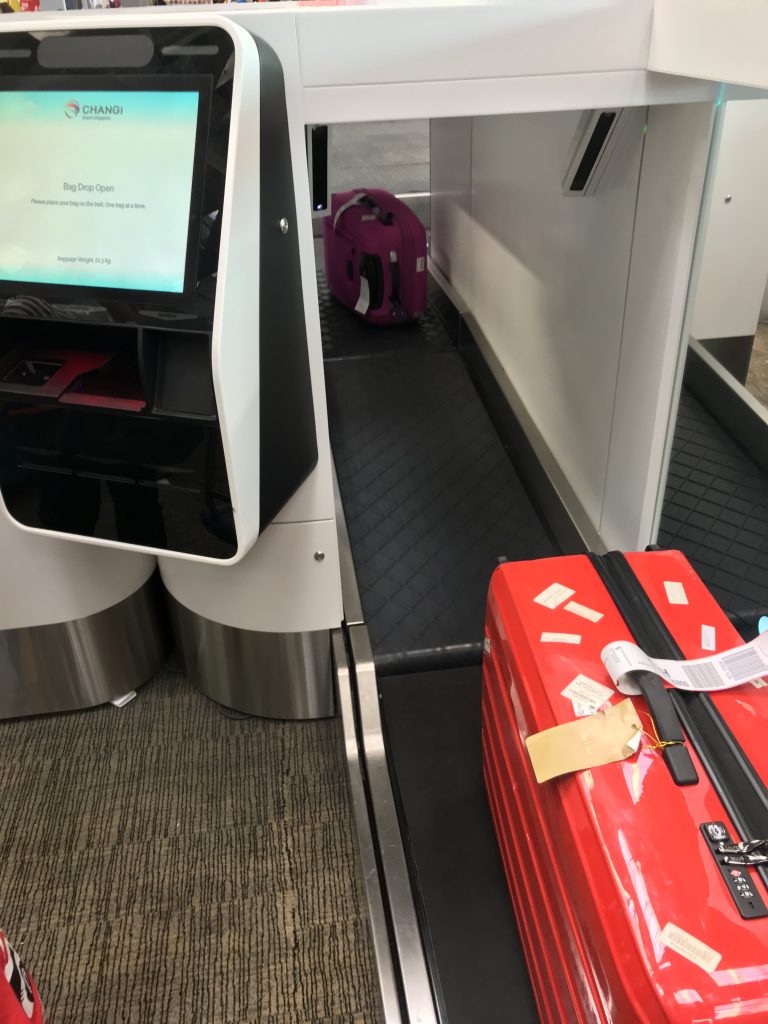 Before proceeded to the combined gates (A1-A5 I think) area, we changed his diapers at one of the diaper changing area. Older now, he initially chose to lie on the koala fold down table and to buckle up but later we got him to stand up since he was going to use diaper pants.
Boarding happened soon after and there was a long line to the plane. We settled quickly before K started his marathon viewing of Baby First, something he remembered where he was watching it on another flight before. There was a water spill incident at the seat in front of us and the passengers in front had to be reseated somewhere else, good because K was always kicking the seat in front.
The child food came after K downed a 250ml but his appetite was a little surprising as he munched down the entire bread with butter plus a big amount of the egg omelette. We had to stop him from eating some more fearing that he would vomit everything out if he didn't feel well. The fear was for nothing as he managed well, even though he didn't sleep at all.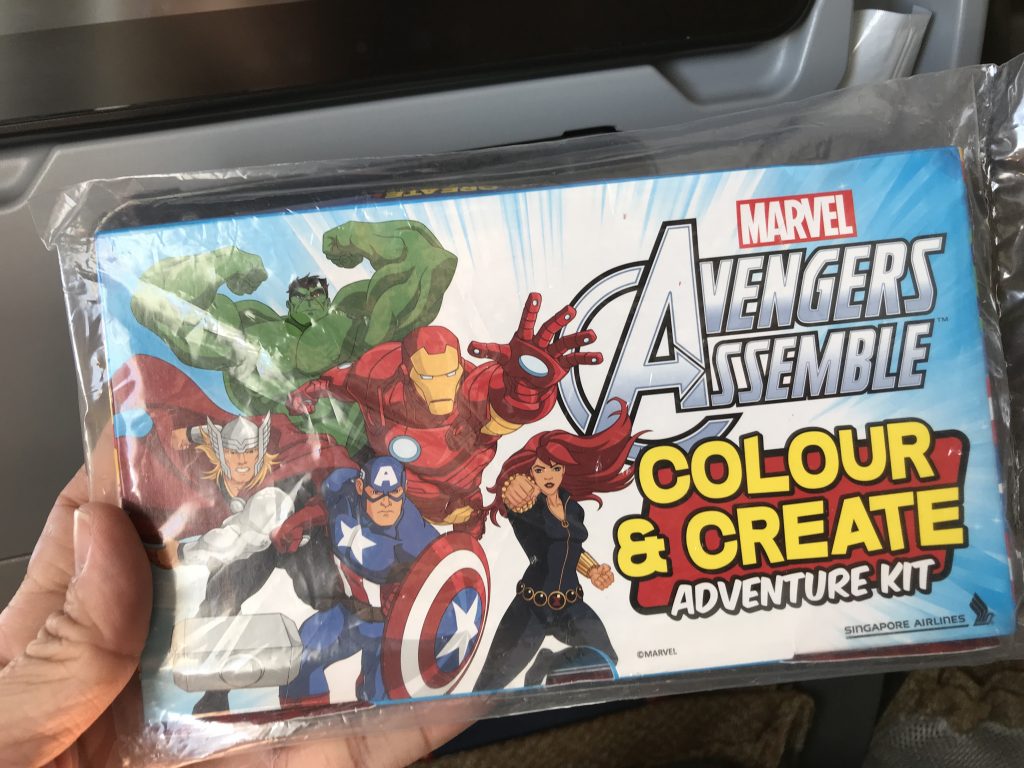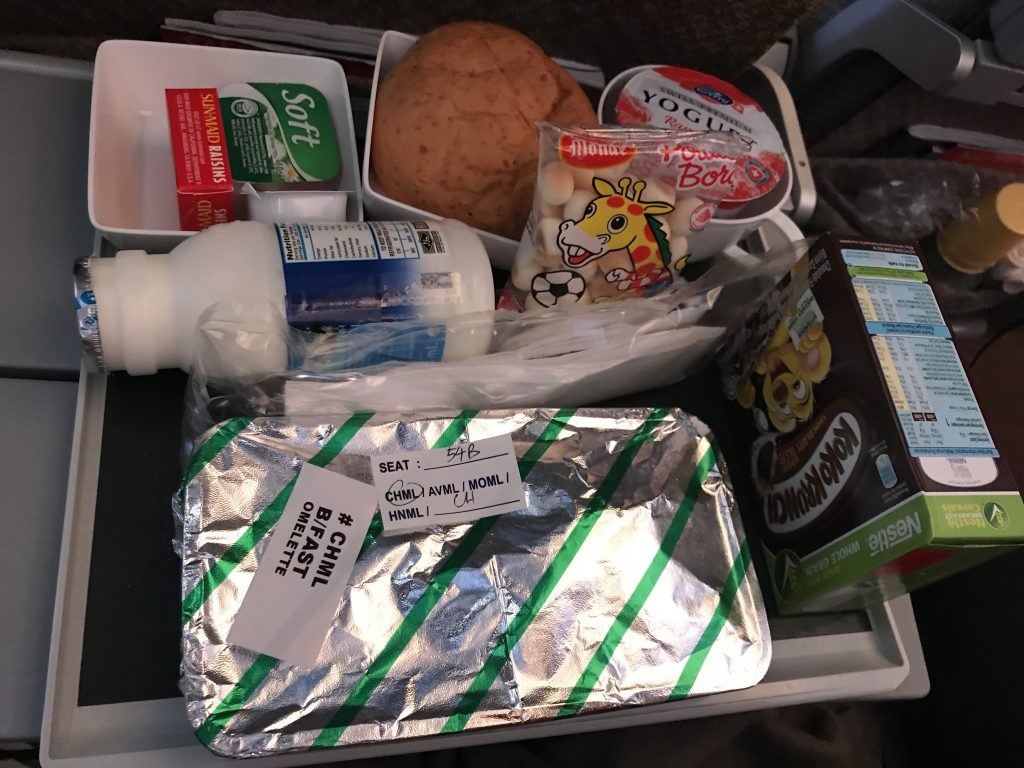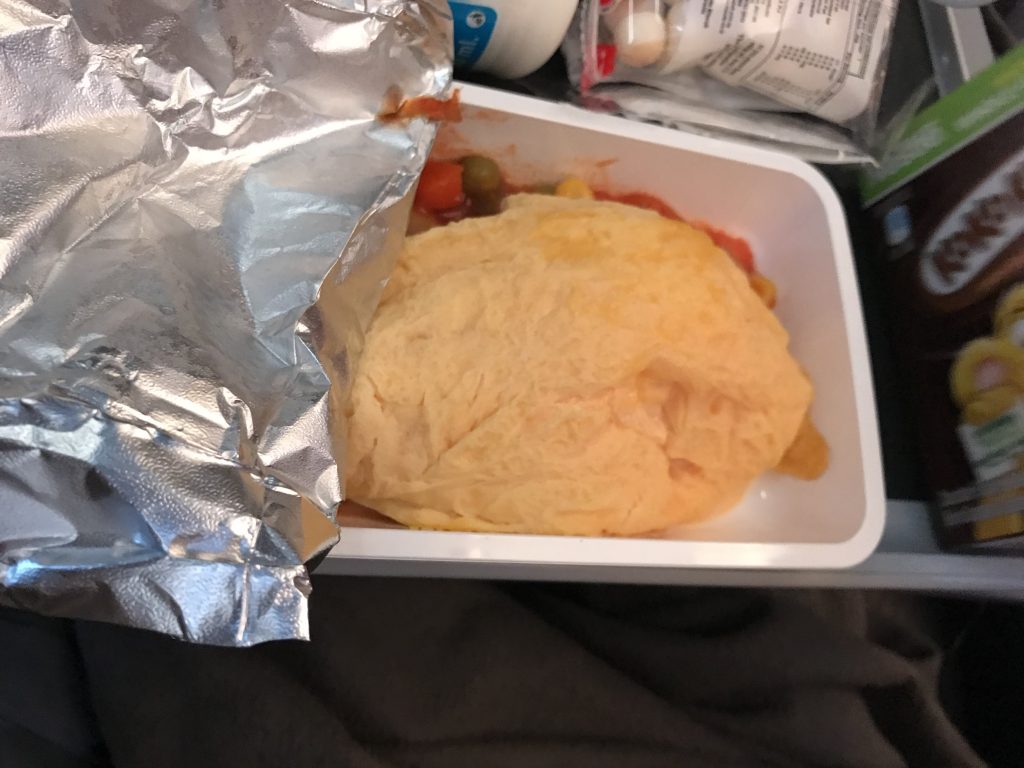 I managed to catch Pirates of the Caribbean Dead: Dead Men Tell No Tales, and K had the baby TV and his scribble pad, and a change of diapers at the seat later, we had landed in the cool (literally) country of Hong Kong, 20mins late (since we took off 25mins late due to the busy flights at Changi).
We got to the immigrations and there was a long snaking line that took about 15mins to clear. There was another passenger with the same name as K at the next counter which we found amusing as we didn't know it was that common. Picked up the luggage at the belt immediately after clearing the immigrations and my "reservoir" and we were outside trying to hunt for voucher booklet but didn't see any. Later we boarded the urban taxi heading towards Tsim Sha Tsui, HKD306 and 45 min later, we arrived at the narrow one way street for our accommodation, Citadines Ashley.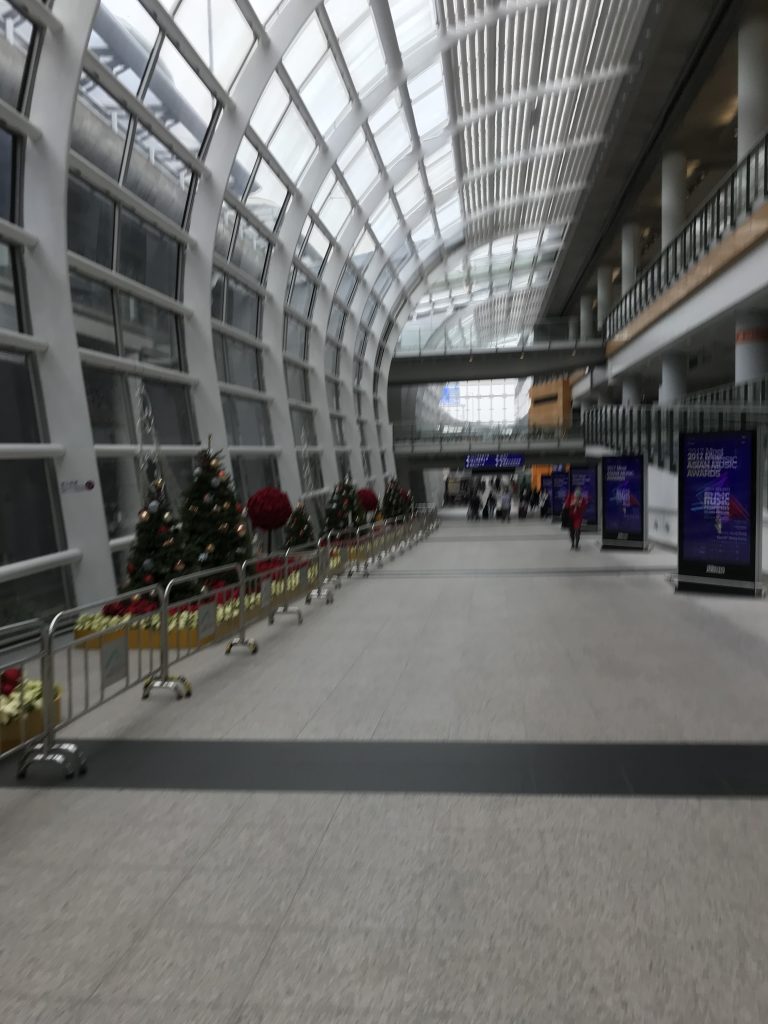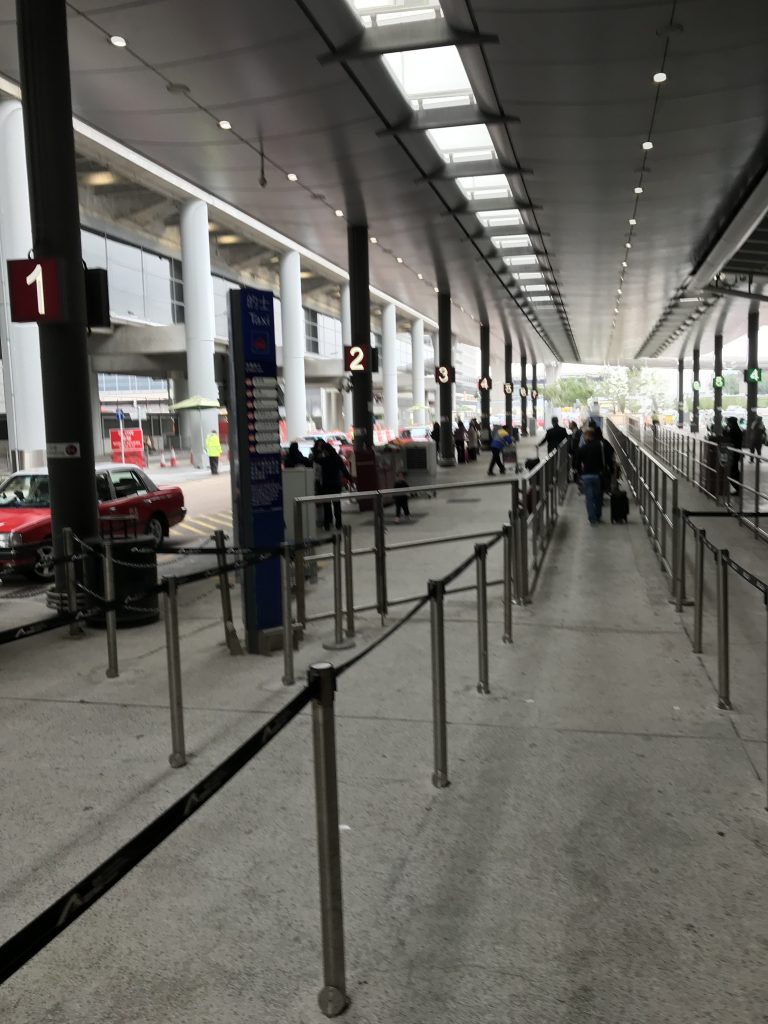 One of the staff on seeing us struggling, me trying to keep the change that the driver gave me and at the same time negotiating with 2 luggage, came out to help. Showing the voucher I had in my iPhone wallet, check in was easy. Before we knew it, we were at the 18th floor of this hotel.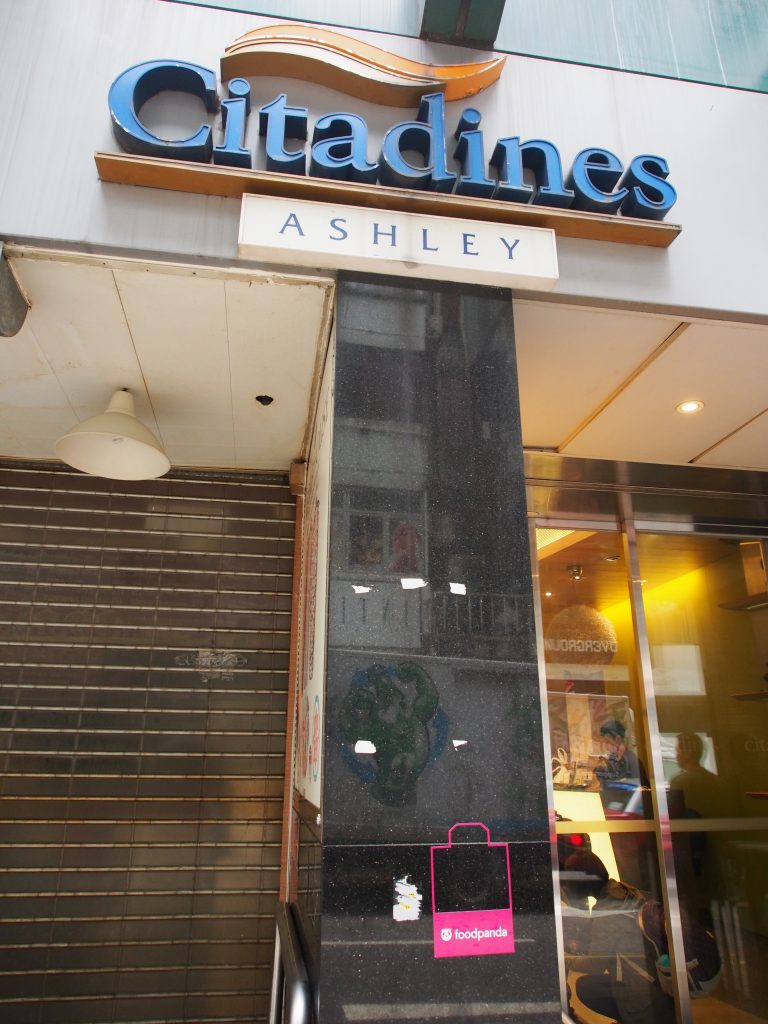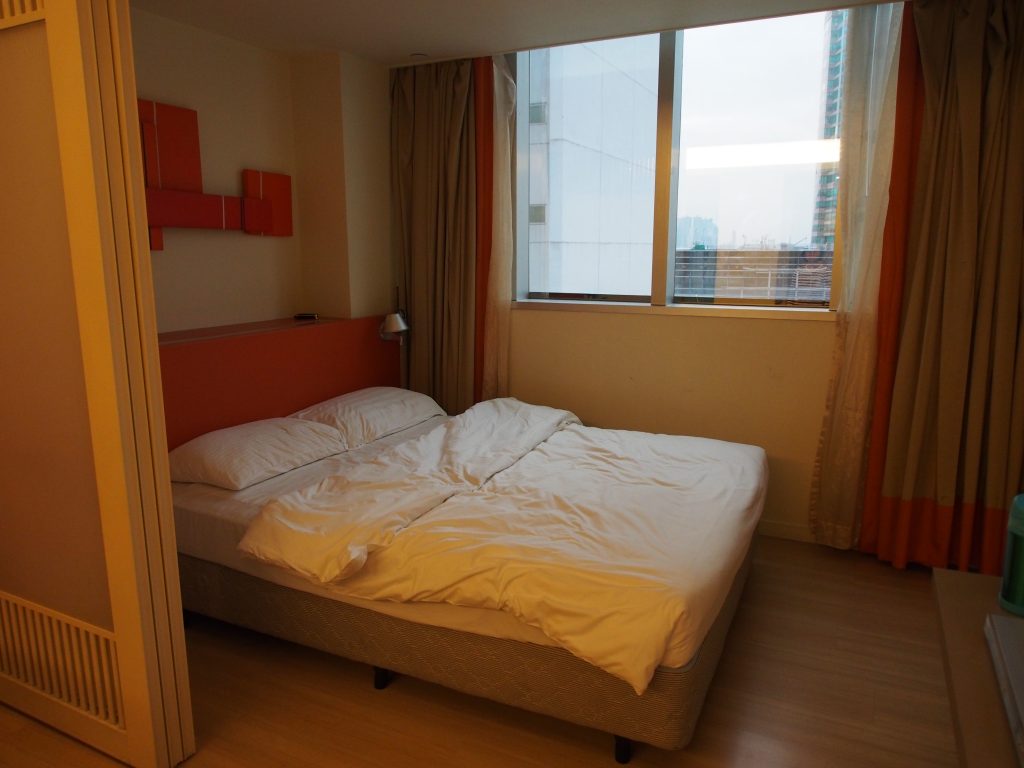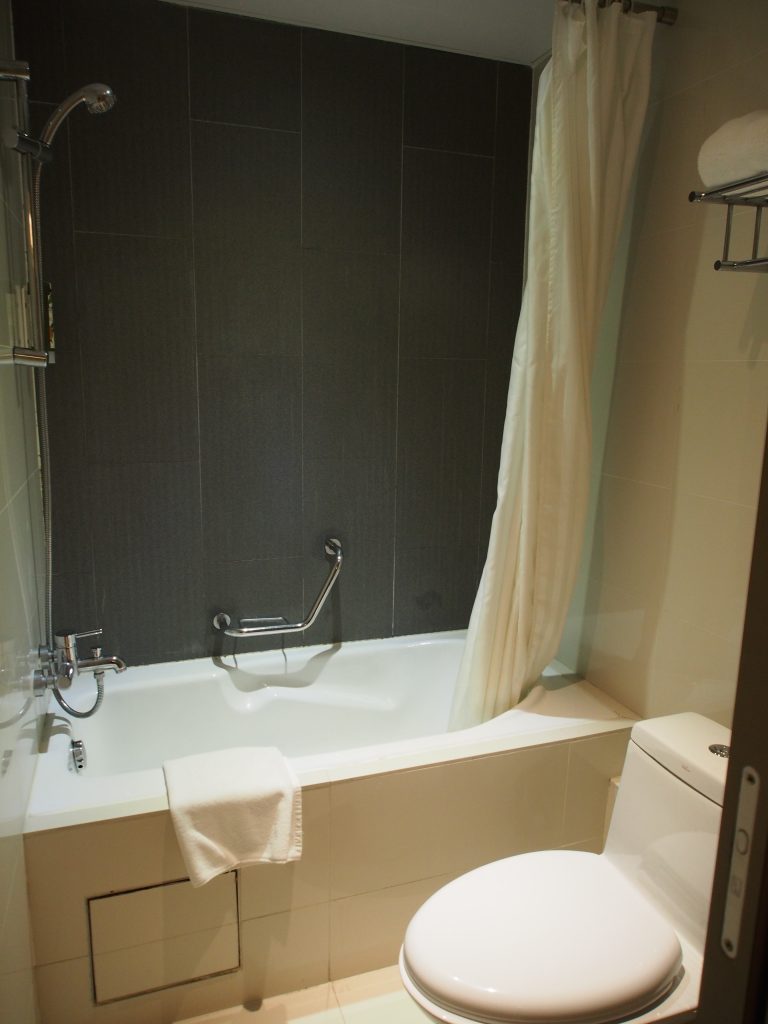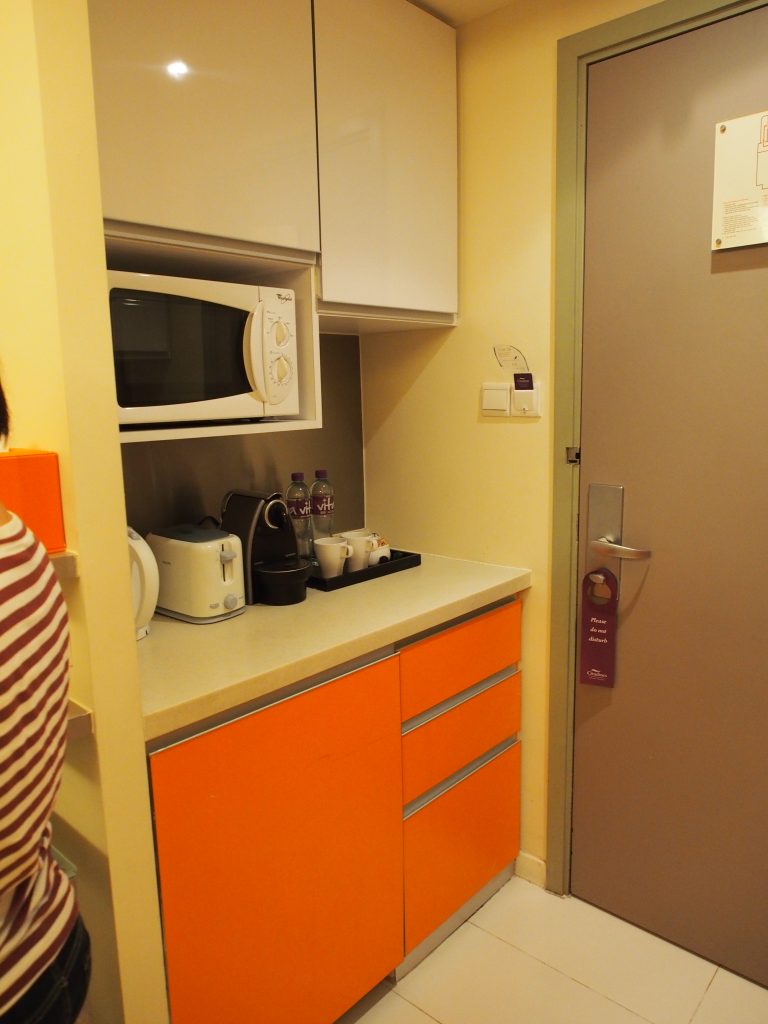 K who was awoke after getting off the taxi, drank a packet of milk before we went back to napping. Both parents rested too but it was a short nap before mommy got up to cook soup and went downstairs to get some egg tarts while I lazed in bed. Eventually, K woke at about 510pm and had some snacks before we left for our first attraction of this trip, the Peak.
Having bought the tickets on Klook, we were supposed to meet up at exit K at Central MTR. If was 10mins walk from our accommodation to Tsim Sha Tsui station and then a short 5mins ride to Central. It was peak hour and as the ticketing kiosk was crowded, it was challenging to get tickets, someone even tried to cut out queue which we told them off, only to find the machine's notes "eater" faulty. To make it easier, we went to the counter which had a queue but was at most a 2 mins wait.
The MTR wasn't packed like a sardine even though it was busy, there were even seats. We got to exit K in no time and it was easy to spot the 2 guides holding small orange Klook flags. Getting behind a queue, I gave my phone to the guide that returned me with 2 ARV tickets (A adults, R return and V for train and sky terrace). Since K was under 3 I didn't get him one. There was 3 groups of people segregated by languages, biggest being Chinese (unsurprisingly), and English and Korean, making it a 100 people crowd. At 615pm ( the last time slot for group booking on Klook), we started walking to the Tram station.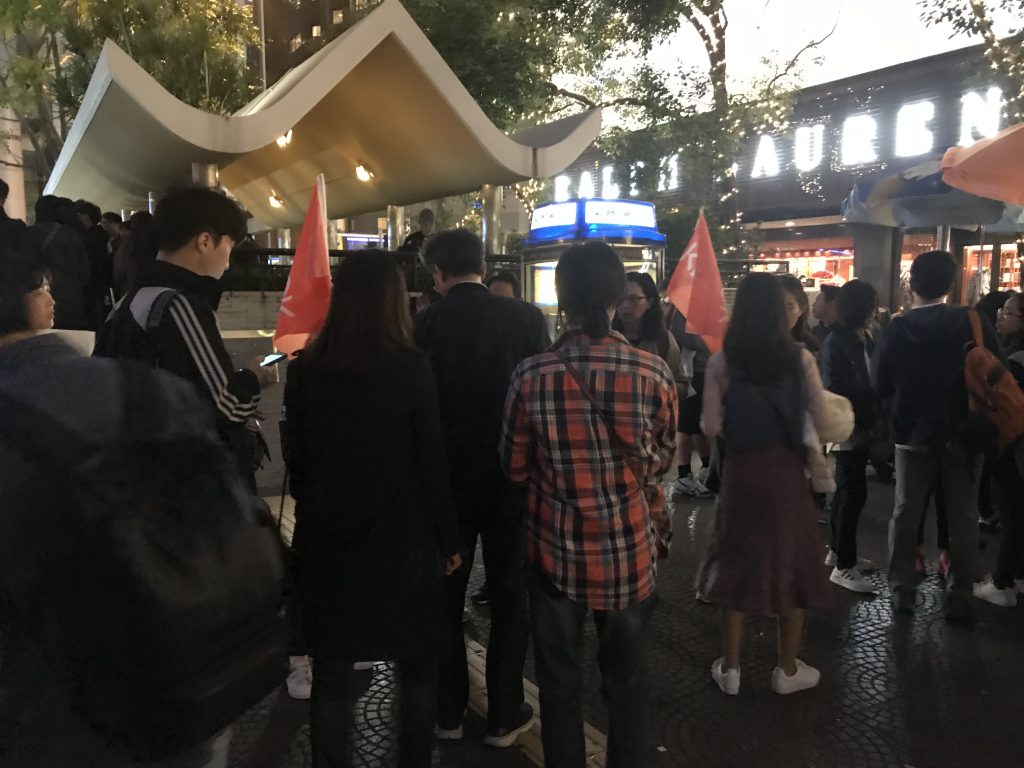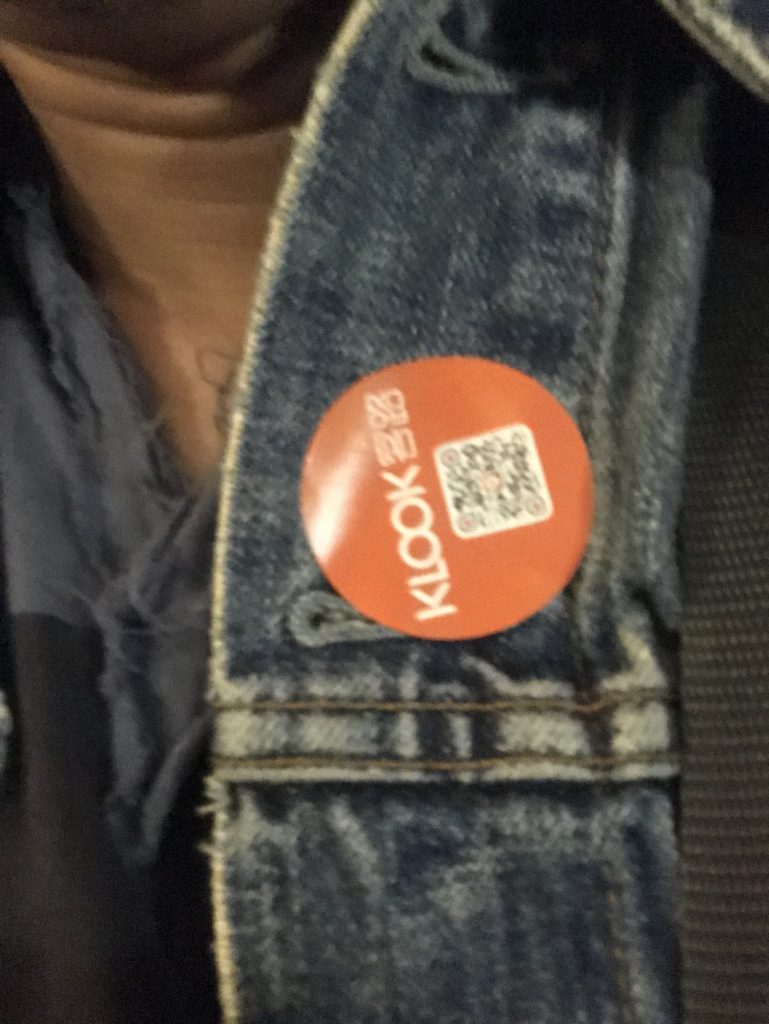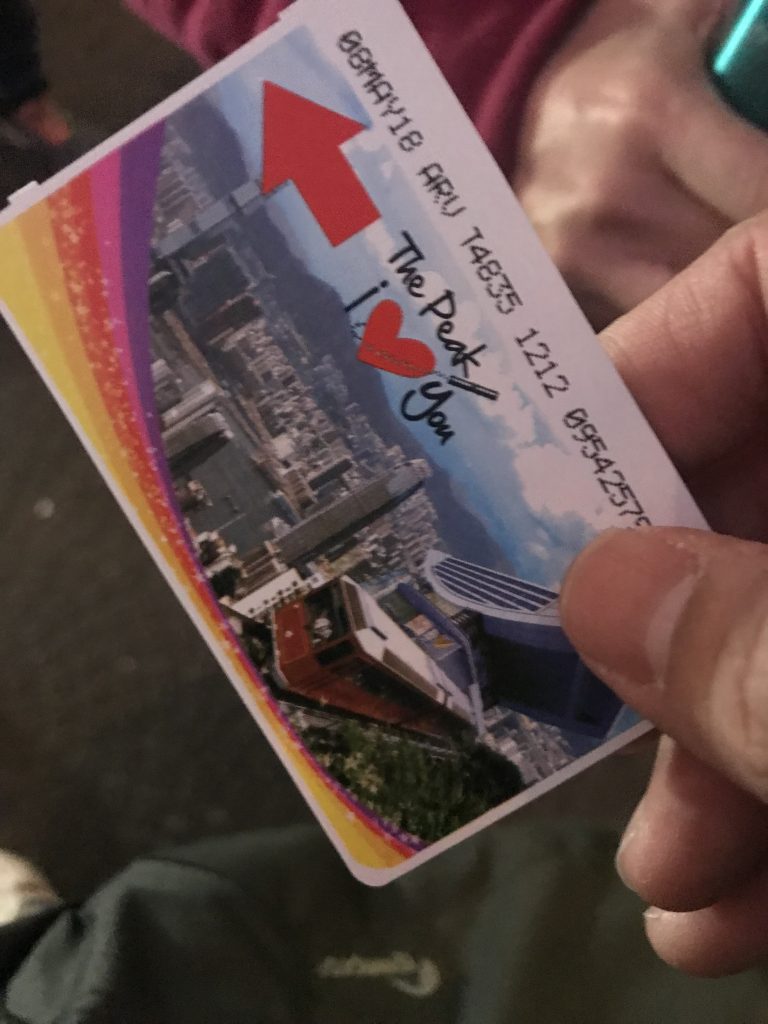 This was when it started to become a bad idea. When I booked the tickets (SGD 17 each), I forgotten that it was a Friday evening. This was peak time for the Peak. The short 5mins walk to the station became 10mins as the street was packed with people and cars with tourists and people getting off work. We got to bypass a few buildings like the HSBC bank building and Cheung Kong center (owned by the richest man in Hong Kong) before we found ourselves lining behind a very long snaking queue alongside garden Road.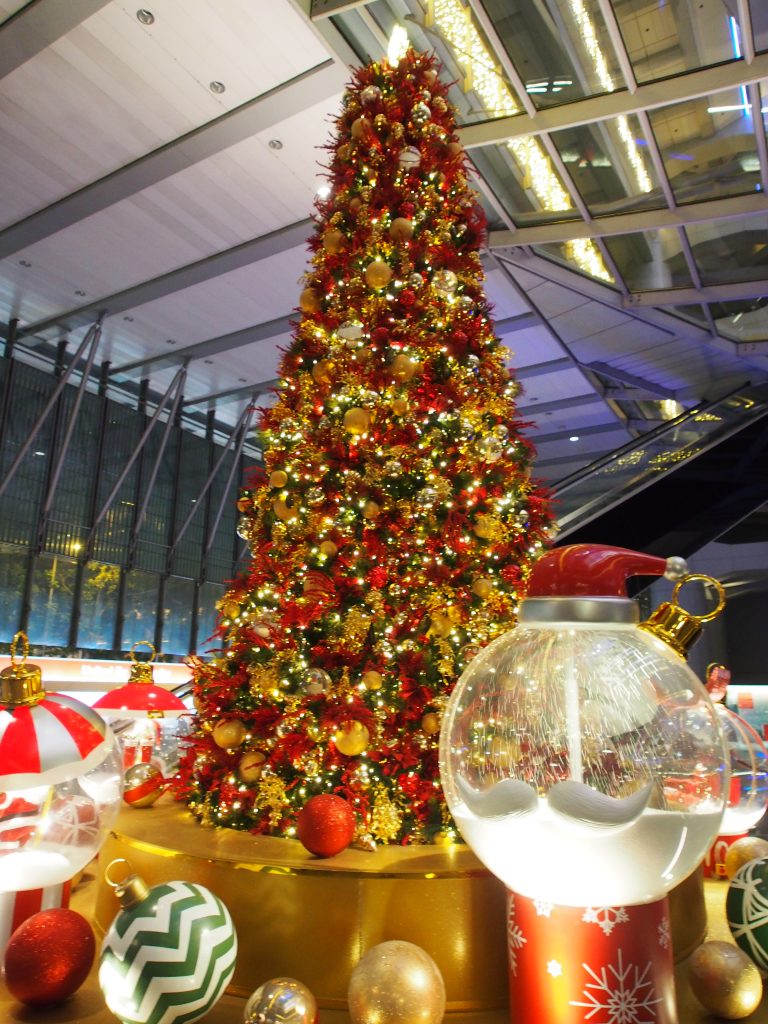 The wait was as long as 1hr and I immediately regretted going on this trip, wondering when K could have his dinner. From about 640pm I stood in the queue while mommy and K walked about at the fountain and joined later as we were about to go into the station itself, and finally only boarded at about 740pm. And it was chaotic, even though we had a kid and people were reminded not to push, there was still a lot of pushing. Mommy managed to get onboard first and chope seats while I came up slightly later with K, after pushing through the crowd past the small doorway of the tram, feeling disgusted of the lack of civil mindedness but wasn't surprised at with a predominantly big group of Chinese tourists.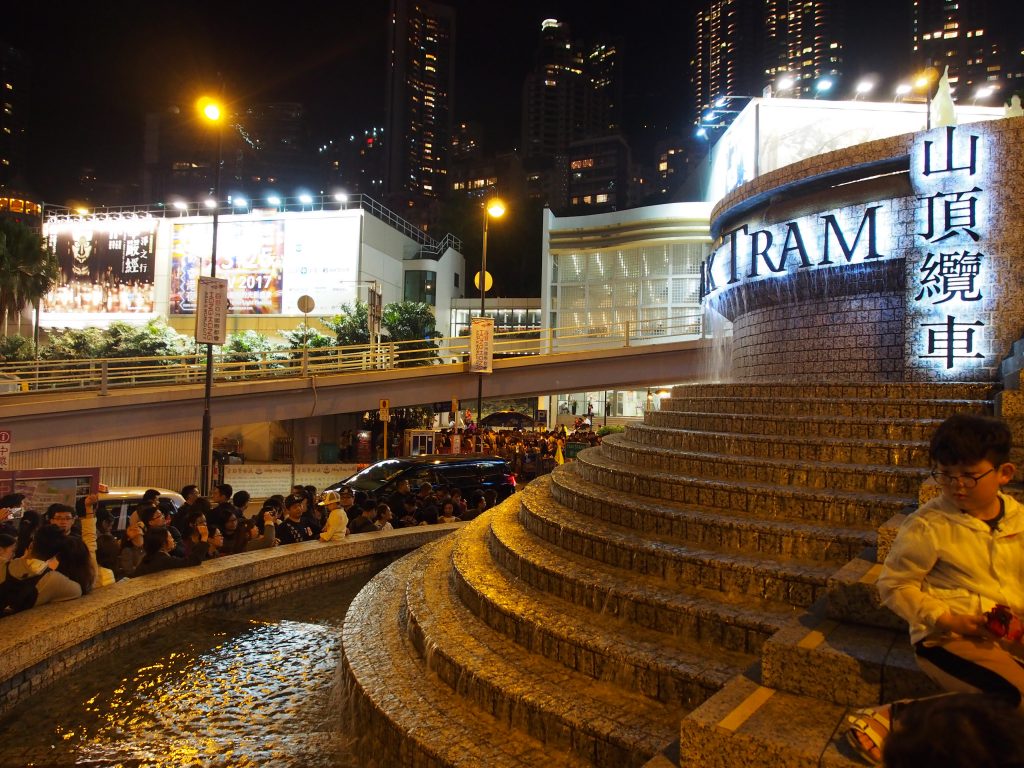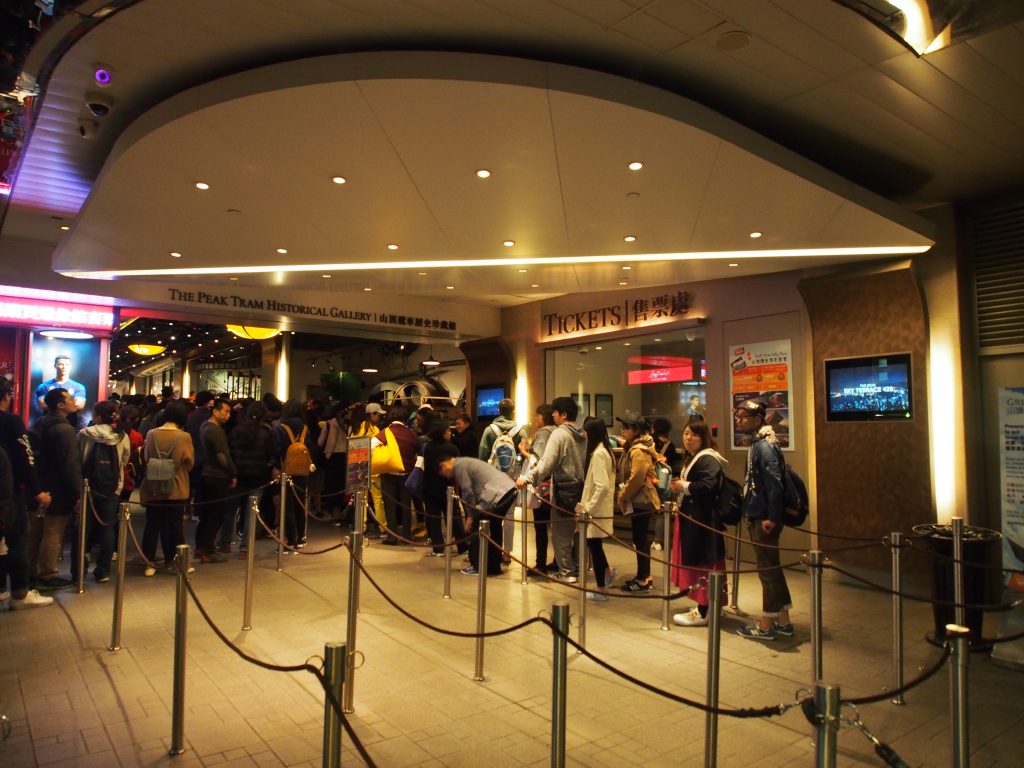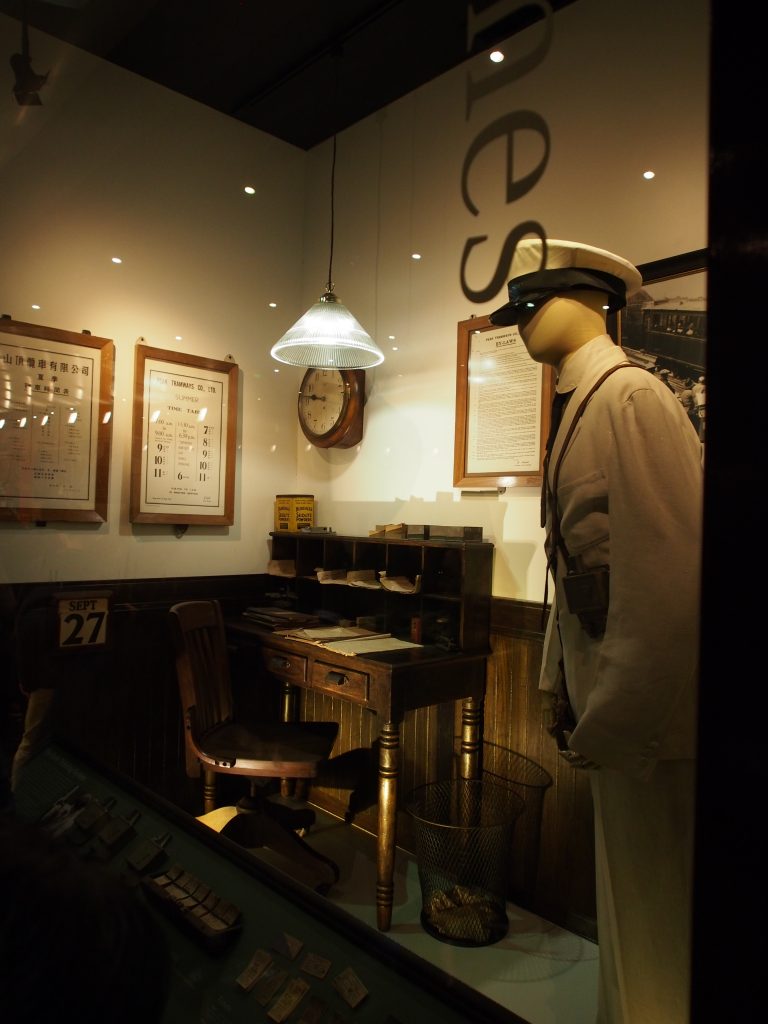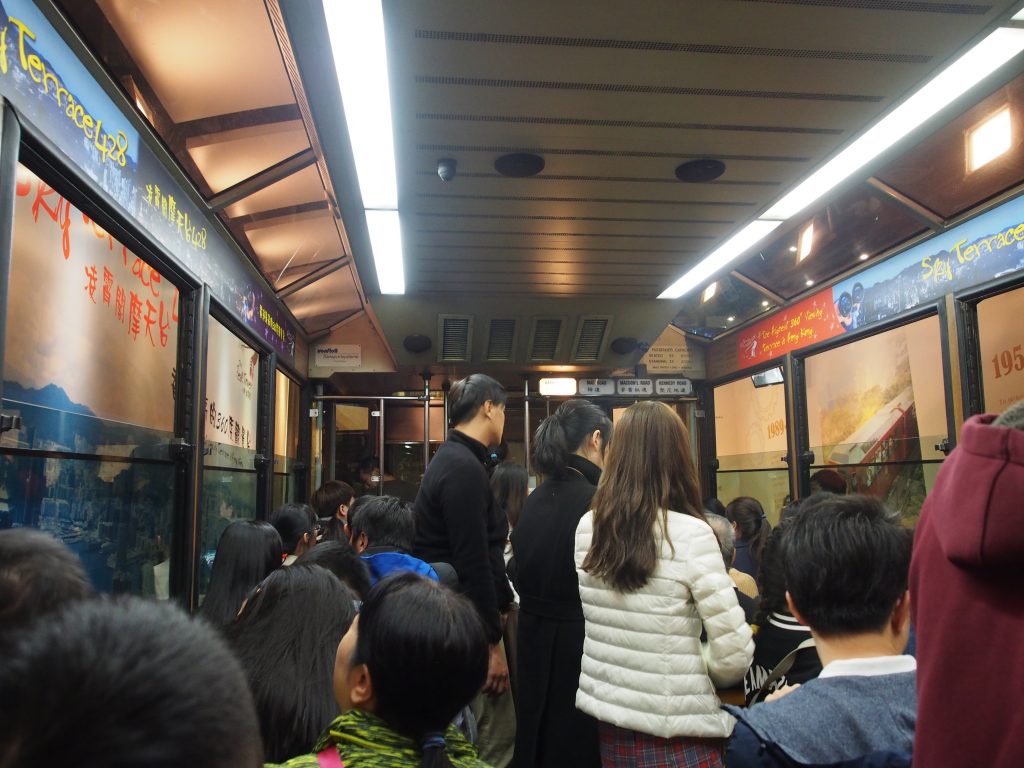 Getting off at the station, we went through the "market" place and then getting info from the guide, we went in search of food. There was Madame Tussaud that we didn't get tickets for and a free "trick eye museum" of sort that we bypassed, a Jap restaurant, Bubble Gump and Hard Rock that we saw but ended up at Chinese restaurant called Lu Feng which didn't have a queue and most likely have fried rice that K could have with his soup.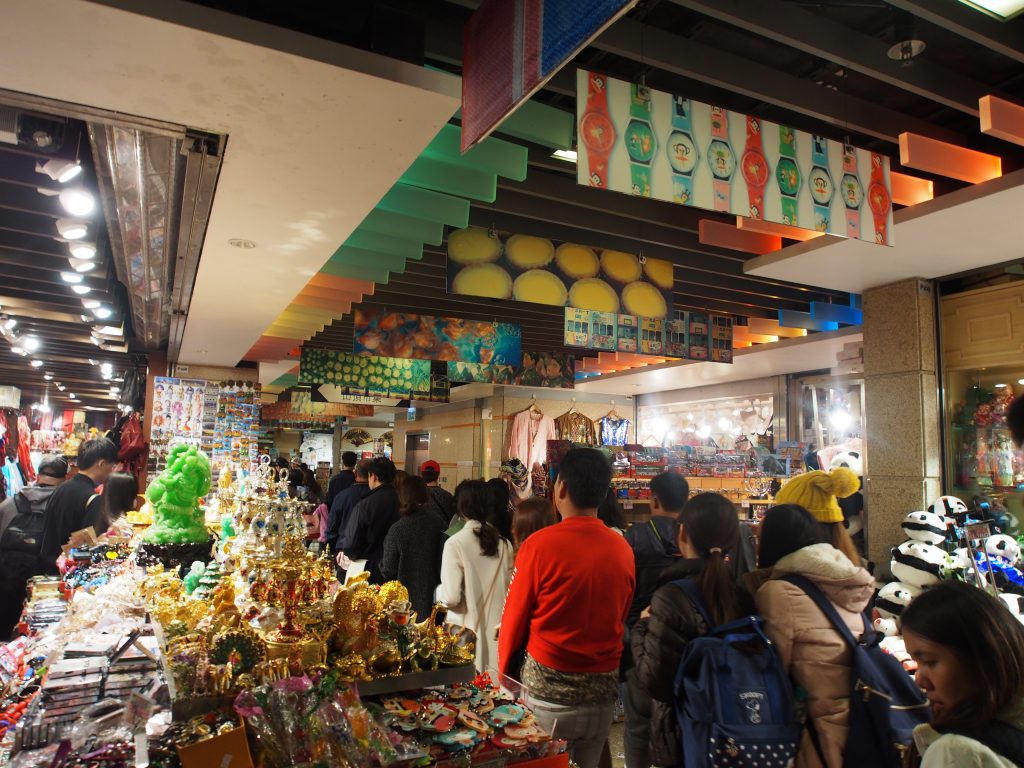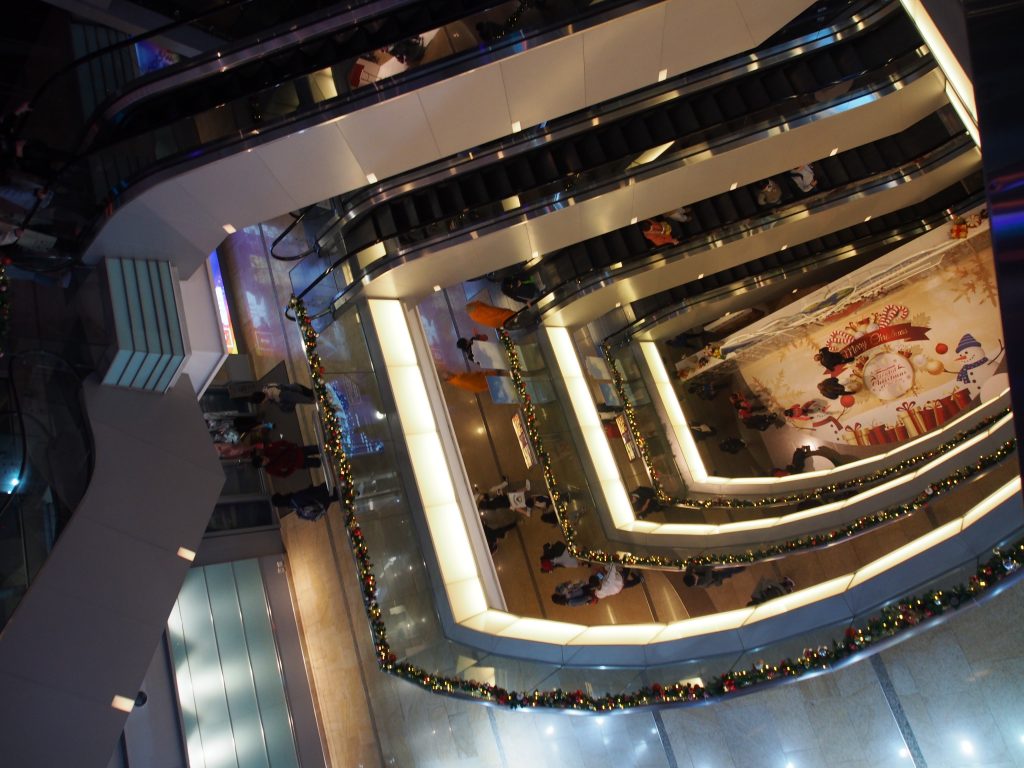 We were brought upstairs that revealed a nicely designed interior and had beautiful views of the city but were told that it was fully reserved. Ordered Ying Yang fried rice (2 flavors on the same plate) and a beef fried hor fun. I thought it tasted pretty good and K had a bit of both but was quick to give up eating saying he was full. As usual, I had to eat up the leftovers but it was quite nice in my opinion.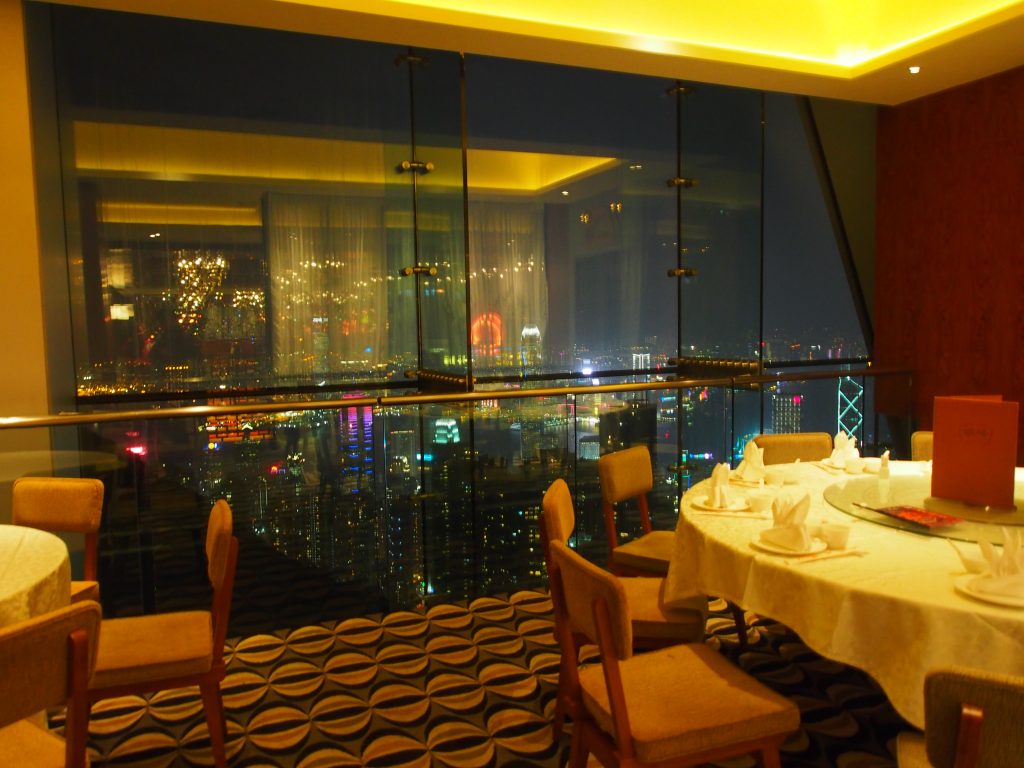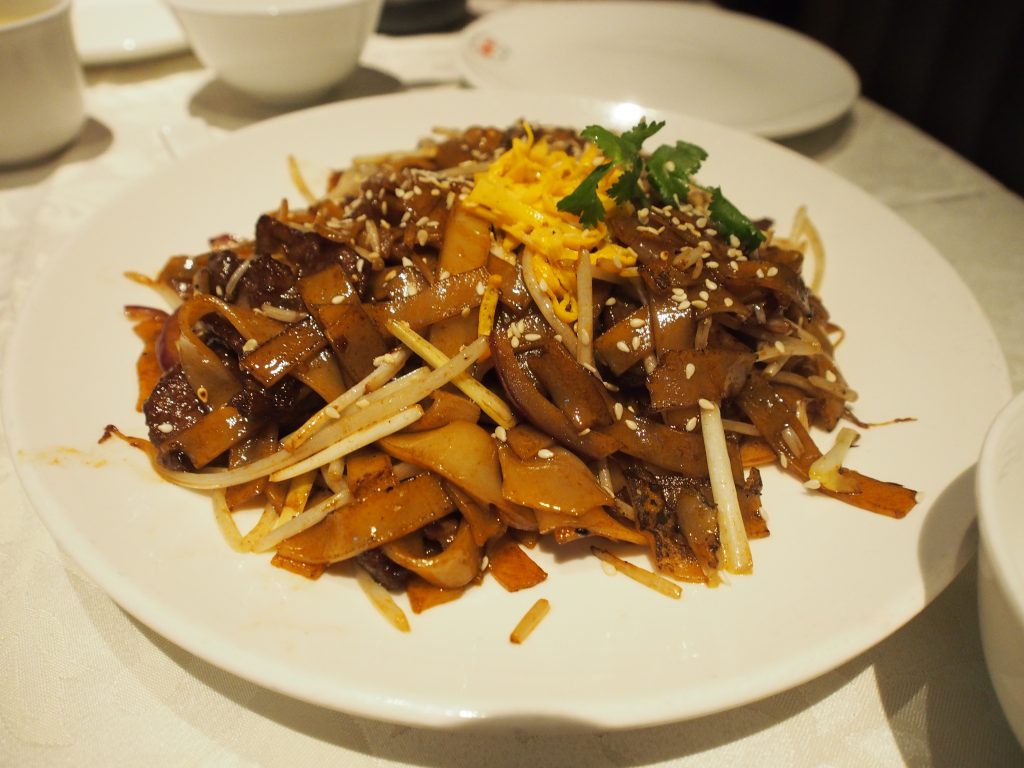 After some fussing in the restaurant for not wanting to walk while i paid for the HKD340 ish dinner, we proceeded to use the locked toilets (key to take from counter) before heading to the topmost 6th floor where the tickets were once again used for entry to Sky Terrace 428. At that time it was again crowded and we had to wait for our turn to move closer to the balcony to take photos. I had never learnt to take a photo for people with a brighter background, and the flash just dimmed the view behind. In the end, the shot came out with very grainy mommy and K, worse without a stand. Taking the view was fine but funnily the iPhone was not able to shoot well.
After a short walk around and a photo of K doing the heart shape pose (his fave pose currently with all his birthday poses being the same) in front of a heart shape display, we left the chilling winds and proceeded to another round of waiting for the tram back to ground level. This time the queue was much faster and in about 40mins, we were on the tram, again after much shoving. We couldn't get a seat but a nice tourist offered some space to share with K, which he took unwillingly after mommy made him sit.
The steep descent made us had to hold on tight and since the tram was facing one direction throughout, the seated people were moving in the backwards direction, slided back into the seat.
We went back to the same way we came, now the streets emptied of the crowd and it was a quick walk to Central MTR. We boarded an empty train as the previous one just left and arrived at TST station on a crowded train as passengers boarded at the stop in between. Went to iSquare mall to the Supermarket by Jason's to buy meat and vegetables for making soup the next day, the supermarket was still busy – 10pm and people were still going in to buy stuff. Paid about HKD130 and we walked back to our hotel, going through the busy street that had probably only getting started for the Friday night.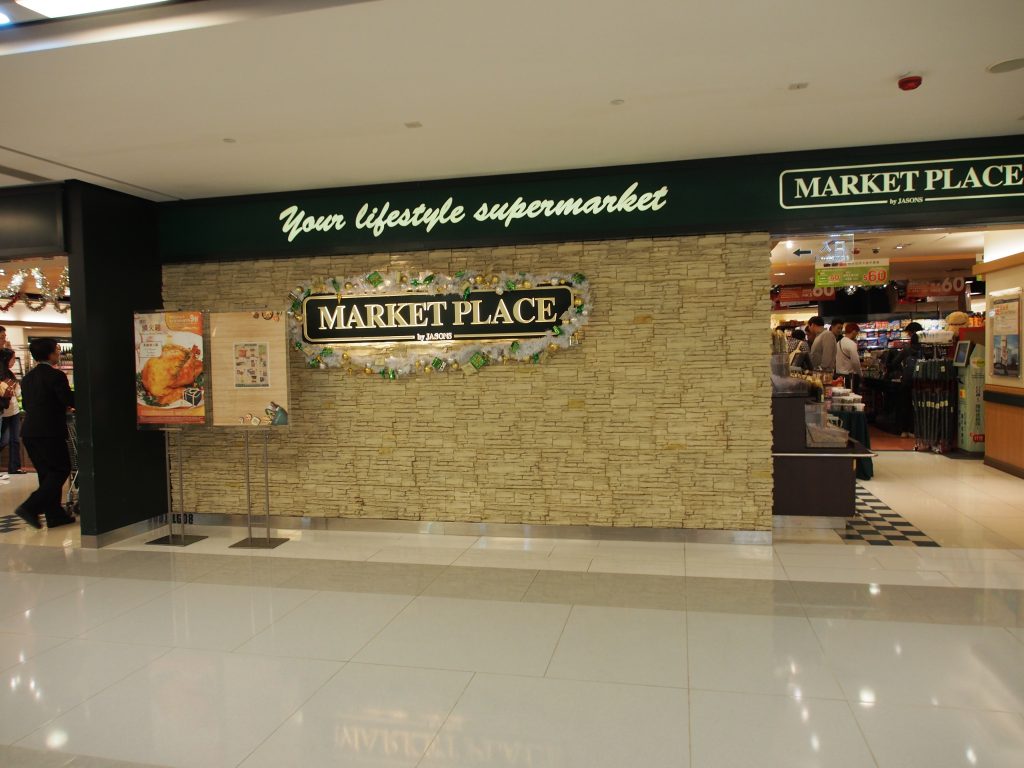 Once back, I rested a while and had a free can of coke from the fridge. Carrying K on my shoulders made my shoulders kinda sore. Bathed K in the bathtub before he was watching a bit of discovery channel, drank his milk and played his pencil tablet while the parents prepared the day bag for Disneyland the next day and bathed.
It was 12mn before lights off, K didn't even asked for story book and soon we were all off to lala land.