Woke up at 530 to make milk for K and stayed awake to check that he didn't puke. Too be more certain, I made much less in quantity as well.
It was very much the same routine again but we had to pack for the last change of accommodation for the trip so packing was included in the morning. K woke up at about 9 and quickly we had to get him changed so that we could meet the breakfast ending timing of 930. It was his birthday today and hopefully we wouldn't get frustrated with his whining. He woke up fine.
The breakfast was buffet style held at a big dining hall just opposite the accommodation, a short walk there. We saw quite a crowd of people on the ranch grounds, kinda expected of it since it was a Saturday after all. The buffet table wasn't having a lot of variety, mostly Taiwanese cuisine, typical of the Min Su that we have been staying. K had some of this and that and soon he was about wanting to get out of the baby seat already.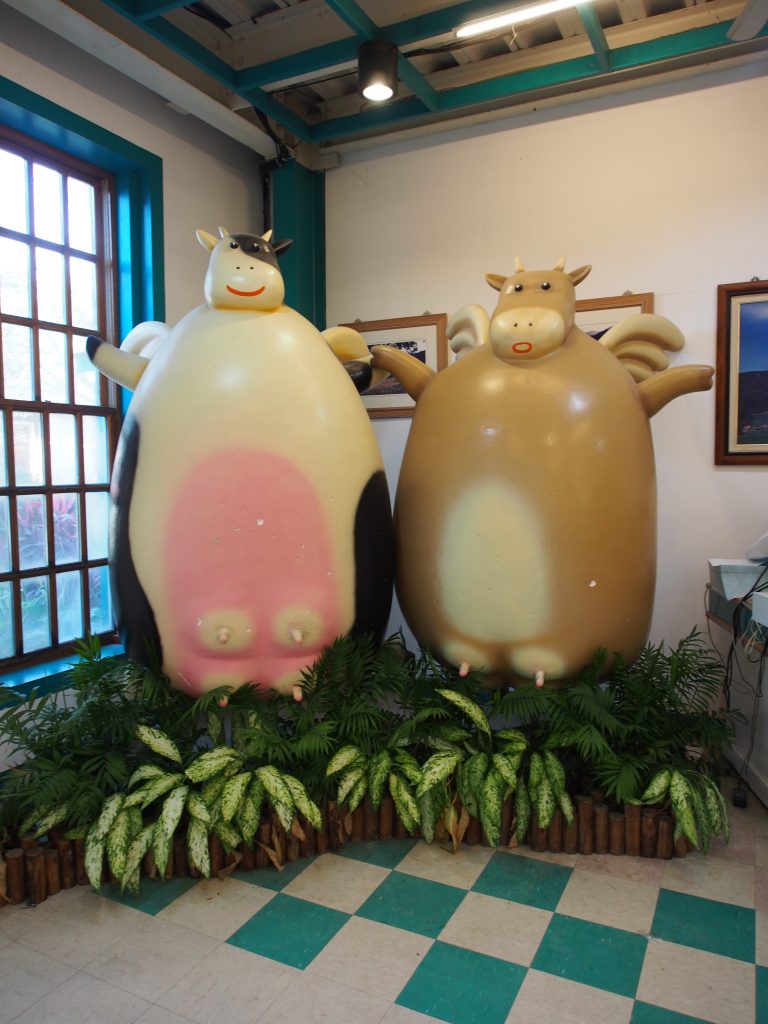 After breakfast, we first went to the big tractors that K was playing the evening earlier to play on it again. While on the way there, we saw a real tractor pulling a passenger carriage parked nearby, waiting for people to board for a tour around, for 50NT per adult. We skipped.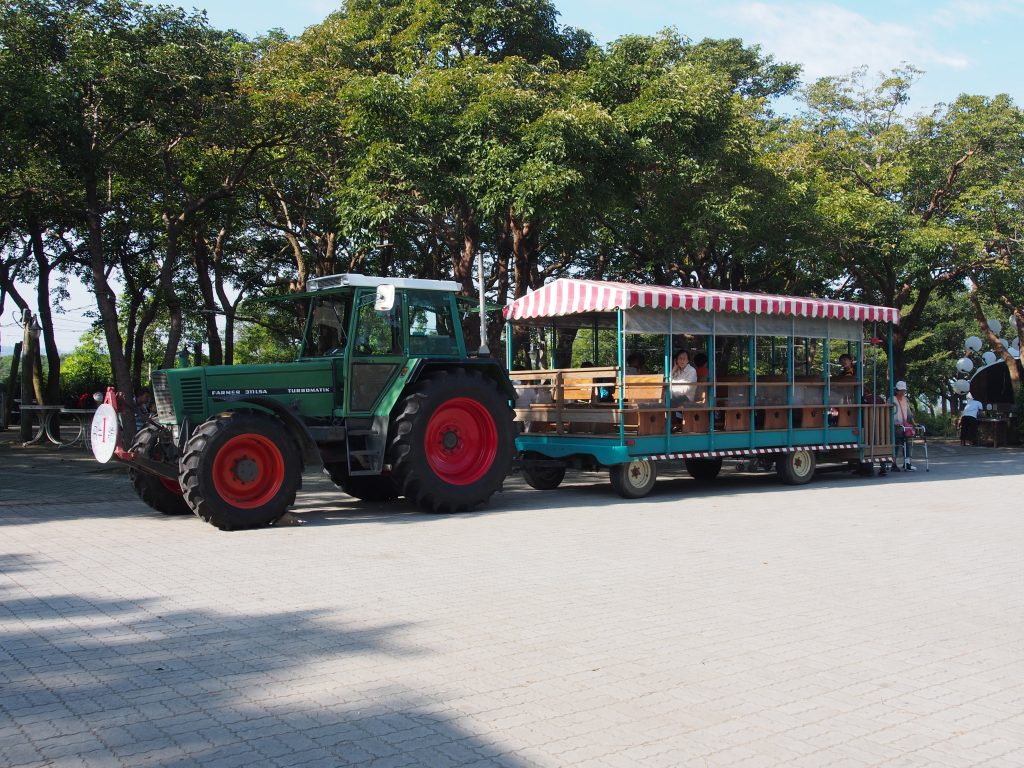 Next we brought him to the playground nearby as we didn't had time to go the day earlier. There were a couple of interesting things such as a kids manual excavator on sand, a couple of bells that he was very fascinated about and a slide that was designed to look like a huge tractor on the outside. We stayed for a while and then proceeded to the animals.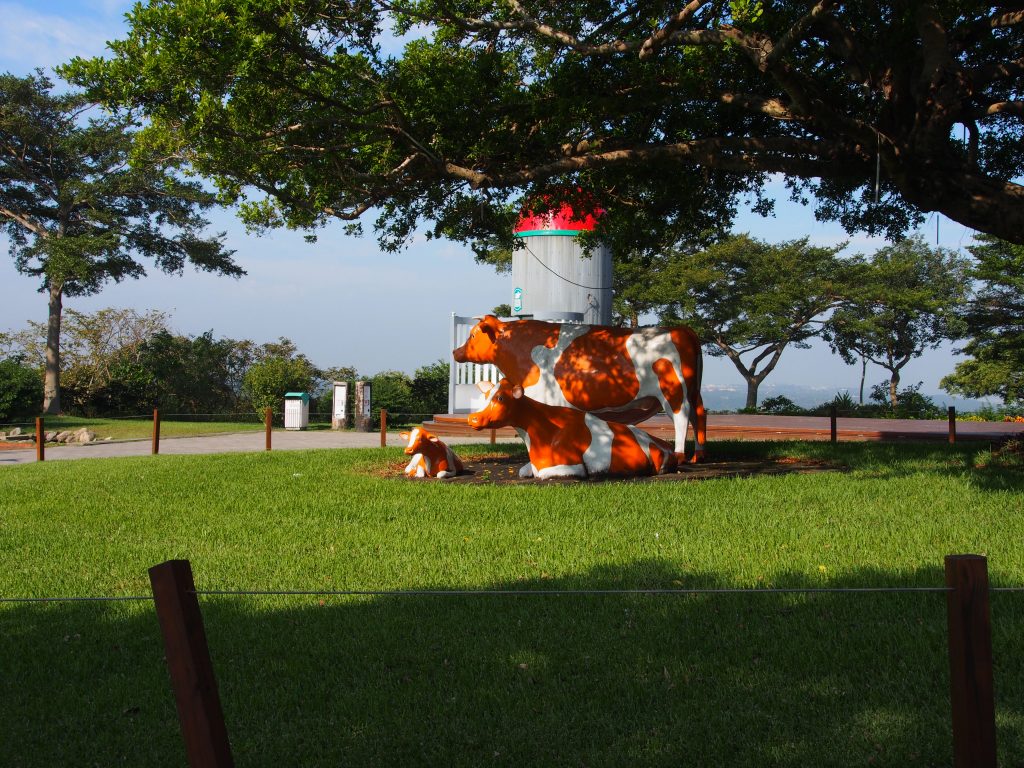 Early in the morning, there were more animals to see that we didn't see the day before. Young goat kids and ducklings were out in the fence where we could buy feed to feed them and give the kids milk. There was also an activity called the duck march where the staff rang bells to bring the duck towards them to feed them and it was lovely to watch them flock here and there. We also fed the mountain goat and the rabbits before leaving, K feeling tired with all the feeding.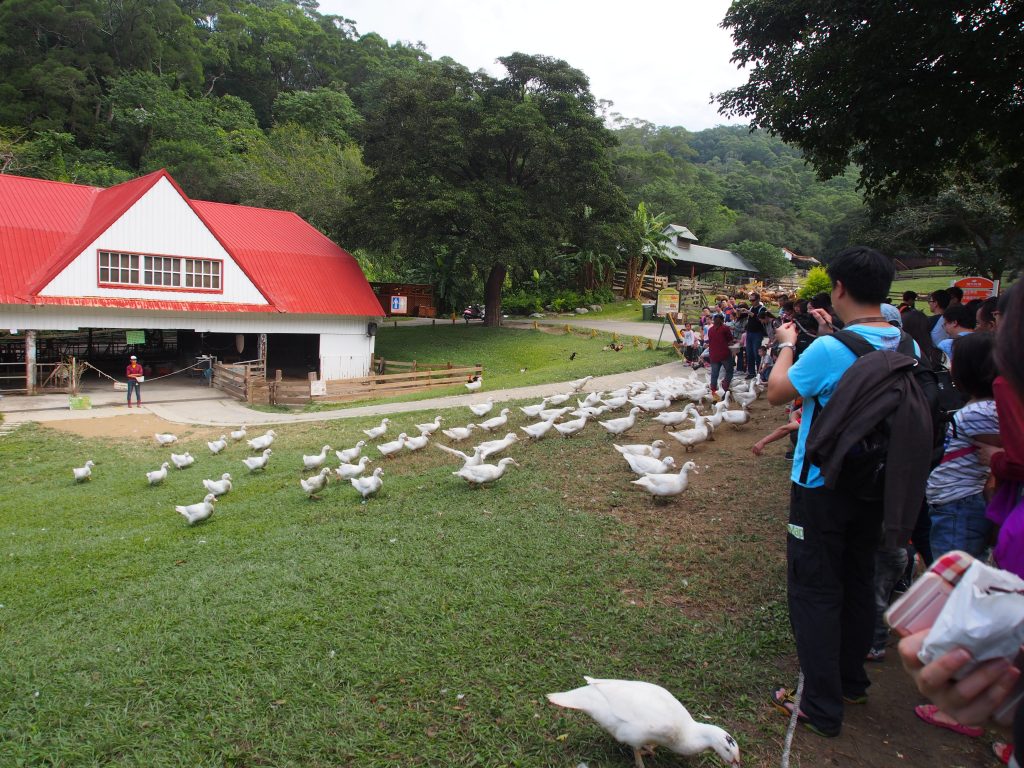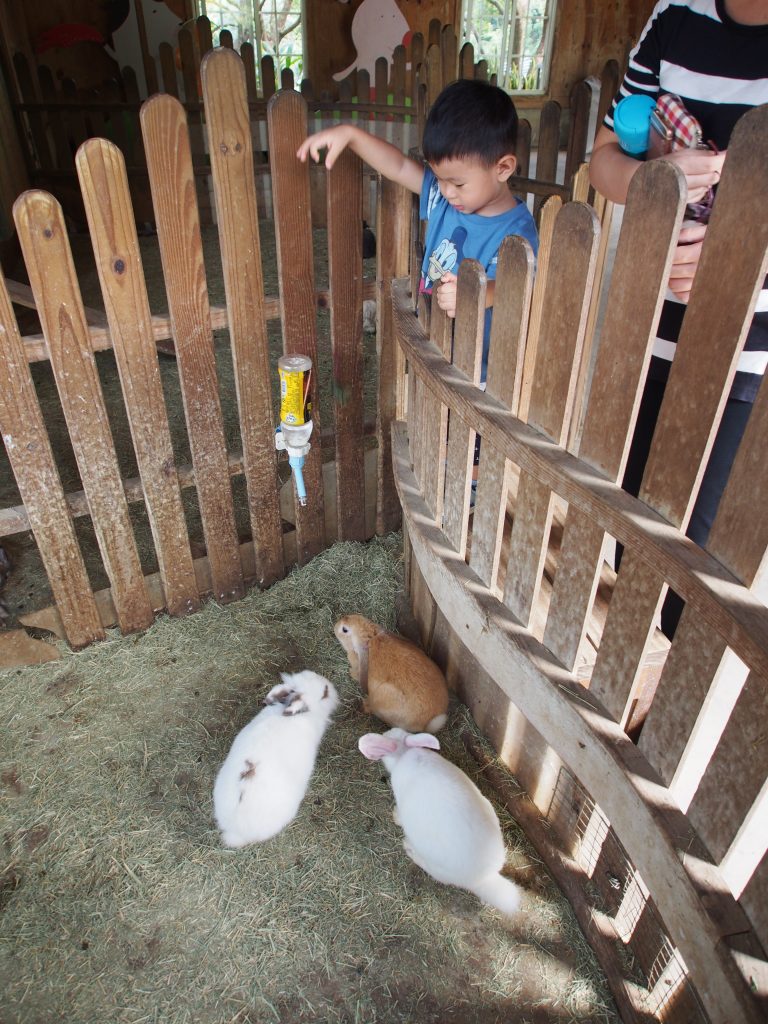 We returned to the room to pack the lunch and luggage and checked out at about 11am. Our next destination was the fun place known as Leofoo village, about an hour away. It was a short drive and K didn't fall asleep although there were signs.
The weather wasn't playing ball and it was getting cloudy. We arrived at Leofoo resort, past the main parking for the theme park (free when we were guests of the resort) and many cars were found parked there already. Got off the car to check in at about 1215 but rooms weren't ready. While waiting, we managed to catch some lemur in action, jumping here and there and saw some rhinos. One of the lemur actually jumped onto the walking path to the hotel rooms. We then decided to buy tickets to the theme park as there weren't much we could do at the resort. The tickets were sold at the resort shop at a price of 900NT per adult (99NT less). Then it started to drizzle.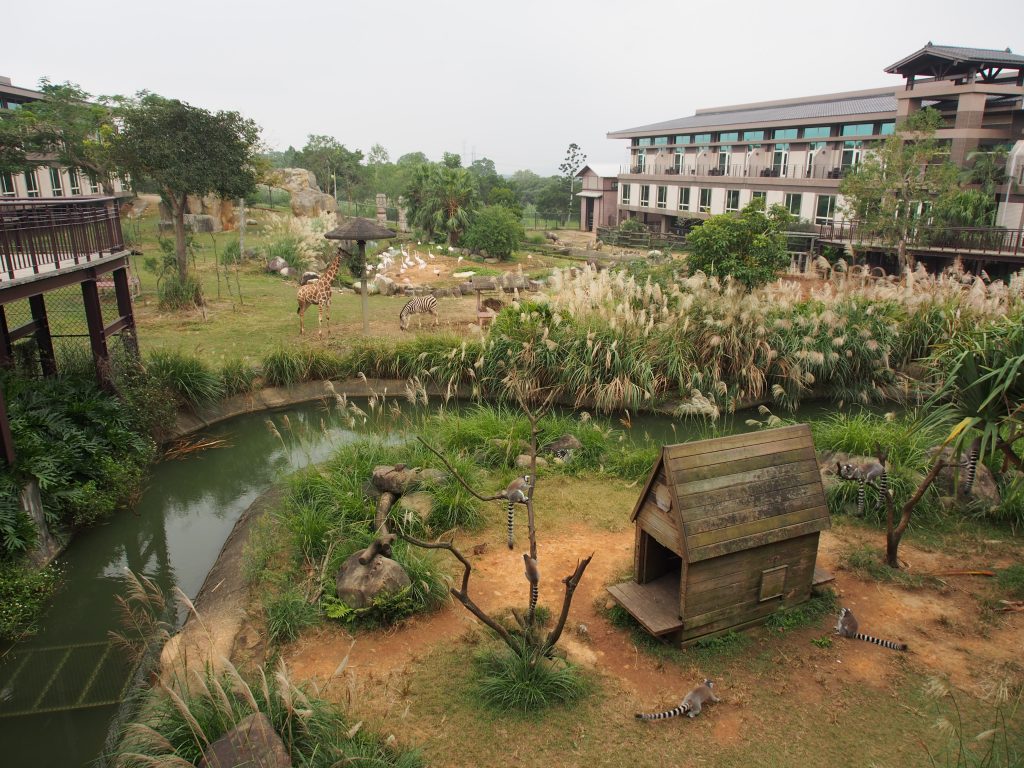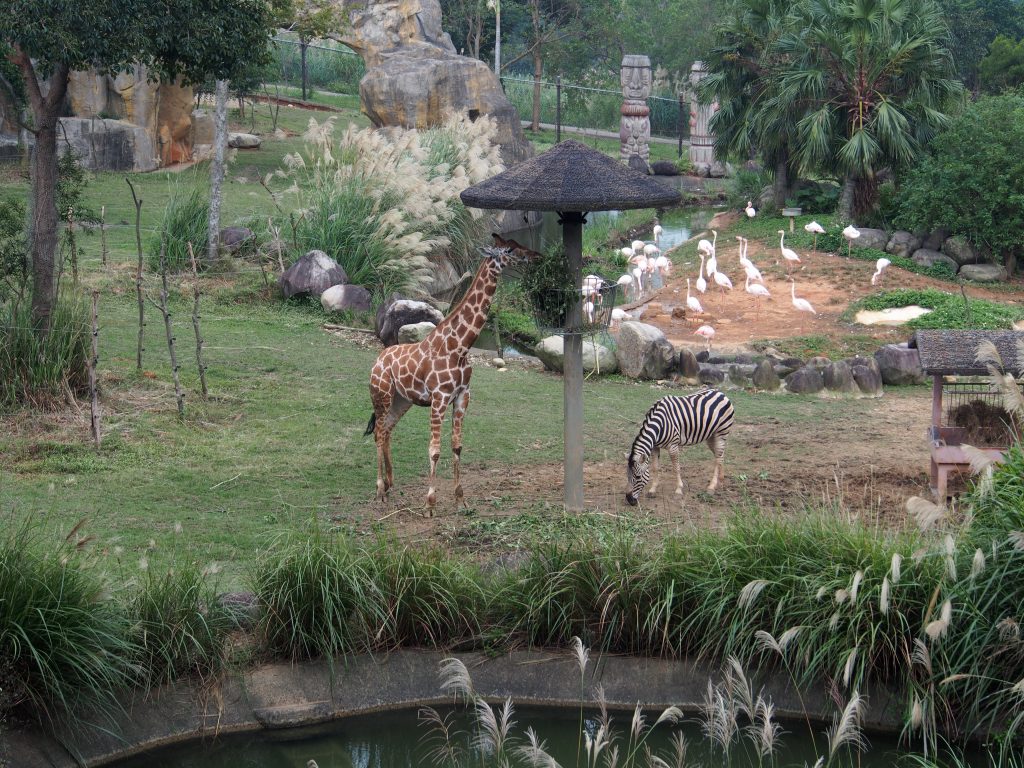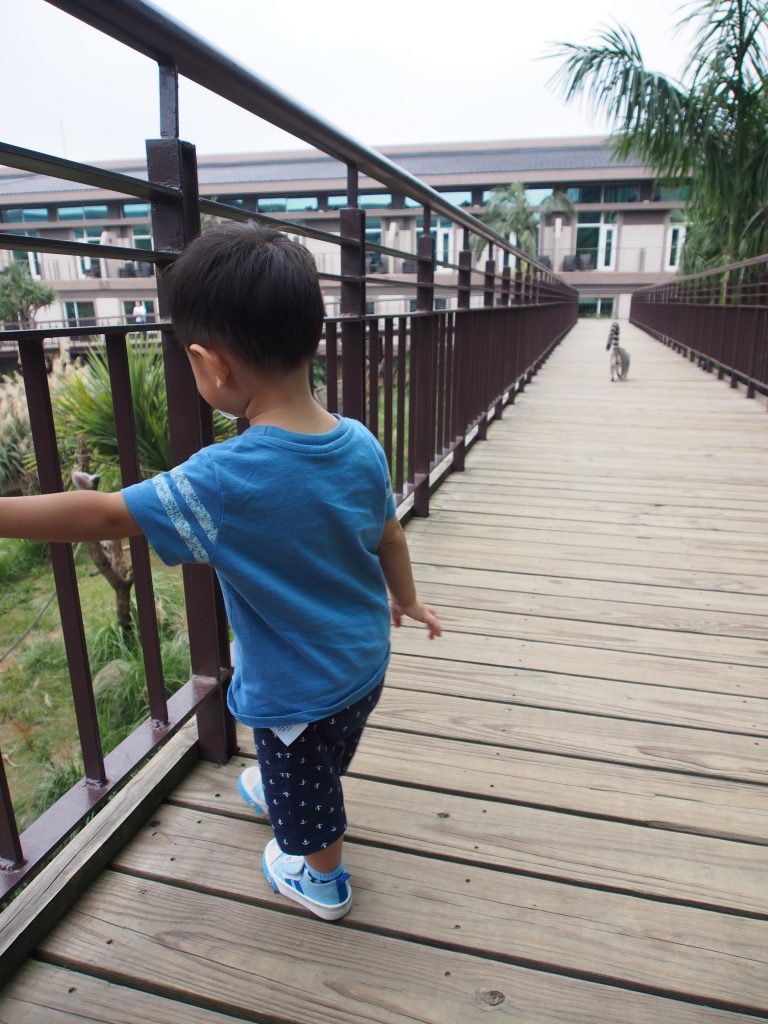 We then drove to the game room just 100meters away from the main reception to have our free photo taken. Then as we were shown the samples for the free tiny calendar, we couldn't help but purchased another 2 photos for souvenir at 500NT.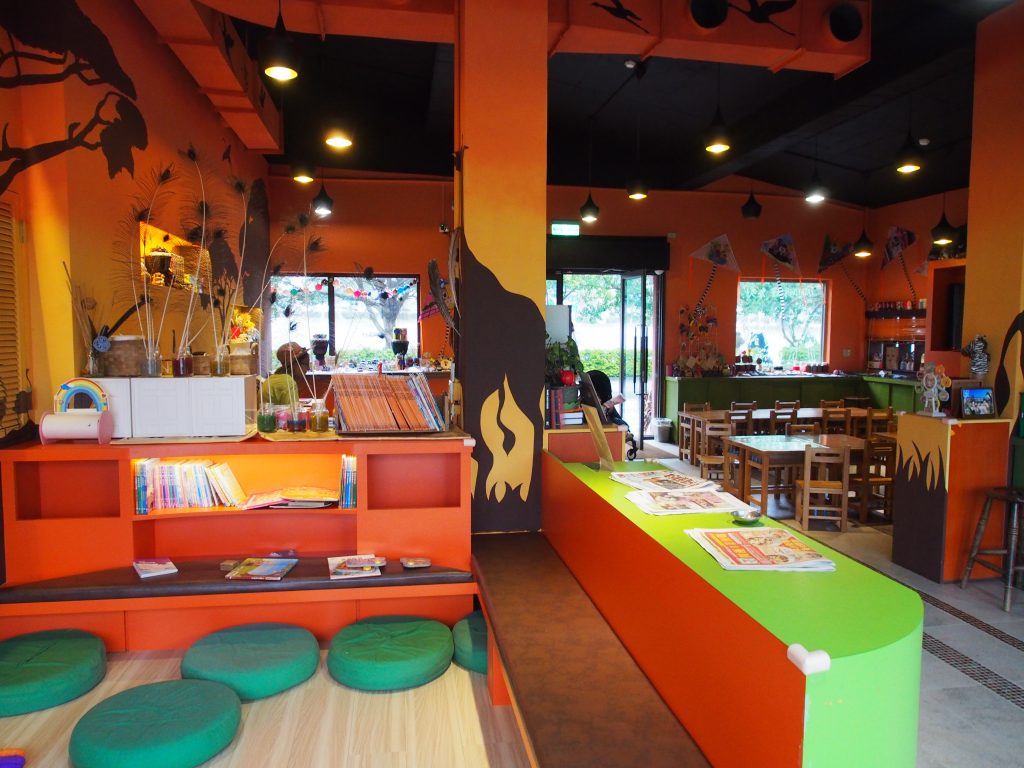 Then we drove to the theme park and got mommy and K to alight first before I found a parking spot in the crowded car park, that was available behind a bus parking area. The drizzle wasn't heavy but wasn't letting up either. We entered while many were seen leaving.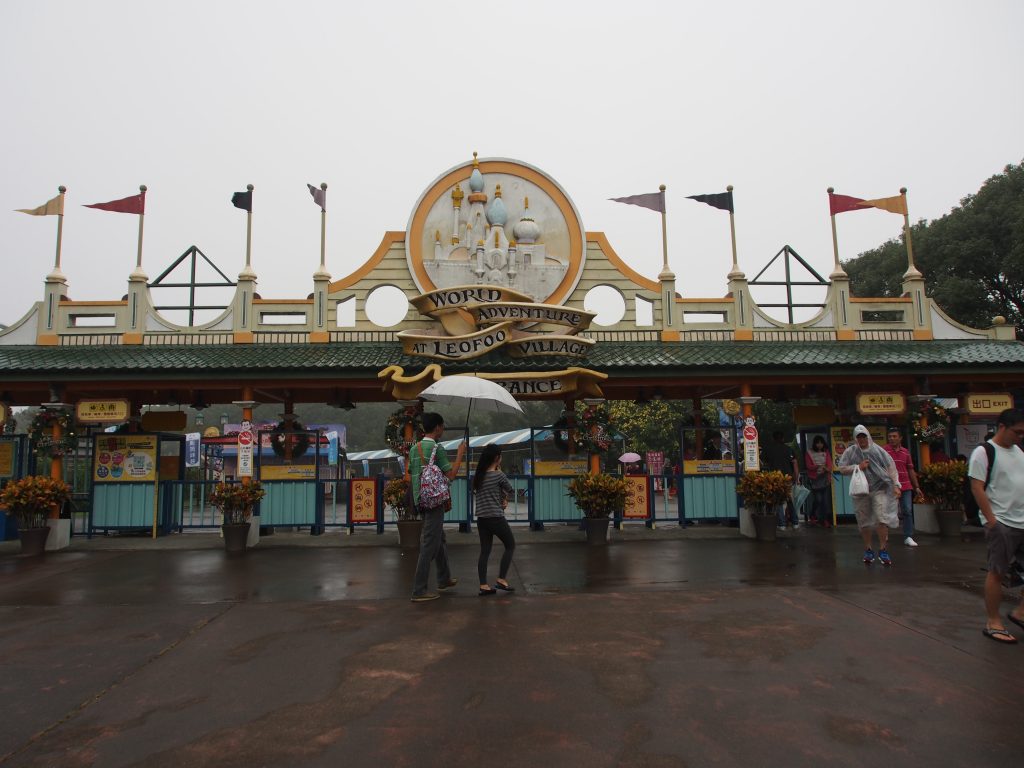 The theme park was arranged like the RWS in Singapore with different areas representing different continents. Went to the west first, of cowboy themes and got ourselves some lunch near the condor ride ( one that the running men took as one of their punishment if I remembered). K had his lunch too and as we tried to finish our big meal pack, mommy brought K to the nearby arcade to keep him happy. It was getting chilly as we had our lunch in a those tables with a huge sun umbrella – it only shielded us from the rain but not the wind.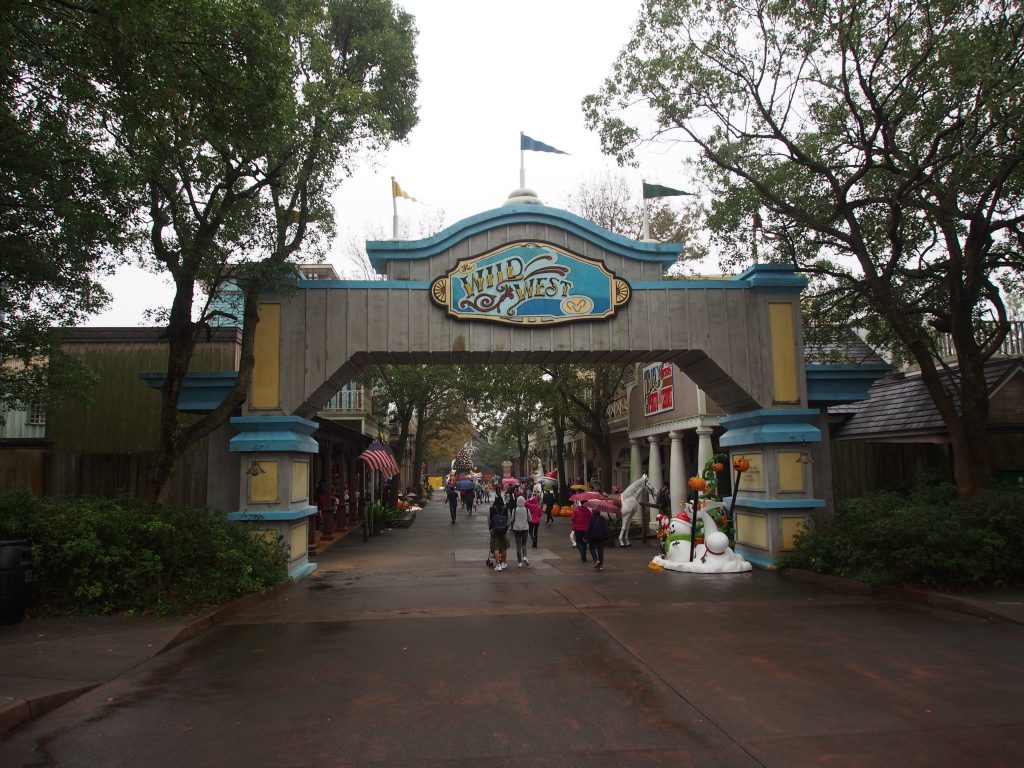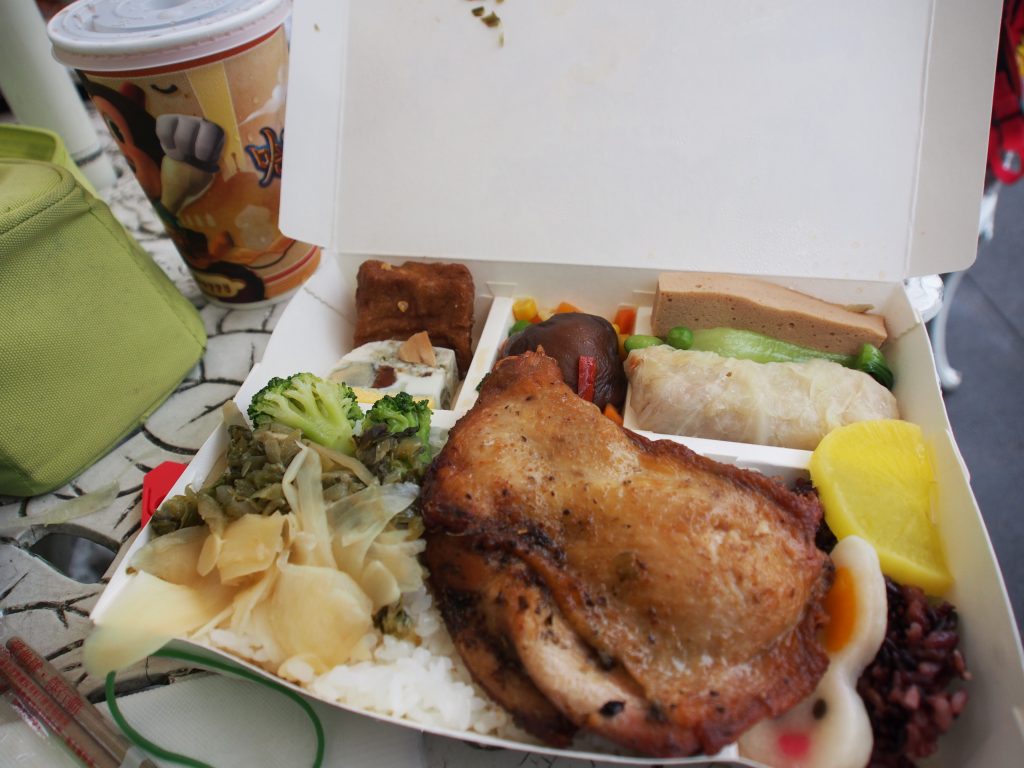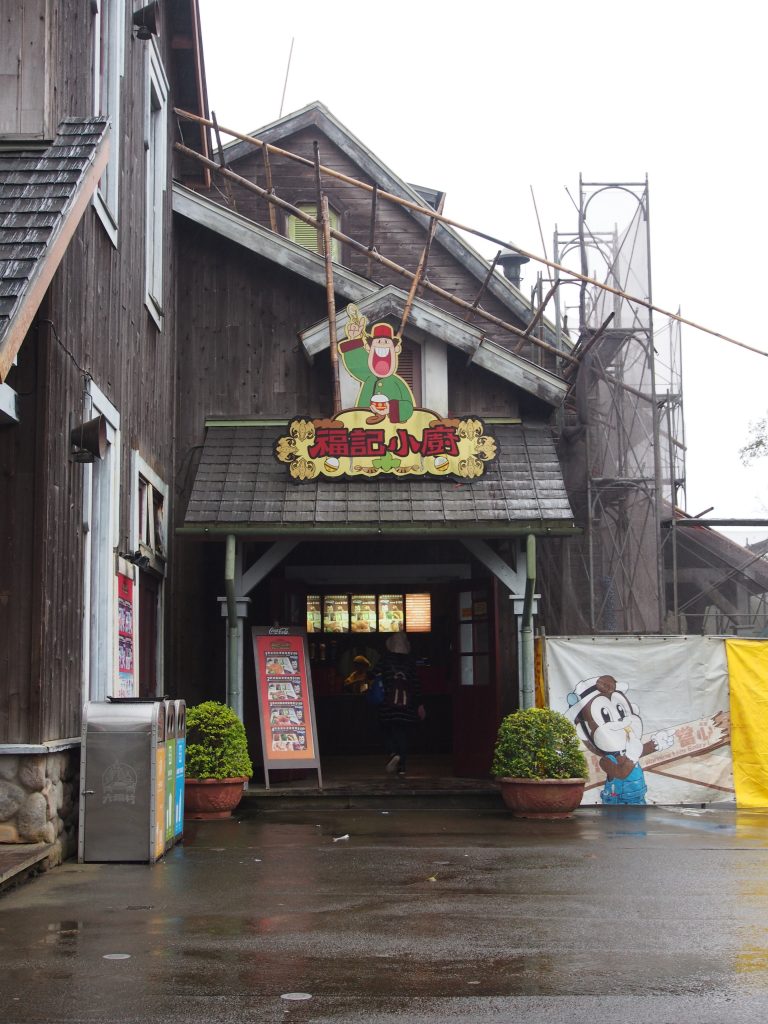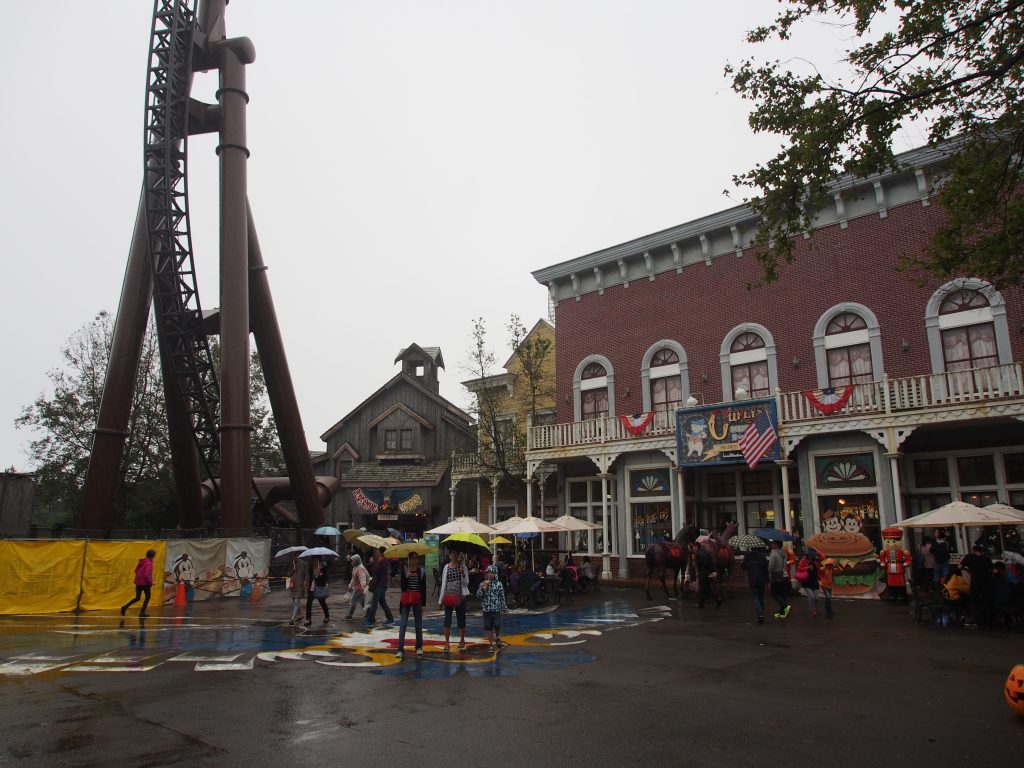 After I was finally done with my lunch, we then walked around the shops and also took K onto a kids ferry wheel. He was interested for a bit before wanting to get off, maybe because it was constantly stopping to let passengers on and off.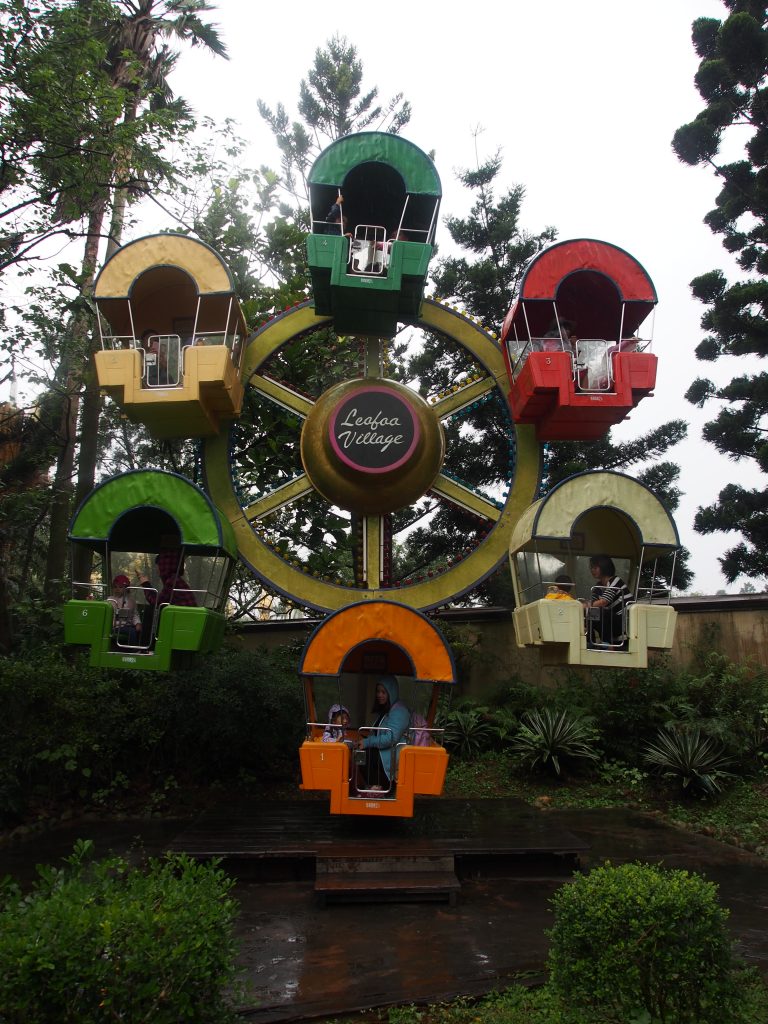 We proceeded to walk to the next area and got in line for a ride featuring big birds which went around but also upwards and downwards. As the queue was long, K fell asleep waiting and so I got out of the queue. Mommy and I decided to just roam around to see what were the other rides available, with reference from the map that gave a recommended ride route to follow.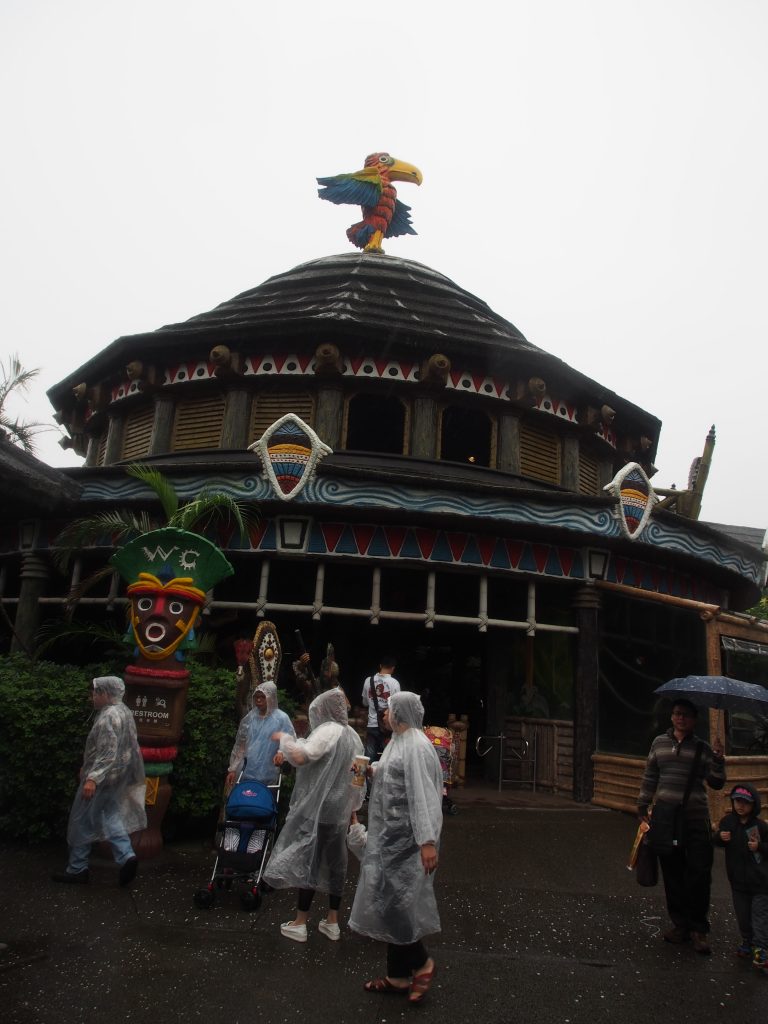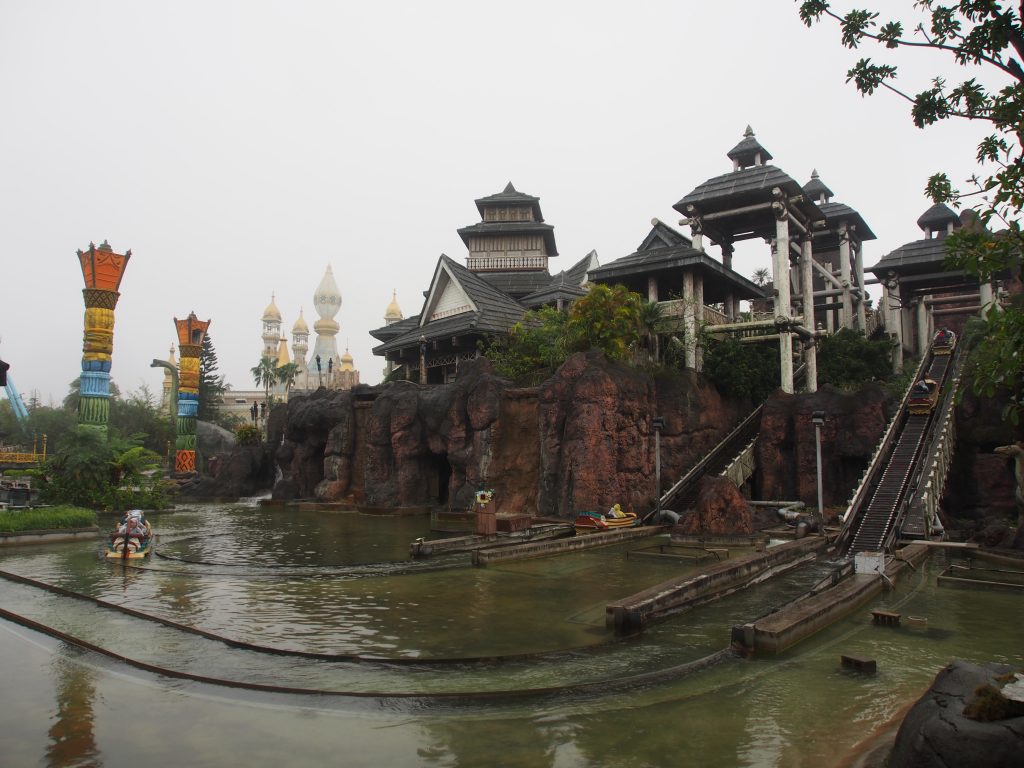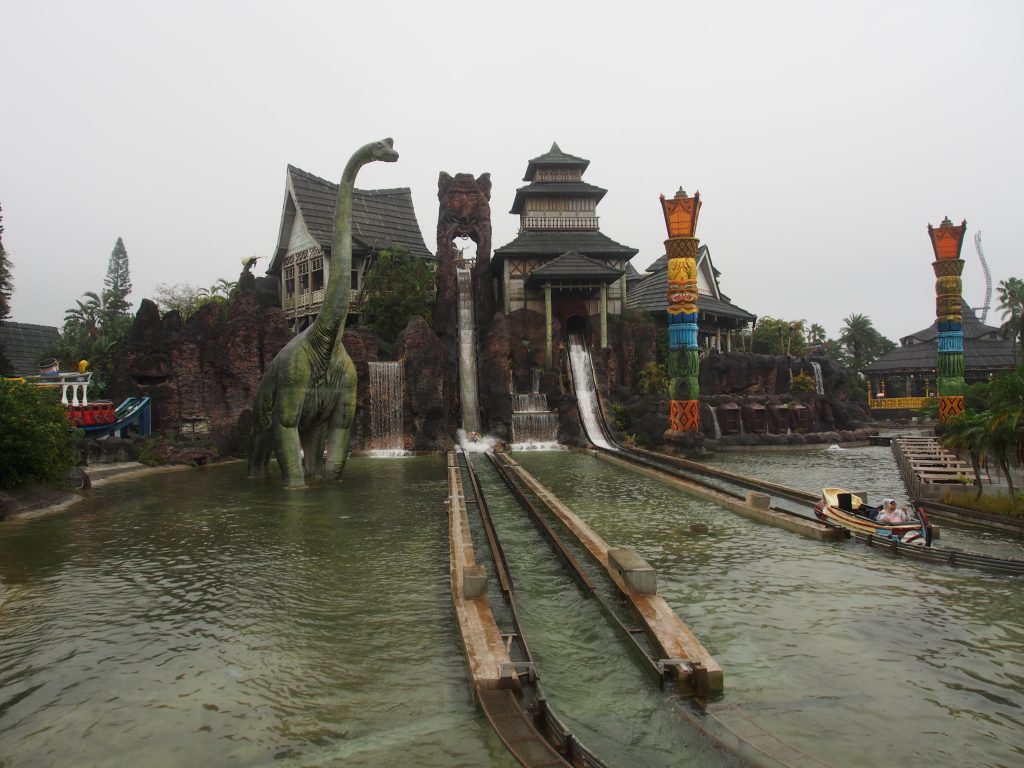 We walked through the glamorously designed Aladdin world and then finally the Africa theme where it was a mini zoo cum theme park. We saw Alcapa in real life which looked adorable and there was a enclosure with 2 huge white tigers, which allowed people to be able look at them very closely (unlike our zoo). Then we sat in one of the sheltered cafe to just rest and chat while K snoozed.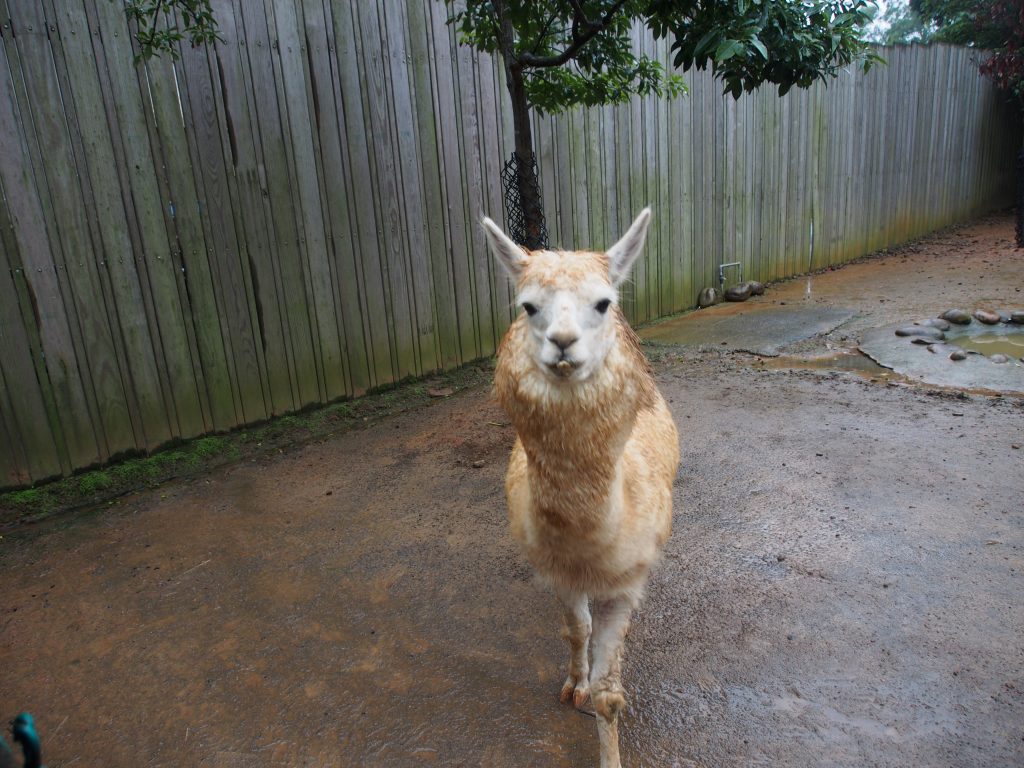 The next time K woke was already 415pm and we brought him to the huge carousel of horses at the Aladdin world as he liked that. I sat with him on a horse that could go up and down as mommy took photos from the outside. There were 4 rows of horses and many could get onboard.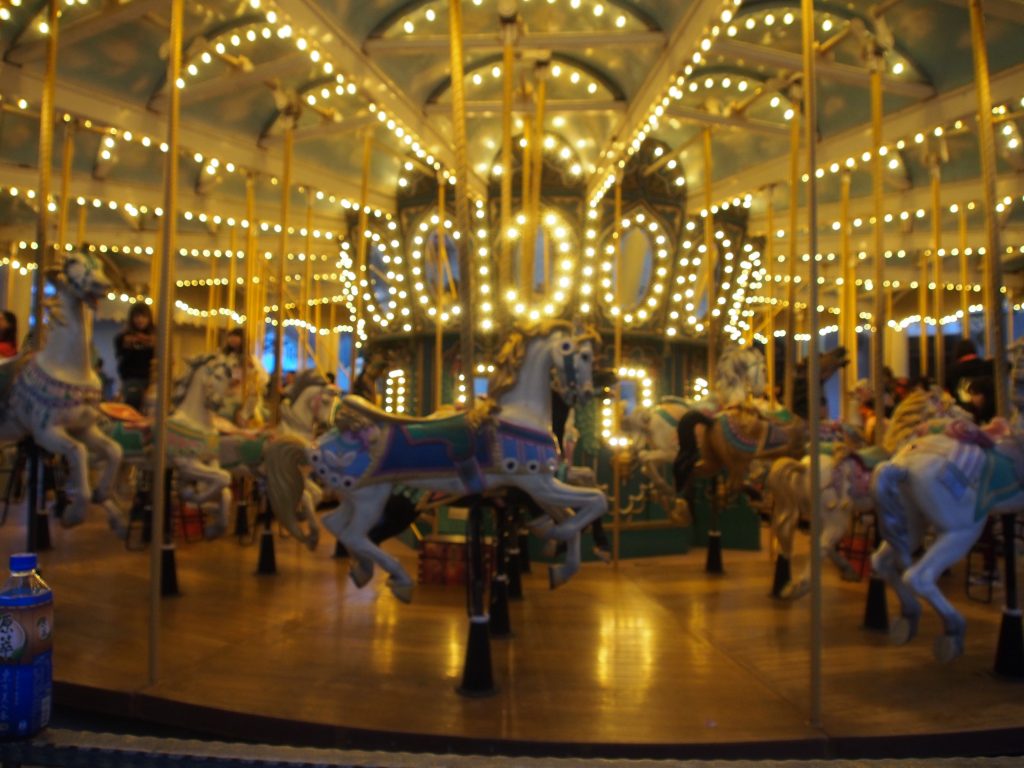 Then we walked towards the flying horse ride but it was closed already at 445pm. It was disappointing as K said he wanted to take it but he didn't seem to show. Then we proceeded to the exit since the theme park official closure was 5pm, which was very early in my opinion.
We got ourselves some popcorn and souvenir from the gift shop near the entrance and I picked up the car to fetch mommy and K, minimizing exposure to the rain. While we headed in the opposite direction towards the resort, many cars were heading outwards.
I let mommy and K off at the entrance first for mommy to do the check in while I parked the car. We got a room from the Giraffe wing, room 112 which was said to be one of the better ones (according to some online blog like bumblebeemum and tips), as there was ample space below our room for animals to walk and that gave us a chance to see the animals up close if they do choose to roam around.
The staff helped with our 2 huge luggage and as I carried K with an umbrella and mommy carried some other bags with another umbrella, as the path was unsheltered and it was still drizzling. The room was huge as it was designed for a family of 4, having one huge King and 2 singles. The toilet was big too with 2 showers and 2 sinks. This was of course with a price, 11900NT to be exact. We managed to see zebras silhouette nearby as the sun had already set at 6 and have to switch off all the lights to see them better.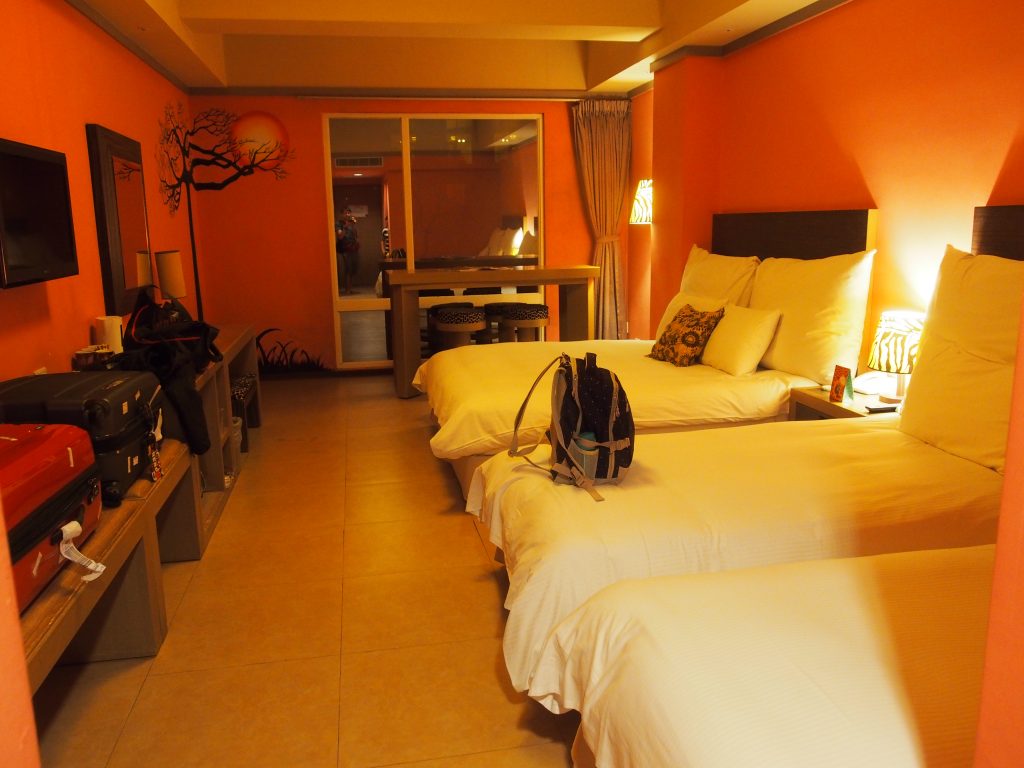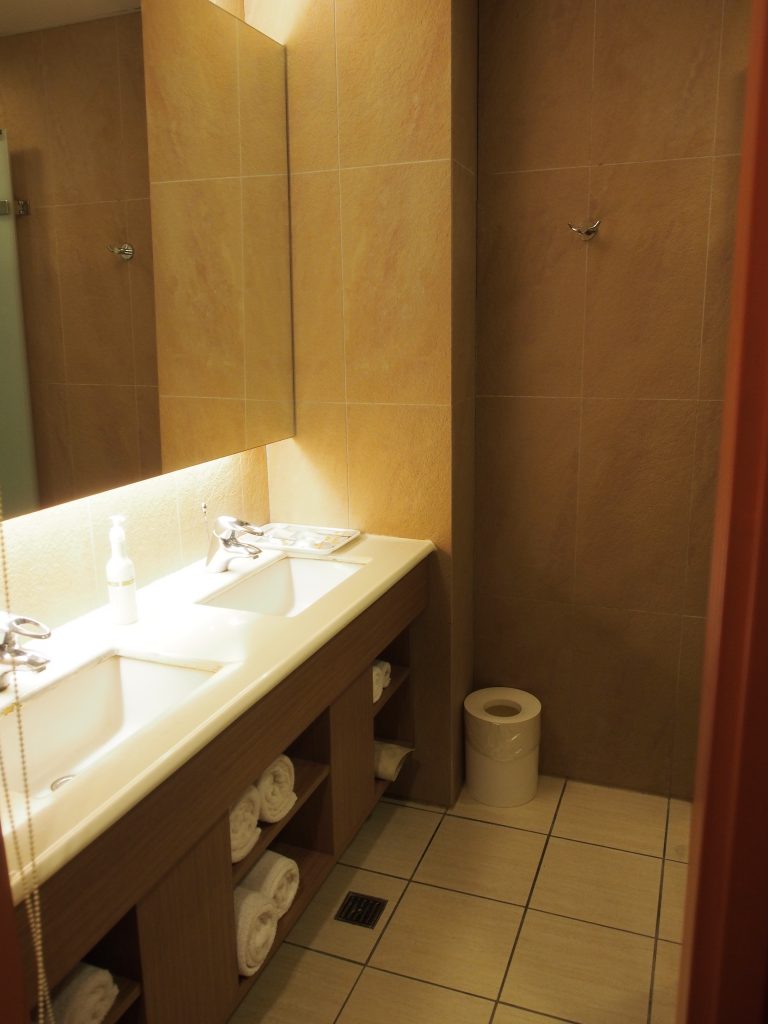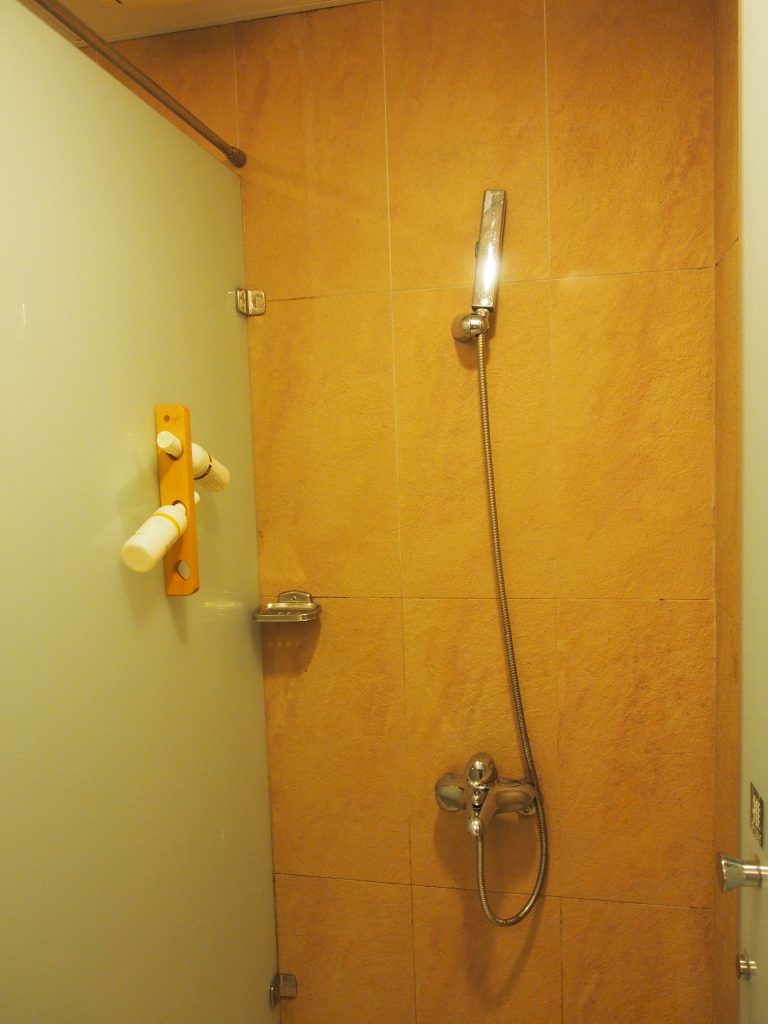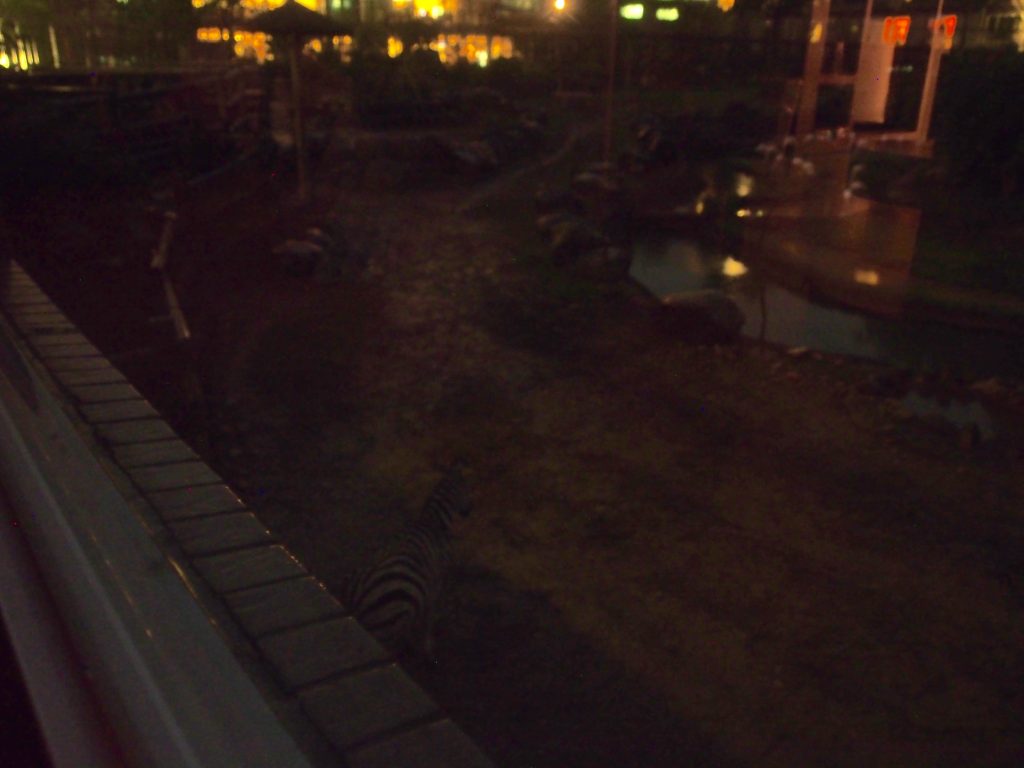 We had earlier reserved to dine in the resort at a time slot of 715pm. In the meantime K was watching his YouTube videos on bells on my Hp while we relaxed on the beds. I called reception to asked for baby tub and it was delivered to our room after a while. It was great as I didn't even need to pump up the air tub for the entire trip. Got K to bath in the tub and changed before we headed to dinner.
There was a huge dining area on the 2nd floor near the reception and a buffet line again. This time there were more choices, a small part for kids and a small area for vegetarians. Still mostly Taiwanese with some meat and Japanese selection and pastries and a free flow of San Miguel but I wasn't having any.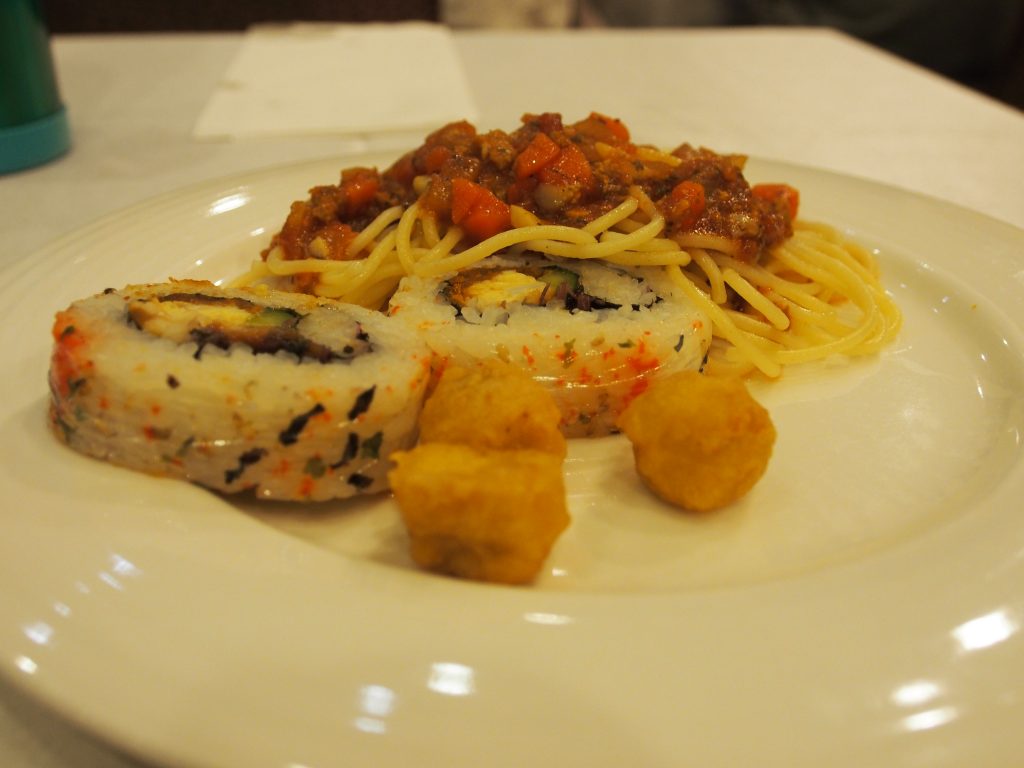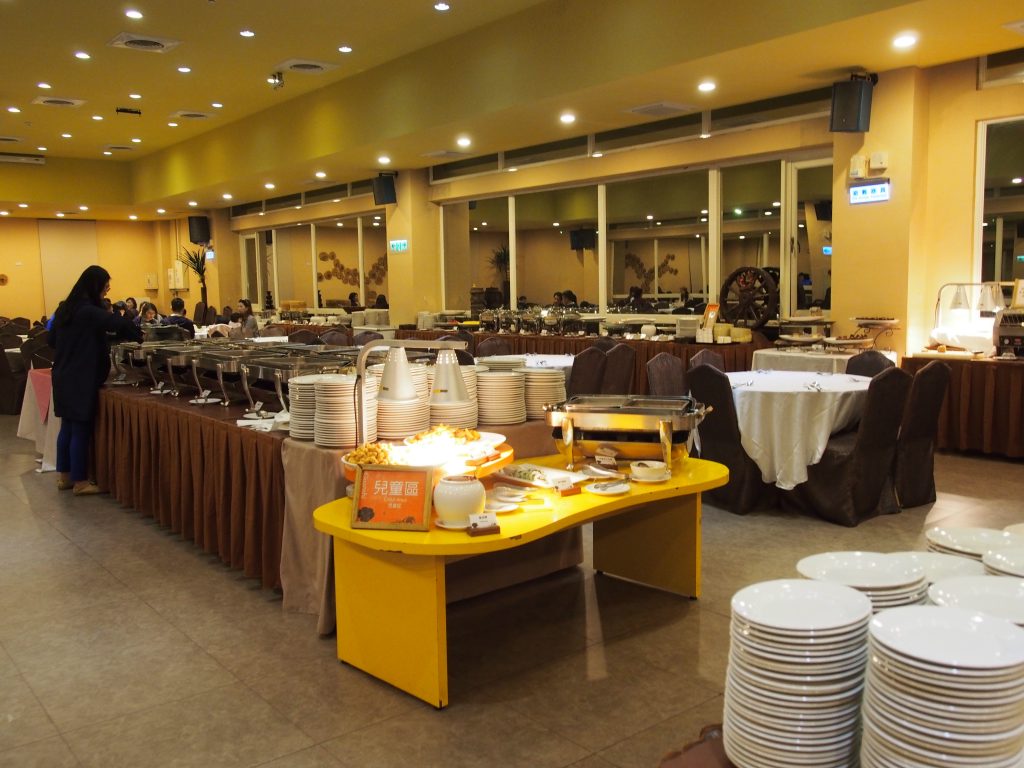 K was a little cranky and didn't want to eat much nor did he want to sit there for too long. He made a ruckus sometimes. We left to join one of the activity that was supposed to be at 830pm but we only finished dinner at 850 and didn't know the time. After checking with reception and they called the staff in charge of the activity to hold it just for us! We were embarrassed but K had a lot of fun, throwing the triangular cushion for mommy to catch, most often throwing everywhere else except towards mommy whom was supposed to catch it with a newspaper and folding it into half every time she was successful. It didn't carry on for too long as K was not focusing and throwing it anywhere and we called it a day, not to take too long of the staff's time.
We went to the cafe below to buy a piece of cheese cake to celebrate Ks birthday and they didn't have any matches. We asked the reception and they arranged for a staff to help us with it. After setting up the candle on the tiny cheesecake, the staff lighted the candle for us and we all sang the birthday song. K was happy constantly chuckling and very interested in the fire. Pity that he couldn't blow out the candle as we took too long and it burnt through.
The night was spent cleaning up and packing and then going to sleep, a nice finish to a fun filled day, a weary taiwan trip and a welcome of the terrible age of 2.