It was 5am when K asked for milk. Worried that about regurgitation so I prepared a small amount in a daze and went back to sleep. The next thing we knew, it was already 820am. Late! Mommy swinged into action and went to cook quickly. K woke up at 830 and drank milk again, probably hungry from not eating a lot the day before.
I washed up and started to pack while K entertained himself by watching tv. Good thing the laundry was pretty dry after being hung under the aircon for the whole night. I went downstairs to the same stalls to buy cong zhua bing and noodles teppanyaki black pepper for breakfast. It was weird that no one was lining up for the delicious cong zhua bing, maybe it was because it was a weekday.
After our breakfast of the Taiwanese food, and K had biscuits, we got changed quickly, packed the bags and left, with the pasta left semi cooked, without even waiting for landlord.
1030 was the train to Hualien and we braved the small drizzle to get to the station. With 4 tickets on hand, we proceeded thru the barrier at TRA to platform 4. The train hasn't arrived by the time we arrived. As the train pulled into the station, we waited behind a crowd during boarding. Our 2 big luggage was parked at the luggage compartment near the entrance while we got ourselves seated comfortably at our 4 seater which came with a table. It was a good move to have bought all the seats cos we had a lot of hand carried items that we left on the empty seat.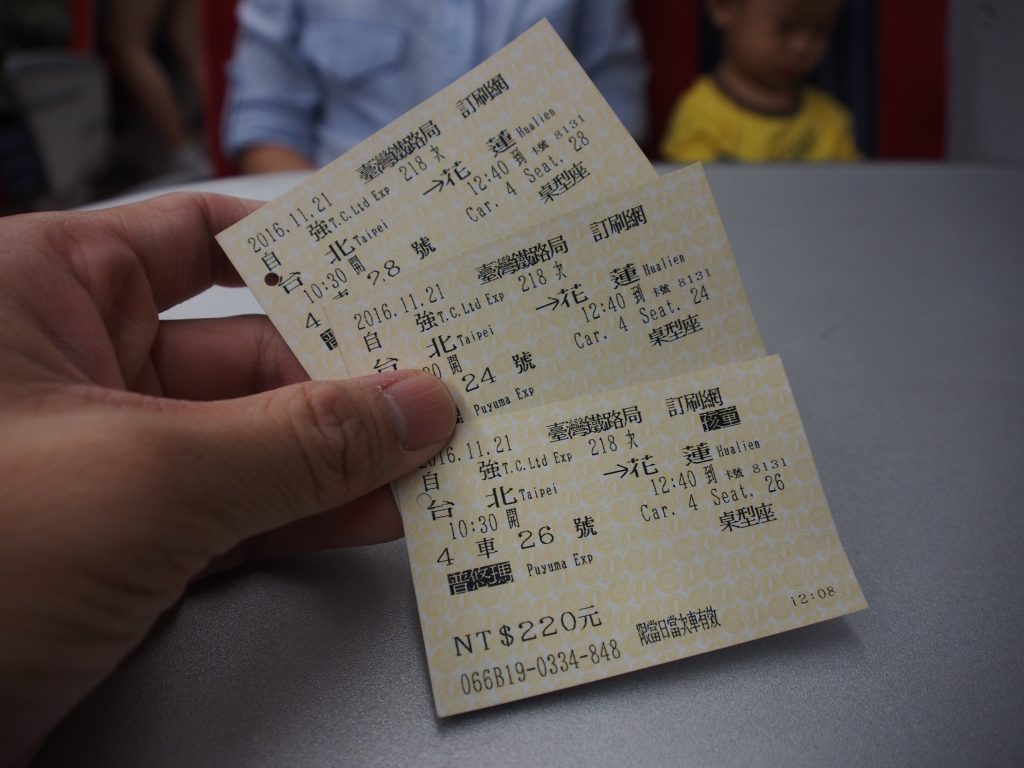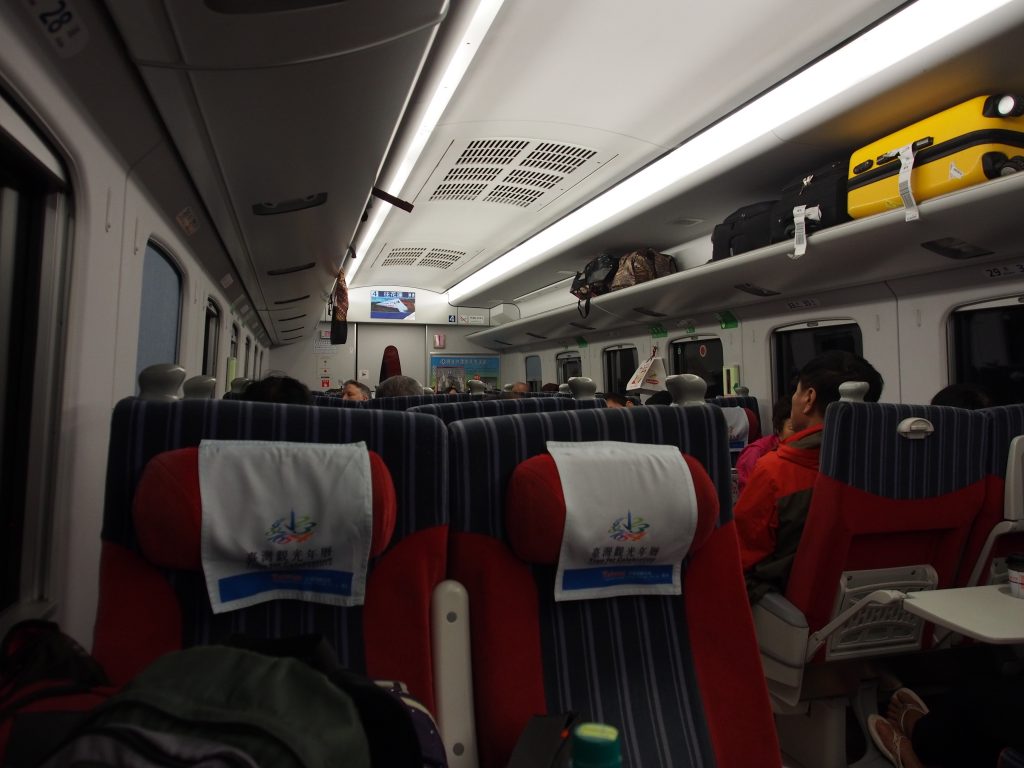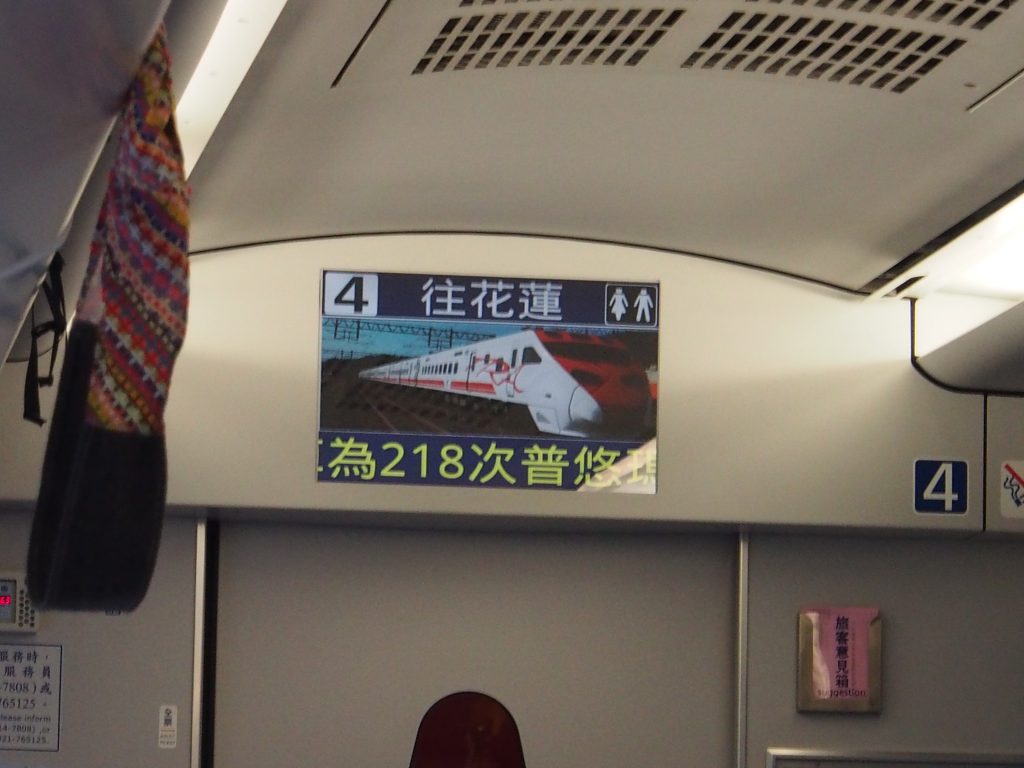 The whole journey was spent trying to keep K entertained. He spent some time on the handphone looking at photos and videos, walked along the aisle of the train and played puzzles that we brought along. Worried he got dizzy prepared plastic bag. Thought he almost vomited but didn't and thankfully he fell asleep, which gave us time to rest. There were sales of food items as the train staff pushed a trolley down the aisle and we bought a bottle of mineral water. I took a nap as mommy entertained herself with hand phone games. There weren't much to see outside, all we saw were rice fields which reminded me of the Jay Chou song Dao Xiang.
When the trained pulled into the Hualien station, we headed towards the exit where we found a resort staff with our name card. He helped us moved the bag to parking where a van waited. We were on road after boarding, took a short trip to the gas station to pump gas and we were on our way. As usual, we looked out for K but he didn't puke in the 10mins time drive to the resort.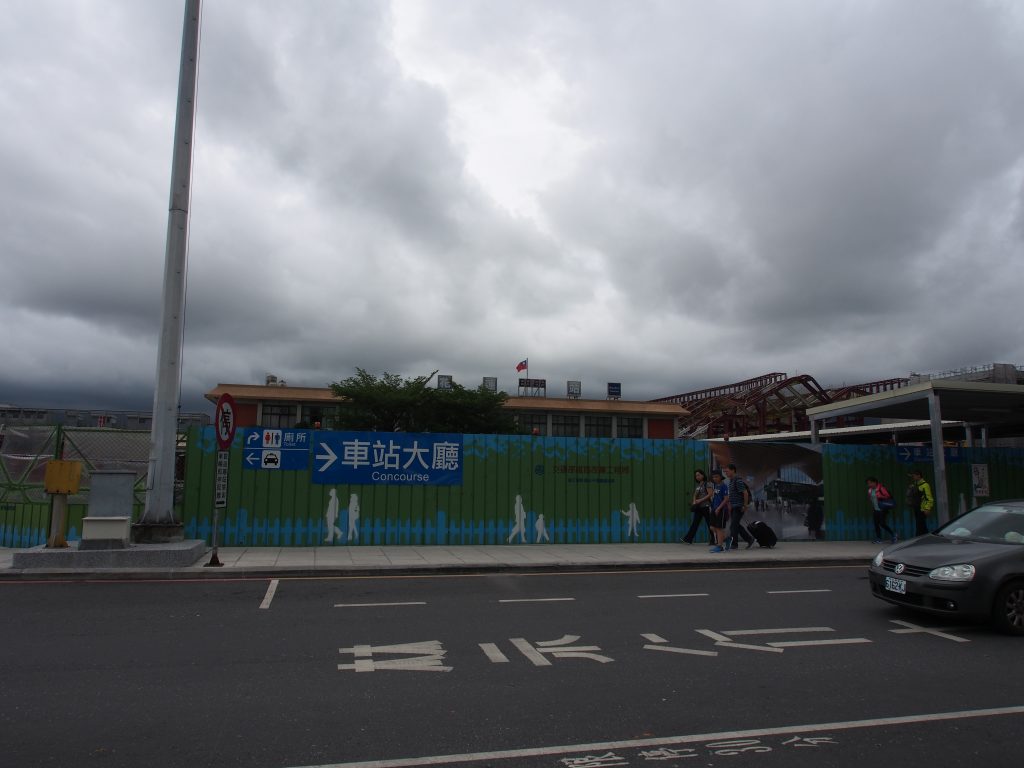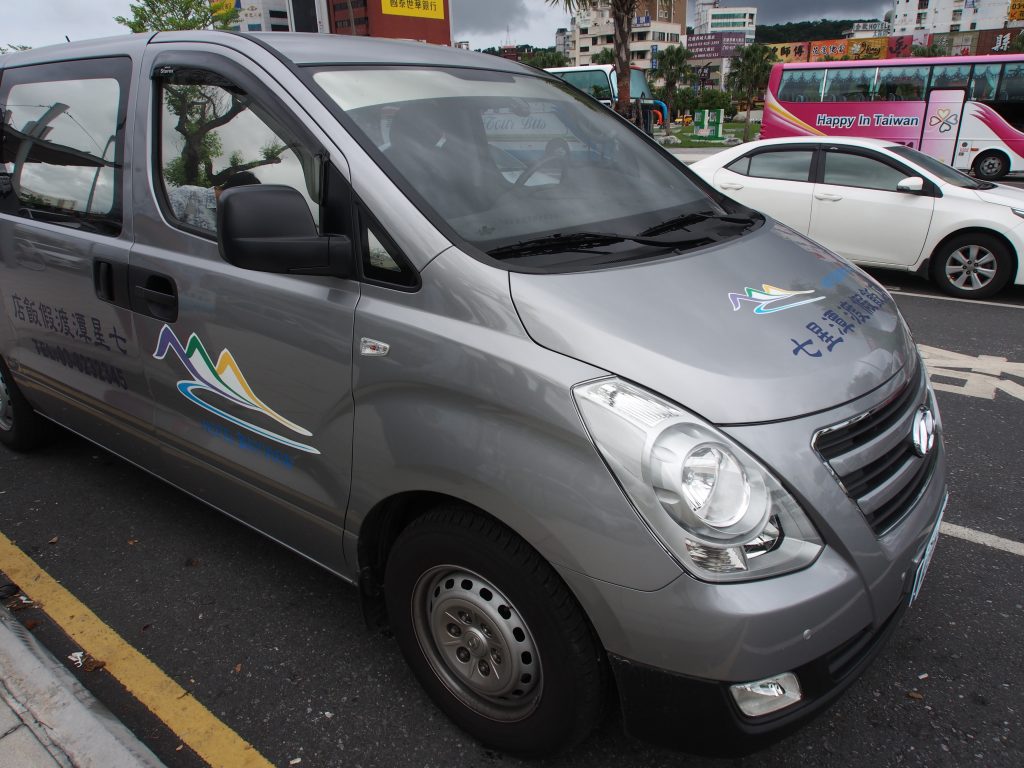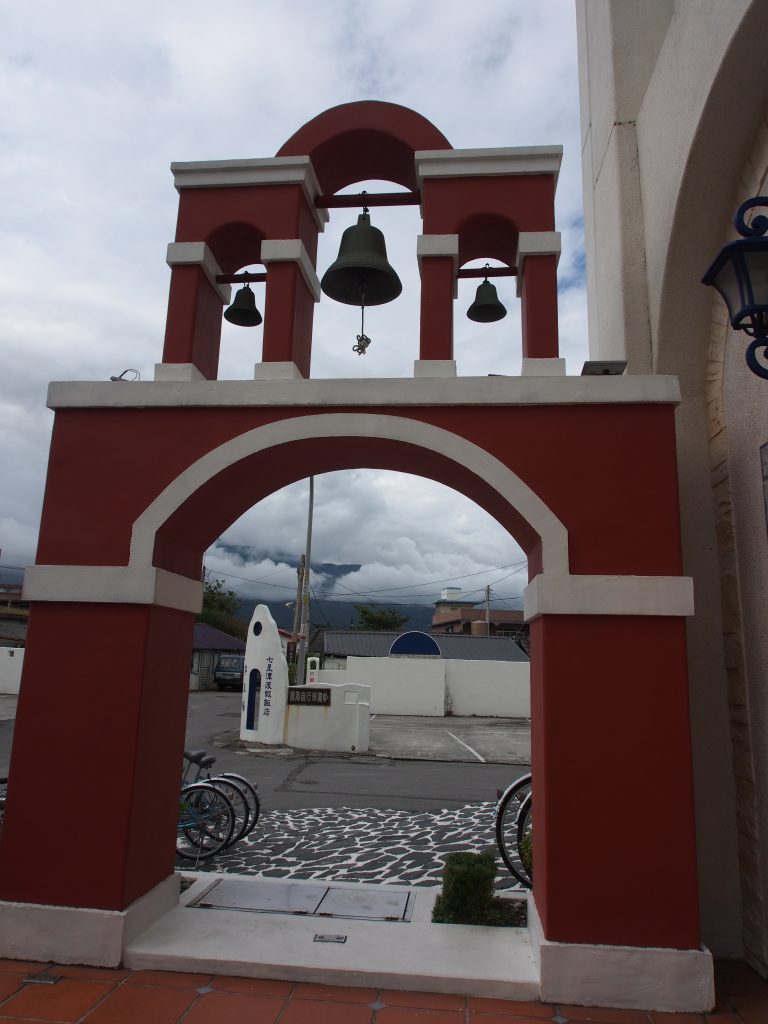 Resort staff helped with the luggage as we checked in Hotel Bayview. Mommy had booked the Honeymoon room that came with a balcony, had a sea view of Qi Xing Tan, which is effectively the sea, and a nice tub. With the free wifi, we FaceTime home to keep parents informed on our location and then left for lunch. Reception informed that there was nothing much to eat nearby and they didn't have a restaurant. So we walked around and found a mini food stall in what looked like a cultural center.
Ordered 2 fried rice and sunfish dish for lunch. Fish meat was quite chewy and had translucent skin, something that I was eating for the first time. K ate some home cooked pasta and shared with us our fried rice. Then we paid 510NT and left for the supermarket on the opposite side of the road to buy milk and yogurt and the milk coffee.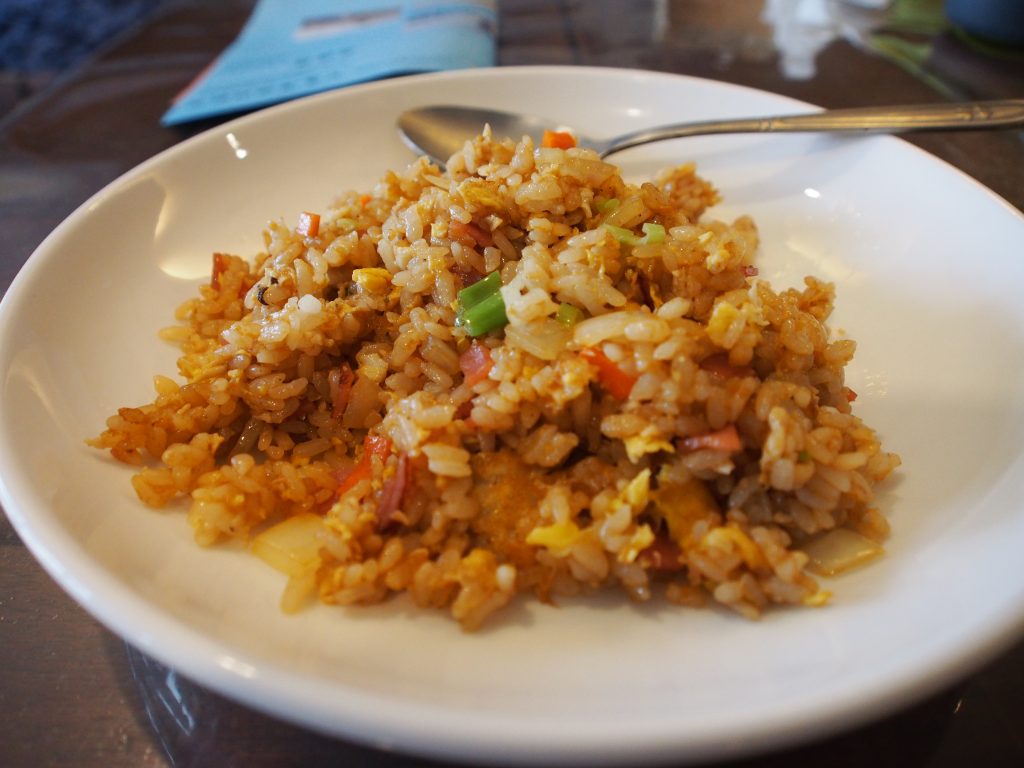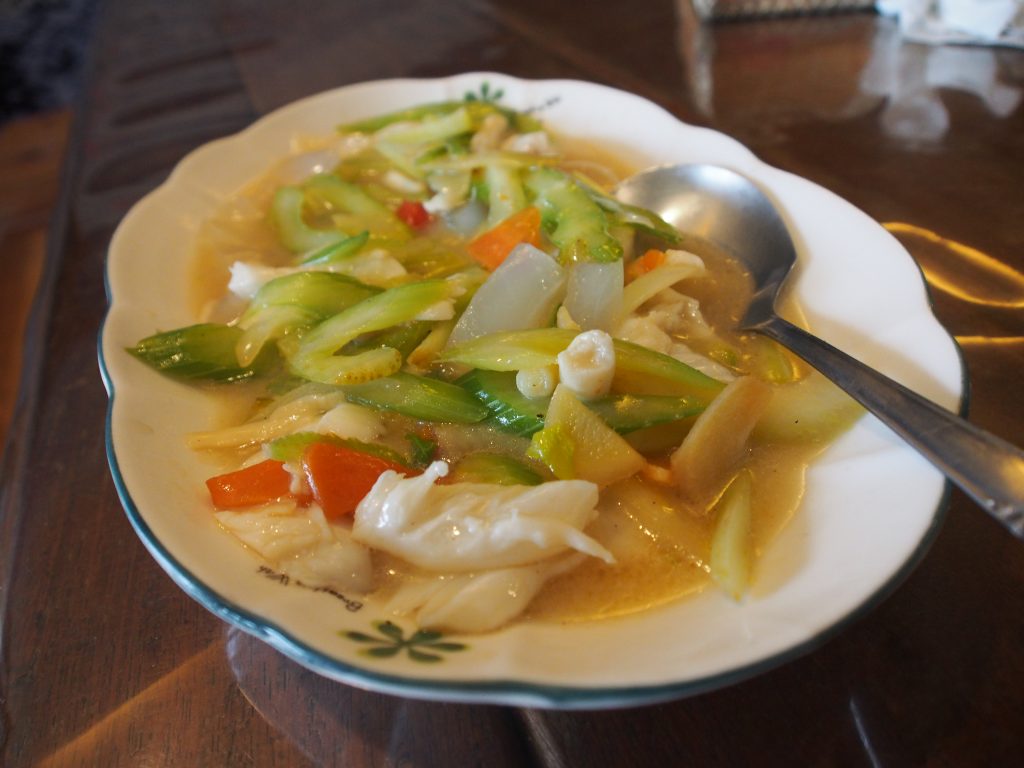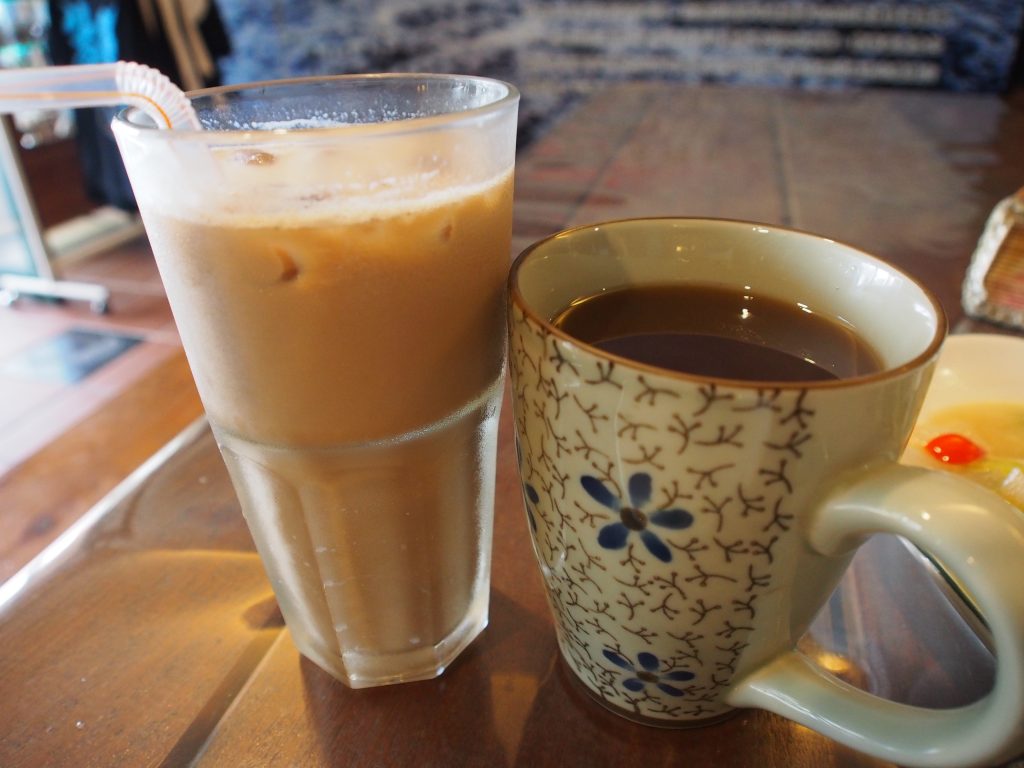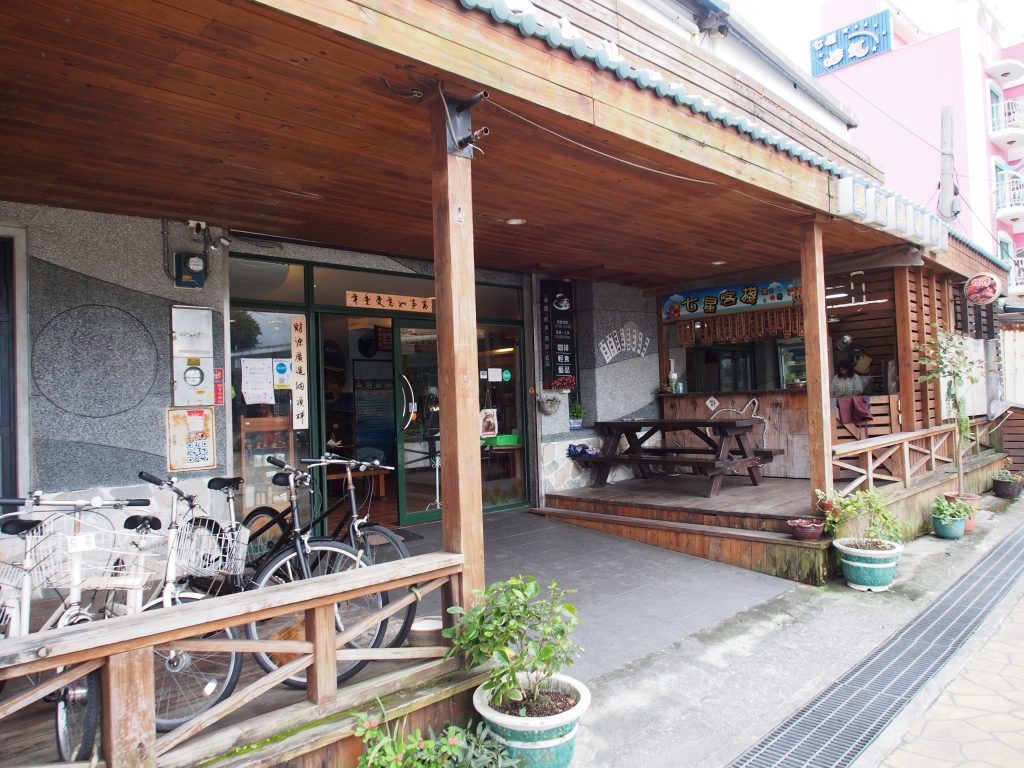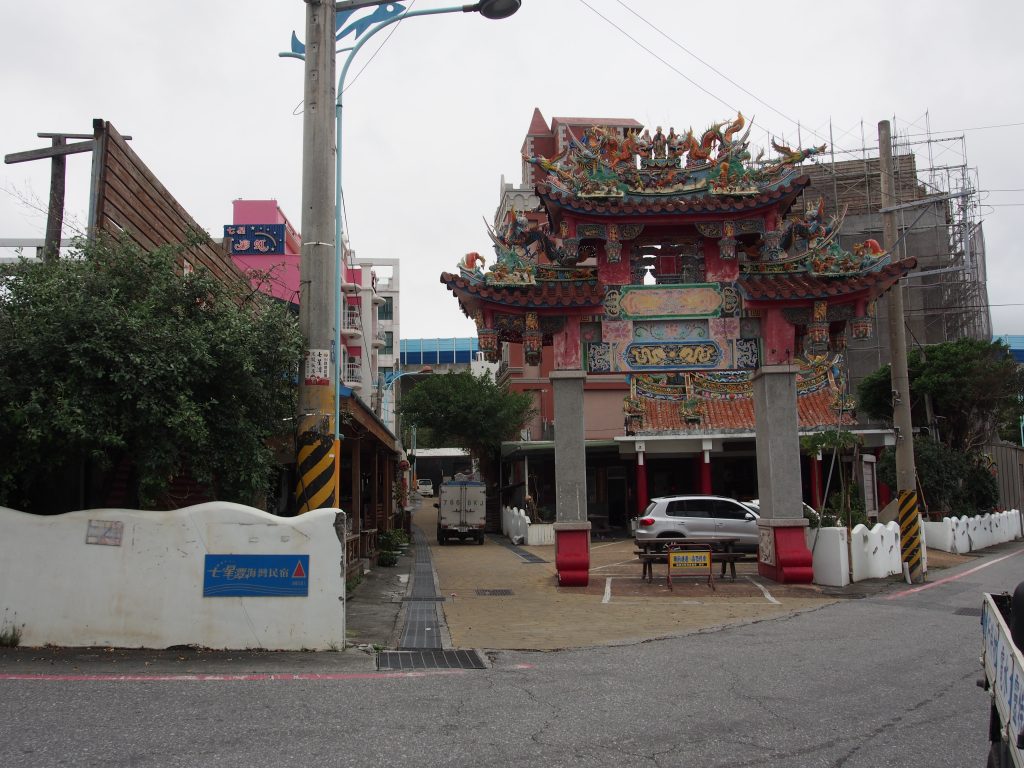 Before we start exploring the beautiful beach and its surroundings, we returned to the room to leave the unimportant things and left for bicycle riding. The hotel had free bicycles for rent but didn't have one with child seat so we proceeded to another bicycle rental shop about 5mins walk away to get one with a baby seat. It was a nice area for cycling with good paved road for cycling and strolling, a beautiful view of the long coast accompanied with cool sea breeze. There were tourists but not in overly crowded numbers, enough people to make the place lively, even though there was a slight drizzle. Managed take a couple of photos at the stony beach and the surrounding. Thankfully toilets were available as I had sudden stomachache. We rode back soon after as K seemed tired.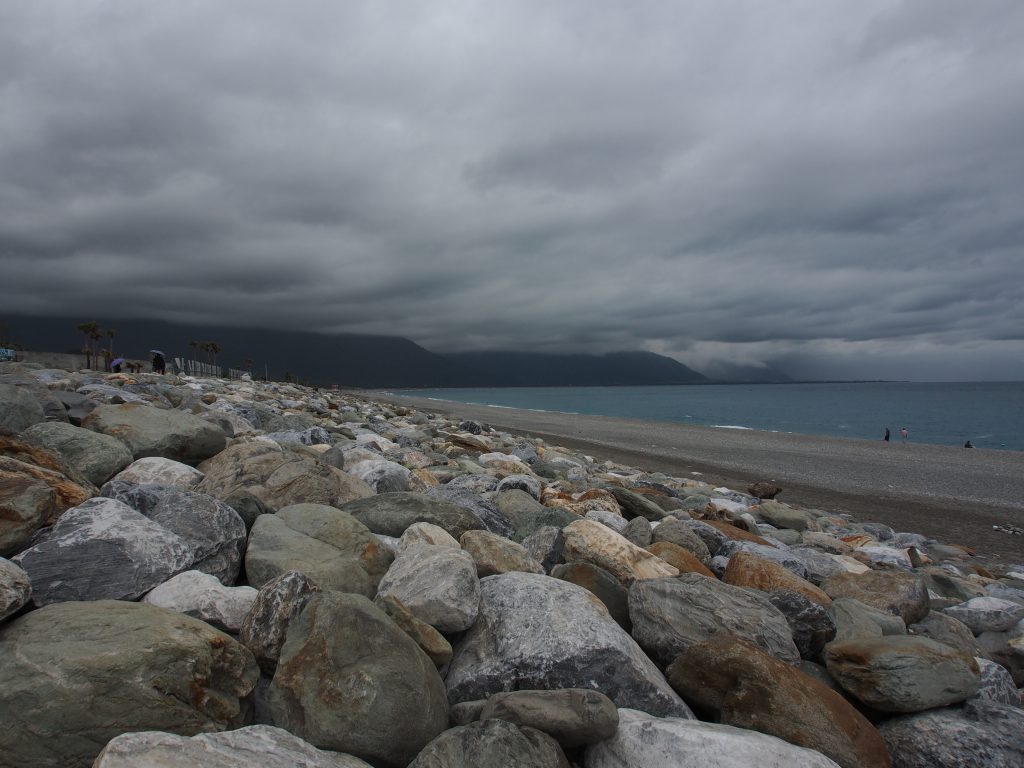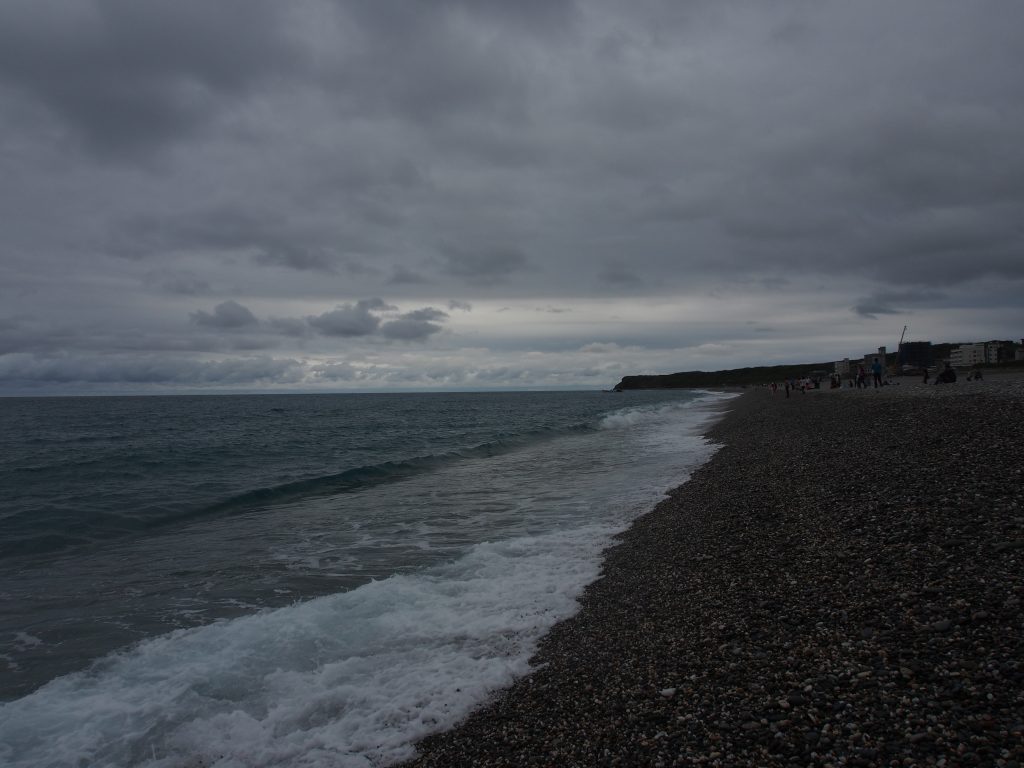 After returning the hotel bike, we got back to the room, made milk for K and K enjoyed a fun long bath at the tub. Then he spent some time watching tv although there weren't any baby tv. I went to return the external rental bike afterwards since we know we won't be riding again. It was then nap time as K fell asleep at 5pm while we relaxed and played with our phones and did the dishes.
K woke up at 645pm when we got ready to go. The staff at the reception gave us a taxi contact card so that we could get anywhere we wanted. The taxi picked us up from the entrance as the thoughtful staff shielded us from the drizzle with umbrellas. Our first stop was to Carrefour to shop for groceries and we got there with 175NT. Mommy bought fish while K enjoyed his ride in a car built into the trolley.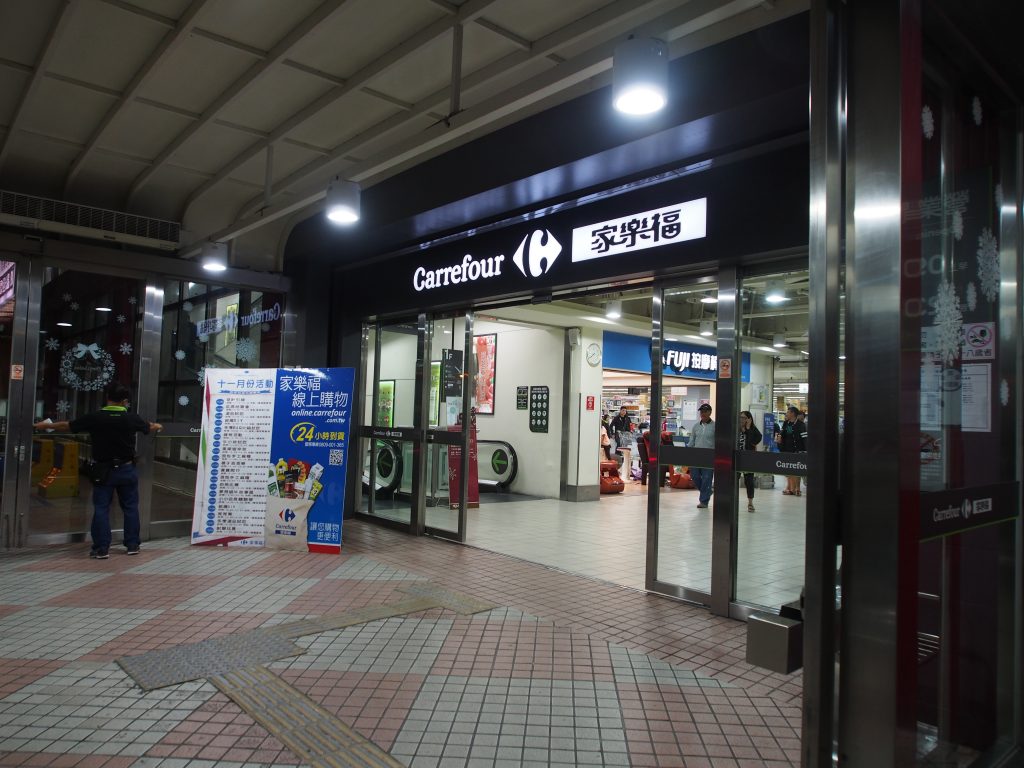 We called the taxi again to go to Zi Qiang night market. Fortunately the drizzle fizzled as we arrived at the night market. Our objective was to find dinner suitable for K, something with rice. Visited a ru rou stall ordered veg, rice and fish ball soup which K managed to have a little bit of each.
After we were done with the sit down dinner, we walked to buy the so-called coffin with chicken (蔣家花蓮創意官財板) and it was quite nice! There were some stalls having kiddy rides where K spent some time sitting in them, both moving and stationary, while mommy went around exploring the night market to buy and try more food. She bought a duck related food but it tasted very weird – it actually numbed the mouth and the tongue! Next we ordered papaya juice and shared with K and also some stinky fries (堂薯薯臭薯條) which was delicious. We completed the food tasting with the order of piggy noodles (豬豬豬原住民美食) to go, and got a taxi to return to the hotel, that costed about 250NT.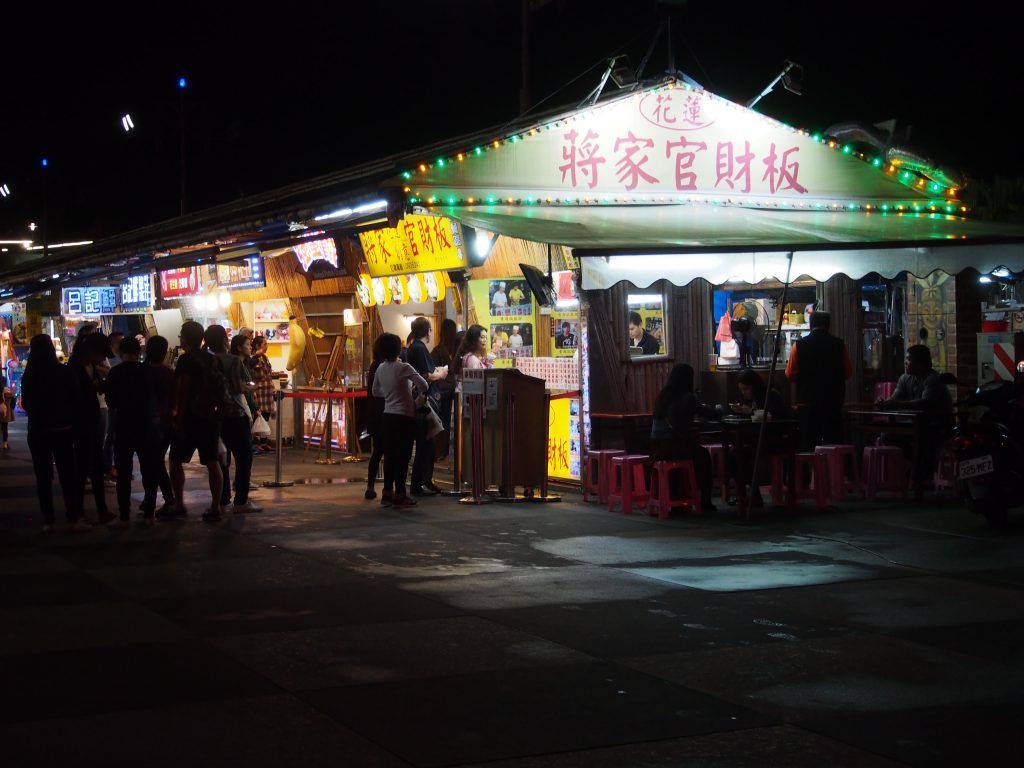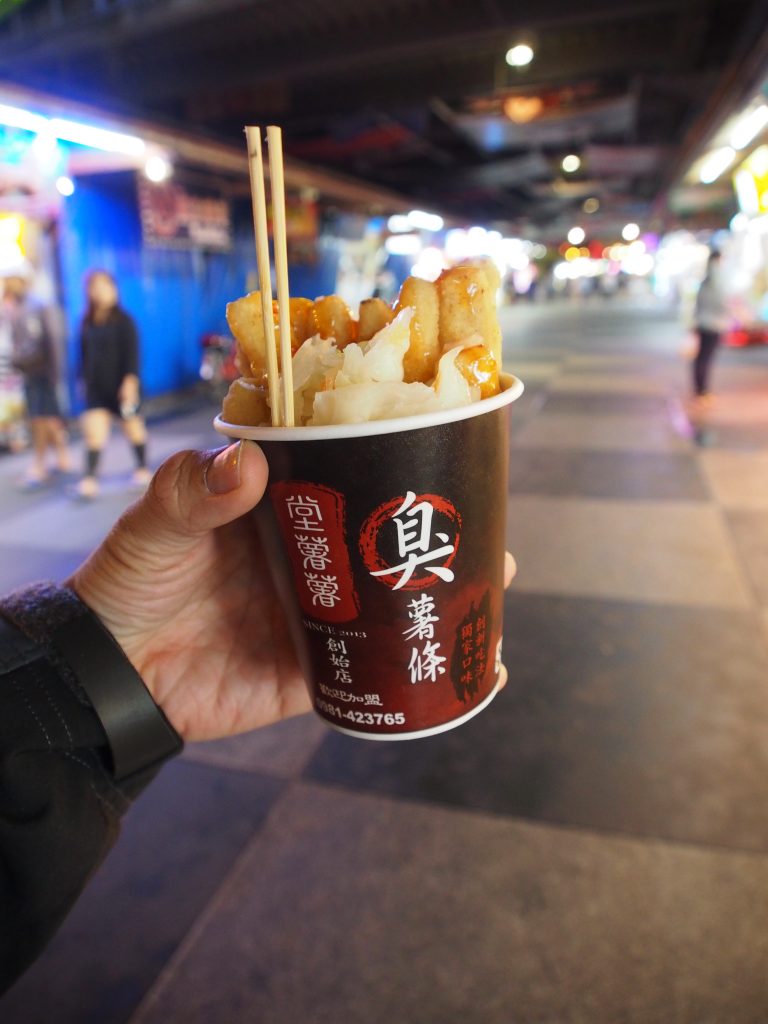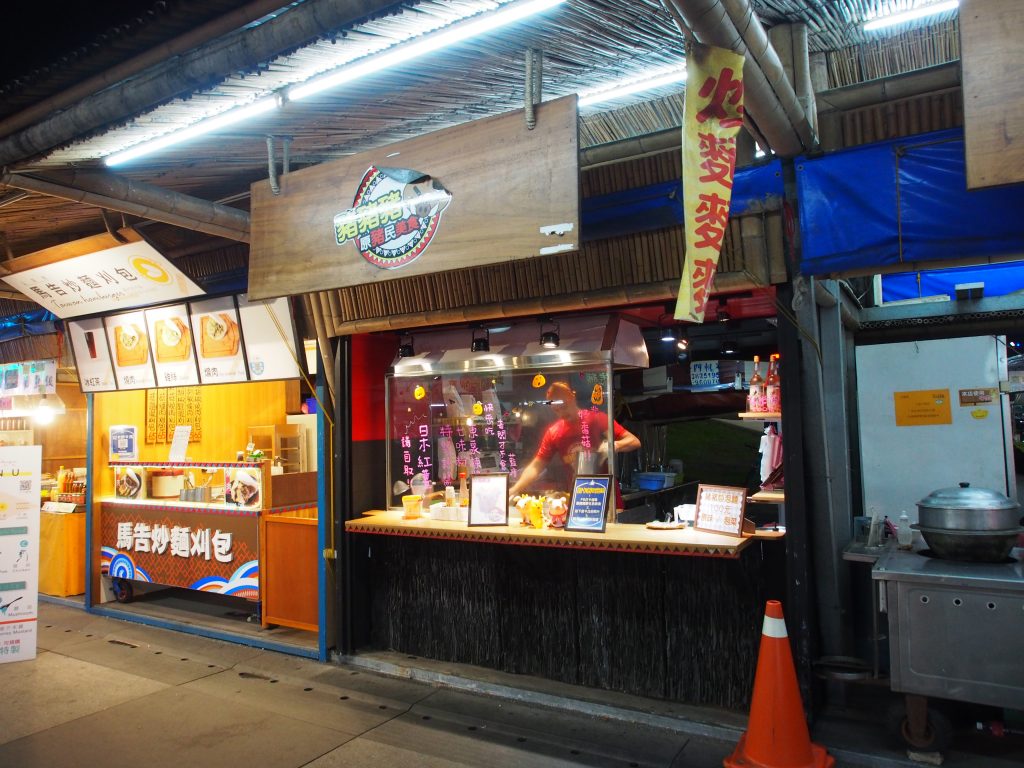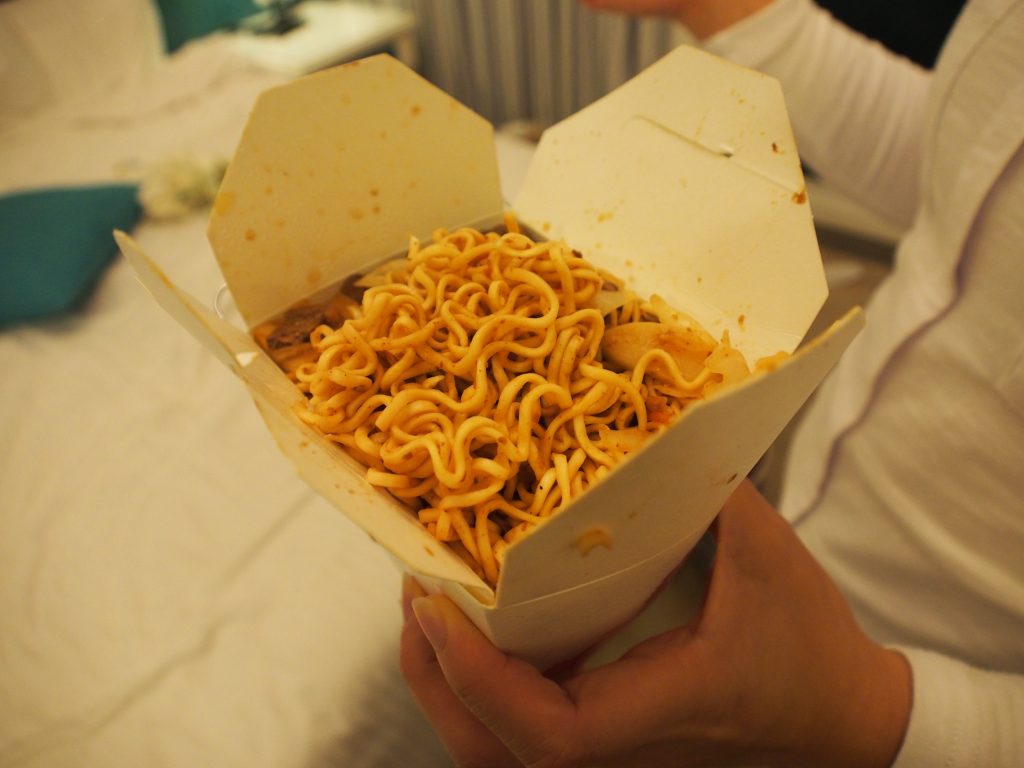 After we were back at the room, we started to eat the piggy noodles, which was a big portion and overall tasted ok. We walked to the Family Mart to buy some cake for K and milk. It was then toddler maintenance before some play and a well deserved sleep.