It wasn't a smooth night as baby K was fussy and had been crying. He wasn't happy with his runny nose and cough but we couldn't do much except giving him the meds, which he took already before bedtime.
I woke up to a light peeping through the curtains and was surprised as I had set the handphone alarm for sunrise. Checked and sure enough the alarm was on but I couldn't hear it. I must have been too tired.
Went back to sleep as baby K had not woken up. The next thing I knew we were only up at 10am and an hour from the end of breakfast. Quickly got changed and with a cranky baby asking for bread, we took off for the same restaurant where we had dinner the night before.
It wasn't a buffet table but a order as you liked, as much as you want Ala Carte breakfast. Got ourselves an Egg Benedict, Mie Goreng and chicken porridge. Also had yoghurt and fruits and coffee and fruit juice and bread. Filled up so much that we didn't need to eat lunch. Again the staff were extremely friendly and were happily distracting baby K as he was extremely fussy.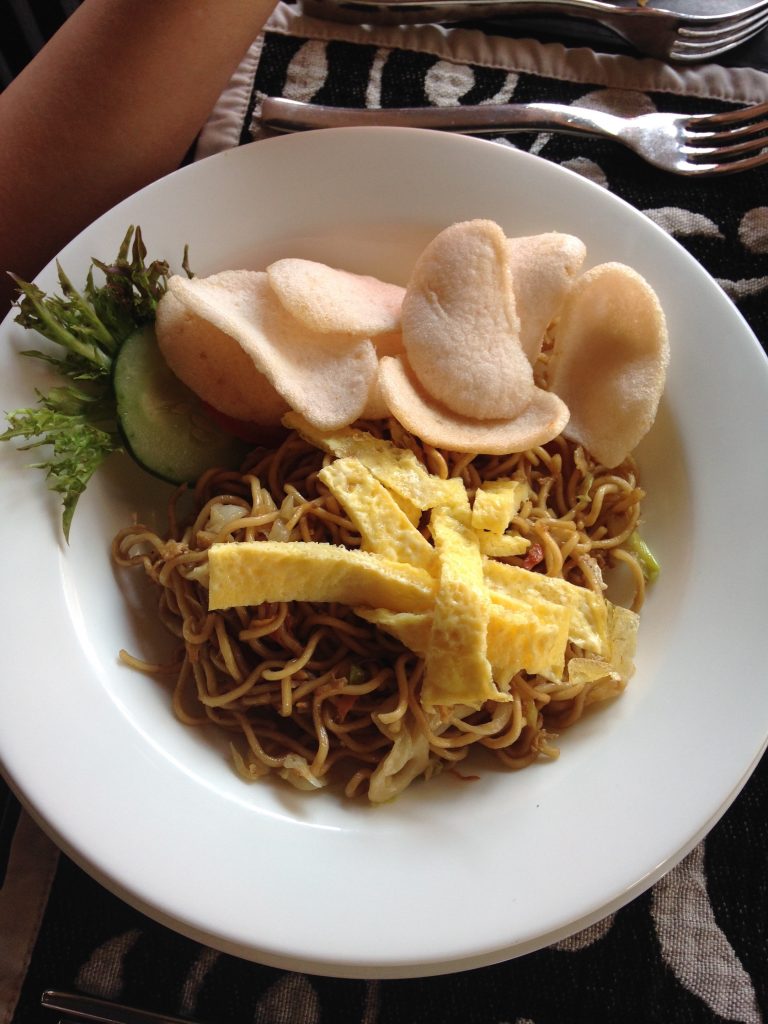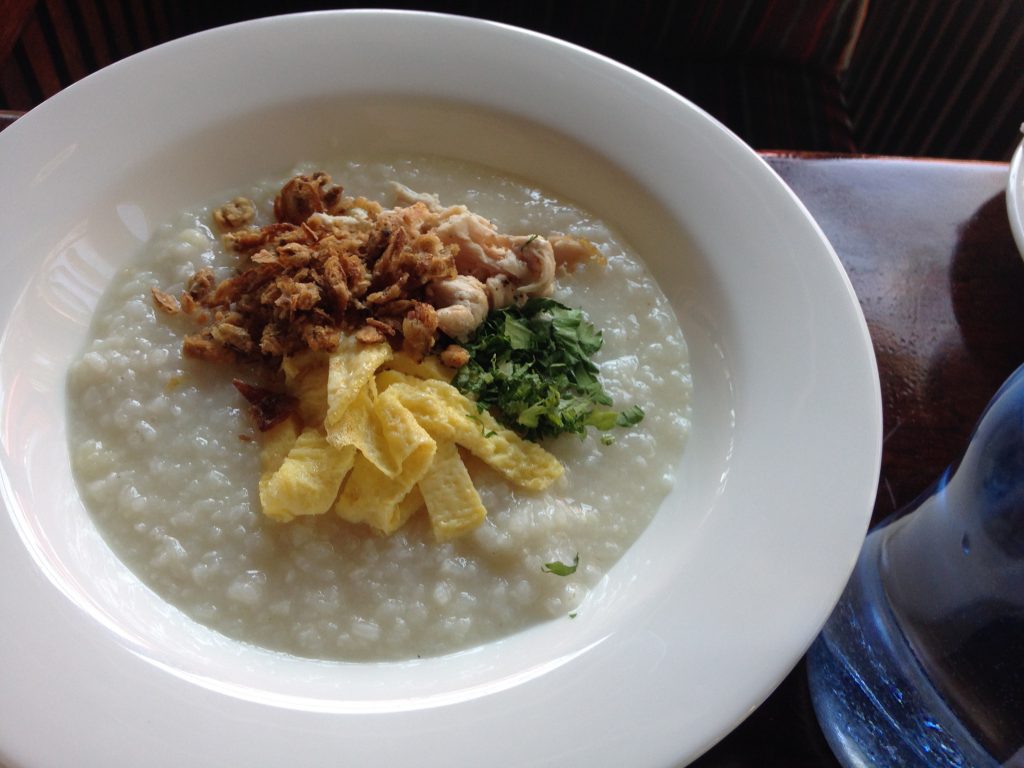 Went back to our rooms and did a research on how we wanted to spend our next few days. Wanted to book a tour with the popular private tour provider Agus travel but was informed by the resort that the room phone couldn't be used to call out. I tried calling thru my handphone but was met with an unavailable message so I dropped a Whatsapp but there wasn't an immediate response.
We got ready to go out and went to the recept to enquire. We were informed that they also could offer drivers for the day albeit more expensive, as expected. We were interested in visiting the Ulun Darun temple and the Tanah Lot for the sunset and but was told that it would take a whole 10hrs for the trip and costs US$130. The half day would cost only US$70. Don't want to trouble ourselves further and agreed to that arrangement.
Then we were off on the resort vehicle to the Bali Collection, a shopping area that had the feel of an outlet village. Baby K was asking for milk on the 5mins drive there. After we arrived, he continued to finish the milk while the driver stopped the vehicle at the entrance waiting for him to be done. Then unfortunately he also fell asleep soon after he was done. On seeing this, we decided to go back to the resort, a bad decision regrettably.
After arriving back at the resort, once I carried him from the seat, he woke up and couldn't go back to sleep. It was plain frustrating as he didn't nap long enough and we had a wasted trip to and from the shopping area. Went back to the room and we changed into our swimwear to have a dip in the pool. Thought that by going for a swim he would feel sleepy later on.
The pool actually had water that wasn't cold, really nice for a dip especially with baby. Had earlier blown up the airplane float and ball for baby K to play in the pool and baby K had fun, walking on the step and at the water supply and also with me bringing him around in the 1.3m deep pool.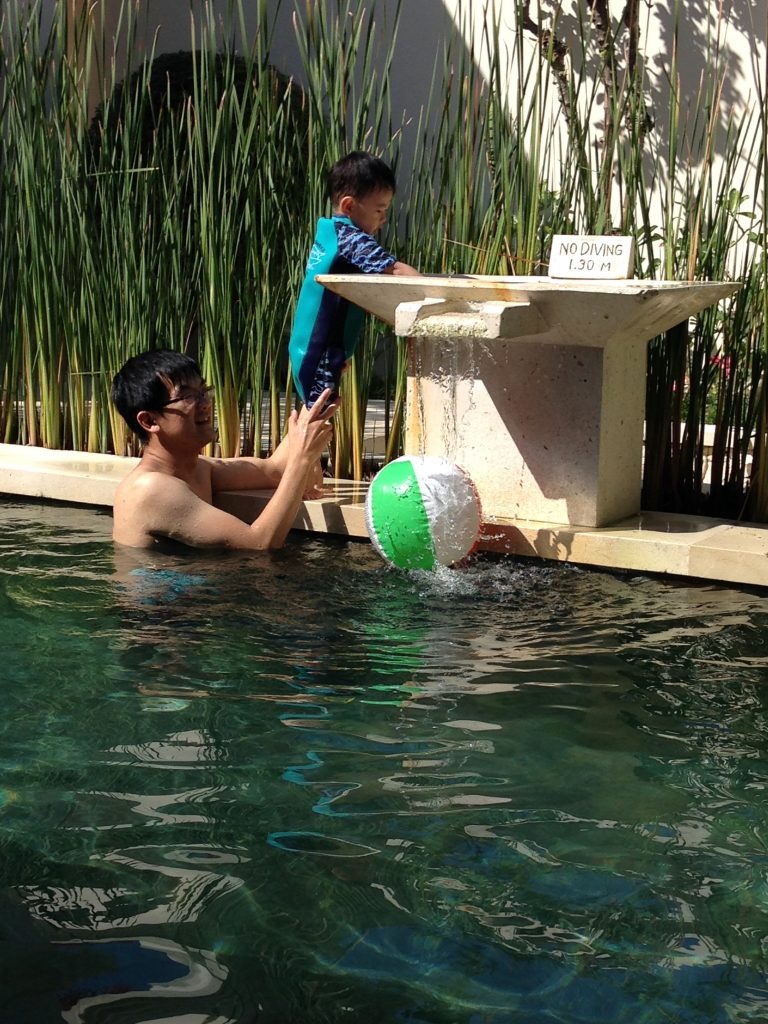 After the shower in the tub, I attempted to get baby K to nap by reading him stories, fruitlessly. Then I brought him out to the beach when he dozed off on the hip seat. Brought him back to the room immediately after but once I put him down on the bed, he woke up again! Tried the beach strategy again but he was not relenting. Mommy brought him out and finally he fell asleep. This toddler's napping inconsistency could be a problem when we go on our long trip coming Sept.
Then with mommy incapacitated as she carried baby K in her arms ( and he would just wake up if left on the bed), I took over the chef's hat and continued to cook baby K's soup and salmon. By the time I packed everything and was ready to move, baby K woke up fussy again, asking for biscuits. Quickly got him a few and moved him to the restaurant where he made a ruckus in an otherwise quiet atmosphere, so bad I had to bring him out to calm him down. The runny nose was really irritating him.
After a few minutes out, we finally managed to sit him down on his high chair back at our table and gave him a handphone to look at his photos before dinner can proceed without more whining.
Ordered green curry and mushroom pasta and some juices to go along. Dinner was always a rushed affair, mostly spending the time feeding baby K rather then enjoying the food itself. I guessed the food would have tasted great if we had focus on it.
We got back to the room after the meal with the whiny baby and he slowly became better behaved where I bathed him and read him storybooks. We gave up going to Seminyak and even the supermarket as it was late.
There was a short moment of excitement as we hear fireworks in the distance. Rushed to the beach only to see glimpses of the fireworks before it ended, even before I was ready to take a shot.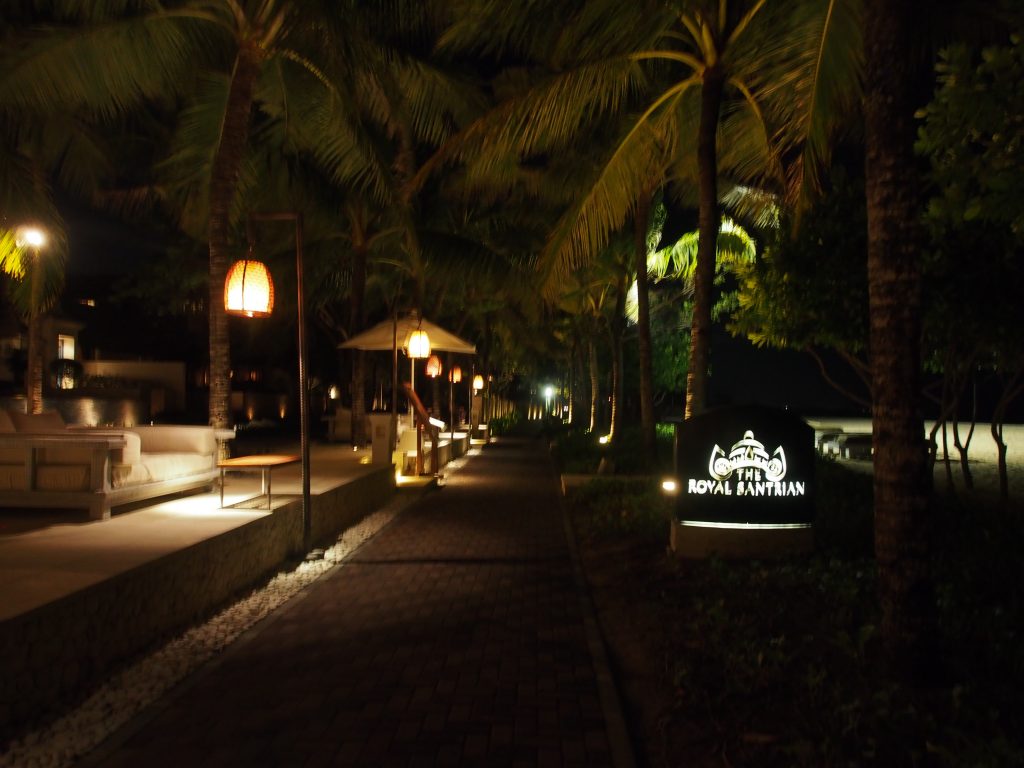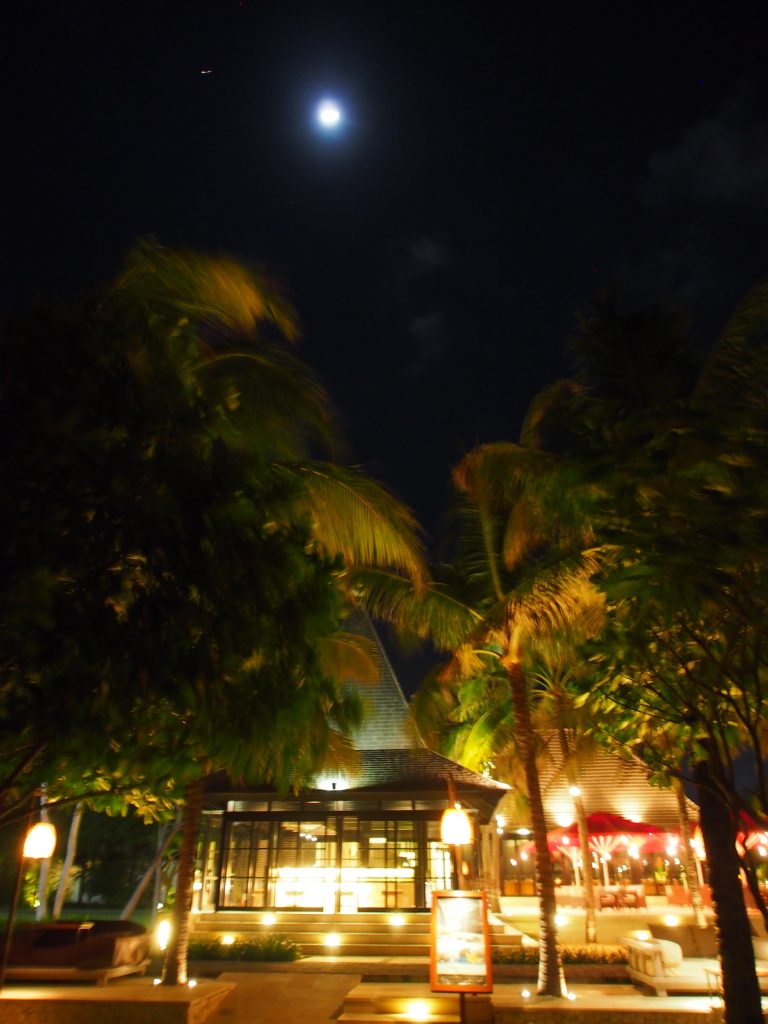 10pm and we all went to bed. Better to get some needed sleep and be prepared for a tour tomorrow morning because we had to wake up early, which was challenging with a toddler in tow.