We woke up close to 9 and K had wet his pants again! Diapers were pretty leaky and I had to use a towel to cover the wet spot for him to continue sleeping.
K was pretty cooperative and we were soon finding ourselves queuing up for the seat to enter the crowded Loca Vore restaurant. Managed to get a seat inside and went to get our breakfast. I had to have my egg Benedict again cos it was really good!
After breakfast, we returned to the room to chill for a bit before getting out. The Grab app again didn't give us a match for whole day rental and so we had to try the same trick as it was yesterday. Booked one car to get us to Dino Park mini golf and when the driver arrived, we asked for a whole day booking of 10hrs and was offered 3000baht instead. It was quite expensive compared to what can be gotten on Klook but I wasn't negotiating so we just boarded.
The journey to the mini golf was very far, about an hour drive, which made us think if we got the right accommodation to begin with. K spent his time singing his favorite cartoon songs on repeat.
The car exited the larger road onto the smaller streets and we got off onto the street right next to a large space that was designed with huge boulders like those in caveman shows. Registered ourselves for the 18-hole game and was each given a ball, a club with different length for different heights and a scoresheet to keep track! This cost us 240baht (11SGD) per adult and 180baht (8sgd) per kid and for adults not playing, it cost 120baht (5.5SGD) to enter.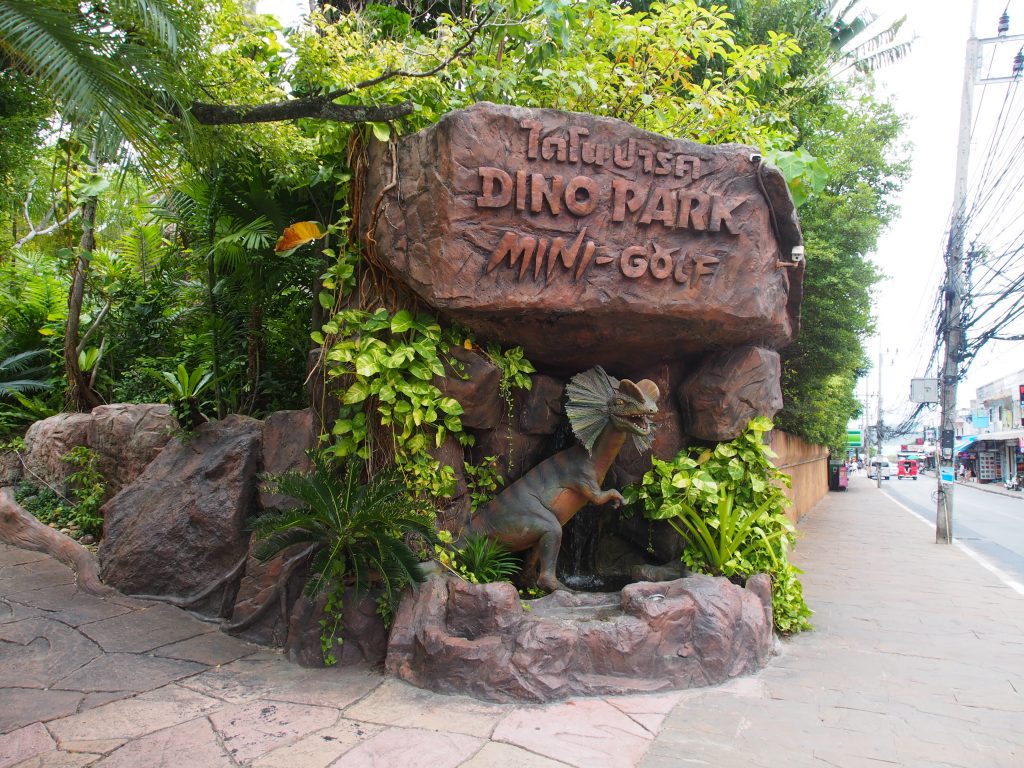 It was quite fun to go around trying to push the ball into the holes, some course came with short cuts that K was adamant to use even though it took more shots to use them. Sometimes K ended up playing hockey than golf! The weather though cloudy was still hot and humid. However we enjoyed the course while walking amongst the dinosaurs models and tricky course so much that K wanted to go another round. There were quite a few groups there and it was common to be held up by the earlier group if they were slower.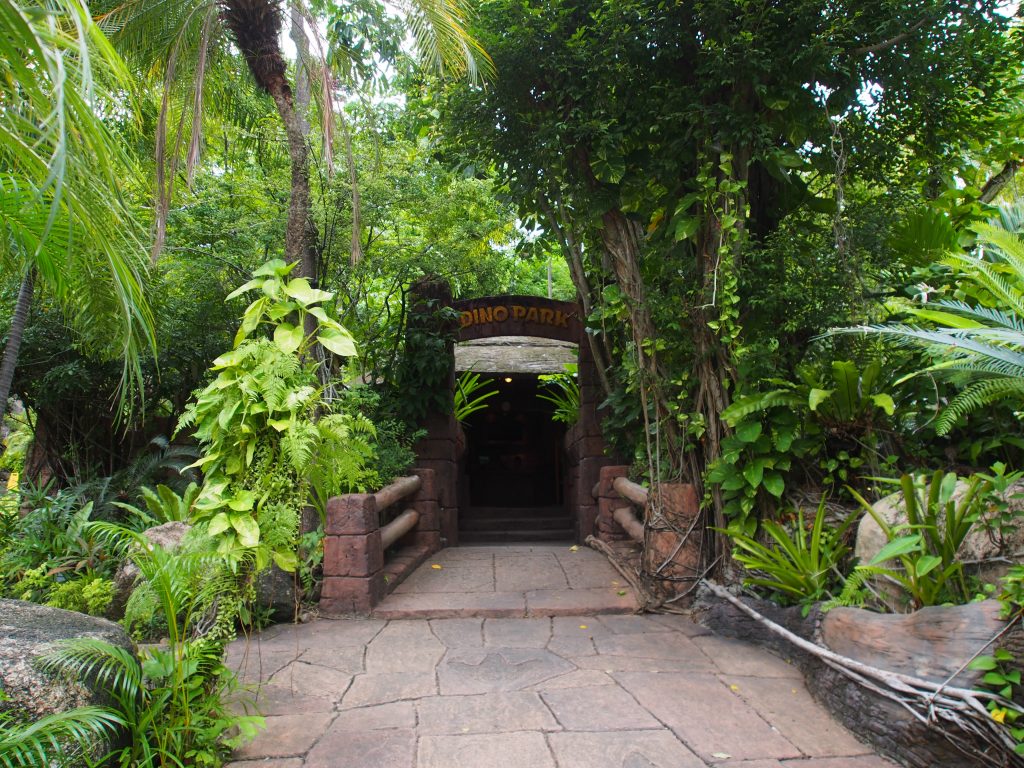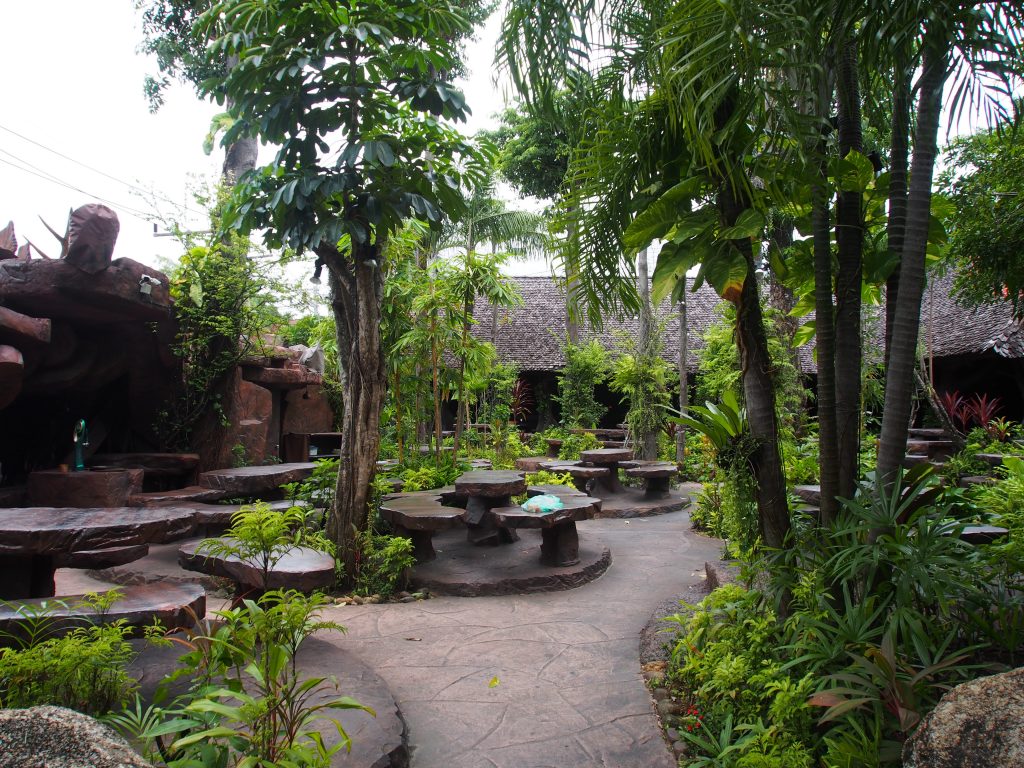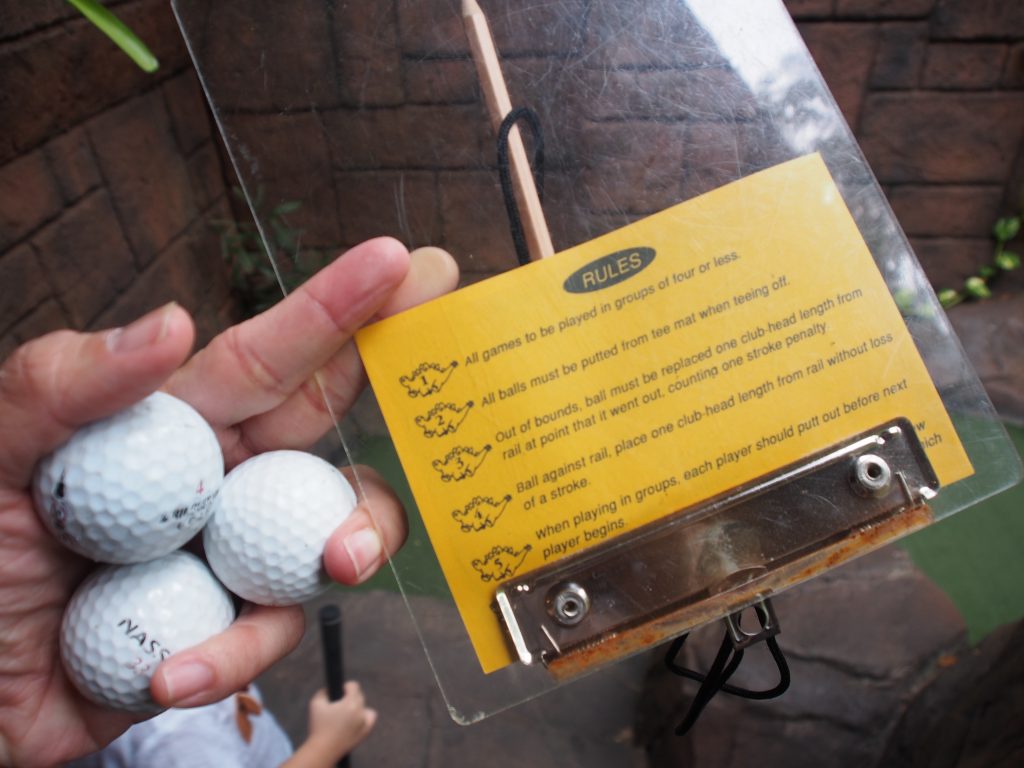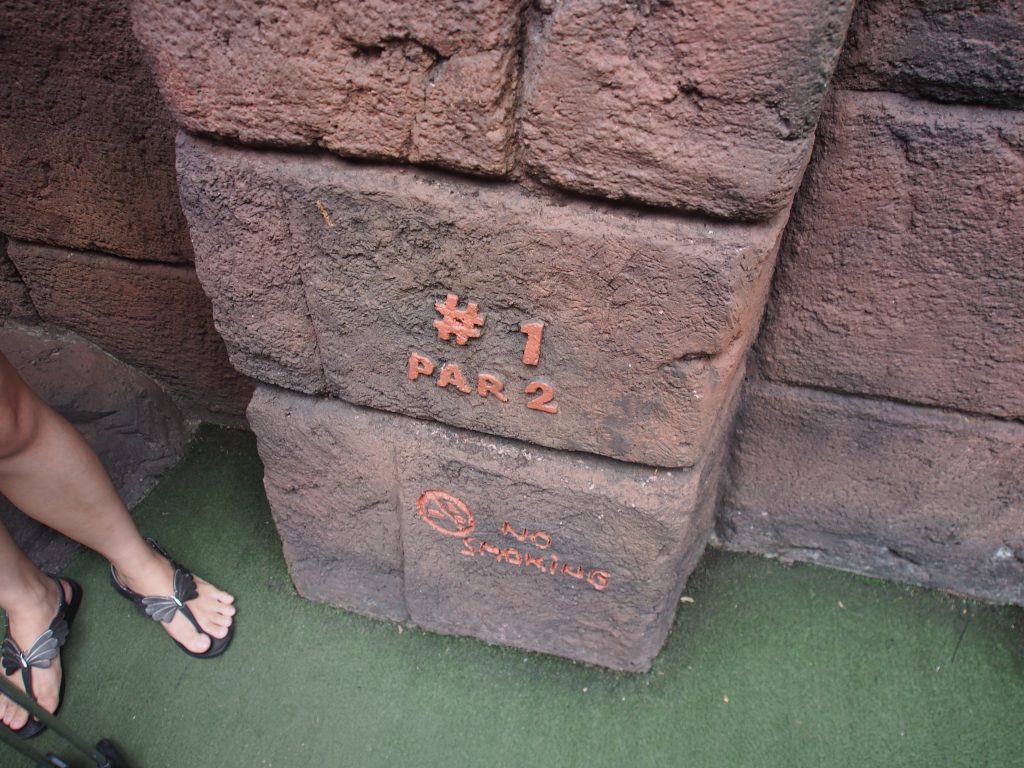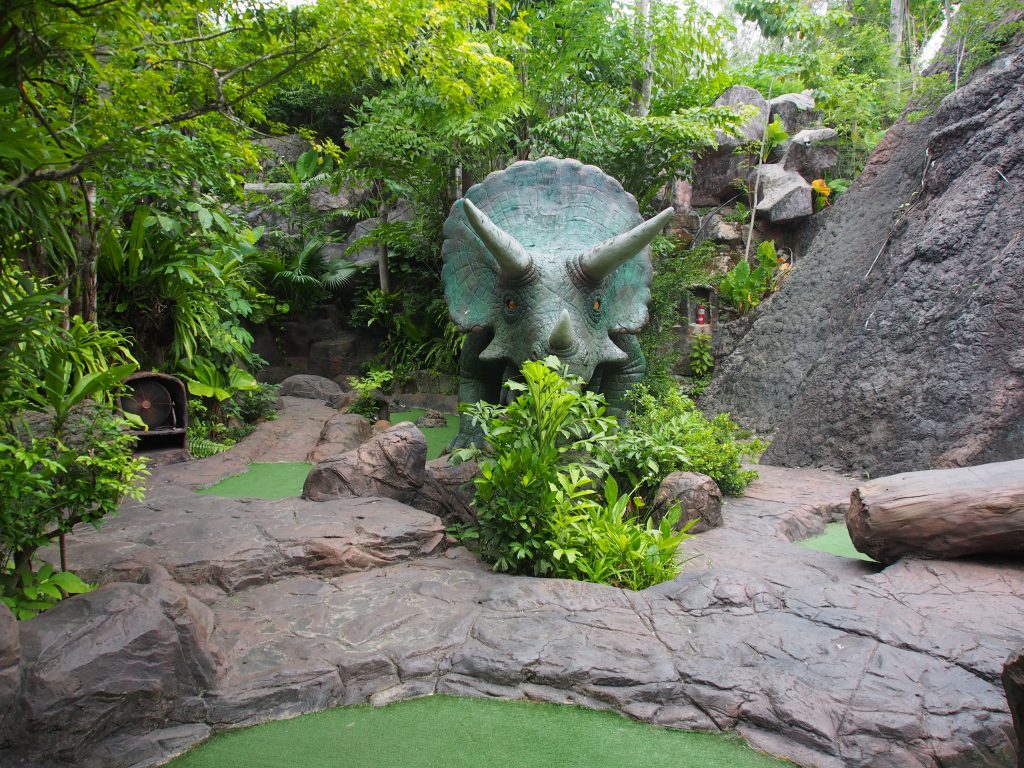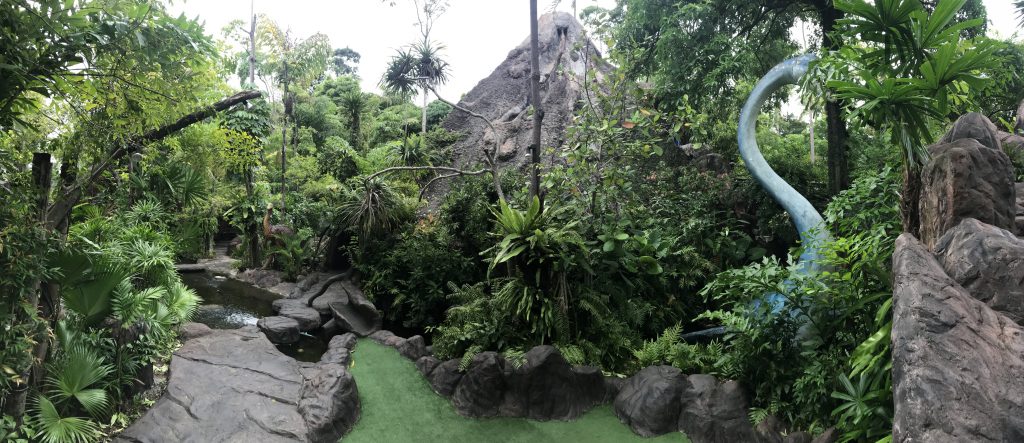 After much convincing, we ended having lunch at the Dino restaurant next door. Ordered a noodles with sauce for K, curry for mommy and me to share, glass noodles salad and a Thai iced tea and fruit juice. It was a huge eating area with a few dinosaur themed displays that K went around taking photos with his camera but the area under the shelter where we had our lunch was too dark and they didn't turn on the lights till much later.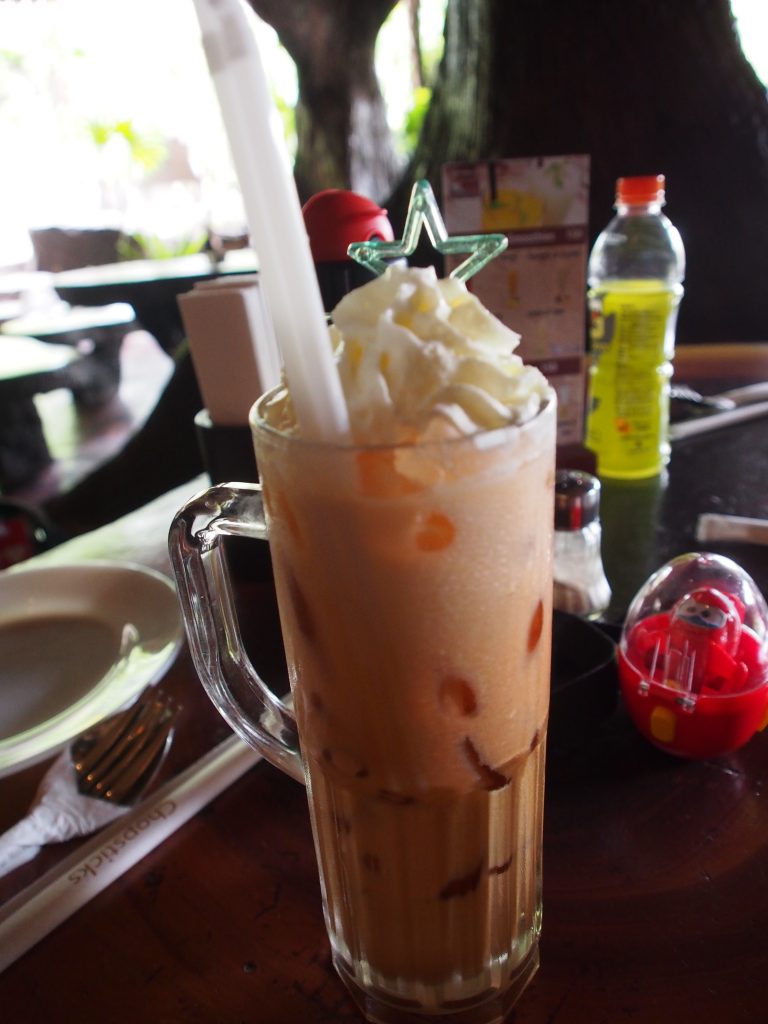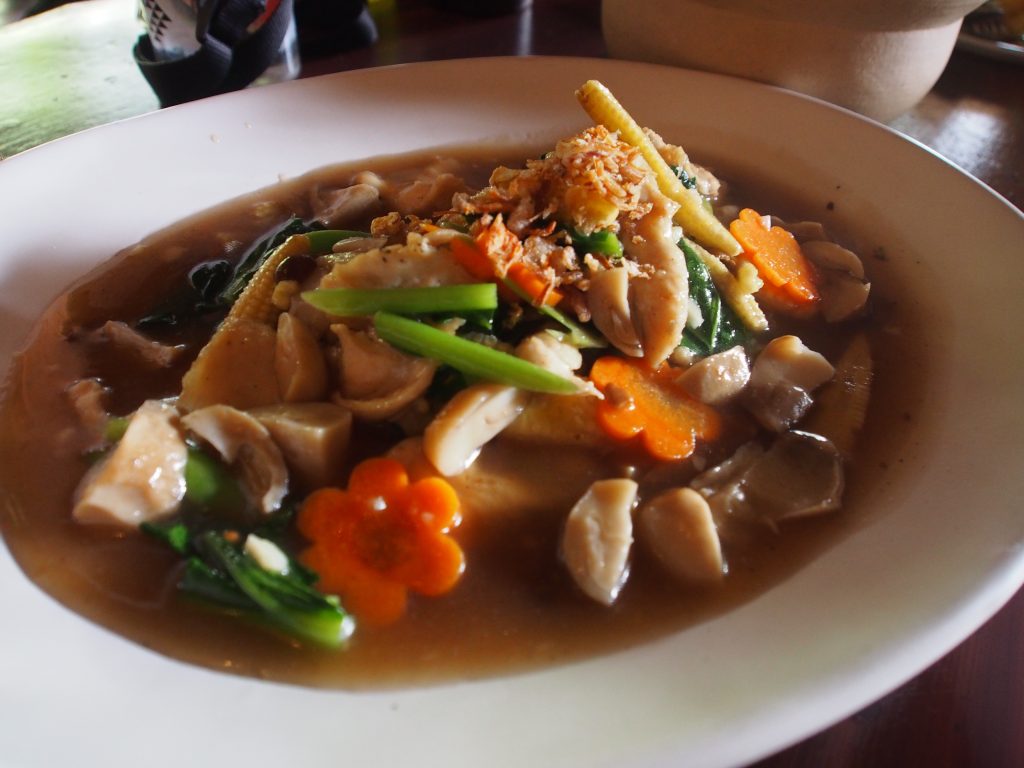 We returned for a second round of golf after considering the other options of zipline which I thought was too expensive and trampoline park which I thought was too dangerous. This time around, K was much more disciplined to wait for the ball to stop before hitting but still very adamant to use the short cut. The hold up was worst with a bigger group in front and we even had one behind us too impatient to wait for us to finish and hit their ball when we were still not done. They eventually passed us to skip ahead.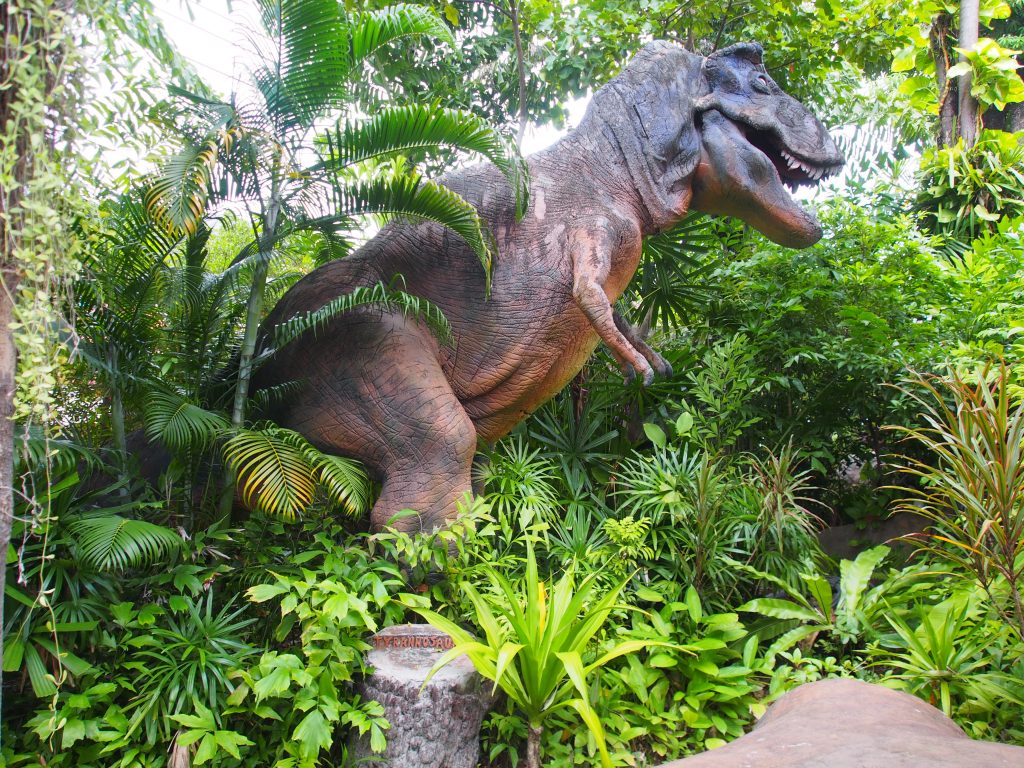 We called our driver after we were finally done and got to our next destination, the Phuket Old Town Sunday market (Lard Yai). It was about a 30mins drive there and the closer we got, the heavier the traffic, I was so glad I didn't choose to drive, I thought to myself. We got off at the entrance of a temple at Dibuk Road and walked towards the pedestrian only Thalang Road and there were just so many people looking at the many stores selling mostly food at half the section and handicrafts at the other half. We walked the entire length end-to-end and only bought an ice-cream for K. The food wasn't looking very appetizing (and the stuffiness of the area didn't make me want to stop to get anything) and we didn't get anything from the handicrafts stores. Along the way there were also street performances mostly singers belting out their tunes. There was a sudden downpour and we all got under shelter to wait out the short and common occurrence. But I felt the rain was good because it cooled down the entire place pretty quickly and was nicer to walk around afterwards.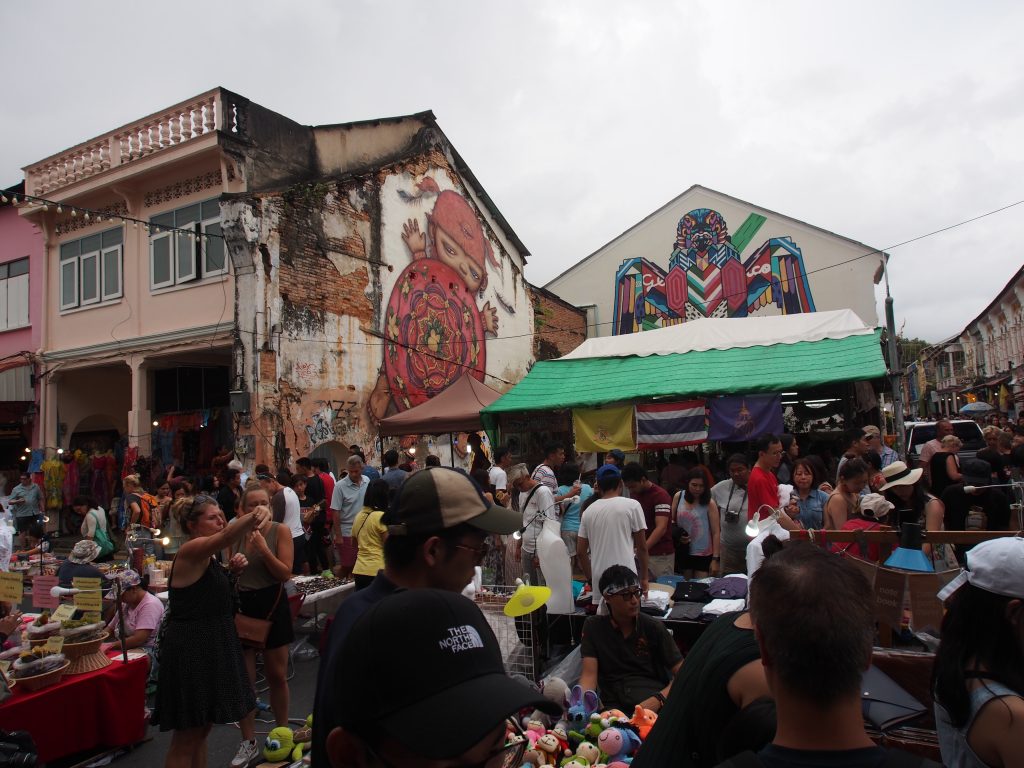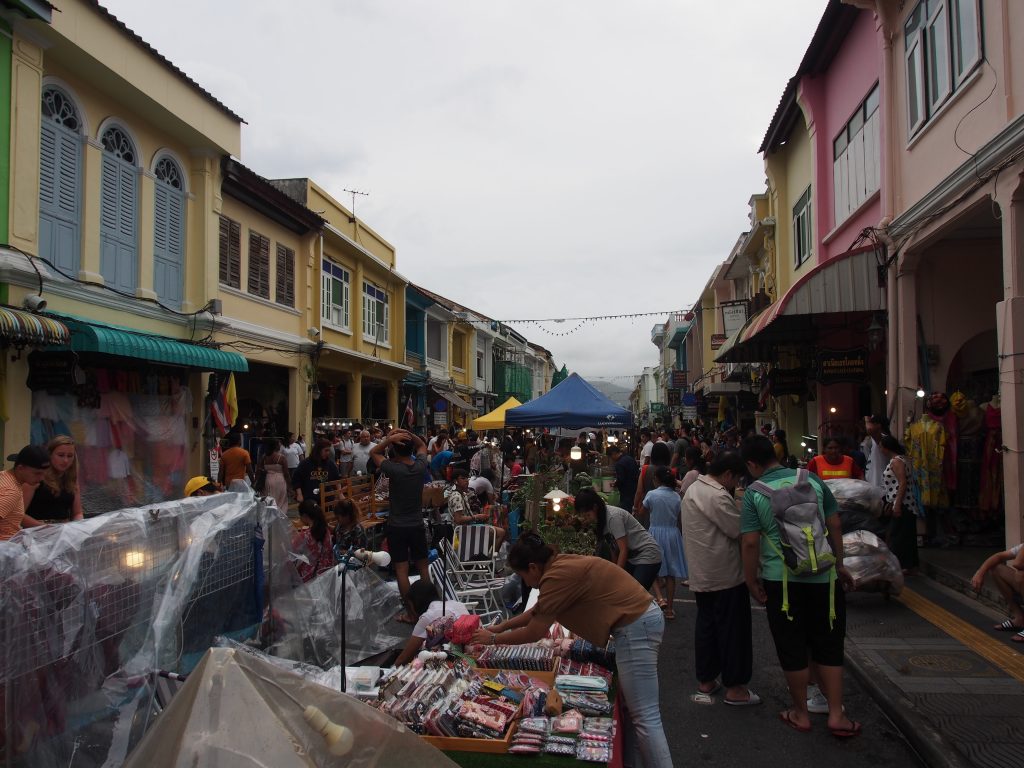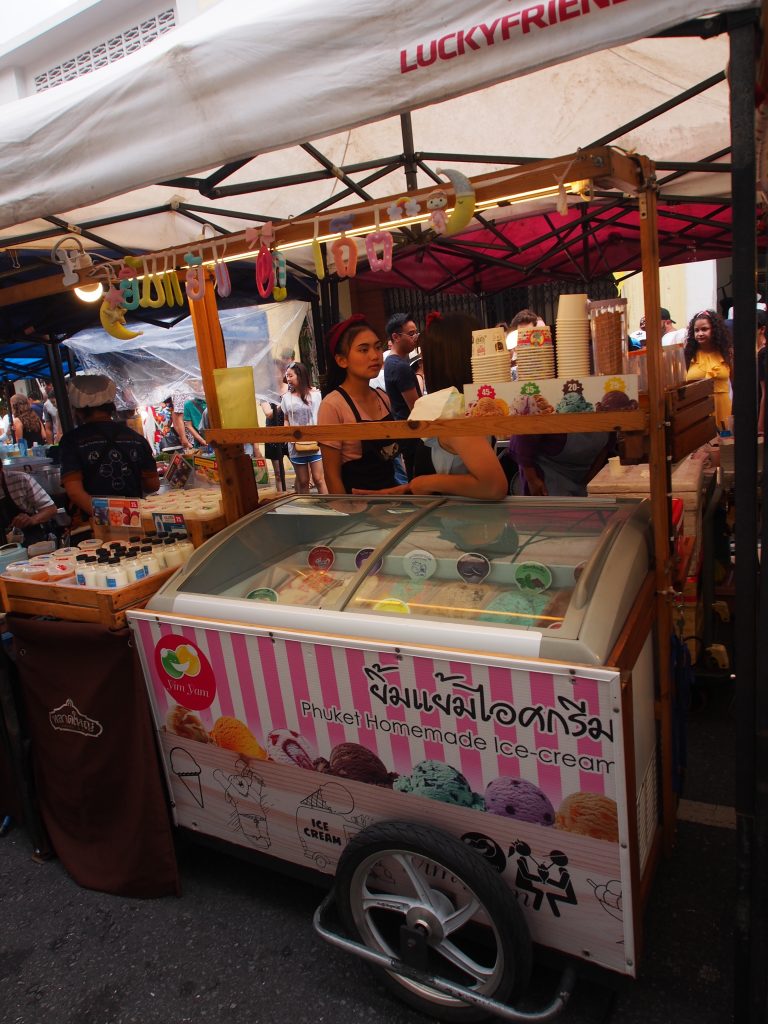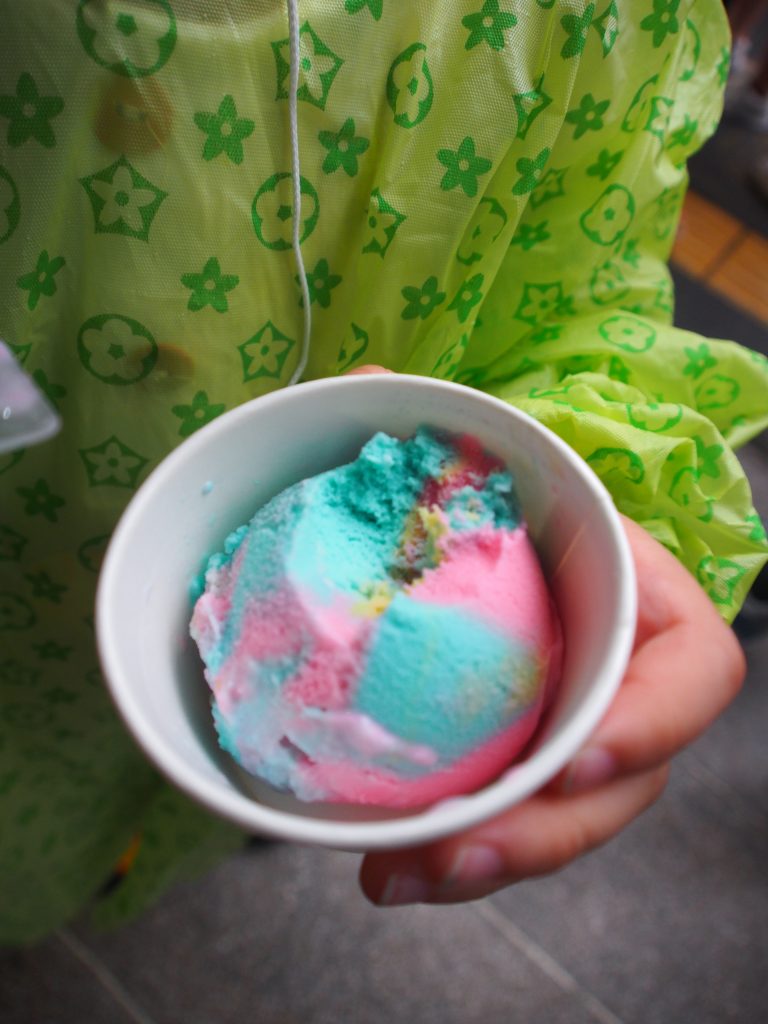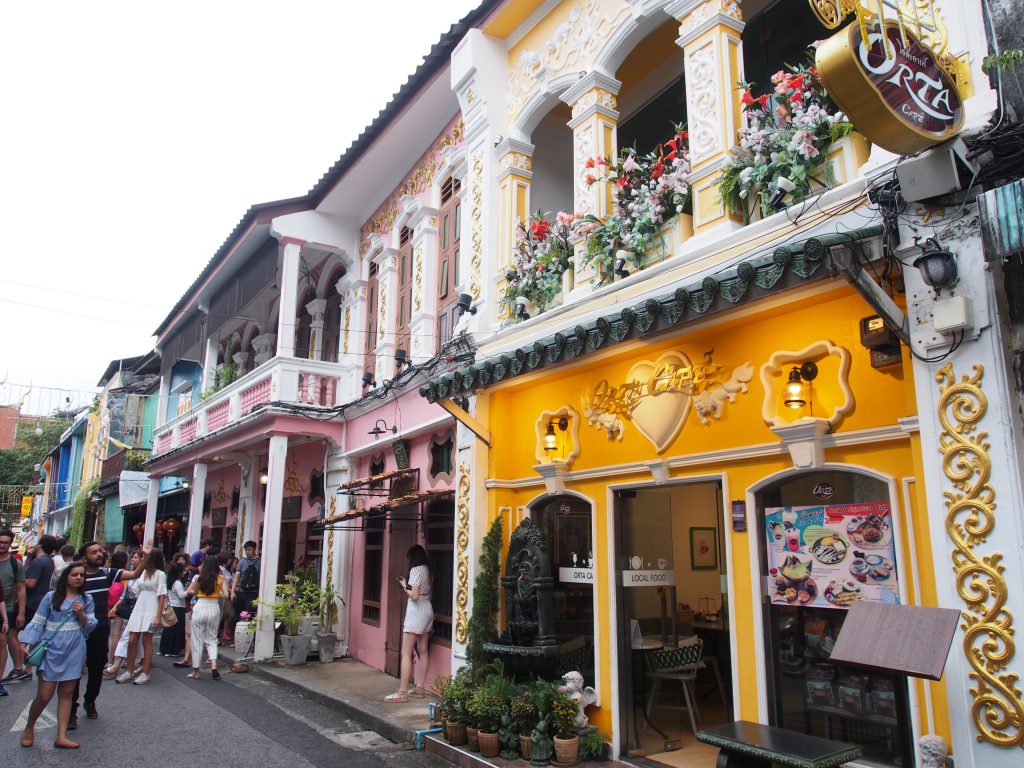 Spent about an hour there and we returned to the temple to board the car after contacting him via message. We decided to skip Fantasea and went to Jungceylon Mall instead for dinner. Another 30mins drive and we arrived into super busy Patong town and Jungceylon was one megamall next another huge Central Patong mall dominating the area there. We alighted behind the mall which was less crowded and proceeded in.
Randomly entered one of the building and out of the corner of my eye, we spotted a famous brand of restaurant also available in Singapore and decided to have dinner there. It was MK, but the gold edition!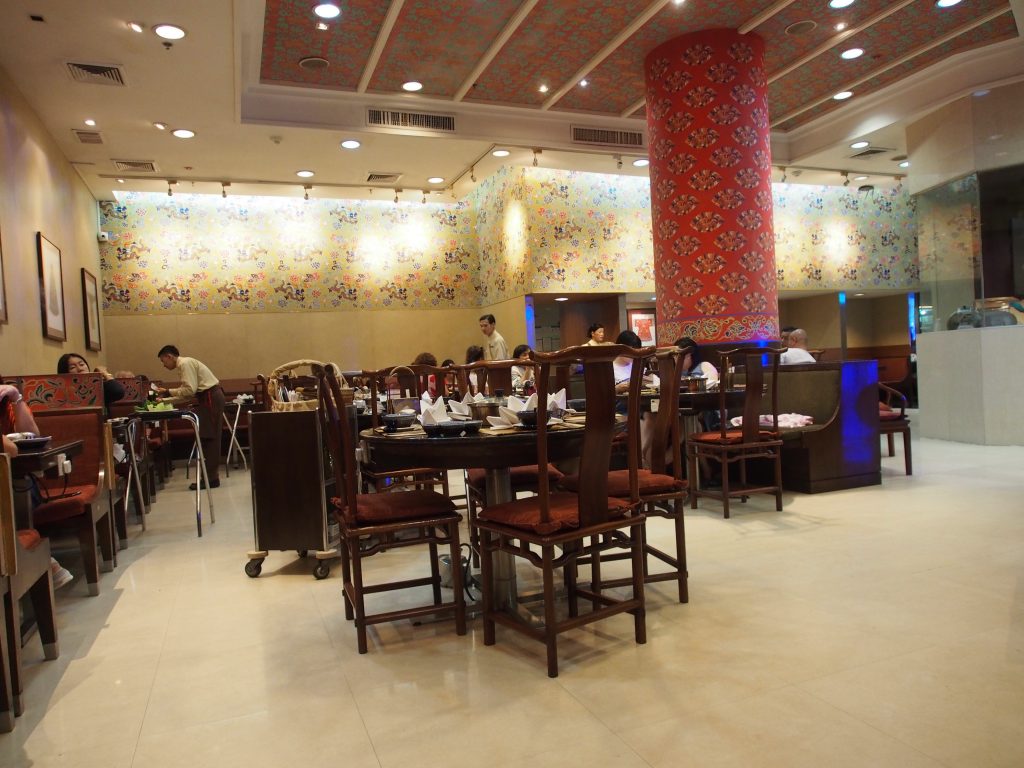 Ordered a plate of pork slices, vegetables for our steamboat and a bowl of char siew green noodles for K. The food was ok and we took about an hour and a half to finish our dinner. That dinner was about 1400baht which I paid by card, fearing that we didn't have enough money to go home.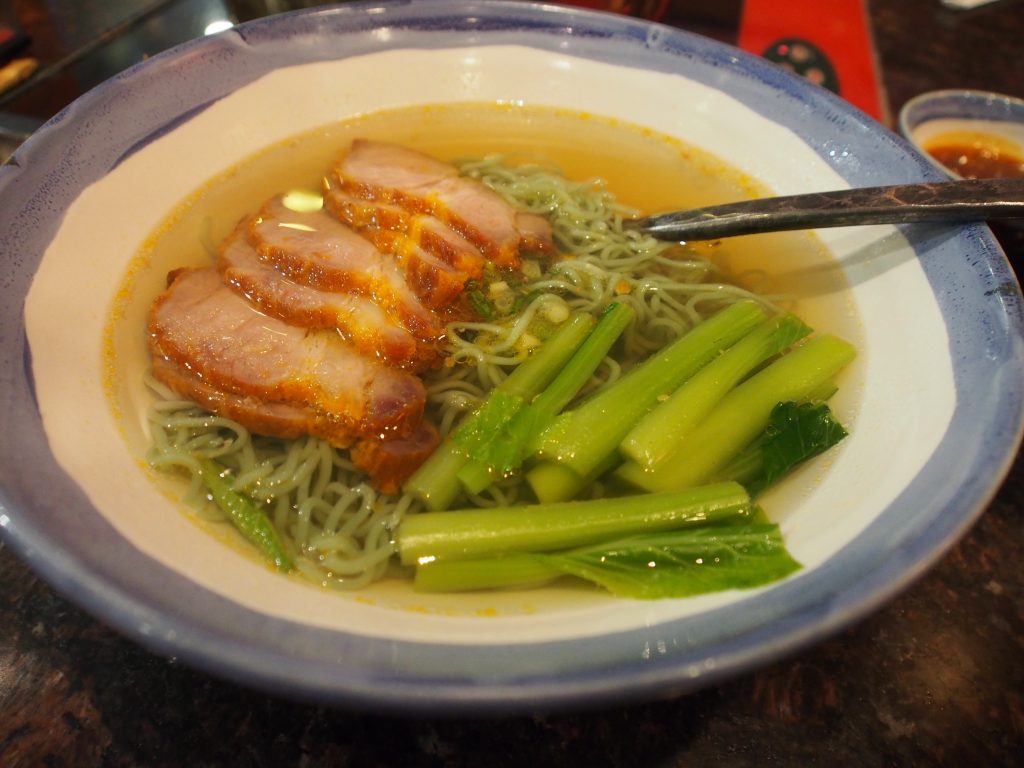 We walked around for a little shopping and entered an OVS store that had quite nicely designed tees but found them quite expensive (it was later that we found out that this was an Italian fashion brand!). Entered a inflatdecor store where they sold all sorts of inflatable bags and we bought ourselves a waterproof bag for 230baht and got ourselves a freebee inflatable cup holder by adding their contact into Line app.
Then we caught glimpse of the water fountain show before calling our driver for the last time for our trip back to the hotel.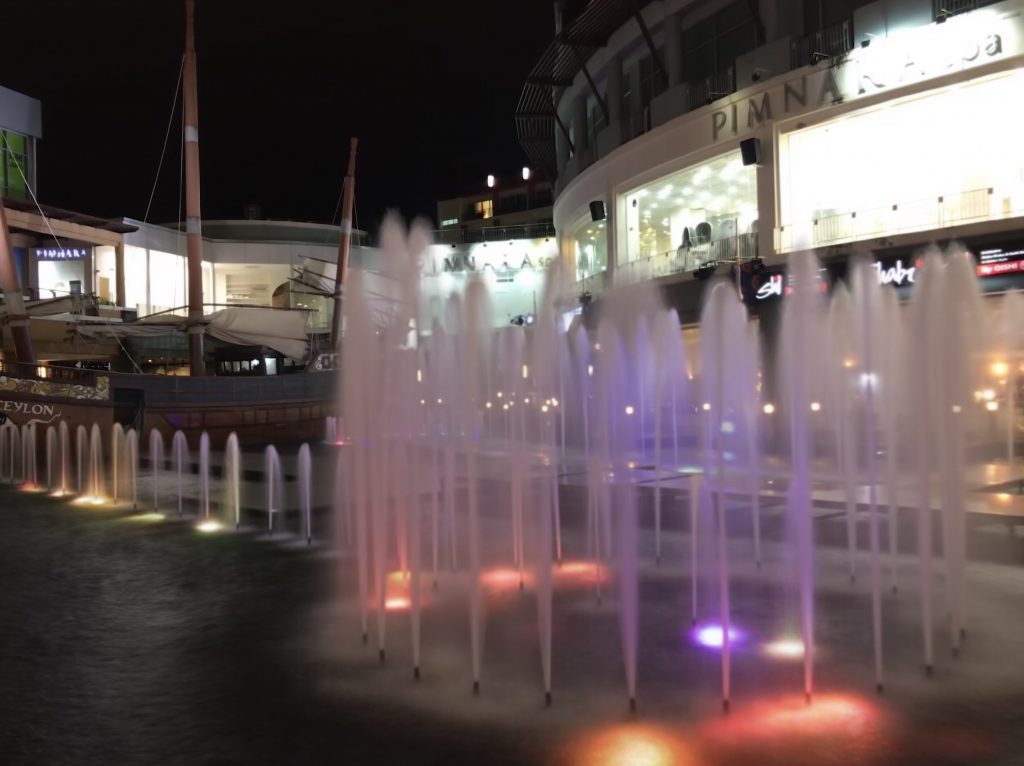 The ride back was about an hour and I paid the 3000baht to the driver before we headed back to the room. The night routine was hastened up as it was getting late and K cooperated to bath quickly and got his playtime before it was lights off for all.