The usual weekday alarm sounded but I was soon back to sleep until it was about 630 where mommy woke me up to pack up. There weren't much to pack as I have done so pretty much the night before and went back to bed, jotting down the memories of the previous day into iPhone note. K woke up soon before 8 and soon we were on the dining table having breakfast of bread and biscuits. By 845 we were all dressed, luggage loaded up and were just waiting for the landlord to arrive. She arrived at about 9am, nothing much mentioned except for some guide on how to get to the terminal and we were on our way.
I took the supposedly easier route of going via Anse Royale but a total of 40mins drive as the uphill and downhill route was much shorter compared to the one we took on the first day on Mahe, thus less dizzy for K. Indeed he survived without puking and soon we were on a much straighter and smoother drive passing the airport on the right and towards the ferry terminal. Although there were some road works along the way, every road stoppage was in our favor all the way till the terminal.
Upon turning into the carpark, the Absolute Cars rental staff whom had earlier arrived was waving to us. We dropped off the car as fast as we picked it up and then proceeded into the departure where one of the nice waiting passengers directed us to the ticketing counter to check in our luggage. Dragging the 2 luggage across the rugged road, we went into the Cat Cocos office. The internal staff directed me next door to exchange my web printout for tickets. Then I returned back to the luggage check in to put in the 2 huge luggages before heading back to the departure to queue.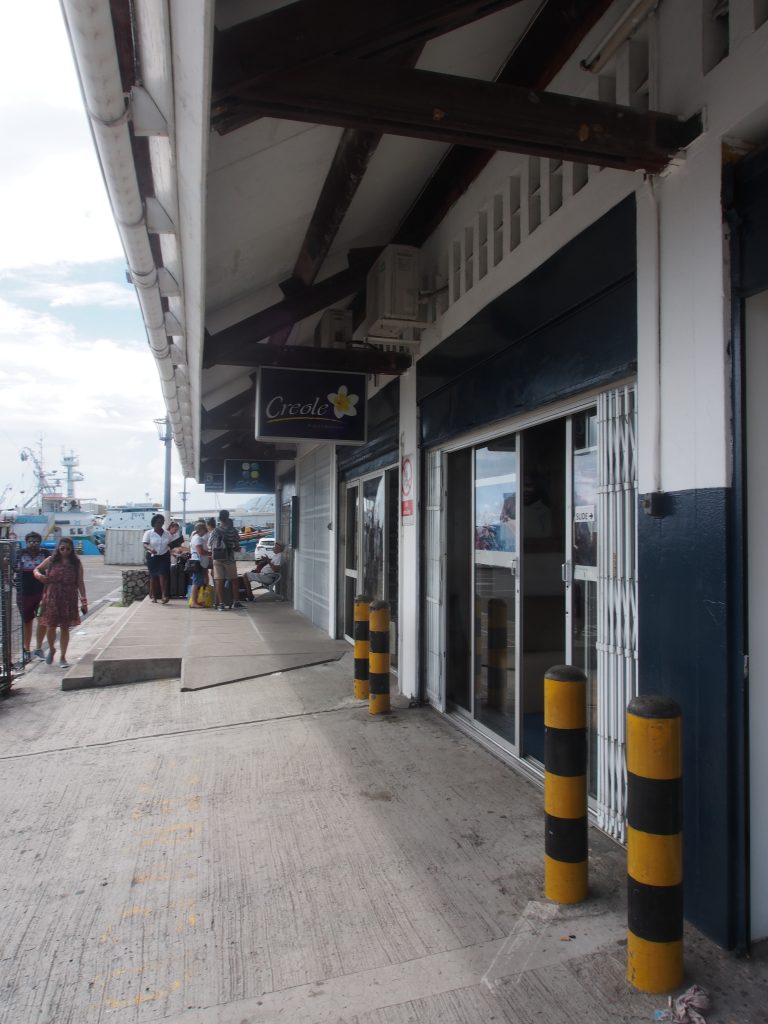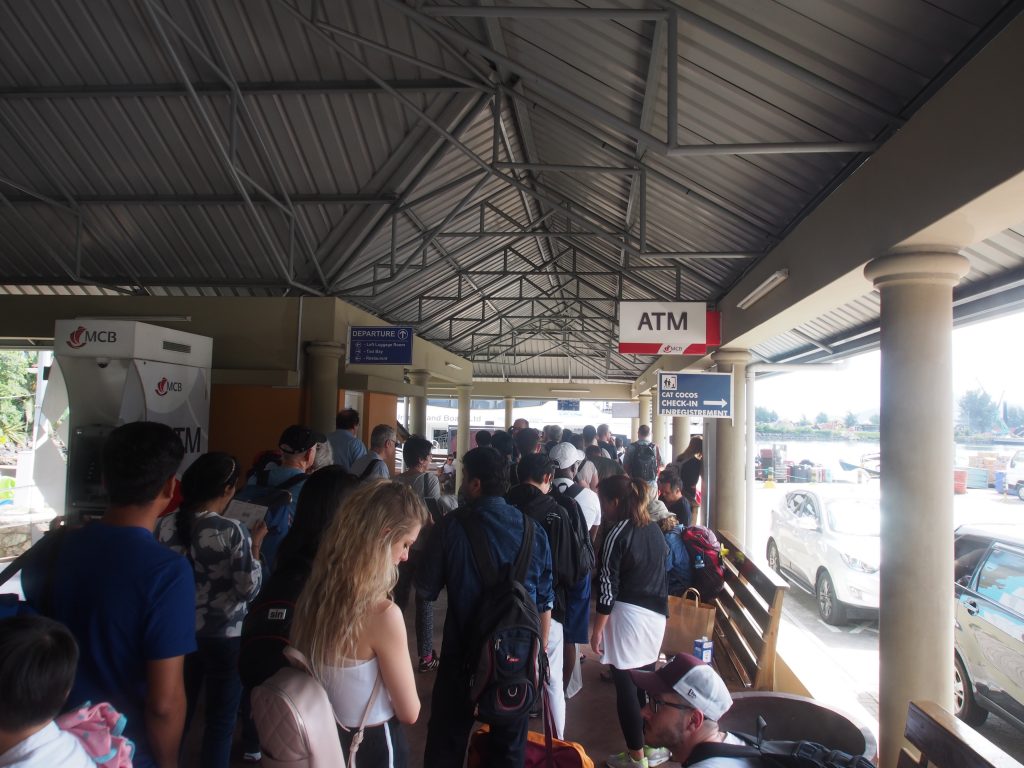 While waiting we decided that we should do a euro exchange at Mahe instead of at the islands which could be more expensive. So we went to the Cash Plus office and changed 500euros at a pretty good rate of 16.55 rupees per euro.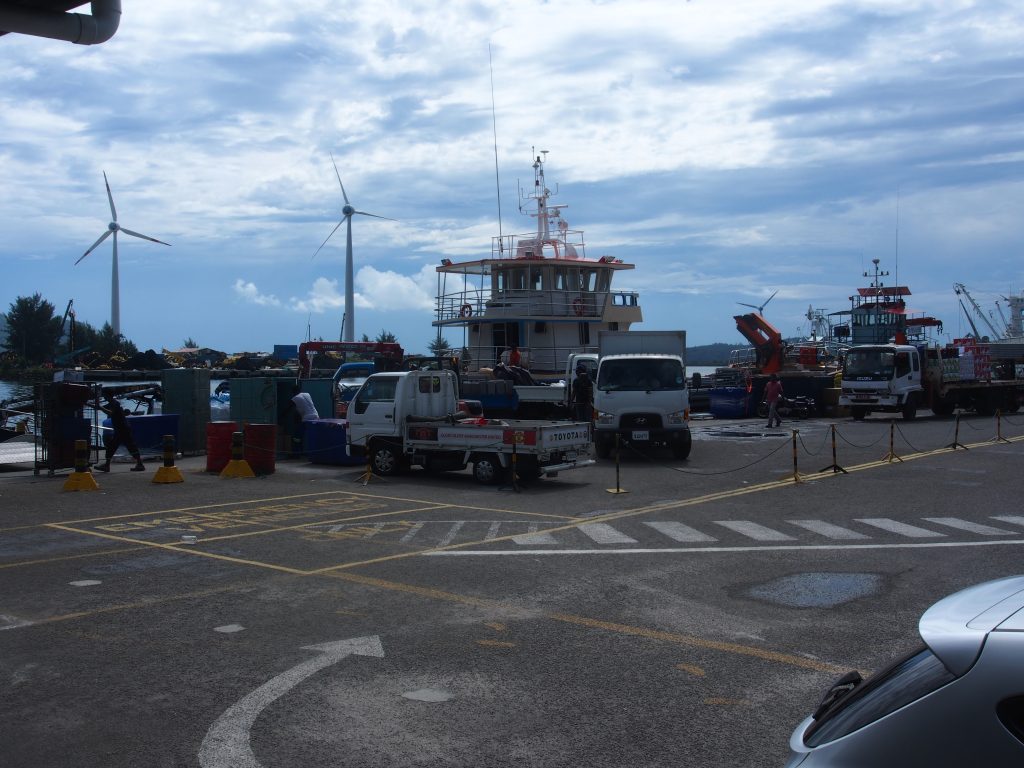 The boarding started soon after but it was moving rather slowly. We chose a seat close to the front and the ferry started to move off at about 1035am. Then it wasn't a good 1hr ride to Praslin.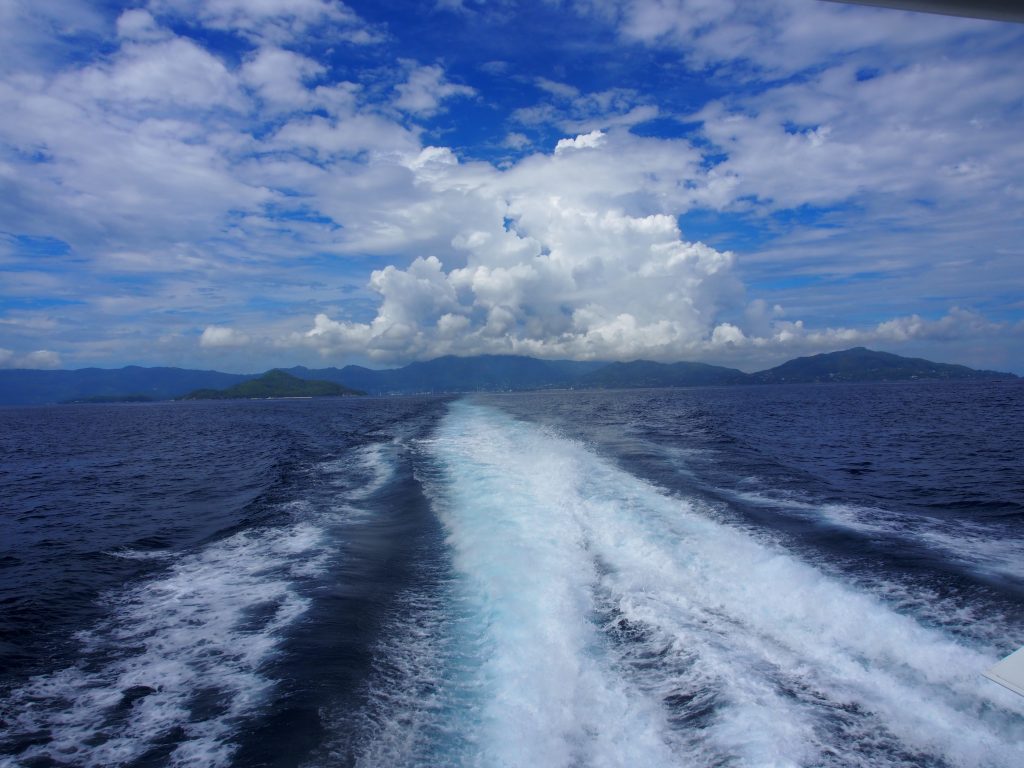 K suffered from seasickness and was vomiting a couple of times throughout. Then once we stopped at Praslin, I thought it was over and brought him out to the front of the ferry. Then he felt nauseous again and started vomiting. I quickly brought him close to the side of the ferry so that he could vomit over the side.
I brought him back to the seat to rest and soon it was a 15mins trip to Praslin, with no further issues. Grateful for the number of puke bags available onboard.
We got off the ferry and had to wait for our luggage to disembark. It was quite crowded and messy as everyone was waiting for their luggage. We had to wait a bit before ours appeared and we took them and got on our way. Although there was supposedly no cars on La Digue, there were quite a couple of them while we were pushing our luggage towards our apartment of Marie France apartment, 450m from the jetty. It wasn't easy to drag the luggage on the tiled road but it wasn't long before we turned into the entrance of a little double floors apartment.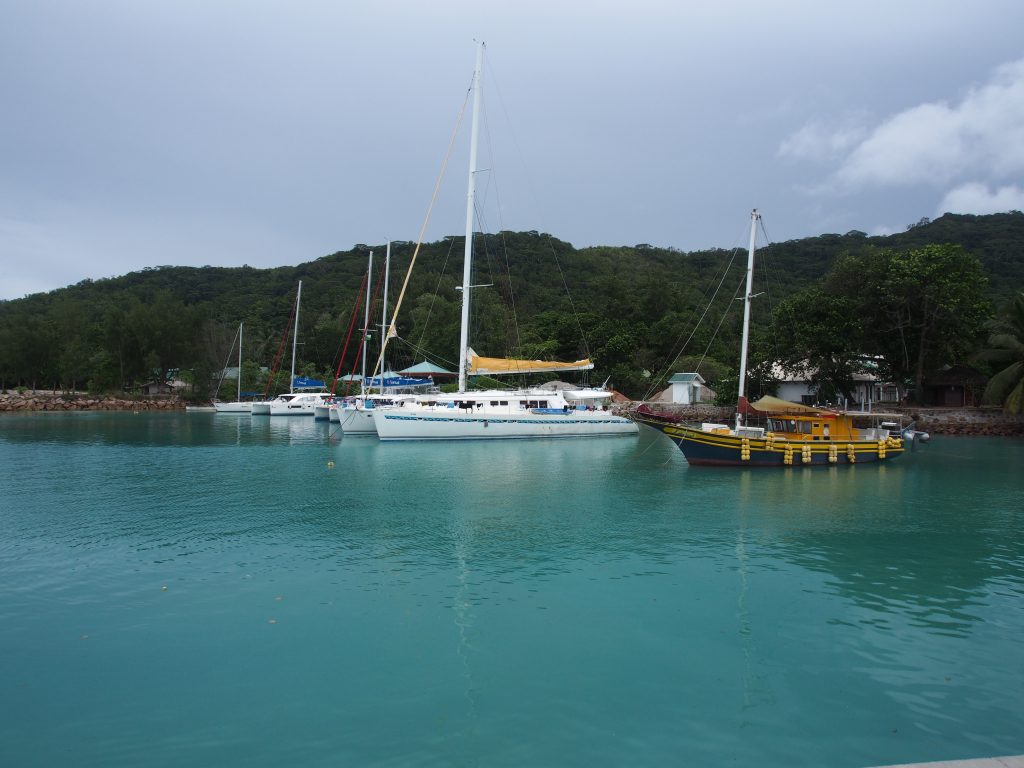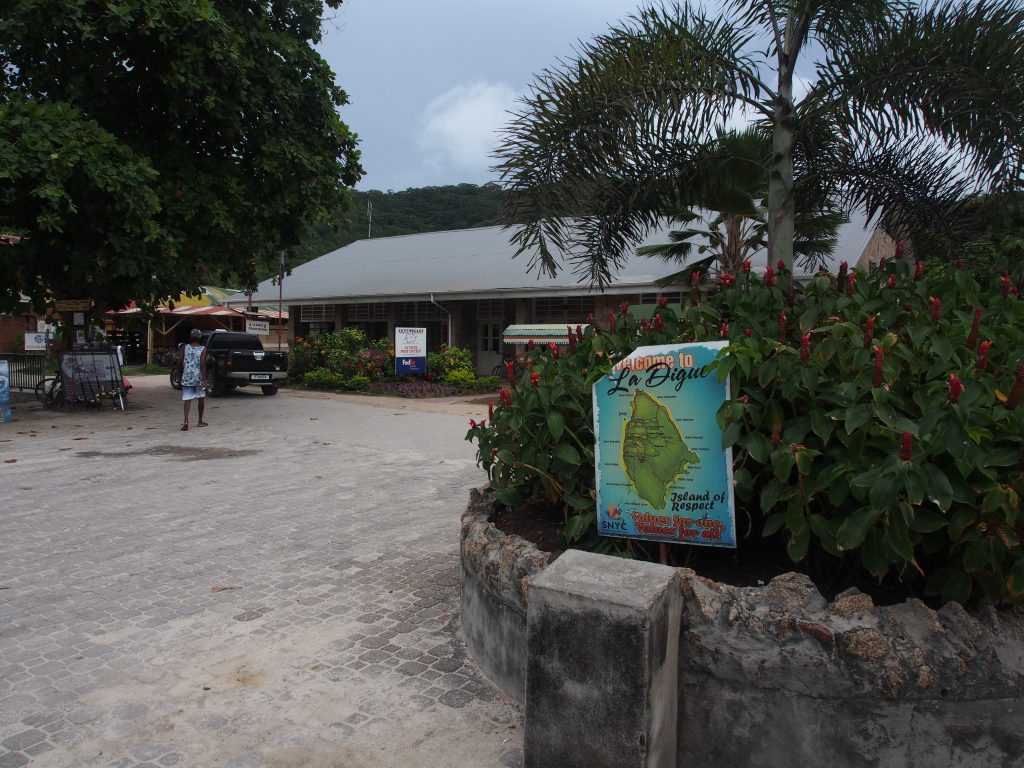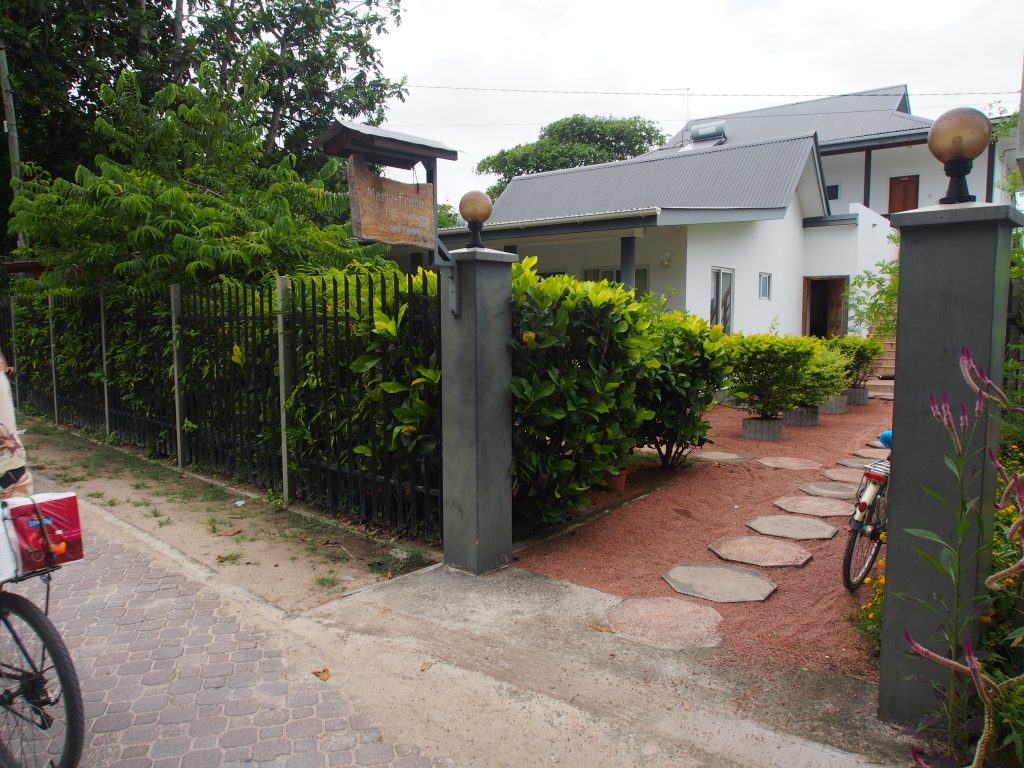 Mommy brought K to check in first while I wrestled the heavy luggage to the base of the stairs. Overheard a conversation about K wasn't included in the booking and mommy saying that she had included in the comments. Found that the Seychellois accommodations were very particular in including kids in their booking and would charge pretty hefty amount to include them even though they utilize the same space. This was what happened for a couple of the accommodation booked. They let this slide though.
We were brought up to the second level after given our keys and WiFi password and led into a compact room that came with a balcony with sea view. There was a tiny space for preparing food by microwave but no stove for cooking. The bathroom was small too, without a tub. This was much less luxurious than the one we had in Mahe but in La Digue, the same one would have costed a lot more.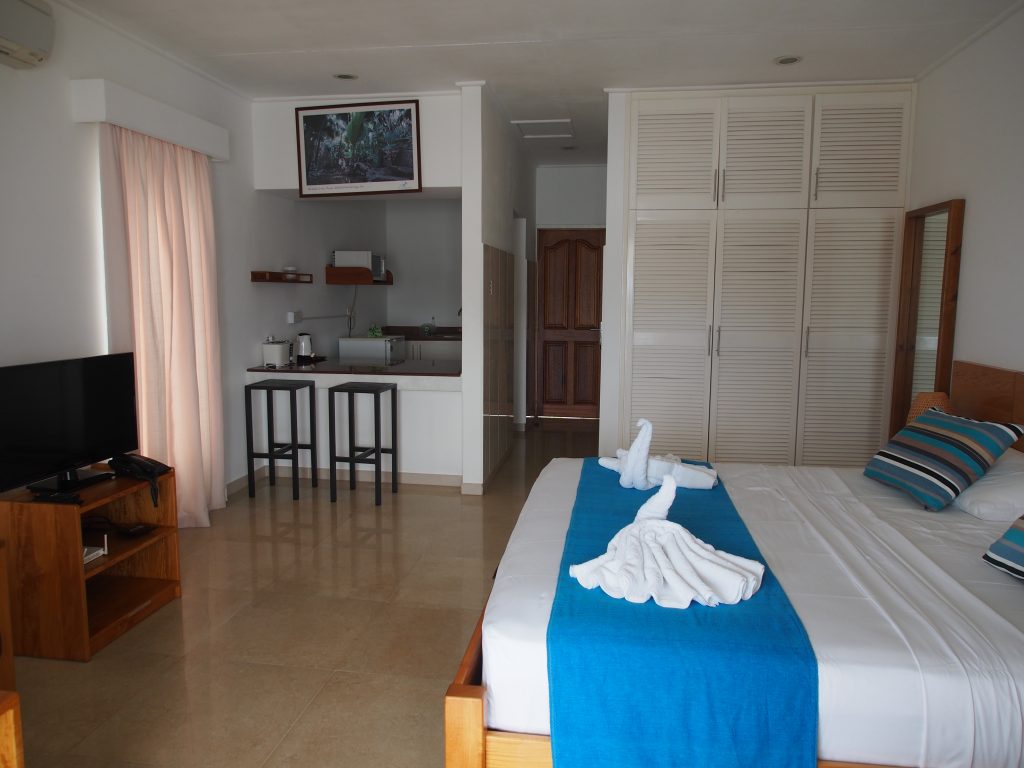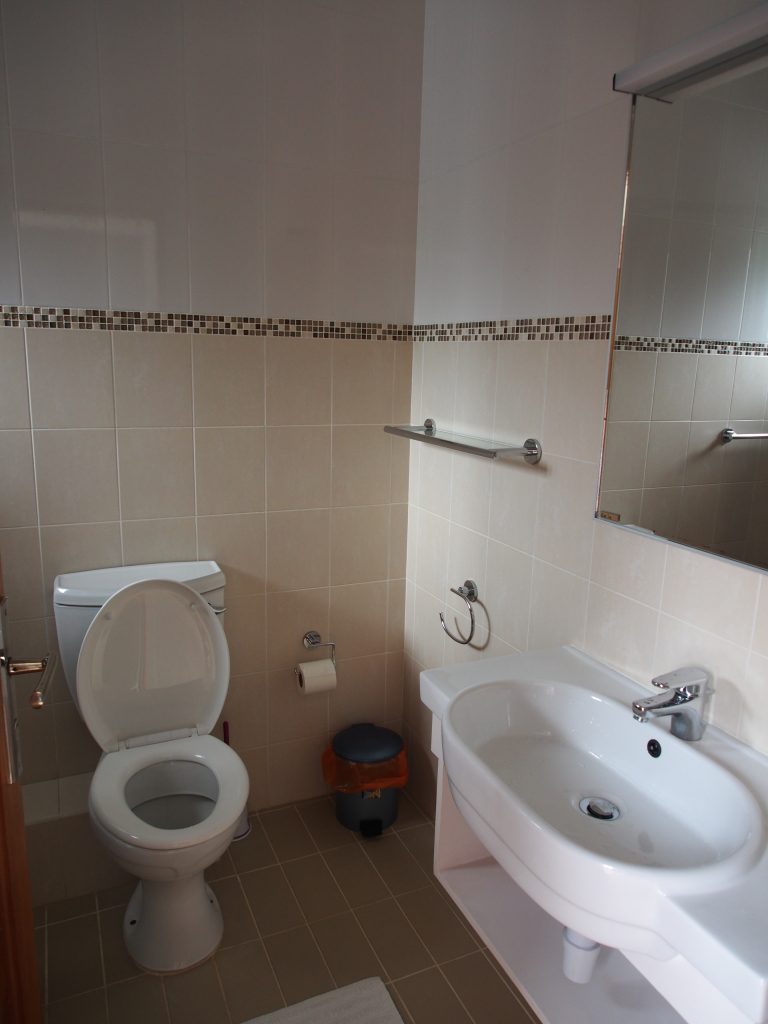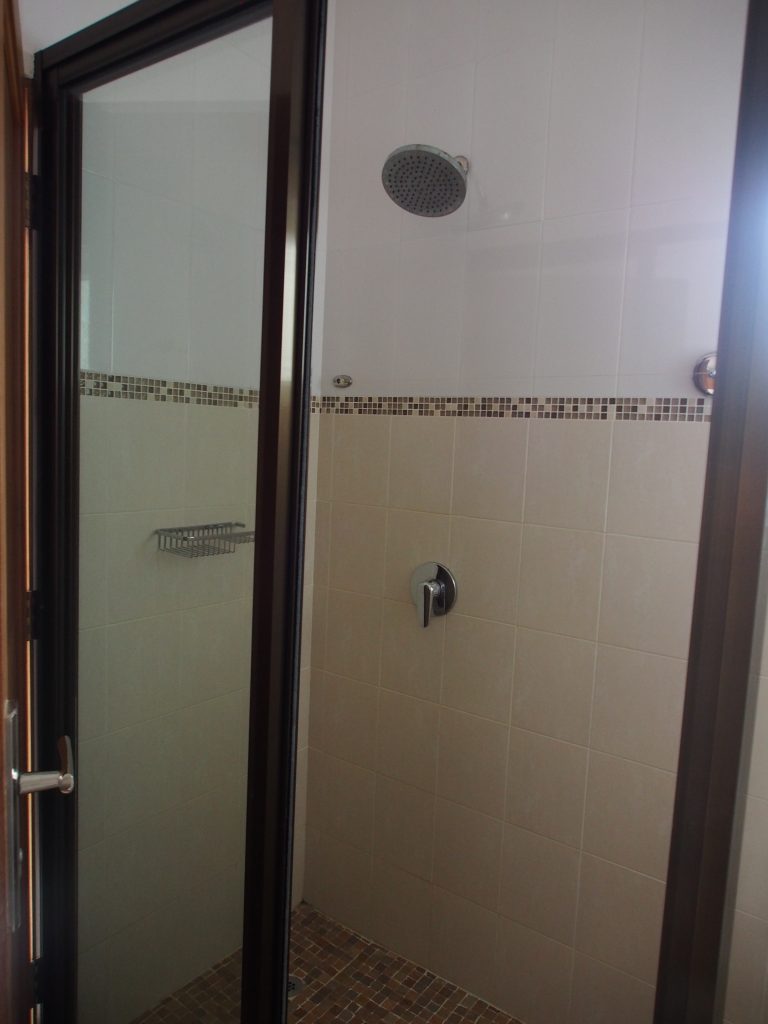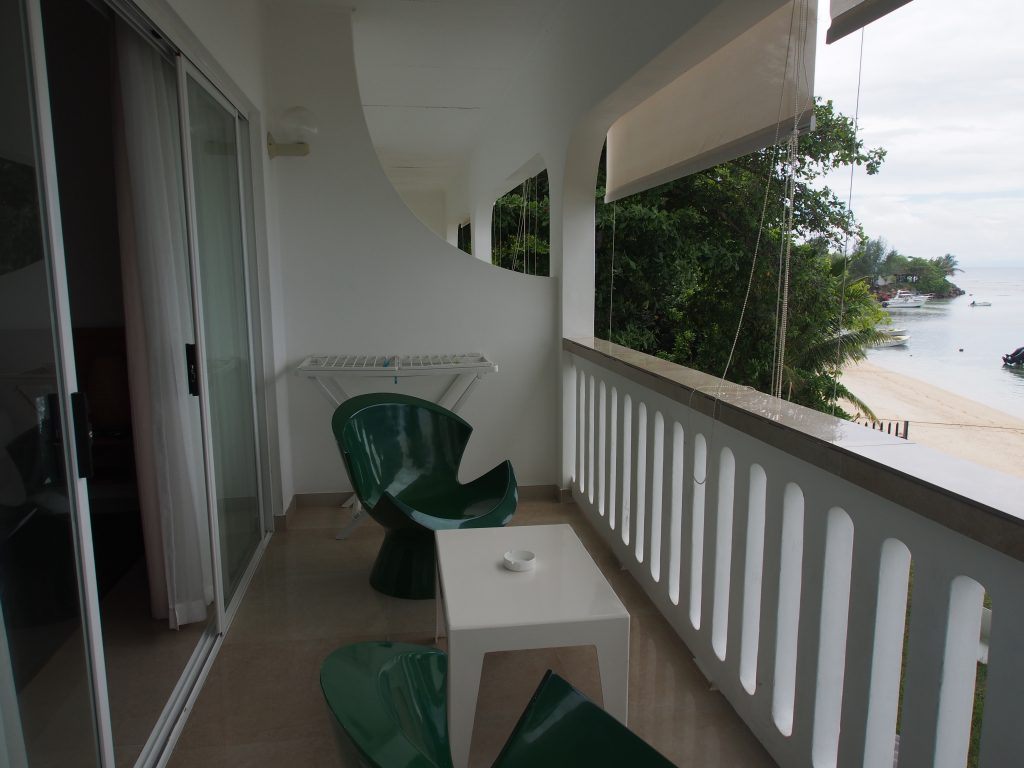 We had initially planned to do an island hopping trip with Nevis Ernesta to Felicite/Coco island but looking at how K suffered, we decided against it. We then walked to the supermarket to get some foodstuff so that mommy can prepare K's meals and followed Google map to STC supermarket at Gregoire's store. The supermarket looked huge on the outside but didn't come with fresh meat. Bought frozen chicken thighs, fresh milk, water and eggs and a pair of Havanias slippers with Toy Story printed on it for K.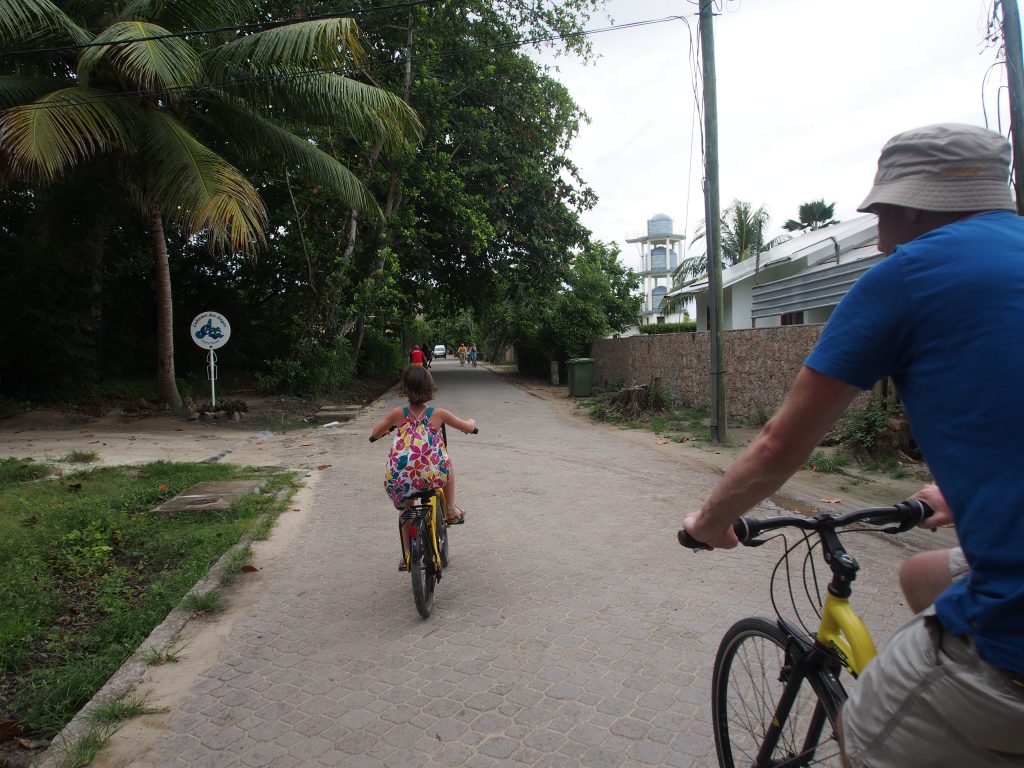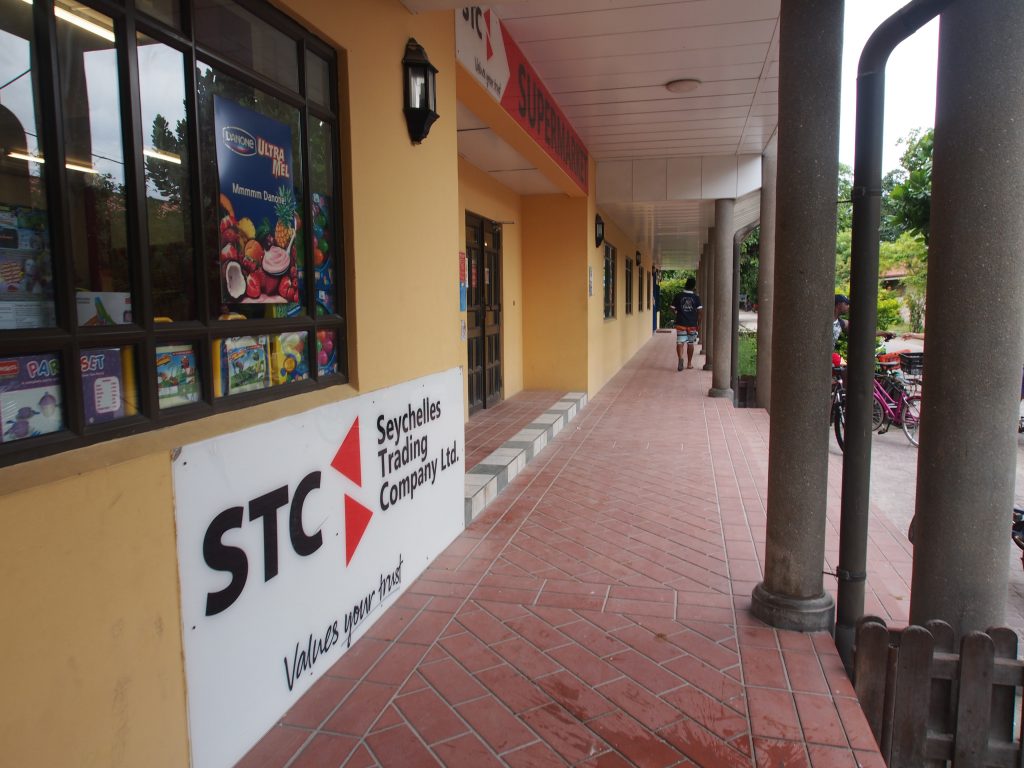 On our way back, we decided to stop at Chez Marston for lunch. Ordered a curry chicken and some baked fish on a hot plate that had 2 large fish fillets on it. This was a filling and tasty lunch for a price of 495rupees. It was not a bad place to have lunch but mommy was kinda annoyed by the table of guests behind us that had someone wearing strong perfume.
After lunch, we returned back to the apartment for K's afternoon nap. The place didn't have thick curtains or sound insulated walls and thus it wasn't easy to fall asleep. The noise from the people outside made it worse but thankfully K at least slept for a good 2hrs and his parents got some rest as well.
Mommy was up making dinner and K woke shortly. He was watching some TV which thankfully had Jim Jam channel that was specifically for kids. Characters like Bob the builder, Pingu, Lowly worm and Barney made frequent appearances and of course My Little Ponies. We decided to check out the beach just outside the apartment downstairs and got ourselves 2 beach towels from the landlord.
It was a cloudy sunset but beautiful nonetheless. I brought K into the shallow waters but he didn't like to go into the waters, unless it was gushing into him like the waves in Anse Intendance. Anyhow, I carried him and walked towards the ocean pointing out sea cucumbers and fishes as we spotted them. Underneath the seaweed were sometimes hard and sharp stuff so I threaded carefully, being barefooted and carrying K. Water was not cold and it was really nice.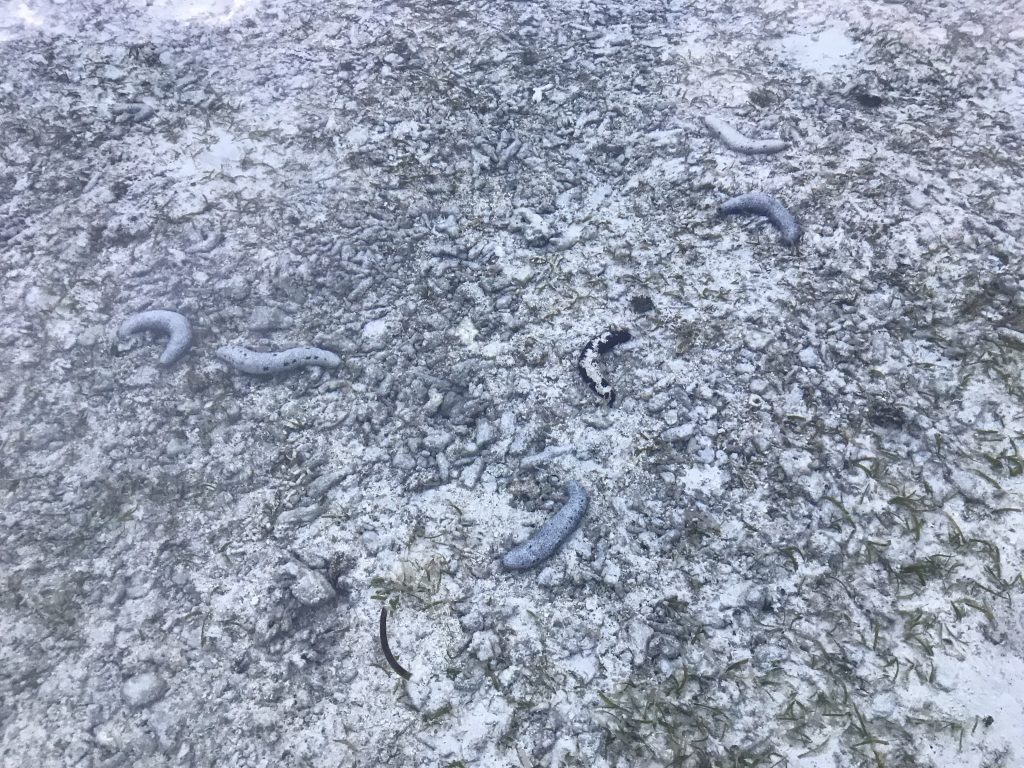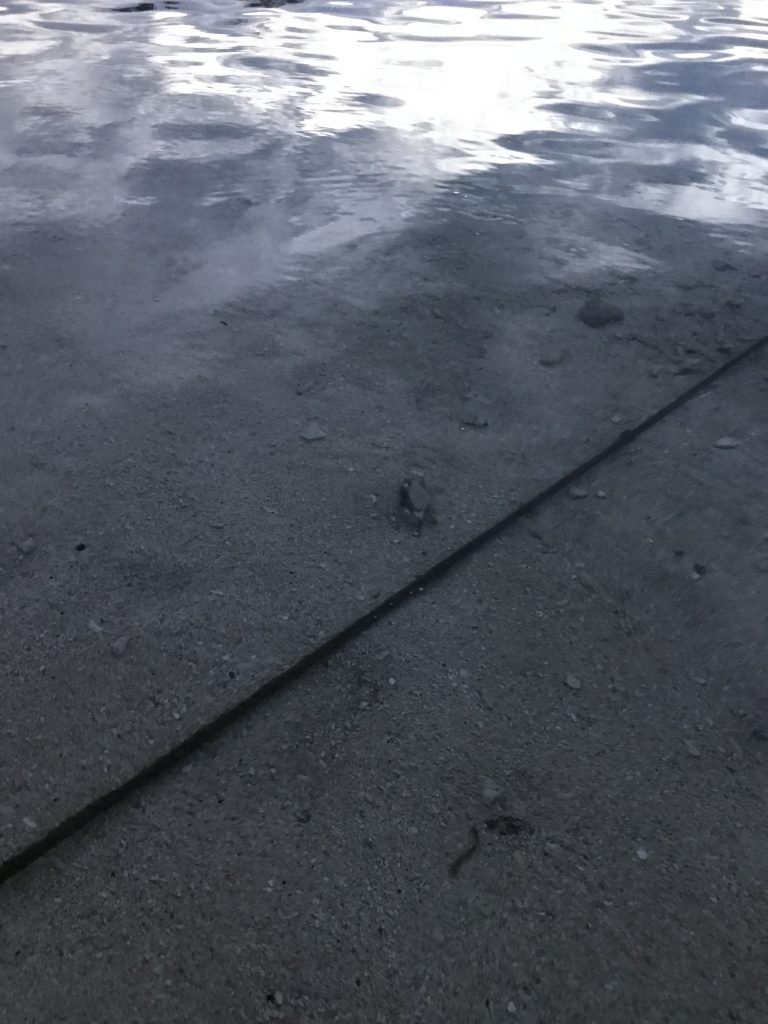 Back at the beach K played a little bit of sand but as it was getting dark quickly since the sunset, we all returned to the apartment for a quick wash down before heading out for dinner ( a shower was available near the entrance to the beach for the initial washing off of sand).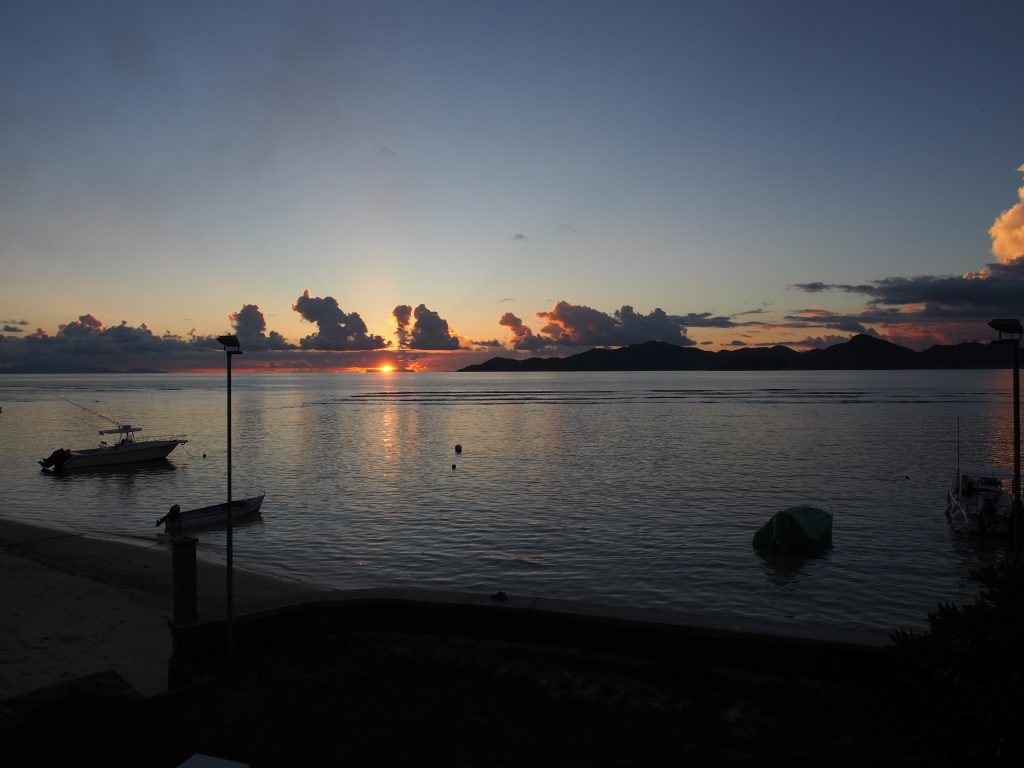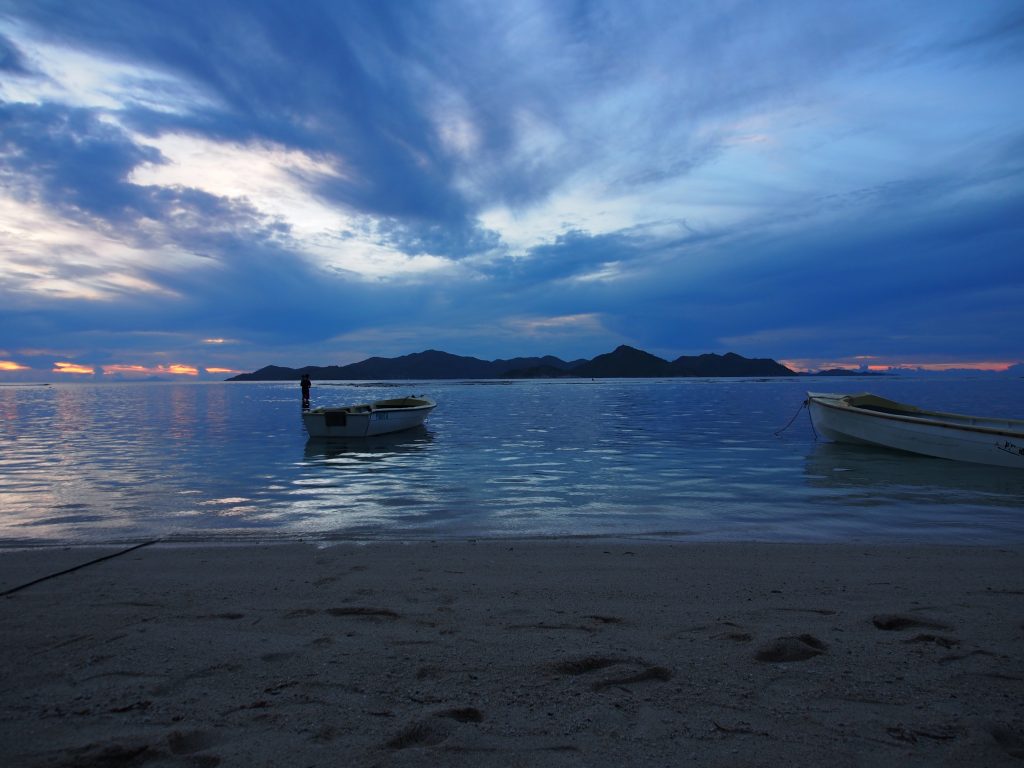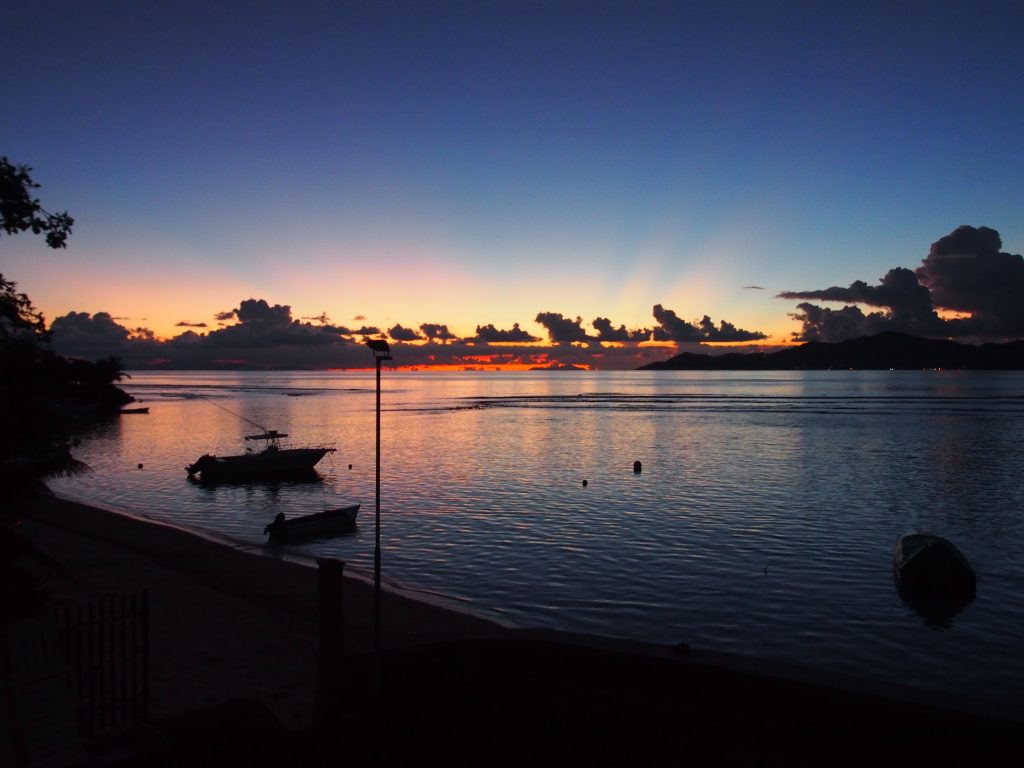 Earlier on we passed through a rather posh Le Repaire hotel. After going in the direction of the jetty and finding most of the places dark (except for some restaurant that mommy wasn't fond of visiting due to poor reviews), we went back to this Italian restaurant. As we arrived, there was another group waiting to be seated. The area looked pretty full, must be a restaurant that served good food.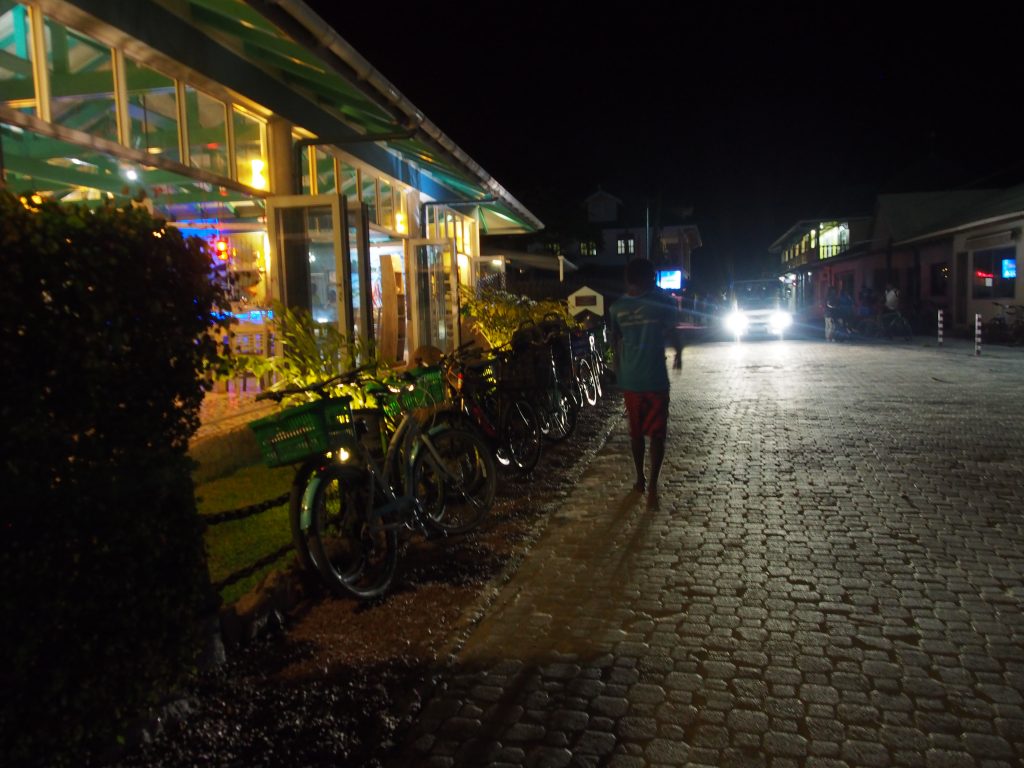 We waited a while (K was entertained by a kitten and the nice furniture setting of the accommodation) and was shown a table. Ordered a Penne Amatricana and a Tagliatelle with pork and a Le Repaire tea for 680rupees. The food I thought was pretty tasty except for the Penne that had a little strong cheese flavour that we weren't used to. The ice tea was pretty nice too, but the quiet atmosphere and the friendly staff made the dining experience one of the better ones in Seychelles.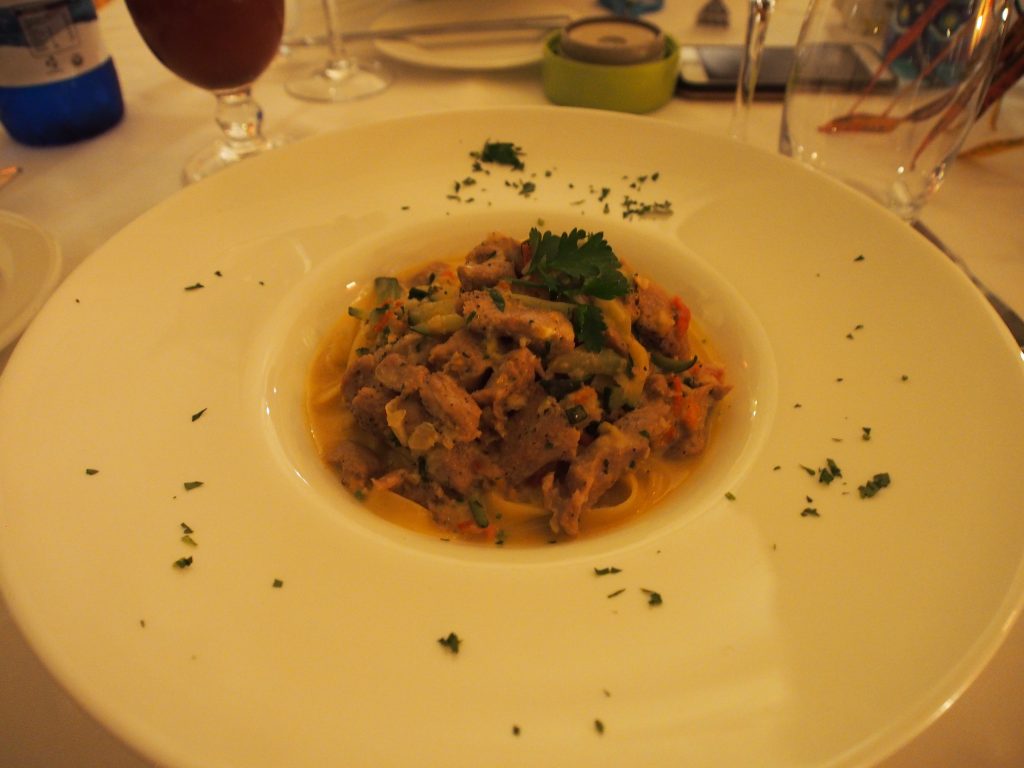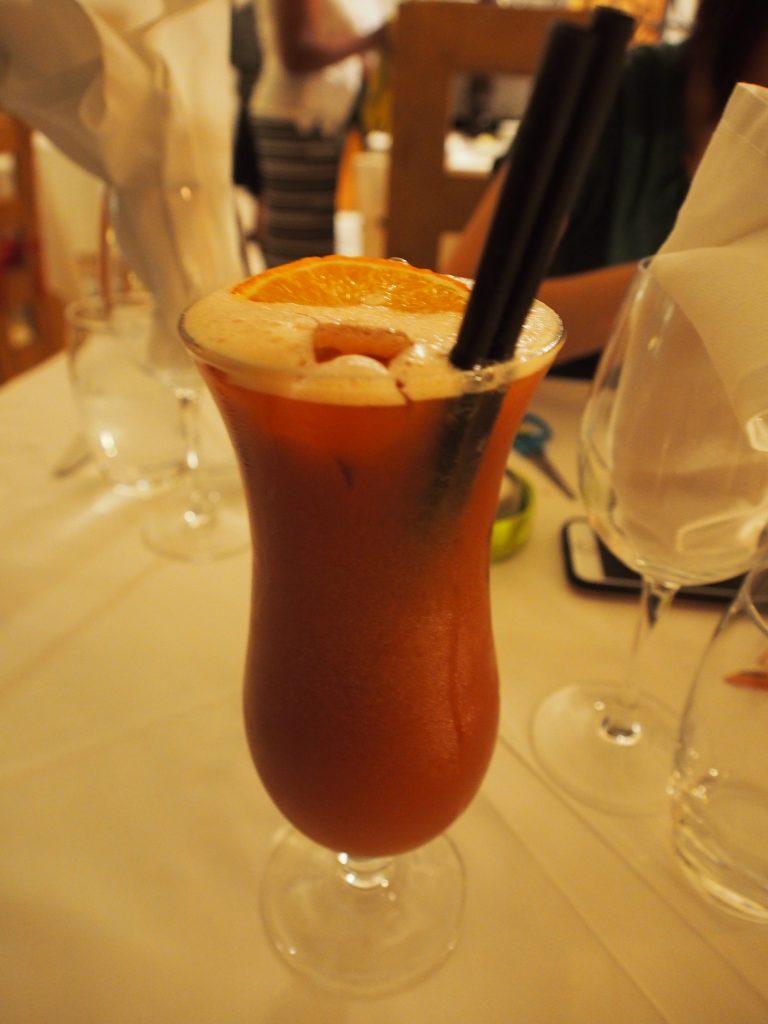 After using the restroom (K went in quick succession, could be too full), we paid the bill and returned back to the apartment. The night was then about bathing and cleaning up the utensils and mommy knocked out early. I went through the same routine of watching tv, K drinking milk and reading stories of planets and astronauts before turning off the lights, with the background of waves accompanying us through the night.