I woke up at 530am, and decided to go for my weekly run. The tiled grounds were straight and in good condition which I thought was a better choice to carry out my routine rather than in Mahe. Changed into my attire, I exited the room quietly and in the dark and started off my running app and my Pokémon Go.
Heading northwards to get around to the east side of the island in order to catch the sunrise, I jogged my normal pace and past through the jetty and onwards. The road started to become undulating with upslopes and downslopes. I ran past a cemetery and some nice luxurious accommodation and found a giant tortoise next to the road. Continuing on, there was just bits and pieces of accommodation both private and for tourists before I noticed the light streaks peeking out of the horizon. I found the next entrance into the beach and went through to get my picture of the sunrise. Cloudy one but it's fine.
Made my way back the same path and saw a few other tourists either jogging or cycling to this part of the beach too, probably for the sunrise. I returned to the apartment with a 7km distance clocked and continued past to the only Pokémon gym on the island to park my Pokémon there. Then back to the room at about 715am to find mommy awoke and K still sleeping. Quickly washed up from the sweat and all and rested a bit before K woke up.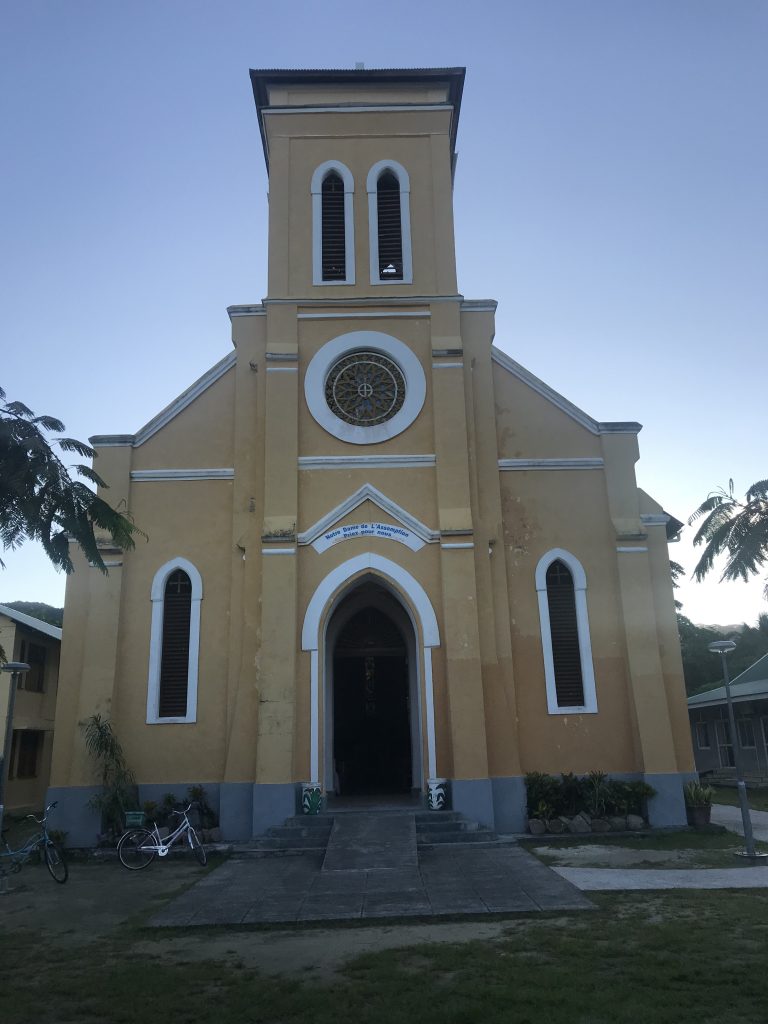 After mommy had started the pressure cooker for K's lunch and I had got K ready, we proceeded to the free breakfast that the apartment have for us at the ground level. There was another couple already there and we chose a seat closer to the beach to enjoy the slight sea breeze and nice view.
The breakfast was ok with a small fruit platter consisting of avocado, banana and papaya, toast and an egg of our choice. Coffee was instant coffee and there was a fruit juice too. There were only 2 portions but K shared ours which was enough. There was a plate of honeyed sea coconut (I assumed) which I thought was nice but mommy found it too sweet.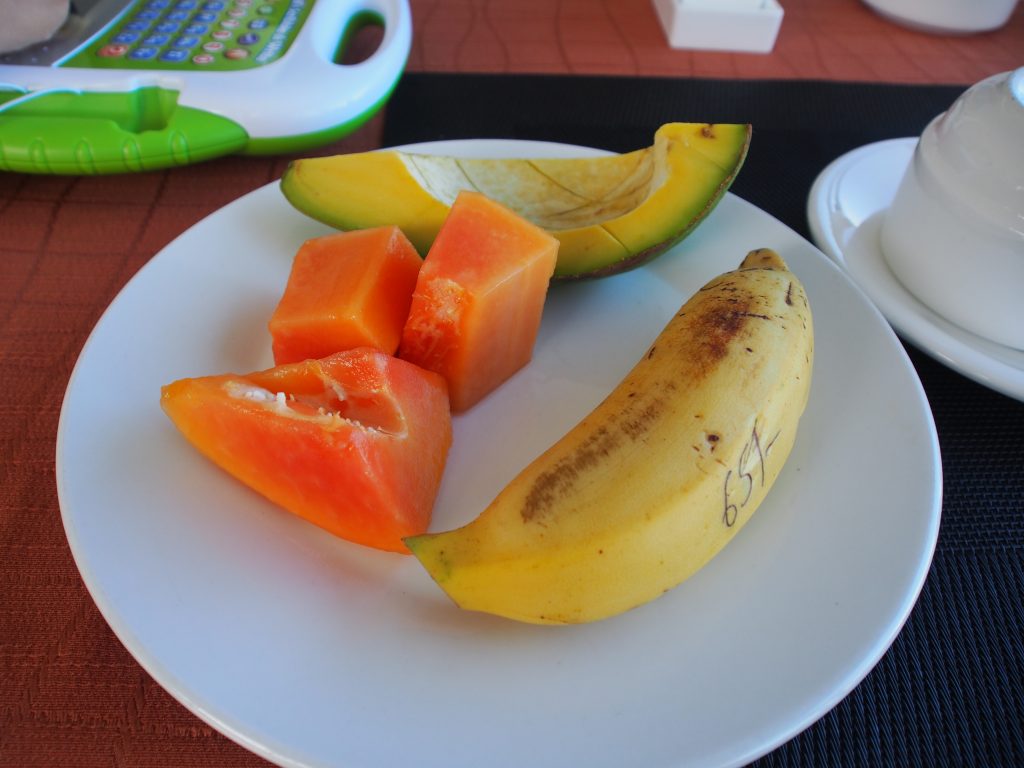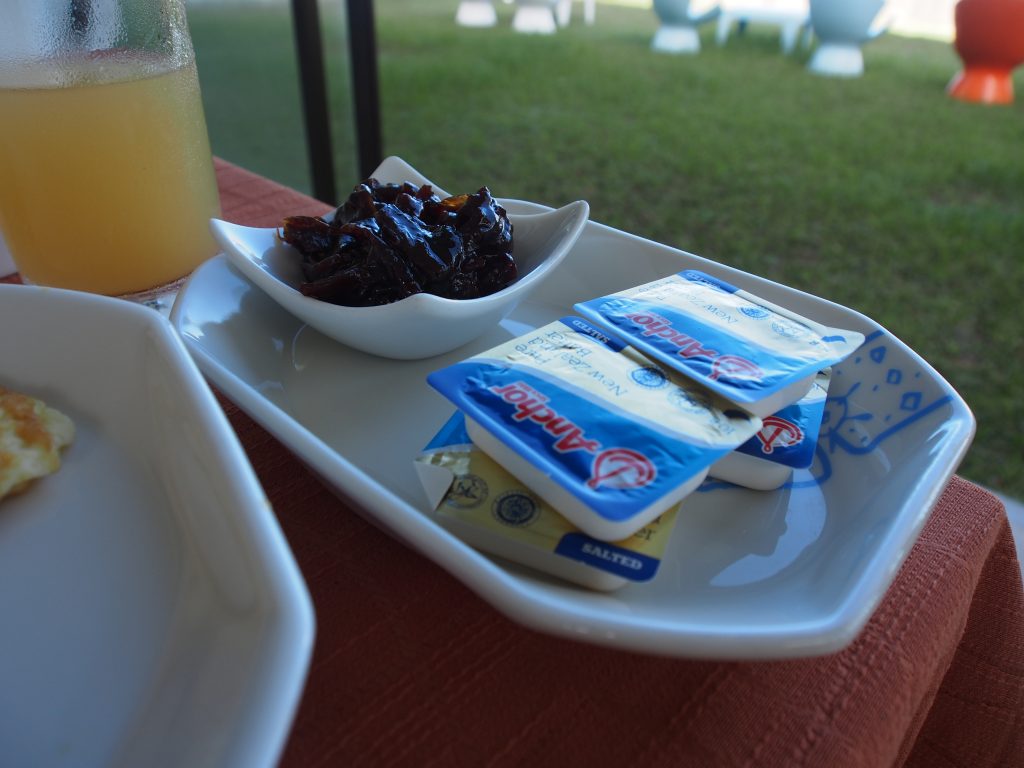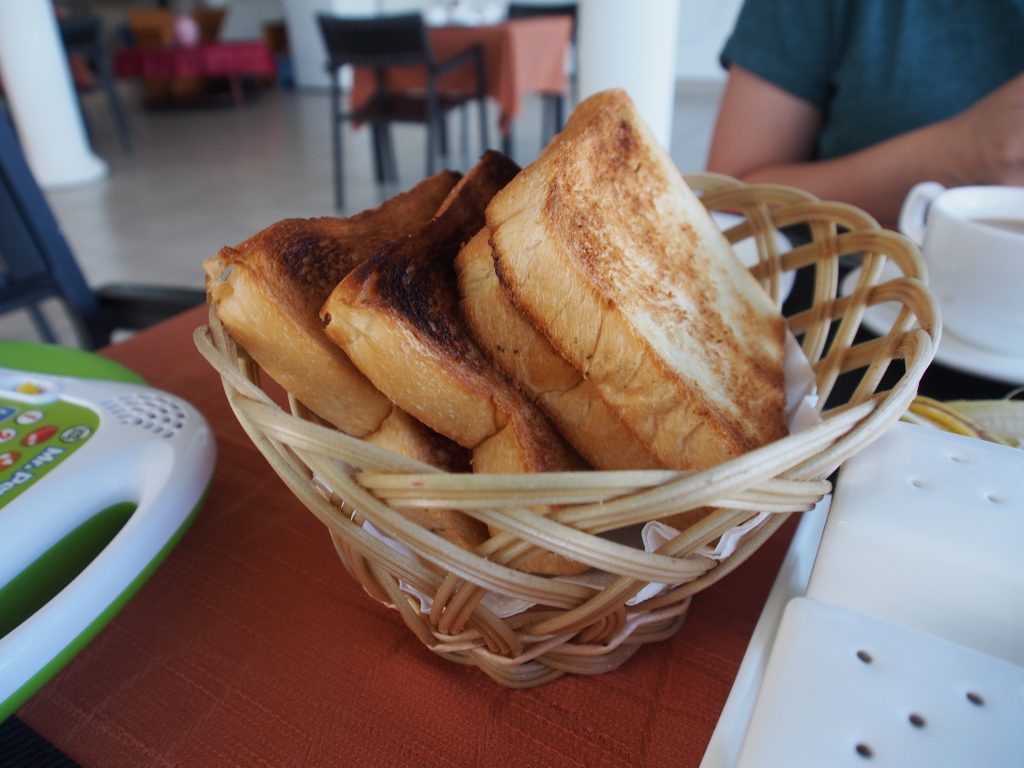 We returned to the apartment for K to catch some TV while mommy prepared the meals so that we could go visit the Anse Source D'Agent beach, proclaimed to be most photographed beach in the world. Once ready and after several negotiations and convincing K, we managed to leave.
Went downstairs to check with the landlord if she had bicycles with a baby seat but she didn't. Her neighbor which was a bicycle rental shop seemed to have one but the owner wasn't around. No choice we brought all our barang barang back to La Passe to find a bicycle rental store.
The first one we saw was Tati's and he said he ran out on the baby seat too, and had one on reservation. He told us to continue northwards somemore. We walked a couple more distance and a man caught our attention with a "bicycle?" And we replied "Baby seat?" He nodded and we followed. A small path from the Main Street not too far away, we came to a Extra Miles bicycle rental opposite the fire station and got 2 bicycles for day rental of 300rupees. I guessed we could have bargained but I wasn't patient and paid for it anyways. The deal was for us to return by 530pm the same day.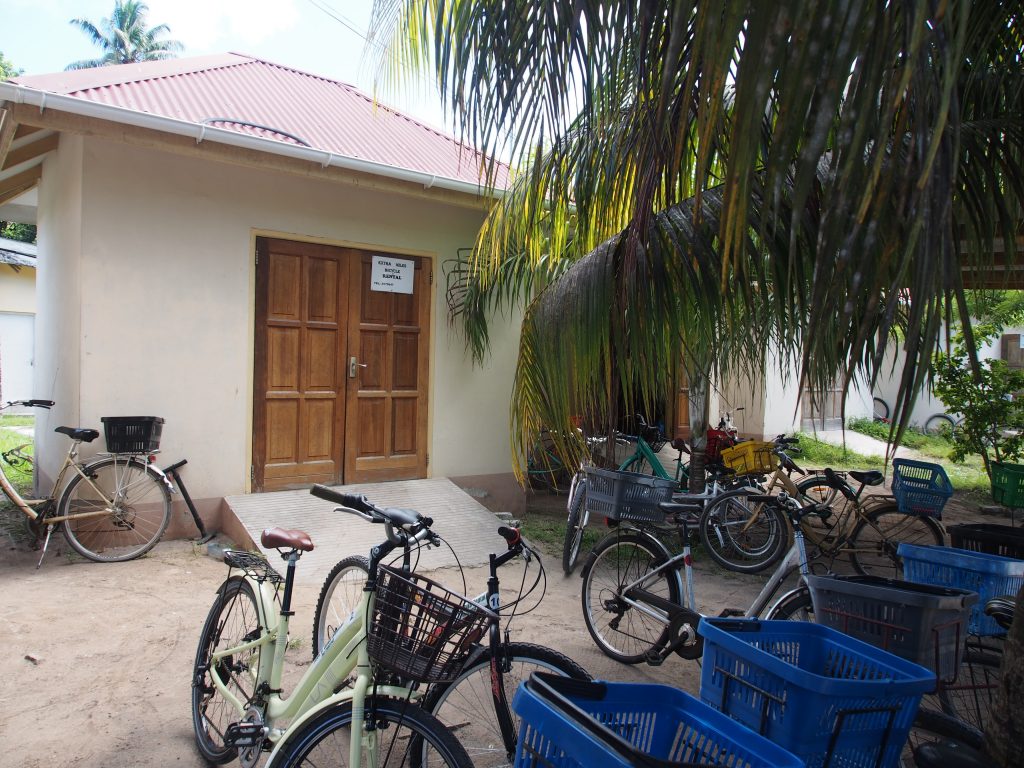 Loaded K in, and a lot of our barang barang at our front baskets, we took off southwards after a couple of swaying and getting used to. Stopped a while back at our apartment to bring down the large STC supermarket bag (which was non plastic. They were pretty big on being environmentally friendly) to stash the rest of the barang and we ride to the L'union Estate where we had to pay for the tickets to get to the beach. It costed us 115rupees per adult (K was exempted) and we rode through the estate.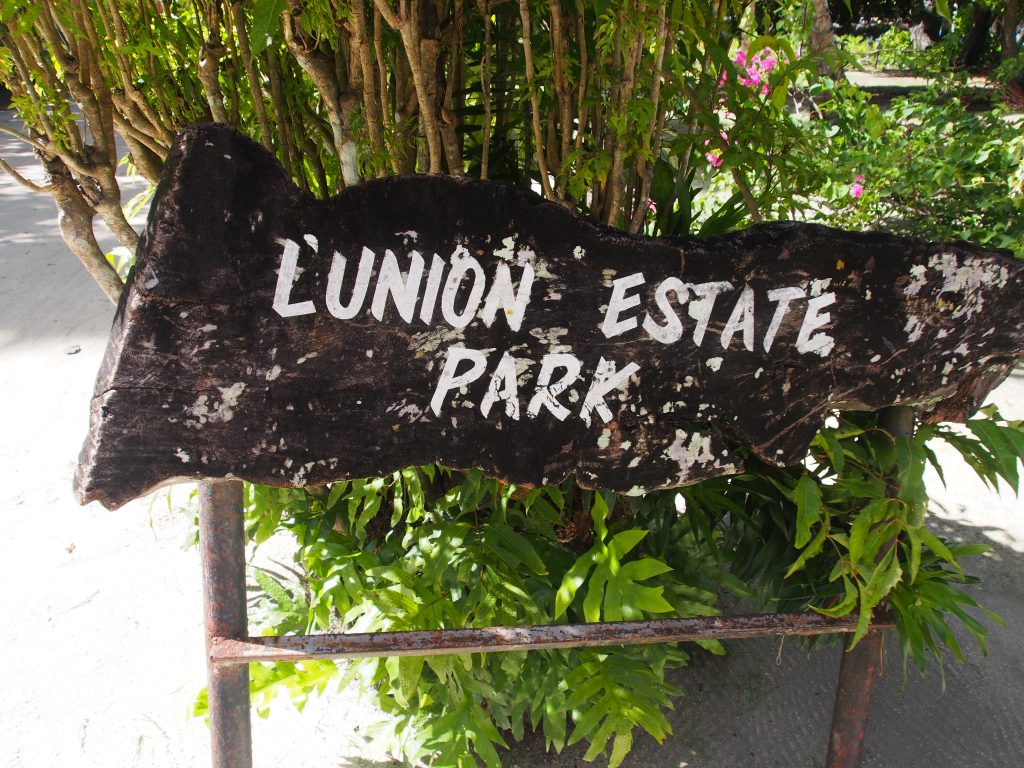 The estate offered a few things to see, like a huge area where there were a lot of giant tortoises and a small area of baby tortoises that K was fascinated with. There was a cow that was working a rotating mill but I wasn't sure what it was grinding (probably vanilla) and there was a vanilla plantation there. We headed to the most interested location of the estate, the Anse Source D Agent beach.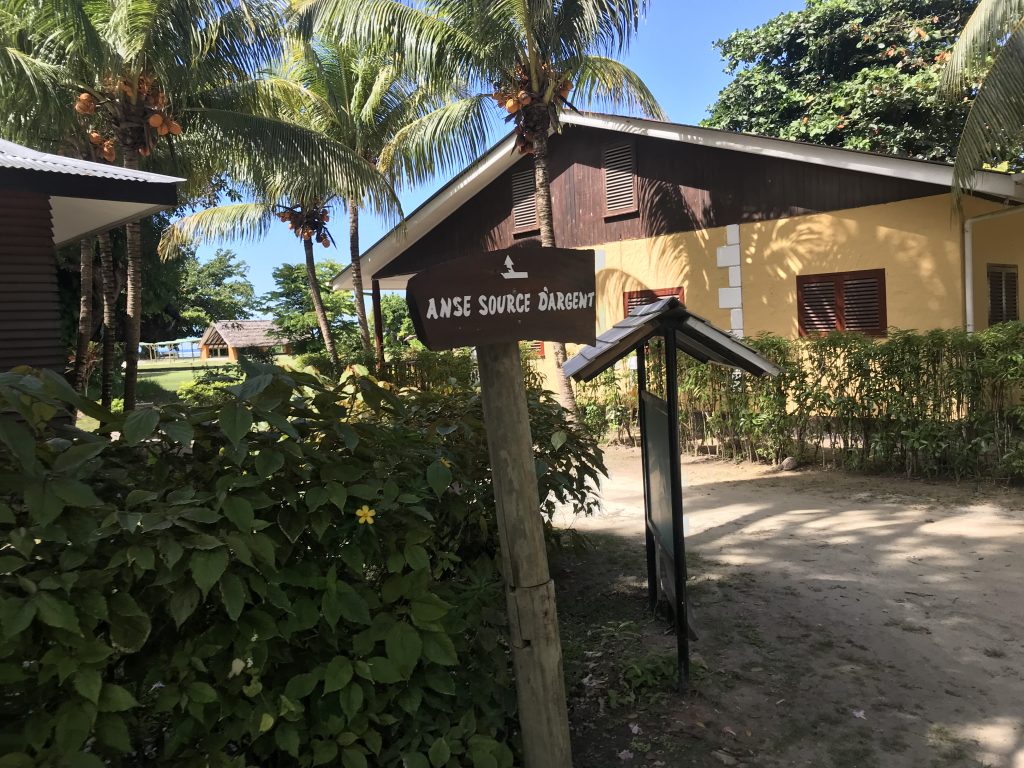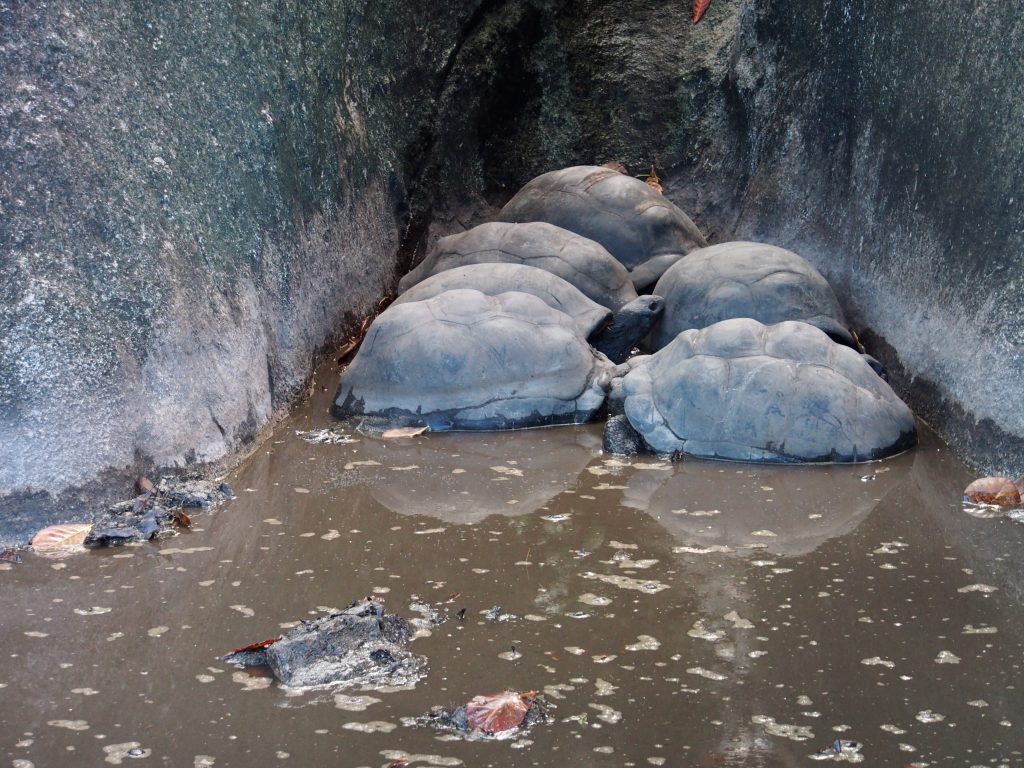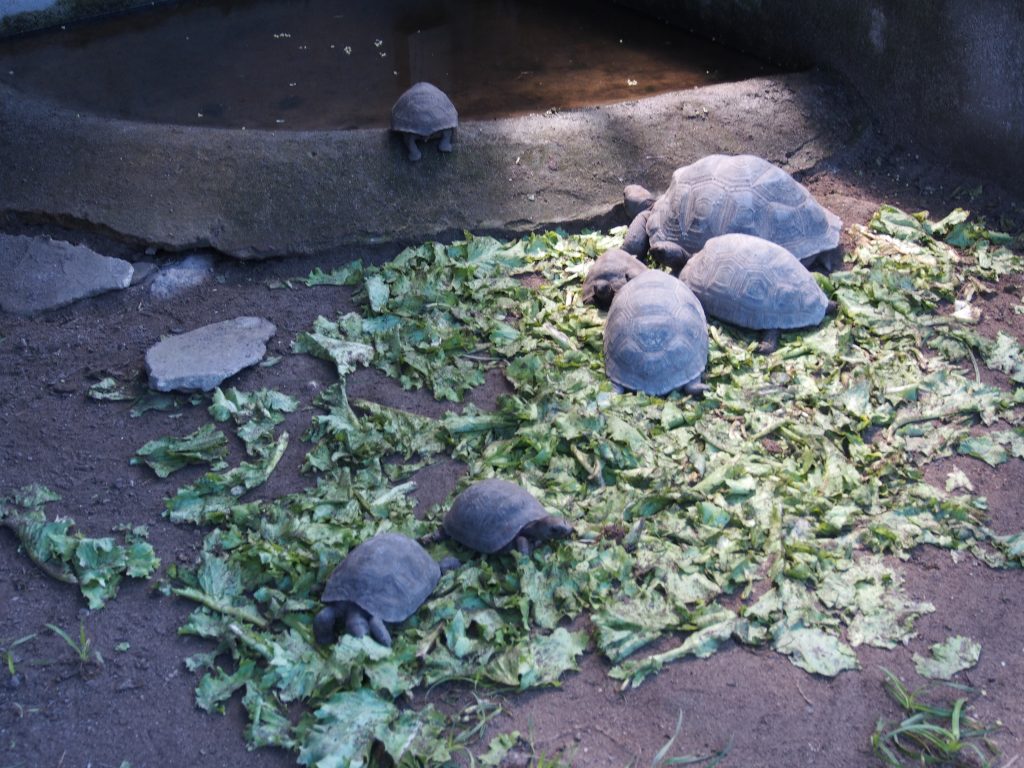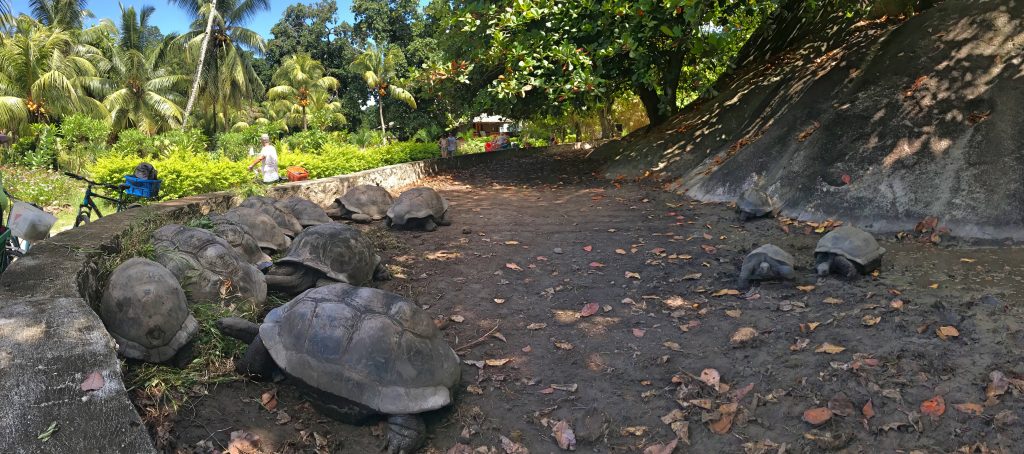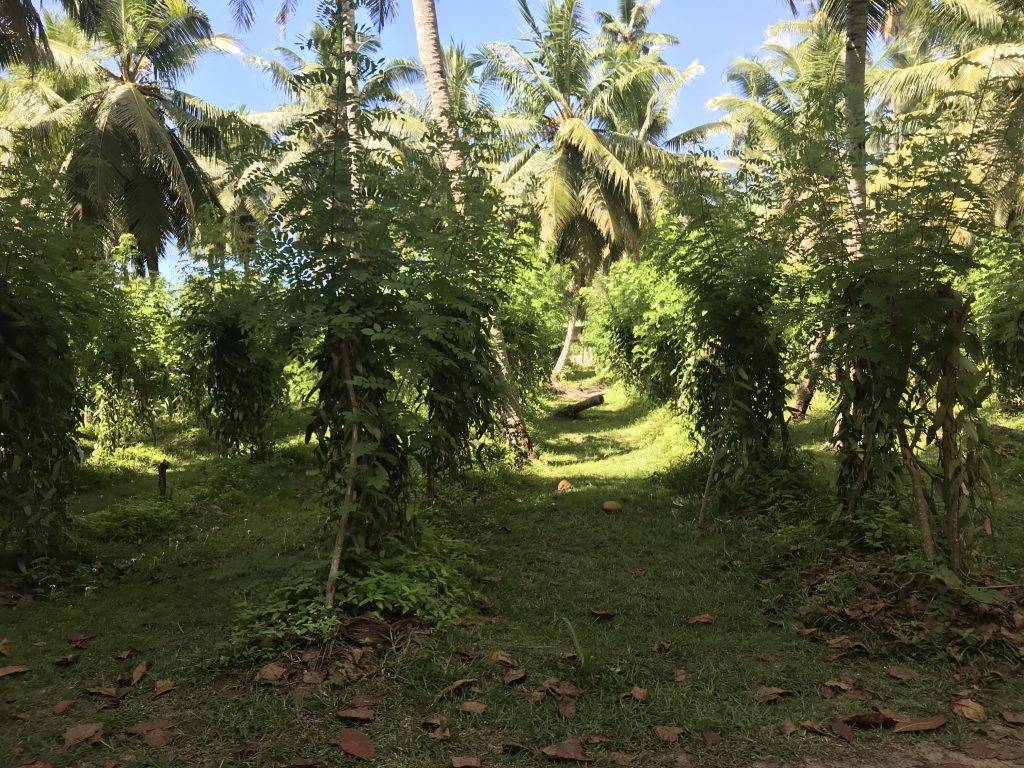 We had to park our bicycles outside the beach and walked a few meters to the popular giant boulders beach with a ridiculously turquoise water front. Found a nice shaded area to lay our beach towels and from there, it was trudging into slightly below waist deep warm waters, to look at the sea life. The clear waters showed fishes big and small. It was a nice experience but K didn't want to get wet so I carried him all the way. From our position in the waters, we could see the beautiful beach. The shallow waters offered a nice soaking position but I didn't stay too long for fear of sunburn. We had some beach side time as well, playing with sand and mommy walked around to explore too. Less than an hour on the beach and we were on our way out.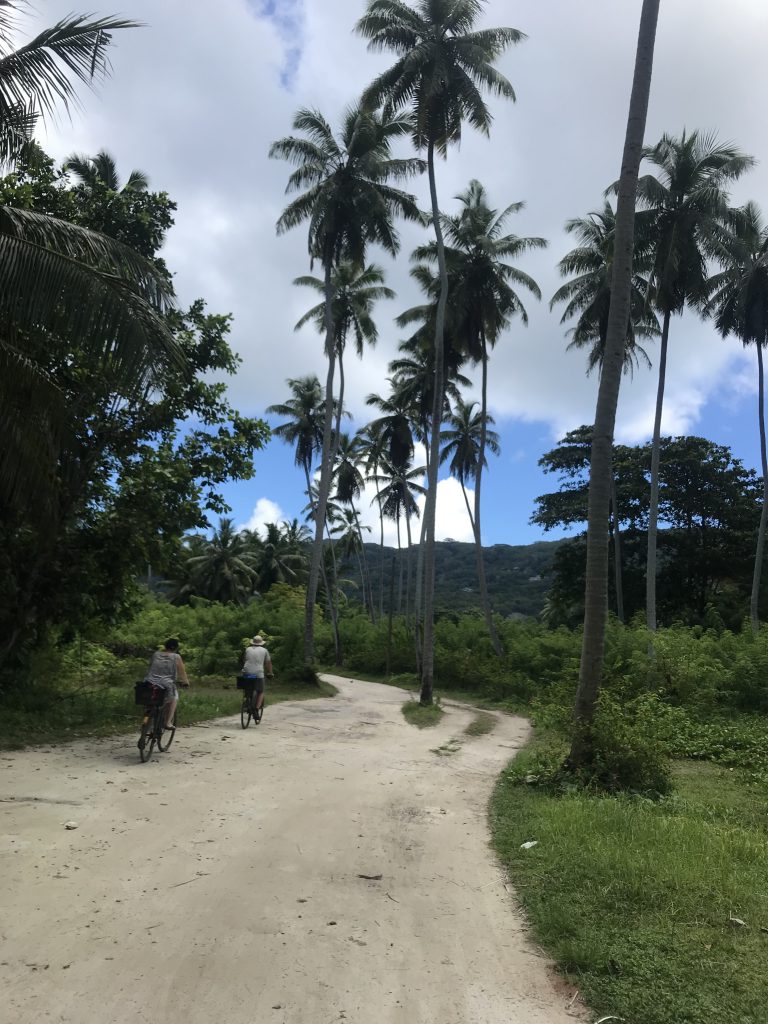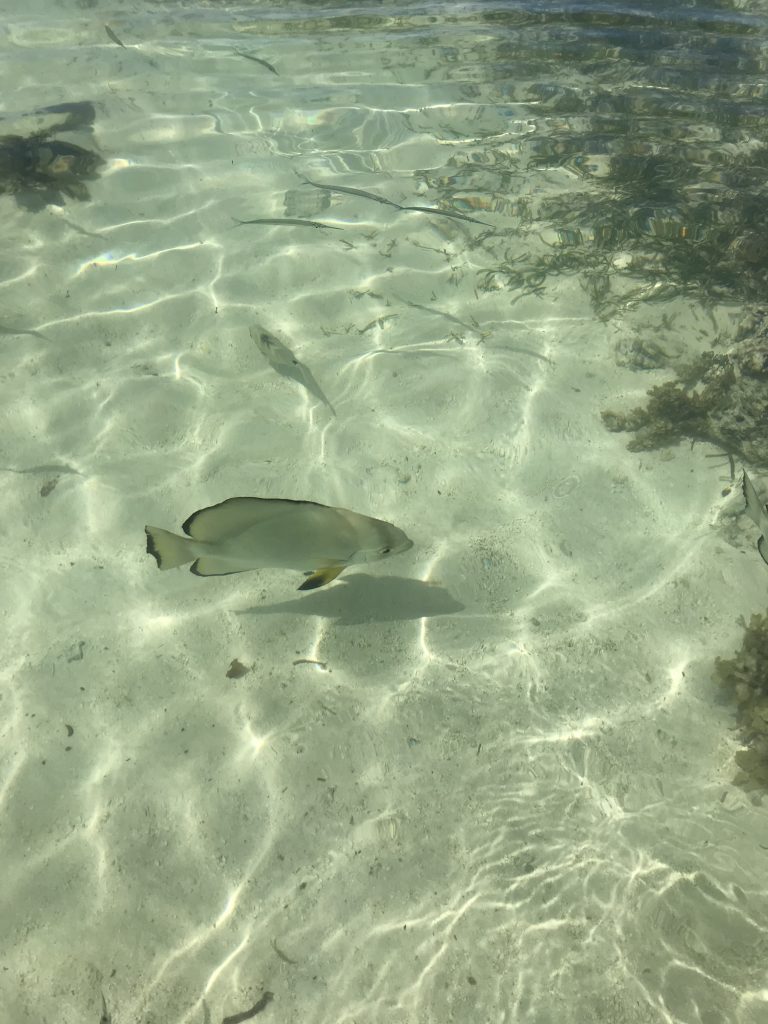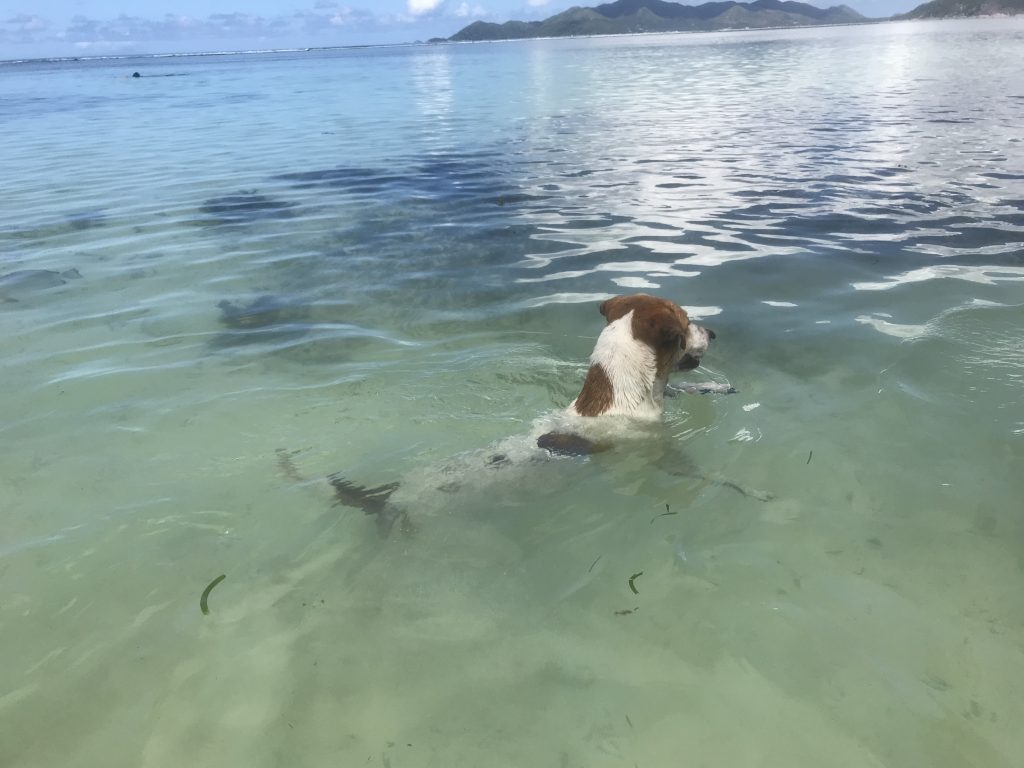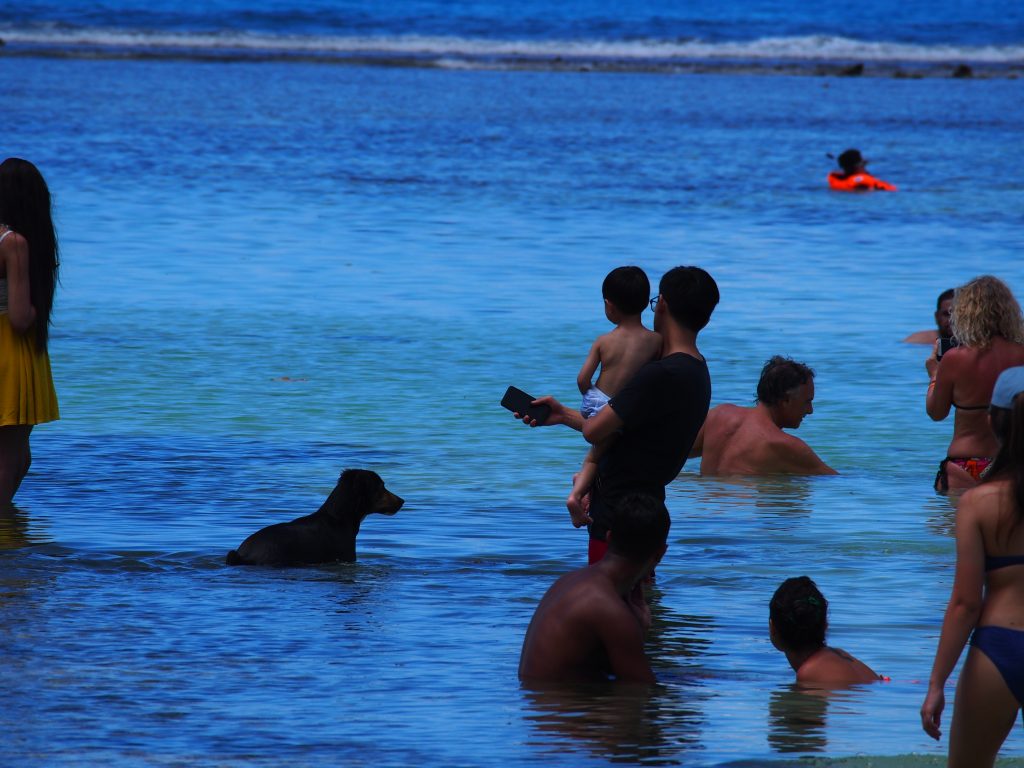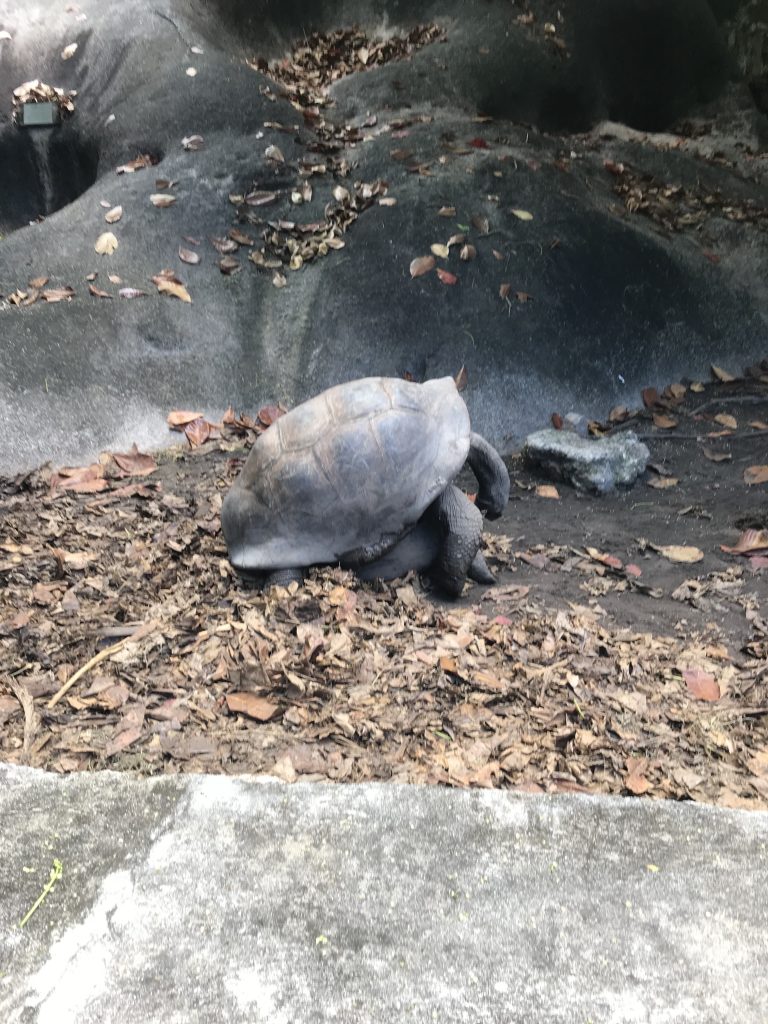 We went to STC supermarket where mommy bought some veggies and then we dropped off the items into the fridge, emptied the bags to lessen the load, washed up a bit before we rode northwards. Initially wanted to go to Chez Jules at the other side of the road. But once we hit the first slope, mommy had a change of mind as it was a challenge for her to negotiate the slope and the many others later on. We made a U turn and found a Mi Mum takeaway. We turned into it and mommy was initially going to get takeaway as suggested by the shop name, she returned to inform that there were sitting places for us to have our meals. At this time, the bike fell to the side with k in it! I reacted quickly to prevent the drop to the ground and Although there wasn't any physical signs of injury, he said his arm hurt. As he was still able to move the arm without pain, I presumed it was just superficial.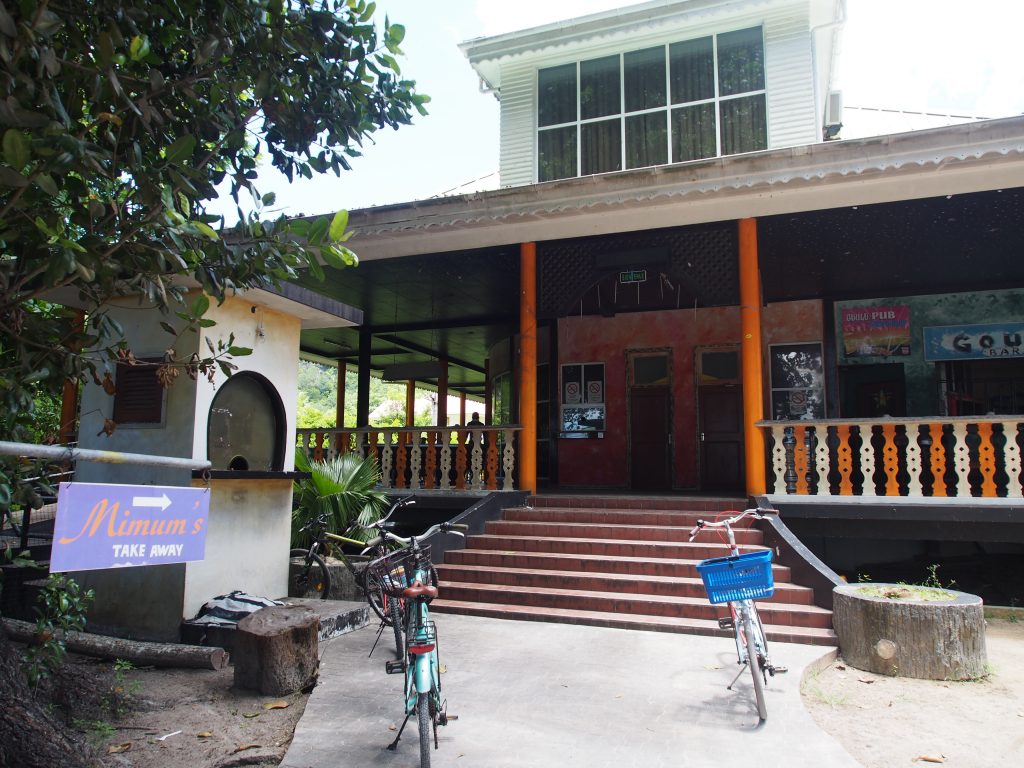 Mommy came to bring him to the sitting area while I secure the bicycles. Joined them afterwards and ordered Chow Mein (fried noodles) and sweet chili chicken with rice, all for a cheap 160rupees. Mommy even tabao chips to go at 25 rupees.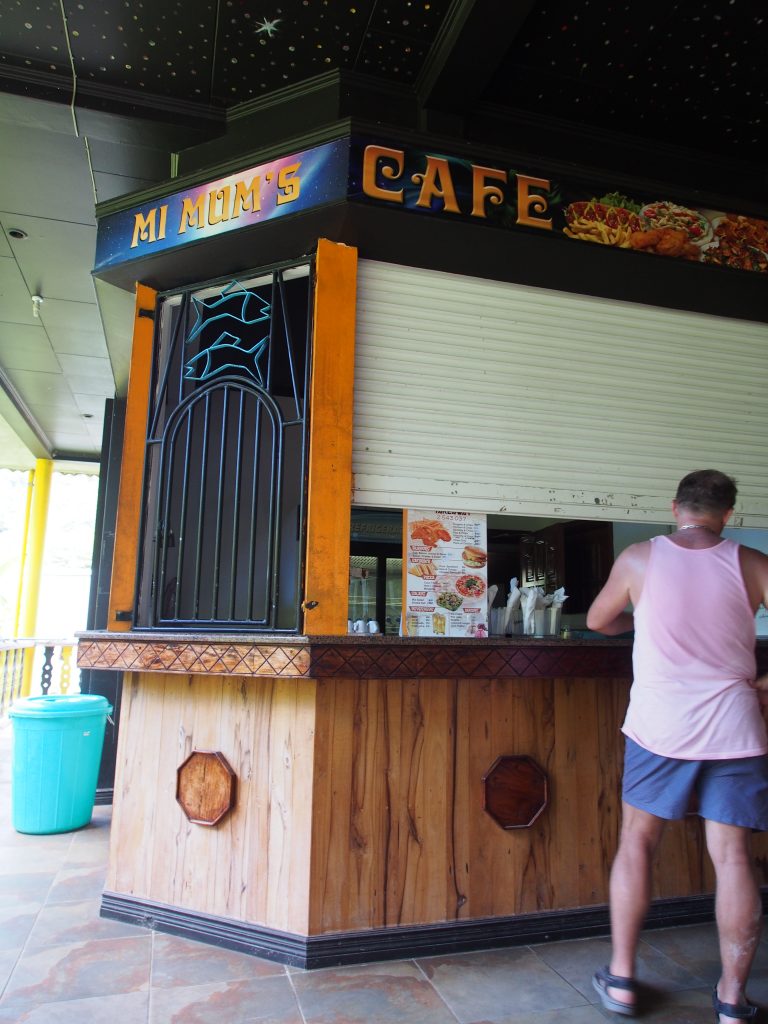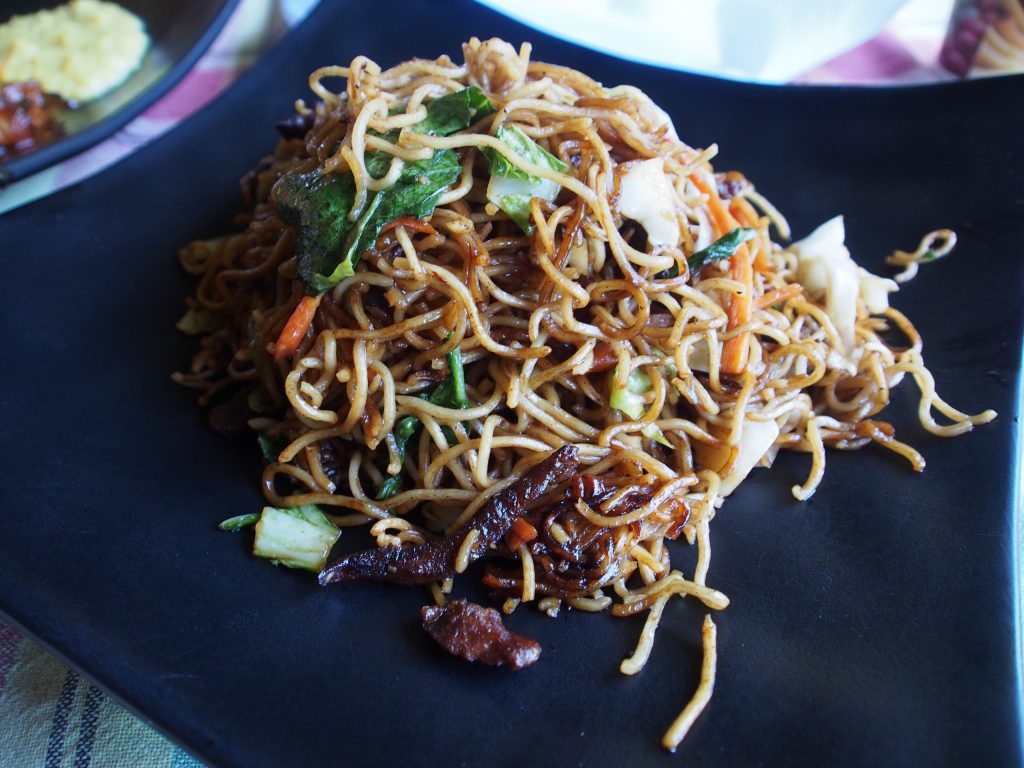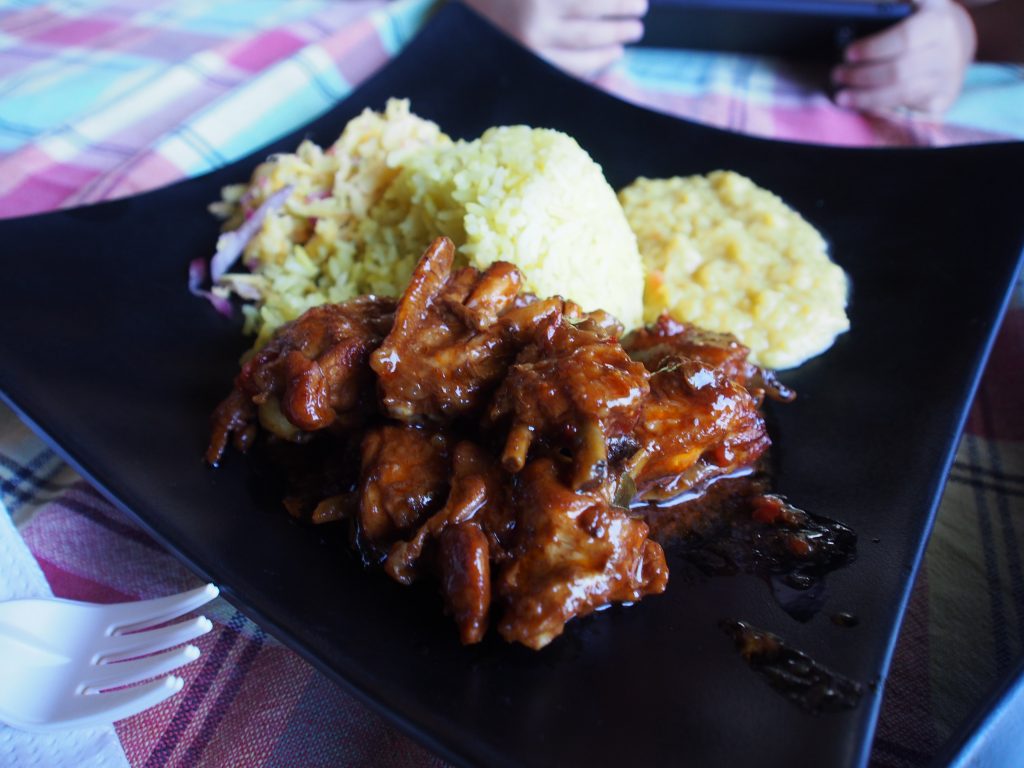 After eating, we went to one of the souvenir store and bought K a wood carving of a giant tortoise as he was amused with it. Then we walked over to a artisan kiosk but didn't get anything from there. Later we made a stop at the post office and wrote ourselves a postcard which we should receive after we returned home, giving K a feel of how the postal services work.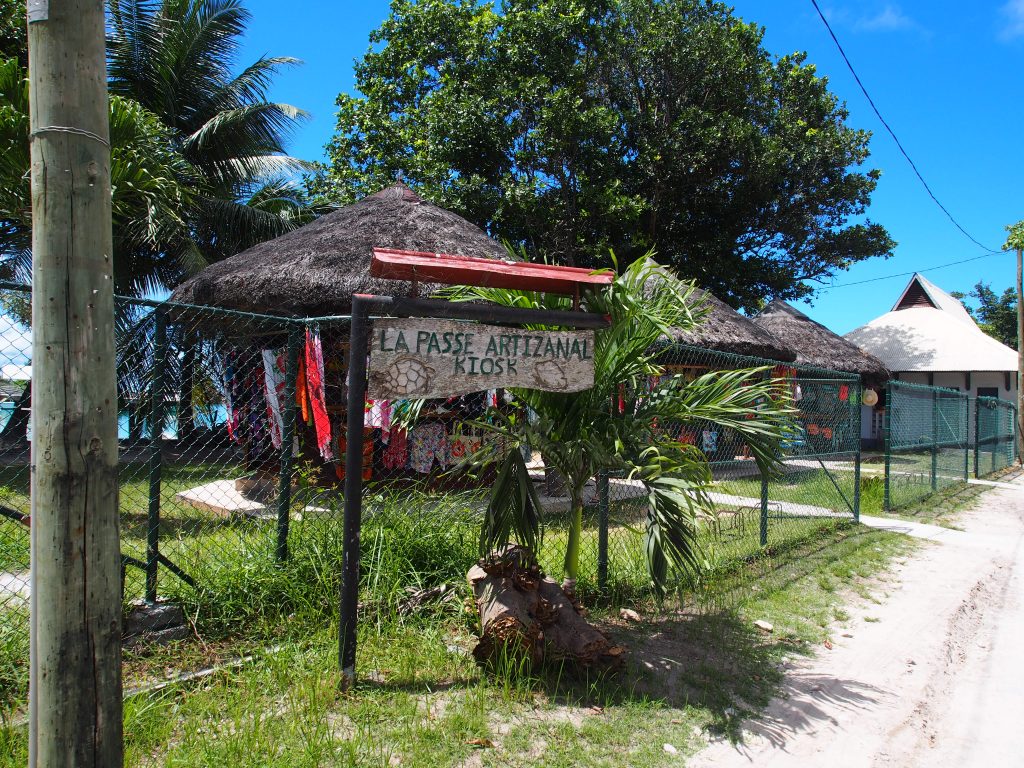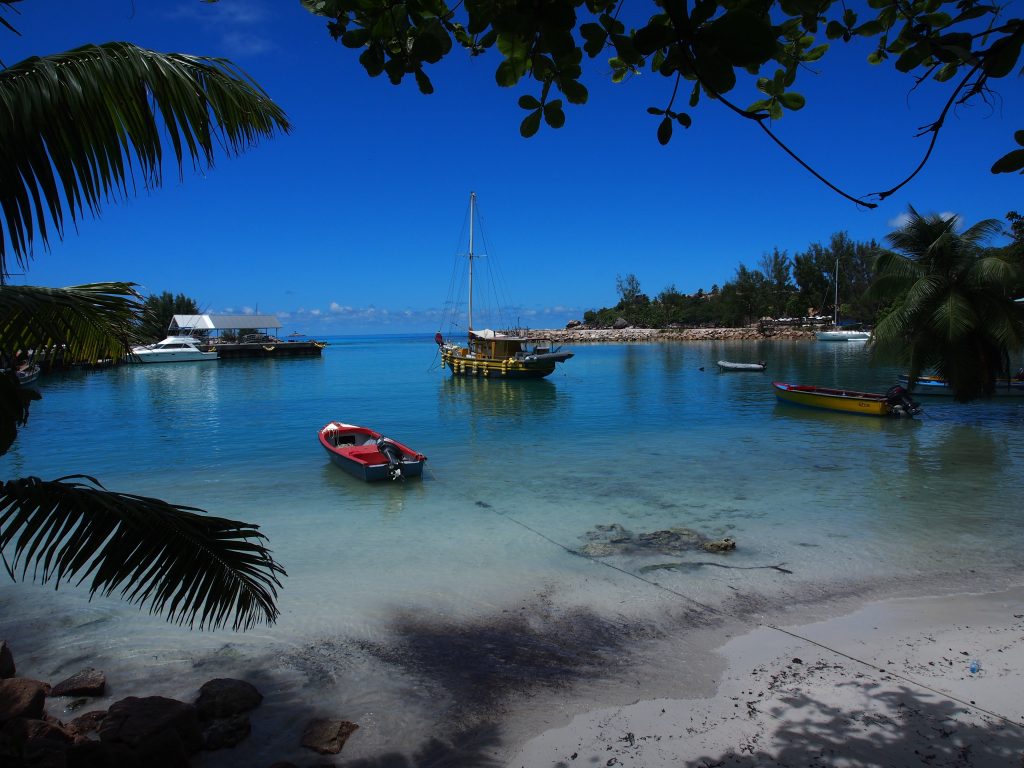 We drove past a fisherman selling huge fish by the street before we finally arrived back at the apartment. Secured the bicycles while mommy went to get some items from the supermarket including ice cream to cool us off, just next to Chez Marston. Washed up K and myself before K caught some TV, drank a packet of milk before taking his afternoon nap. The hot sun drained all our energy and we all took a nap.
While I woke up earlier than the rest, partly due to the noises generated by the next door from hammering works, I spend some time on jotting the travel experiences so far.
At about 520pm, I went downstairs to ride 2 bicycles back to the rental shop. I have seen the locals riding 3 bicycles, one in the center holding one bike each hand, I found it quite a challenge even to ride with one and to hold another one. I missed the street to turn in and was called by the owner while he was at the jetty office. He took one from me while we made our way to the store.
While walking back to the apartments I noticed a group of men playing what looked like palm size metallic balls, but in the styles of kampung marbles, shooting from a distance. And they are so damn accurate that impressed me!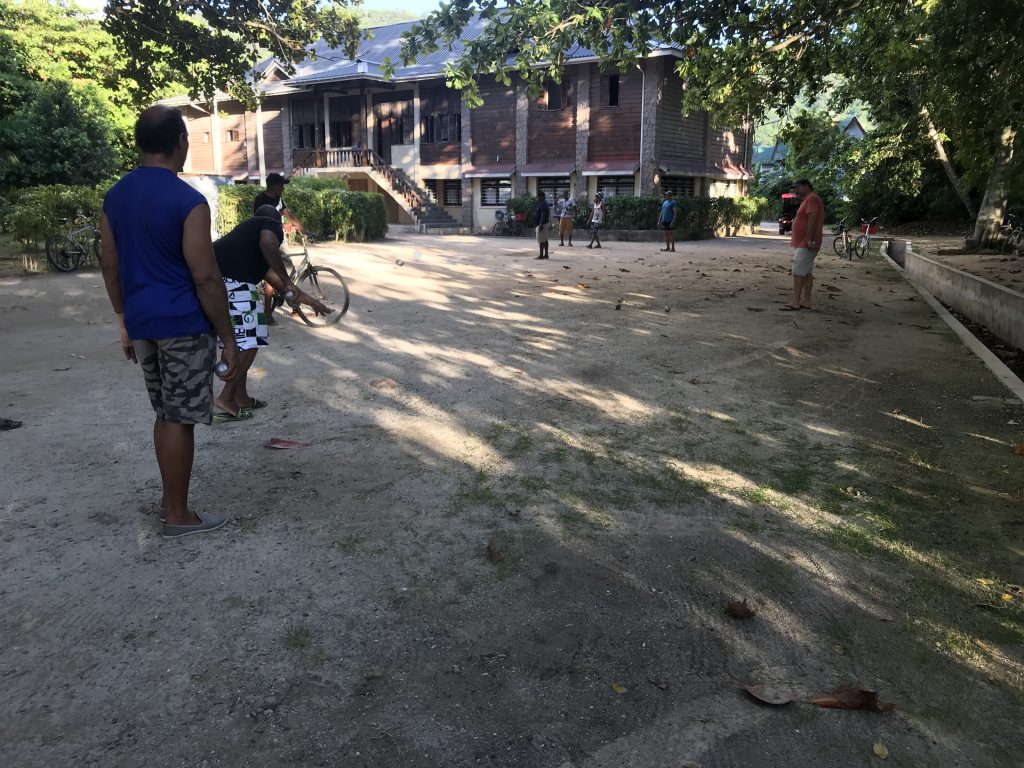 Walked further and visited the supermarket next to Chez Marston and saw the shelves full of stuff and a corner selling meat. All was quite warm inside the store, so I left quickly with a soda.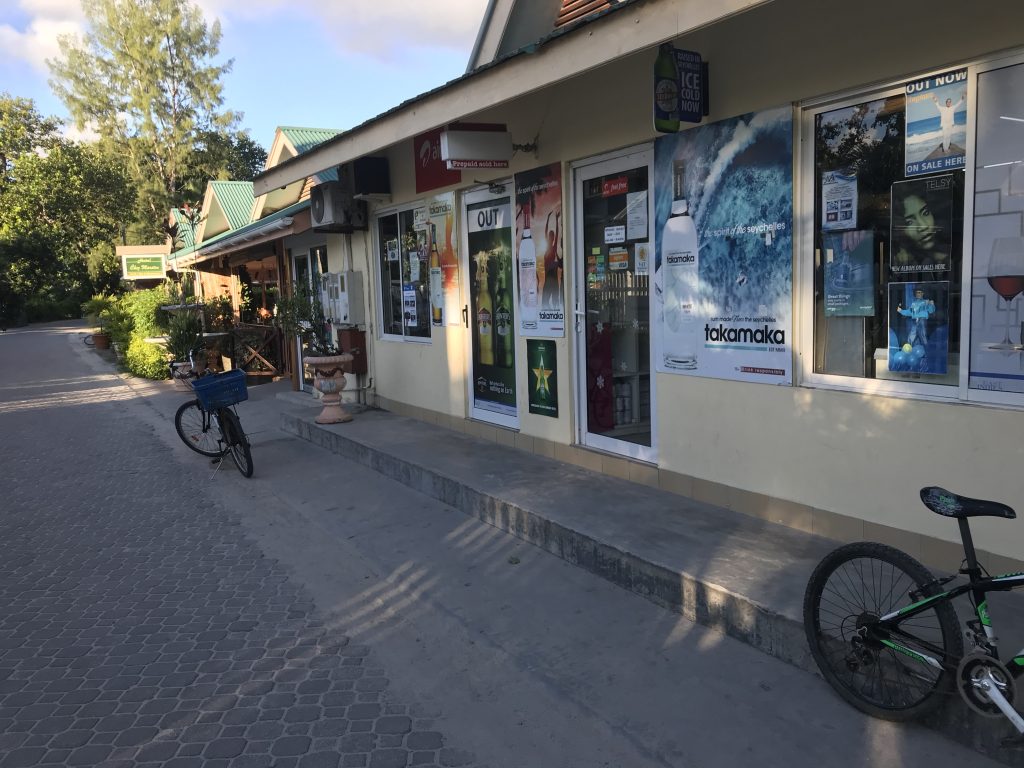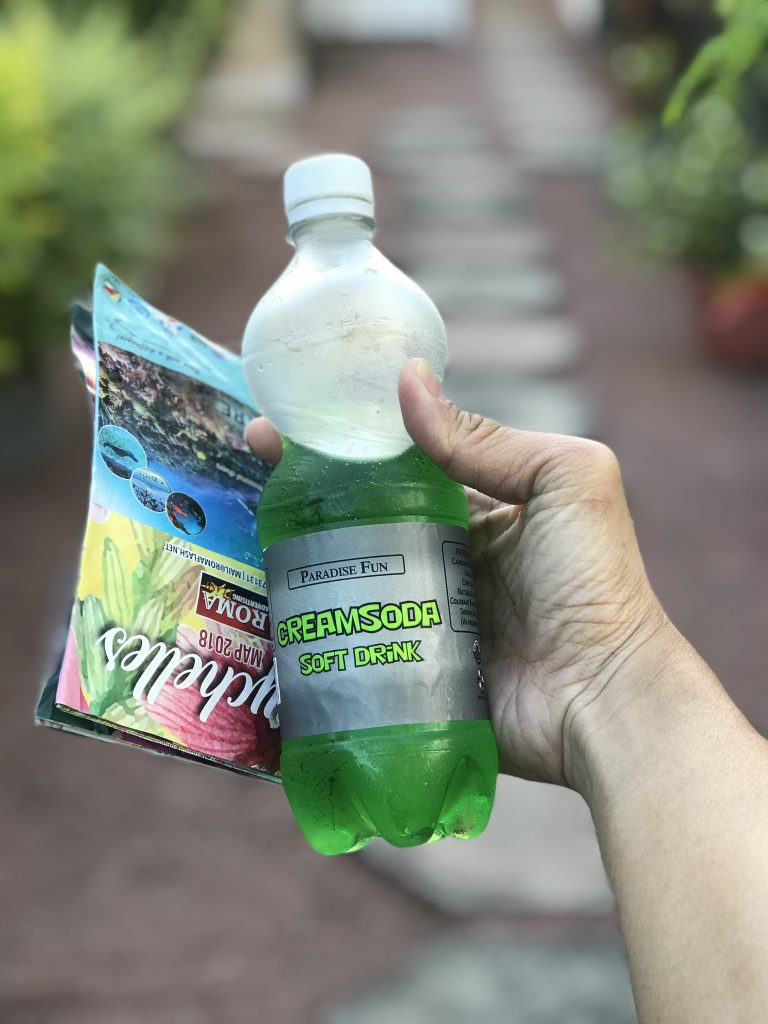 Back at the apartment, mommy had woken up and started dinner preparations while K was lazing in bed. Changed him out of his clothes for dinner and as the sun began to set (which had a beautiful view) mommy was also ready. We left the apartment walking towards Gala takeaway, with phone lights on.
The little building had places for us to dine in and while mommy lined up to buy dinner, we sat at the back under the aircon, a little cooler than everywhere else in that building. The total costs were 160rupees for a chicken with chips meal (grilled fish was not available for on demand orders) and curry vegetables meal plus one bowl of caramel bananas (recommended by forum), and 2 drinks. The food wasn't fantastic but the caramel bananas were nice.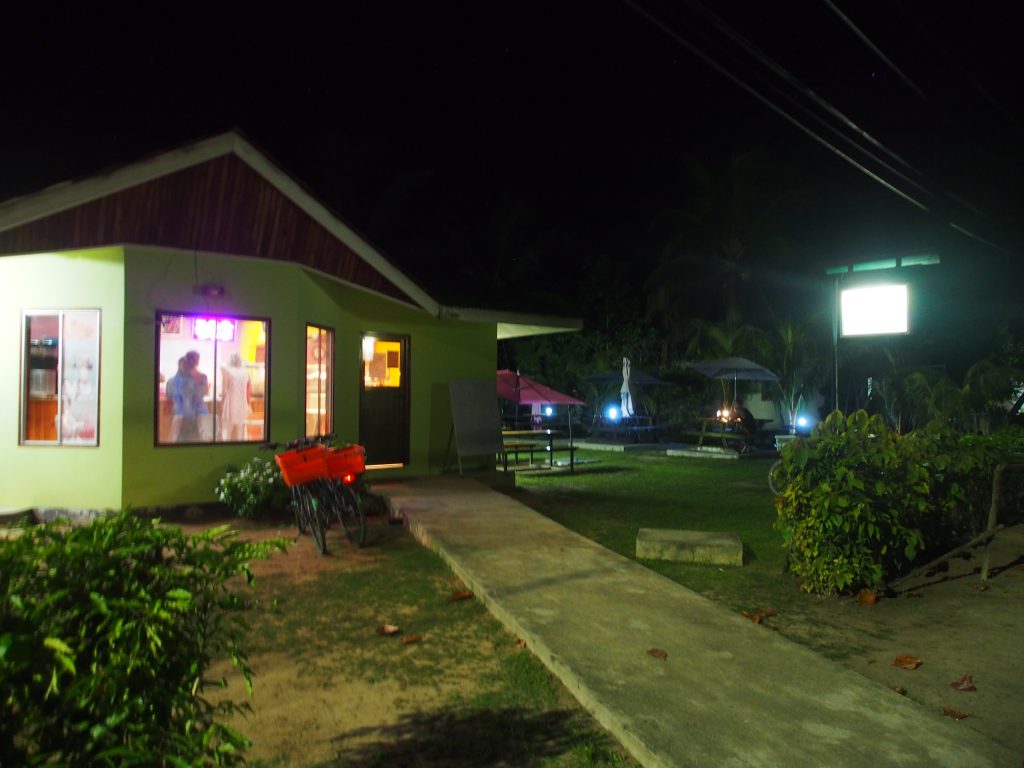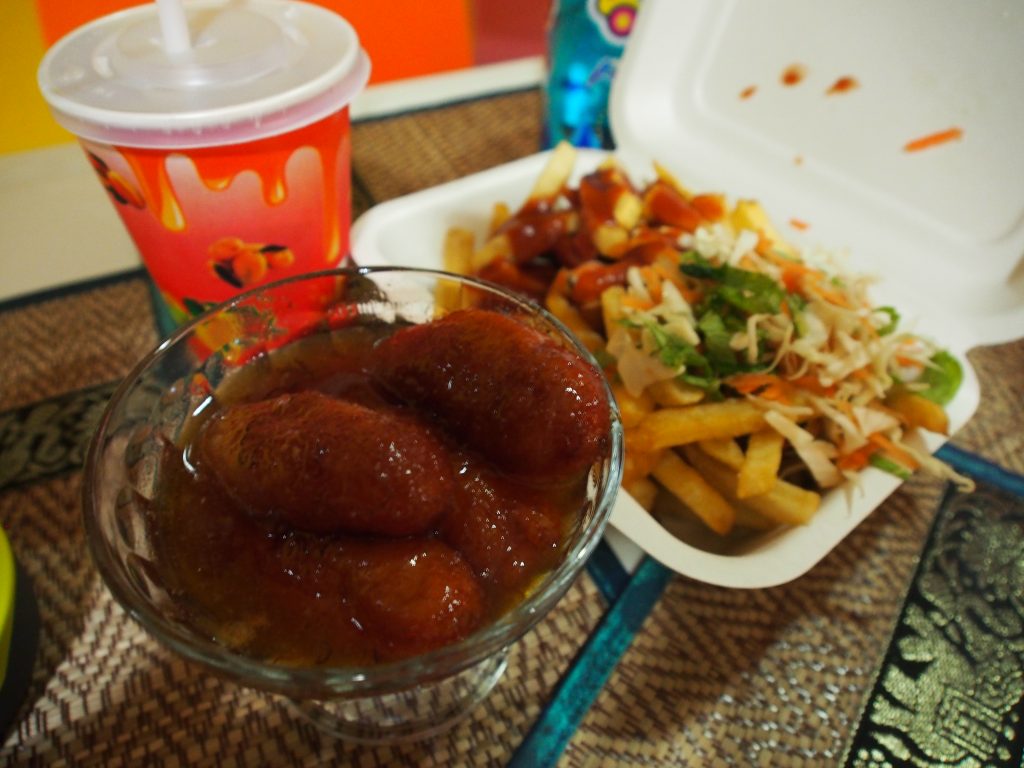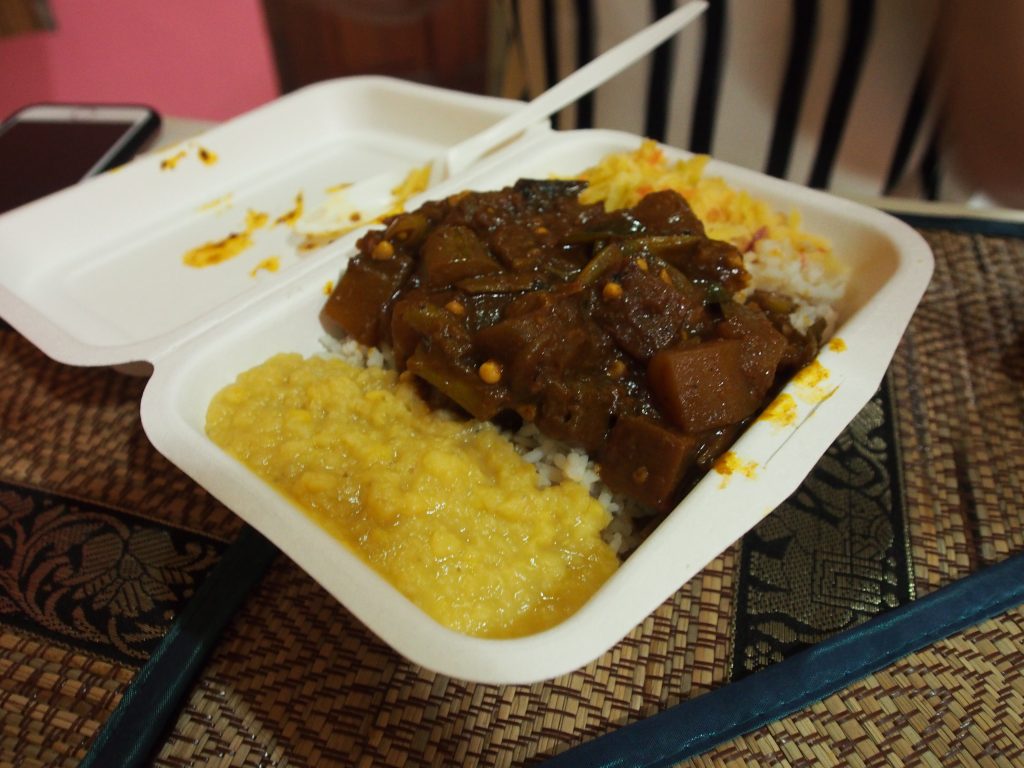 We walked back the dark street with a clear skies of stars, something that kept K walking the whole distance back. Stopped at one of the only stores still opened selling foodstuff and bought a liter of water before going back to the apartment.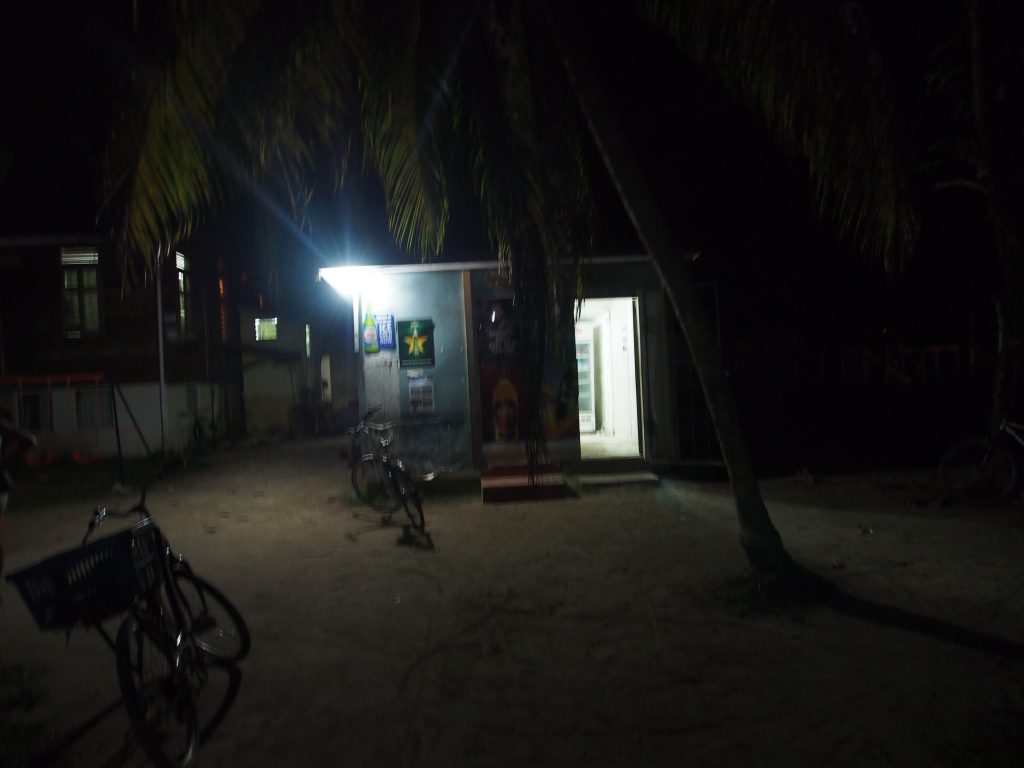 Then it was bath time, TV time and milk time. Both parents were nodding on and off to sleep. It had been quite a tiring day. Nights off at 1030pm.