K woke up at 4ish wanting milk which was normal, and I made him some. Sometime at 630 he woke up wanting to go poop and while we made to the toilet, he already pooped in the diapers. A short clean up, another bottle of milk later, he returned to bed. I wasn't all that sleepy anymore and day broke rather early with light coming from the windows as early as 630am.
This morning I was supposed to collect the rental car at Enterprise, not too far from where our Airbnb was. After referring to the reservation note on the email, I realized that I had totally forgotten about their options of picking people up to their office for car collection. Called their number and was informed that they were swarmed with work currently and weren't able to provide that service. I decided to take a walk.
It didn't look very far on Google maps, about 1.7km in actual distance and the weather was cool enough for me to clock some distance on my Pogo. As the sun rose, the California street scenes of tall coconut trees lining the road from American drama came into view.
20mins later, I entered Enterprise Rent-a-car at the T-junction and it was already pretty busy. Provided the reservation and was offered the Ford Explorer for my standard SUV reservation. Was initially hesitant about it as I had never rented big cars for holiday trips and from the external look, it was monstrous! The petite lady convinced me that it was actually not that big since she could drive it with no issues and that there were bigger Lincolns out there which were really crazy huge!
We settled the rest of the payment including removal of child seat rental as I have brought along a collapsible child seat and added in damage waiver for fear of damaging the car, all this while the car was sent to a last minute shower within the compound.
After all the adjustments in the car, I drove to the Cheesecake factory to get some breakfast. Arrived at a carpark manned by a valet who directed me closer to the side entrance and I parked pretty comfortably with the built in reverse camera. From the sides, I made my way past the Alfresco dining area (didn't know it was a full restaurant, thought there were only cheese cakes!) with a view of the beautiful beach of Marina Del Rey and to the cashier where the cheesecakes could be found. Spoilt of choice, I picked a vanilla flavoured one and a original cheesecake for around 15bucks and drove back to the Airbnb.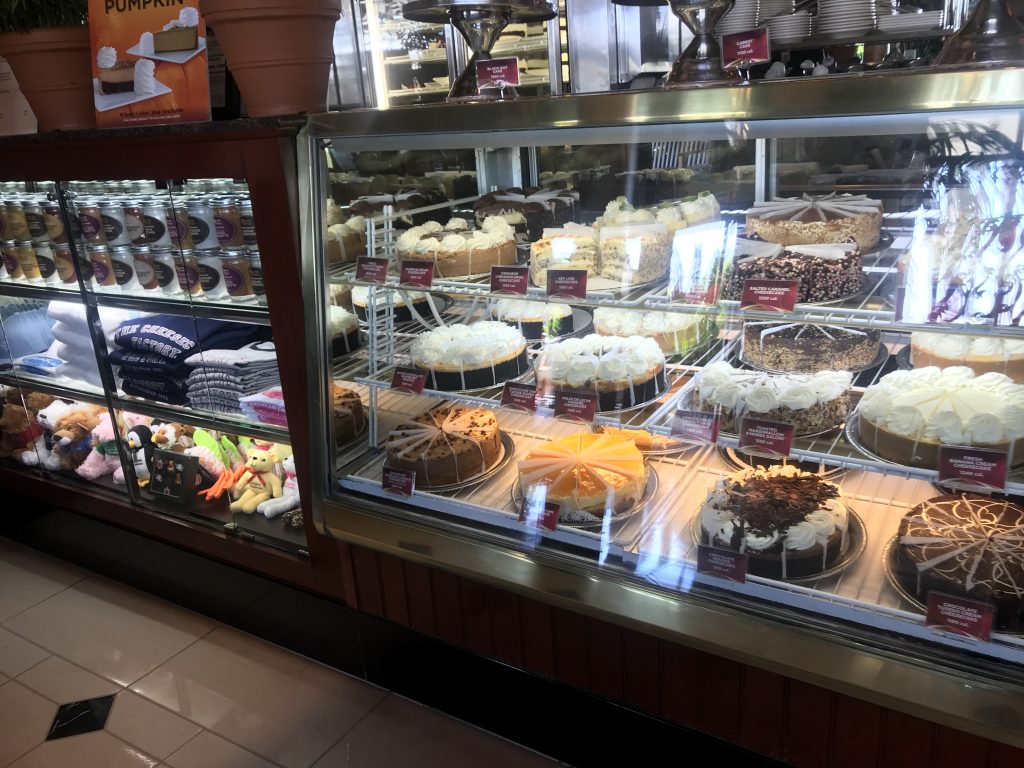 A short 5 mins drive and I am driving up towards the residence parking of the Airbnb. Parking was easy with enough lots and the rear camera which I did not have the luxury to have on my car back home. Stepping into the apartment, I was greeted with my boy already awake. Quickly opened up the cheesecake for him, one of the limited choices of food that he liked, for breakfast. The portions were too big and we couldn't finish it, and I left one of them for my next day's breakfast in the fridge.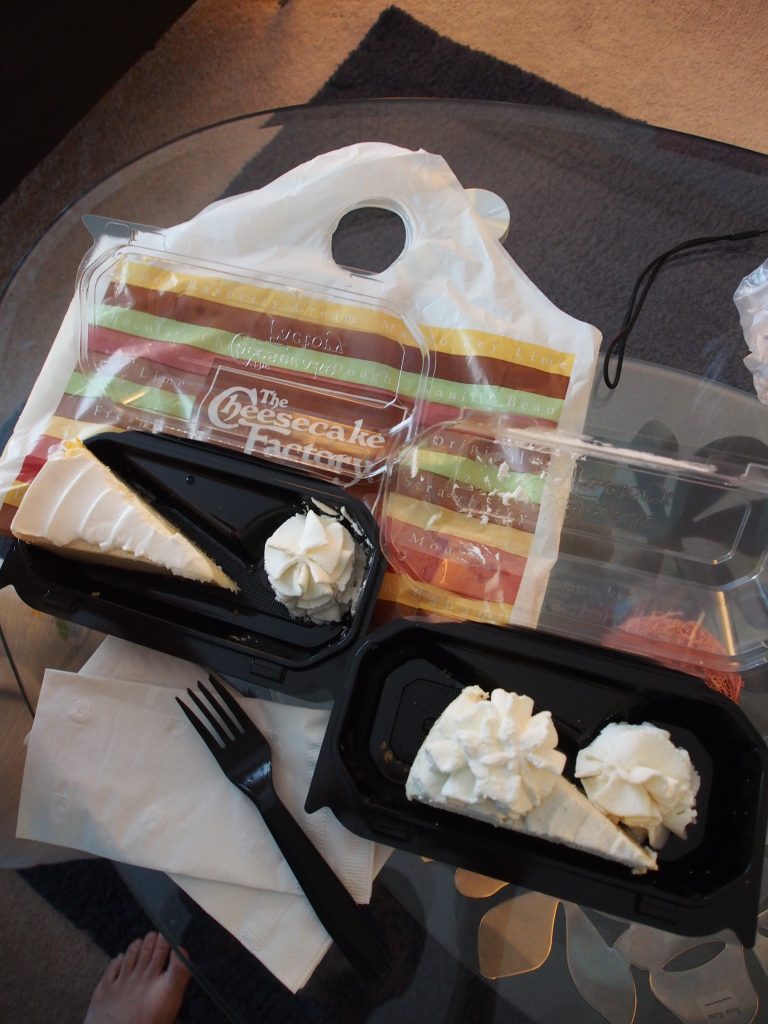 We got ready and left the apartment at 1130, towards our first place of visit, Venice beach. Drove the couple of minutes towards the Venice Pier and found a huge carpark. 9 dollars per entry, my first shocking carpark fees to a whole lot more to come. Parked and got out and strolled to the long pier that stretched out into the ocean, snapping photos of proud seagulls standing on poo-stained railings while passing by them. K surrendered walking really early and he was soon sitting on my shoulders, snapping photos of seagulls with his SGD$20 camera.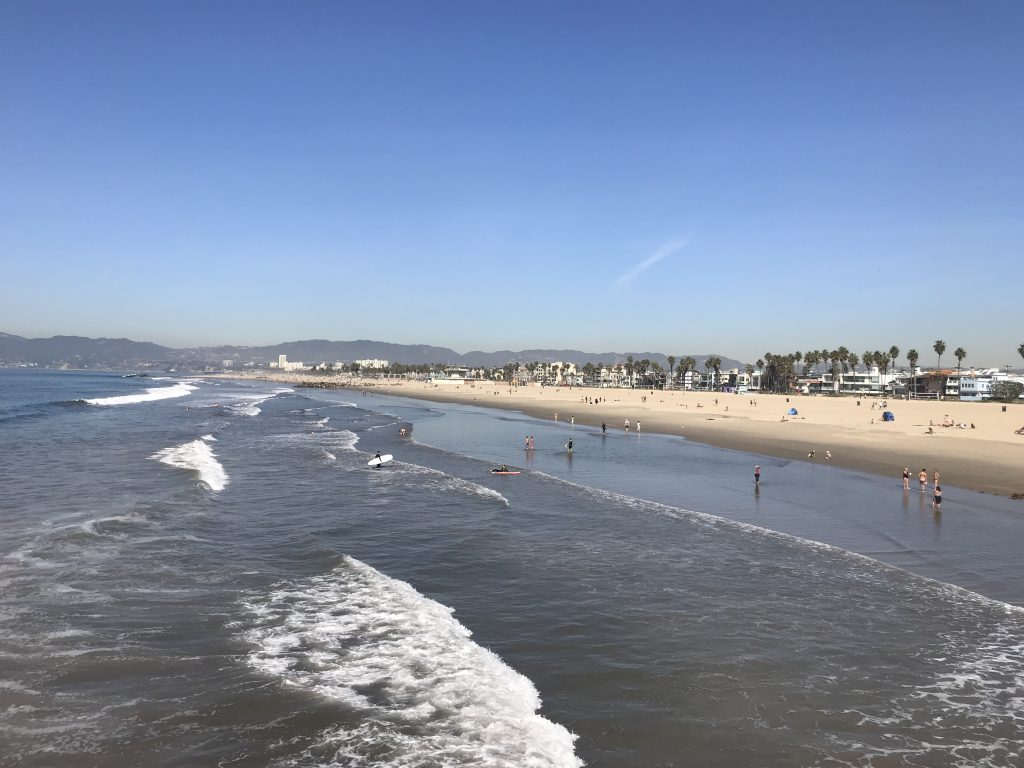 Returning to the beach front, we approached the Venice Beach Rentals to see if we could get a bicycle so that we can ride along the beach to the Venice broadwalk. After waiting for quite a bit in the scorching heat as the staff served the previous customer who took the last bicycle with child seat, we left disappointed. Thought we would walk to the broadwalk instead but after a short walk along the footpath next to beachfront residences, we decided to drive there instead, as there did not seemed to be anything interesting along the way.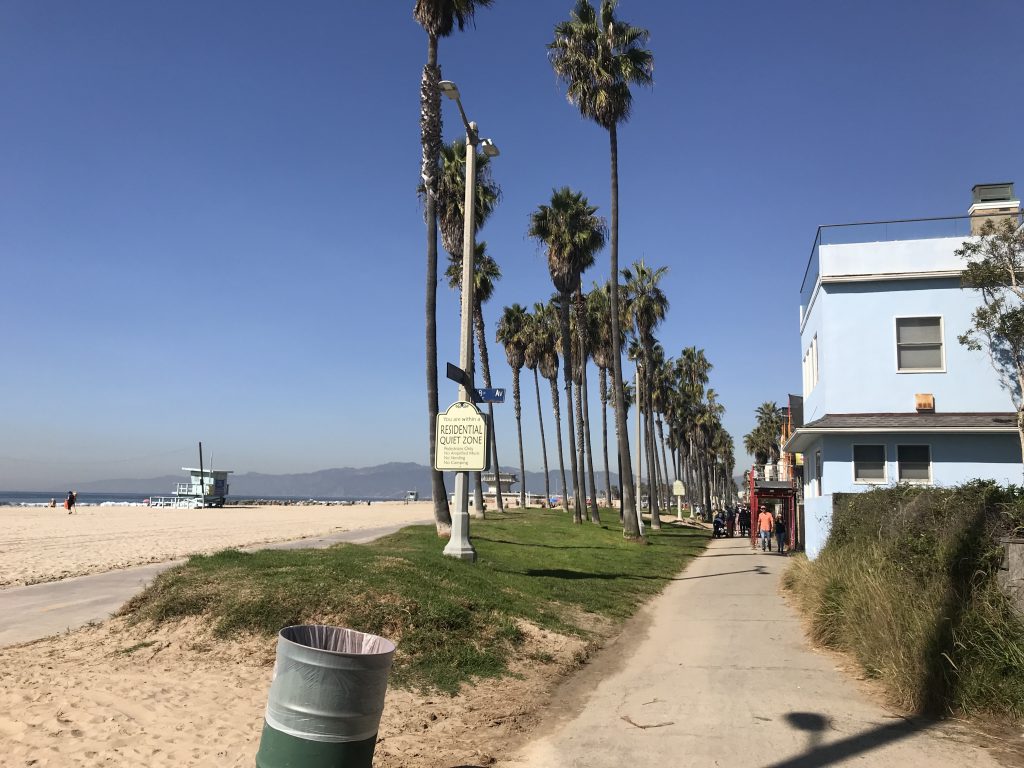 Punched in Venice broadwalk on the Google maps and we were on our way. We drove through a small residential area that was built to feel like Venice, and it was an interesting drive as our car went over small arch bridges that went above small canals.
Learning from the expensive parking, I thought I would drive to somewhere close to the broad walk and not next to it, so that the fees might be lower. Upon arriving at a street near the broad walk, we saw a sign that said "Public Parking" and drove into the open space, where we saw personnel directing cars. As we got off the car, I then realised it was actually a valet, that it would cost me 20 dollars to park there (they claimed that it was whole day parking for 20dollars which didn't attract me a bit as I was damn sure I wouldn't be there for the whole day)! Got back into the car and drove around further, and found another manned parking space for 10dollars for 3 hrs, where we ended up parking the car.
The Venice broadwalk had more things to see then when we were at the pier. At least the beach front was lined with stalls and peppered with food stalls and lots and lots of people enjoying the sunny day out at beach. I thought it had all the feels of a California beach (I thought). It was lunchtime and we tried looking for a place where we could sit and eat but we couldn't find such restaurants around. We ended up with pepperoni pizza with a drink for lunch for 8ish dollars, while we found a small shaded place to sit and eat, and watch the world go by. There were interesting stuff to see along the street – makeshift stalls selling arts and sometimes weird items or performers strutting their stuff or just strange people behaving weirdly.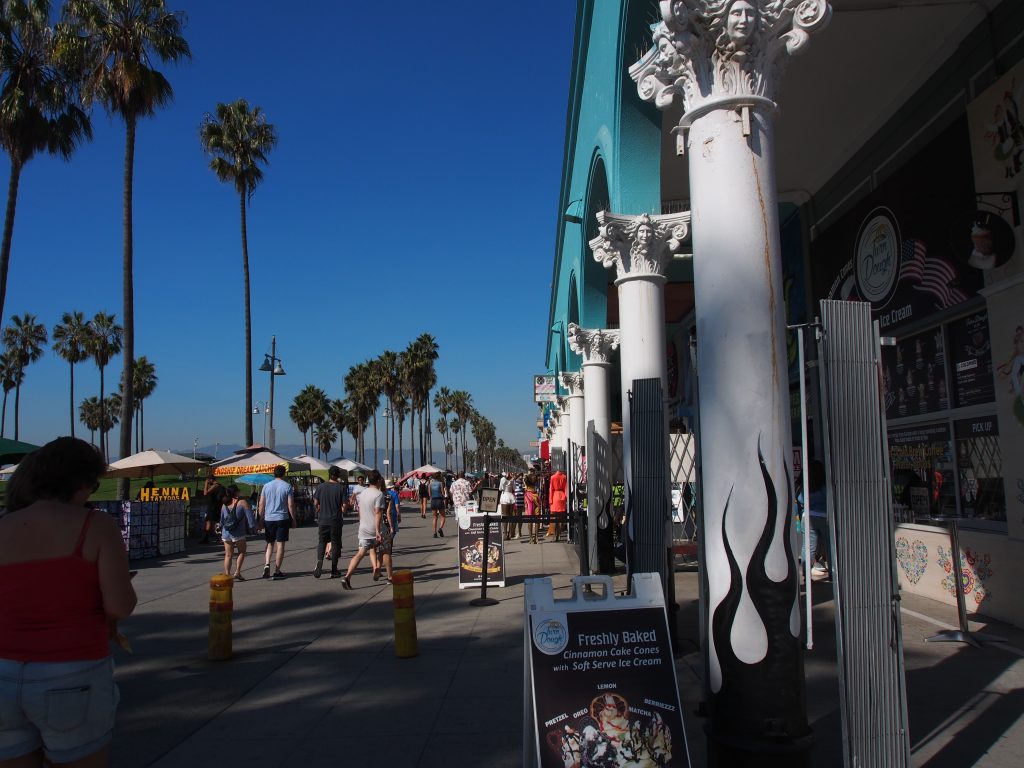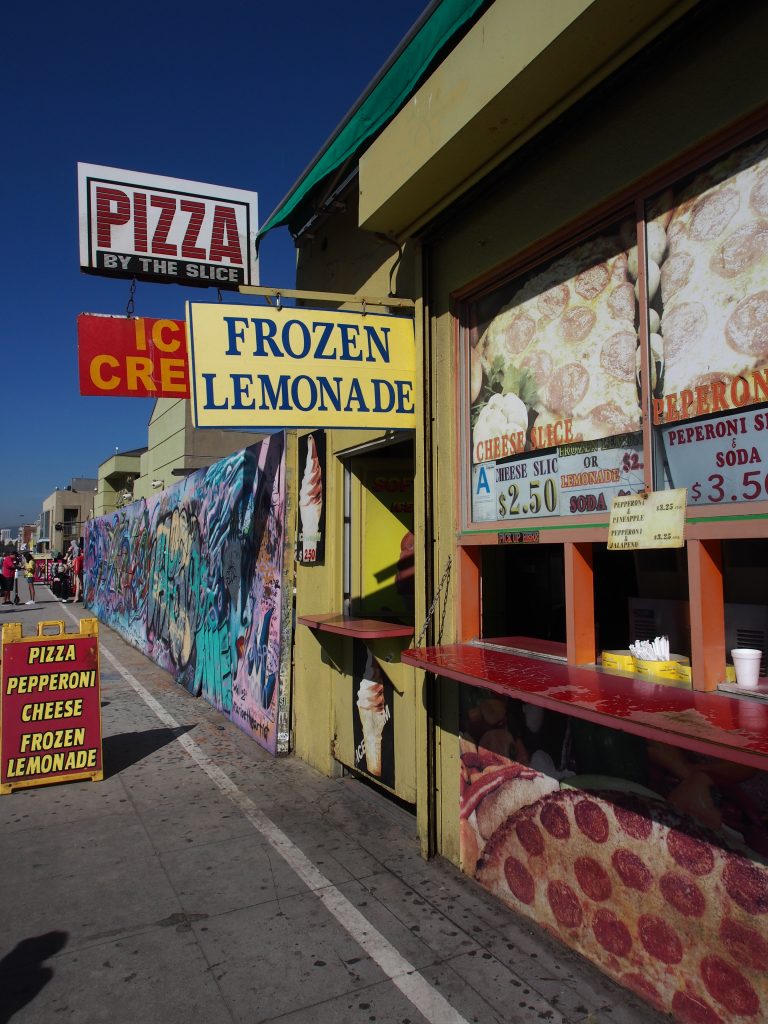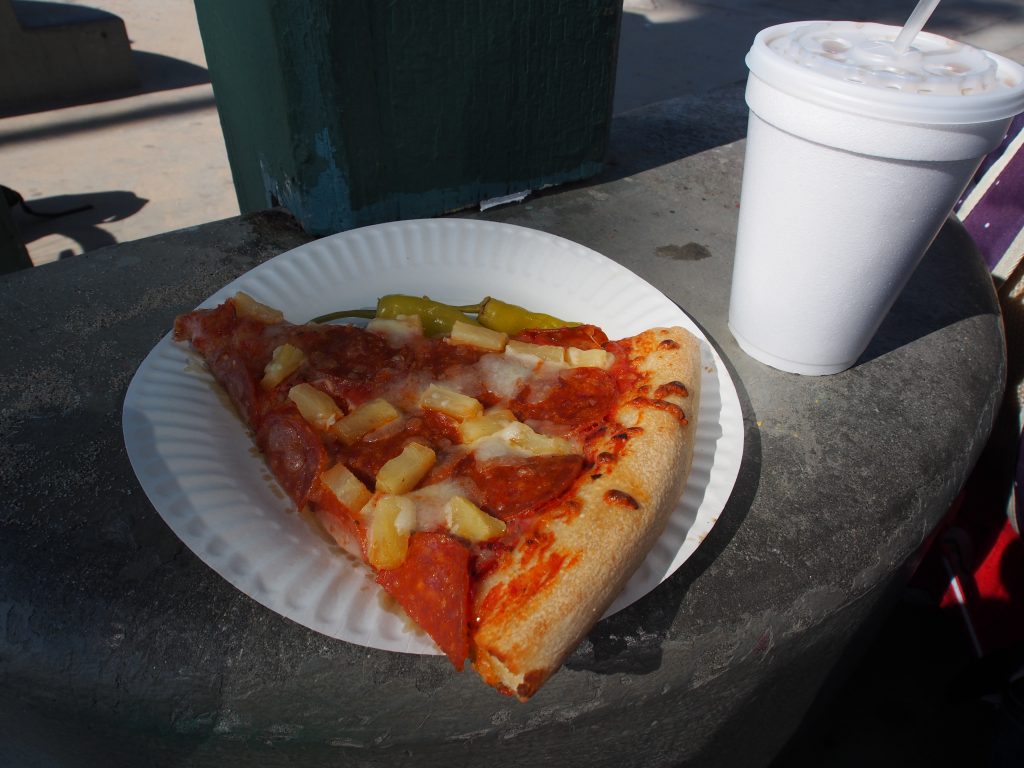 After the non-impressive excuse of a lunch meal, we walked to big Ben & Jerry's store to get some ice cream. There were no seats in there although there was enough space for it so we just bought the cookies and cream single scoop cone for 7.75 dollars and went off to sit on the grass shaded by some coconut trees. It felt rather relaxing to chill there.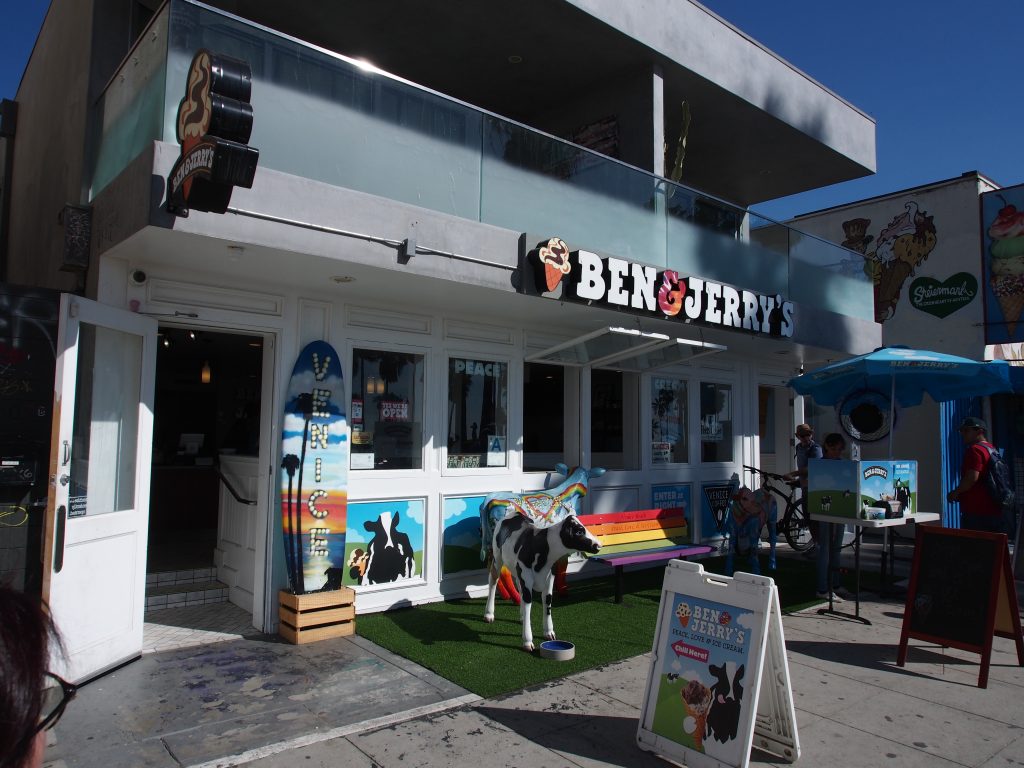 Before leaving the place, we walked to the skate park nearby to look at kids for different ages taking on the multiple contours at speed and then a short walk to the Venice beach entrance to take a selfie with the Venice sign before returning to the car.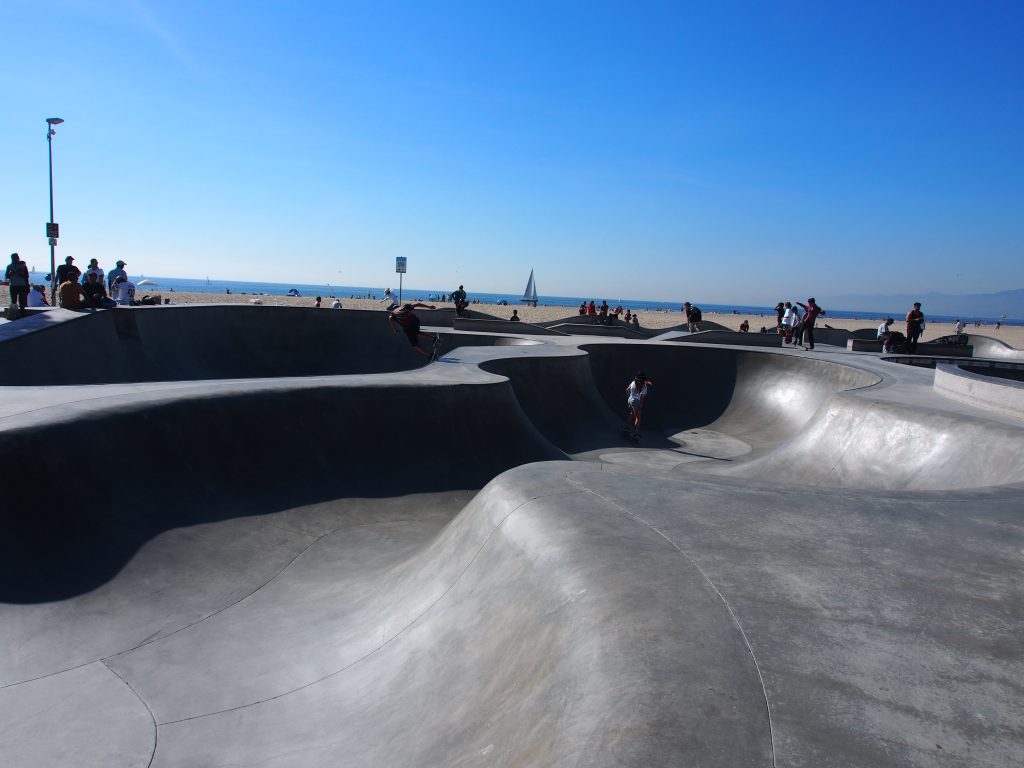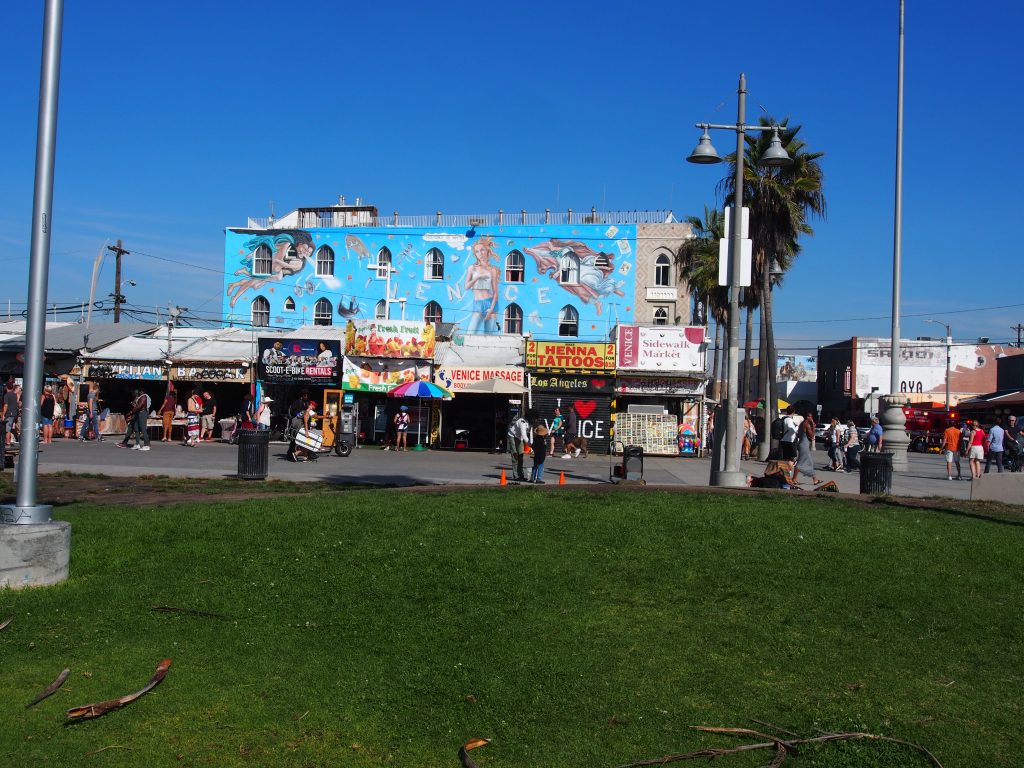 We first drove to a superstore Costco which had its own carpark but was pretty full at that time. Left and drove to Ralphs instead, which also had its own carpark. It was a huge supermarket and while mommy was shopping for groceries, I was with K playing with some Halloween pumpkins display before he decided that he wanted to go toilet. I approached one of the staff there for help and was kind enough to offer me an entry code to use the toilet within the supermarket itself.
After that, I thought I should get myself some Starbucks coffee, a store was inside the supermarket itself! Spent 5ish dollars for my caffeine boost. Ended the shopping with foodstuff 76ish dollars worth and we returned to apartment. Ate some watermelon that was bought from the supermarket before hitting the sack at 430pm for a short nap, the body adjusting to the time difference.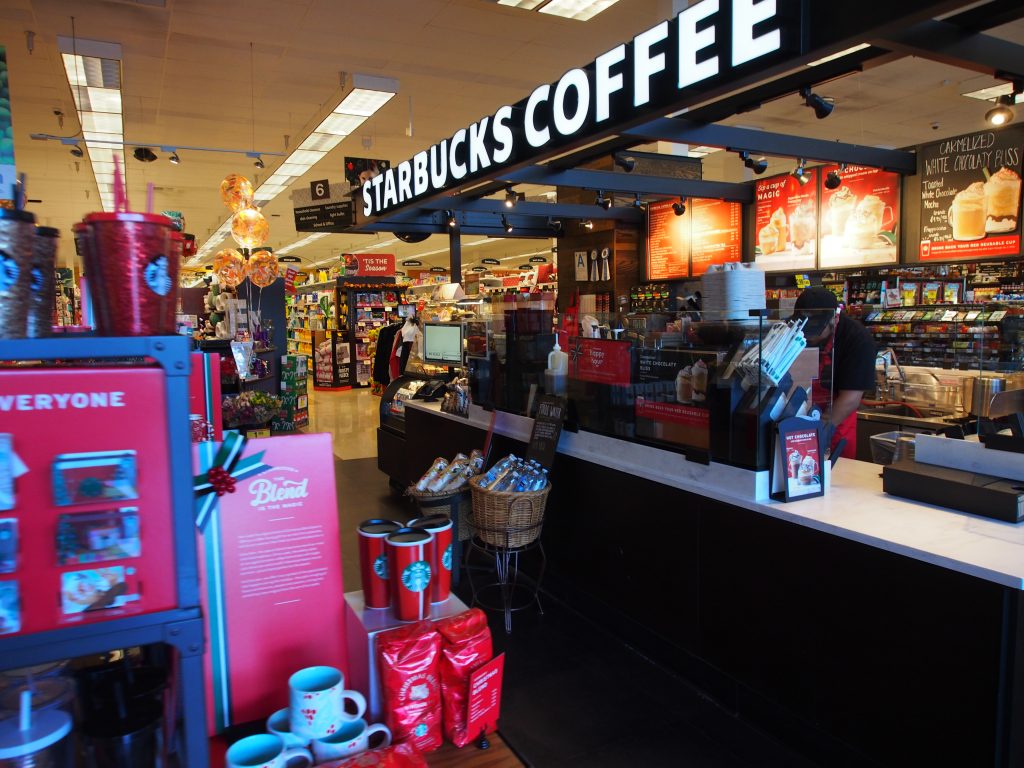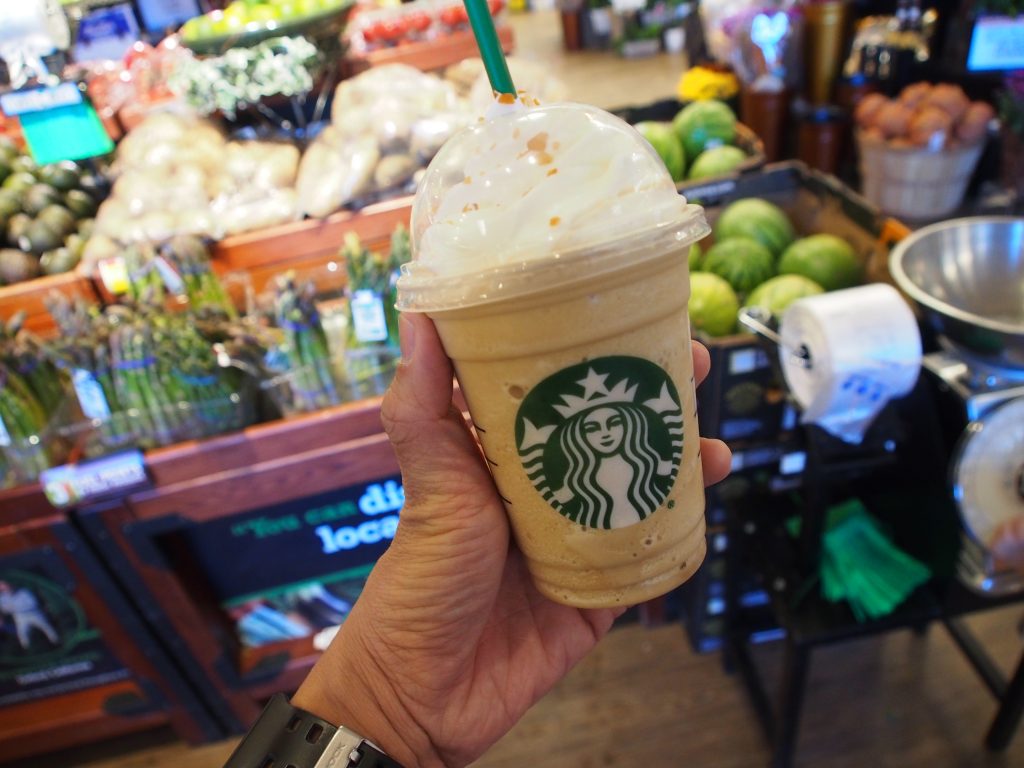 The next thing we knew, we woke up at 630 and I got K to go bath in the tub. Left the apartment only at 830 and we drove towards Santa Monica Pier. Wanted to park beside Santa Monica pier but the road leading to the carpark was blocked and I tried to find another place to park. There was a multi storey parking structure 8 and it was a good location that was close to the pier.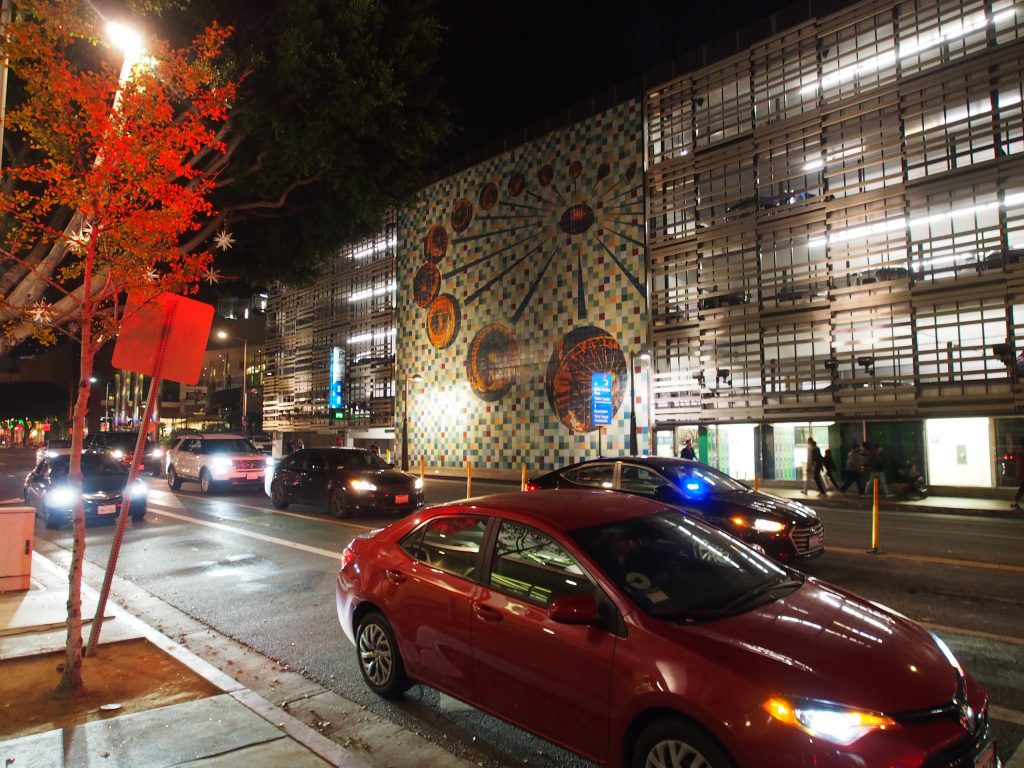 Heading in the direction of the pier, we noticed a restaurant just across the road of the Santa Monica pier, and decided to have our dinner there, at Del Frisco's Grille. Ordered baby ribs (pretty good) and omelette cheese sticks while K had his home cooked meal. We couldn't finish the entire portion and left at 1030pm, paying 62ish dollars including tips.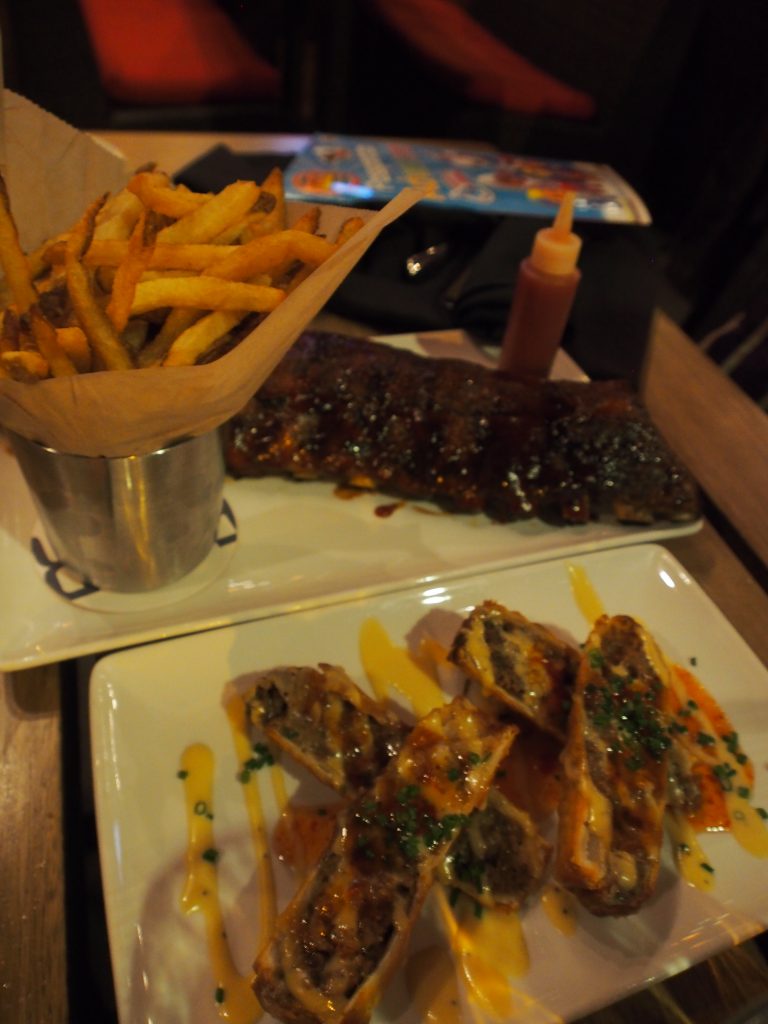 Crossing the road, we went to Santa Monica Pier and there were many people even at that time of the day. It looked like a fun place where there was a games arcade, fun fair rides and stalls. There were restaurants too but mostly closed expectedly. We proceeded to check out the rides although the package price looked enticing, we only took ferries wheel for 10 each, taking in consideration that it was quite late already. Even so, there was a long line for the ferries wheel. K and I boarded the wheel while mommy waited for us. Nice feeling to be up there looking into the distant dotted lights of Santa Monica with a slight chilly breeze. We left at around 1130pm, after just that one ride.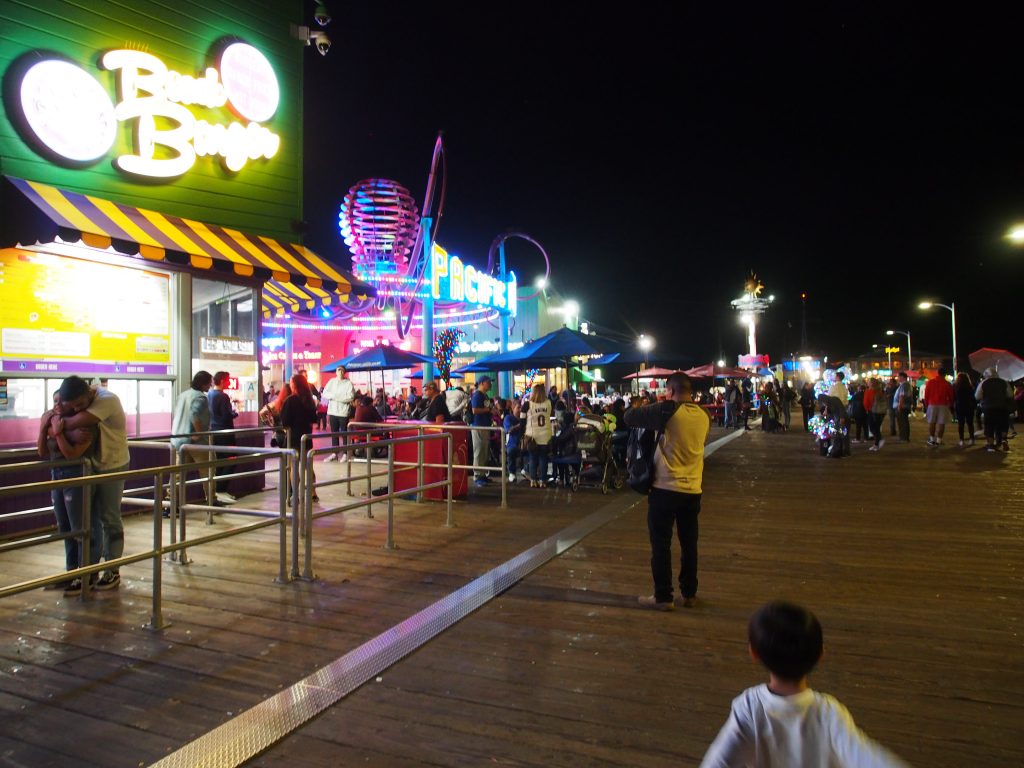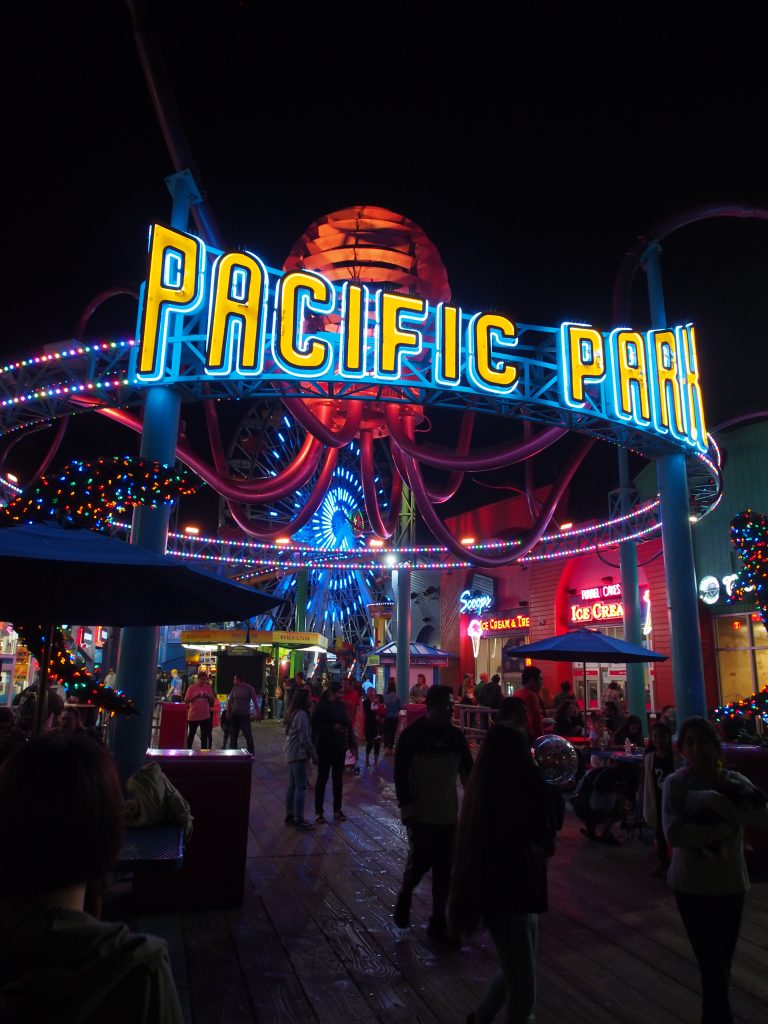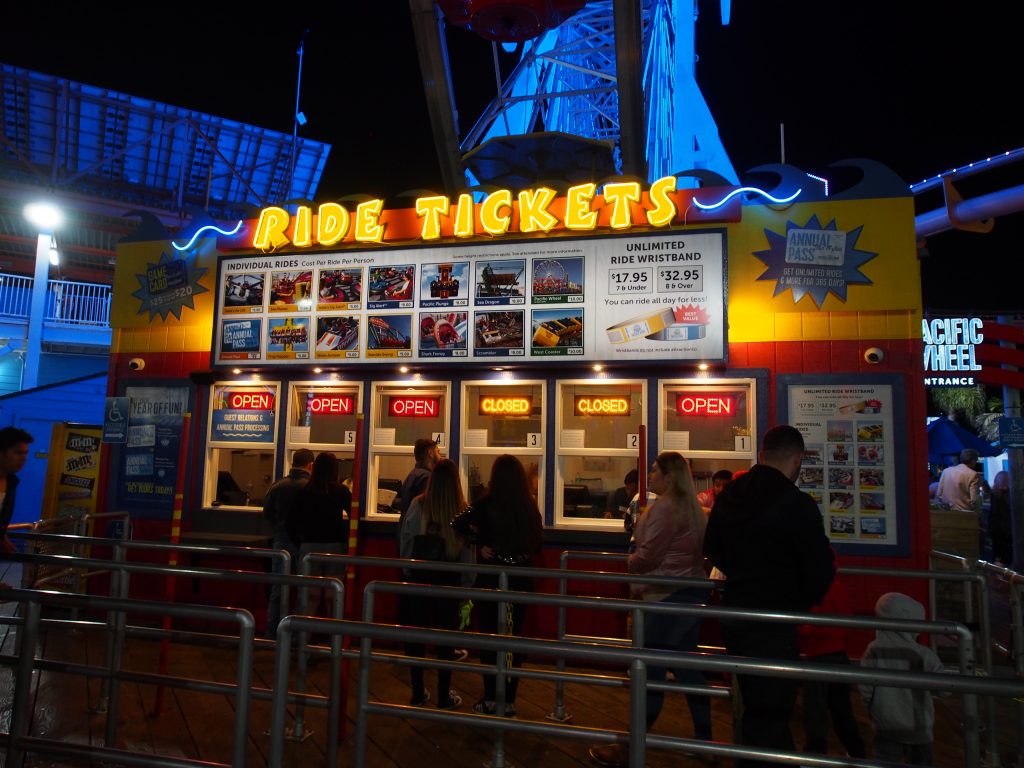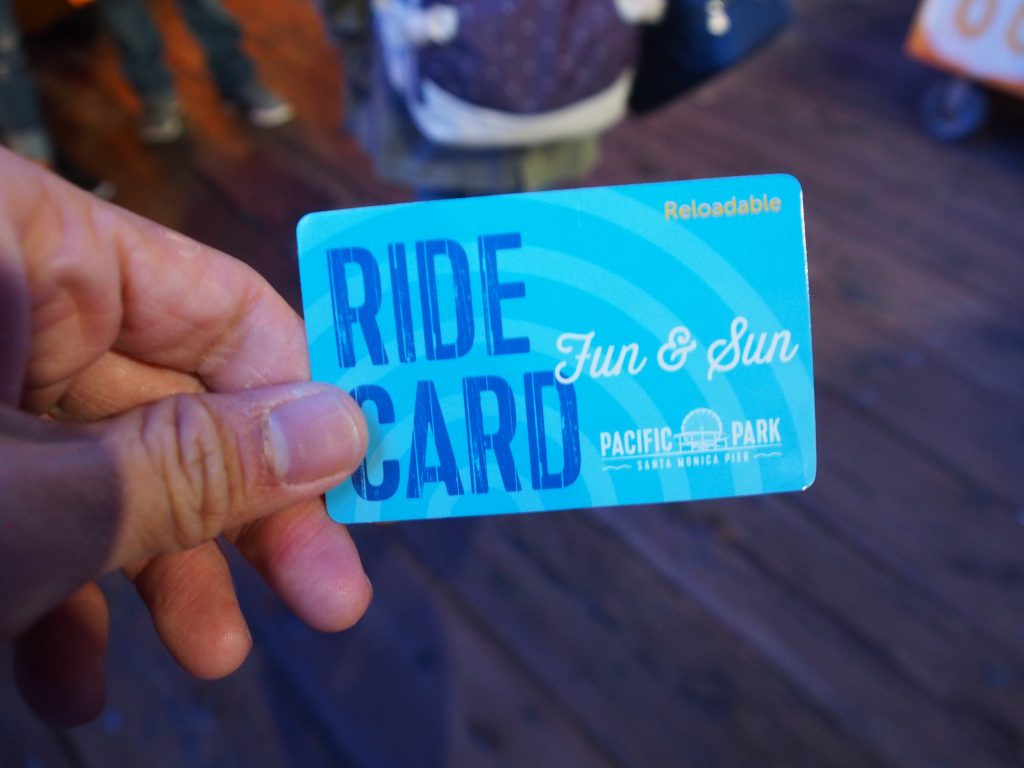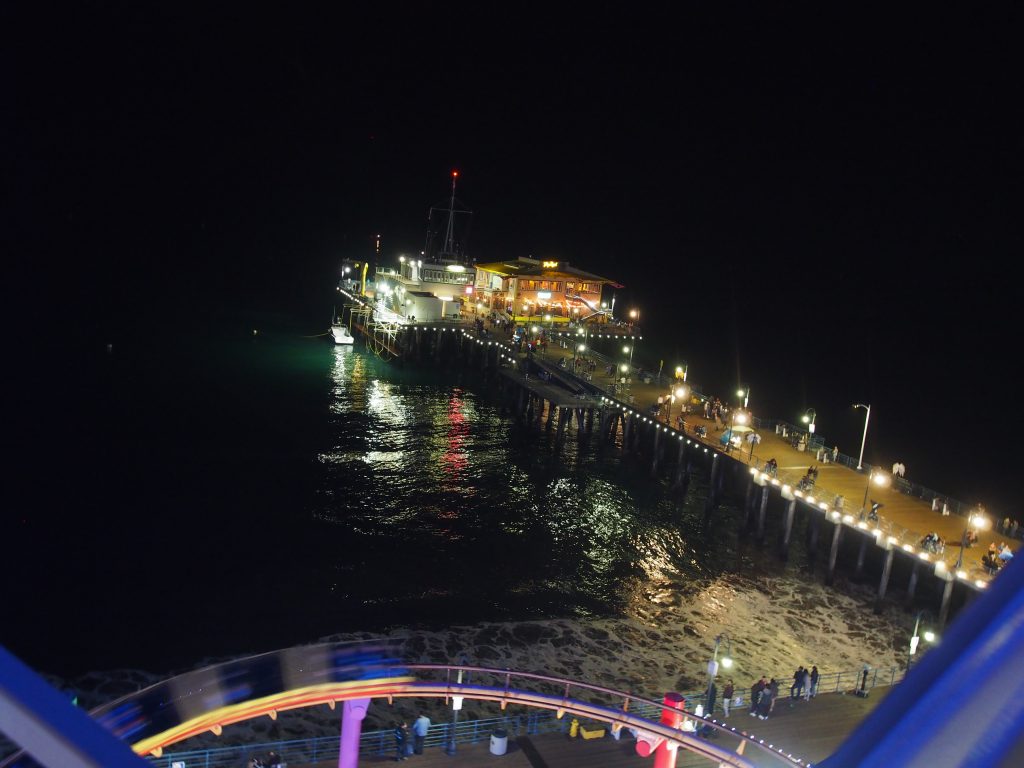 A short walk back to the carpark, we wanted to pay at the ticket machine but found the one at the 1st level to be not working. Luck wasn't on my side as my stomach started to hurt as well. There was a mall near the parking structure and there were toilets there but they were just stubbornly locked. Without much of a choice, we quickly found another machine to pay for the tickets for 6ish dollars and drove back to the apartment.
So the 20mins back felt like eternity and unfortunately, I couldn't make it back without an incident. Had to wash up for an extended period of time till about 1am before lights out.