I woke up first and lazed in bed to jot down memories of Day 1. Before long it was already 9 so I started packing and washing stuff before mommy woke up at 930. K was the last to wake up as we gave him more rest from the lack of it during the flight and he woke up fresh.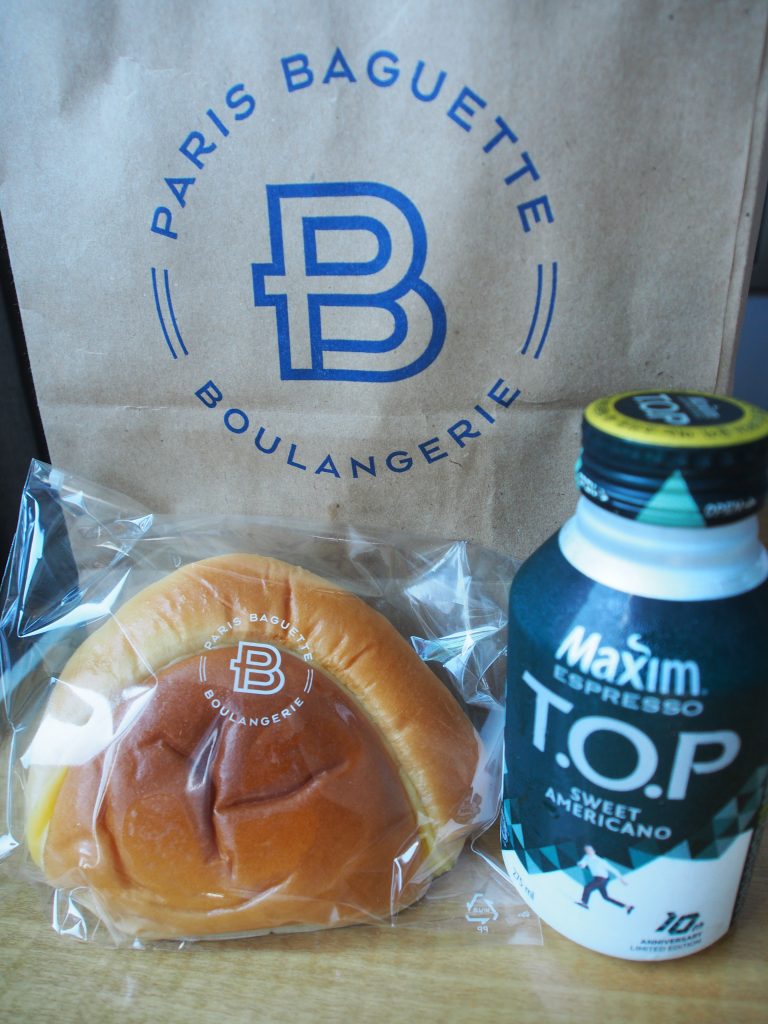 Then we rushed to get ready and checked out at 11. The attendant got our car and I took some time to get the car seat strapped on and some more time to find a recommended parking spot at Jinhae. Then we were on the move, about an hour's drive.
It wasn't too difficult to drive out. I paid a toll fee at the Tellgate for 1.8k, also known as TG in short. But soon before arriving at the destination, we ended up in a traffic jam inside a tunnel, stretching the travelling time to 1.5hrs. We turned into a little street that was lined with cars parked at every space that was available. I managed to reverse my car into a slot and we walked on foot to the Gyeonghwa Station just next to this street.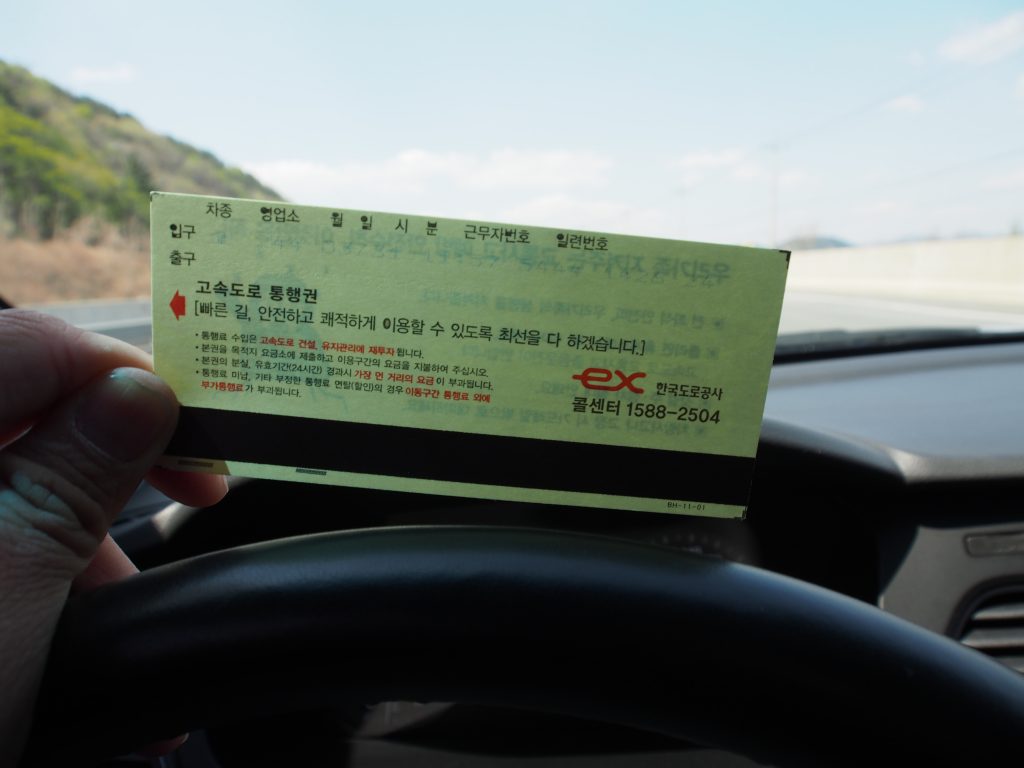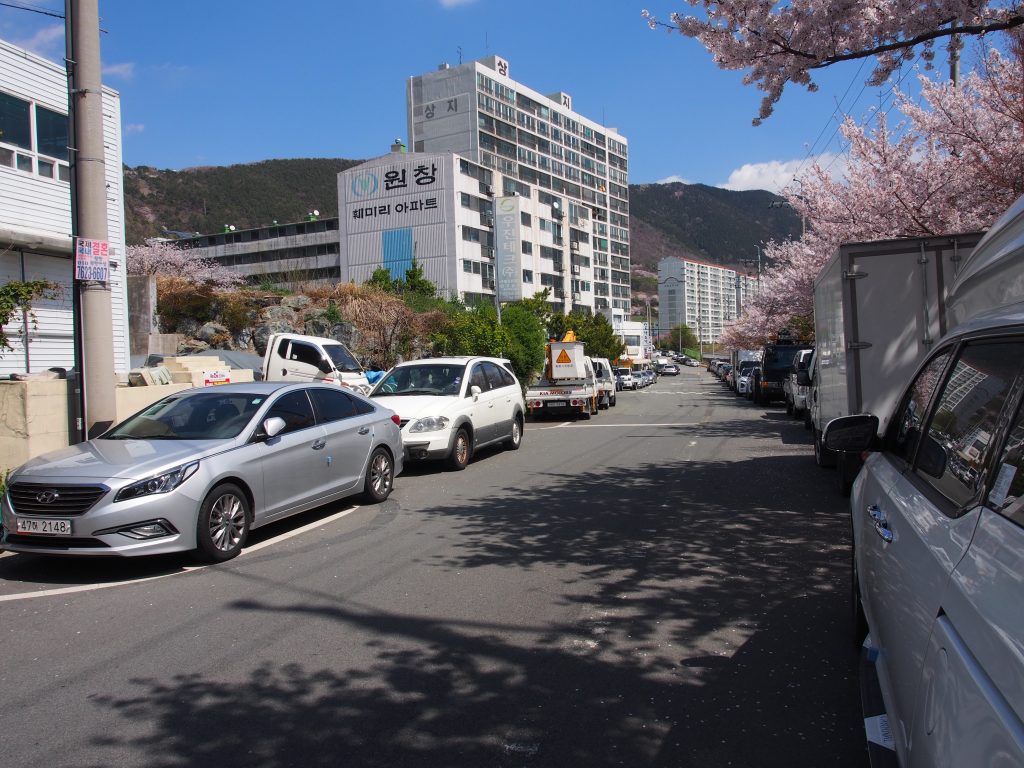 There were people everywhere at this iconic railway that had cherry blossoms lined along what seemed like the entire length of it. It was not easy trying to get a photo shot without photobombed by the crowd. There was a long queue to take a photo with the train that was on display so we didn't bother and just got our selfie from the side. K wanted to visit the loo and that had a line too but it was moving quick enough. The loo building was in the design of a train which was cute.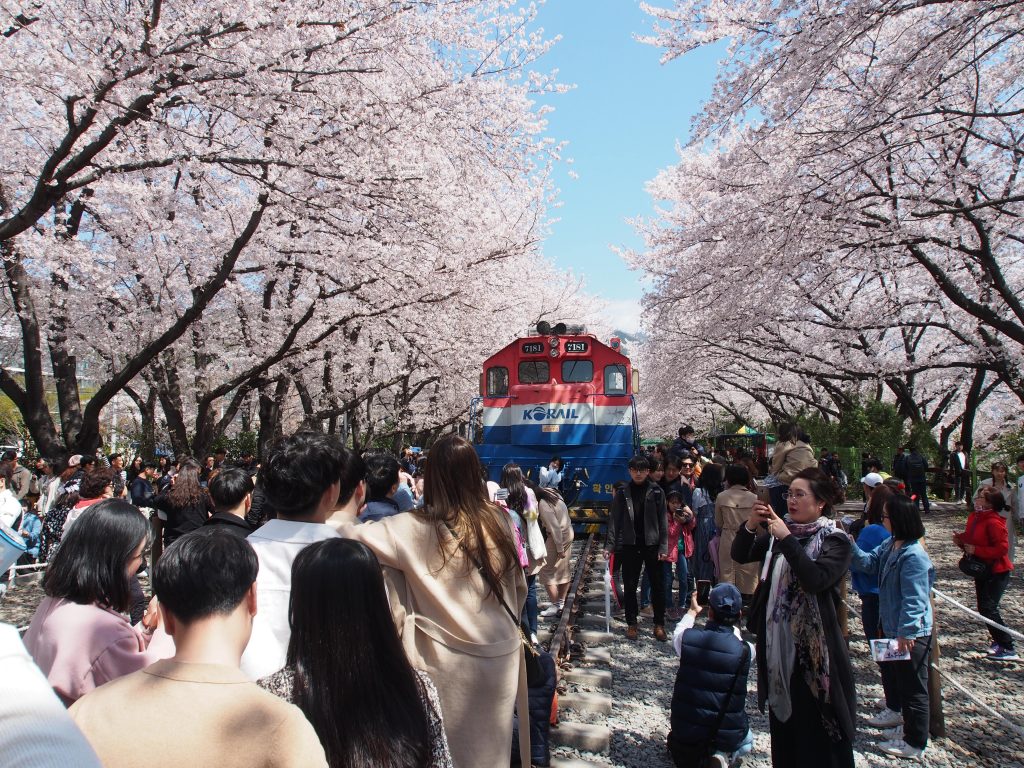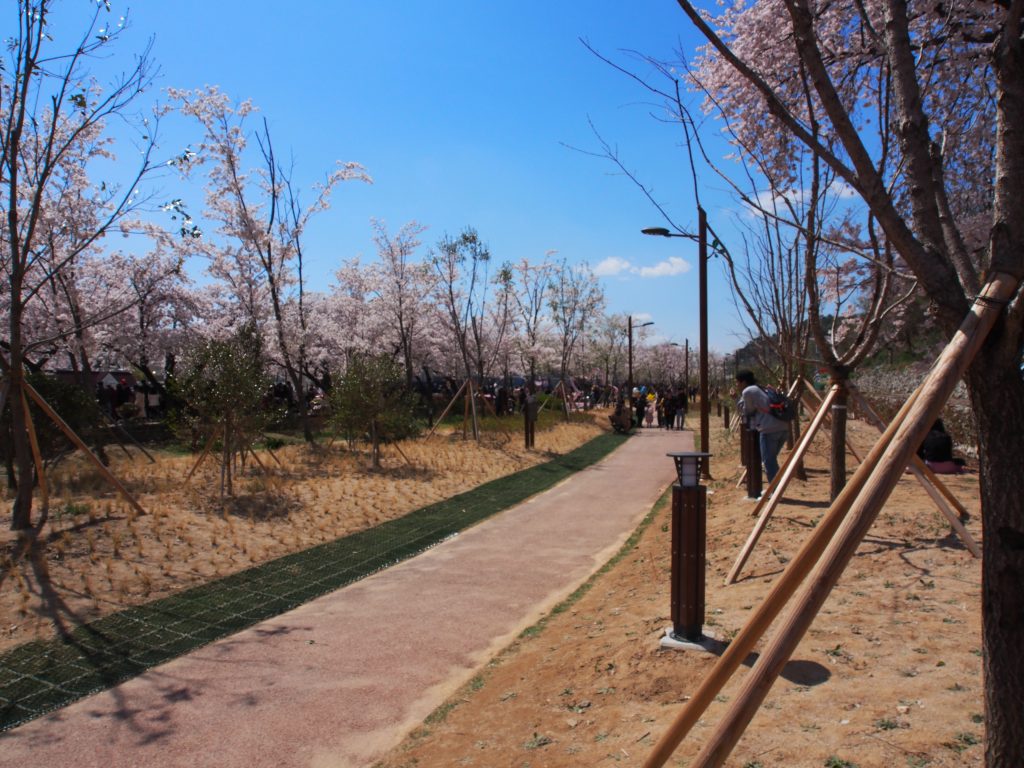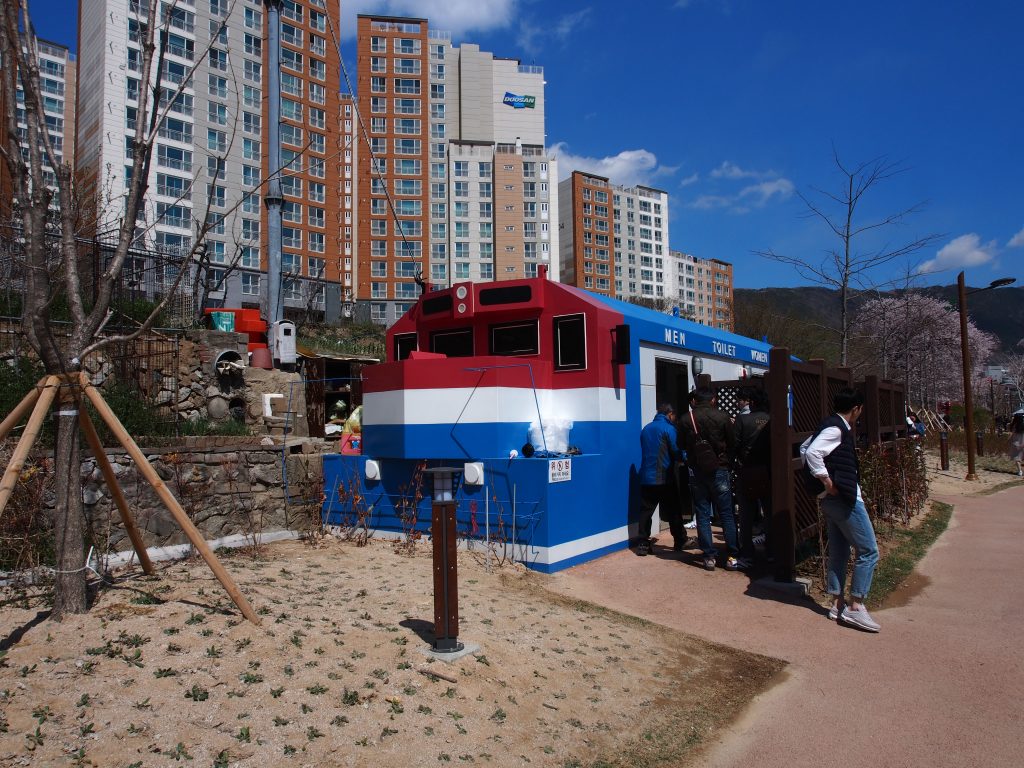 There were a couple of street acts entertaining the mostly Korean crowd (Sunday), such as one singer performing that almost sounded like a concert and a man who could catch hats thrown at him with his head. Further down the path was another train but that didn't garner as many people because the cherry blossom there wasn't surrounding it unlike the more popular one. We also bought a Pikachu balloon with windmill from one of the street stalls for k for 15k.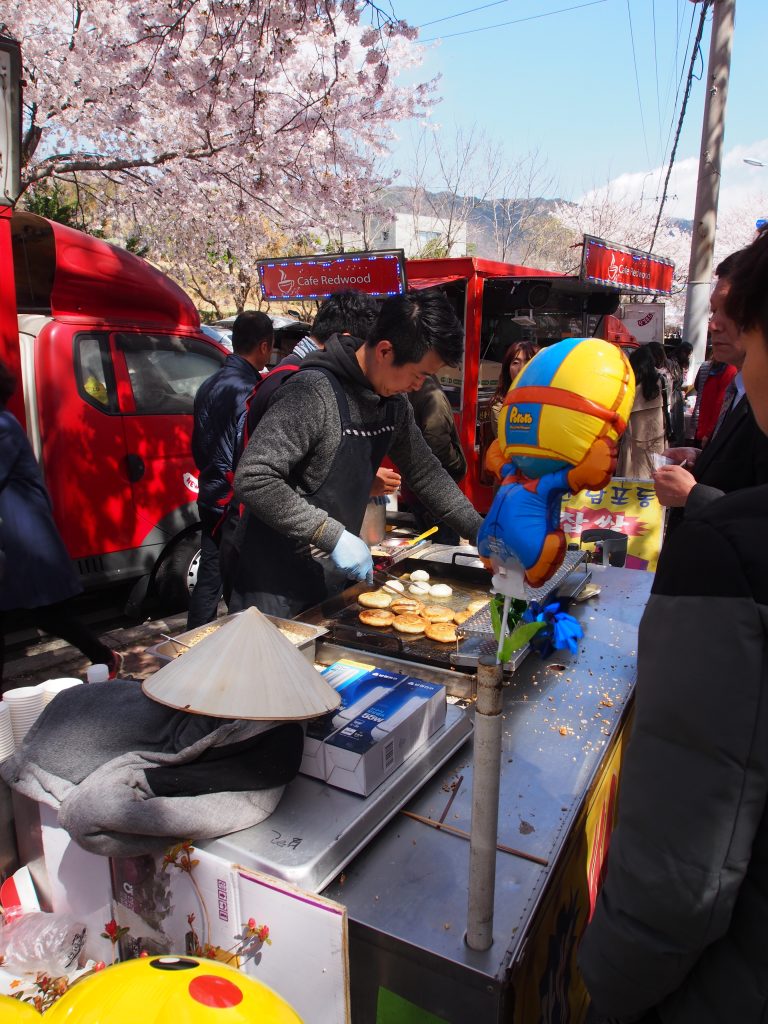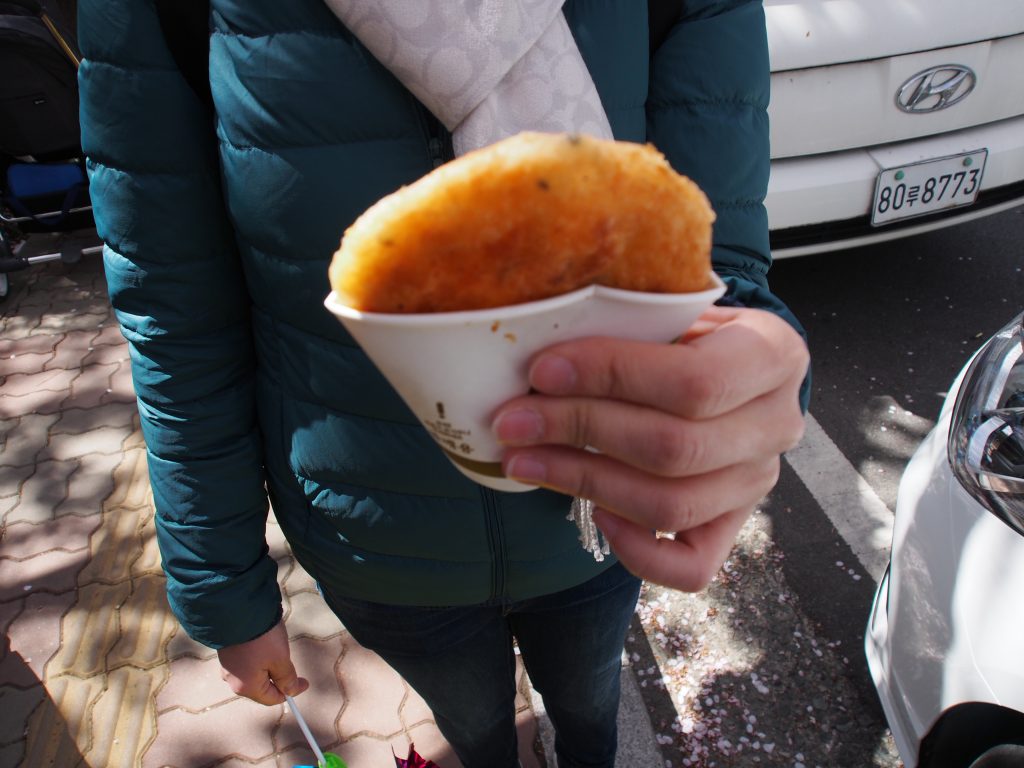 We returned to the car to try to visit another park where there was a stream. I punched the destination into the car navigation system and drove. It was a traffic nightmare as we drove alongside many cars that all seemed to go in the same direction. As we arrived at a turn, I was denied entry by a traffic police signalling at the junction and had to make a Uturn to turn in from the opposite direction. After many slow turns and tight driveway due to cars parked on both sides, we drove up a hill and managed to slot our car into an empty spot.
Walked downhill and found some cafes but there weren't any full meals sold. Entered on of them and ordered a waffle with ice cream and Americano for our lunch, for 15k. After that dessert lunch, we proceeded to walk to the stream. The difference between this Yeojwacheon stream and the normal longkang back at home was that this a very well decorated longkang flanked with cherry blossom trees. There were steps to get to the longkang too so that we could take picture in there as well. Different sections separated by bridges had different designs so we went to a few different places to take photos. Bought a bowl of tobokki to eat for 3k from one of the street vendors.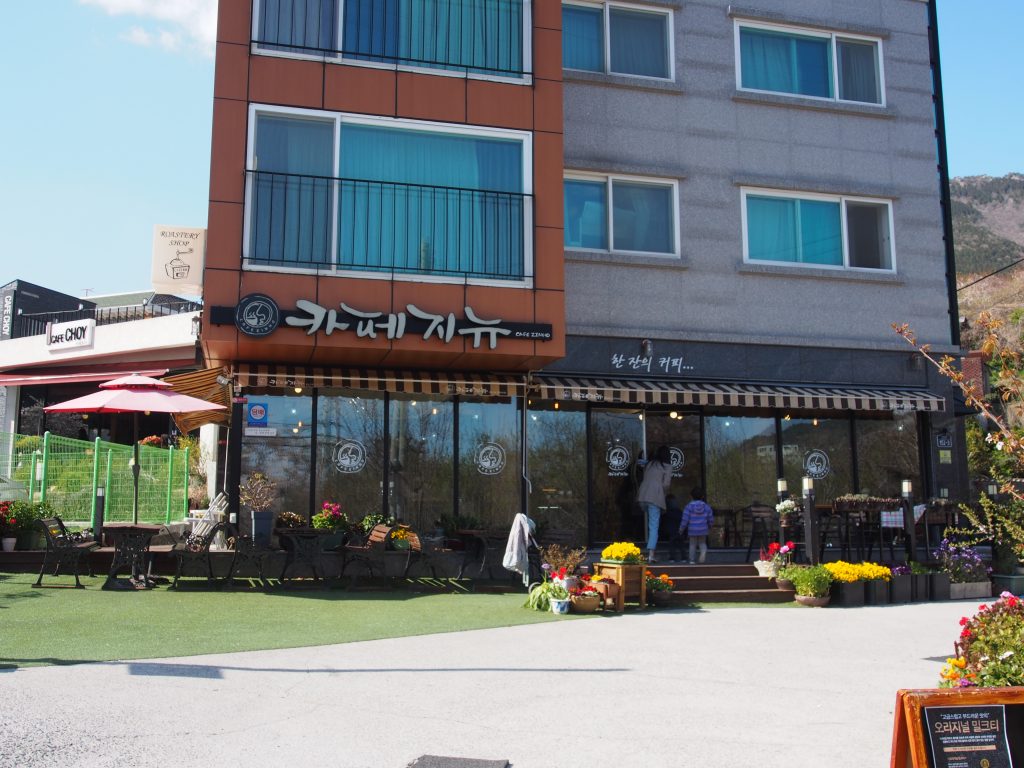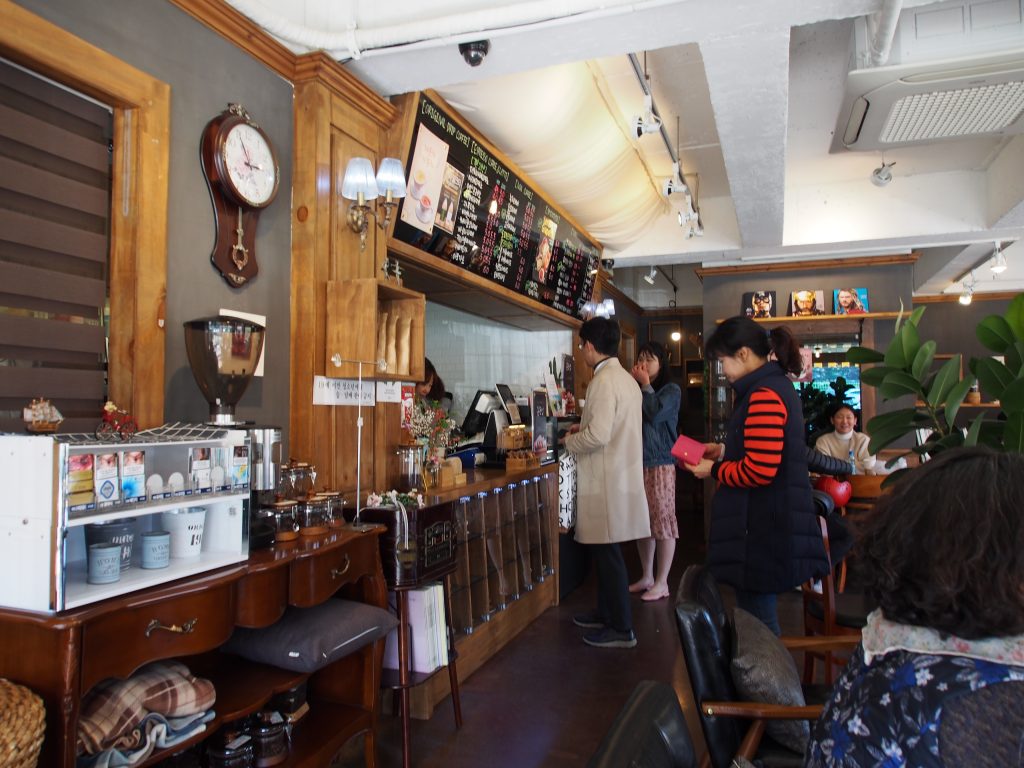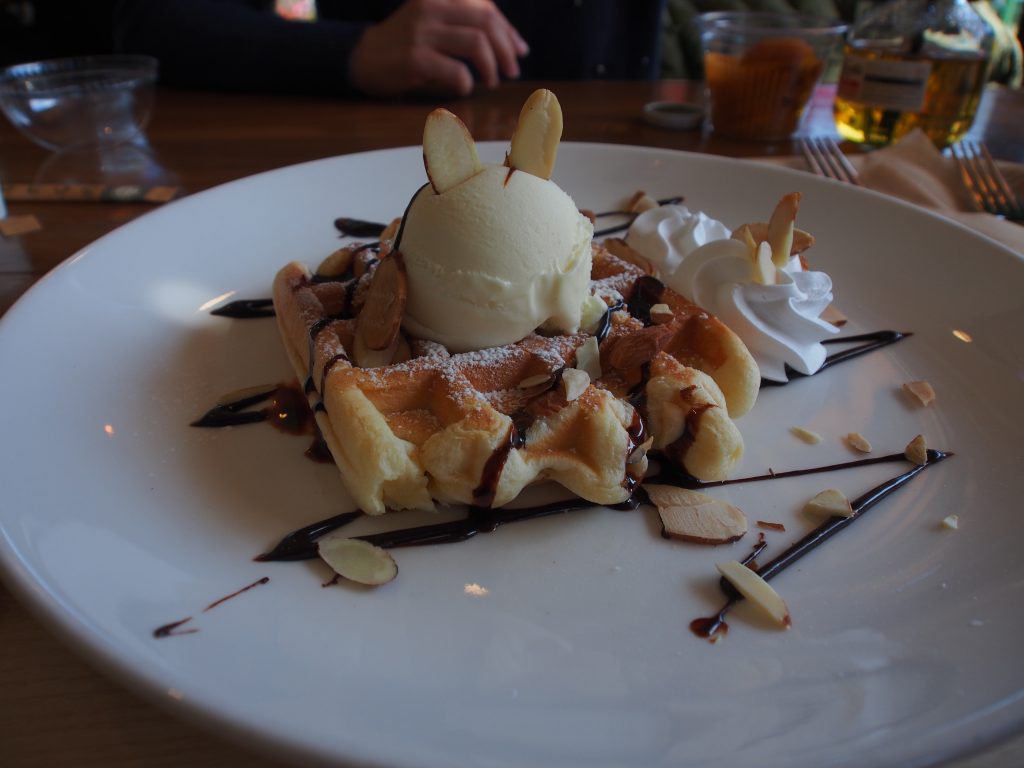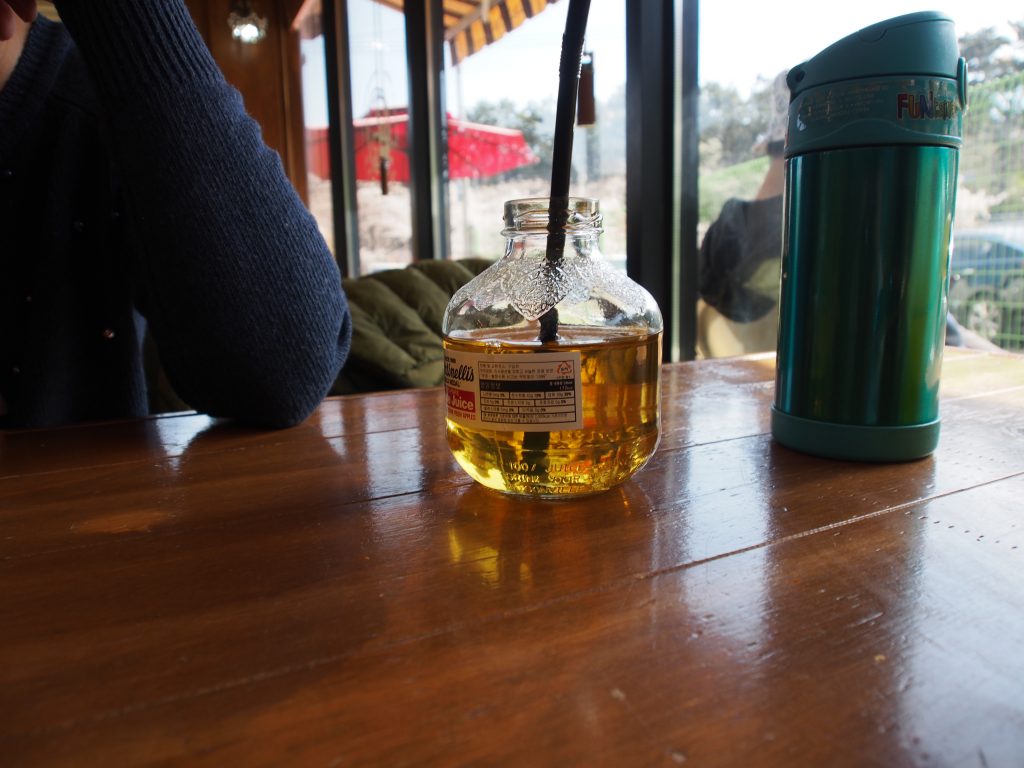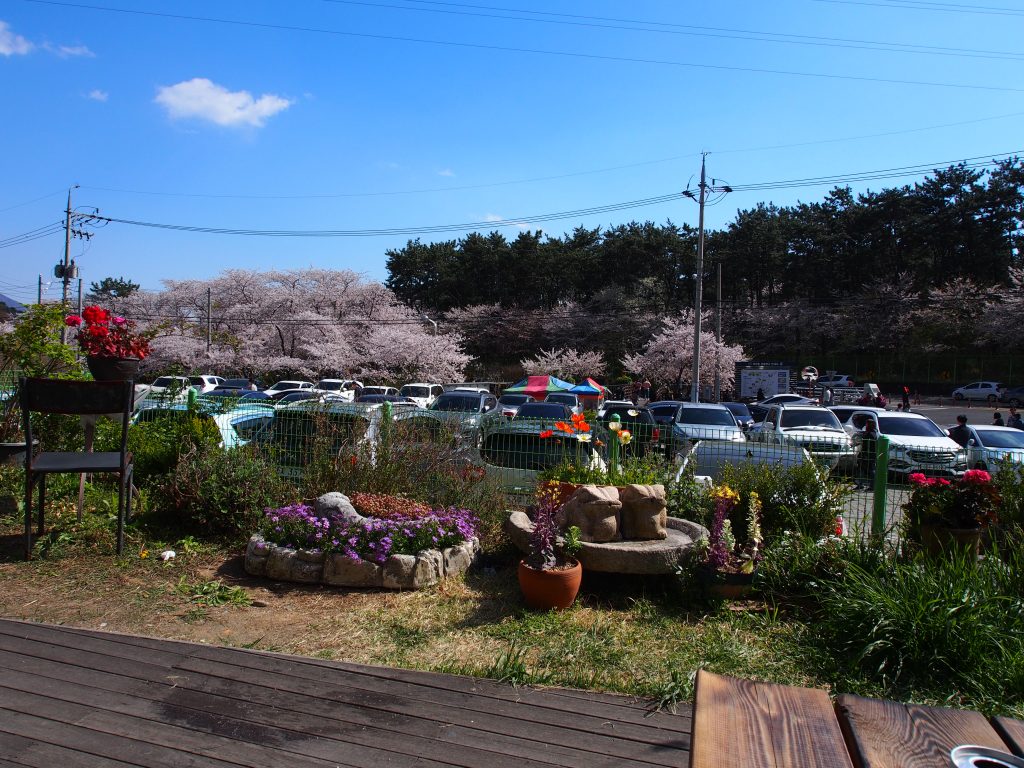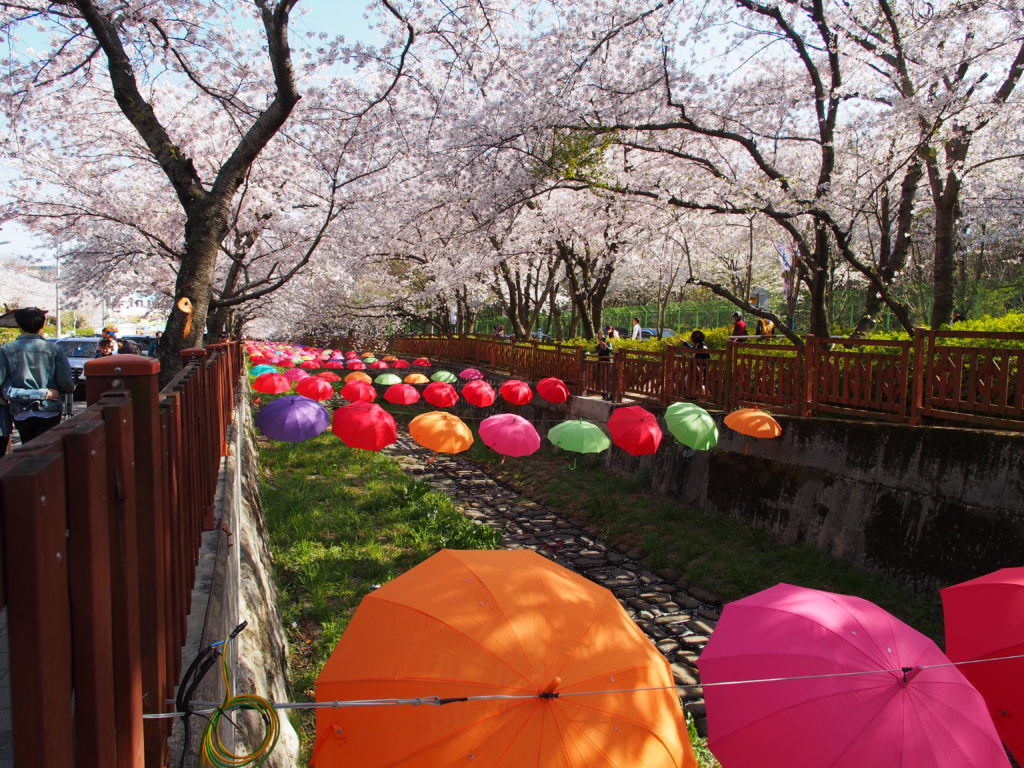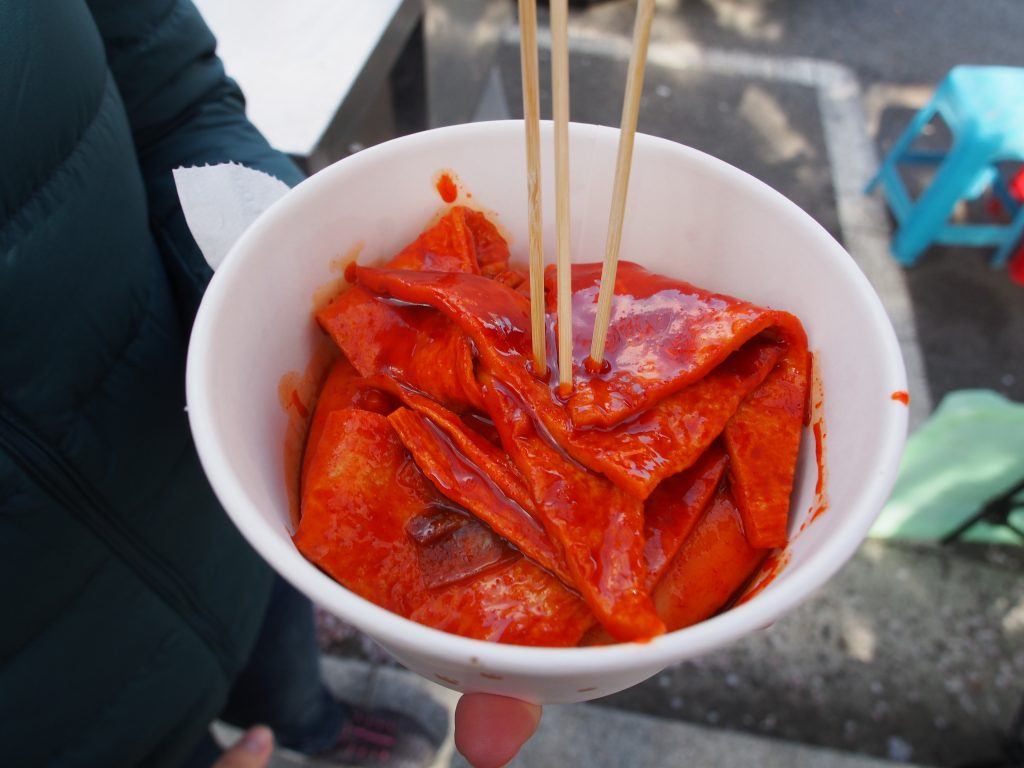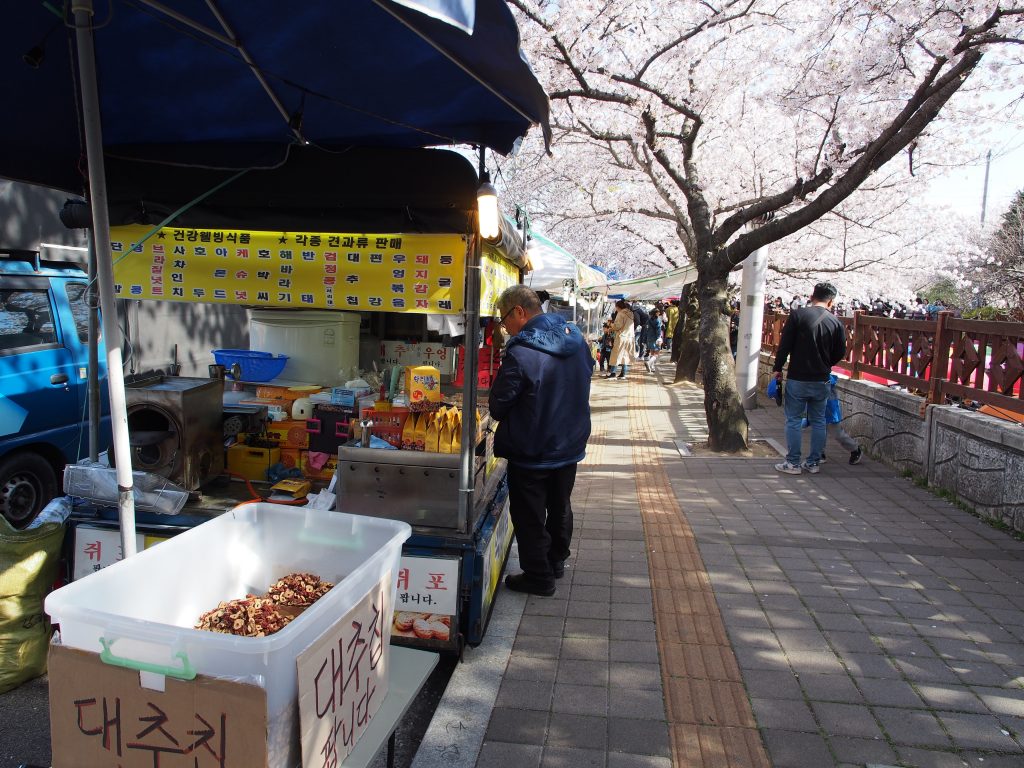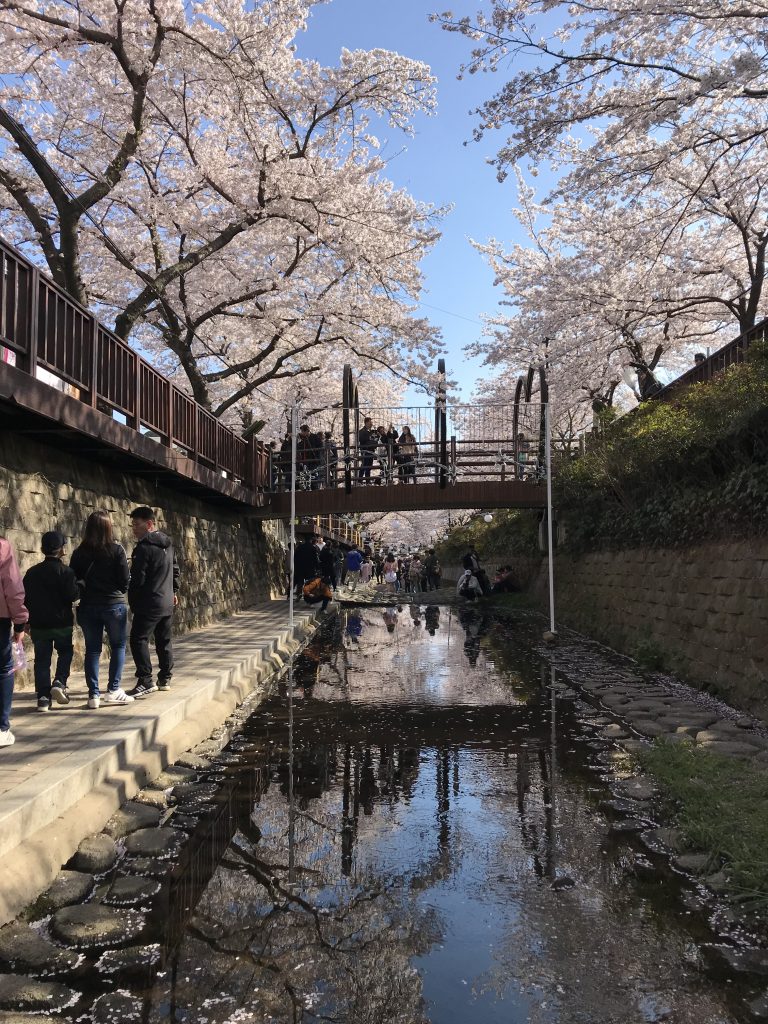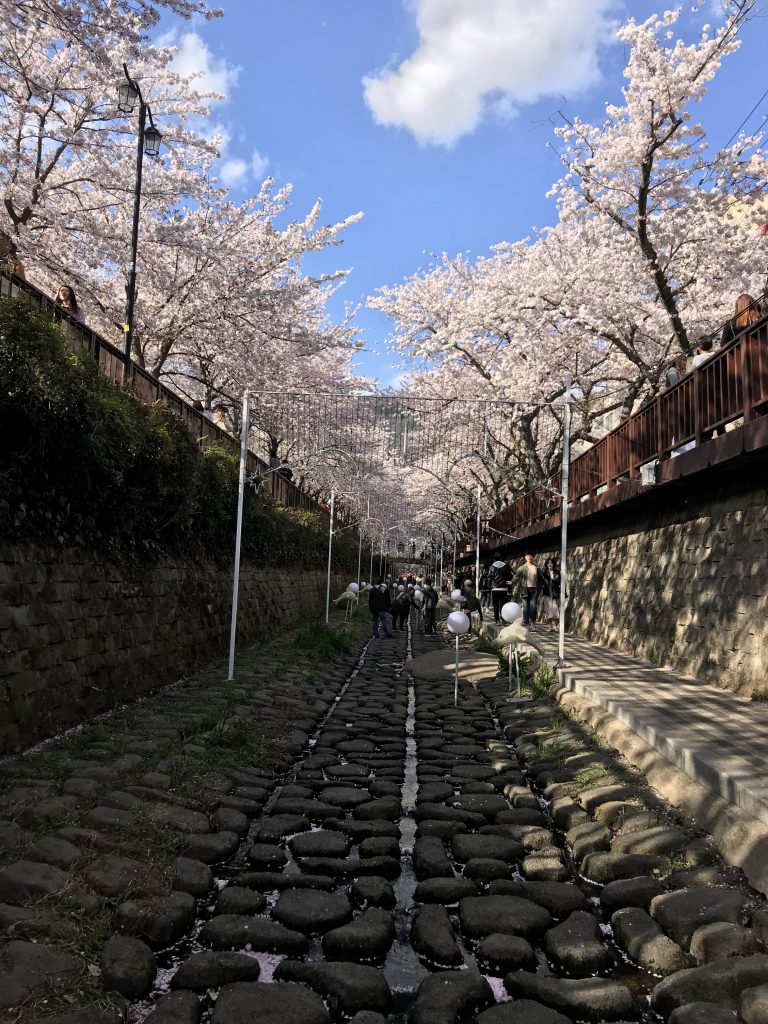 After that, we returned to the car which was tiring as we had to climb uphill. The next destination was to check in in Geoje, 1.5hrs from Jinhae. The gridlock traffic was limited to the cherry blossom area and then it was an easy drive to Geoje, with toll fees of 10k.
We arrived at the Ruscello Pension hotel after a scenic drive across the bridges. The sun had almost completely set and the wind was getting chilly. Checked in quickly at the reception using English and some hands and was charged an additional 20k since the accommodation was meant for 2 people only. In return, we were given additional bedding although I informed that the original one was big enough for all 3 of us.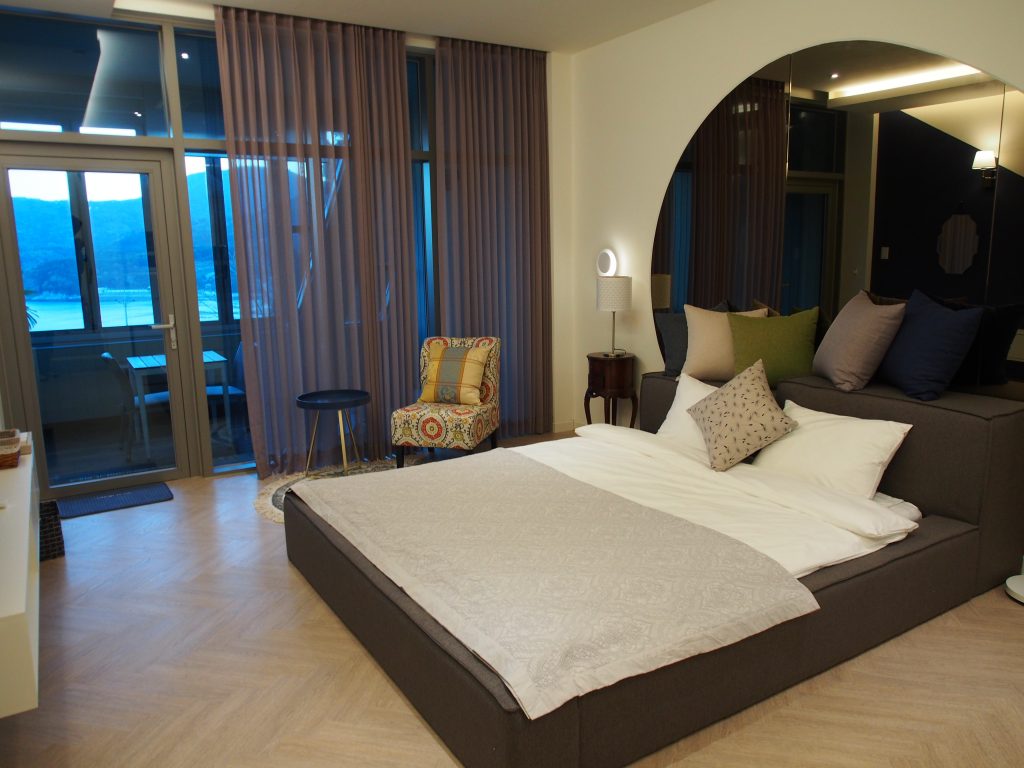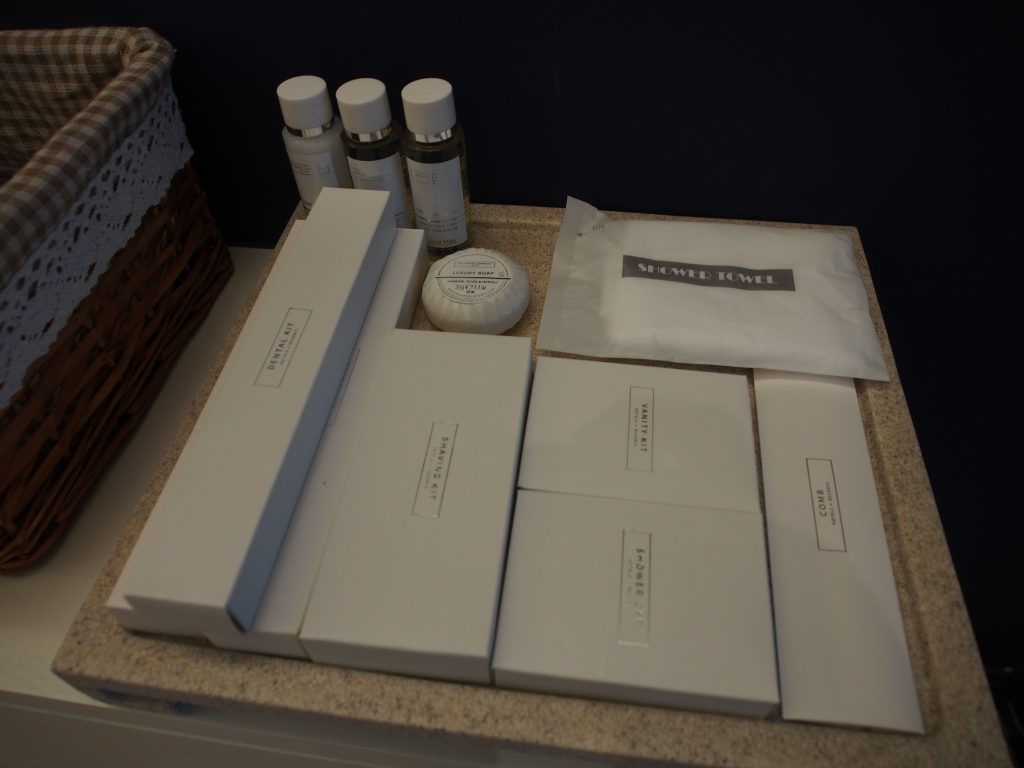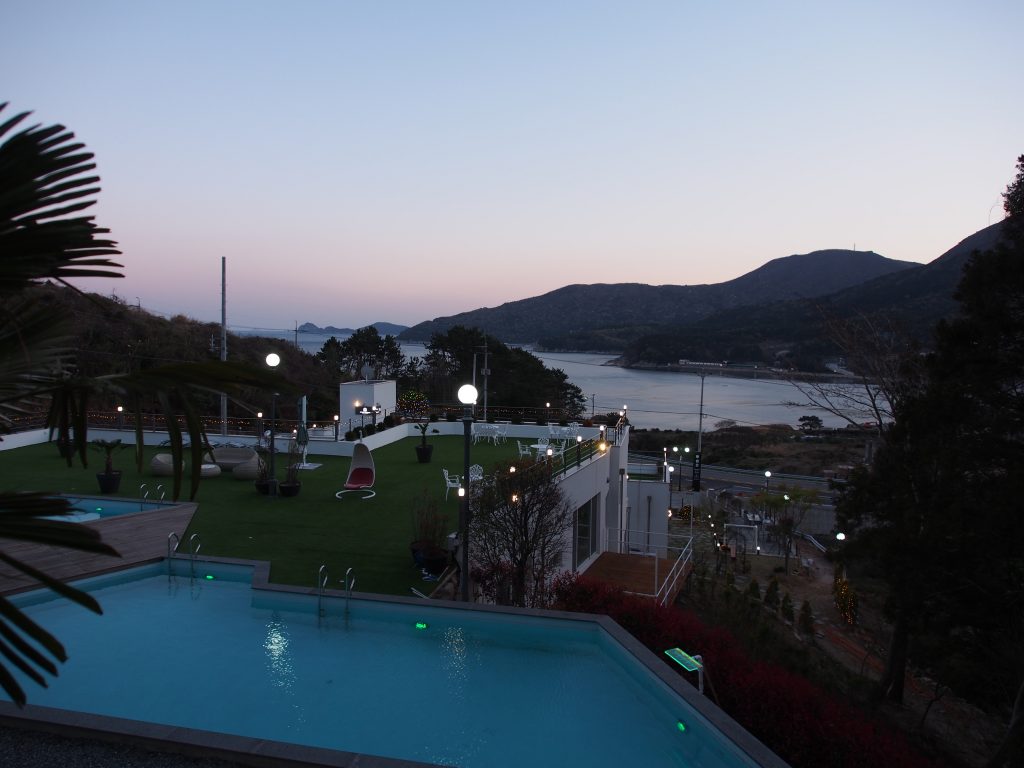 We went to the hotel restaurant for dinner as we were too lazy to get out and it didn't seemed like there were any restaurants nearby anyway. The restaurant was beautifully designed and cozy. We ordered risotto and beef cubes for about 61k and it was quite delicious.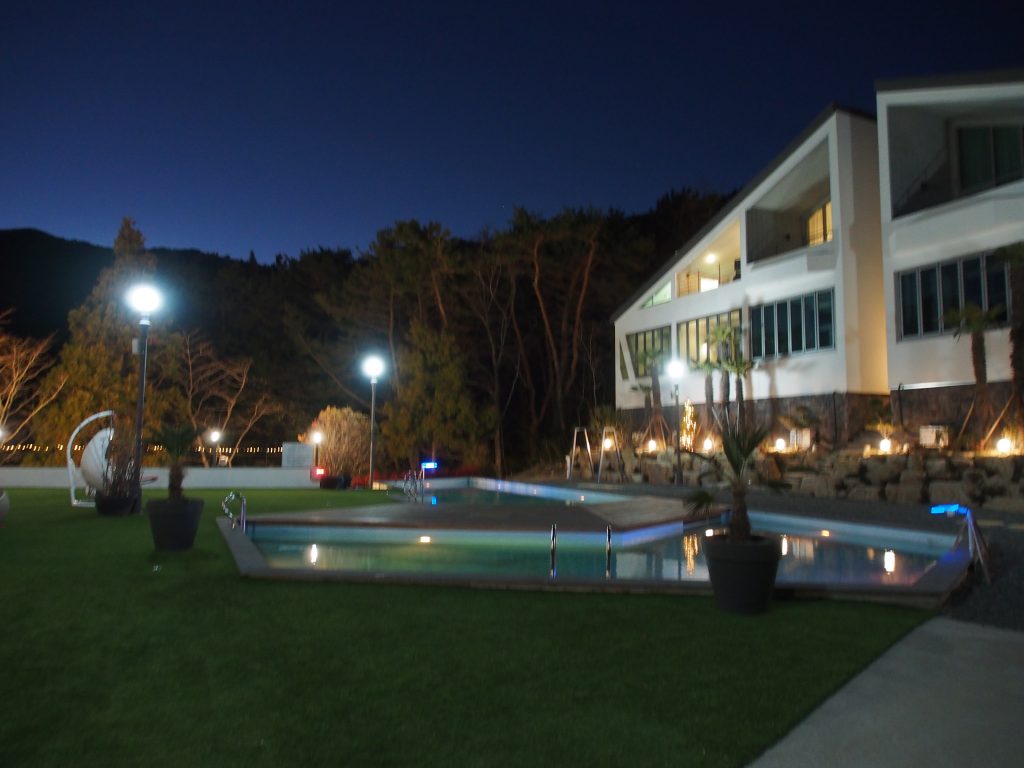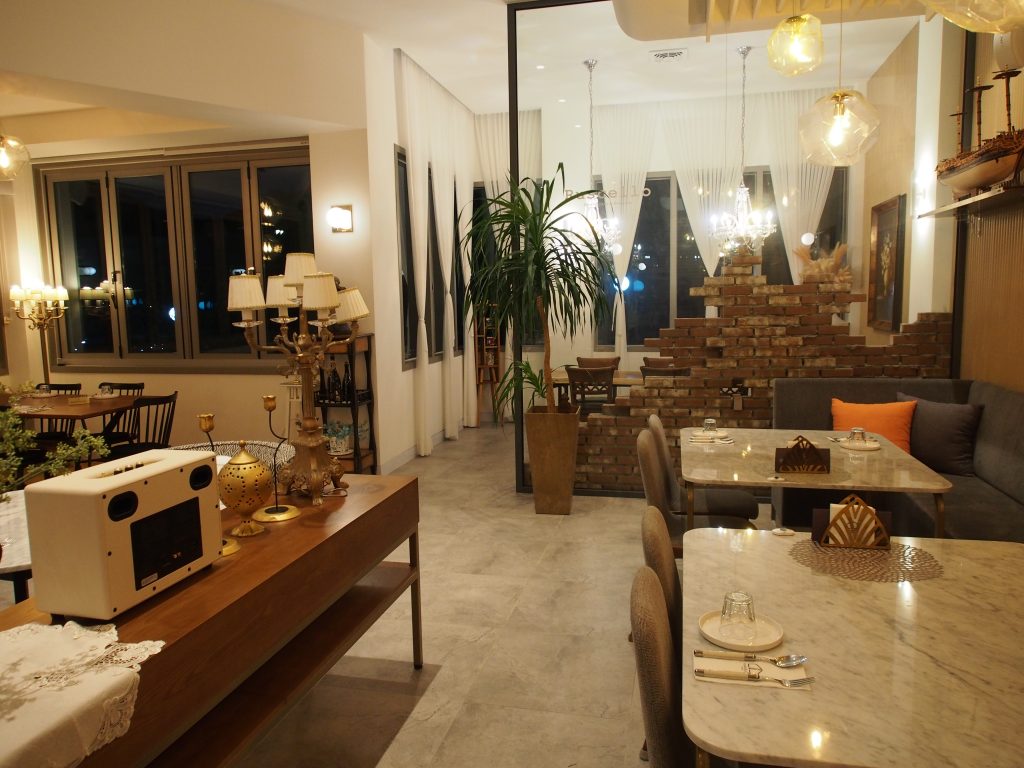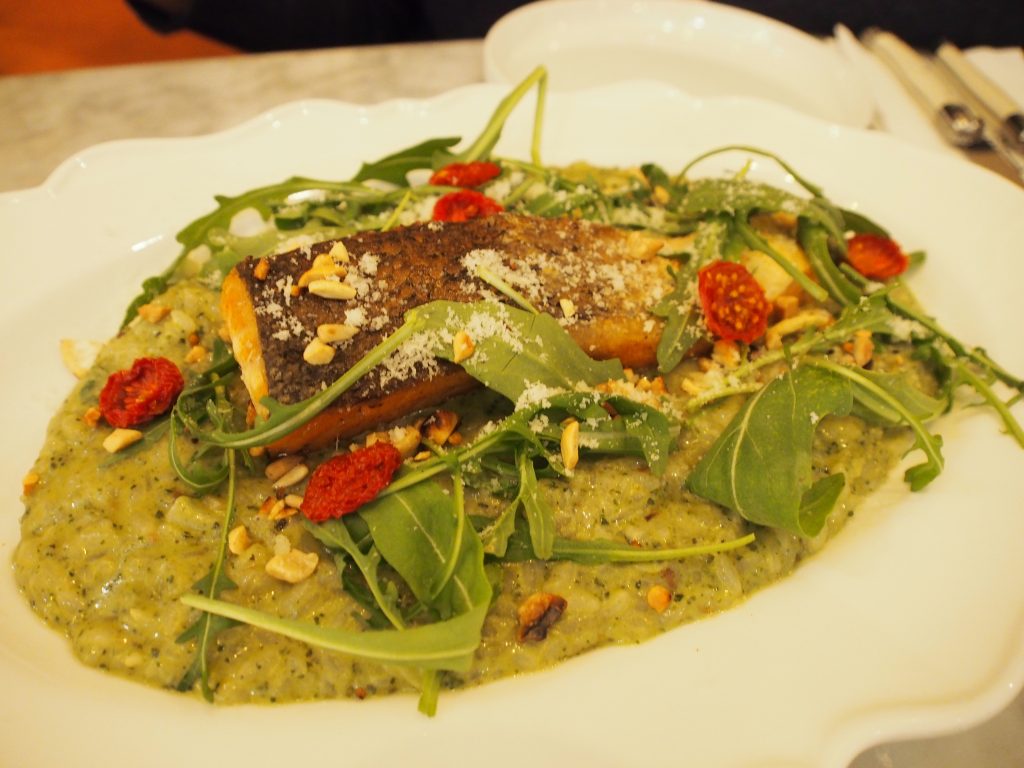 Returned to the room braving the cold and got ready for a bath in the huge bathtub. K enjoyed dipping in the water although it was a little cold in the room where the tub was. We spent the rest of the night doing math and sticker books before going to bed at 1030pm, ending a relatively light day.