Day 1 started with getting to Changi airport after my son fell asleep at homr as I left for my solo trip. The airport counters didn't have a lot of people and I checked in my backpack and spent the rest of the time on one of the airport computer station to continue updating my blog for the last trip. With undivided attention, I managed to complete the Vietnam trip blog before taking the sky train to the gate.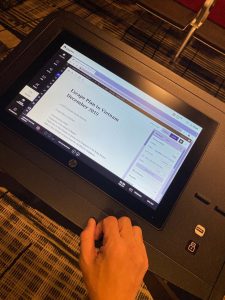 There weren't many people at the gate too and I cleared that pretty quickly. The flight SQ22 direct to New York had only business class and premier economy seats and while I walked through the aisle of business class, I noticed that there weren't many passengers there. But the premium economy section was full!
Settled into my window seat beside another man and then it was an almost 18hrs flight to Newark International airport.
The flight itself was pretty smooth, other than a short period of turbulence. The premium economy seats were more comfortable than the economy (maybe after miles redemption with a 51% discount made it all the sweeter!), though it was not my first time taking, I thought I enjoyed the flight a little more than last. I did however felt very uncomfortable with my shoes and had to loosen the laces to ease the throbbing pain that felt like a gout flare up on my foot (later realised that the feet can expand when on a flight).
Spent quite a bulk of time watching movies, such as Charlie's Angels, Terminator, Maleficent, Godzilla and Hobbs and Shaw ( and I liked Terminator, Maleficent and H&S) and the other parts mostly sleeping. There were food served 3 times with the first meal being my book the cook chicken supper which I thought was nice, followed by a pizza and pudding treat and lastly another book the cook pancake and omelette for breakfast which was tasty too.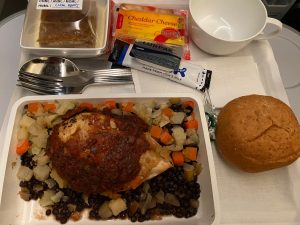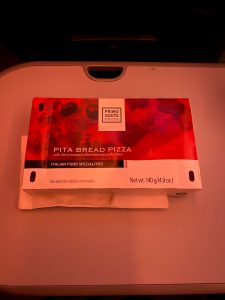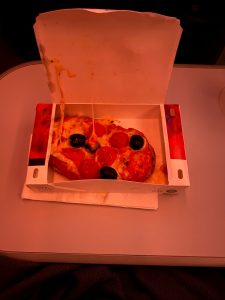 I liked the slightly more luxurious toilet comparing to the normal economy ones, where there were toothbrushes available in the toilet, which I took the opportunity to brush my teeth after waking up.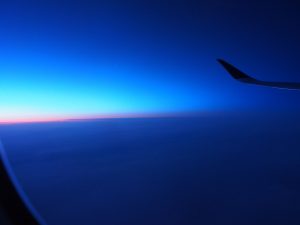 Landed into the airport at 510am and thankfully there was no line though it was initially quite confusing if I was at the right line. I managed to go to the automated machine and I cleared that really quickly and then it was off to the luggage belt. By 530 I already found myself outside and contemplating what I wanted to do. Been thinking of paying the Statue of Liberty a visit before the next flight but was quite turned off by the price of the transportation to Liberty State Park (USD18 on Uber) one way which I thought was too expensive. Plus it was just freezing outside and I am not dressed to deal with that cold.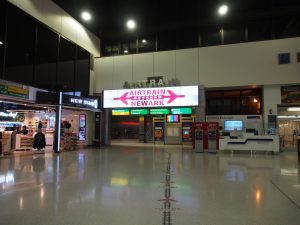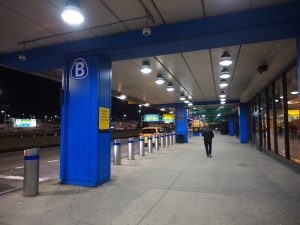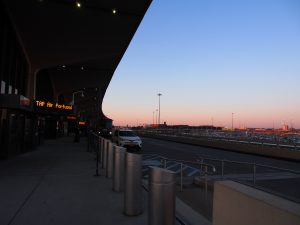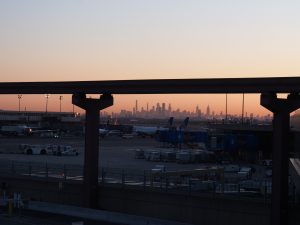 Instead I spent some time calling home and talking to mommy and K, just to update them on my whereabouts. I also took my painkillers and gout prescription to help ease the pain on my foot, trying to prevent an escalation of pain on the first day of my trip.
At about 7am, I went to the departures board and found that the check in for my Viva Aerobus flight is open. However it didn't mention which counter and in Terminal B, there were actually 3 levels of check in available for a variety of flights. I went through all 3 floors and couldn't find it. So I checked with the ground floor and one staff told me to check level 2. Asked another staff on level two and she told me to proceed to level 3. At level 3 I asked the Singapore Airlines counter and they pointed me to go further. I still couldn't find and check with another staff and she told me it's just those counters next door. And the board didn't indicate the Viva Aerobus logo. *roll eyes*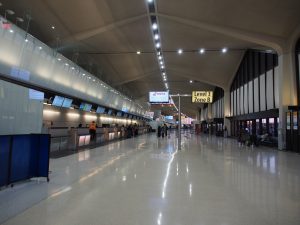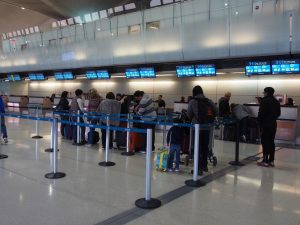 I checked in pretty quickly and I decided to bring along my backpack on board the plane myself, for the thought of a quick exit once I landed. Then I went through immigrations which cleared pretty quickly too. At the gate, there was not much to see as I went around one of the shops. Then I settled in a restaurant, called The Unusual Times, for some breakfast because I didn't think I would get any food onboard this flight.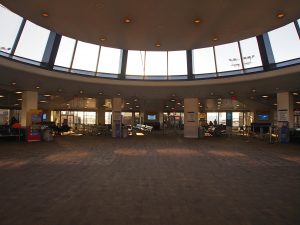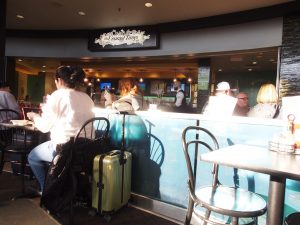 Ordered the sandwich and a regular coffee which was served pretty quickly but I thought the food tasted great! All these for 20USD including tips.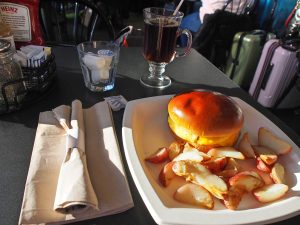 Soon they were calling for boarding and as I had paid a little more just to sit at the front few rows with our own dedicated overhead compartment space, I got to board earlier. Settled in quickly after the initial wait and glad there was an empty seat in between myself and another passenger seated at nex to the aisle.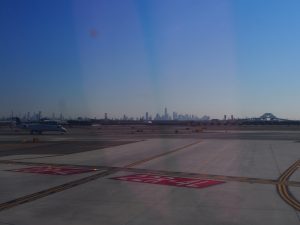 We took off on time and as the winter skies provided a clear view of the land below, I just stared out and enjoyed the ride as there were no other form of entertainment available. There were free snacks being served, and I chose the dried cranberries (the other one mango) which had a little spiciness with it. A free drink came with it and I took the coke light amongst the other soft drinks (mineral water not available as it was meant for mixing).
The views got better as we got closer to Cancun, the waters and clouds made like a canvas paint on the ground. The shoreline of Cancun was beautiful as well.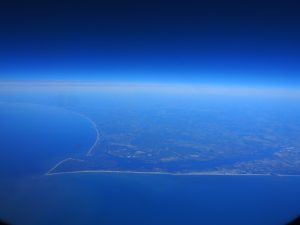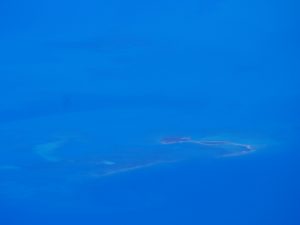 We landed 1hr ahead of schedule and disembarked without much problem. Went to loo before walking to fill up the immigration and custom declaration forms and seeing the snaking queue. There were 3 sections of immigration counters and I chose the last one by counting the number of active counters there were, but it didn't really matter as the other sections seemed to move just as quickly.
Then as I moved to the custom for exit, I found a chaotic mess of people queuing to get through it. I was shocked but still joined the back of some of the people anyhow. After moving forward then I realized that there were actually quite a number of lines to the xray scan for the bags. That didn't take forever luckily and I exited the arrival after passing through.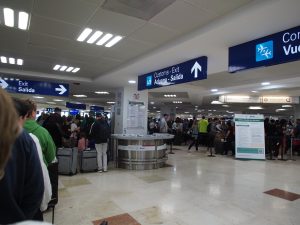 First thing I did was to head to the atm but found that these only dispersed USD. I thought why would I want USD in Mexico? So I didn't draw as I already had USD with me.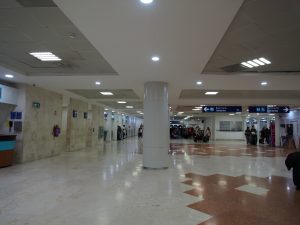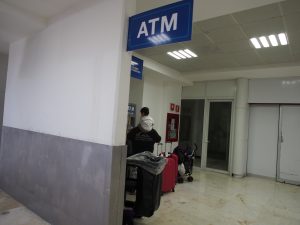 Followed the picture instructions given by the rental car company, I went to the meeting point right at the gate but didn't not find my name on a any signboard. A lot of helpful people were offering taxi and cars and buses but I told them I already got myself a car and waiting for the driver. Some even go as far to offer to call them on my behalf. I didn't know what were their ultimate intention but I declined anyway.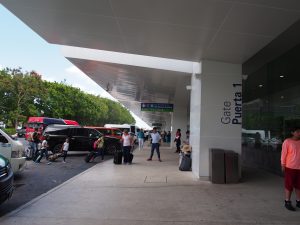 I called the company and they said they will arrive in 5mins. While waiting, I went into the building in an attempt to search for another ATM. Found one damaged and another one pointed out by another friendly Mexican but I didn't draw as the ATM didn't have the Maestro/plus/ usual suspects stickers with the fear that the machine will makan my YouTrip card and that would be disastrous since I have all my money in that card.
Easy Way van came along with a staff holding a board with my name and I hopped onboard. He introduced himself and I immediately recognized him as the same person in the email. He seemed sincere and was unlike the many horror stories I read online about staff of rental companies trying to rip off tourists. He even dropped me off at one of the gas station to use the ATM there, which also didn't have any stickers on the ATM but I tried and it worked.
The standard procedures happened in the office of Easy Way and I paid for the same amount for what I had requested online reservation, which including the full insurance coverage I had asked for, at a price of USD79 per day. Charged it to my credit card using local currency and then got my car checked before I got onto the road.
My first stop was to go get my Hard Rock Cafe tee that I would usually do when traveling. So I drove to the hotel zone (long strip of land lined with hotels and retails and beaches catered for tourists) and visited the Hard Rock hotel. The carpark attendant, on understanding the reason of my visit, decided to give me a voucher to redeem a free gift. It was incredible. The hotel itself also looked pretty nicely designed.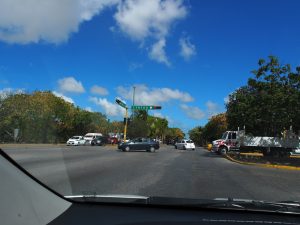 After the quick visit for my purchase, I drove further northwards in the hope to find a carpark to park my car so that I could get down to take some photos of both the sandy beach and the Nichupté lagoon. Unfortunately, I couldn't find any while driving along and only managed to get one pretty far from both the lagoon and beaches. After parking, I walked to the Nichupté lagoon first.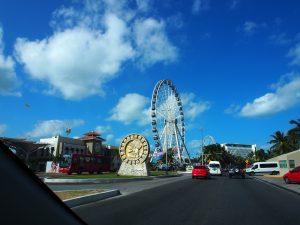 The shortest route led me to an area behind a building and I saw a sign on the fence warning of crocodiles. And not too far from the sign, there was a croc sunbathing in the sun! Took some photos and proceeded to walk to the beach. I found that both the lagoon and the beach as surprising hard to get to as there wasn't a place to walk to it; seemed like for most these parts of these places were owned by the hotels (at least for the beach).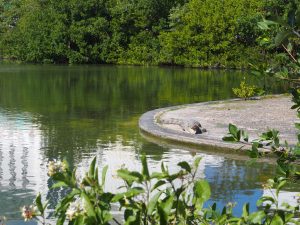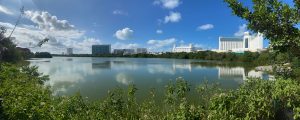 I managed to find a Mandala beach entrance that offered a direct route to Playa Forum and I walked through it in my worst dressed beach wear – in my jeans and sneakers. Because of this, I wasn't able to walk anything past  the edge of beach sand for fear that the soft sand will infiltrate my shoes. From the distance I saw the white stretch of soft sand that went into as far as my sight could reach but what stood out was the turquoise blue waters with waves crashing onto the beachfront! It looked amazing! I took whatever photos that I could master to capture the view but fell seriously short in getting a good image.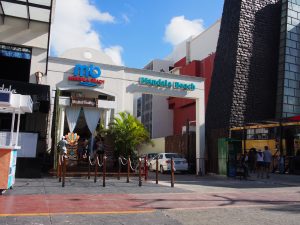 As soon as I was arrived at Playa Forum, I had to make my way back to the car and be on my way as I had to get to Chichen Itza for the light show at 7pm and it was a terribly long drive of 2.5hrs to reach there. Walking through the streets that had many buildings, some had retails and others empty, I felt that this place really deserved more time than I have given it. Took a picture of the signboard of the famous Coco Bongo club and pretty soon I was in the car ready to drive.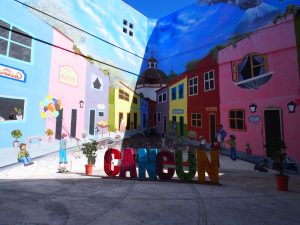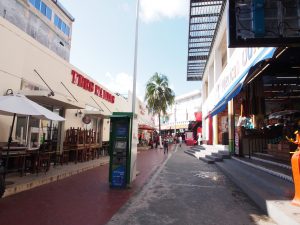 Then it was driving all the way, surprised that the GPS made me return to the same hotel stretch saying it was faster and then onwards to route 180 before the 110km/hr 180D. The entire route had many straight roads and were super easy to drive without many cars. The road was well maintained as well. There were two tolls one was somewhere in the middle which was 378 pesos and the one nearer was 80pesos. There was also a police stop which I went past without an issue, as the police asked if I knew Spanish which I replied no.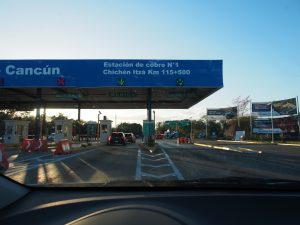 I arrived into Mayaland resort carpark after getting into the wrong route twice, once to the main road to Chichen Itza and once to a Mayaland signboard but the guard told me to go around following the GPS. When I reached the resort, the sun was already about to set.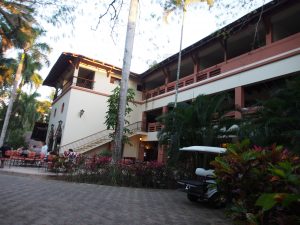 I went to check in at the surprisingly busy reception and was given a room on the 2nd floor. Also paid for the sunrise tour of 1500pesos that will start at 440am the next day. I was in a rush to get to the light show not realizing that Chichen Itza was one hour behind Cancun; I had a little bit more time than I thought.
Went back to the room first to rest a bit and unpack before going to the restaurant which was when I felt very neglected. Nobody attended to me while I waited at the entrance and time was ticking away. I didn't know if I could make it for the light show if I get dinner. I felt maybe it was because I am Asian and didn't know Spanish and may not know English and that was why I was being ignored? After approaching one of the staff, I found out that the restaurant closed at 930 but was assured I would be able to return in time for dinner.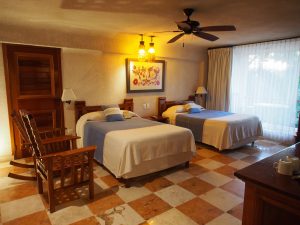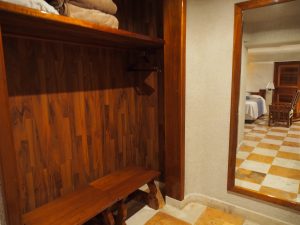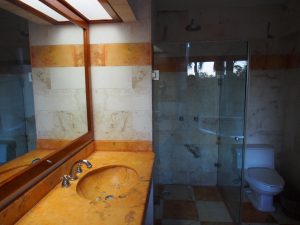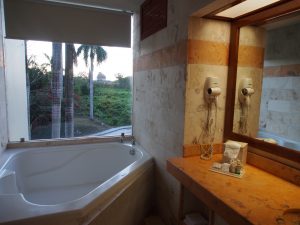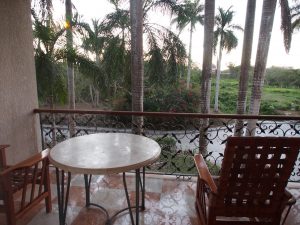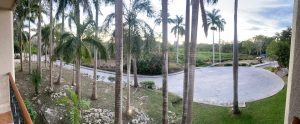 I went to the reception who told me that I need to drive all the way back to the entrance to enter for the light show (as I initially thought I could enter through the resort private entrance) and so I drove quickly into a pretty crowded carpark and saw a huge crowd already waiting to go in.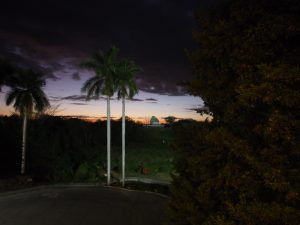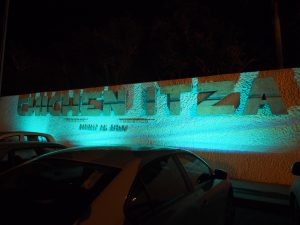 The show began with a lighted up version of the buildings in the site and the people can walk around a prescribed route around to take photos. It was my first time there I couldn't resist all the selfies I had with the El Castillo. There was no guide in the night tour so it was just photos all the way.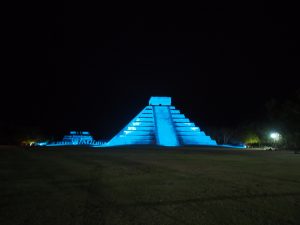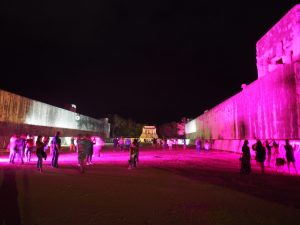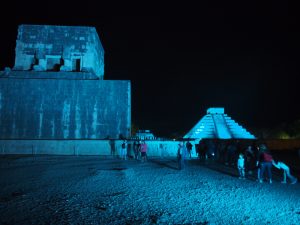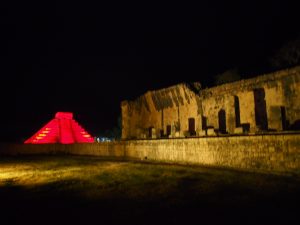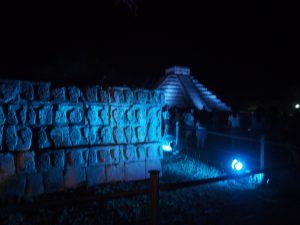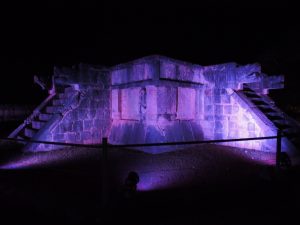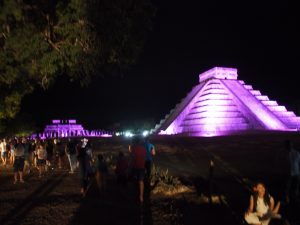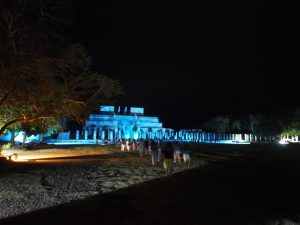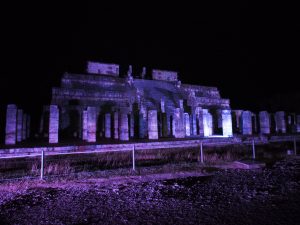 Upon completion of the route, I took my seat of A16 in front row and was surprised that my seat view was pretty aligned to the main temple. It was so much different while booking the tickets online as the position shown was more to the right of the temple but in reality it was slightly to the left of the temple center (reference when facing the temple).
We waited until everyone was seated, and was slightly worried of the slight drizzle that it would actually rain. Nothing happened literally, not even the light show, as one of the staff came to inform that the show had to be cancelled due to technical difficulties. I was shocked but it seemed normal to everyone as as the people all just stood up and left. Many found themselves at the counter, queuing for rebooking or refund. For me, I just left because it was ridiculous for me to wait in queue while I can go online (the same website to purchase the night show tickets) to refund my tickets.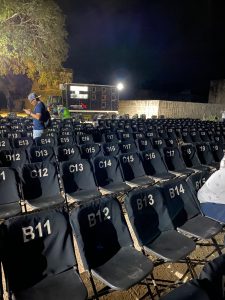 I refunded my carpark costs of 80pesos as well by returning the carpark stub at the exit and drove back to the hotel. Went straight to the restaurant to eat and ordered Mayan cuisine. There were complementary tortilla chips with sauces of various spiciness and I shocked when I tasted one of them which was super spicy. Quickly down some beer to put out the fire in the mouth. My main dish arrived consisting of 4 tacos that had ingredients of  lechon and cochinita, 2 pieces each and it tasted really nice. I also loved the sides that were paste made from beans and some greenish ones which I didn't know what they were made of. The dinner costed 290pesos with tips.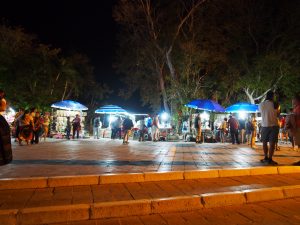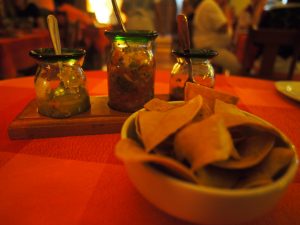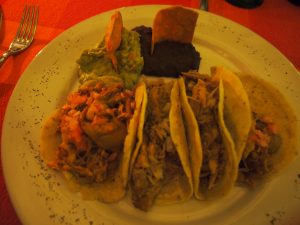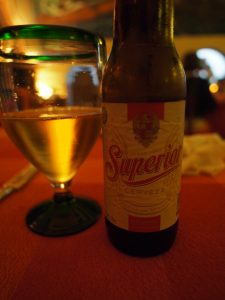 Returned to the hotel totally drained with my longest 23rd Feb ever (30hrs starting from the 23rd Feb in Singapore). Filled up the massive tub and enjoyed my dip in which I fell asleep a few times. The TV sucked of any shows as it wasn't receiving any signals and I didn't get Wifi. But it's fine, I started to jot down stuff before resigning for the night.