My Tokyo trip started late, both in terms of planning and the actual day itself! I only bought the tickets 6 days before flying which was good because JAL actually had prices compatible to the crazy Scoot prices, full flight vs budget with compatible flight times, it was a no brainer for me.
After spending the weekend with my family, I soon found myself on the way to the airport for my 220am red eye flight to Haneda airport, Dad gave me a ride to the revamped Changi Terminal 1 that was tied to the Jewel. Check in was quick since I was backpacking and then I was roaming within the transit areas. Had to draw out more cash to exchange for Yen as I found out late that cash was preferred mode of payment and also that one of my accommodation I had to pay at the hotel itself, which I had forgotten to cater for when I first exchanged the cash for a Y100:SGD125 rate. The airport rates were bad, but there weren't other choices at that place and time.
It was my first time on JAL and once onboard, I was immediately drawn to the dark red and black colours combination. Comfort wise, there weren't much difference I thought compared to SQ etc. The entertainment system wasn't fantastic though and there weren't much choices (maybe there weren't any good movies that were converted to free airlines movies during this period). Anyhow, I was off to sleep almost immediately, saving my energy for Tokyo rather than the movies on the plane.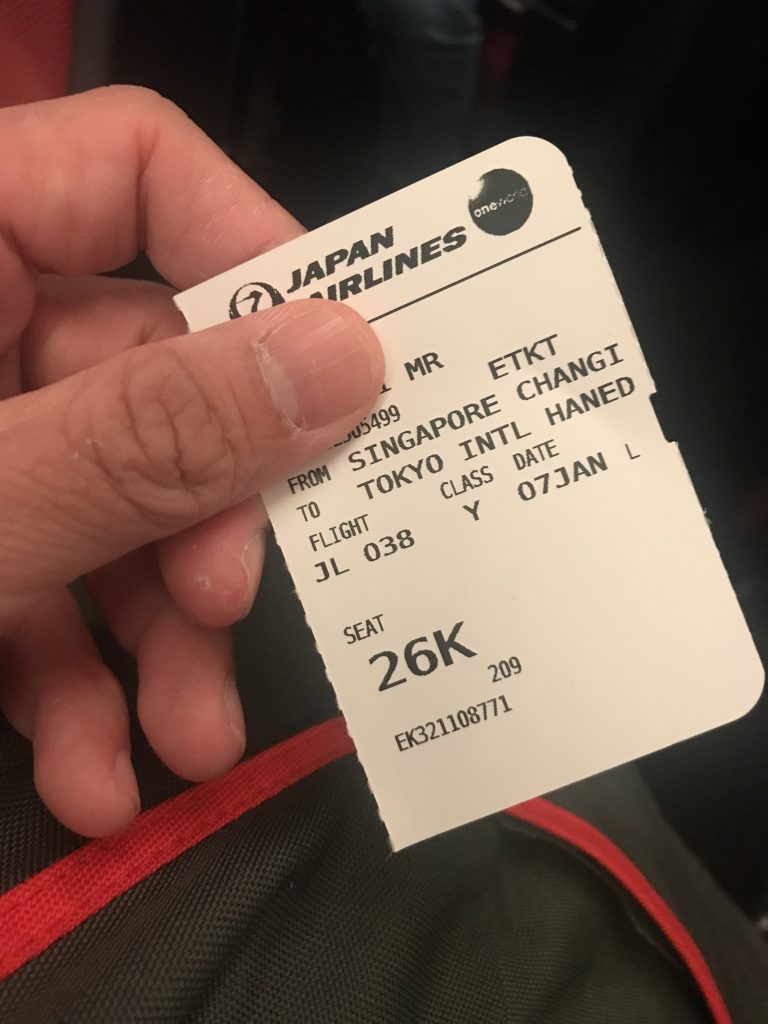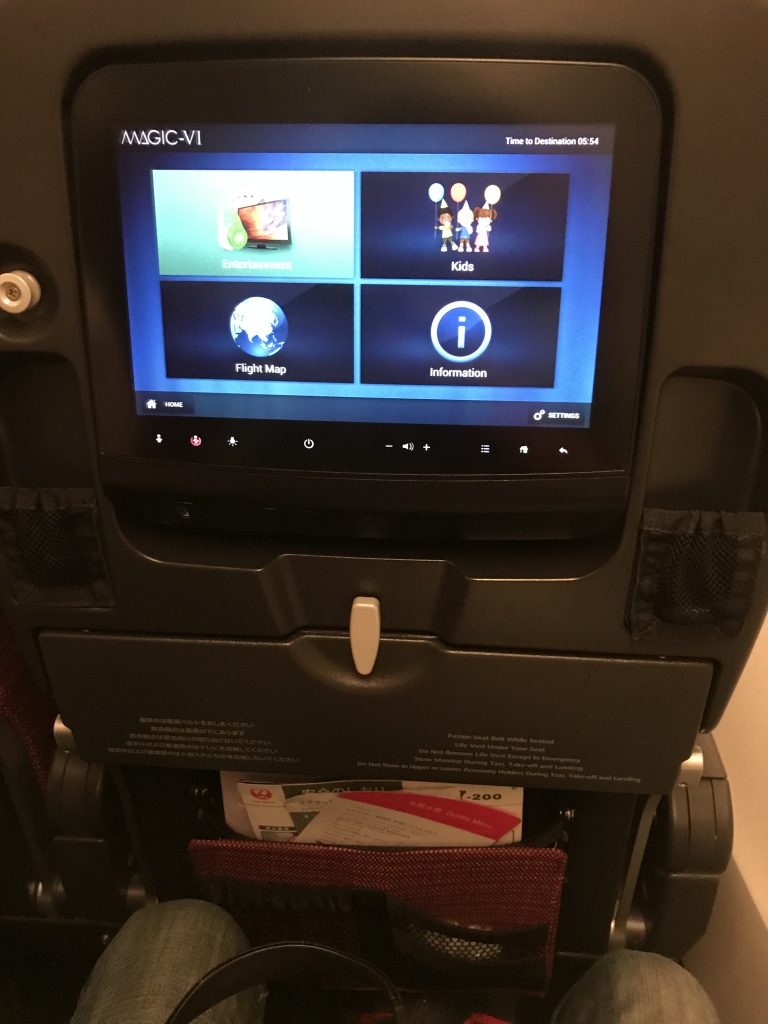 Some 5hrs into the flight, I was already awake couldn't really sleep comfortably. There was sunlight in the horizon and breakfast was about to be served. I realised that I was not at a great seat, my seat view was blocked by the wing of then plane. Furthermore, looking at the flight path, I wouldn't be able to see Mt. Fuji from my seat since I was on the right side while the plane would past Mt. Fuji on the right side too.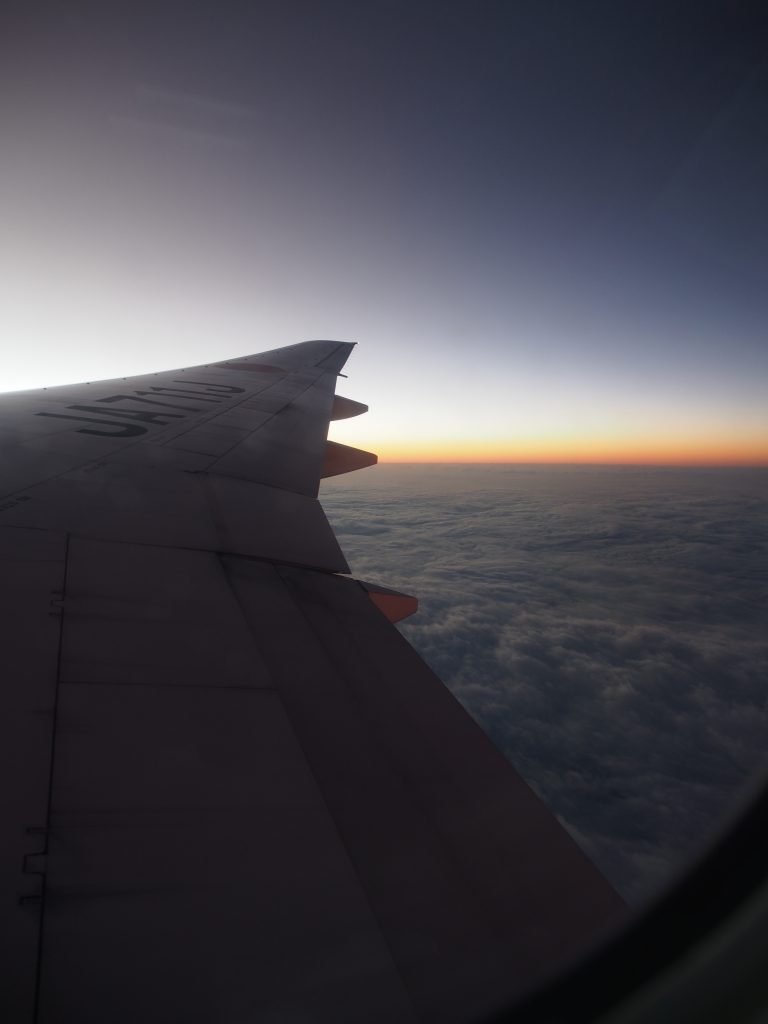 Breakfast inflight was pretty good I thought and I cleaned it up as soon as it was served. The rest of the journey was spent dozing on and off till the plane landed in Tokyo smoothly. While taxiing, the view of Mt. Fuji could be seen from Haneda Airport, an amazing sight.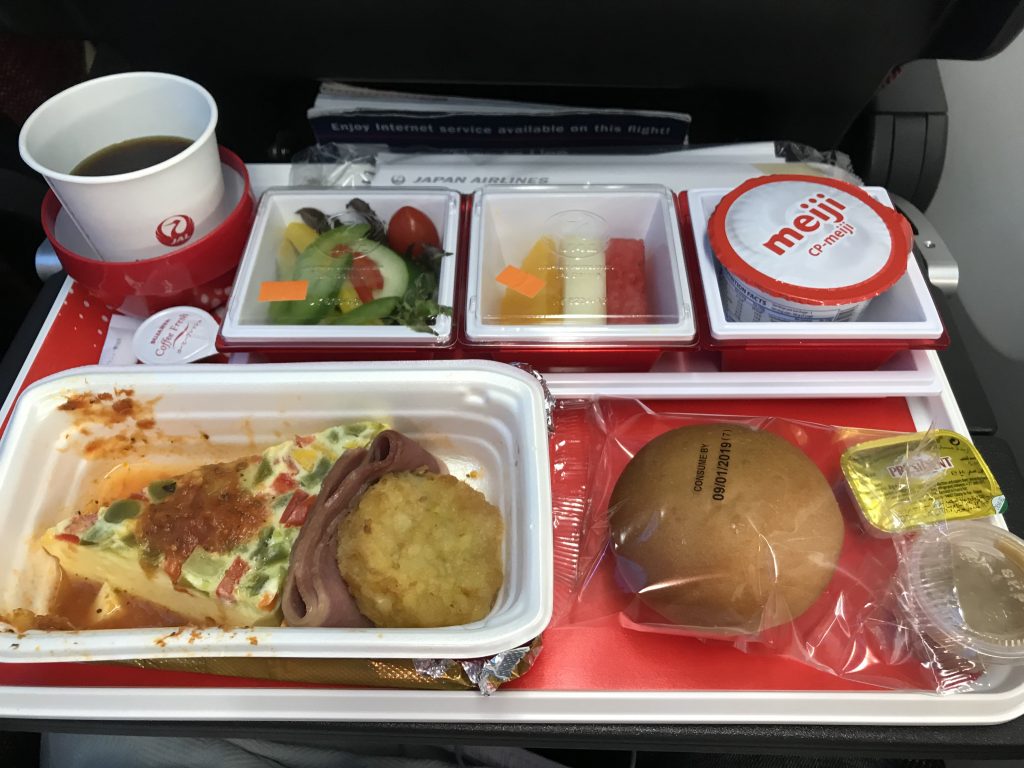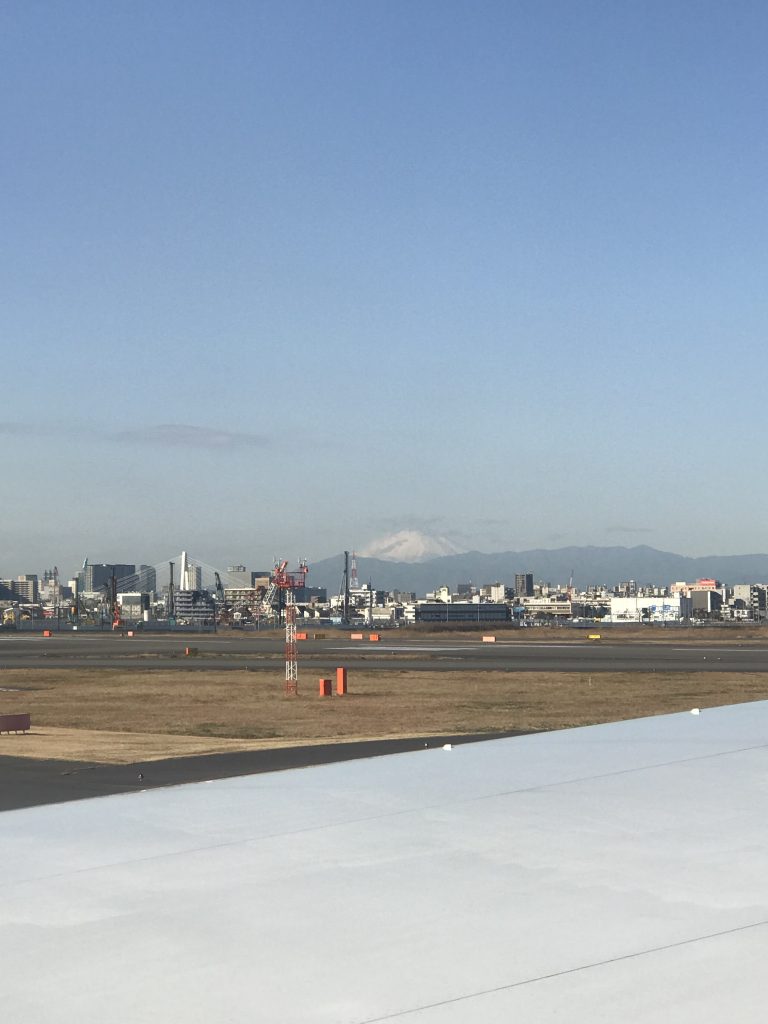 I took off quickly in a bid to start my exploration as soon as possible. Upon reaching the immigrations, I went to take the immigrations form declarations to fill in as I wasn't given one on the plane, suspected that I might have been skipped as they assumed I was Japanese. But it wasn't a big problem and I proceeded to the immigrations quickly. There was a queue but people were moving fast with the help of a staff directing people to the counters. I cleared in a couple of minutes.
Since I didn't have to wait for a luggage, I walked towards the customs where I saw people handing paper forms to the customs officer which got me stumped for a moment but I still tried my luck. While approaching, the officer asked for the form in which I showed that I didn't have one and he immediately pointed me towards one of the walls with the empty forms, no other way about it. Quickly I filled up this second form and went through customs without any issues.
One of my first task upon arrival was to go pick up my 72hrs subway ticket that I have purchased on Klook. The instructions that accompanied the ticket was pretty simple, turned left upon exit of the arrival, and sure enough the counter was there. There weren't anyone queuing there and I received my subway ticket quickly and a subway map and left, not being sure of what the subway ticket allow in terms of ridership even after the staff explained to me.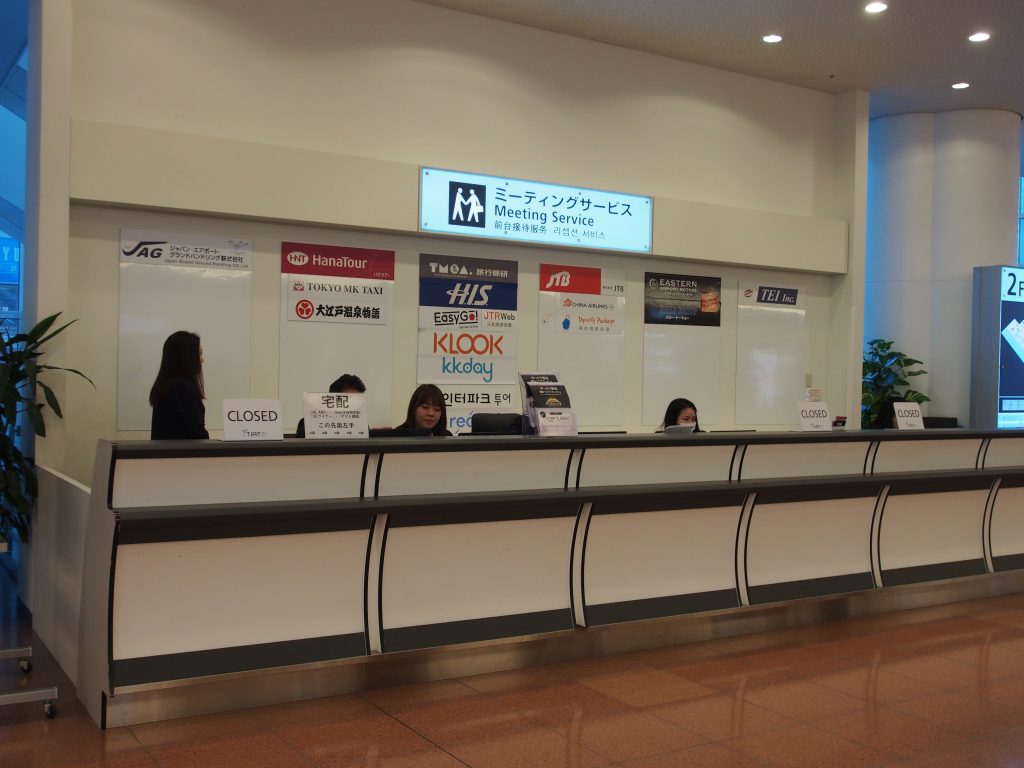 Walked towards the monorail and purchased the tickets to Yoyogi (which looked the closest on the map), as I wanted to visit Meiji Jingu Shrine first since it was still early and the accommodation will not be ready for check in. The ticketing machines had English options but there was a staff nearby that helped me with the first ticket purchase. She verbally guided me through the options so that I could help myself another time. Then it was a short train ride to Hamamatsucho. Made a transfer there to another line with the help with a very important website, Hyperdia.com, I was able to tell which was the ride train to board based on time schedule. Even so, it took a while to understand, which I learnt at Hamamatsucho.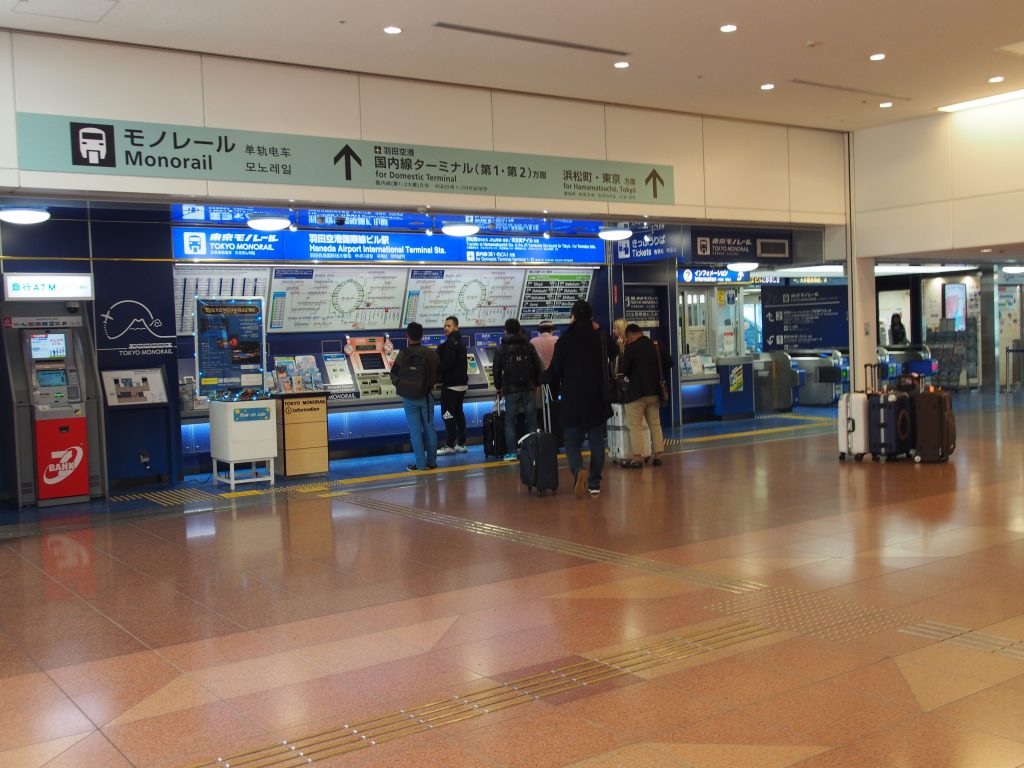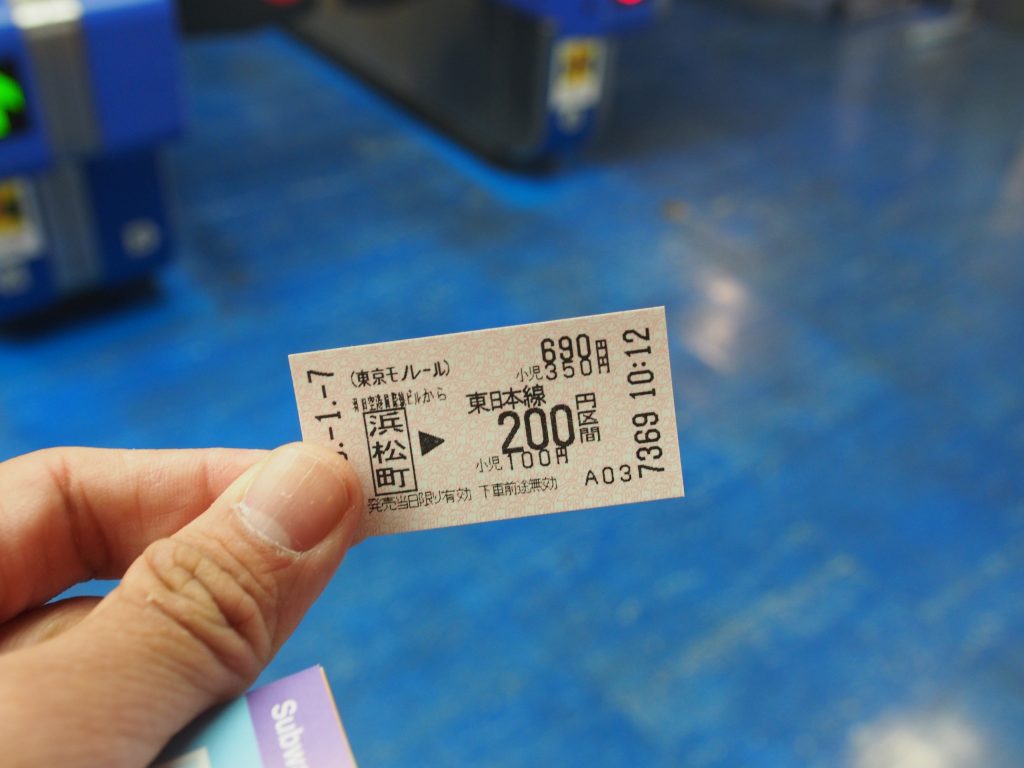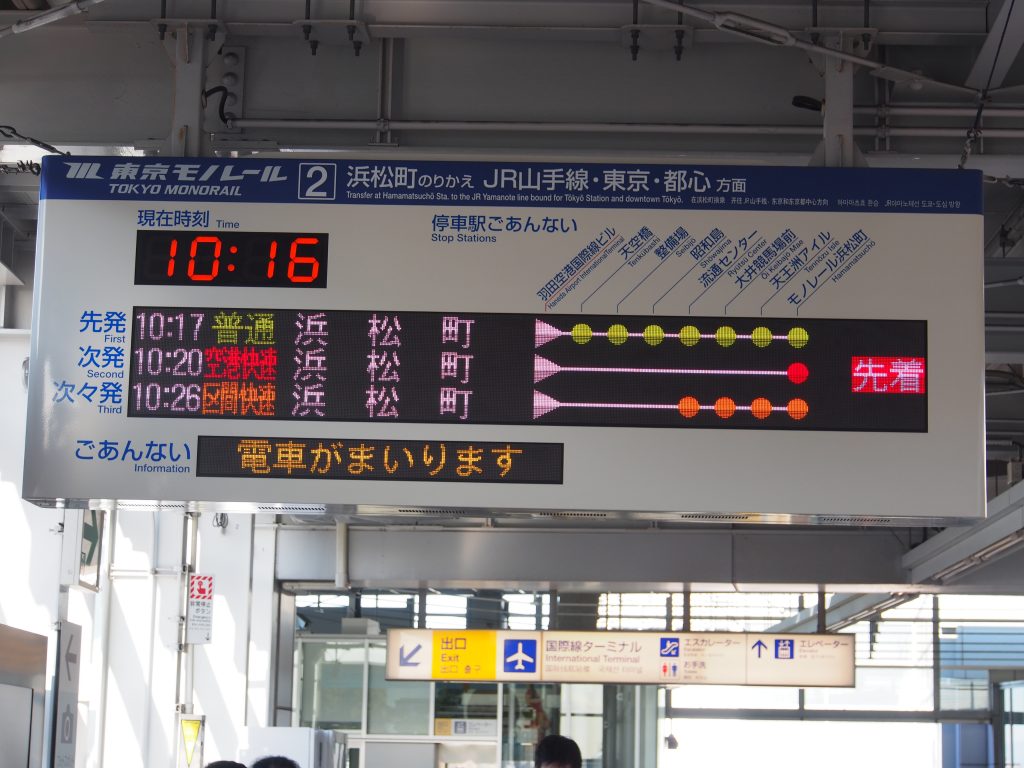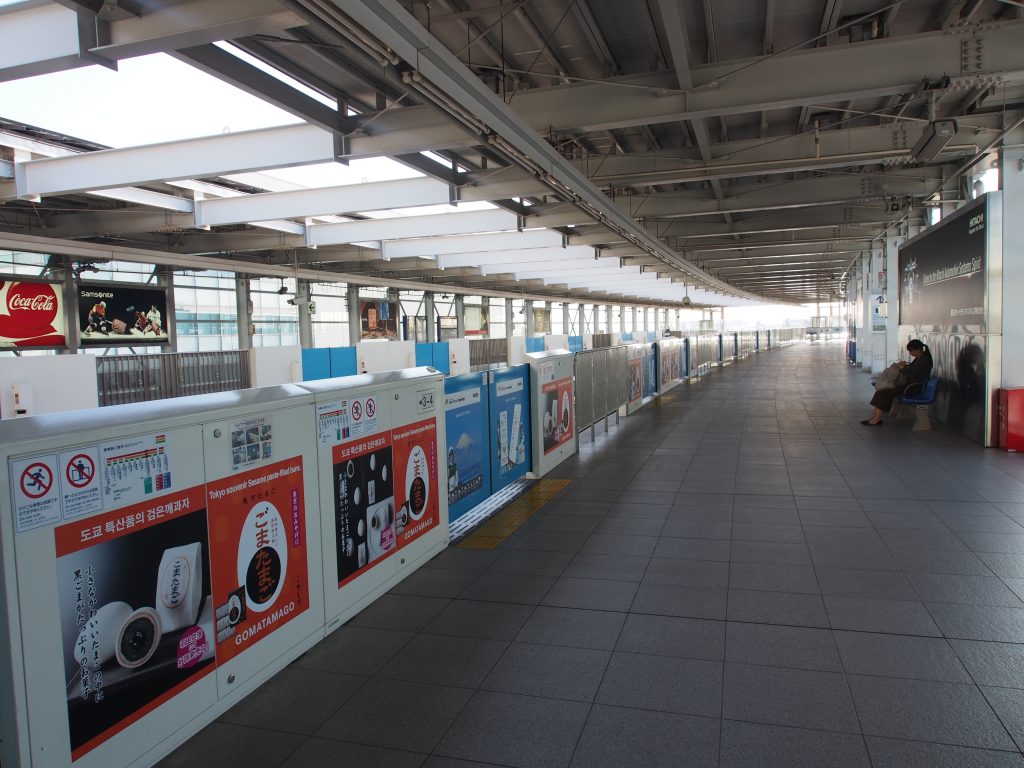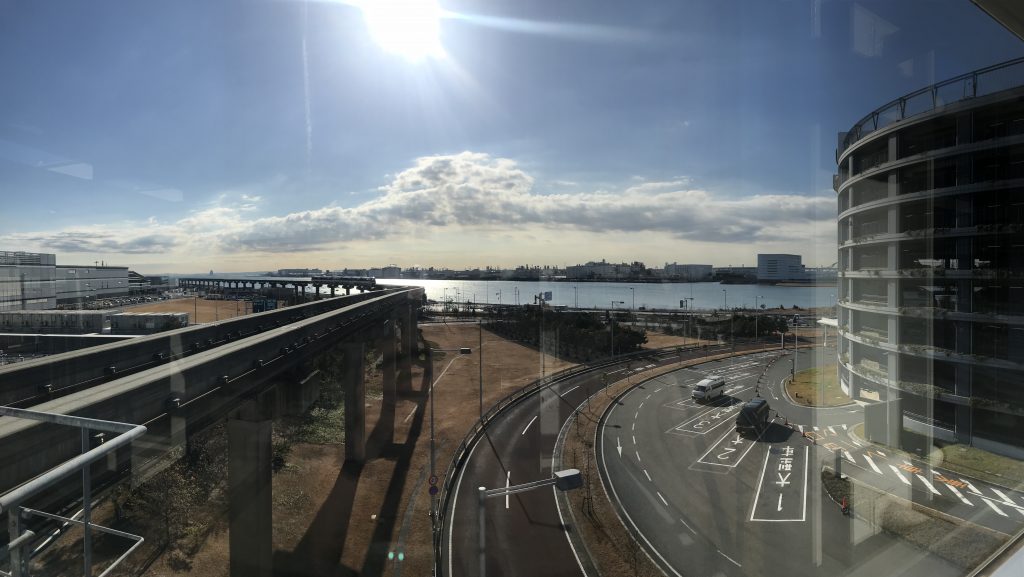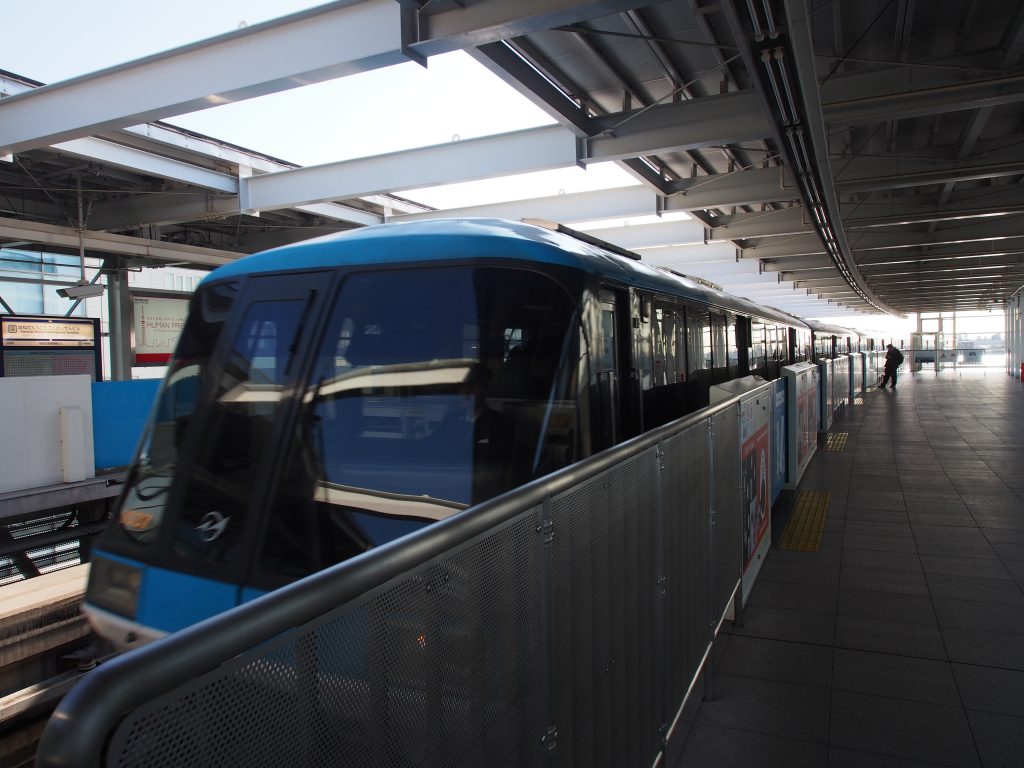 At this station, there were 2 ways to get there, one by subway and one by JR. What I saw on Hyperdia was that I would need to take the JR line to Yoyogi, not realising that I have paid for the full tickets price to Yoyogi via subway and that JR and subway tickets were not interchangeable! As a result, I paid another ticket on the JR line instead because when I tried the 72hrs subway ticket on JR, I was denied entry too! (and was thinking that it was a bad idea to get the tickets that didn't allow me to utilise it) Confusing at first but not so after getting used to.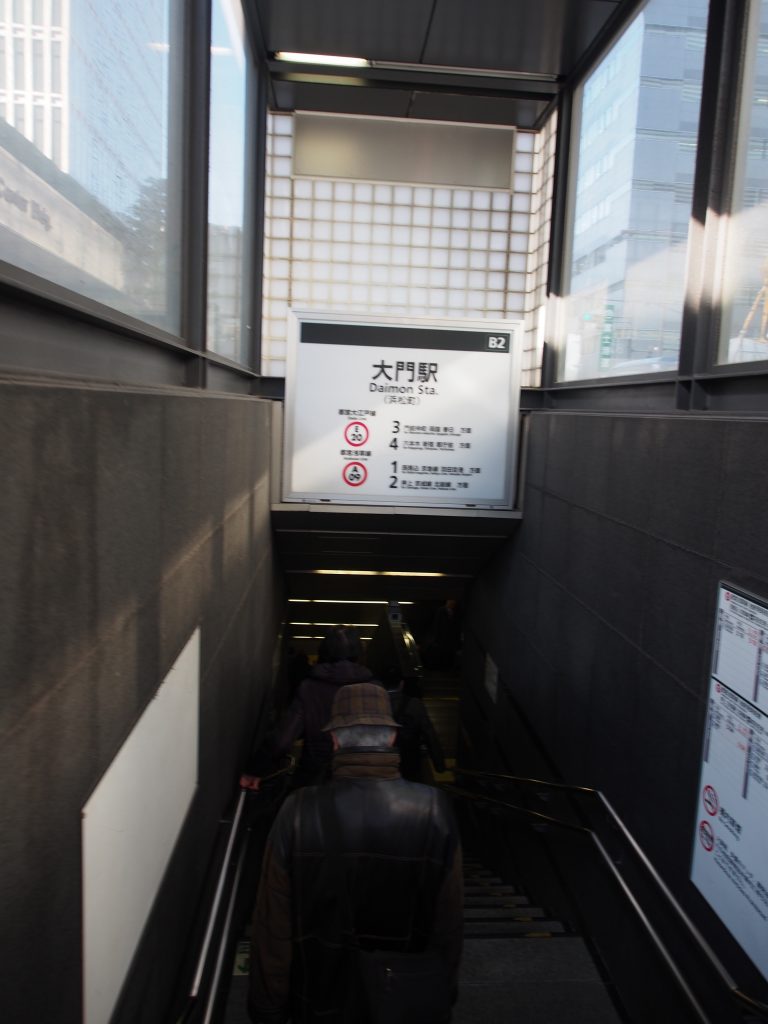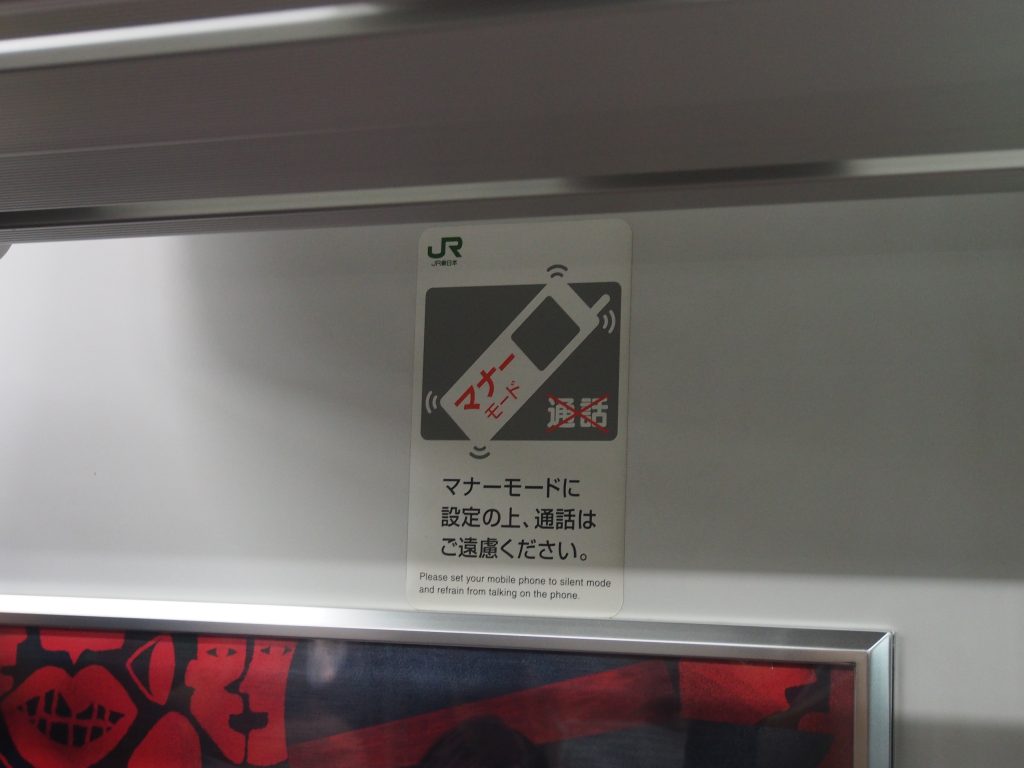 From Yoyogi station, I walked towards the shrine following the directions on my Google map, data enabled. The shrine was within a big park and it took a while to walk there. There was an amazing number of visitors to the park considering that it was a Monday morning and the closer I got to the shrine, the more I people I saw. And these were locals visiting and not tourists! Upon arrival at the gate, I was surprised to see many people and there seemed to be some sort of event going on, with lines of people queuing and staff in their traditional costumes guiding people to the shrine for prayers. Later I realised that it could be because it was still the first week of the new year and many locals may be renewing their prayers at the shrine, as I saw collection stations outside the shrines for old amulets to be disposed before entering the shrine. There were also signages on entry points for wishes and offerings and I couldn't make out the rest.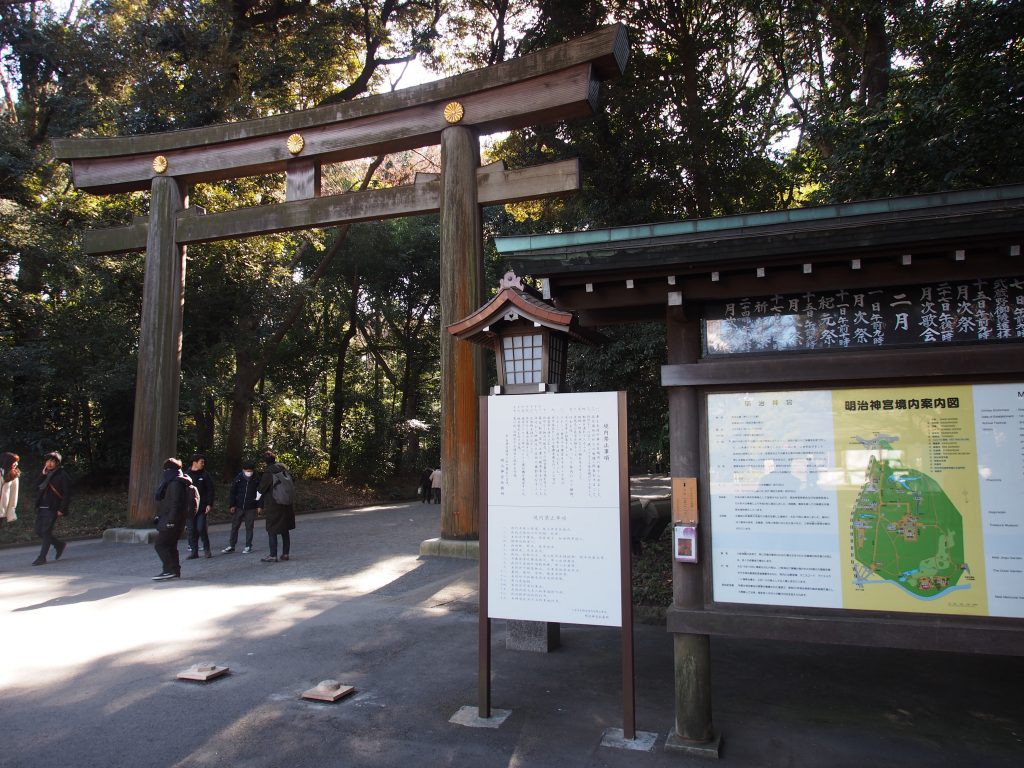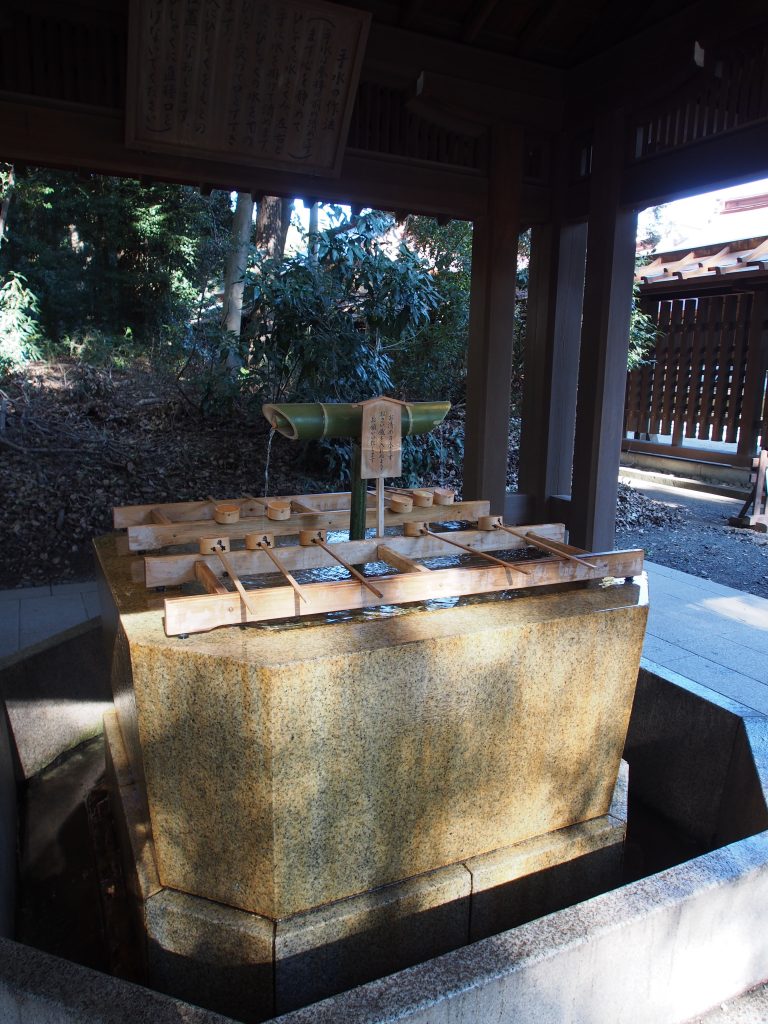 I walked the few gates and snapped pictures of the washing stations and the surrounding and skipping the visit to the shrine (since I didn't know how to make an offering or wished to queue up in the horrendously long line) and left towards my next destination, Harajuku.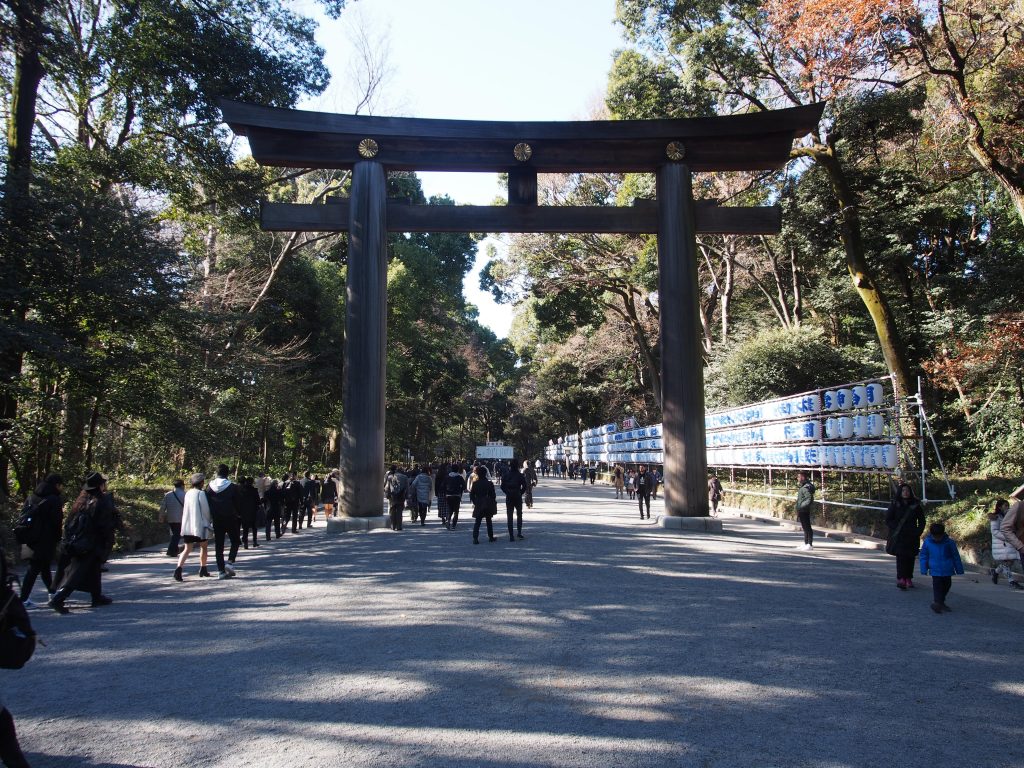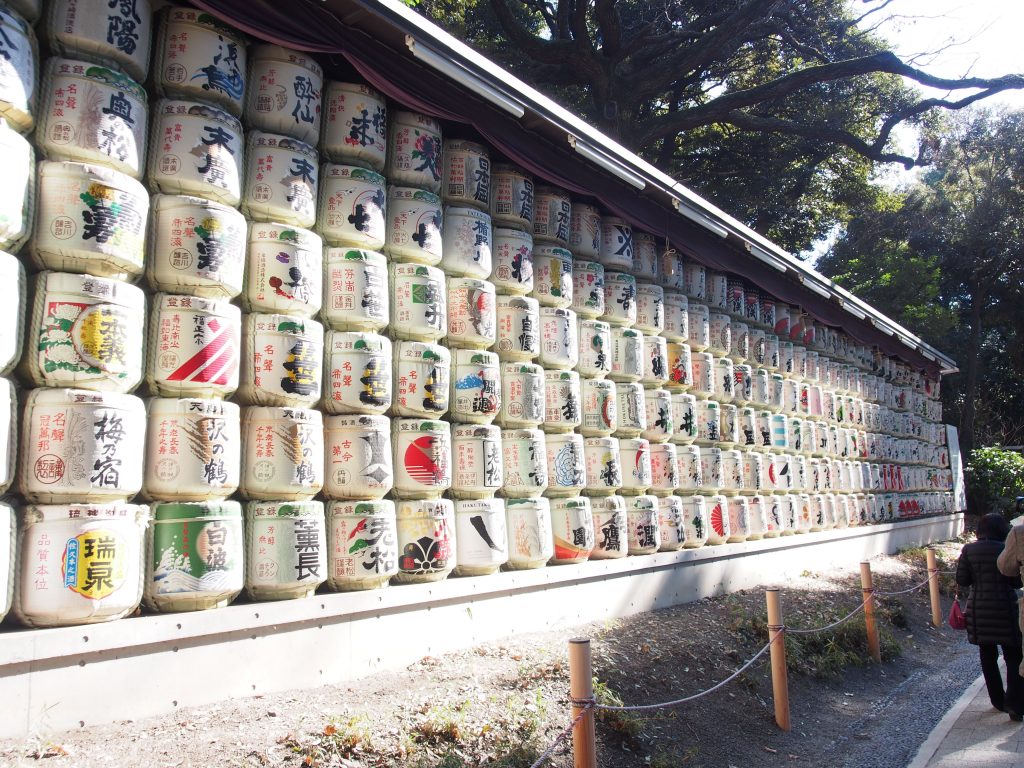 From the shrine, I walked towards Harajuku station and it was almost as long a walk to Yoyogi. Then I left my backpack inside the lockers, with an automated locker computer that had a choice of English instructions. Y300 later I was walking towards the young generation street of Harajuku, in search of an Owl Village.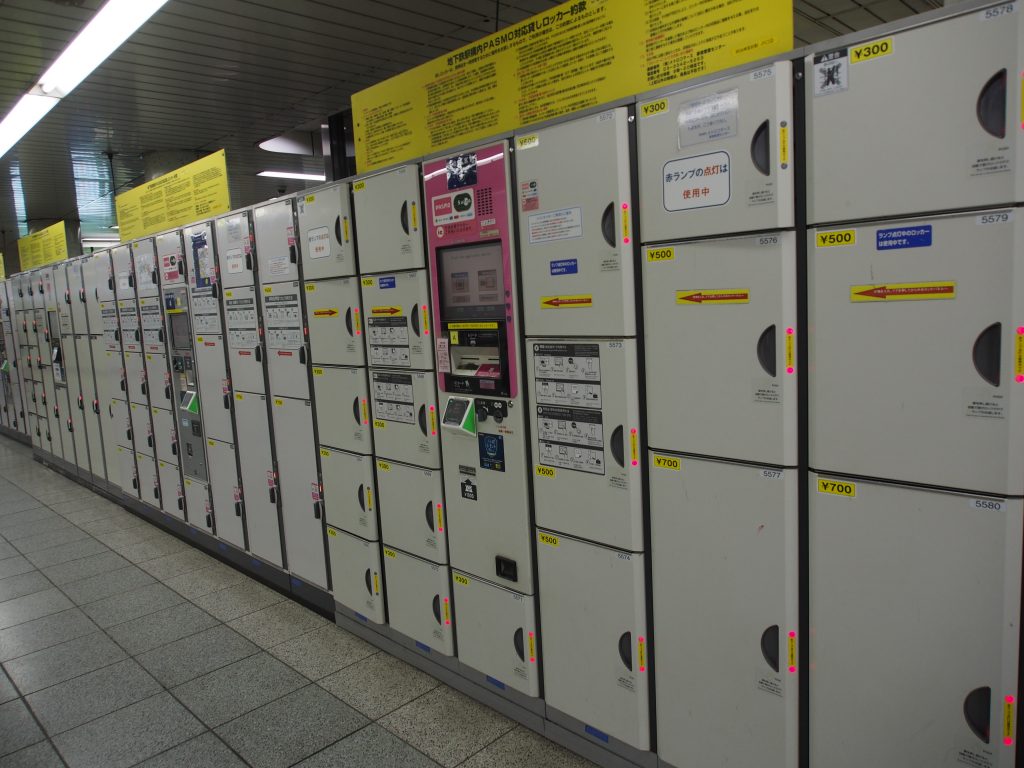 Owl Village was an cafe that had owls in there and it wasn't immediately visible where this cafe was situated as it was on the 4th floor of the building. I took the elevator up to the 4th floor and was briefed at the counter for the different packages available to choose from. I took the cheapest one with a drink (I thought that I could get lunch there but they didn't have food) with an hour time to spend with the hours for Y1500 and another Y500 so that I could feed the owls. There was already another couple there and they were within a isolated compound with the owls while I sat at the drinking area to have my green tea. I had to wait for some time to elapse which I didn't really know why, before I could go and check out the owls.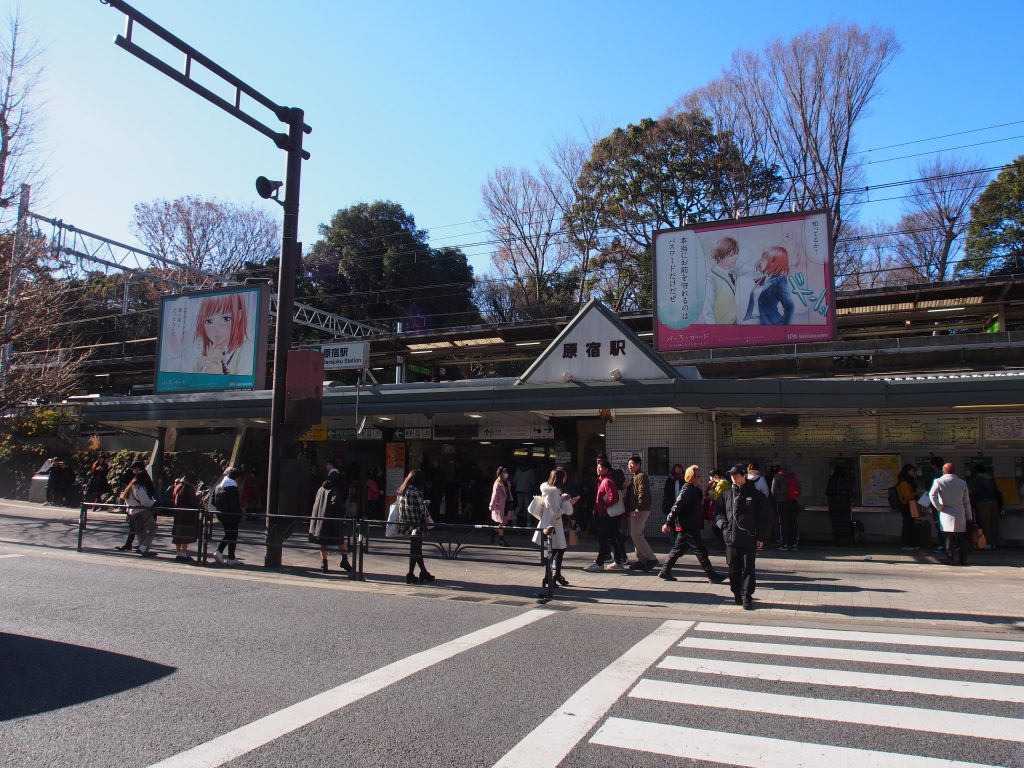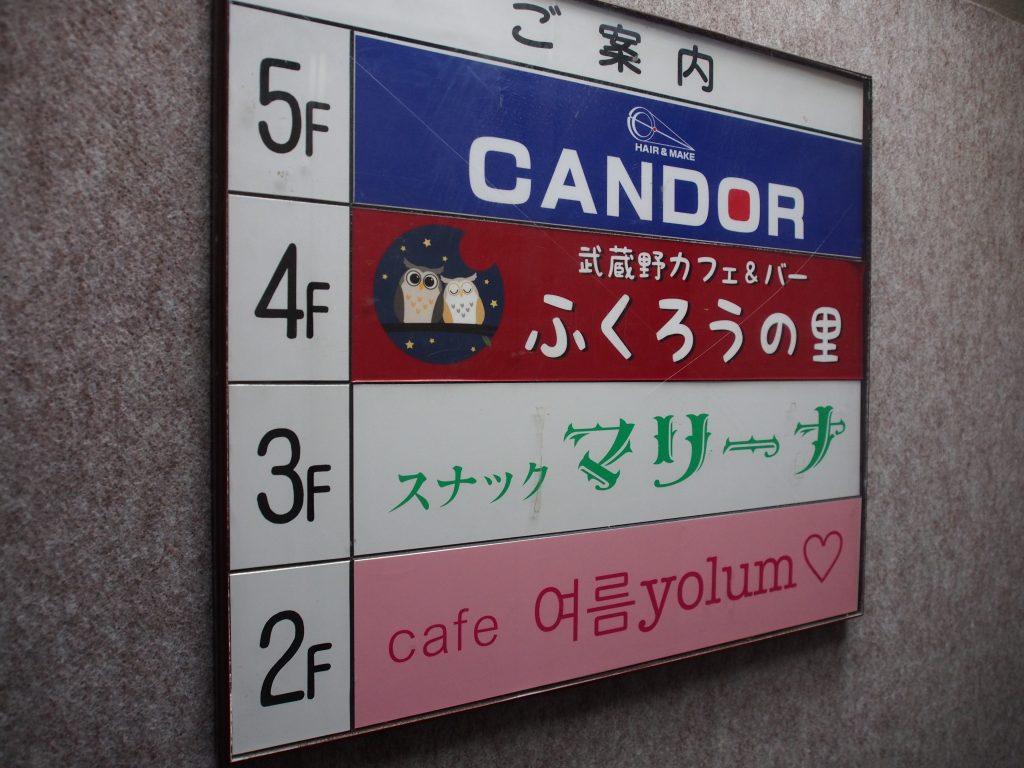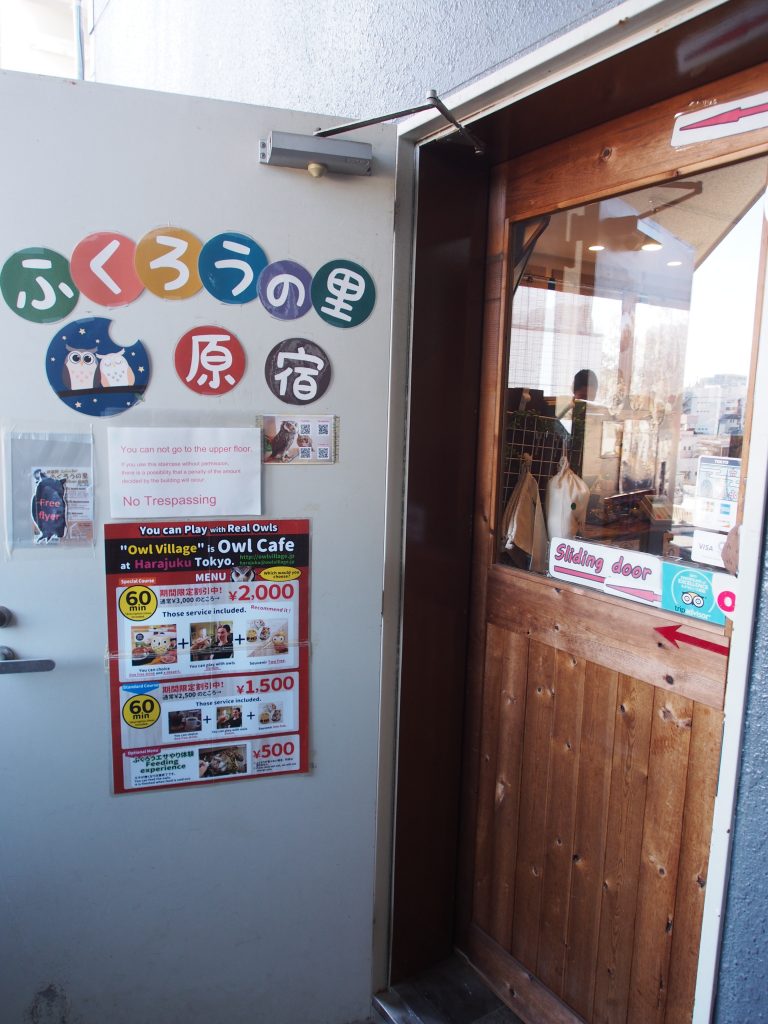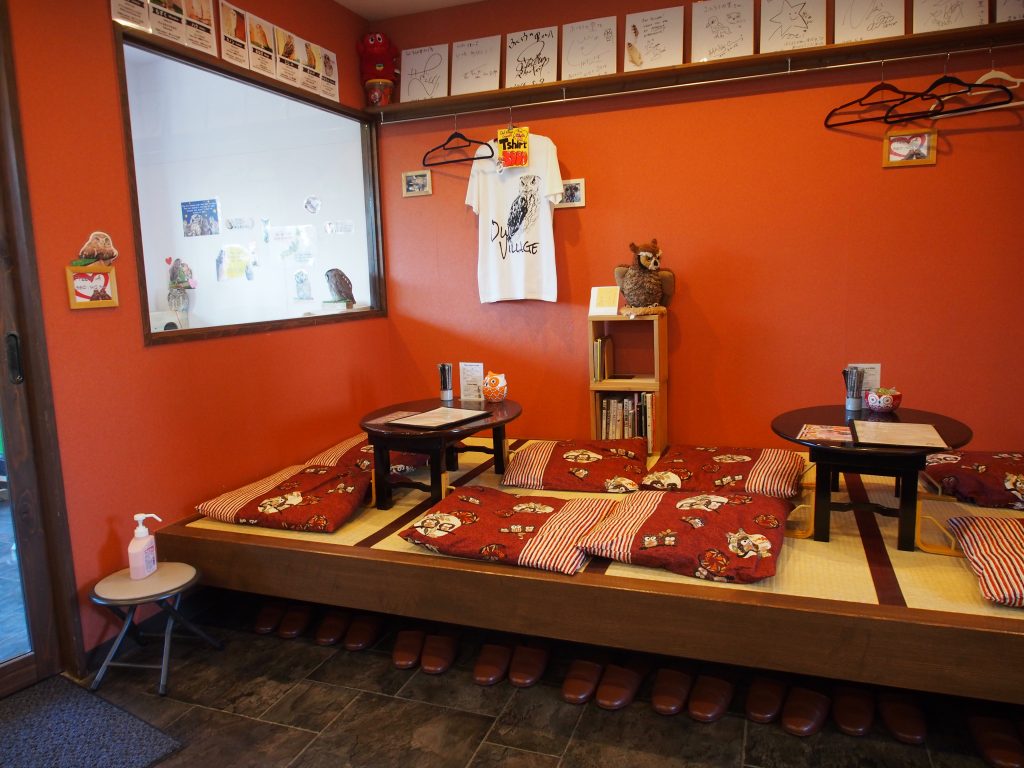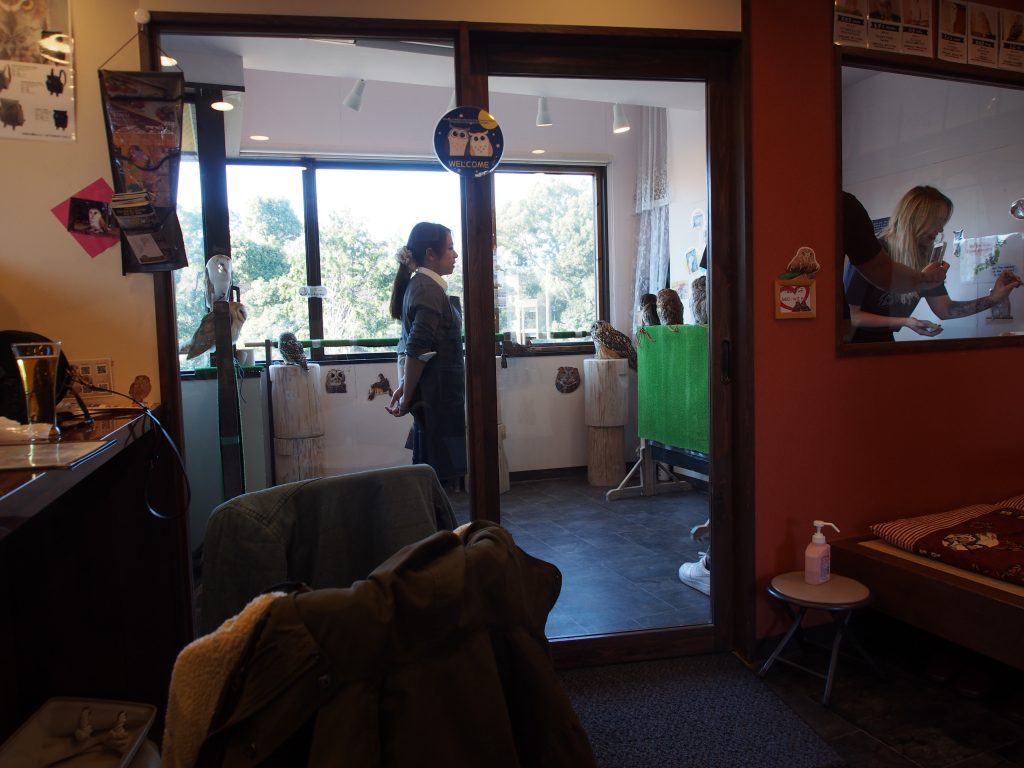 The staff that led me around introducing the owls by their names, and how to pet them. There were at least 6 types of owls and I couldn't remember a single one of their names unfortunately but I sure damn well remember how to pet them, for fear of losing one finger at the start of my trip. It wasn't my first time petting an owl but it was still amusing nonetheless, though why the owls were awake (but looking tired) at this time did bother me a little. Took many photos, and videos and then had a feeding session to feed almost all the birds with miserably small amount of meat (but at least the birds seemed to become more awake with the food). While doing so, I could get one of the owl to stand on my arm (with the leather glove of course) by instructing them to fly onto the arm with the food. Picture moment there and also amazed at their flight back to their stand upon dropping of my arm. A while later, another big owl was brought in and as the staff played with the 2 big owls, attracting them with toys to lure them into stomping on the toy, I also had fun doing the same thing with them. Before leaving, I was given a badge with a choice of photos of a pair of the owls as mementos, For those who had not experience close contact with owls, this was one experience worth trying.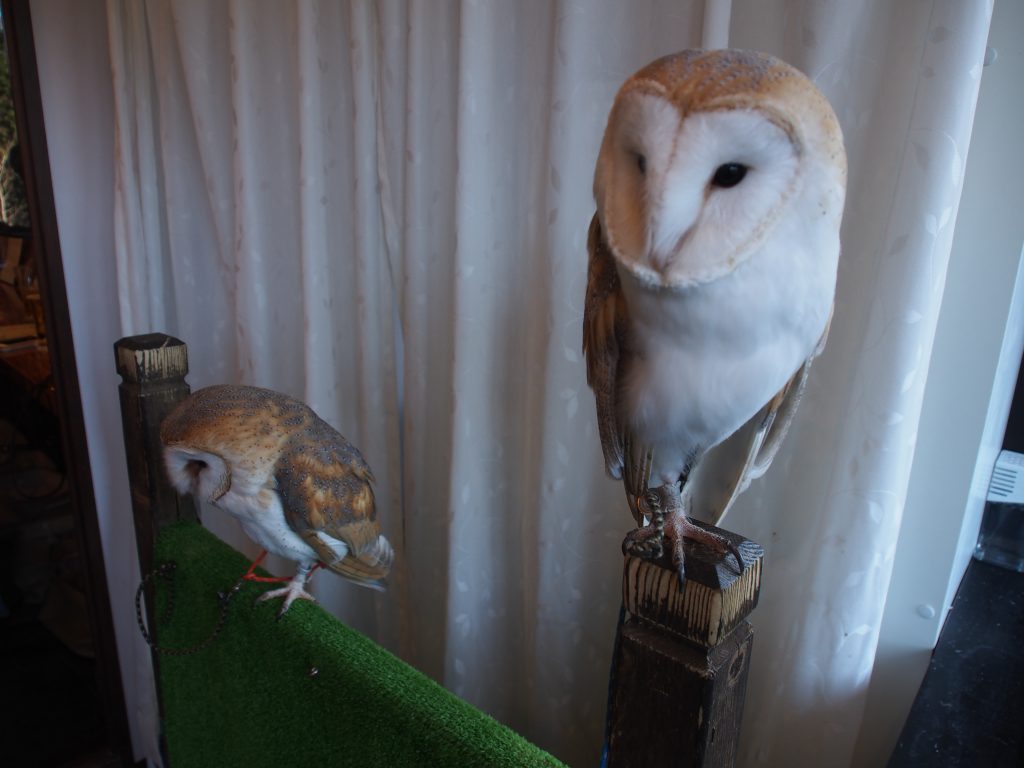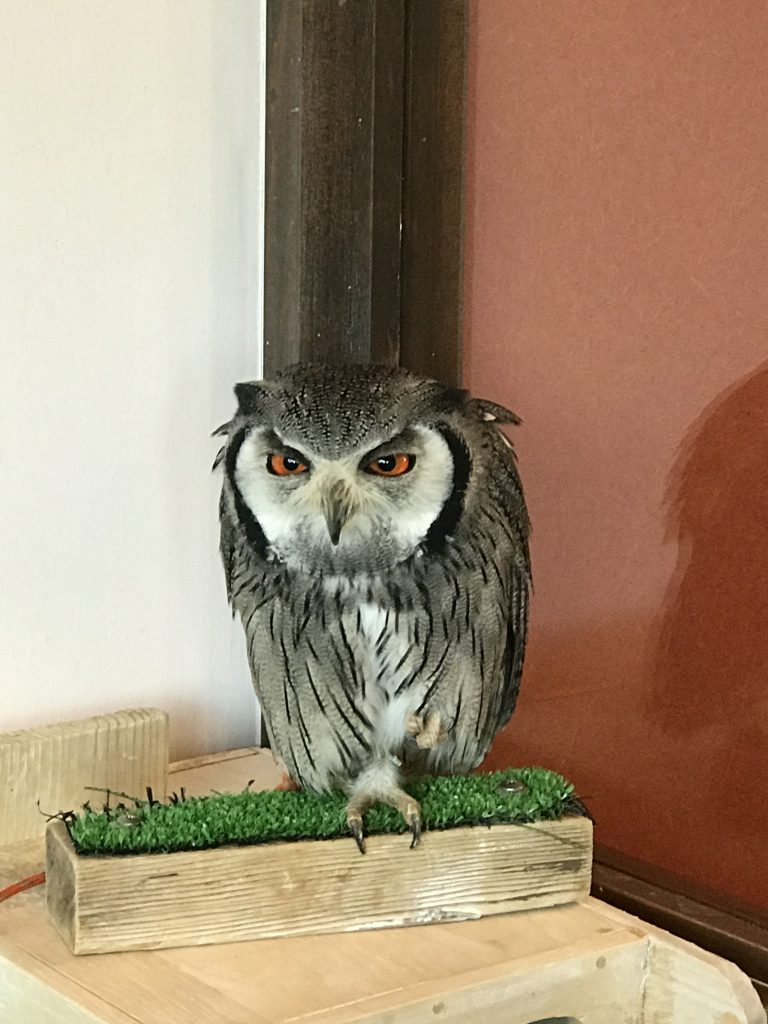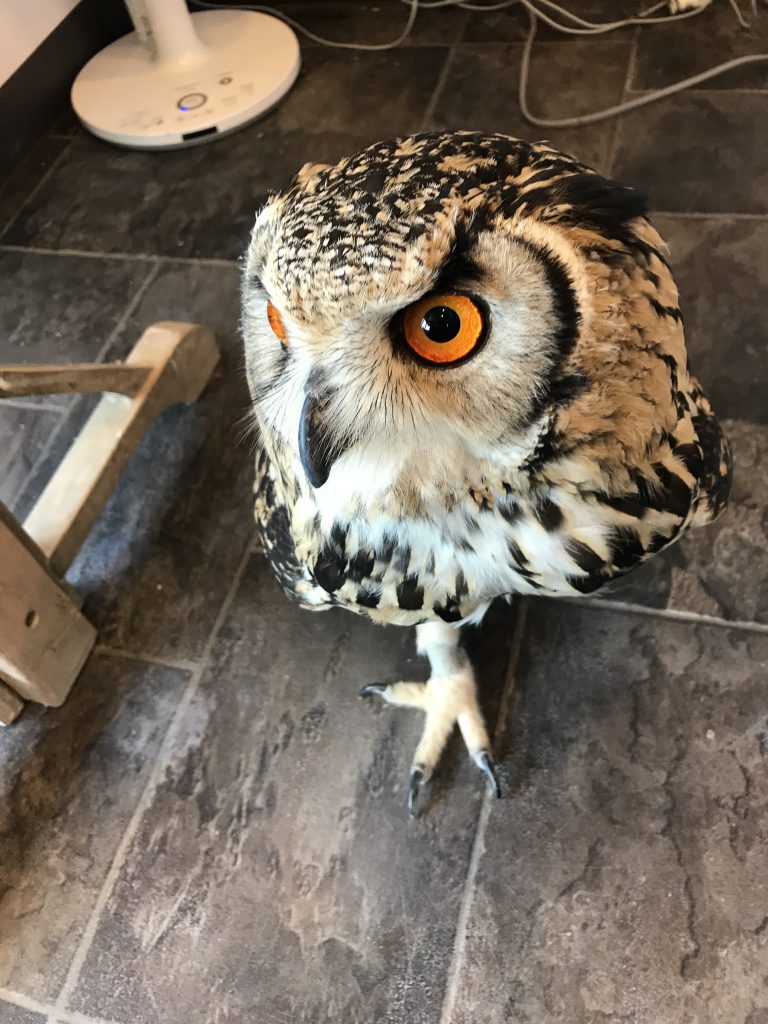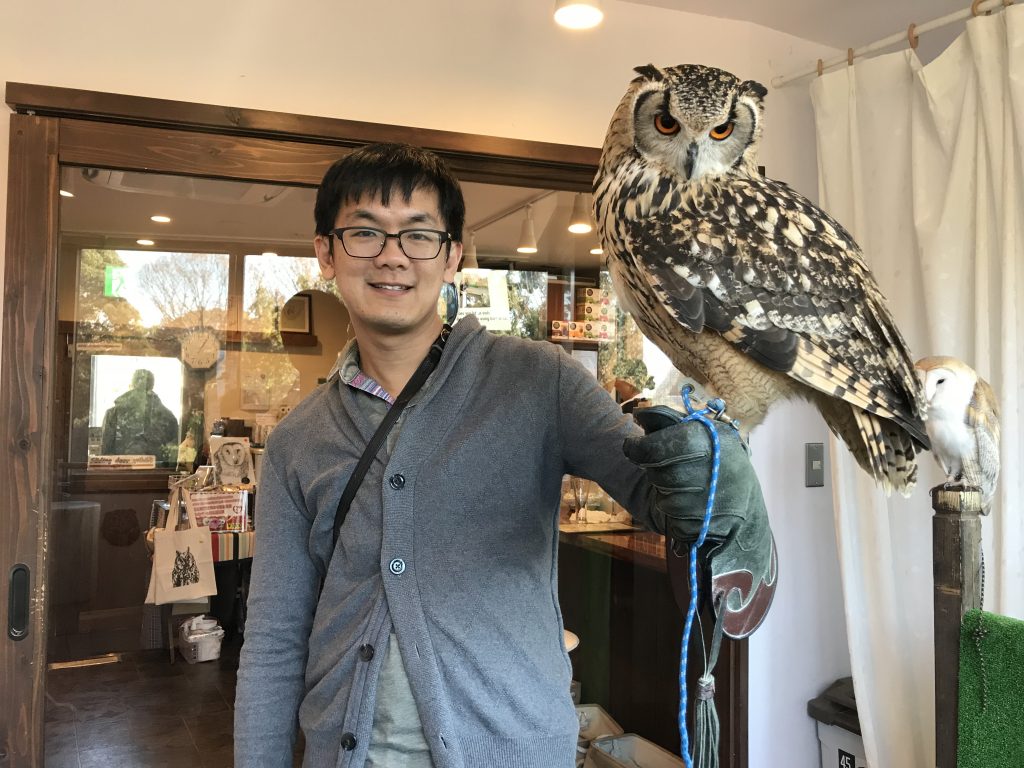 As much as it was fun, I hadn't fulfil my hunger since the cafe didn't offer anything substantial for lunch. A quick Google for recommended places for lunch churned up a rather interesting result, Kawaii Monster Cafe. Had seen some mixed reviews about this monster themed cafe and thought that I am as well experience it myself, since I am here for pop culture experience, right? A quick walk through the quirky street of Harajuku and I found myself in a building on the escalator upwards to the 4th floor. Right at the entrance was a colourful sign of the cafe with a staff standing behind a rostrum.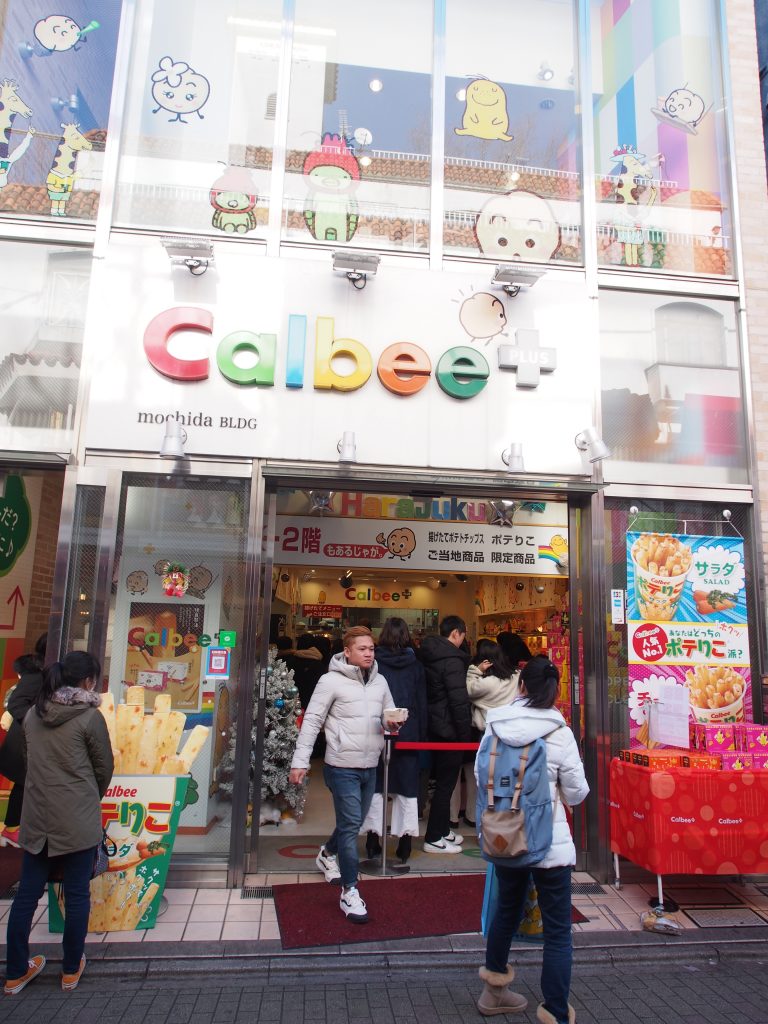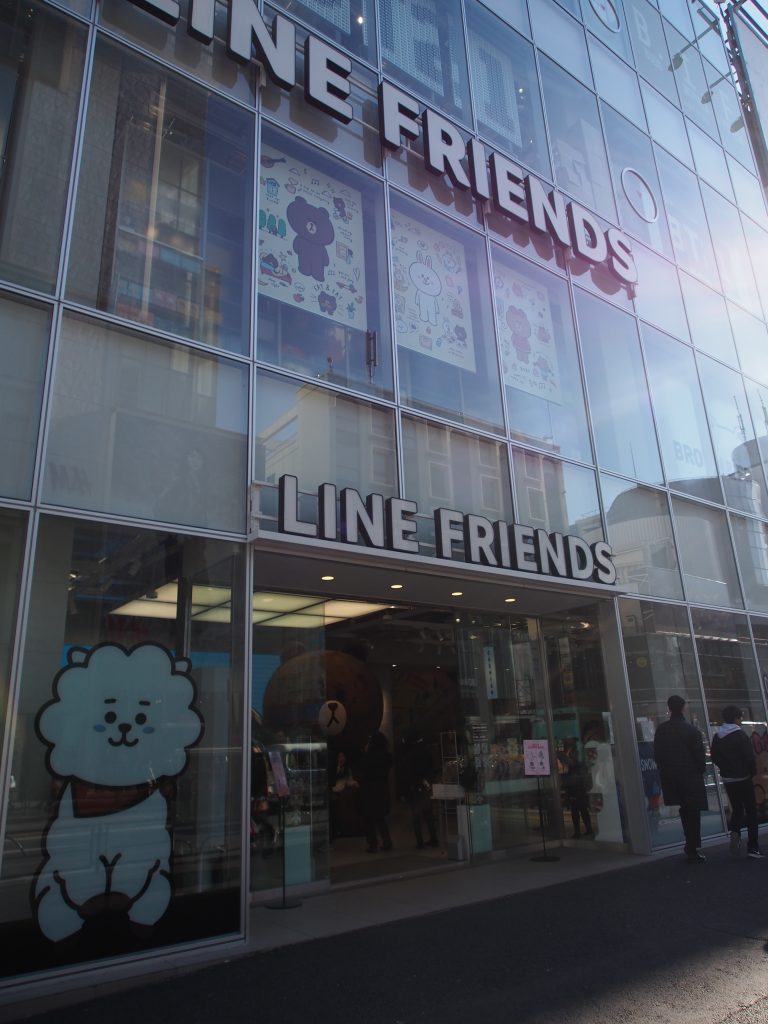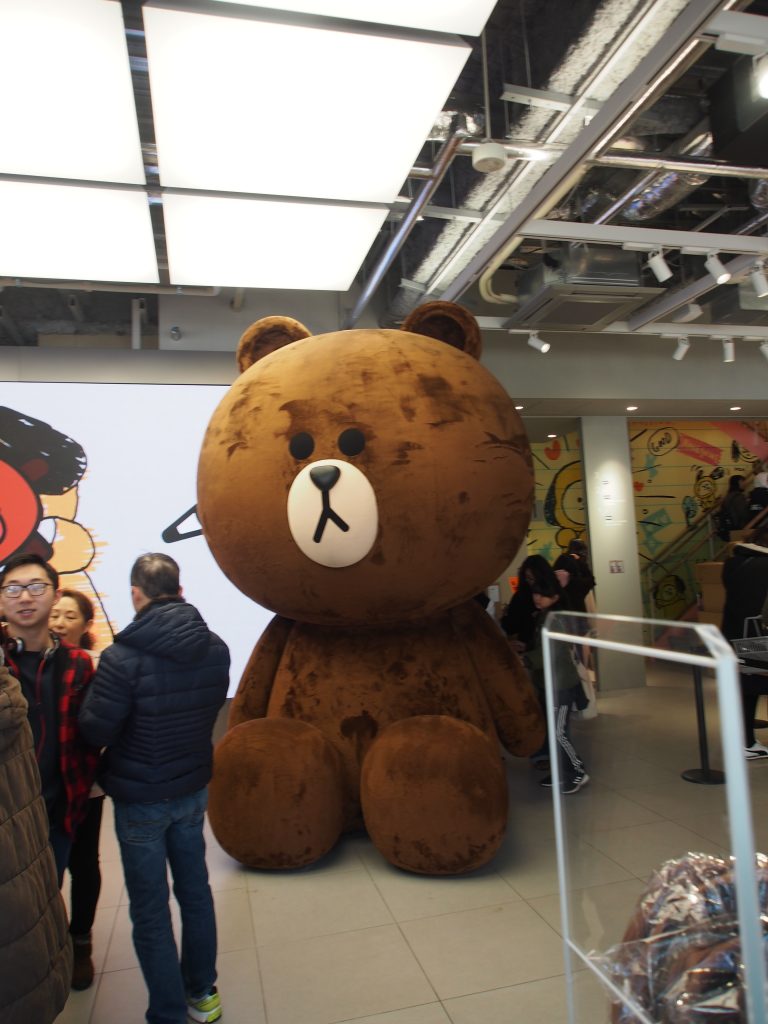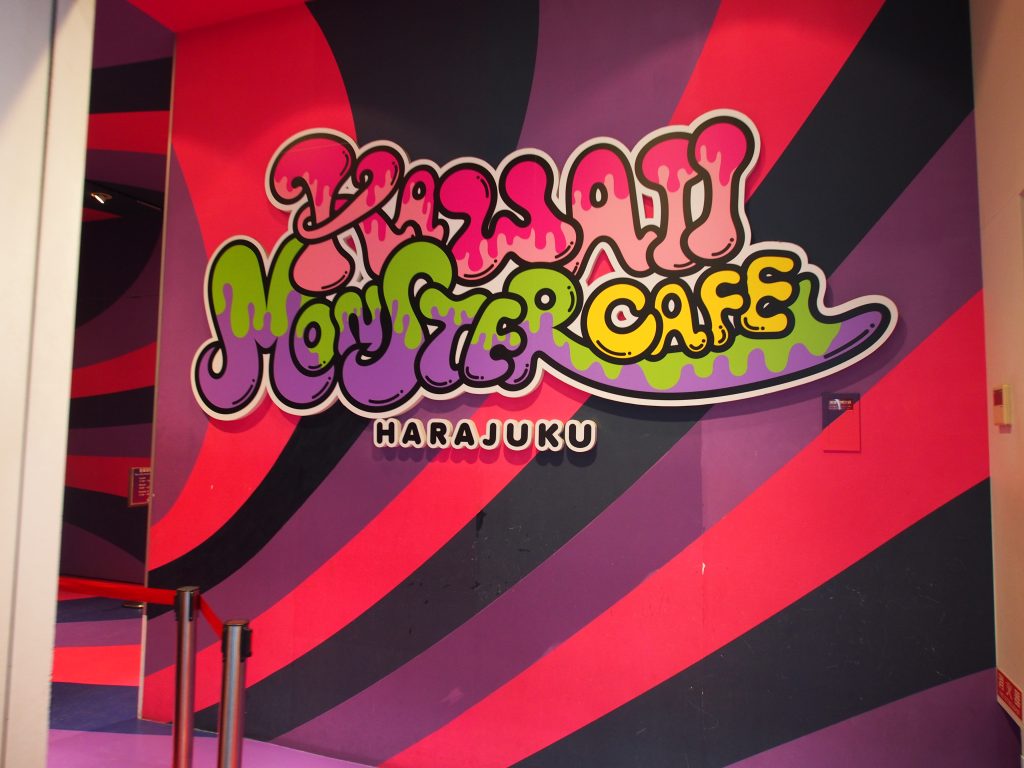 Had no reservations (many online recommended to do so) as I was trying my luck anyways and I was allowed in after explanation of the duration of stay and the entry costs of Y500. Then as the door opened, I was led in by the staff dressed up as a monster and was welcome into a realm consisting of a myriad of lights and colours and giant oversized cake. Swiftly we walked to my table and I couldn't really comprehend what I saw. Sat down on a 2 seater table and the waitress (who wasn't dressed up in the same exaggerated fashion) explained to me first in Japanese (then I asked for Eigo, first of the many to come) and she tried in English and then left me to decide on what I wanted. Settled on ordering the colourful spaghetti with the blue drink with popcorns for Y1300 and Y900 and then looked around at the design of the area – facing giant lips. Just to my left I could see giant milk bottles hanging from the ceiling. Interesting little place.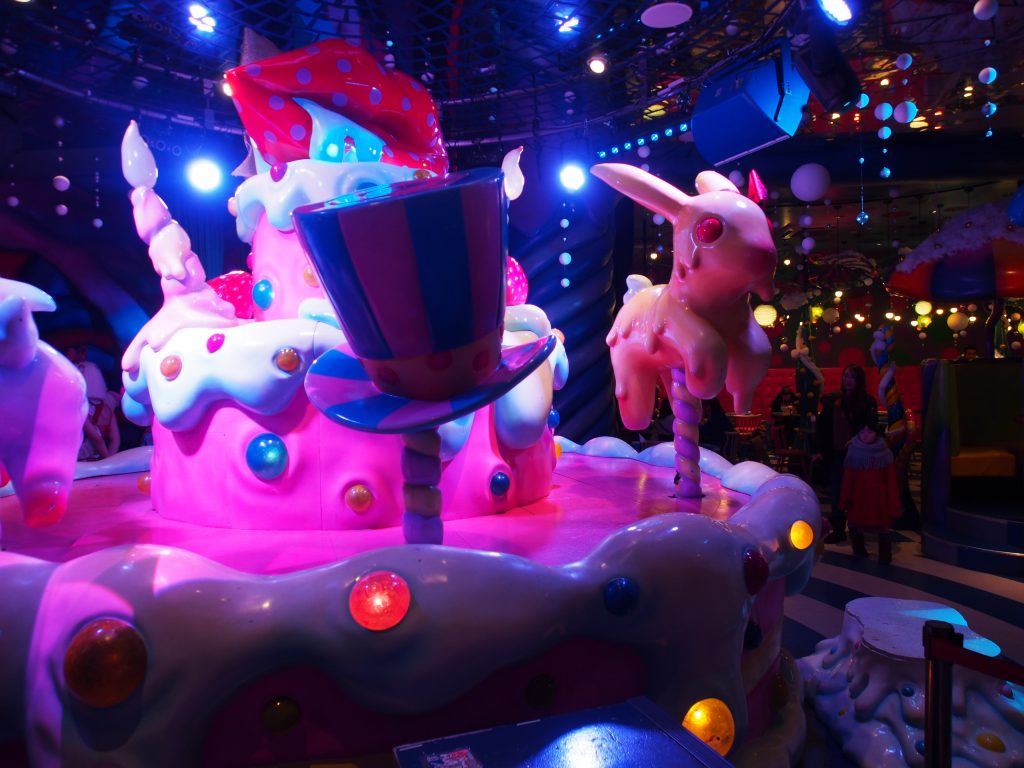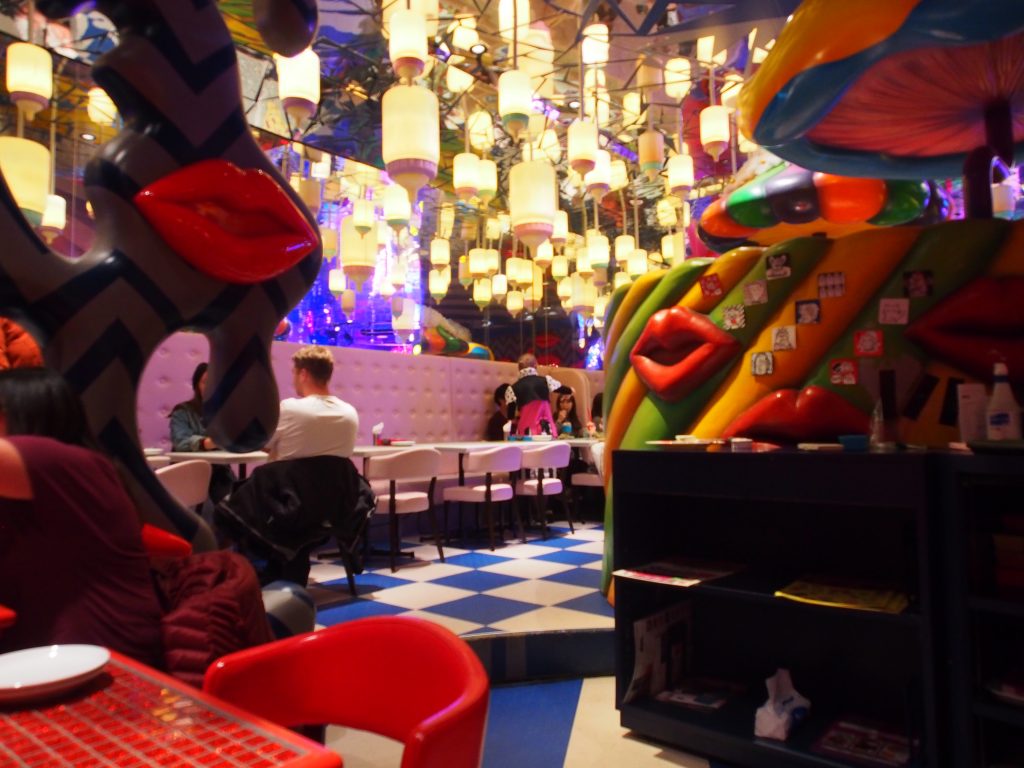 Food came and I was surprised that the food wasn't bad (maybe I was hungry), and the drinks was expectedly sweet. The different sauces plus the colourful pasta made the dish looked like a paint palette! I took my time to enjoy the meal before going around to explore the other parts of this cafe. Apparently it was not so crowded at this point in time and so I managed to see the other sections that had distinctly different monstrous designs including the toilet that was full of bling as well! Settled the bill at the table and before leaving, I asked for a selfie and a photo of the cast, before passing through the gift shop and back down to the ground floor.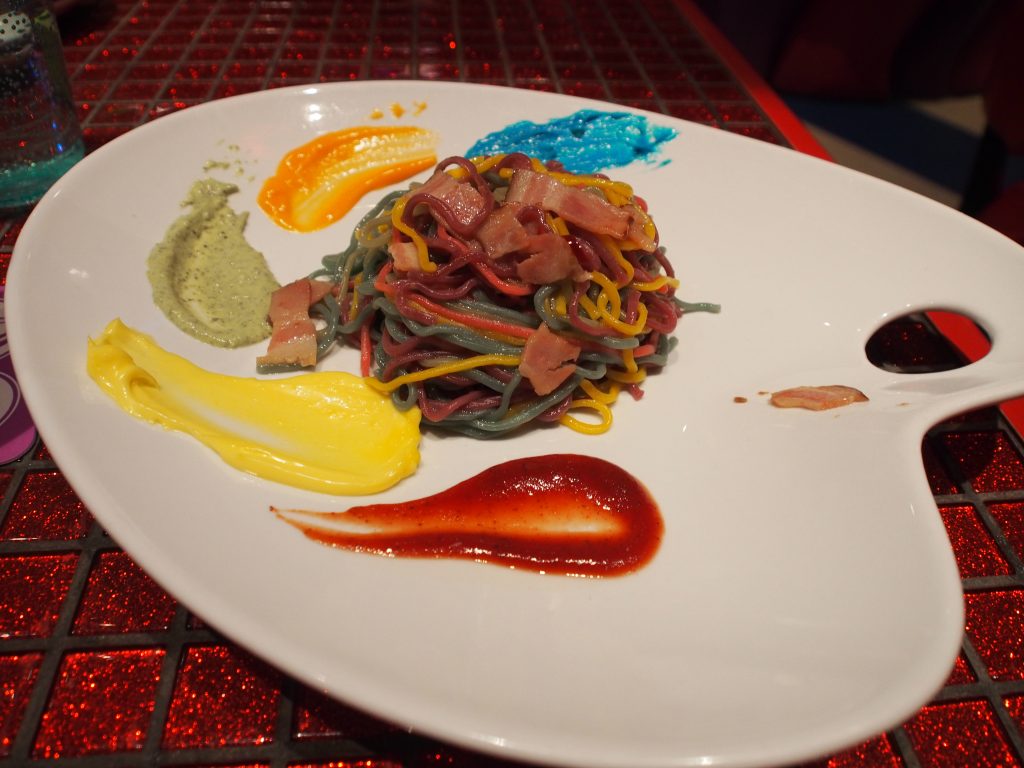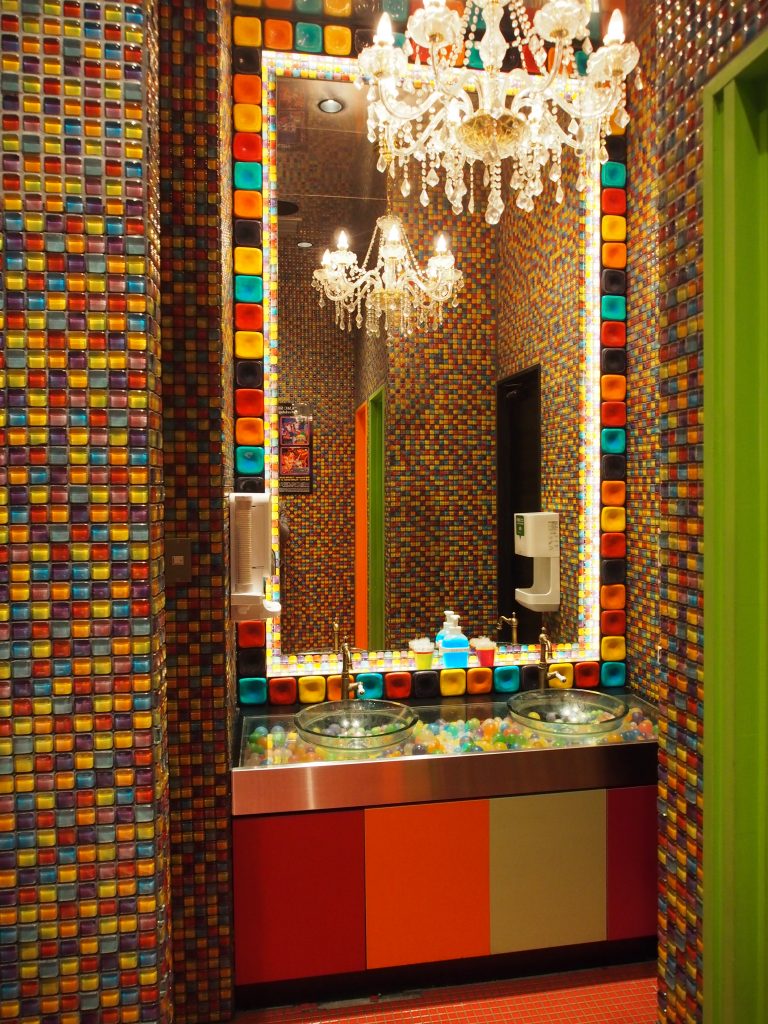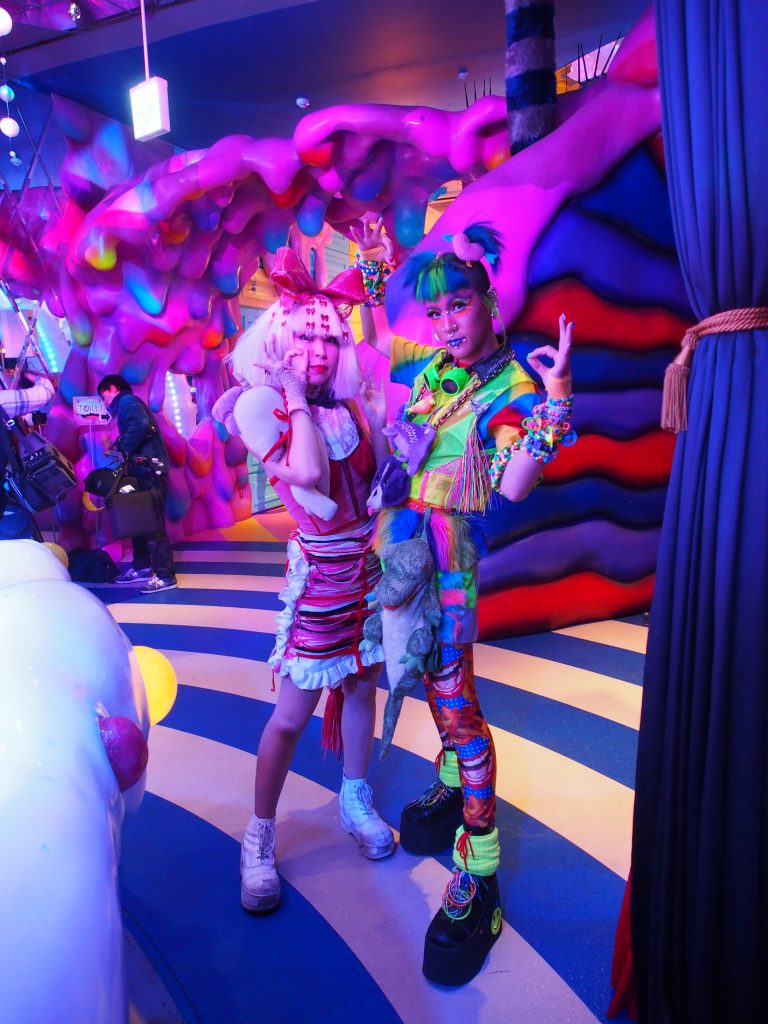 With renewed energy, it was time for shopping. Before the trip, I had identified the locations of the Japanese brands that I wanted to visit to see if I could get a made-in-Japan fashion piece home. Not too far from my lunch place was a street called Omotesando, also known as the Champ Elysees of Tokyo, were 3 of the Japanese brands. My first stop was at Onitsuka Tiger.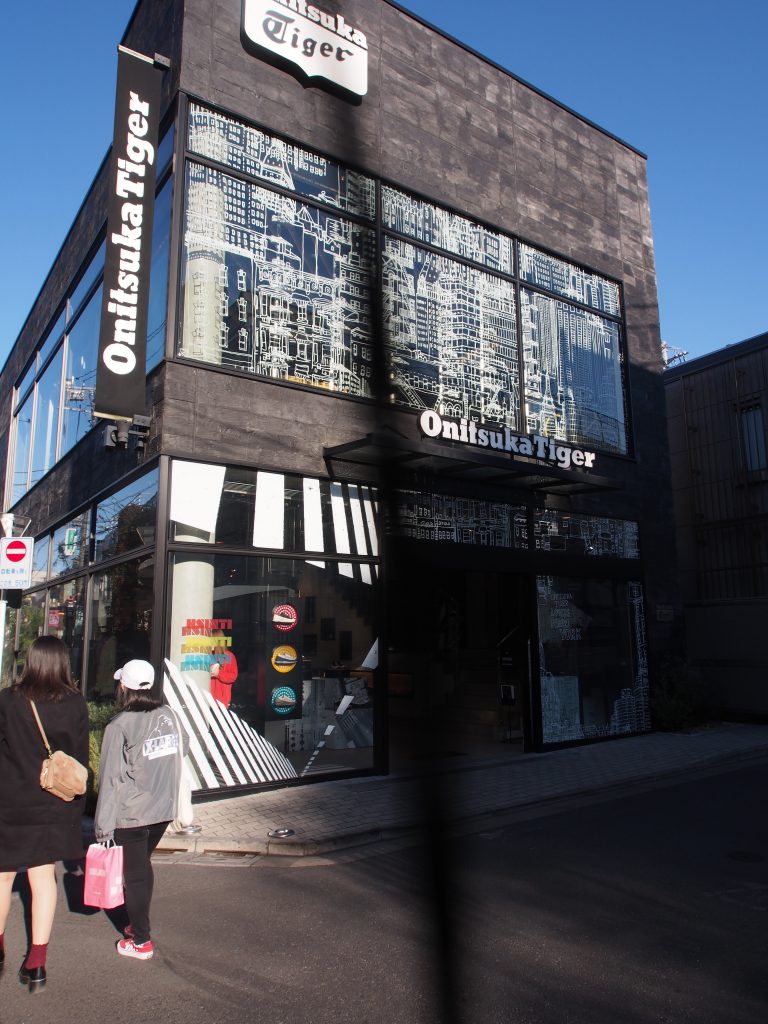 The store was not along the main road but on a really quiet street. There were actually 2 buildings for this sneaker store, one being the store that sold standard stuff and the other more made in Japan stuff. Looked around the large varieties of colours and had a check on the price. The shoes were going at Y8000 for the normal designed one and those that were made in Japan were costing in excess of SGD300. I wasn't ready to pay that amount for a pair of shoes so after being brought over by one of the staff, I excused myself after a while.
Walking along the same street, I soon came upon the Bathing Ape store, a Japanese street wear brand that was horrendously expensive everywhere else. This standalone 3 storey building did not really have a lot of designs to choose from and were still expensive though definitely cheaper comparatively. I went up to the top most floor and chose a tee for Y6800, the cheapest of the lot. Paid for the tee without tax (same amount since that number was before tax) as tax refund was immediate. What I found weird was that they had stapled the receipt onto one page of my passport. Tried to ask why but couldn't figure out his English and thus left.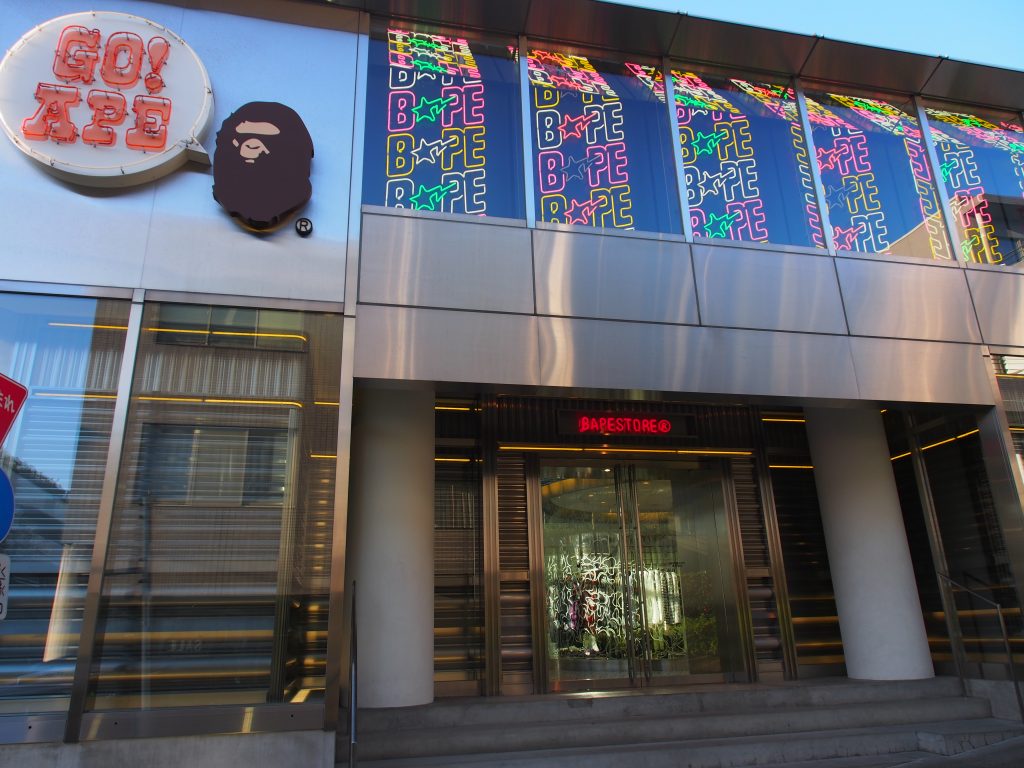 Last but not least, across the road, and also at one of the branch roads, I found Porter. This store was 2 storey but huge. There were quite a variety of goods with the 1st level on a variety of bags and the 2nd level mostly bigger leather products. There were also collaborated pieces which was definitely out of my league and I contemplated for a while on what to buy after exploring the 2 floors since the prices here should be cheaper though not dirt cheap to just buy without thinking. I had initially thought that I would get a boston bag to carry all the goodies that I have purchased in Japan but these would cost more than a hundred in SGD and it did not make sense if the bag was only used for this one time and end up spending most of its life in the storage. So I left empty handed.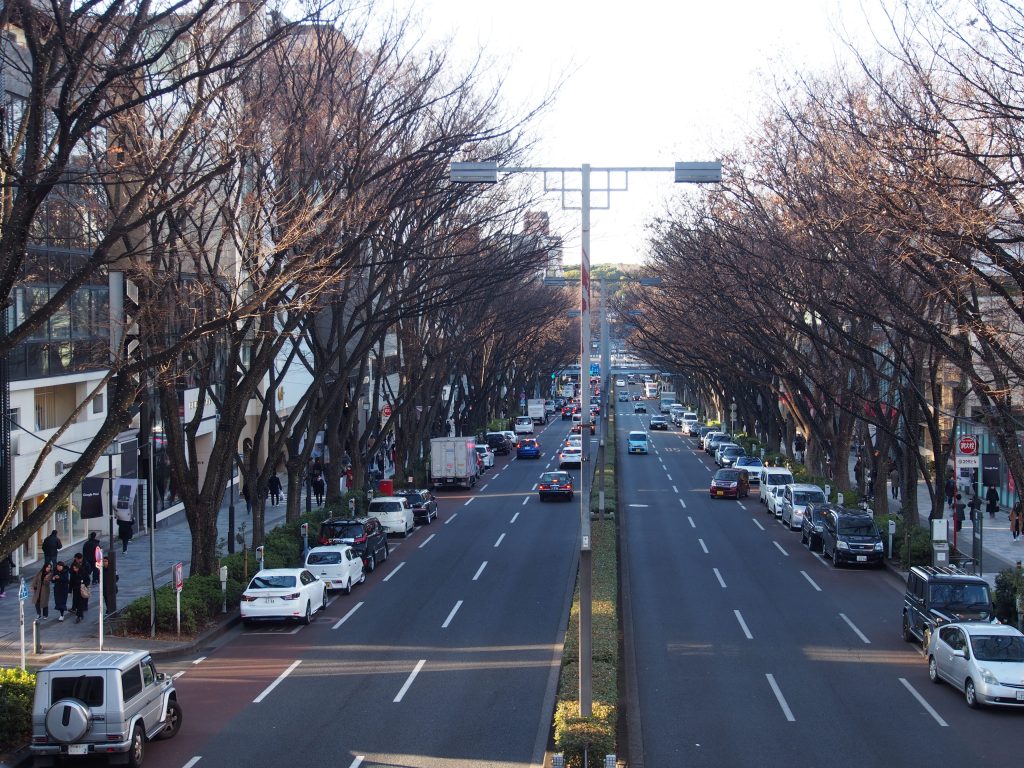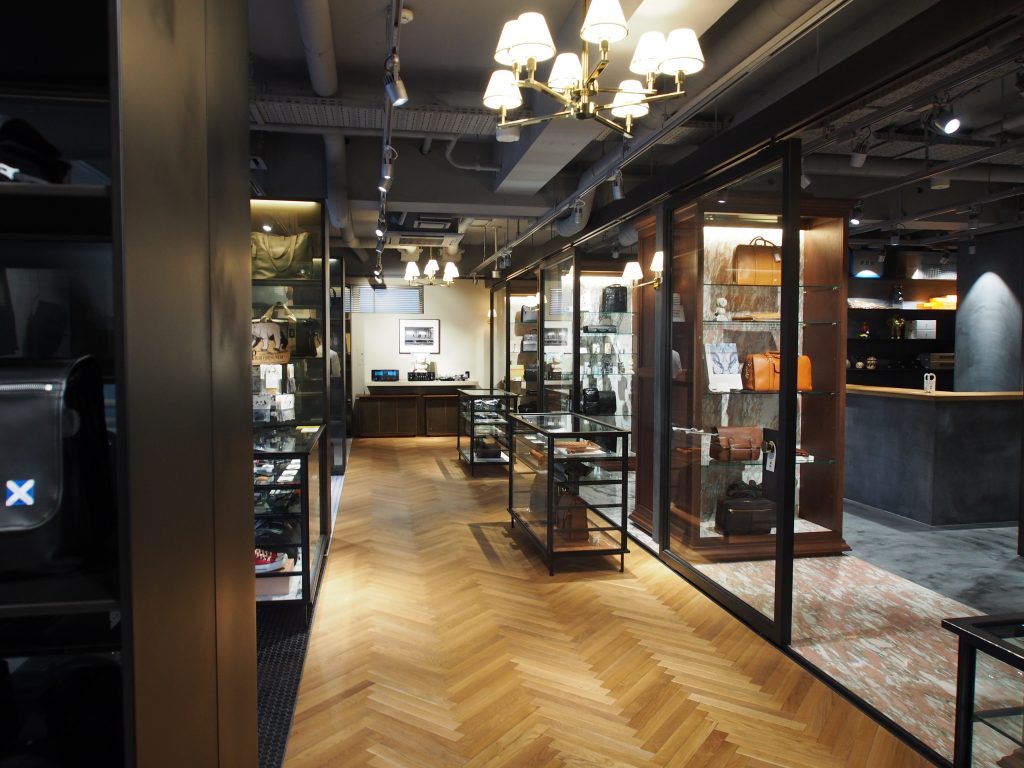 I returned to Harajuku to take the JR down to Shibuya. Upon arrival, my first visit was to the Hachiko statue, the famous loyal dog. Then it was a walk to the Shibuya famous scramble crossing for a quick photo (thought I wanted to get a better view on 2nd floor of Starbucks but the line for coffee was excessive, probably many doing the same) and then a walk to the Mandarake. Mandarake according to forums online, was a heaven for people looking for toys, comics and collectibles, new or 2nd hand and it was real! Going down 2 flights of stairs to a large basement, I entered a world filled with shelves and shelves of comics and toys! There were also many display cabinets with toys in poses and these brought back childhood memories of what I used to read about, or watch on TV or play. Head on to a small section of Transformers (less popular compared to Japanese originated toys) and managed to snag a Bumblebee SS-18 toy for Y2200 to play, cheaper than what I could get elsewhere because the package was deemed slightly damaged. After spending enough time to roam the walkways, I left with my prized possession.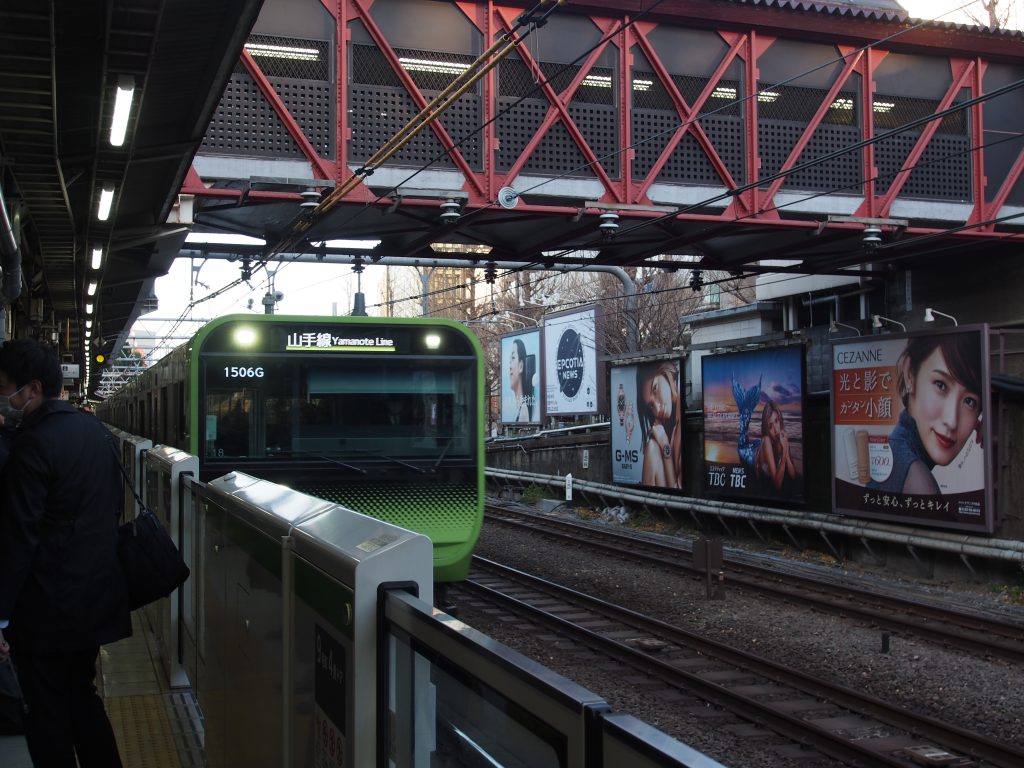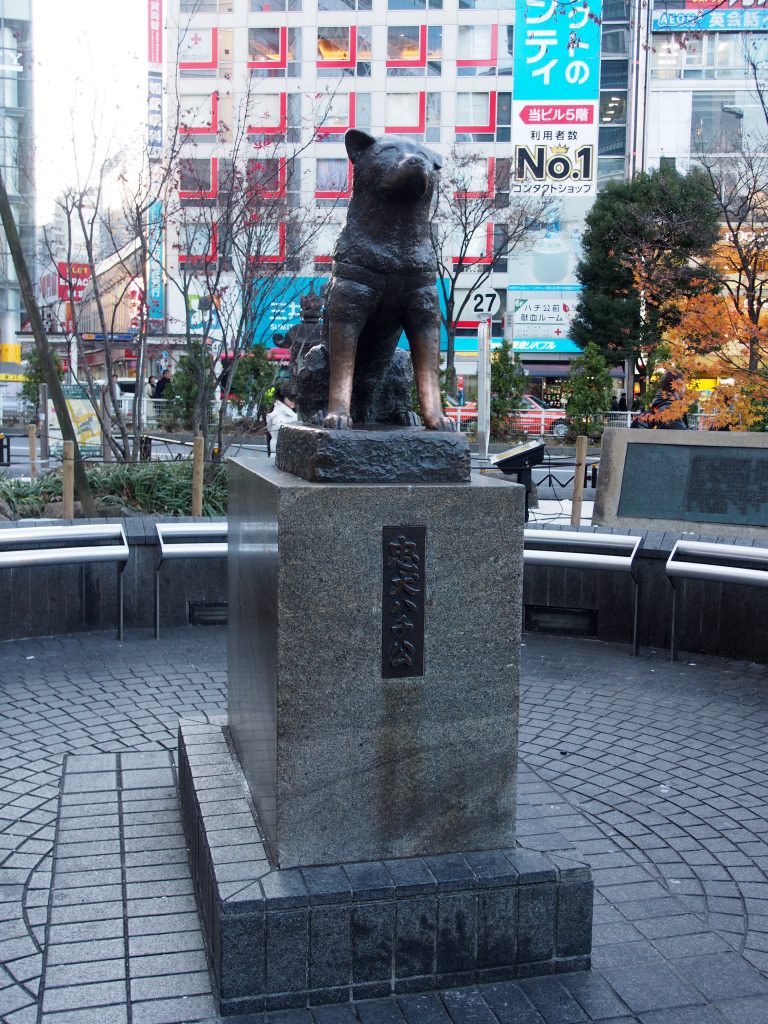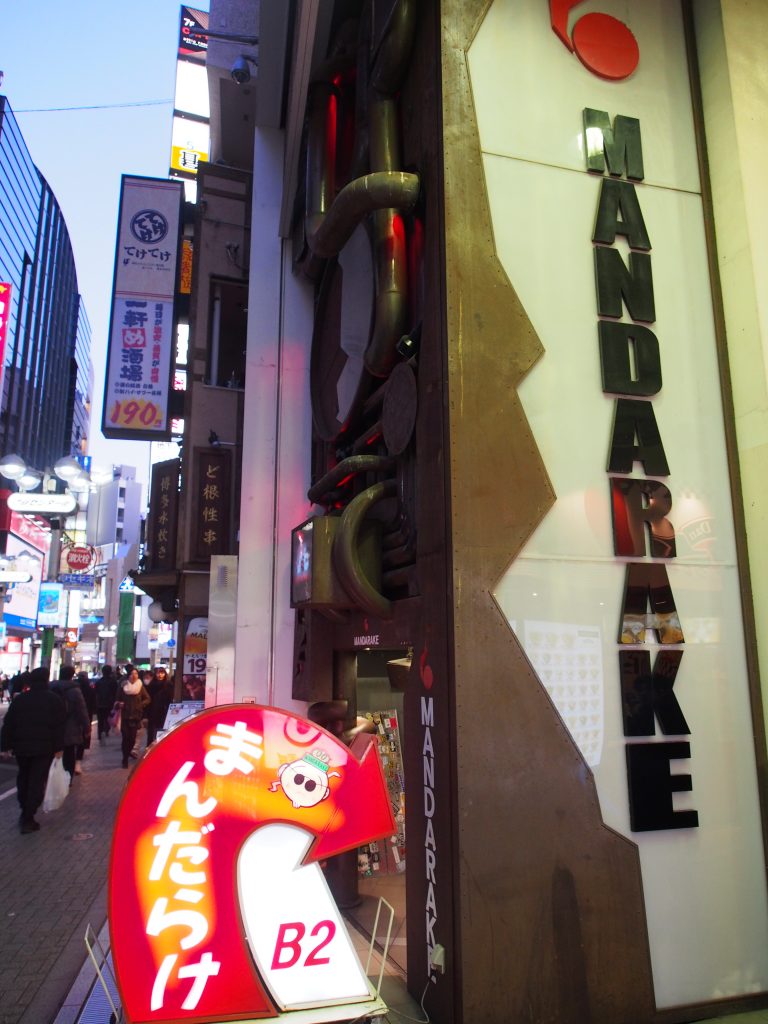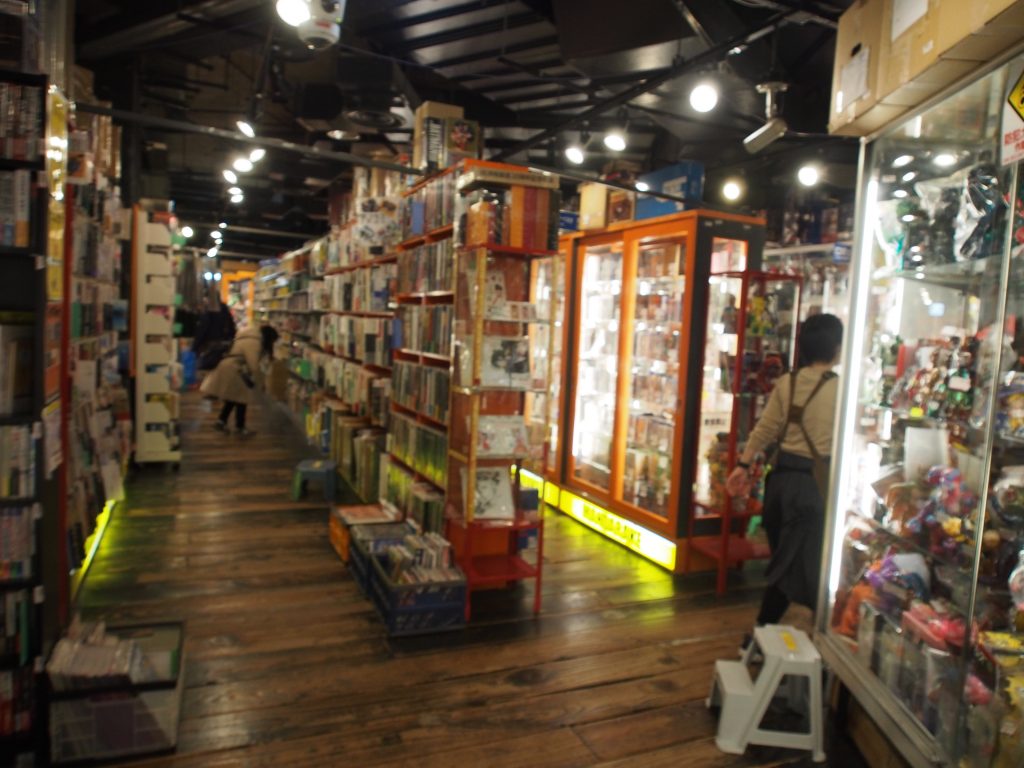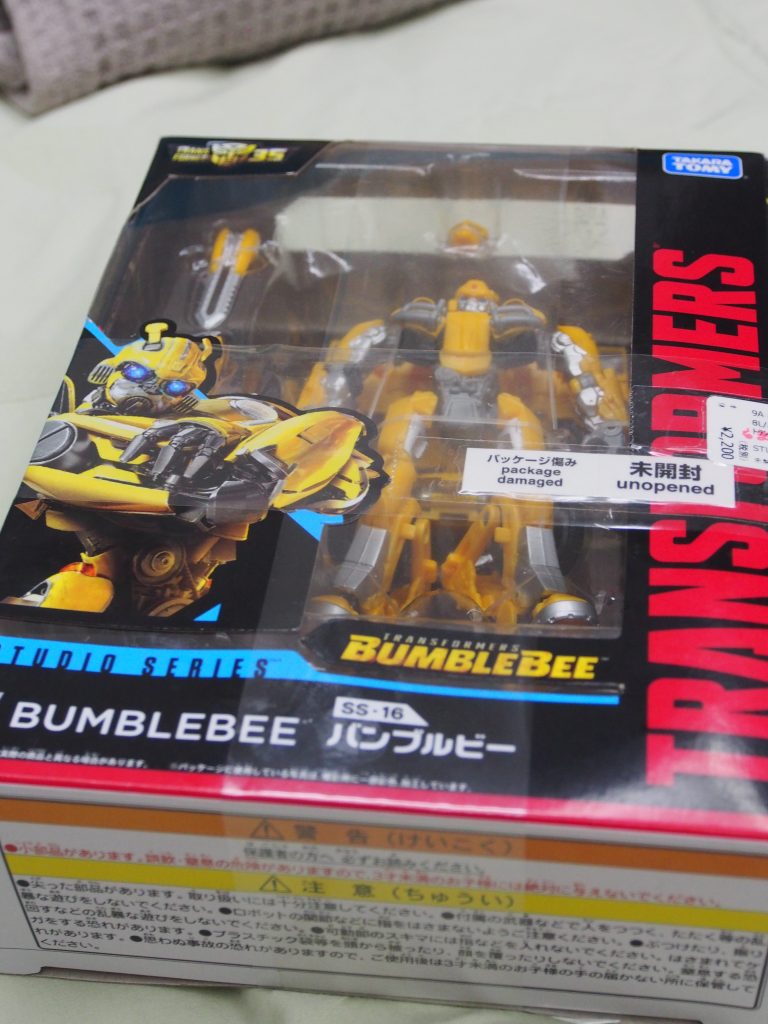 Next I popped into Tokyu Hands to shop. This was one huge store, unlike the Singapore's branch, consisting of up to 9 floors, and each floor with a sub floor, and they sold a lot of lifestyle products. Earlier on at Harajuku, I was searching for Anello bags that were said to be available in store Jeans Mate, but there weren't any at the branch in Harajuku. Tokyu Hands in Singapore offered these bags but upon arrival at the bags section, I was disappointed yet again. Still there were other items that were on offer such as thermal flasks from Tiger and Zojirushi that were sold here much cheaper (like half price?) than those in Singapore. Couldn't get any since the particular design was sold out so I ended up only getting 2 ink stamps (they do stamps customisation for names but need advance engagements) after scaling the 9 floors.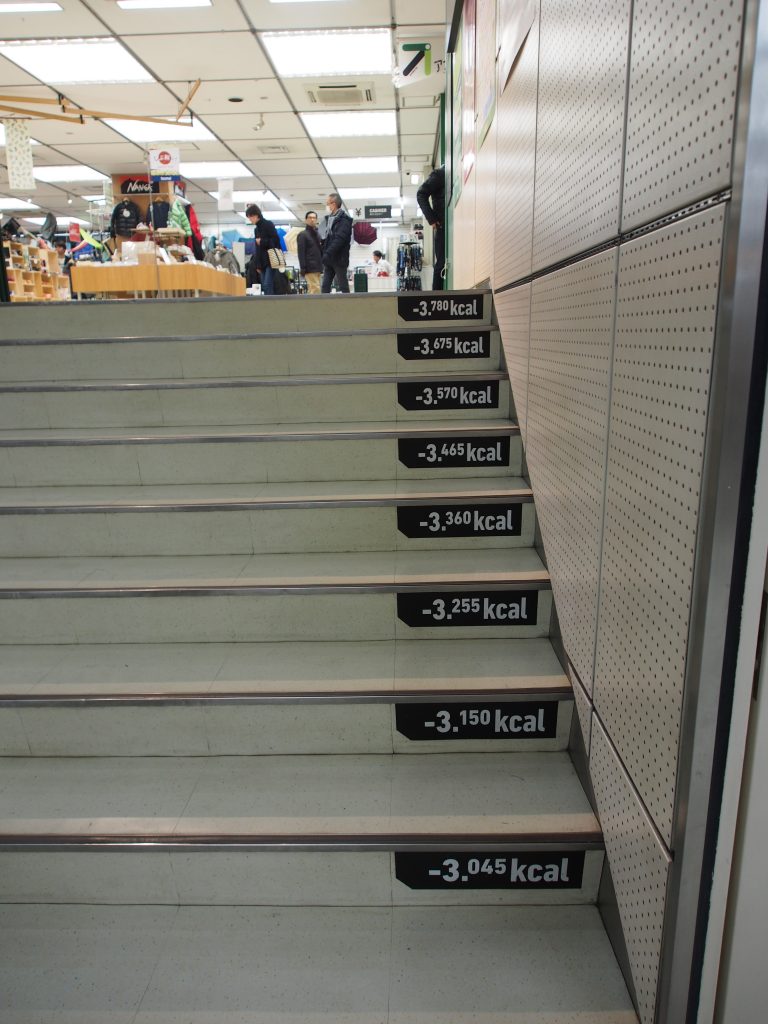 The day became night quickly and I made my way back to the Shibuya train station and got up to one of the passageway at the 2nd level where I could take a picture of the scramble crossing before my train back to Harajuku. Claimed my bag from the lockers and then it was a ride to Shinjuku Sanchome. As I trekked towards my accommodation, I realised that I was on a street of love hotels (noticeable by boards showing rates for short stays) and double-checked my phone and found that I was at the wrong accommodation which was meant for the last 2 nights in Tokyo! Luckily Shinjuku was largely walkable and the freezing cold did make the walk to my capsule hotel easier, plus brightly lit stores along the way, I was there in no time. Bad thing though was the phone batteries were sapped almost 25% faster and I found myself at risk of not being able to access my phone due to the dying battery (I didn't print hardcopies for bookings or maps). I saw the 9hours sign on a building along a street that seemed like a Korean town because there were quite a bit of Korean brands there, and entered the minimalist designed lift lobby.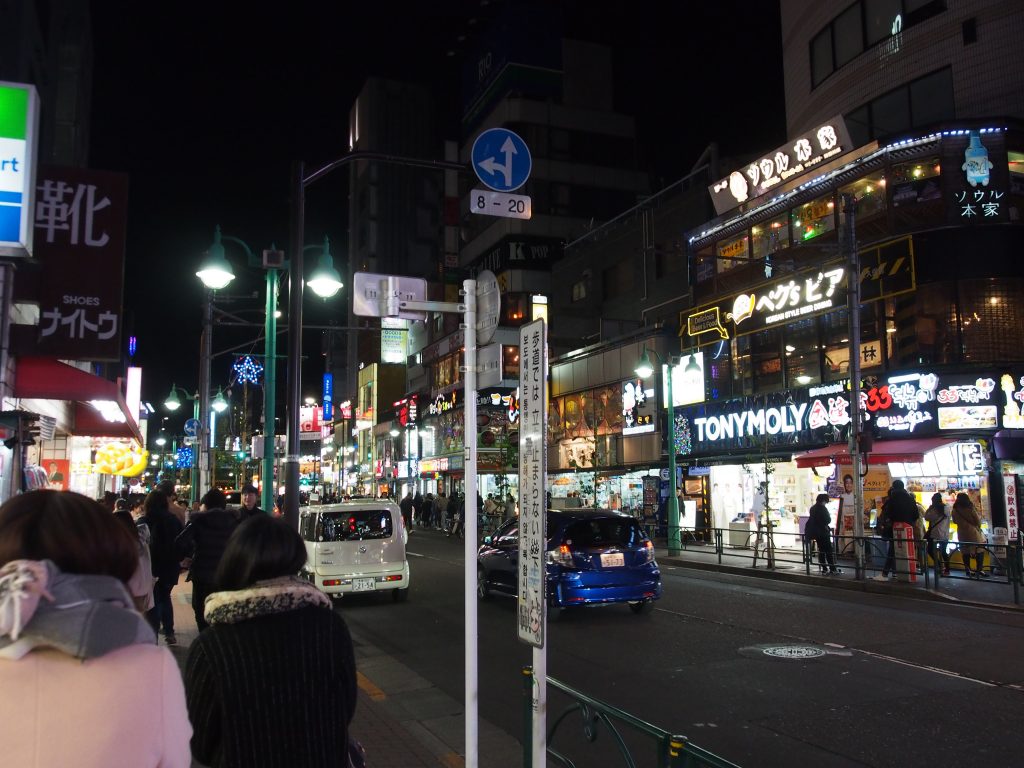 Checked in was done rather smoothly with a staff with excellent English and I was handed a paper with instructions and a bag with towers, PJs and toothbrush, and a QR card for the lockers. Taking the gender specific lifts down to the gender specific pods, I stored all my stuff into the locker and went into my pod to charge my handphone and catch some winks while at it. After napping a quick 30mins, I went up to the next floor where the main shower was to take a shower, which had all the bathing amenities within the shower itself. I was also in awe when I entered the toilet cubicle and had the toilet seat automatically opened upon my entry. Mind blown by the toilet technology!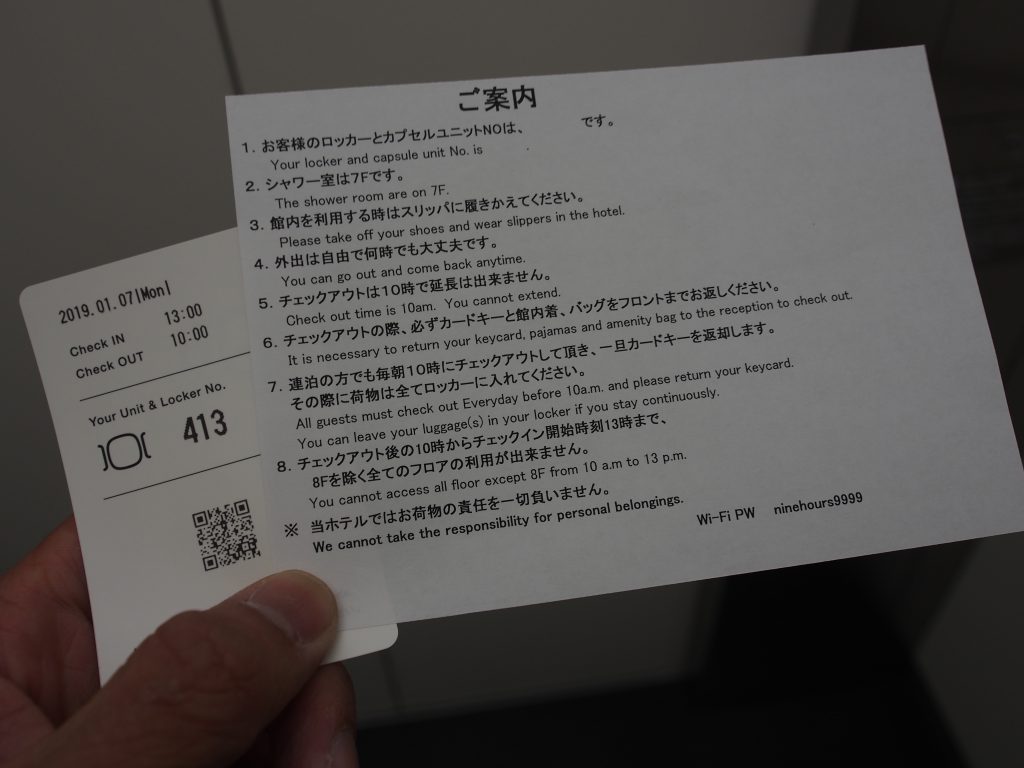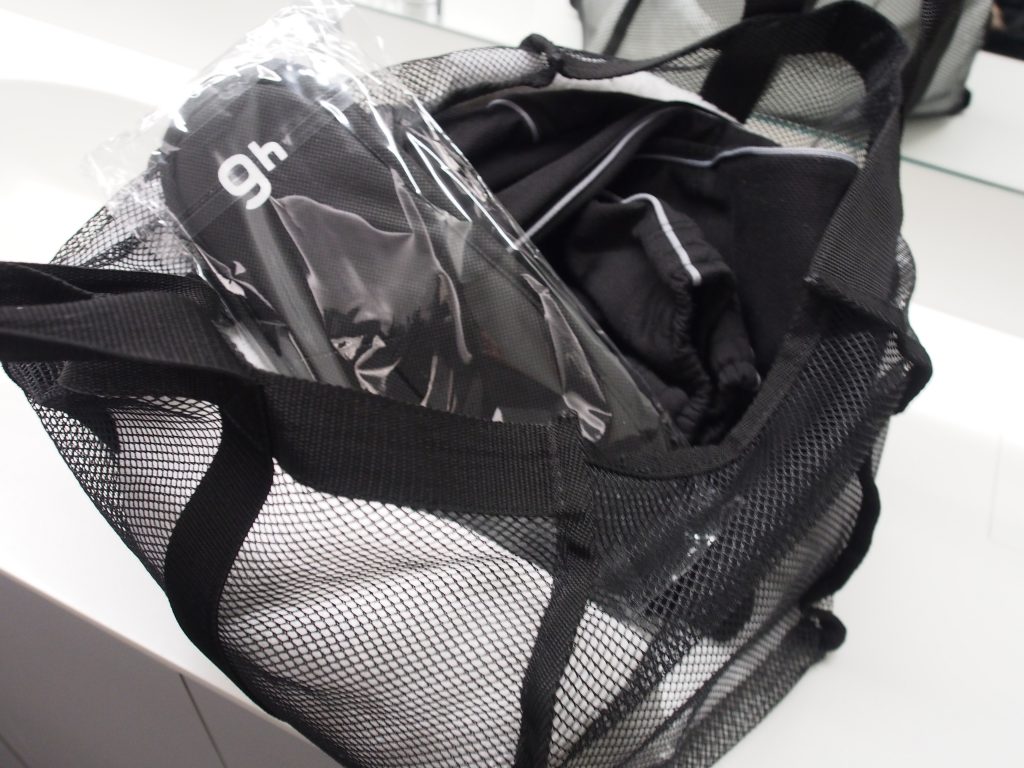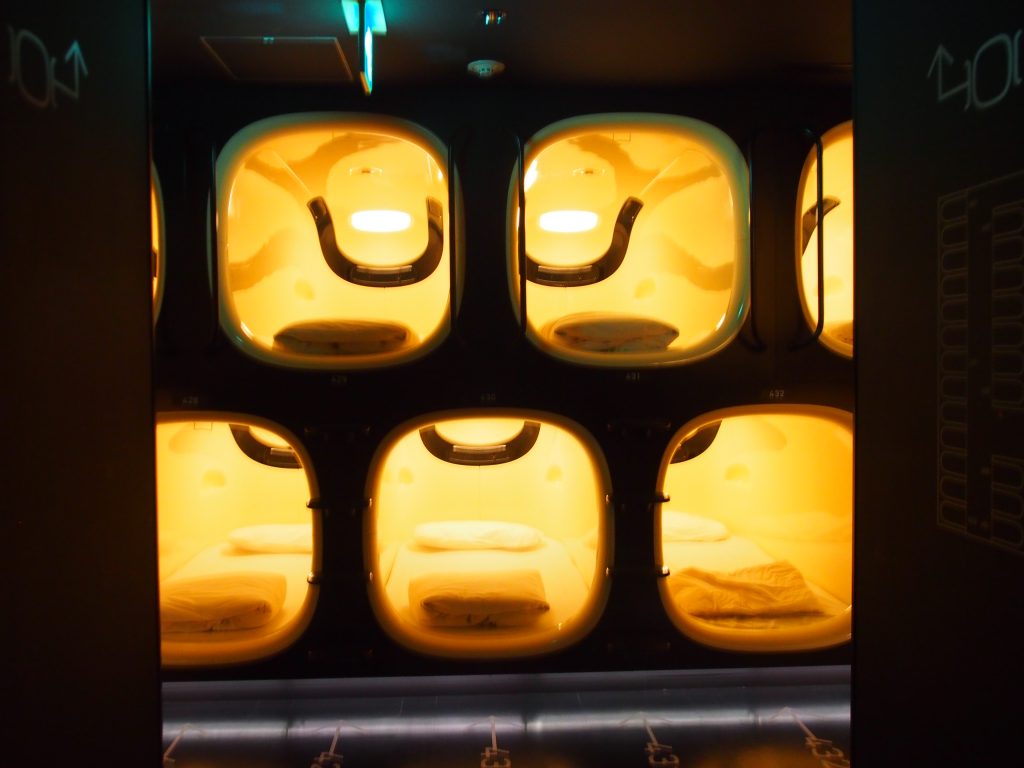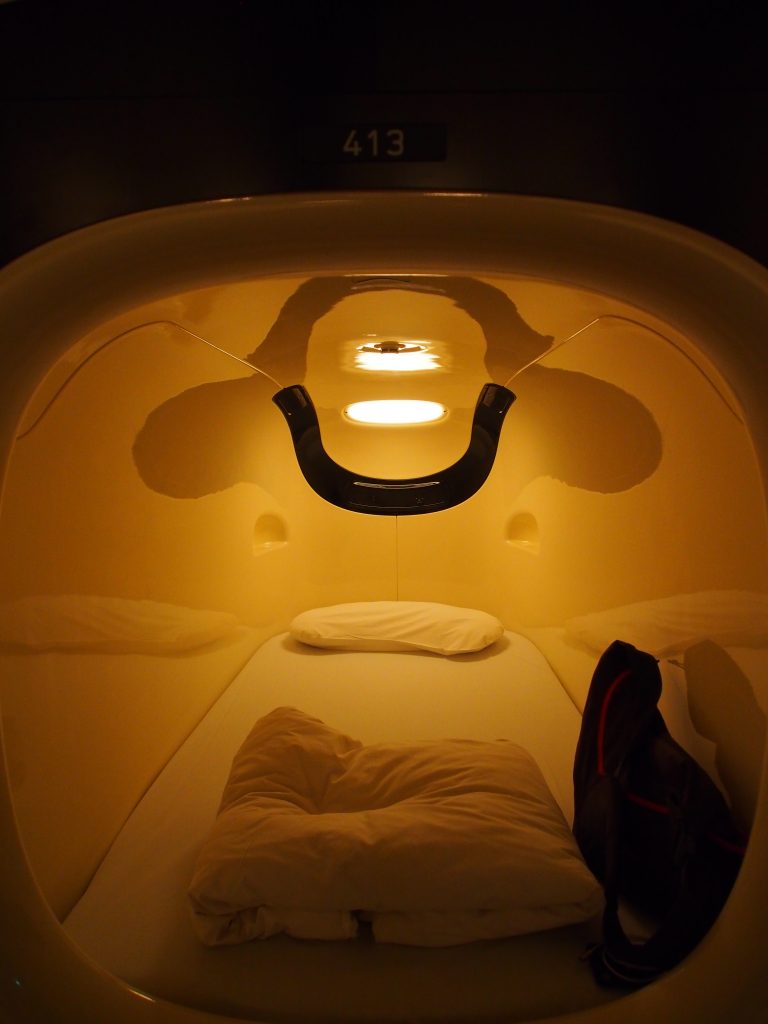 Returning to the pod to retrieve my barely charged phone, I returned to the streets in search of dinner. My initial plan was to visit another themed restaurant, known as Robot restaurant to get some dinner and watch their show (even though many online recommended to get dinner outside as the food was not going to be tasty). I had missed the earlier show and the last one was at 945pm, which was very late. Since I wanted to call back Singapore to talk to my family at around 11pm, which was 10pm in Singapore, I wouldn't be able to make it as the show was about 1.5hrs. I left in search for a proper dining place.
As I was in the infamous red light district of Tokyo, known as Kabukicho, I was frequently approached by touts on the streets, asking if I was interested in visiting their soaps (brothels). They could be very persistent if there's any slight interest was shown and even had photographs on phones to show so as to get some arrangements going. So to reduce such interactions, I would just excused myself with "wife's waiting for me at dinner". I found it interesting though that in the area of Kabukicho, it was not an all men area, because it was also a place where ladies could look for male company as well! Of course walking through that area, I wouldn't get pestered but touts were going for the ladies instead.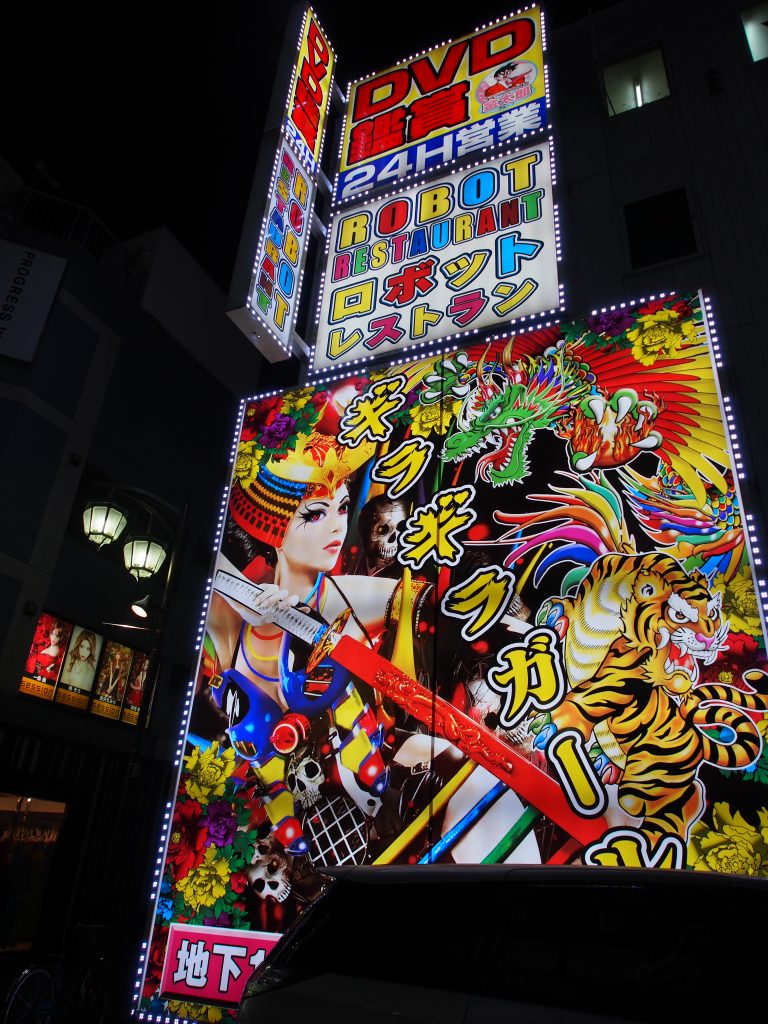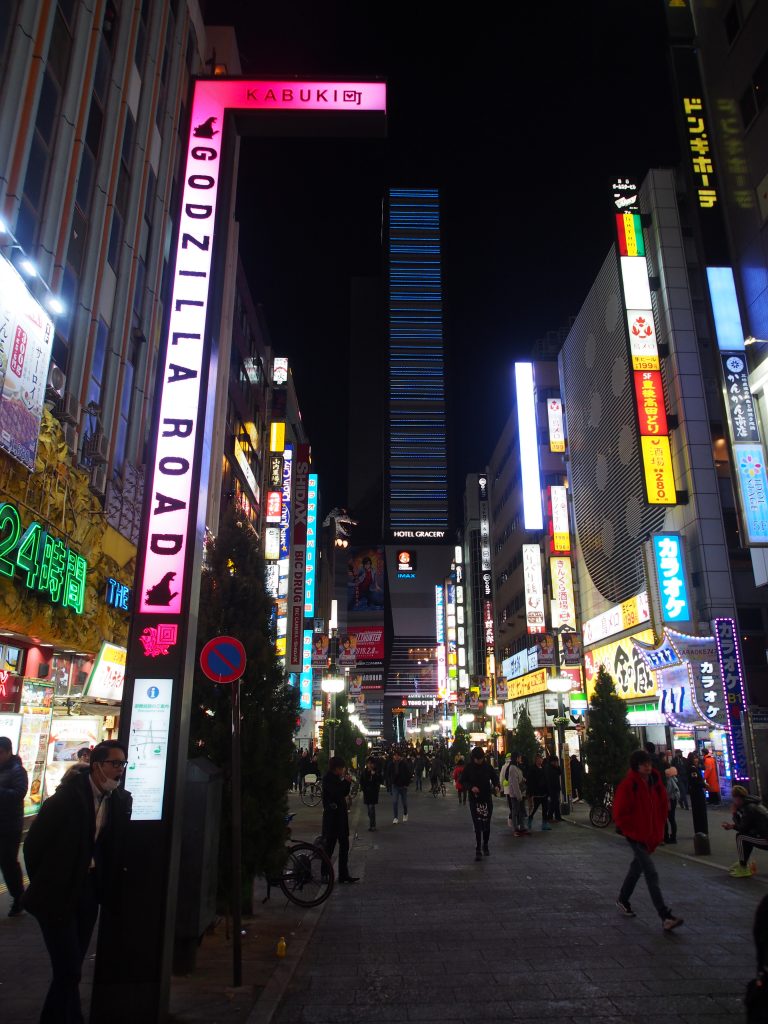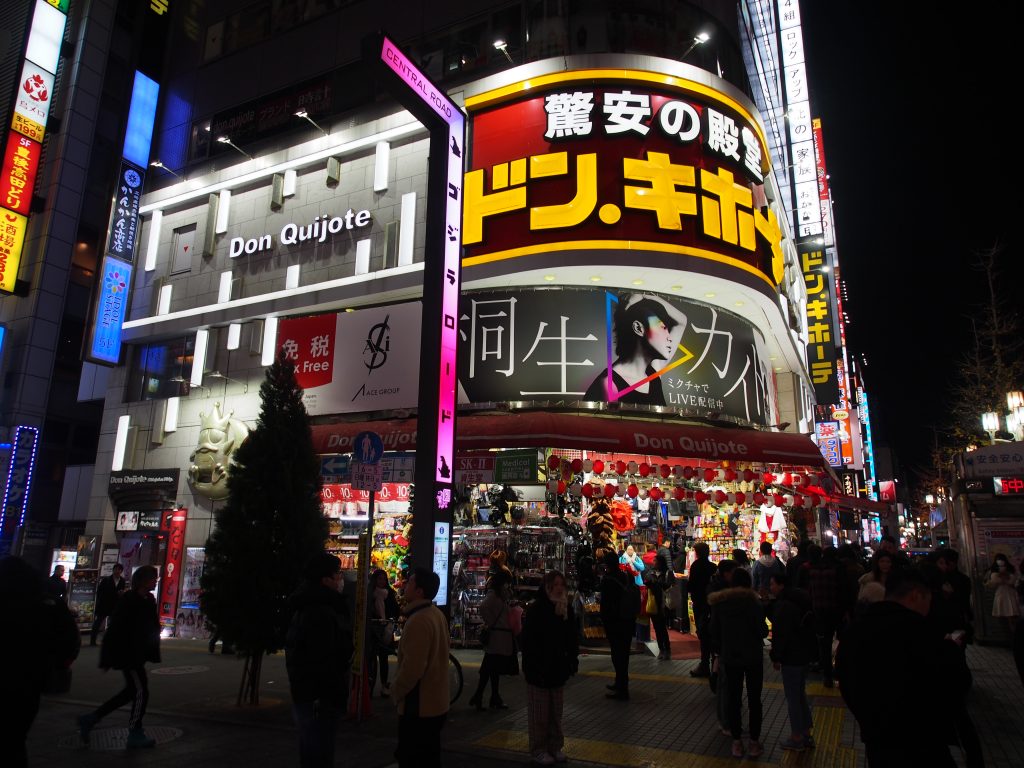 Google gave a recommended area near Kabukicho for good ramen and in a couple of minutes, I found myself at Takahashi Ramen as I couldn't find Ramen Jiro and settled with that for dinner. The restaurant was pretty high tech, with ordering through iPads, and thankfully with whatever Eigo that the staff can offered, I got myself a upsized version (as I was hungry) of salt ramen with flying fish stock and some green tea and soon was I slurping away to a satisfied dinner. Paid on a automated paying machine and left.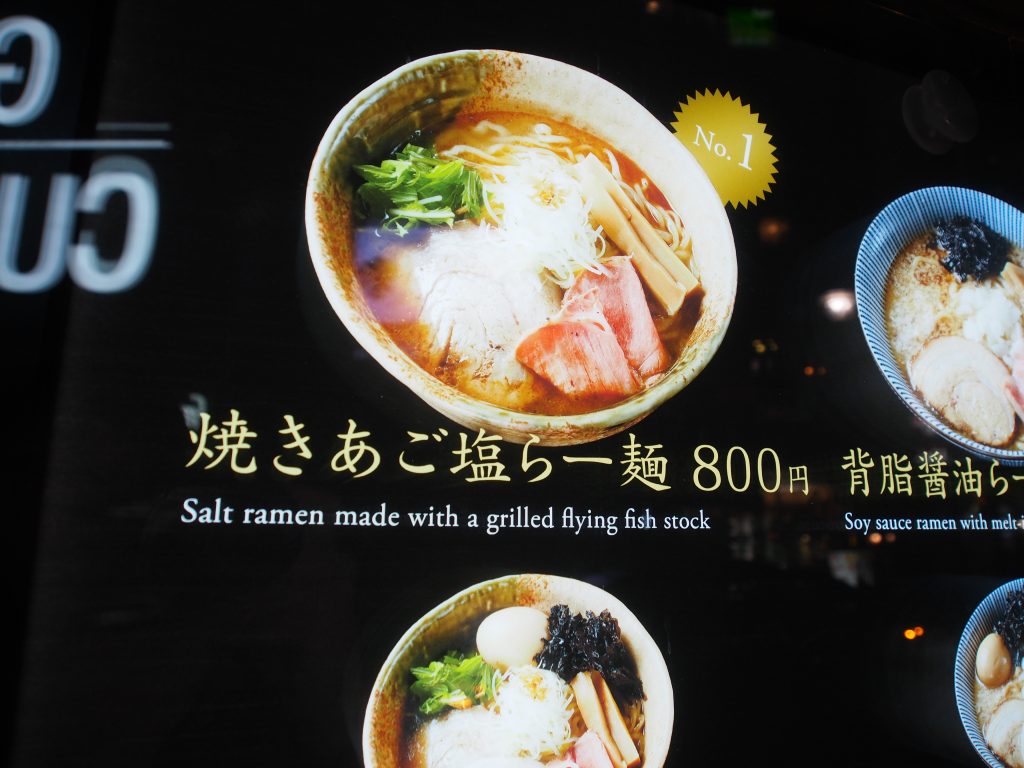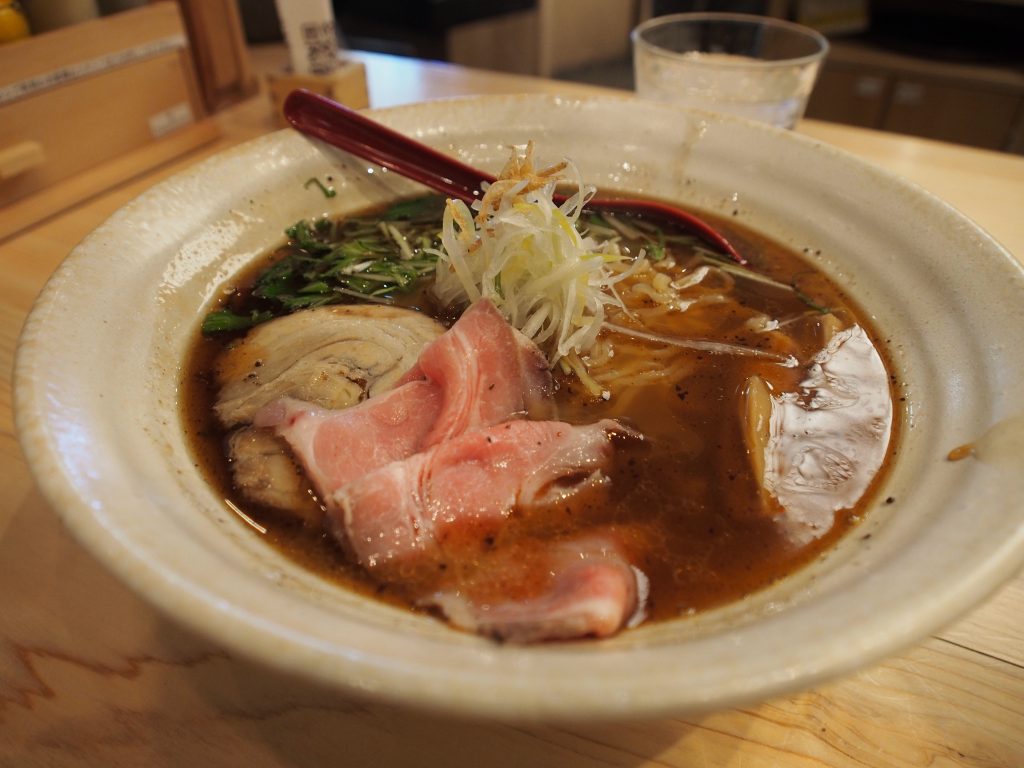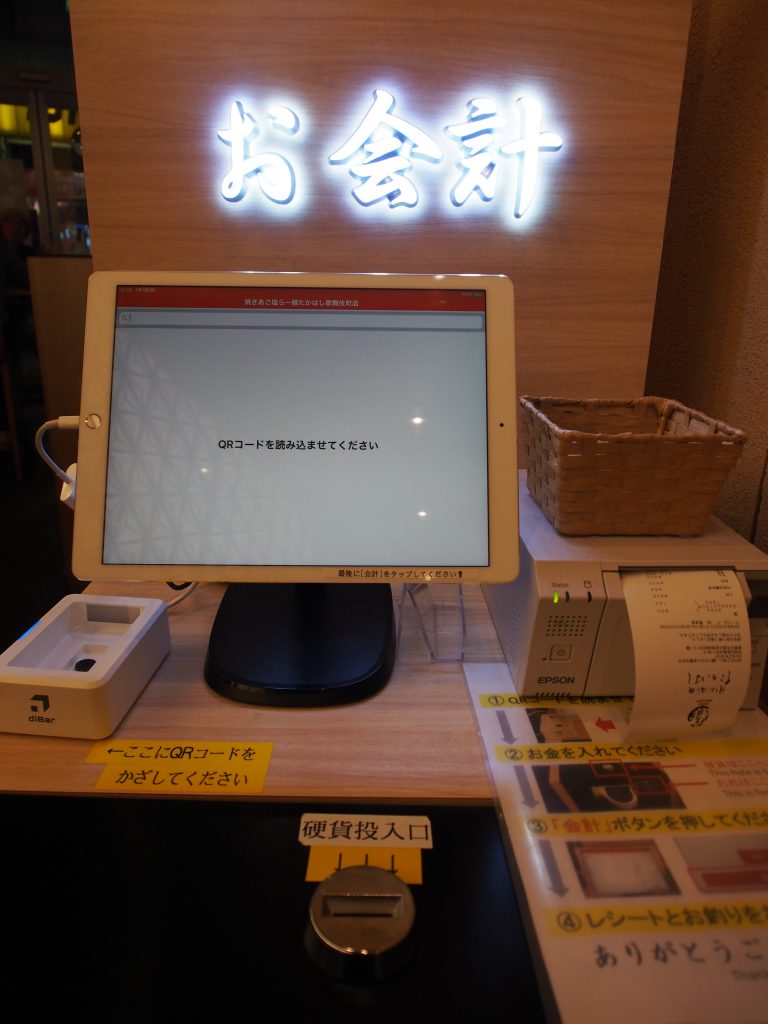 Before leaving for the hotel, I went into one of the buildings with a Sega sign to find out what's in there, since this was a brand name that I was familiar with when young. It was actually a place full of UFO machines and with the Y100 per try, I was tempted to try my luck in getting a huge size Eevee. After 4 attempts, I gave up on the flimsy claws as I couldn't find a way around, even though a few times Eevee was lifted up only to slip and fall back quickly. Fun though.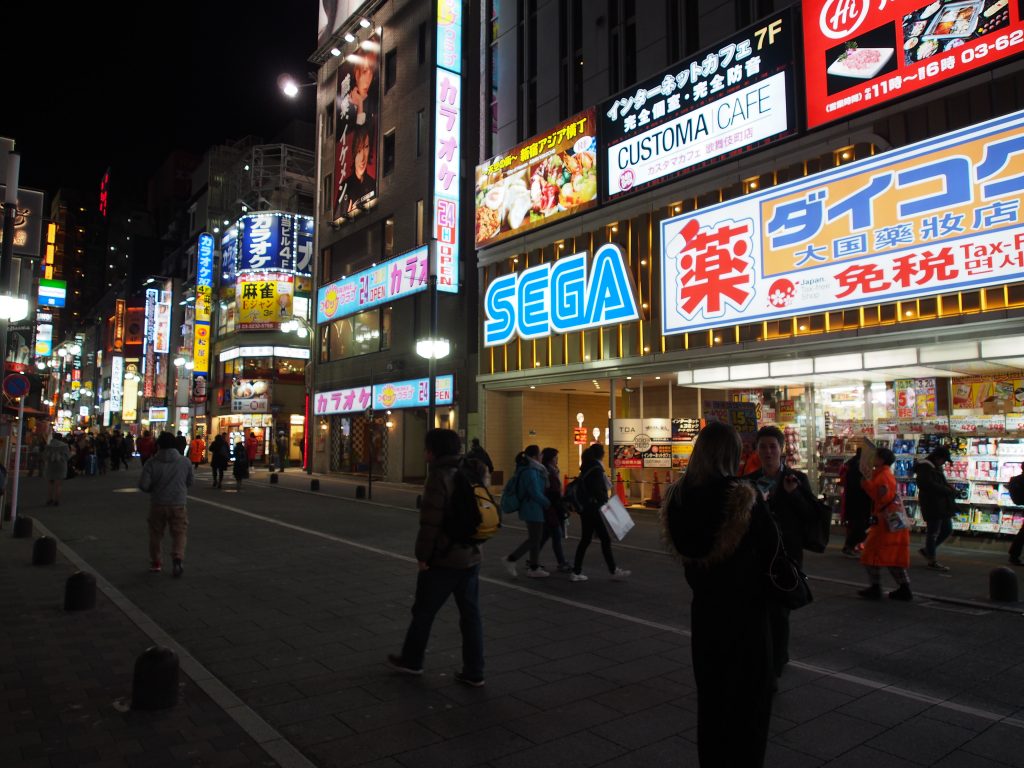 Back at the hotel, I stayed at the lounge to call back home, excited to share the tiring but fulfilling first day I had in Tokyo. While I wished to have done that in bed, it was not possible as the pods were not noise insulated and using of phone there was therefore prohibited. Nonetheless, the lounge had powerpoint for my charger to keep my phone alive and free wifi for video calls. Then it was sleep, as I pulled down the blind to the entrance of my pod, and switched off the light. First experience and not too bad.