Our trip started with quite a bit of traffic as we made our way to Changi airport, for after midnight flight to Taipei. There was already a long queue and it took about 15 mins before our check in at the Scoot counter. I knew we couldn't make it at the time of packing and complaining to the wife, as the weighing scale gave us away at an overload 4kg – let off lightly as the staff gave a "don't do it again next time".
Wife was interested to get an Apple Watch and thought that by purchasing from the duty free, it would be cheaper. But the variety was pathetic and the model was out of stock at iStudio. K was having fun though, hyped up by the knowledge that he was about to take a plane and was running around. The Pokémon craze was still on and these colourful monsters could be seen displayed everywhere in the airport. While killing time before boarding, we went to Wang's to eat a small supper of egg and coffee, something to last our entire flight later.
The flight to Taipei was a big plane, a Dreamliner Boeing 787. I was impressed by the spaciousness but the seats were rather simple, expected of a budget flight. It must be the school holidays and the air traffic was bad, with our plane taking off 15mins late, after a queue of planes. The flight was nice and smooth, benefits of a large plane. Although K resisted sleep for a while, he eventually snoozed, lying across my lap. While the flight had 2 instances of air turbulences, there weren't much of a biggy.  My only qualms were the irritating light buttons on the armrest that was all too easy to be pressed upon, and so frequently it activated because my arms were accidentally hit them while I adjusted after a while due to discomfort from K sleeping on my arms. We managed some sleep before landing.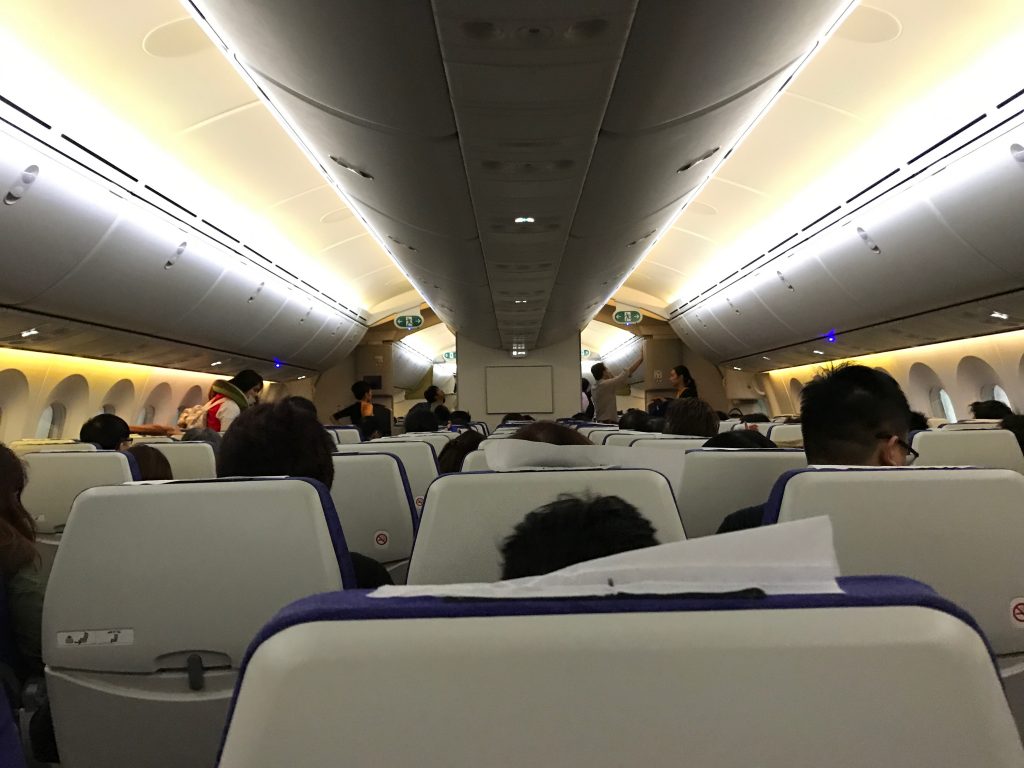 Not too long after, we woke up at 5am, ready for landing. The jumbo jet landed so gracefully without a bump, indeed a very stable plane. We gained some time as the plane was 13mins early but the plane had to taxi quite a distance till the gate. We didn't rush to get off and we're in fact one of the last few, taking our time to fill up the immigration cards. After alighting, we proceeded to transit lounge B, where there was a very well equipped baby care room (to change diapers for K), one that came with a tissue warmer!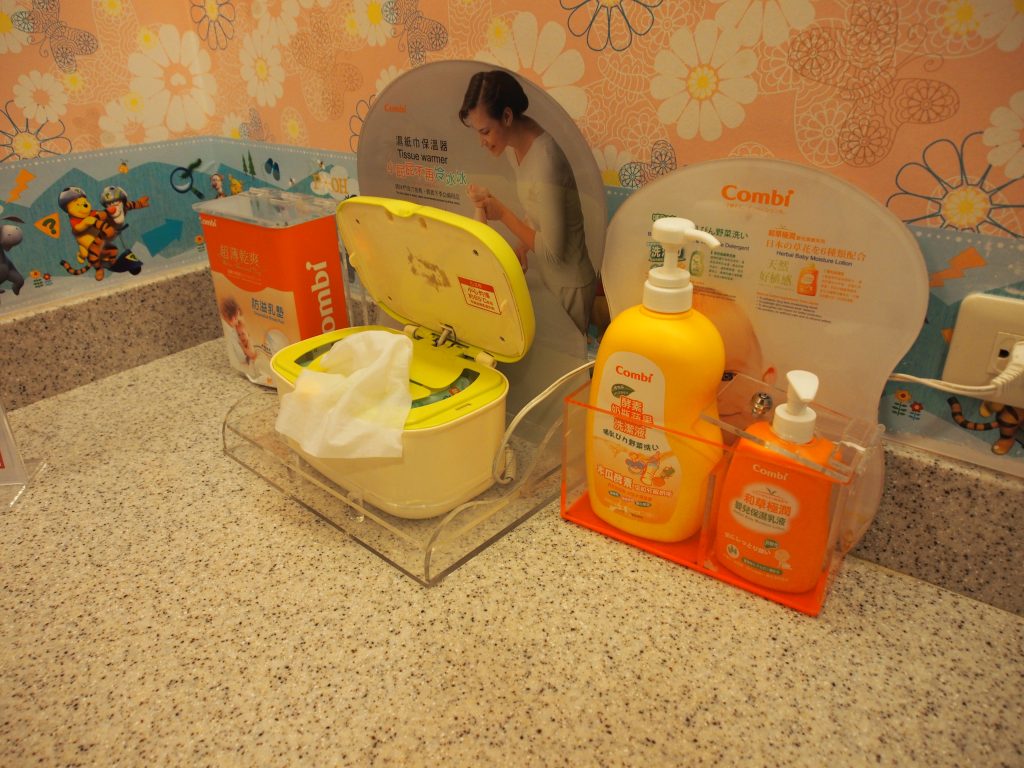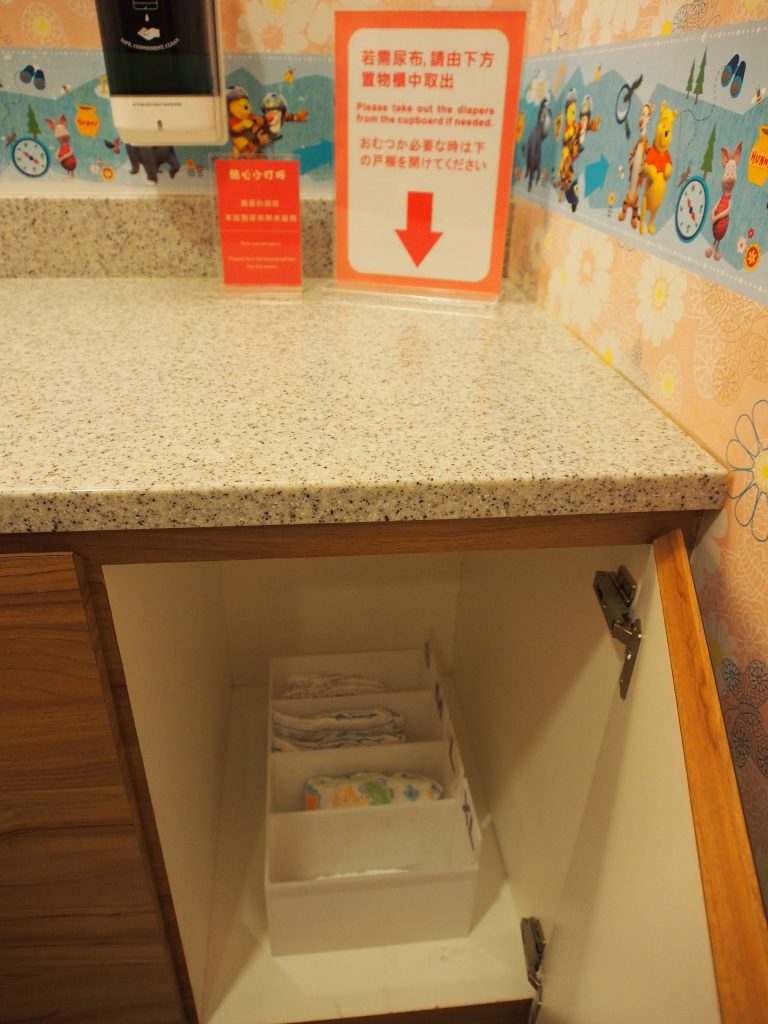 After taking care of our personal needs, we got to the immigration and was shocked to see so many lines of people, at this early of the day! The lines were very slow moving but luckily for us, we were spotted midway by an officer and proceeded to the counter. Retrieved the luggage at waiting on the belt. Moved to the arrivals halls and prepared milk for K, at some sitting area and then washing the bottles in the baby care room.
To get from Taoyuan International airport to our Airbnb in Taipei, we were going to take a bus on the first floor. The bus 1819 tickets costed 250NT to Taipei train station. As we waited in line and the bus came, we couldn't get onboard as it was full. The second bus came late and we managed to board at 745am. All this time I kept K busy having him explored the airport.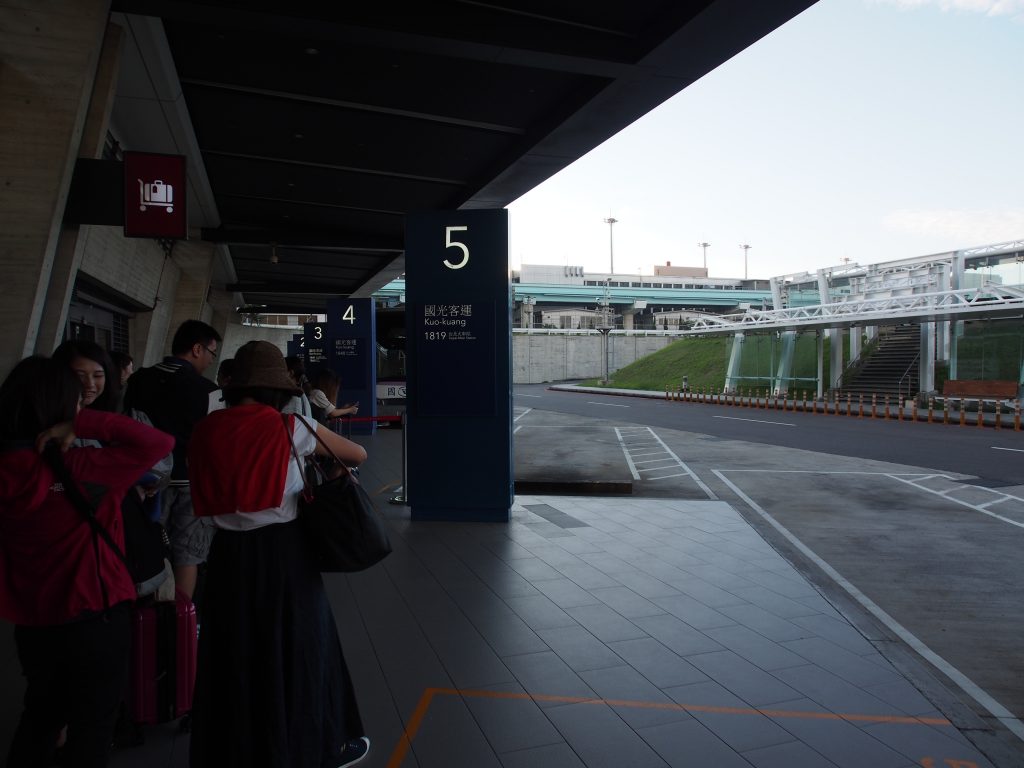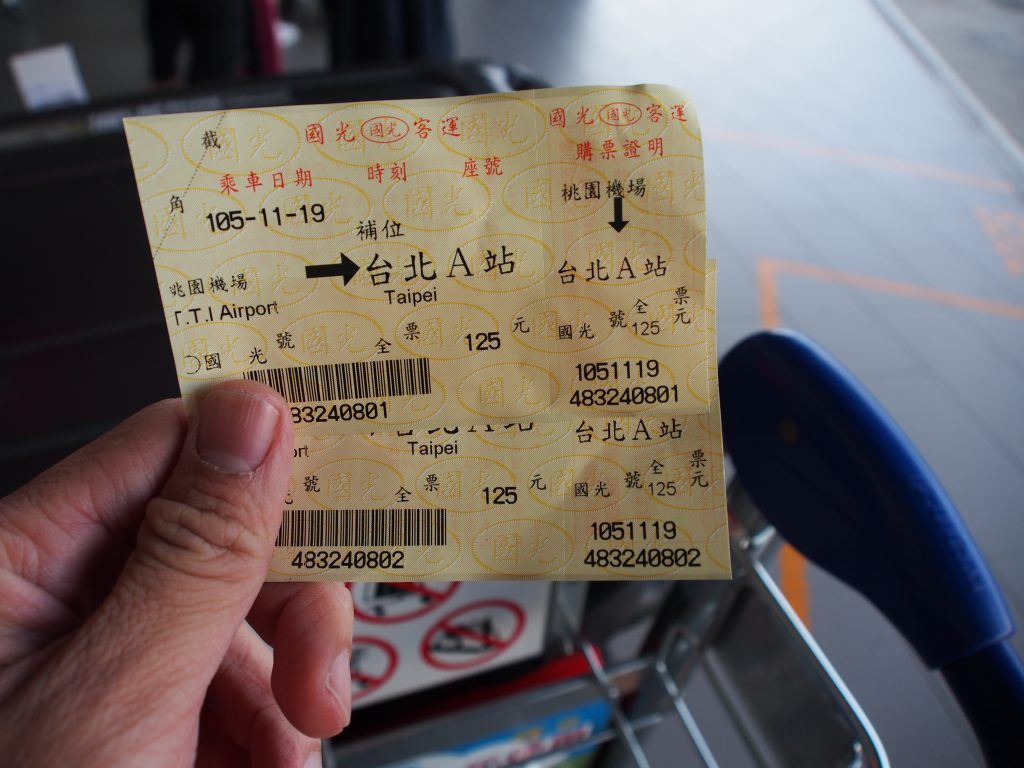 We boarded the bus and fed K some bread before falling asleep, a result of the lack of sleep on the flight. Only woke up as we approached our stop at east gate of the Taipei station. Then we walked through the underground to exit Z3 and climbed the steps before crossing the road to 24hrs McD, all the while K still sleeping in my arms and mommy had to lug the luggage around. Found ourselves some seats in McD and had our breakfast for 130nt while waiting for the landlord to our Airbnb. As it was still to early to check in, we were only allowed to leave the luggage at the apartment, handing over the luggage to the landlord first who picked them up from us at McD. With K still sleeping, we just sat at McD, played phone games and chatted until he woke up briefly at 10 before dozing back, and finally at 1020.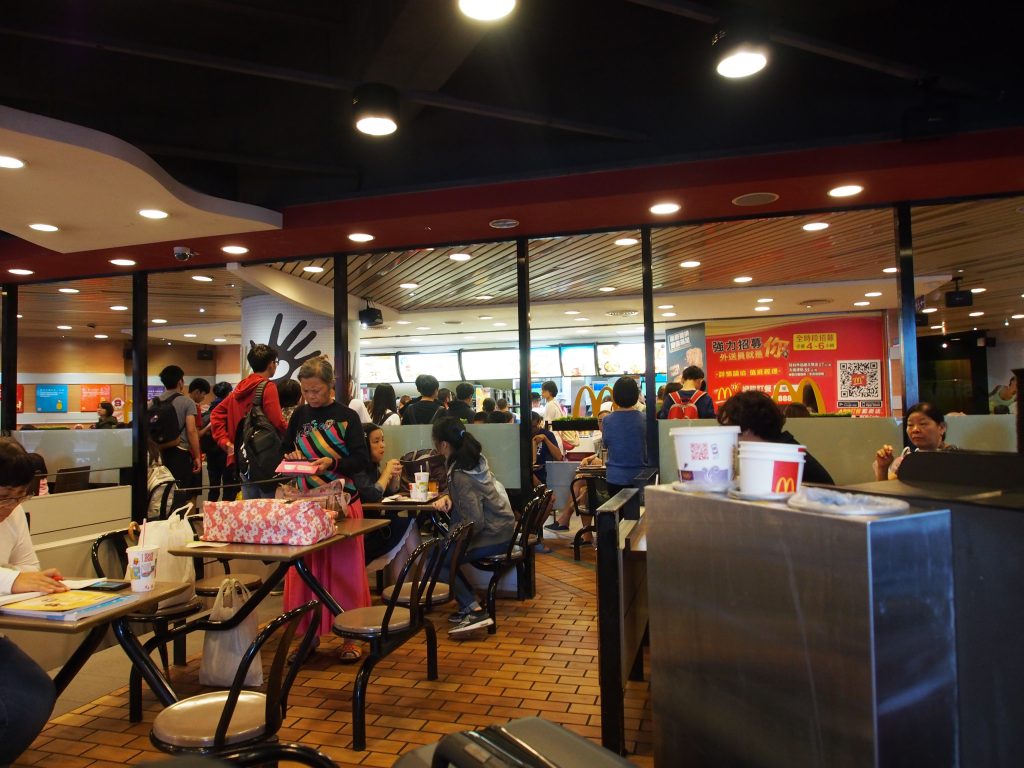 We wanted to get a data plan and proceeded to the ground level stores near the McD where there was one selling phones and SIM cards. There were a couple of options available but none that fitted the 9days itinerary that we have, so we got 2×5 days card instead. Activation of the card took some time, requiring to send an SMS and what not, but the storekeeper sorted it out for us.
There wasn't anything planned for the city visit as we would expect ourselves to be tired. First we went to the nearest mall Shin Kong Mitsukoshi's supermarket to see if we could stock up on some groceries for K's meals but we didn't get anything – not much variety and we didn't have a fridge to keep our groceries yet.
Our next stop was the K underground shopping mall with Eslite stores. Window shopped the bookstore where they were some interesting moving toys on display, K was throughly amused with the hanging gorilla. Mommy bought a peppa pig book before leaving for the Taiwan Railway Administration to get our train tickets for a train trip out of Taipei planned at a later date. Mommy booked the tix online and we only had to collect at counter. The station was decorated in anticipation for the Xmas coming in another month's time, a big xmas tree and some walls deco caught the attention of K slightly while we waited for mommy who had to wait in queue for collection.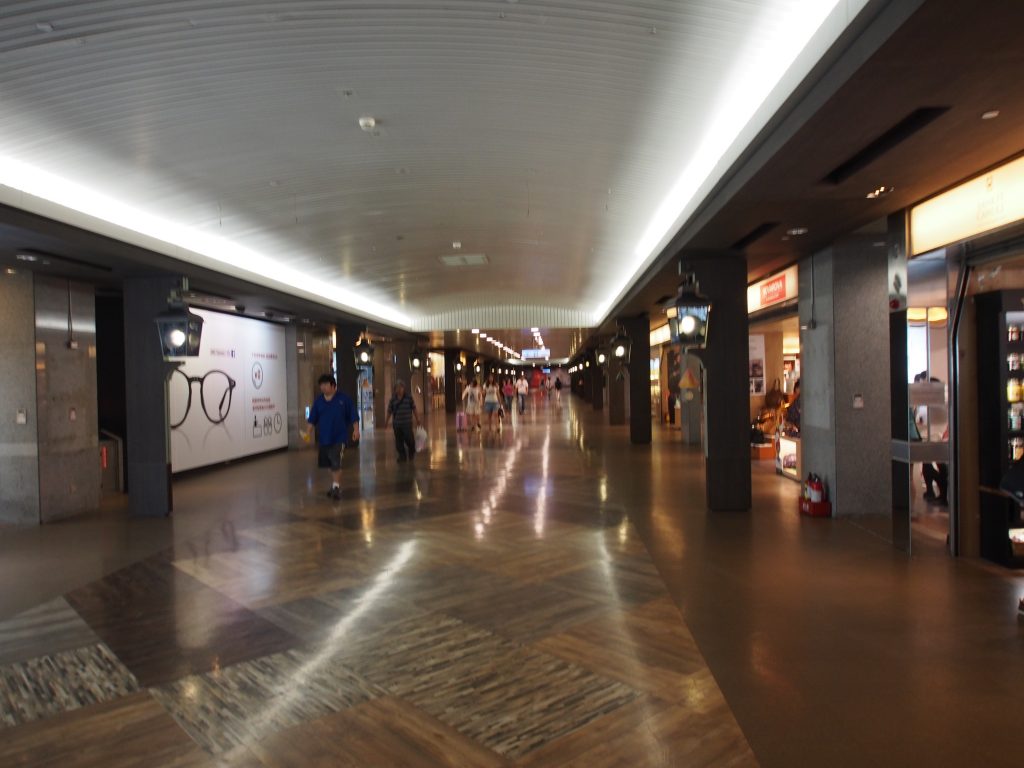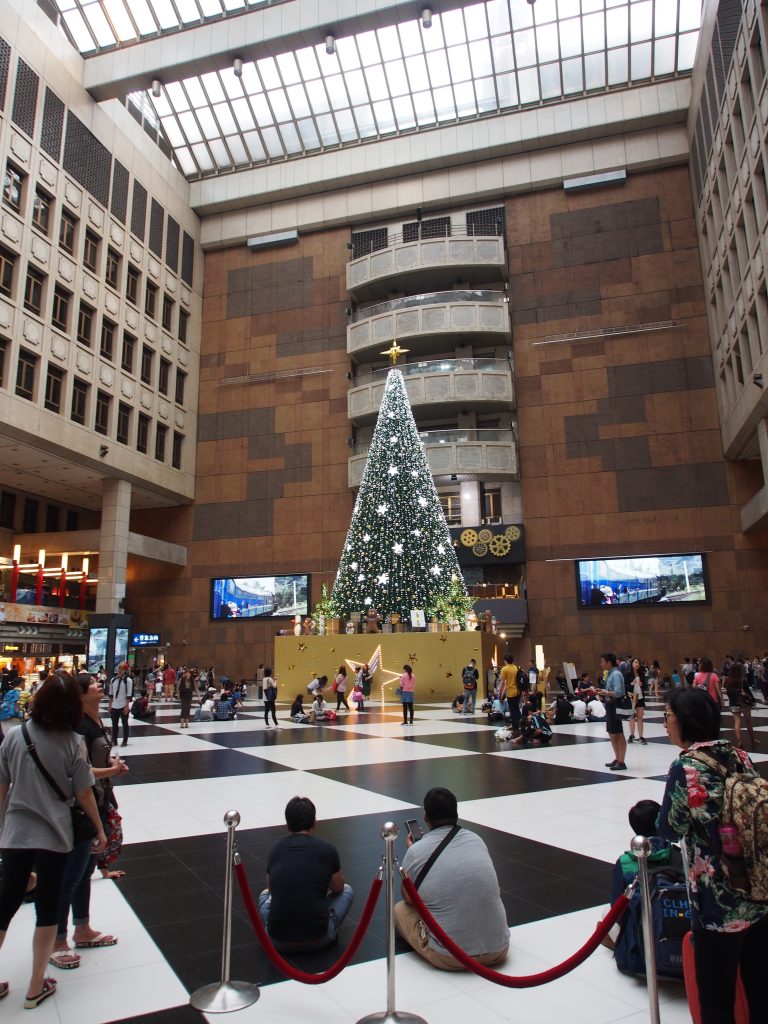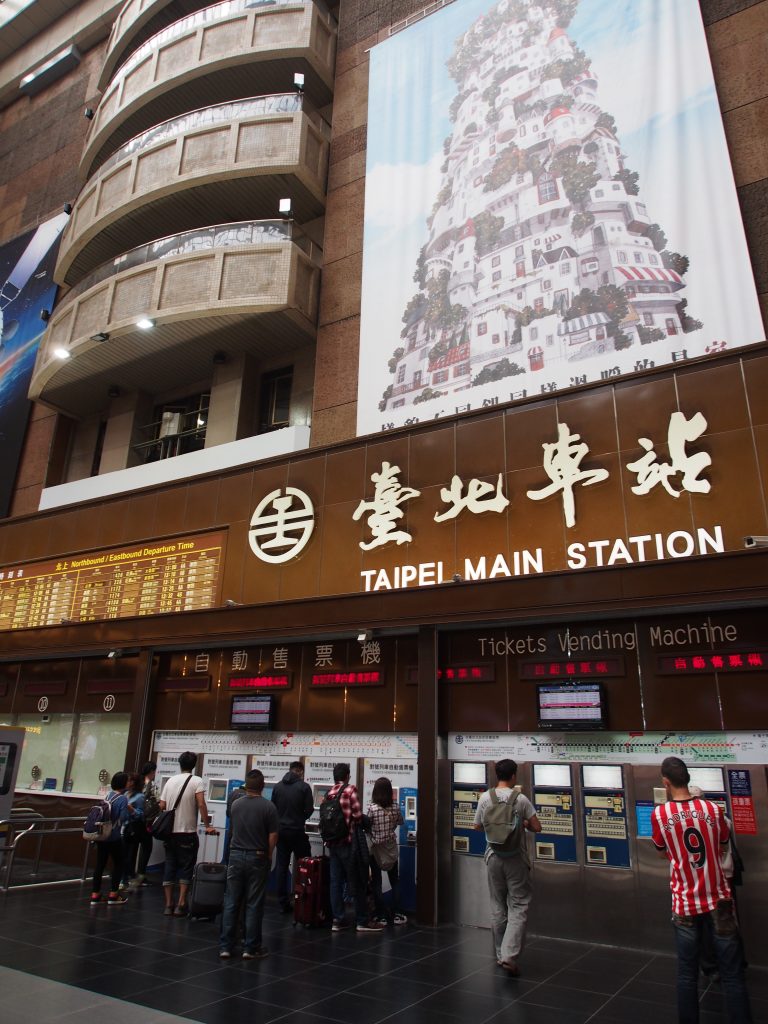 The data plan didn't seem to work while we were trying it out at TRA and decided to return to the store after lunch. Within the huge station on the 2nd floor was a gourmet heaven, entire floor full of restaurants and eating places. Our choice was a Chinese restaurant Long Tang that had porridge in their menu, so that K could eat that. Other than that, it boosted a view overlooking the main ground floor of the train station and also baby seat was available. We ordered Zha Jiang Mian and fried rice eventually because as we picked the porridge item twice, twice we were informed that the items were sold out. Thankfully K ate some fried rice. For the so-so food, we paid 280NT for the lunch. We tried to look for other alternatives with worry than K hadn't have enough of food, we went downstairs where they were quite a few other food outlets. Thought of getting waffles but they came with honey, something K hadn't tasted before. Bought him a totoro bun instead.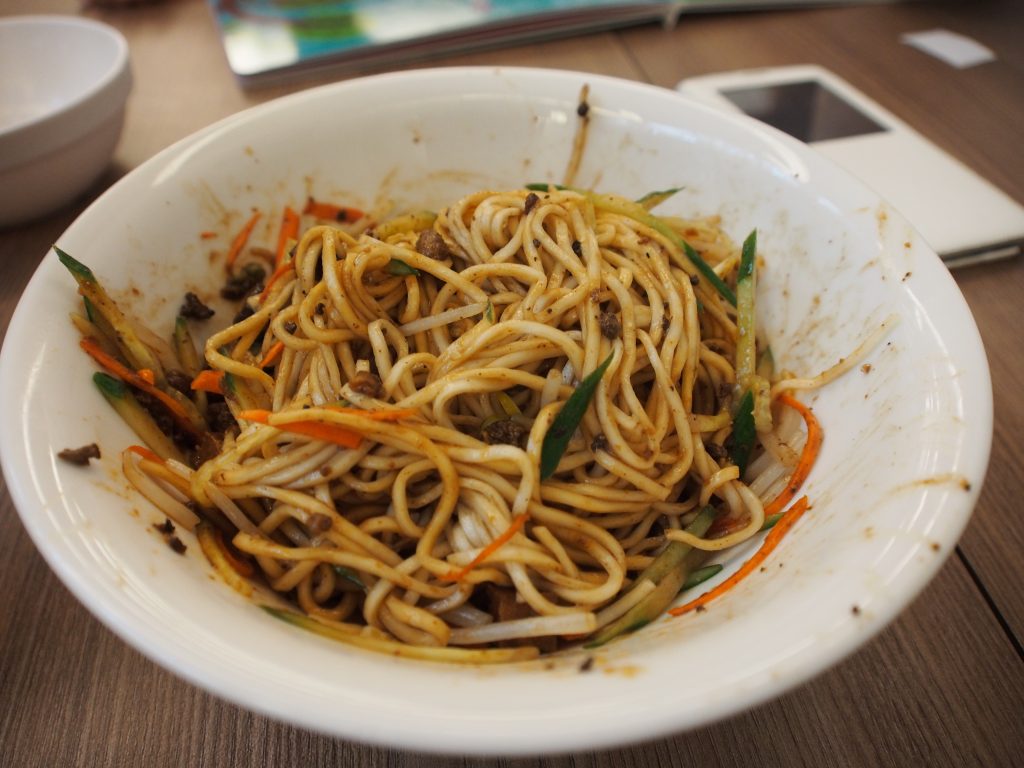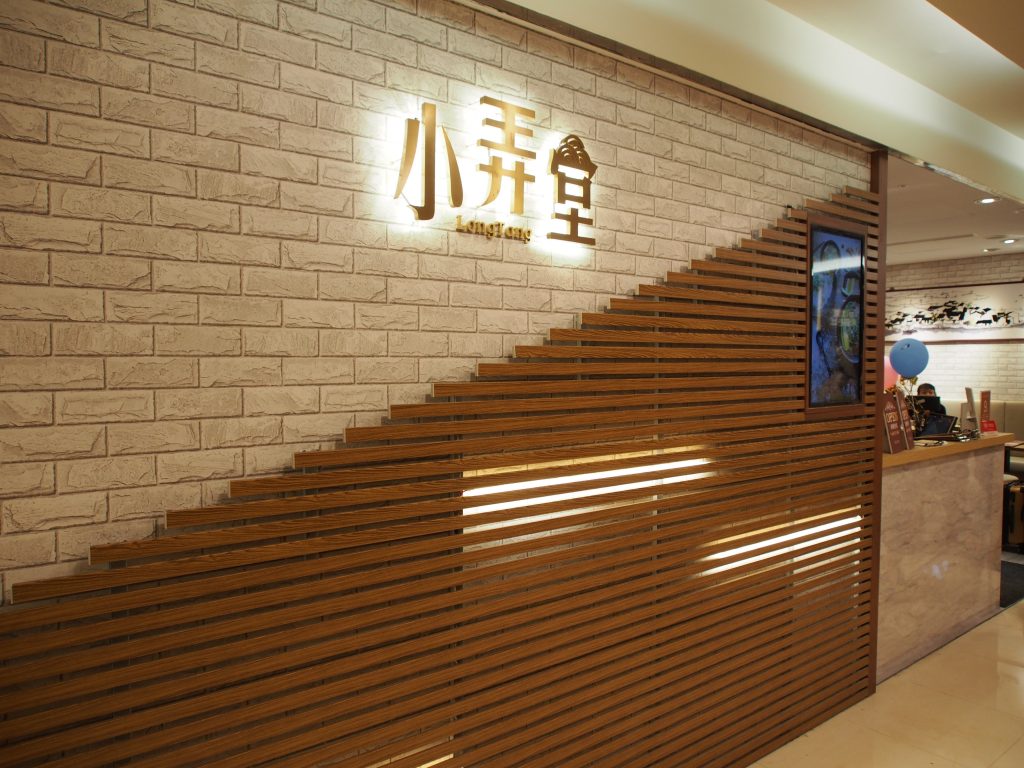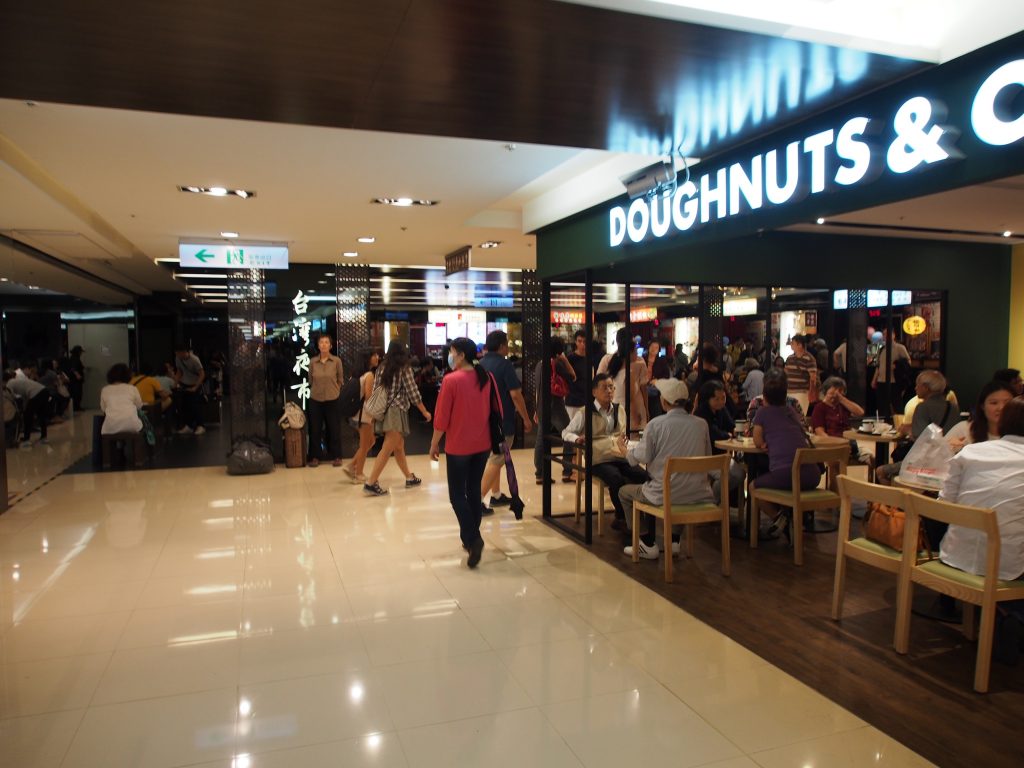 Upon return to the shop, the lady owner checked the phone and sorted out the APN which was the cause of the problem, taking of time for troubleshooting. After that, we visited Shin Kong Mitsukoshi mall again, this time going to the 8th floor, where the entire floor was dedicated for kids stuff. Changed out K's diapers while spending a little time time, as there was a climbing structure in the shape of a train and loose Lego bricks and pad for K to play around. We finished the visit at the same supermarket we visited earlier to buy groceries and milk and the remaining time till the agreed meeting time of 315pm sitting around near the mall.
The landlord of our Airbnb agreed to meet at 315 on the 6th floor.  We ended up waiting at gloomily lit corridor till 330pm, all the while not knowing what to expect as the landlord didn't show up nor did she informed. Even at 330pm, she only gave us a temporary room as she said that the cleaning of our room was still in progress, blaming the earlier guests for being too dirty. We just rest in the room and K fell asleep on the bed drinking milk.
At 4pm, we shifted to the right room but we were disappointed to find the apartment small and didn't have a kitchenette. K continued to sleep and mommy also took a rest while I took the time to clean up the milk bottles. As the apartment was kinda run down, I had doubts on the sterility of the tap water and whether it was safe for consumption, I sterilized the bottles with boiling water. I took a nap myself  till 5ish while mommy woke up to prepare dinner for k.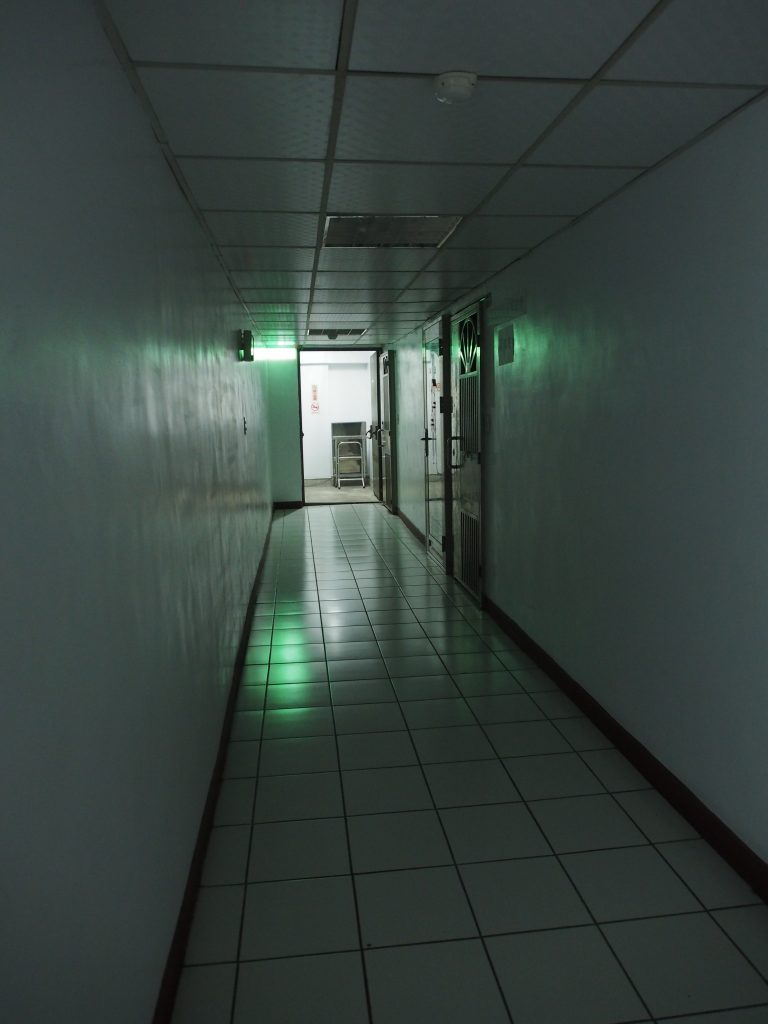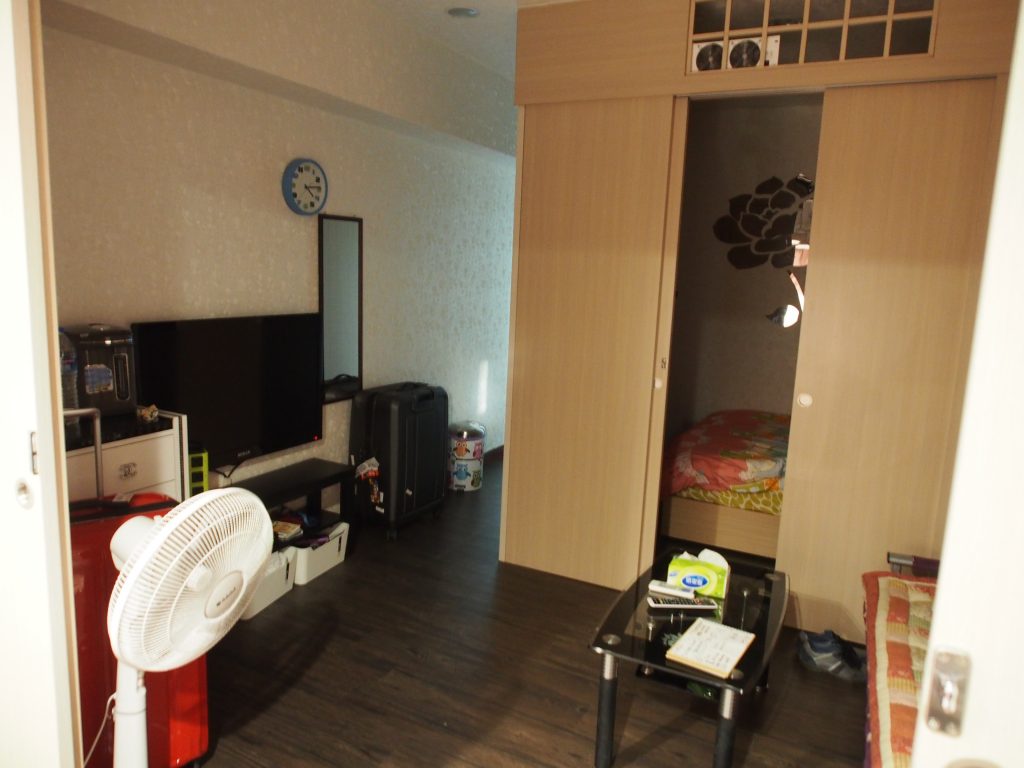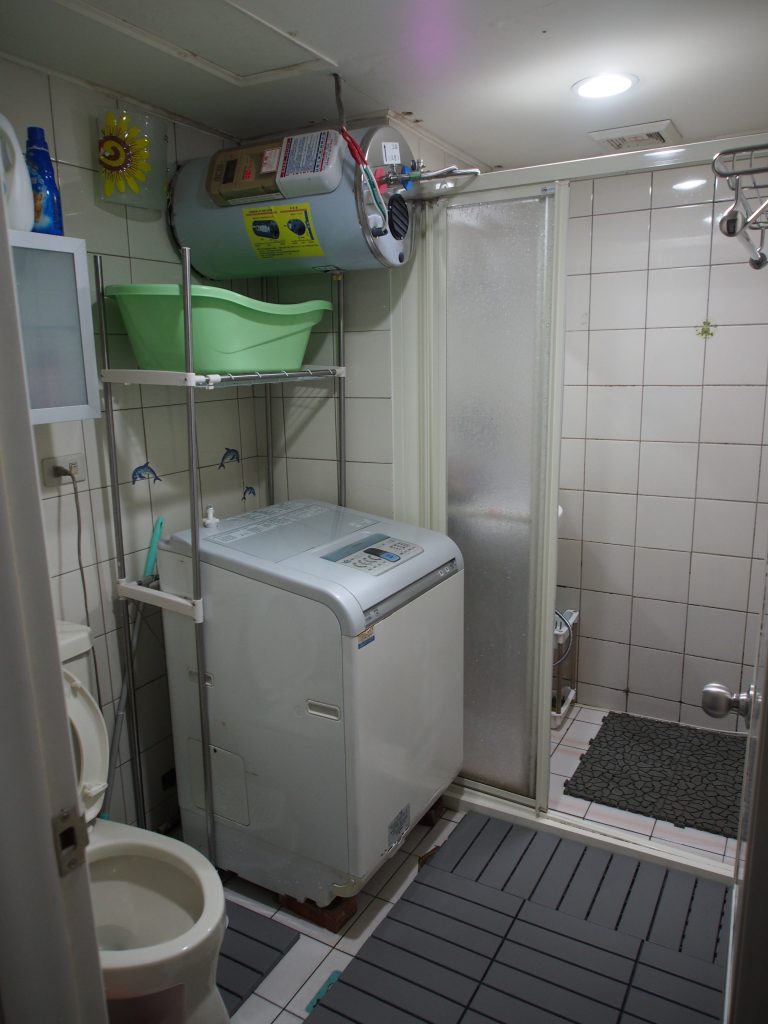 K slept till nearly 730 and woke up grouchy. I gave him a bath and afterwards, left the apartment at 830 to Shin Kong Mitsukoshi again, this time for dinner. Went to 8th floors after looking at the floor directory and found only a few restaurants there and were not too affordable. We then went to the food court at B2 as mommy wanted some food quick as she was famished. Bought omurice and cheese baked rice for 318NT and had our dinner in the sparsely crowded food court.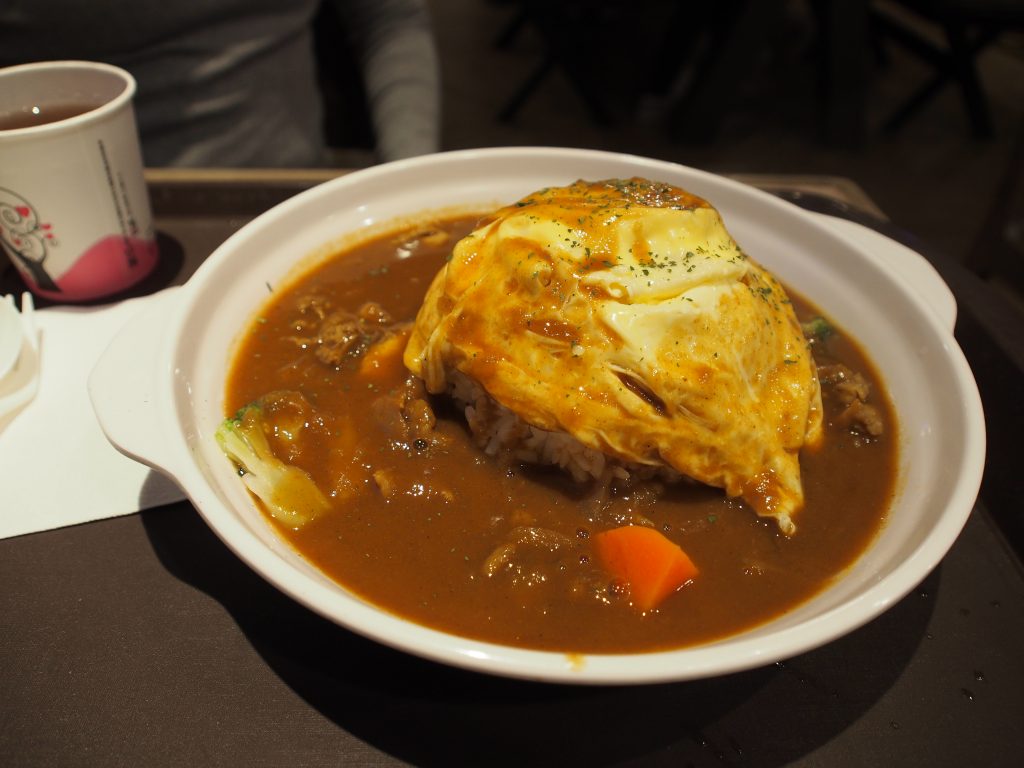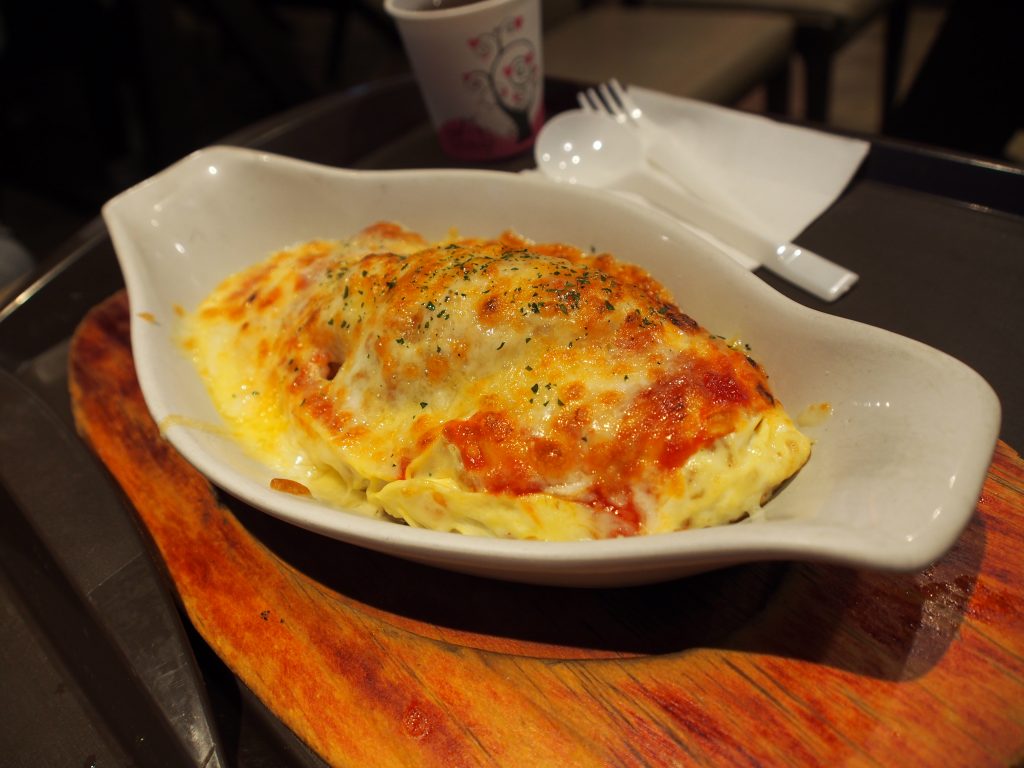 After dinner, we spent the last bits of the night catching region specific Pokemon. While out on the street, we stopped at a shop selling accessories, we bought a candle in the shape of the number 2 for birthday cake. After successfully catching the monster, we went back to the apartment, sweaty.
The night time was spent washing up the dishes, as expected of all trips and frankly used to it already. Sleep happened at only 12MN.