Day started like yesterday, with the only difference of myself preparing baby K pasta. The most difficult of the task was to slice and dice the salmon, carrots and vegetables into small enough size for baby K. Wasn't too difficult chopping the frozen salmon, and easier still for the other 2.
We didn't had breakfast today so we settled for the cookies we bought the day before. Usual work of bathing baby K and changing into a long sleeve polo and a long pants, against the cold if we were having a picnic out in the park. After everything was done, we ended up leaving at about 1230pm.
Discovered that most of the eateries were closed, despite it being only Saturday. Drove some 10mins into town as the bleak weather didn't provide for a nice weather for picnic. I was worried about parking and driving in town but it was quite alright, with quite a few parking options available. We ended up parking at Raine square, within walking distance to the main shopping areas.
First stop was to get lunch for ourselves and we found a small store called Ark Star Sushi. Ordered some ready made sushi and Teriyaki chicken rice with 2 drinks, came up to about $15. The food wasn't really Jap standard in my opinion.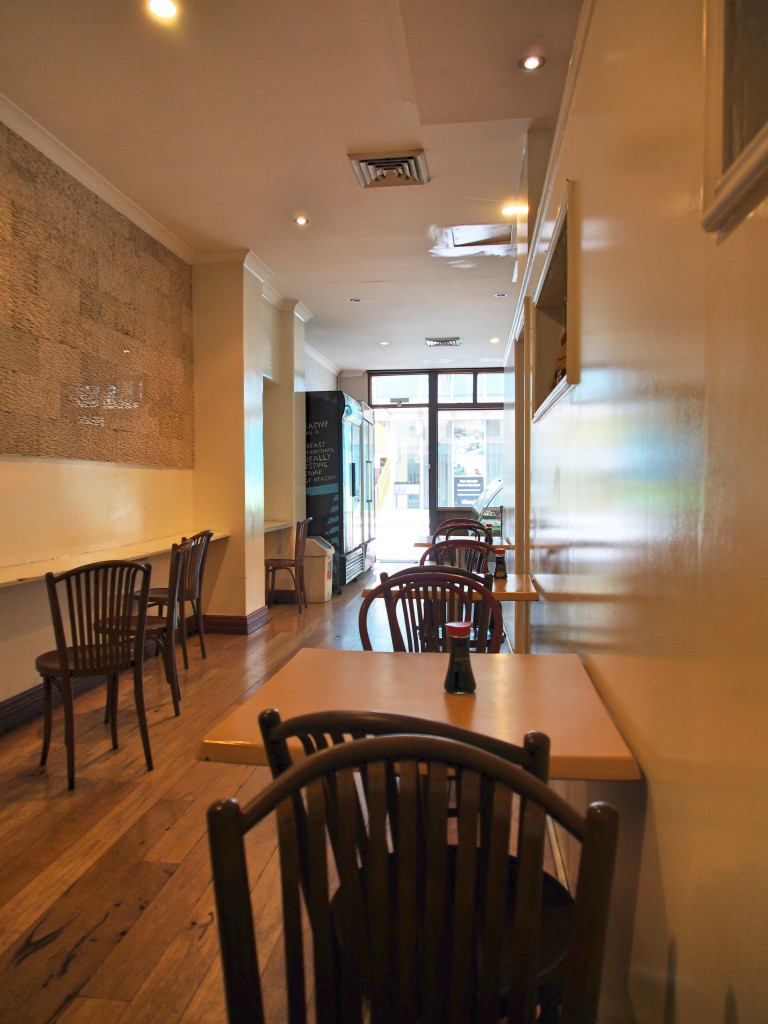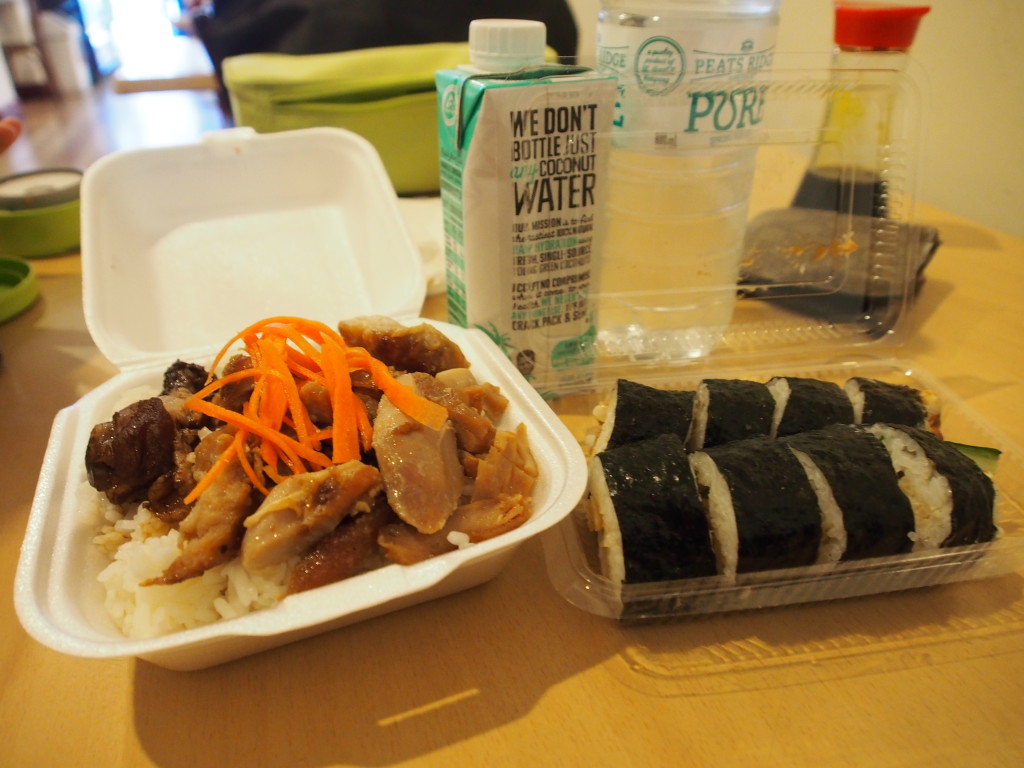 Left my wife to express milk while I brought baby K to roam around. The winter wind was furiously strong and I snuggled baby K a little more fearing that he might catch a cold. There were many shops around but I only went to Forrest place and snapped a couple of photos before heading back.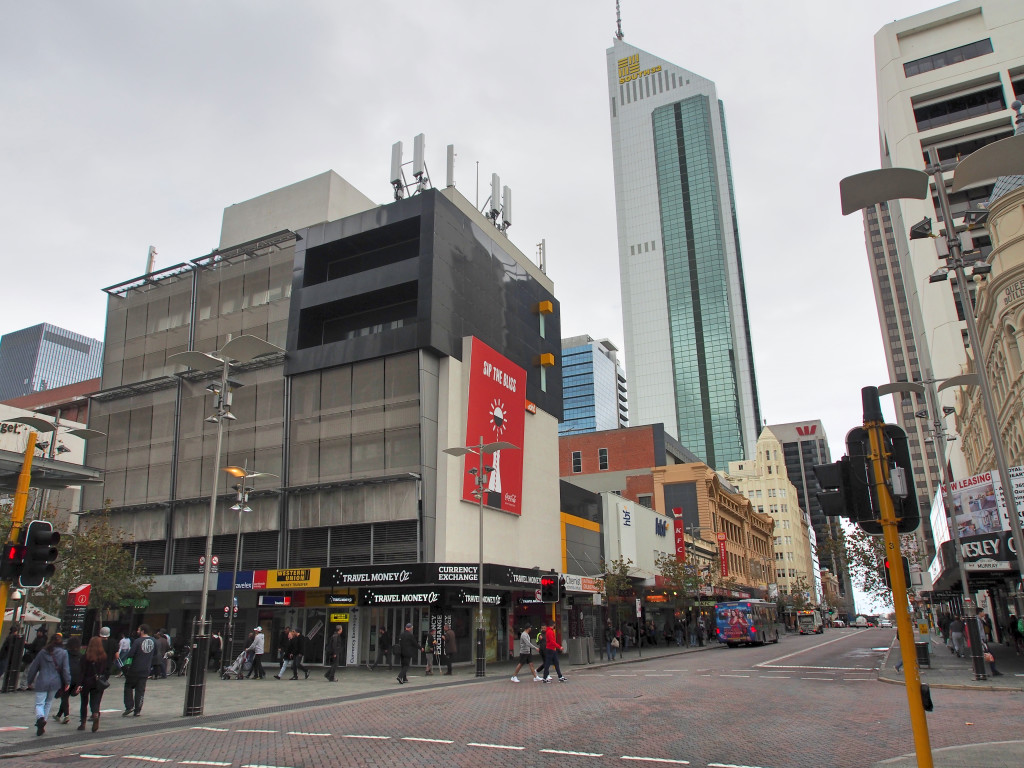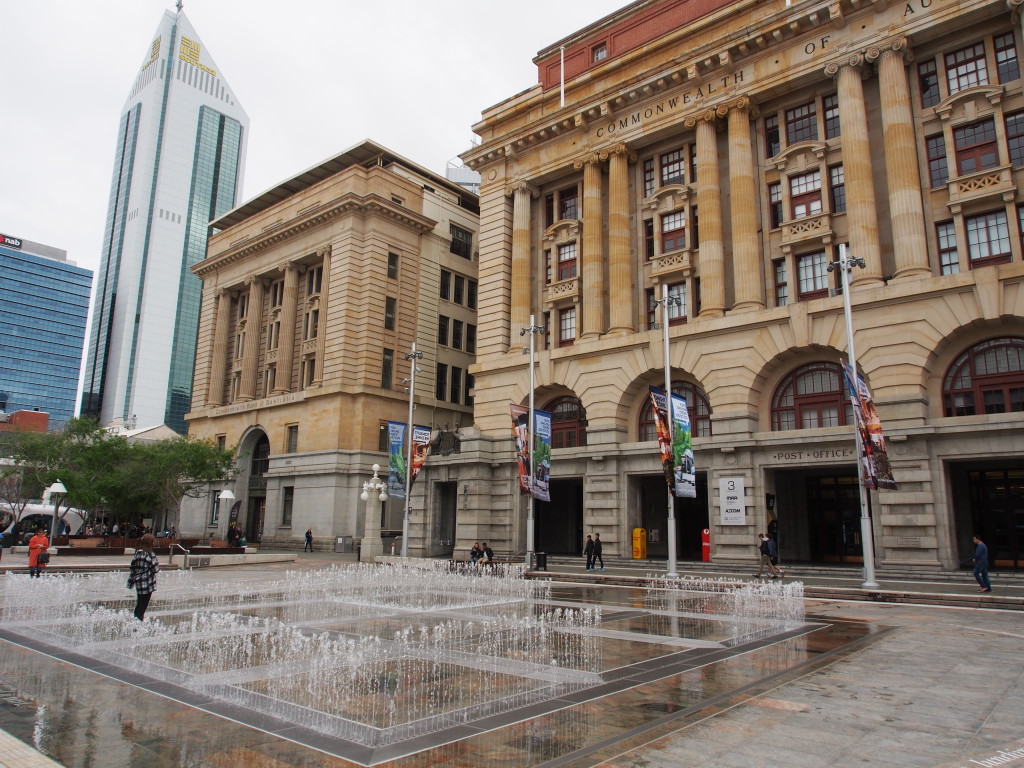 Wife was almost done and we went back to the info counter to enquire about the Apple Store. Went through the Piccadilly arcade and walked down along Hay street. Went into JR duty free but didn't see the MacBook that I wanted and continued to Apple Store.
It was my first time at Apple store since there weren't any in Singapore (only authorized resellers). And like my colleague described, they had the nicest of services, having one person to talk to you right from the entrance. Of course being hi tech, all the transactions was done through their on-hand iPod that had a credit card reader. The MacBook was delivered to where I was standing and there was even a staff that helped set it up. The intangible benefits of owning a Apple product was unfortunately not available to Singapore.
As we walked back to our car in order to help baby K sleep, we went first to the modern building Enex100 to use the toilet and it had clean toilets and even a nice huge parents room with a TV playing cartoons. Used the parents room to change diapers and bottle feed baby K. Unfortunately there was hot water dispenser like those in Singapore. There was a microwave that attracted some guys to enter and use, which could be a lost of privacy though.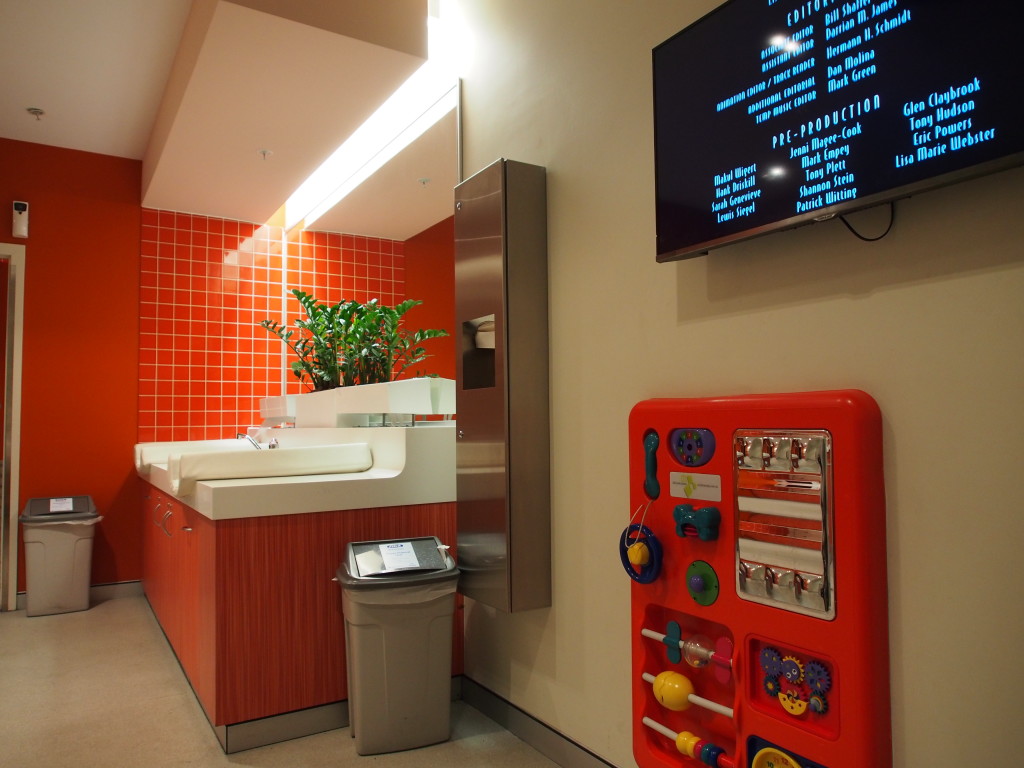 As we went back to Raine square, it started to rain also even with some sunshine. Baby K had fallen asleep and as we bought some donuts from Krispy Kreme, we went down to the basement food court to sit while baby K snoozed.
As shops were closing around 5pm and worried that we might not be able to get dinner and breakfast for tomorrow, we brought baby K to Coles central for buy microwaveable food. Baby K woke up after about an hour of napping which was great.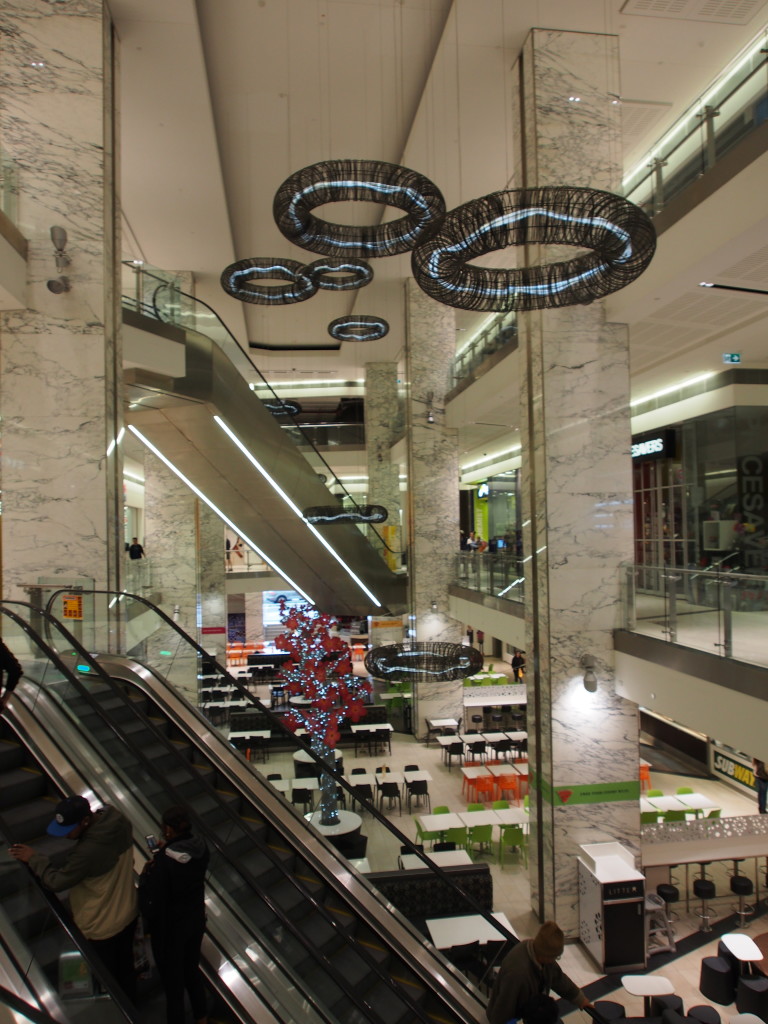 Paid for the carpark at the payment machine and it came out to be about $17. The parking fees in Perth were ridiculously high compared to Singapore.
We drove back to the hotel to put foodstuff into the fridge. Then I drove towards Kings' park. As we arrived, it was already getting dark and the rain started to come down again. There was an area with a nice view of Perth and so we decided to return the next day.
Driving back was pretty straight forward and I managed to park at the carpark on the side of the hotel, which was in fact further than the one I parked the night before.
It was one of the rare moments where we were back at the hotel so early (7ish) but because it was cold and dark out there, and no more shopping at that time, we had no where else to go. Spent the evening microwaving the macaroni and cheese and my wife's green curry chicken and other stuff, fed baby K and entertaining him and cleaning bottles of course.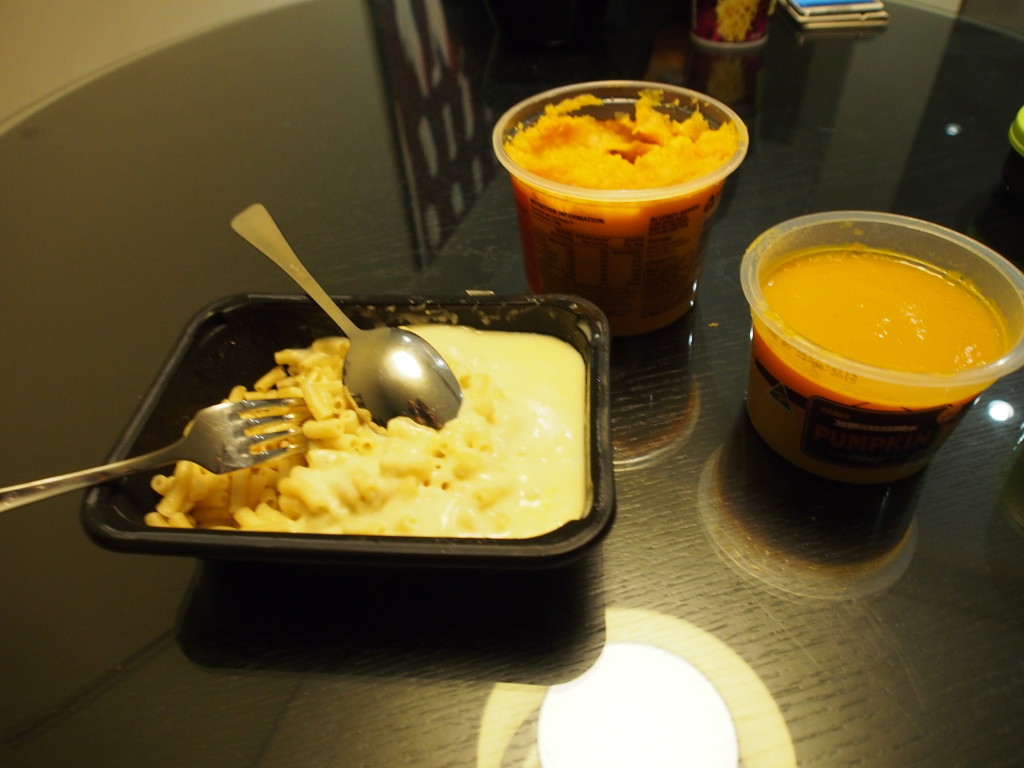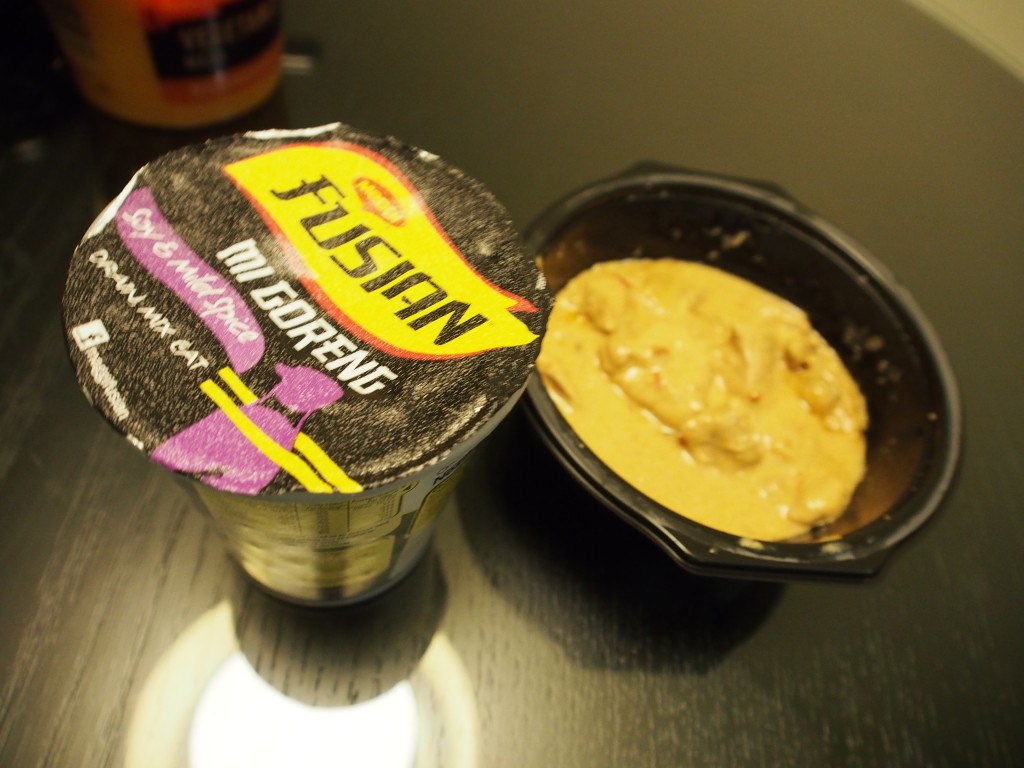 Saturday night was sports night and mostly rugby was on TV. Wanted to watch the BPL but there weren't such options on Fox.
Baby was cranky for no particular reason after waking up from a nap and that drove us mad. Had to take a while before both parents and baby cooled it off.
Ate the strawberries and cherry tomatoes we purchased from the markets in Fremantle and IGA correspondingly and it was really sweet! That made us think if we should buy more strawberries home. Baby K could only watch since we hadn't try giving berries to him, fearing allergies.
Then nap time at 11pm while I blogged this till 12. Time flew past really quickly this National Day long weekend. The winter must had been the accelerant.