Woke up at 630am, mommy cooked while I got ready and dressed up K. It was an early start for today even with sleeping late the night before as we would be embarking on a long drive to Las Vegas today, getting out of LA was essential in avoiding the jam. We finished packing and checkout by 830am.
The congestion was already there while getting to the expressway. It was a good thing K fell asleep while we were still on the way out of LA. Once we got onto the expressway, I got onto something called the "carpool lane" which was meant for cars with 2 or more passengers. It was relatively fast moving and it allowed us to bypass a lot of traffic!
LA to Vegas was a long journey and I found 2 towns that we could choose to take and break and pump gas. One of which was Barstow, which was a big area for gas and rest about 2hrs into drive. There wasn't a real motivation to stop as K was sound asleep and petrol level was still healthy so we continued on without stopping. There wasn't much to see once we were out of LA, area was just full of nothing much, just sand, sandy mountains and a very straight road that seemed to go on forever.
When we arrived at the other town, Baker, the car was left with 1/4 tank, Went to pump at Velaro, $4.25 per gallon, pretty costly comparatively but with my standard $40, we could almost get a full tank. I also topped up on caffeine for my 1.5hrs journey to Las Vegas.
We arrived into Las Vegas at about 1pm and I drove to our accommodation Jockey Club suites. Checked with the reception on our room and was informed that it wasn't ready. So after given some instructions on where to park, since it was a shared carpark with another hotel, we left the car full of luggage in the carpark before visiting the super arty-farty design Starbucks at the Cosmopolitan to have lunch – consisting of pastries.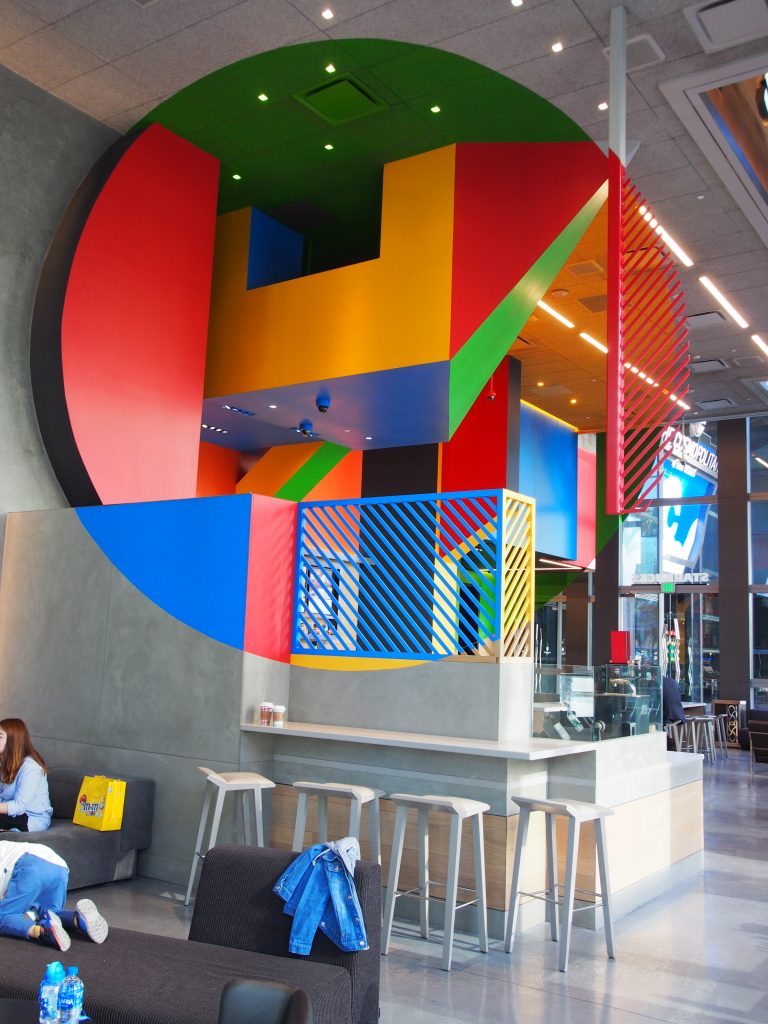 Having booked the Papillon Helicopter flight to Grand Canyon, we were in quite a rush. After finishing our lunch, we had to walk to the pick up point which I didn't know where it was. The staff had to call me as we were late and he informed us that it was the pickup/drop off location of the Cosmopolitan hotel. Checked with some of the hotel staff and was directed in the direction at the other end of the hotel. We proceeded briskly, passing many glitzy slot machines, a feeling that was so unfamiliar to me (since these are normally not opened publicly in Singapore).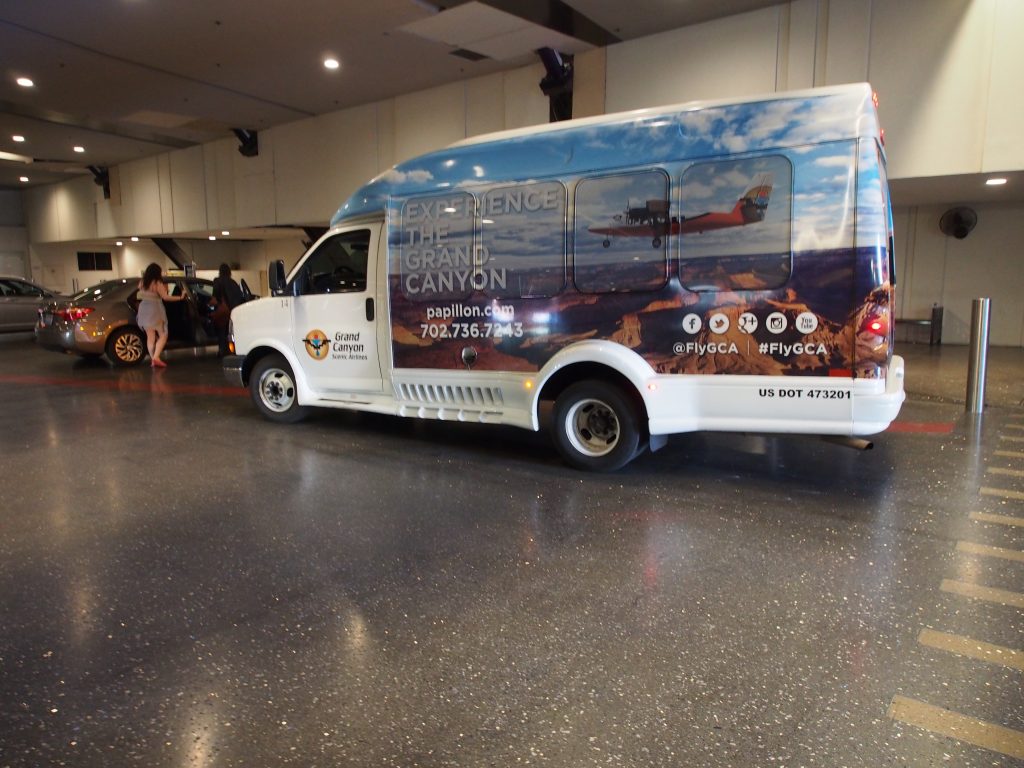 The mini bus with a helicopter picture on its side was spotted effortlessly and we boarded the bus with apologies to the driver and whoever that was onboard. It was then 30mins drive after 3more pick ups before we arrived at the helicopter terminal. Proceeded to the check in counter, paid an upgrade of USD$100 for all to be seated in the front row. Then we had to watch a video about the ride, and of course use the toilet. There was still a short wait to the time we had to board, as we listened out for the call to board. We were introduced to our pilot, Helen, whom then brought us to the helicopter.
There were 2 flights at our flight time of 330pm, and Helen led our group of 7 towards the red helicopter on the tarmac. A short introduction on how to board and buckle up, we soon found ourselves settled and ready to lift off. Putting on the headset, we were soon off the ground and flying towards the Grand Canyon. Weather was great and the helicopter was cruising smoothly, it's passengers having a great time taking in the expansive view presented. We soon see a large water body, Lake Mead, a bridge and also the Hoover dam. The helicopter circled around so everyone had a good view and then we flew another 10mins to arrive at the Grand Canyon. The layers of rocks differentiated by shades towered above deep valleys and a meandering stream, the grandeur was just breathtaking. It was nearing the golden hour of sunset which made the view even more spectacular. It was not all "Wows" though, cos amidst the appreciation of the view were pockets of funny moments when K called "papa" over the headset and everyone else could hear him and his small talk, it was very comical.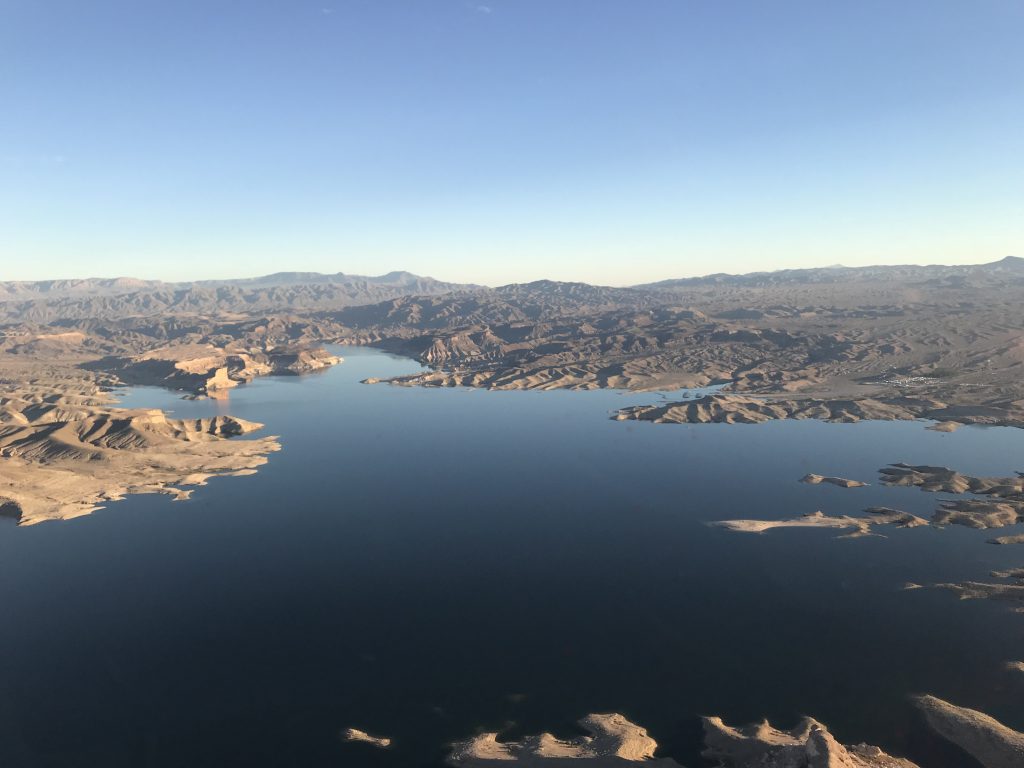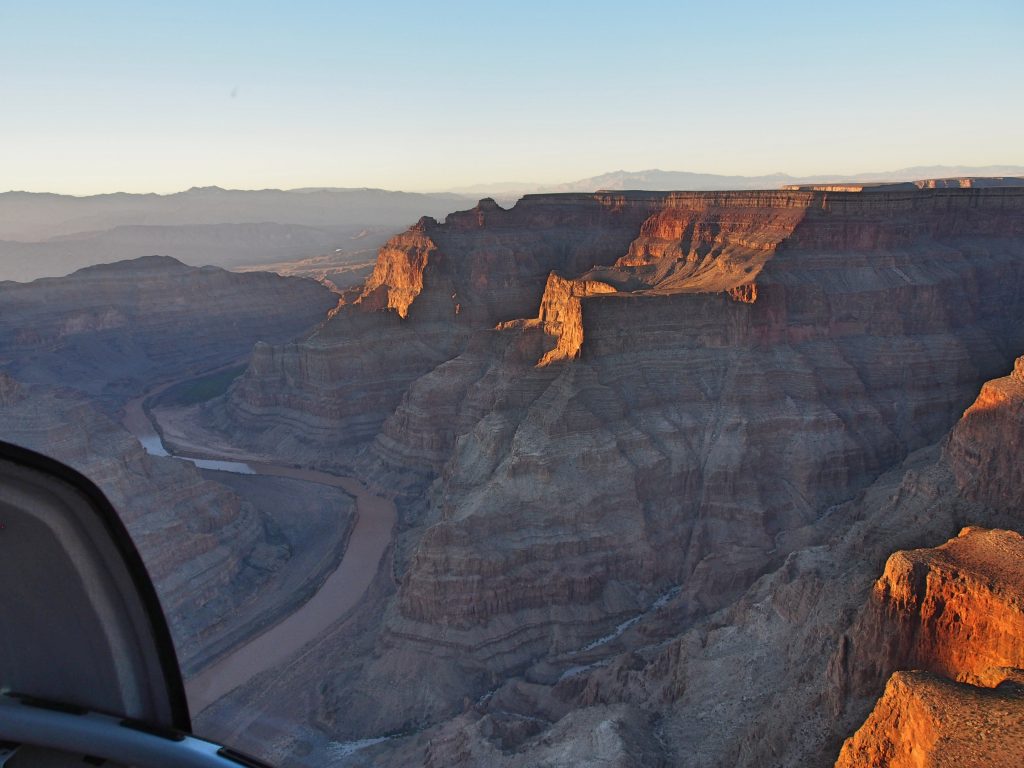 The ride was over as we flew towards the setting sun, and without any drama at all, we were back on solid ground safe and sound. Thanked the pilot for the awesome first time ride for K, and went through the usual viewing of the photos taken professionally and rejected the offer of $20 for it. Quick visit to the toilet and a walk around the shop before a 10mins wait for the transport to bring us back.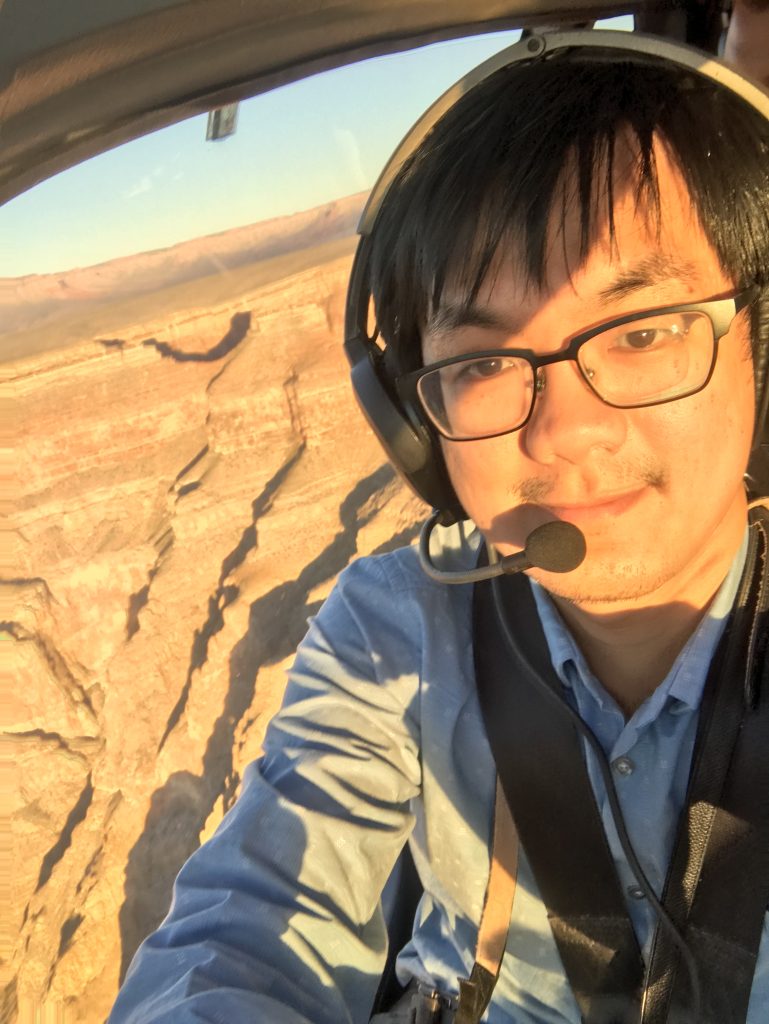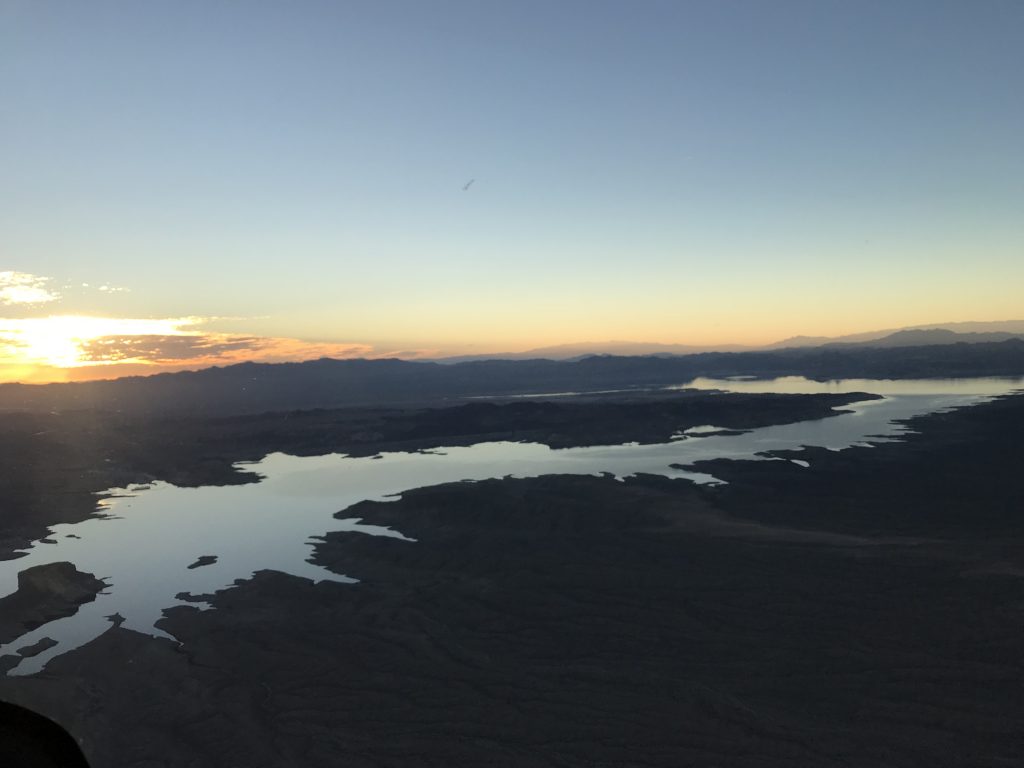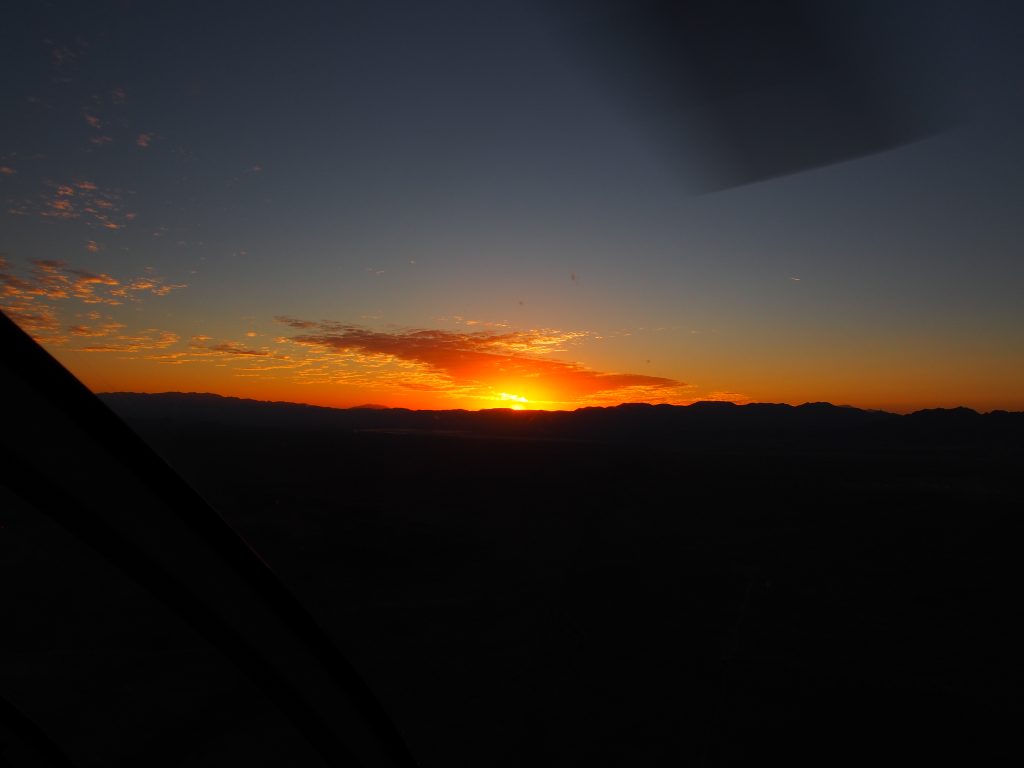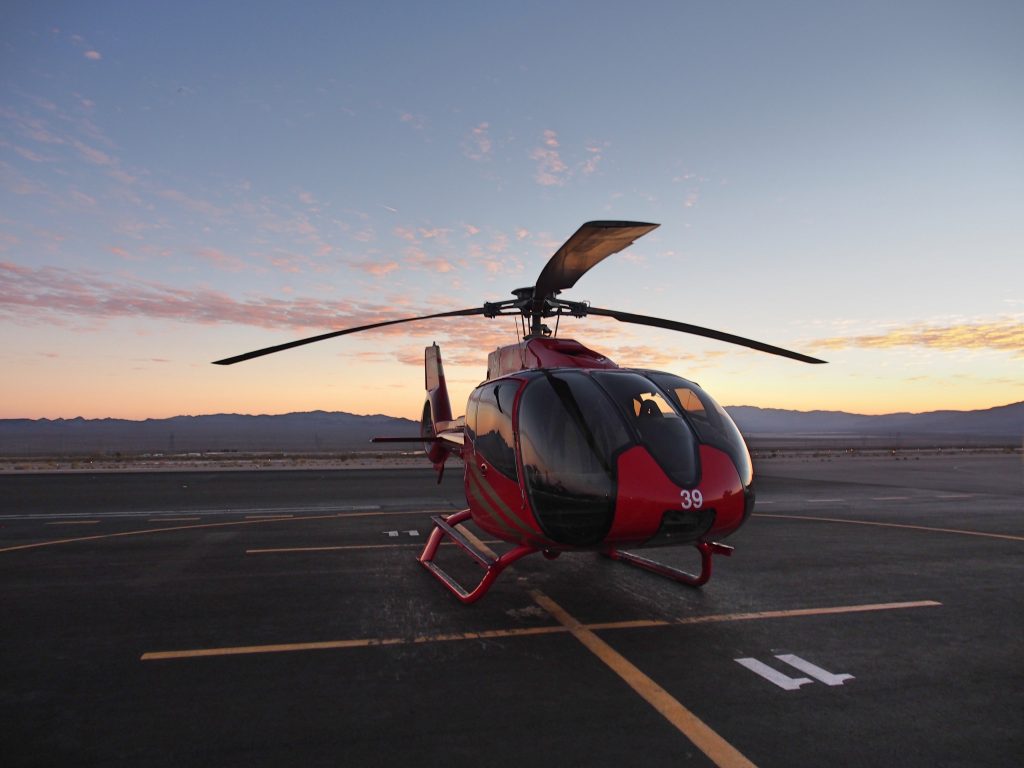 The return journey was a little longer, about 45mins back as traffic was built up. K and I drifted off to sleep, and after the short snooze, we had to drop off for a change to smaller bus at Vegas. Another short drive from there and we were dropped off at Cosmopolitan, at the same location where we were picked up.
We made our way back to Jockey Club Suites to check in. I asked if we could be given a room with fountain view and upon checking, the receptionist said that the room didn't have that view and there wasn't anything she could do to change it and informed that we should have requested earlier. It was disappointing as I did put in a request during booking but I guessed it must have been missed. At least, though, the room was at highest floor.
The insides of the room was pretty good in my opinion. The place was huge, came with a kitchen, and had shower amenities like Neutregena soap and shampoo. And it was cheaper than the rooms around. I went to collect the luggage from the car while mommy bathed K.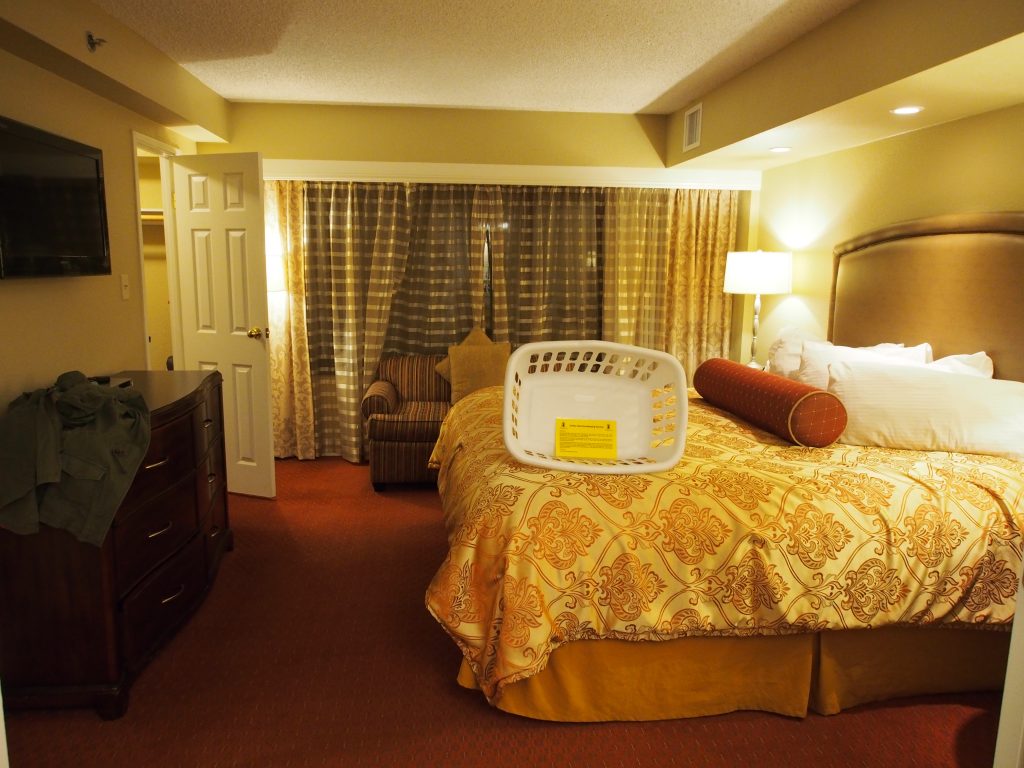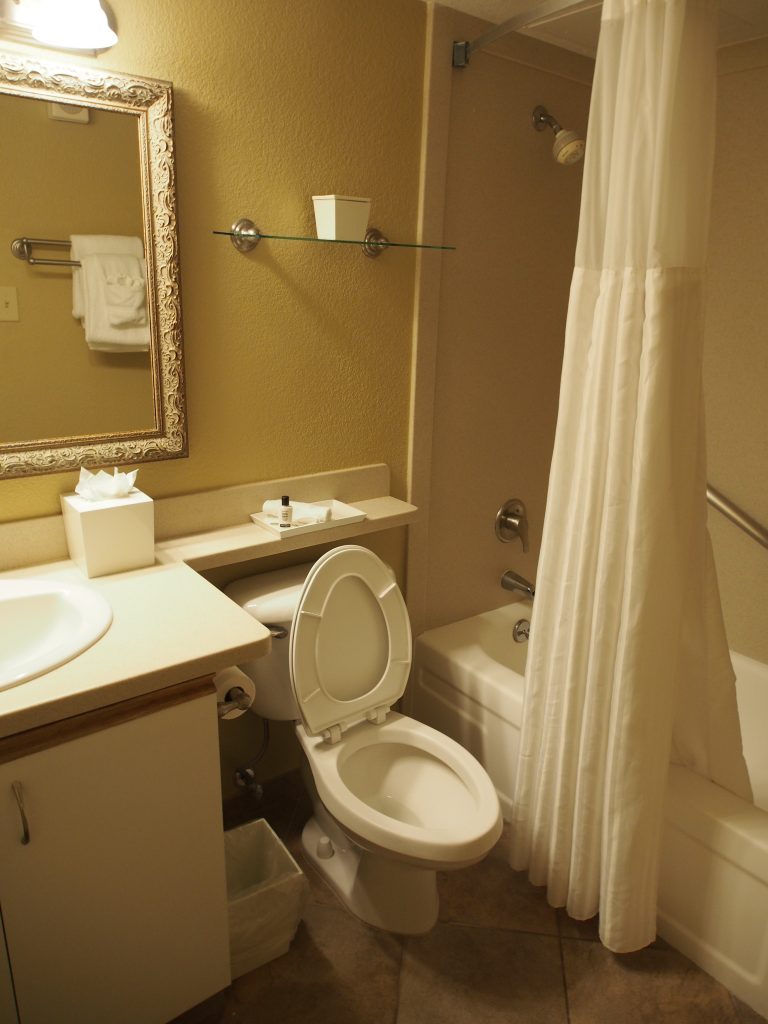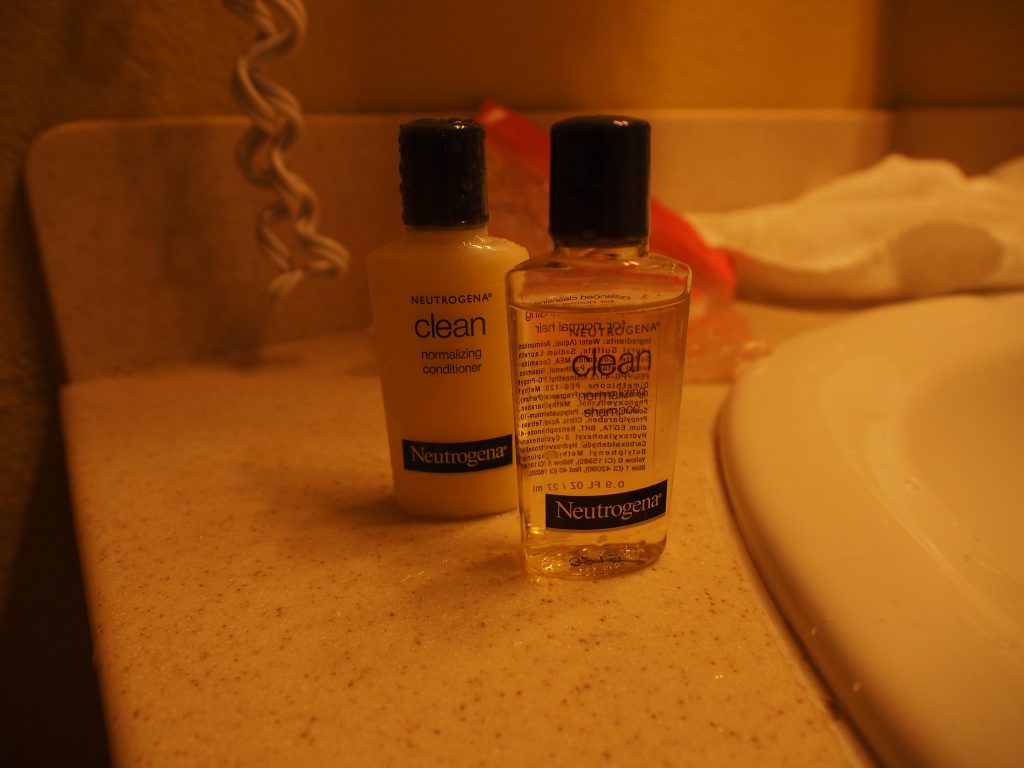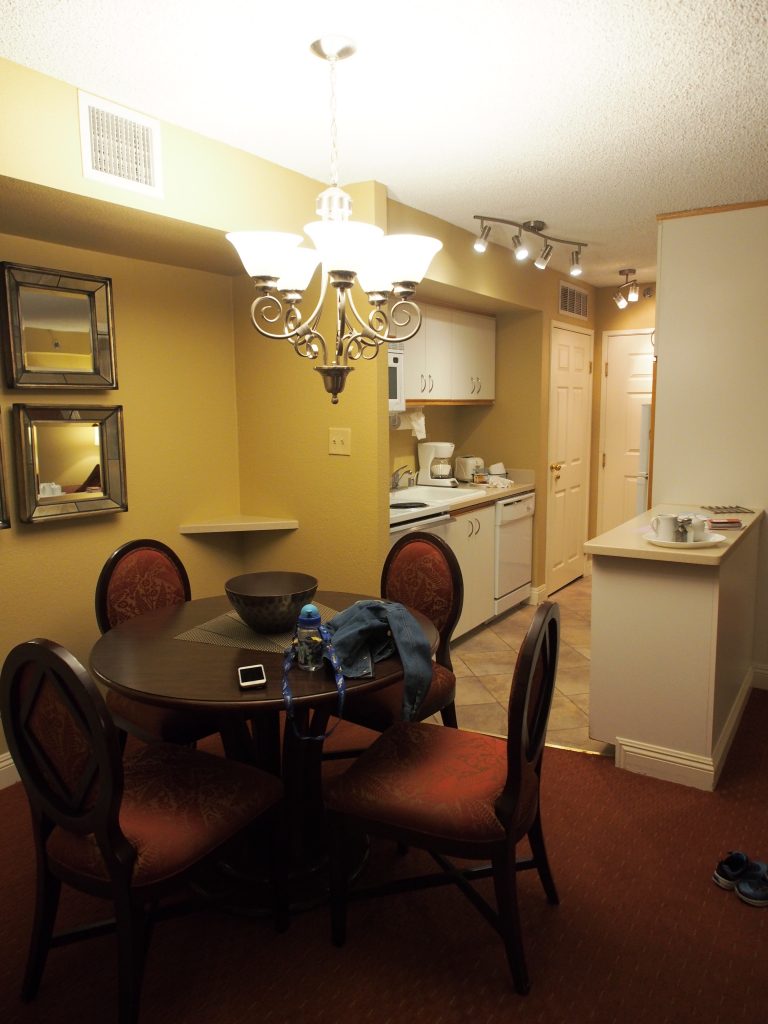 After we all got ready, we proceeded for dinner and amongst the huge selection of dining options available, we chose Bubba Gump, as it was near us and had kids meals. We were also searching for some shows to go to, maybe "David Copperfield" or something like that but unfortunately on Mondays, nothing seemed to be on except Blue Man group, which we weren't really interested. Ordered seafood trio and calamari to share and a kids meal of ribs and fish. The meal also came with a souvenir cup with lights at its base. The damage was about USD$75.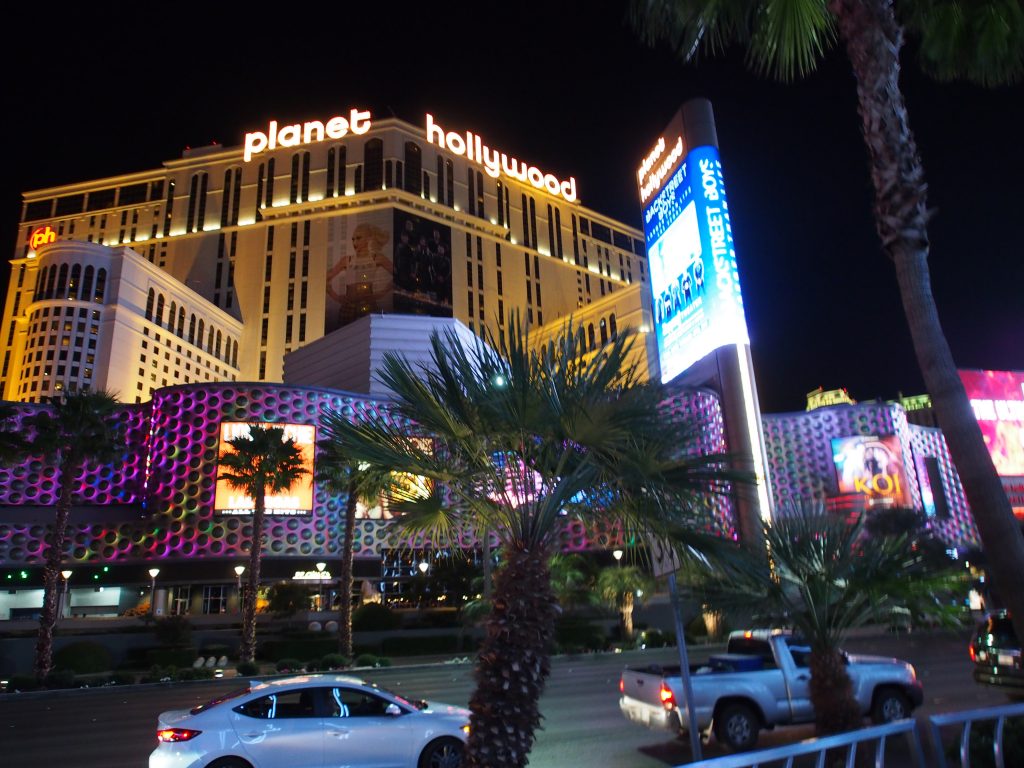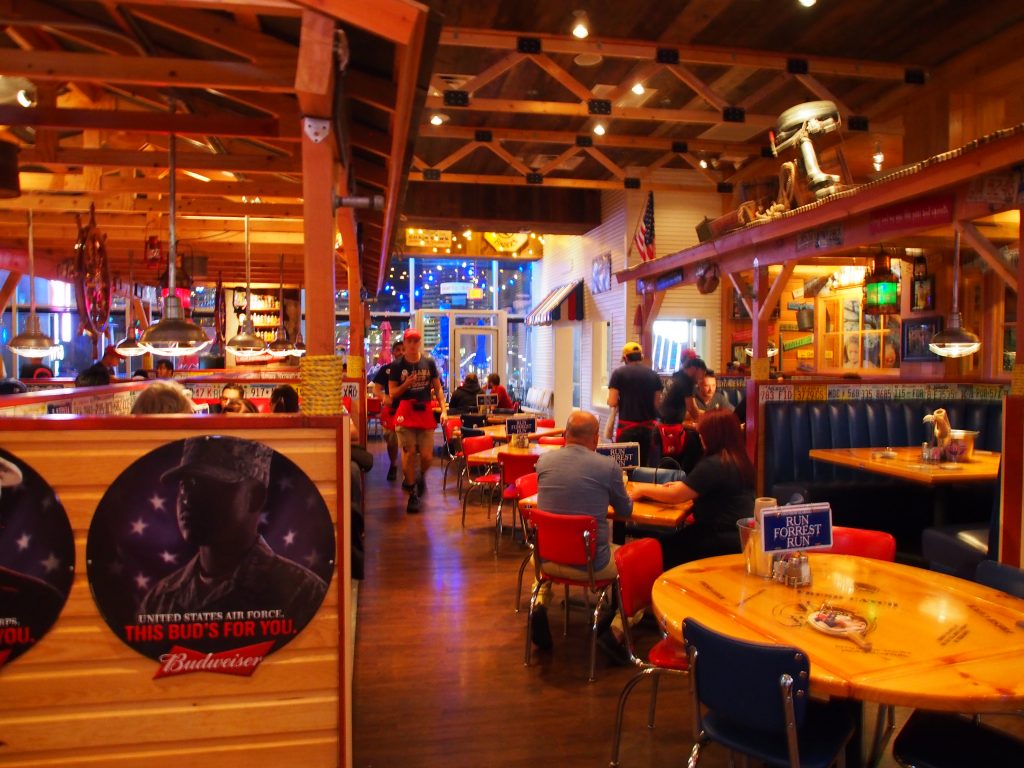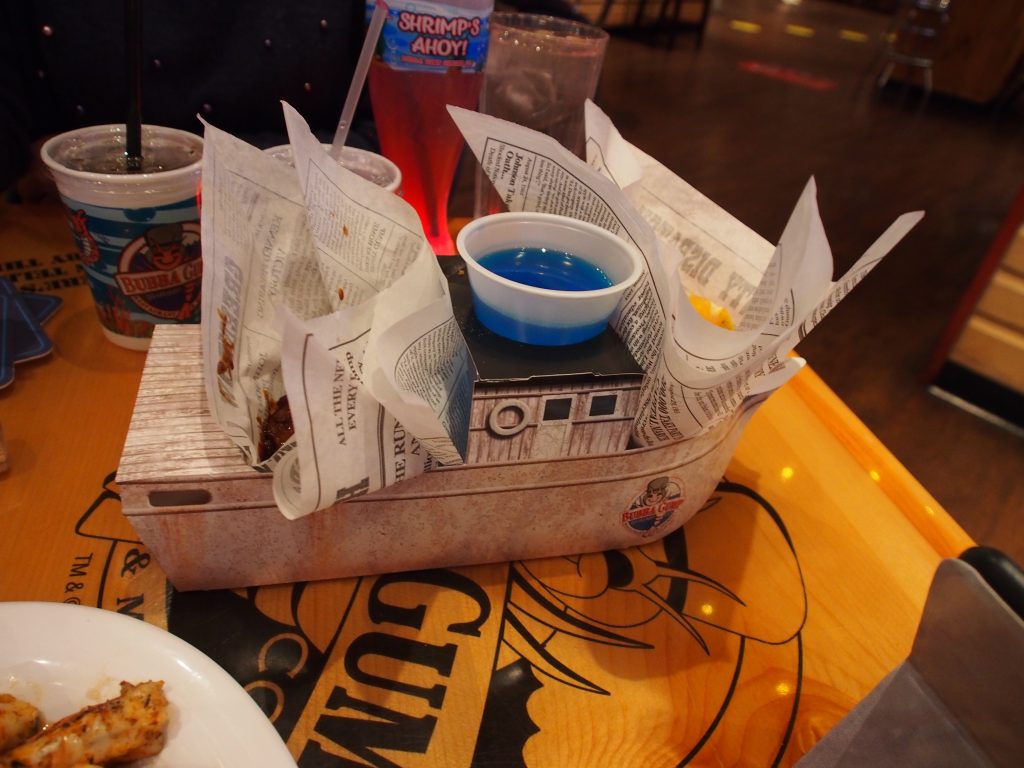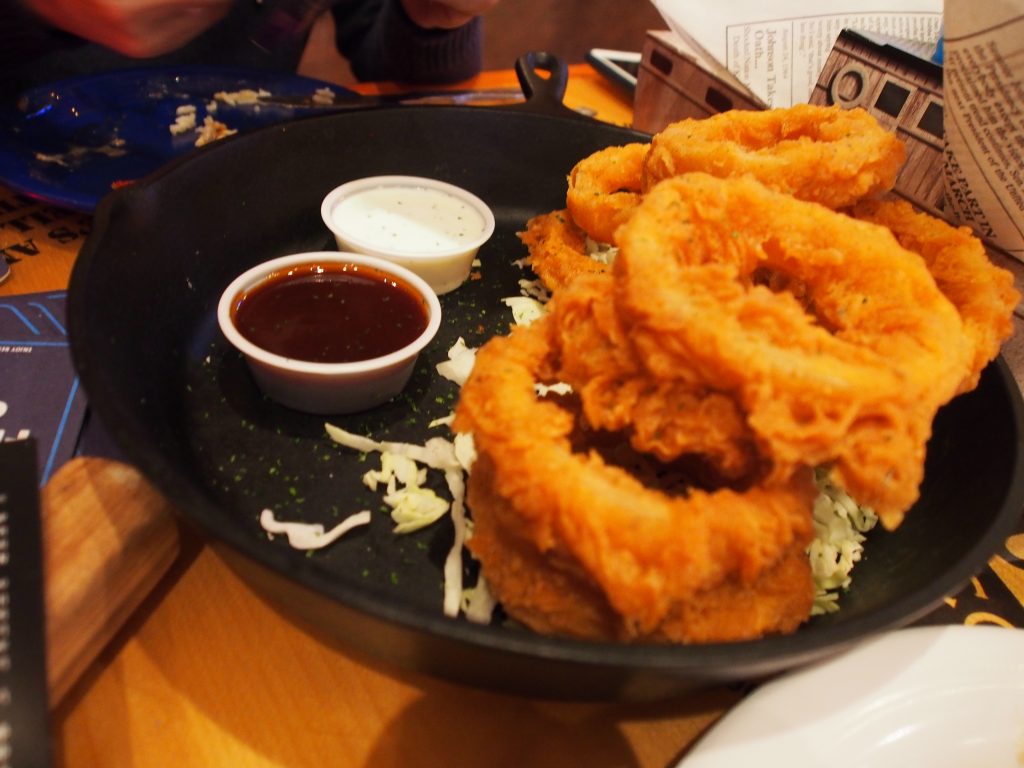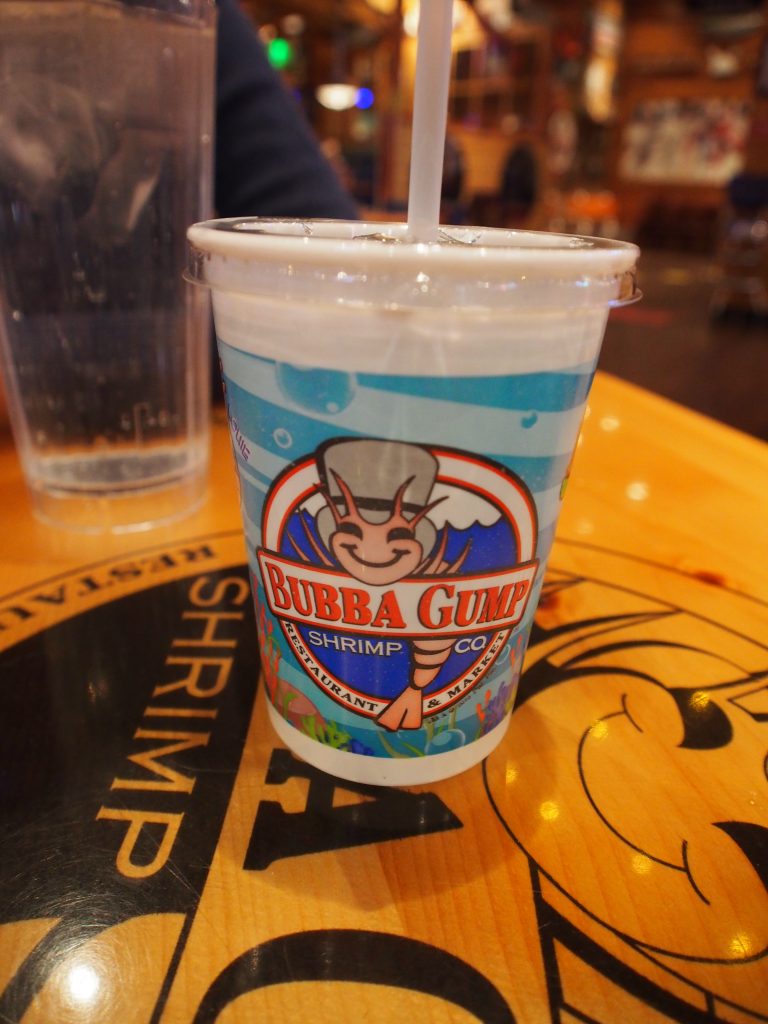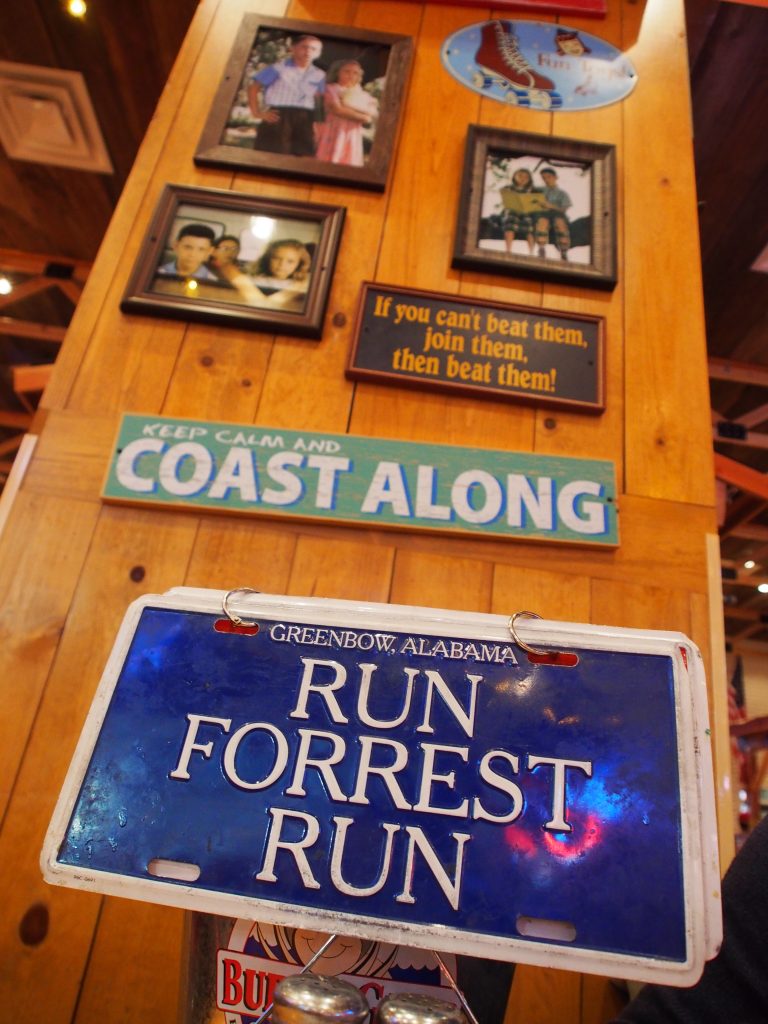 After dinner, our entertainment was then to explore this colourful night life. We went to Bellagio fountain where the shows were on every 15 mins. The fountain show was different every time but all majestic. Continued to along the strip to the Caesar Palace next door to experience a little bit of Roman city visit. All these thematically designed casinos were worth a visit as the internal designs were as magnificent as they were externally. We had enough walking and ended up in a huge pharmacy CVS to buy anti-nausea med as it was left at home, some titbits and a shaver. Before returning to the room, we went to watch the fountain show again one more time.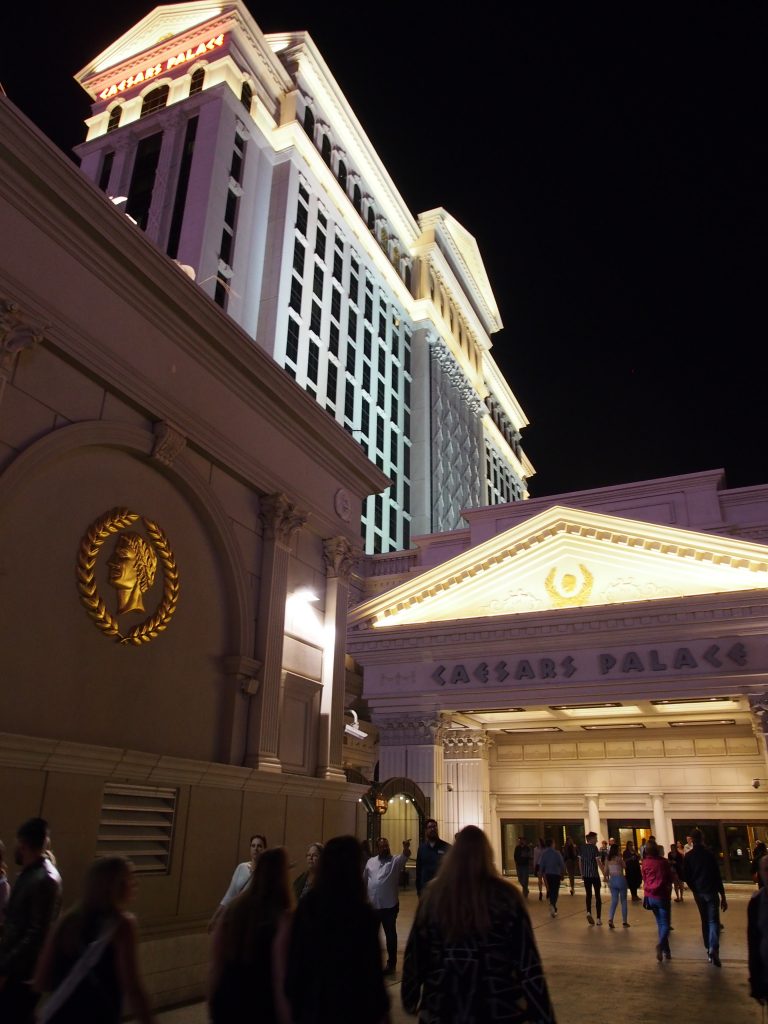 As mommy washed up and got K into bed, I decided to go out and see some more of Vegas. I didn't get a good fountain photo and visited yet again. While there, some people in costumes were hustling people including me to take a photo with them, whereby they could earn some tips whilst doing so. I wasn't that interested though. After the fountain, I went the other way towards New York, New York. There were many brightly lit buildings along the way and a statue of liberty replica at the end of it. As I walked the return journey back, the number of people on the streets also reduced as it was getting late.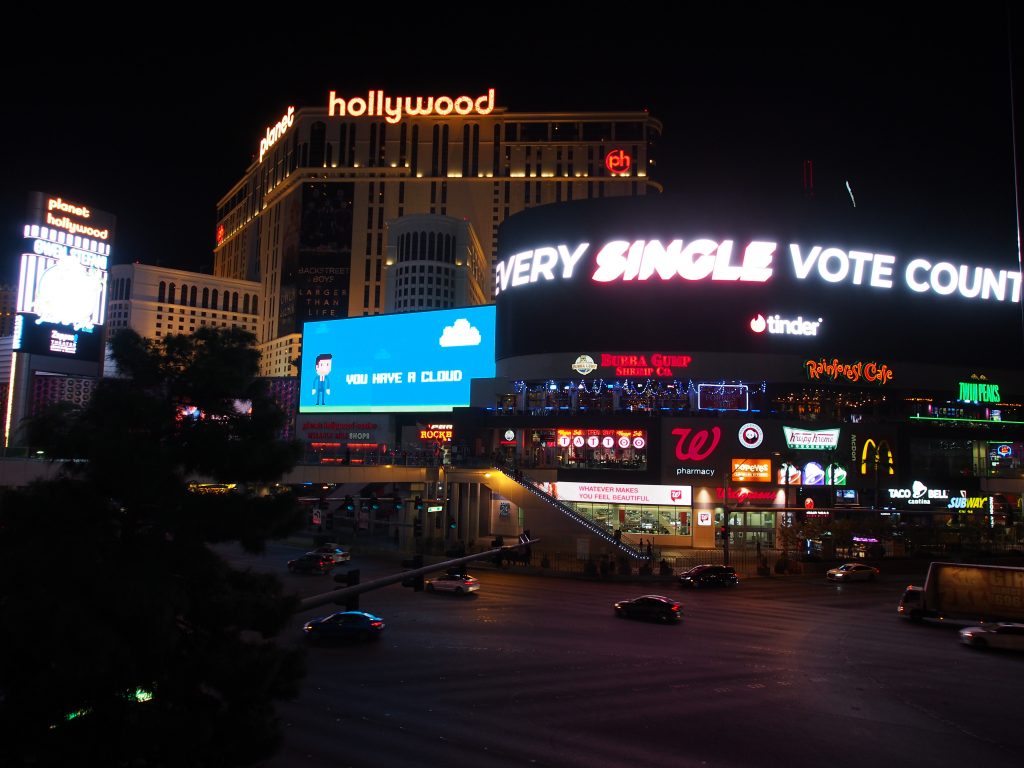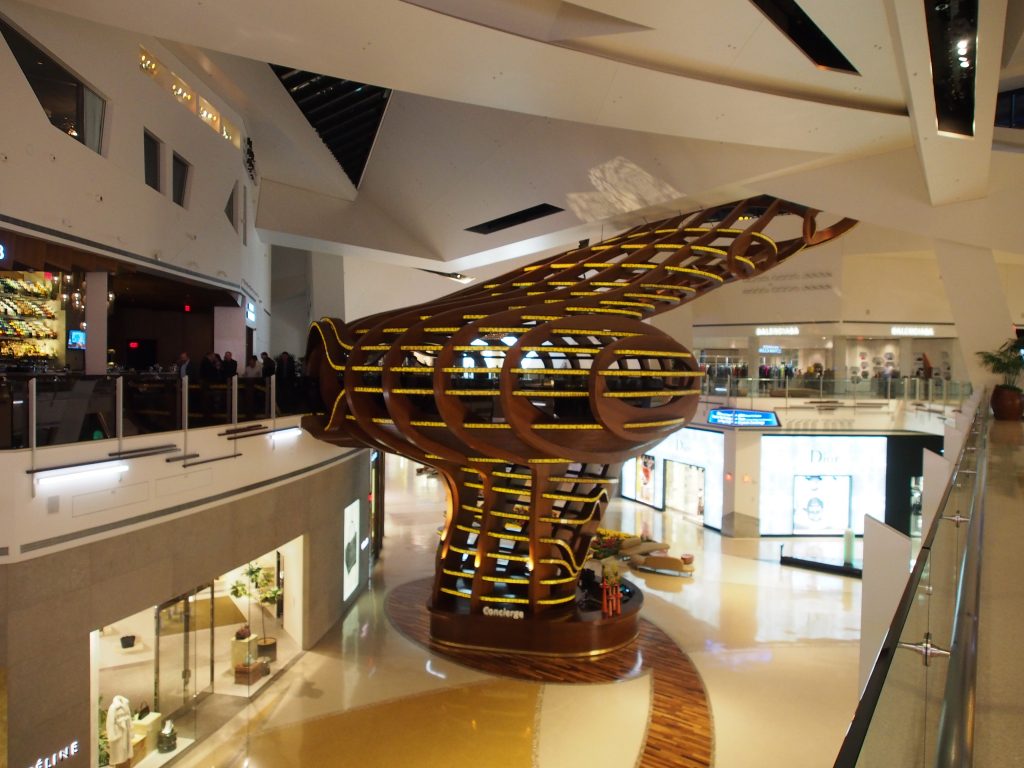 I was back in the room around midnight, took a bath and got into bed, with my family whom was already sound asleep. Didn't manage to do something which a lot of people in Vegas did – played a game of luck.