The day started early as we had a boat to catch. Mommy woke up as early as 630am to start meals preparations while I lazed in bed. Closer to 8am, i tried to wake K up as he seemed to be still sound asleep. It took a while before he woke up, fussy. The trip till date must have gotten everyone tired. We changed into new clothes as it was the first day of the Lunar New Year, including new socks.

As it was almost 9 before we left for our boat, K skipped breakfast. Reference to the poster that was sent to my FB messenger, it said that the Sagittarius boat taxis was located next to Paradise Sun. As we drove into Paradise Sun and after checking with the reception, they could be reached via the beach. Since the carpark was full, I was told to park in a corner except for blocking the main entrance so I left the car near the roundabout and we walked through the resort to the beach.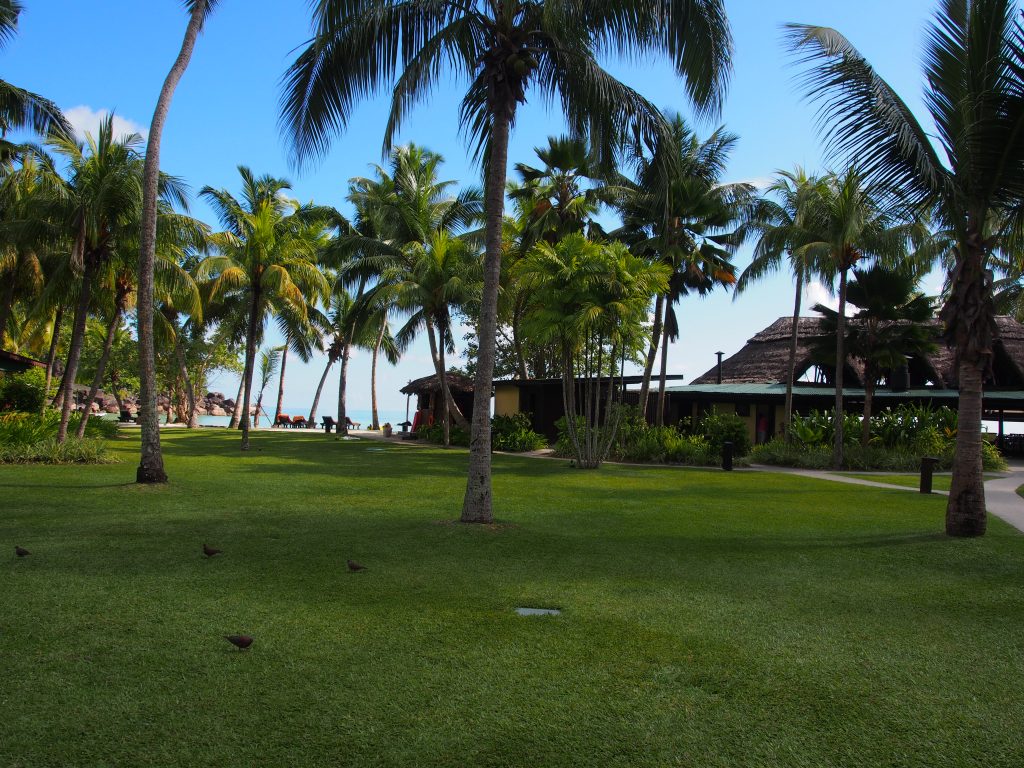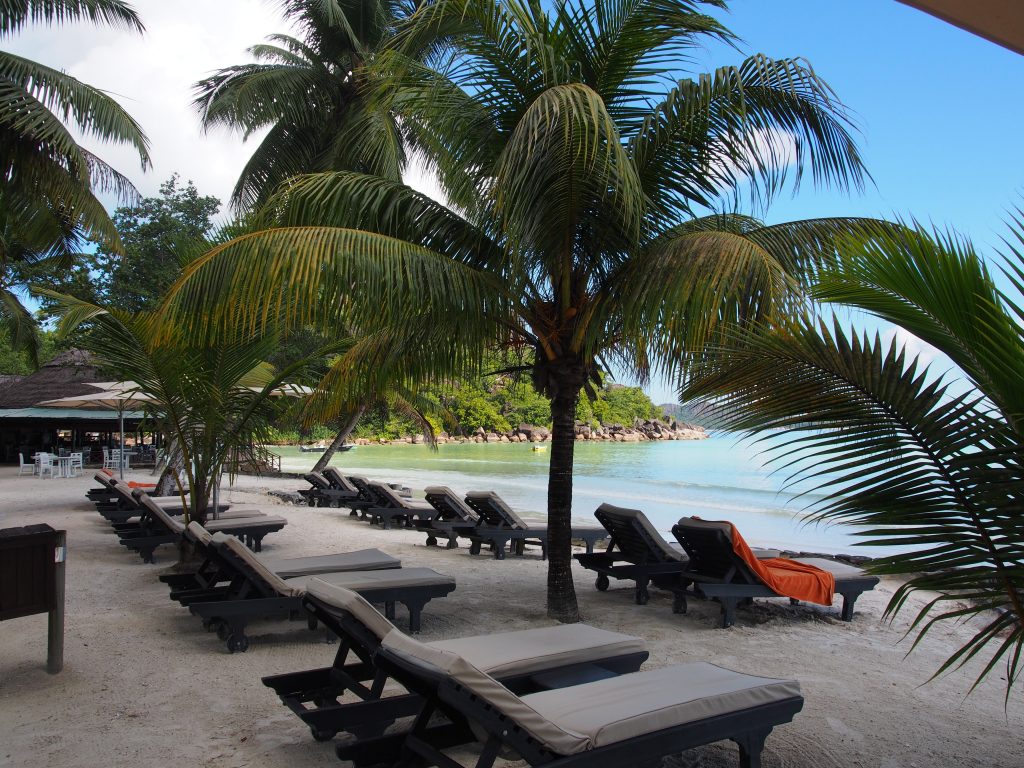 The Sagittarius boat taxis was housed in a hut and there was a short queue already with people requesting different boat trips. The lady actually kept a record of us coming and we paid 50euros for 2 adults to go to Curieuse Island. We were given a kids size life jacket and boarded a speedboat together with another couple. The speedboat needed to be boarded from the beach and so I took off my sneakers and walked barefooted to board.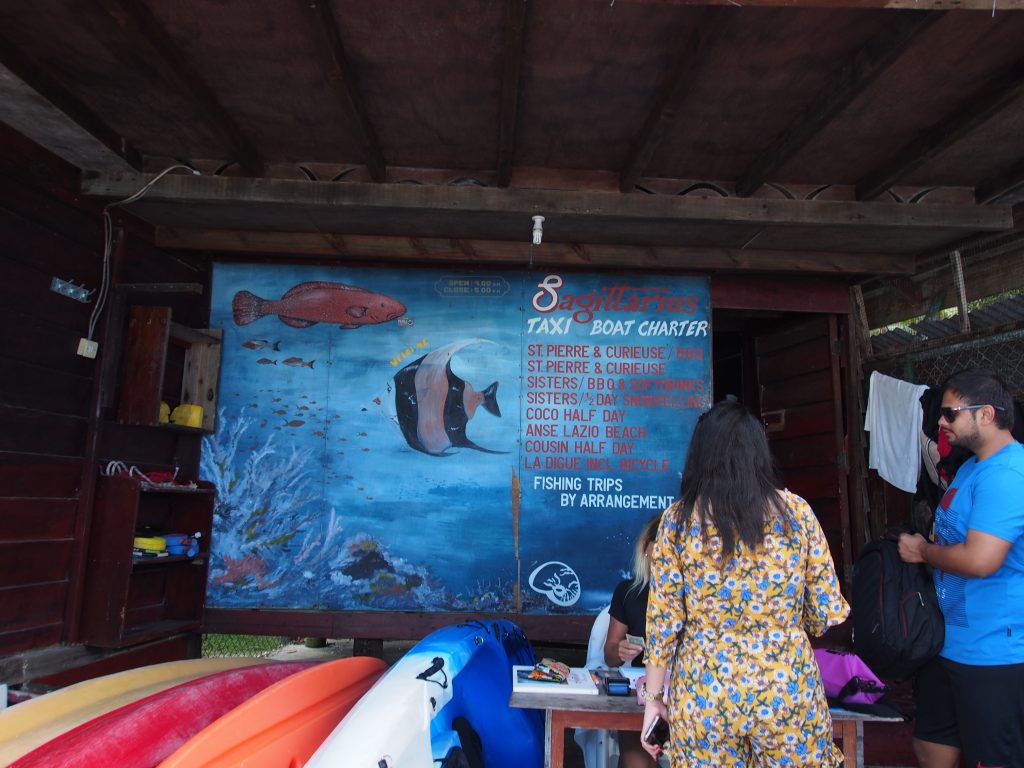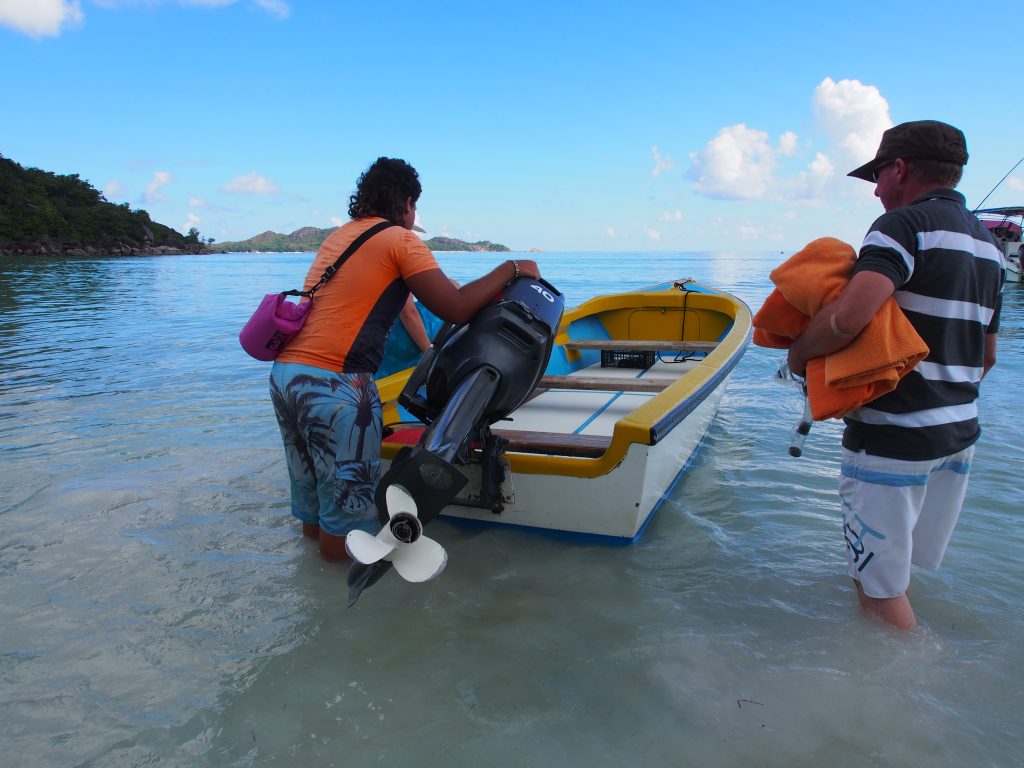 The couple dropped off at a tiny beautiful island of St. Pierre, surrounded by turquoise waters that seemed like a great place for snorkeling. There were another 2 boats that were there for groups of snorkeling people.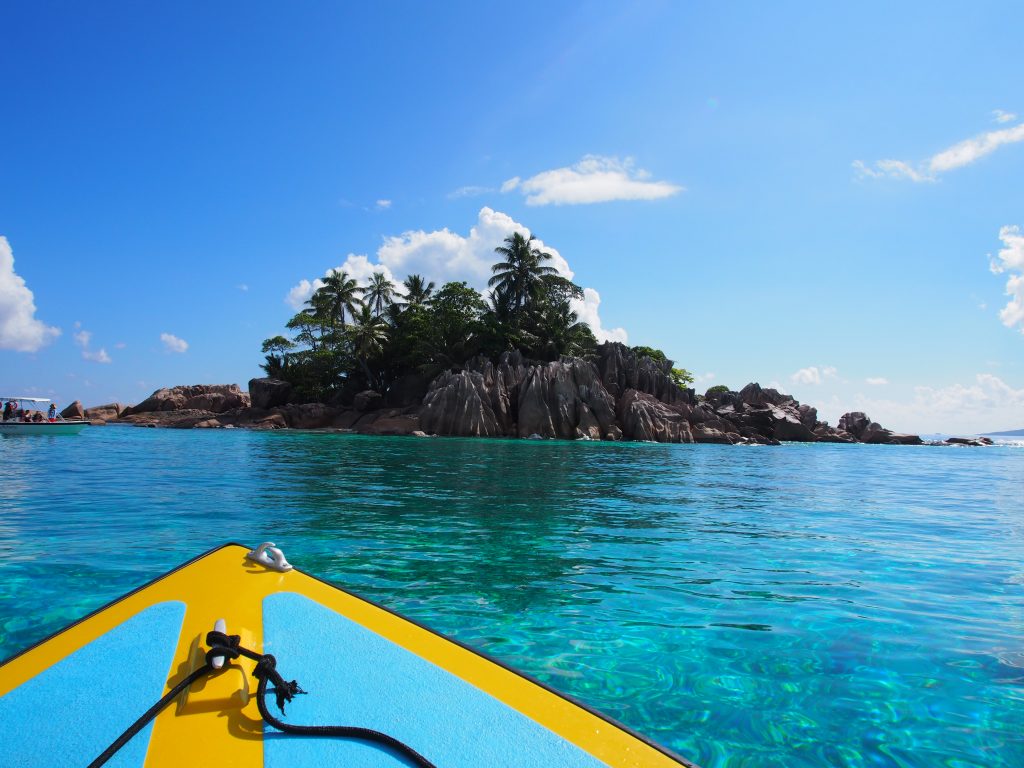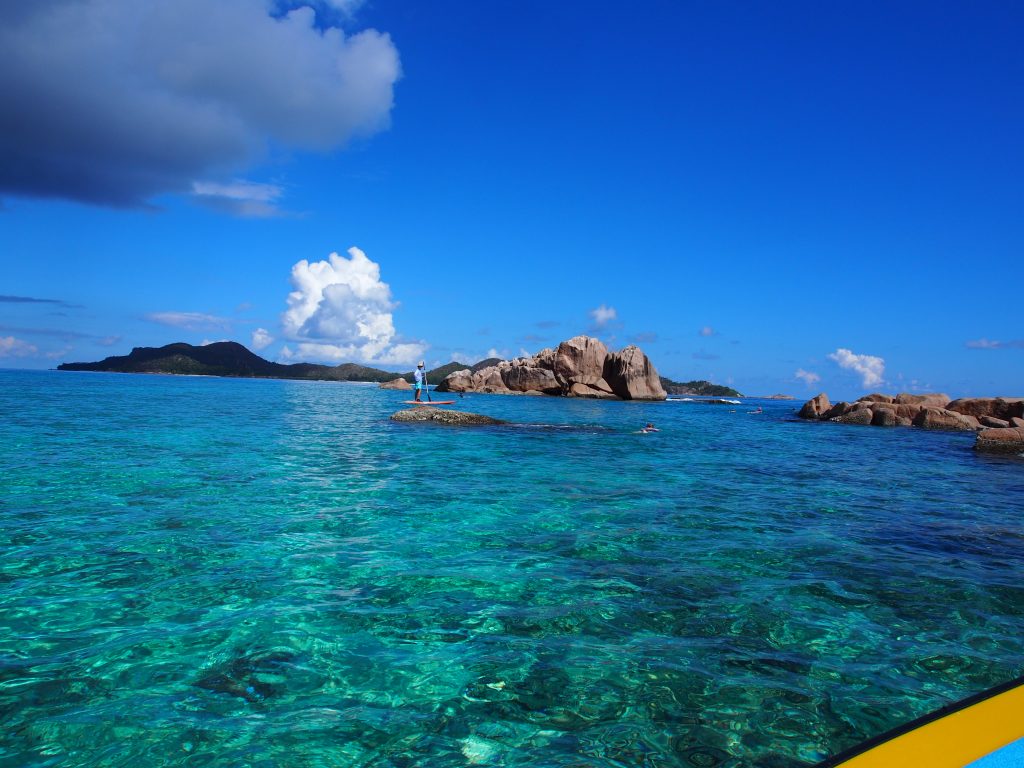 Next the boat zoomed across the calm waters and in 5mins we arrived at the beach front near the tortoise area. The boatman helped us to pay the 200rupees per person island fees and as we informed that we would only take two hours, we were then told to meet at the beach at the Doctor's house at 1130am.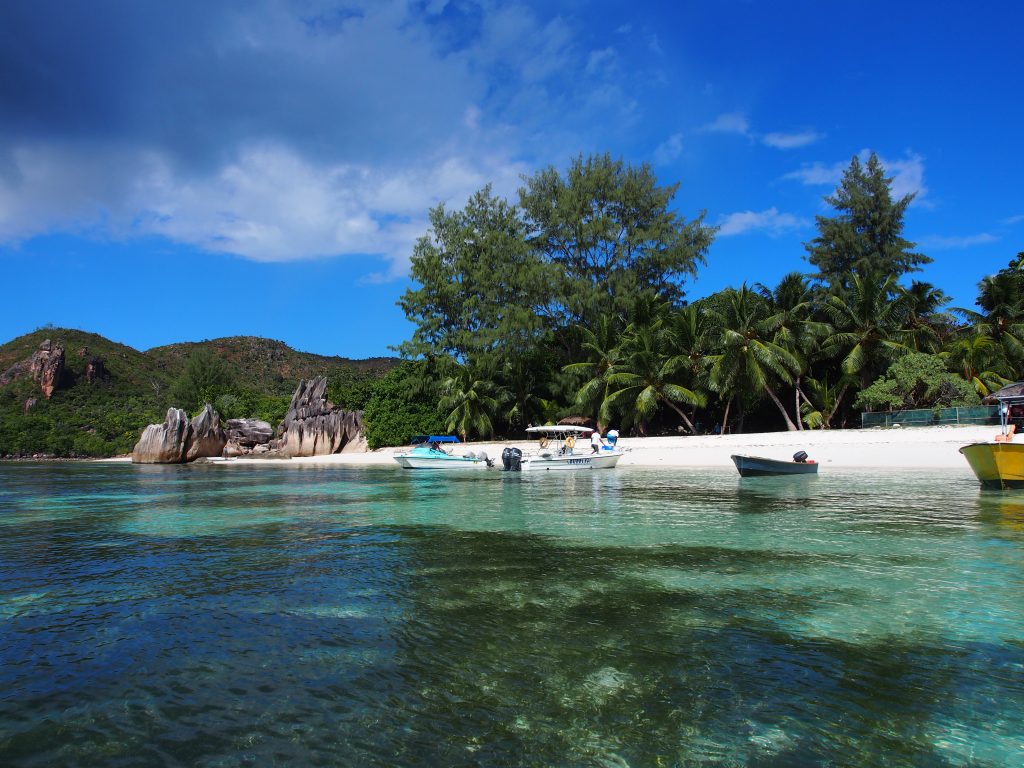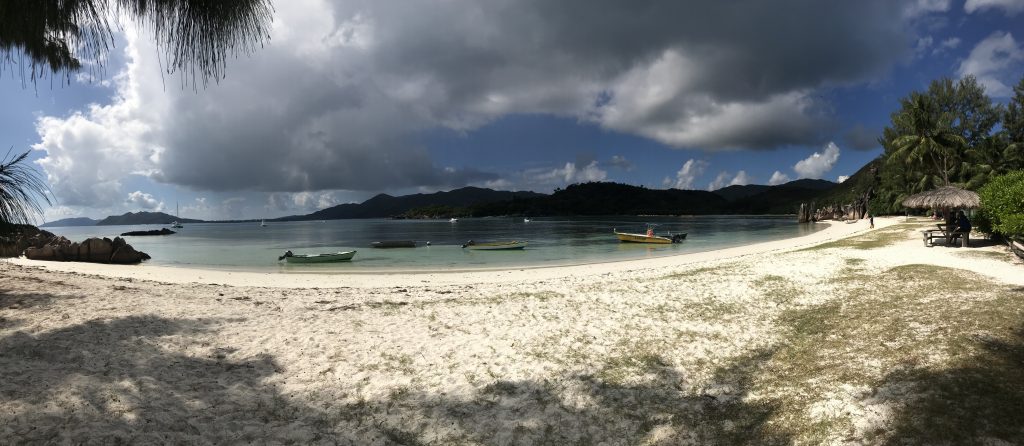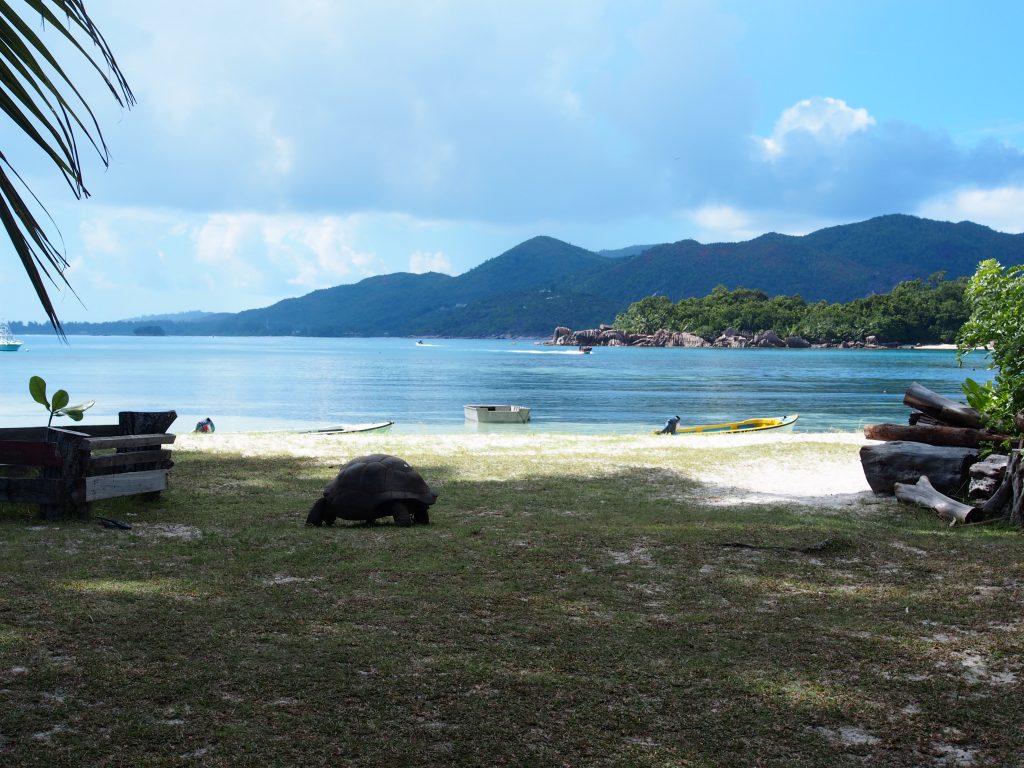 For the first 1hr, K was quite fussy upon arrival but slowly warmed up to the free roaming giant tortoise walking around. We saw some baby tortoise at a small sheltered area and later went to a group of tortoises under the tree shades to try to feed them. It was fun to see them and to take photos with them and to try to feed them.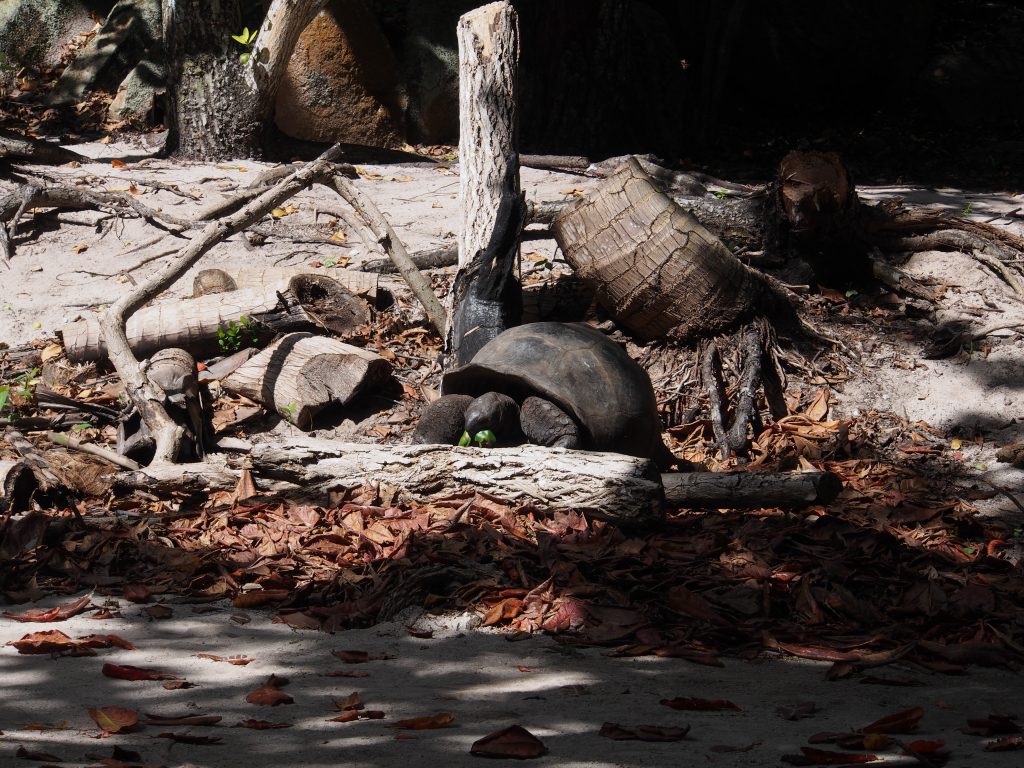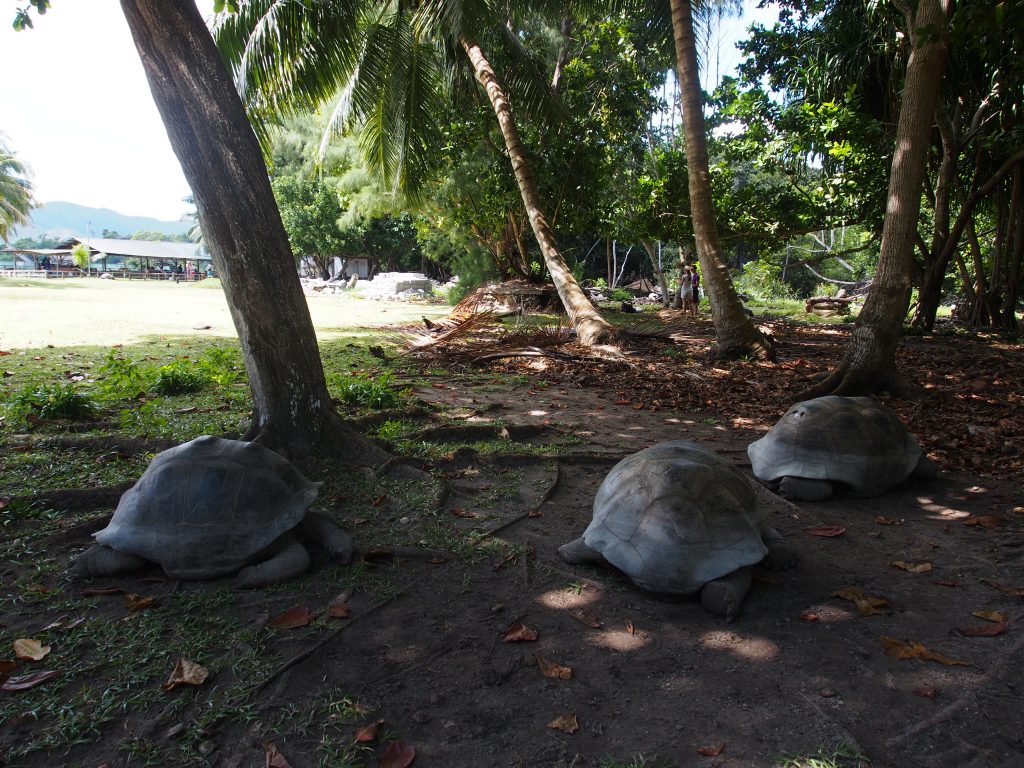 Then it was time to walk to the other beach which the boatmen told us would take about an hour. So after washing my feet with the water tap, I put on my socks and sneakers before carrying K and started to trek on the path towards our rendezvous location.
The trek was easy if we were walking without load but this was quite challenging when you have a carry a 12kg boy all the way. The path wasn't straightforward, as some of the path up and down the hills were rocky and uneven. We took about 45 mins to get through, with some stopping on the wooden path to look at crabs and K doing some slow walking on the bridge coupled with one or two rest points.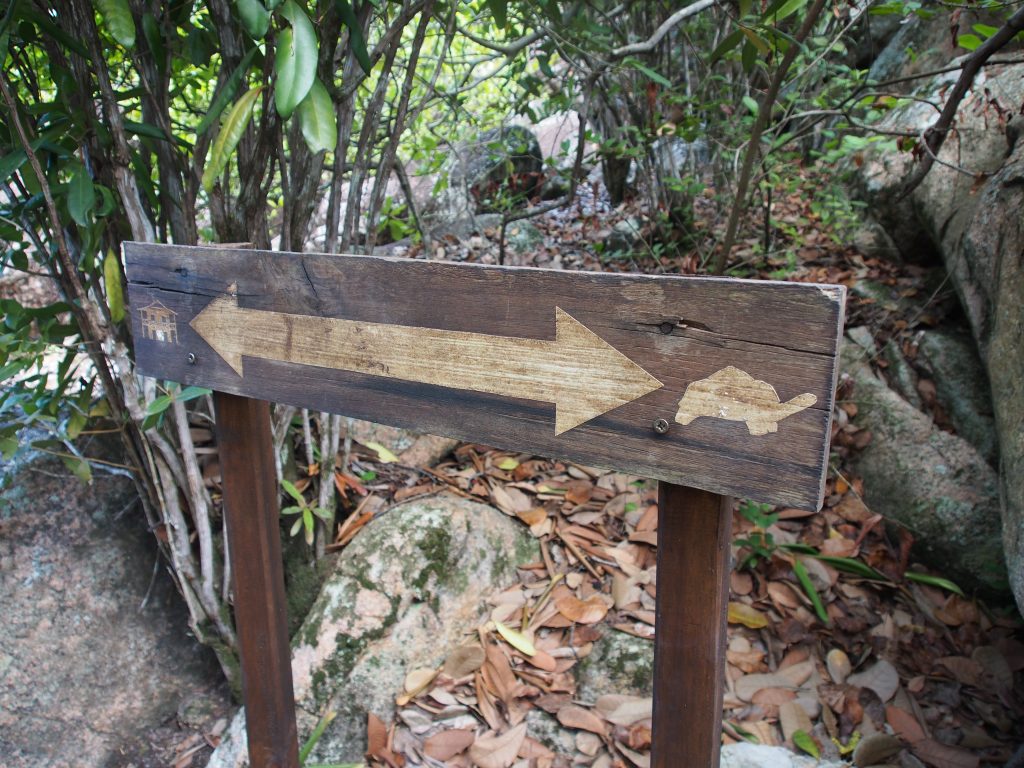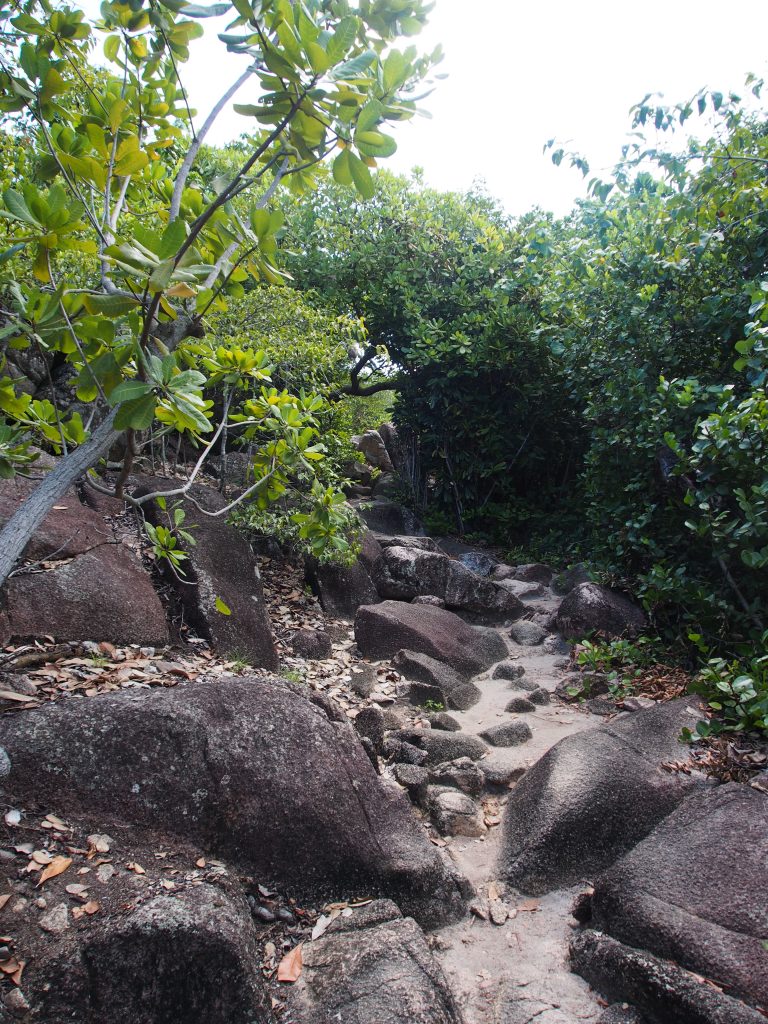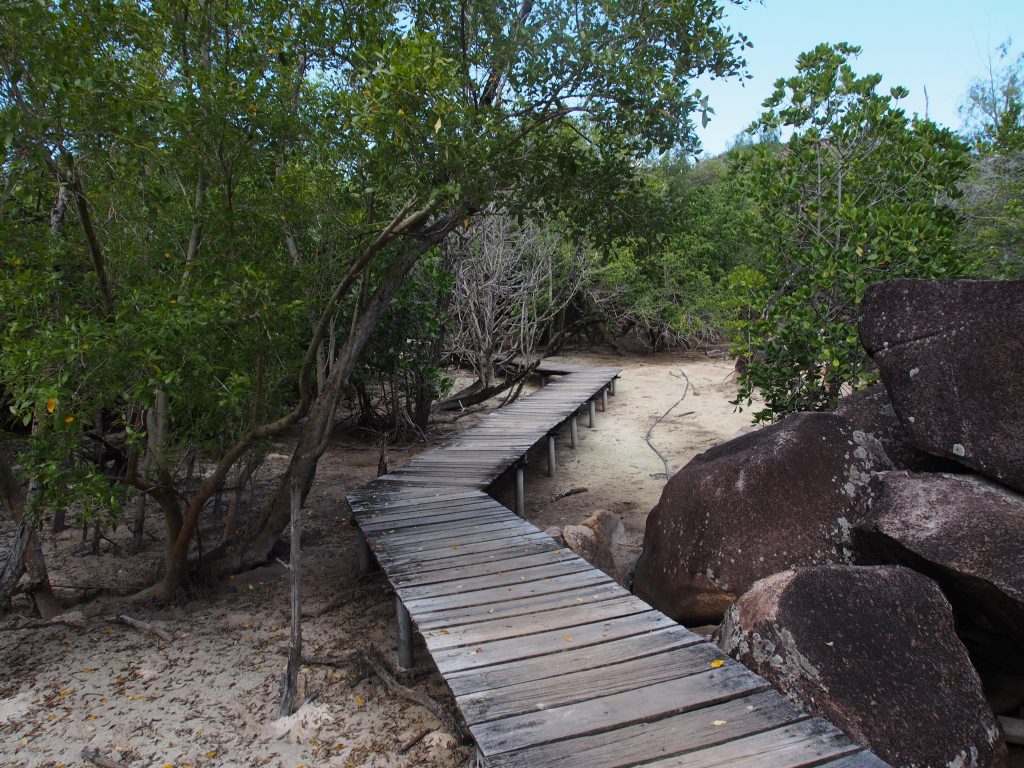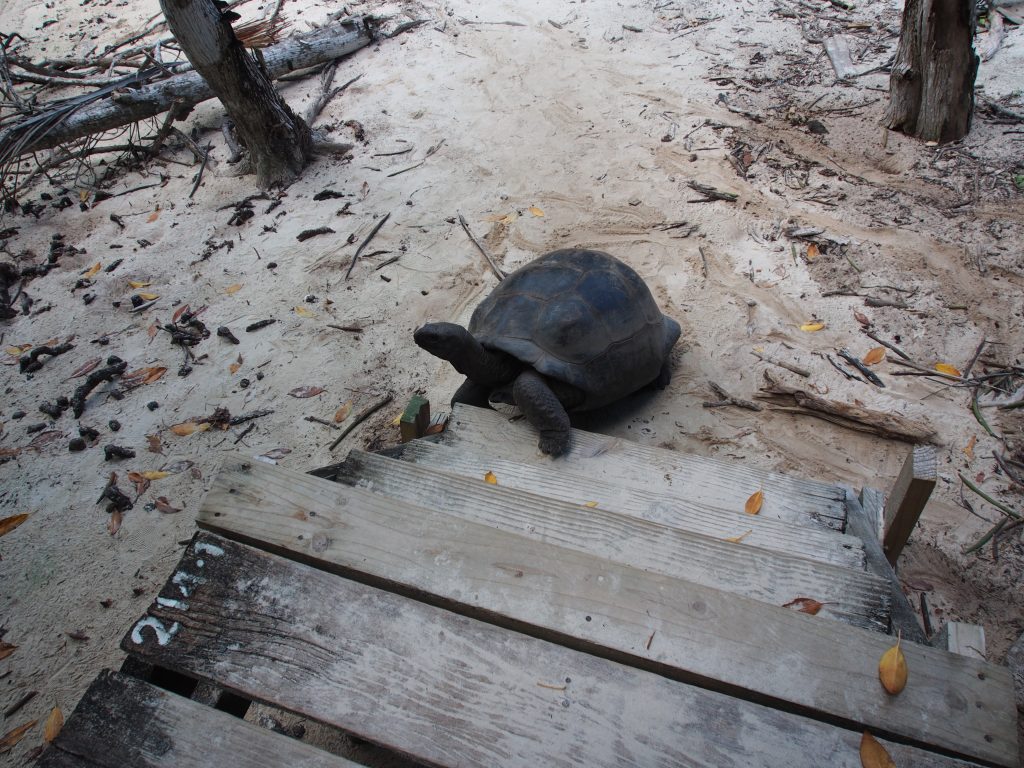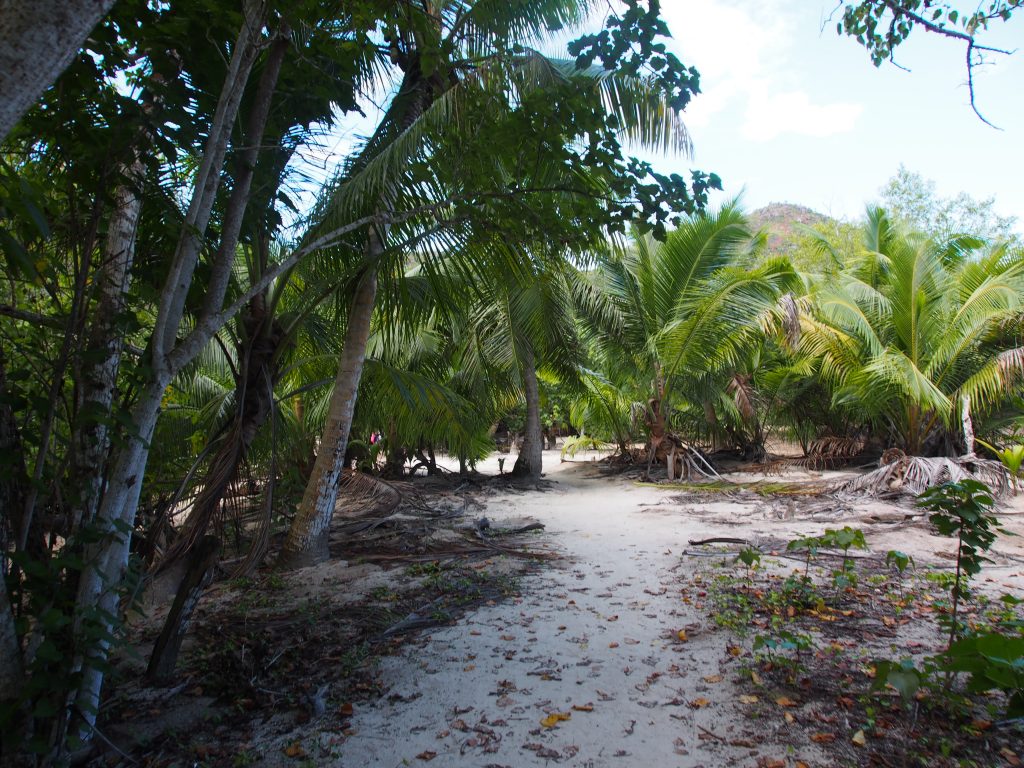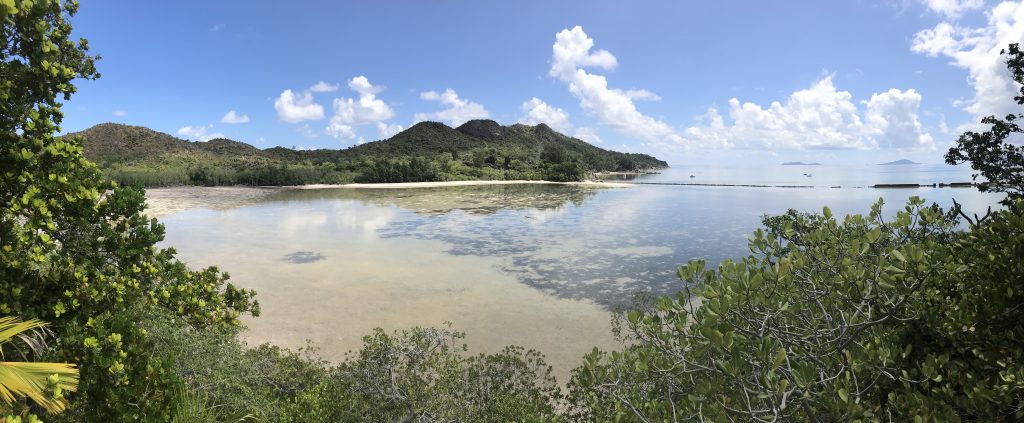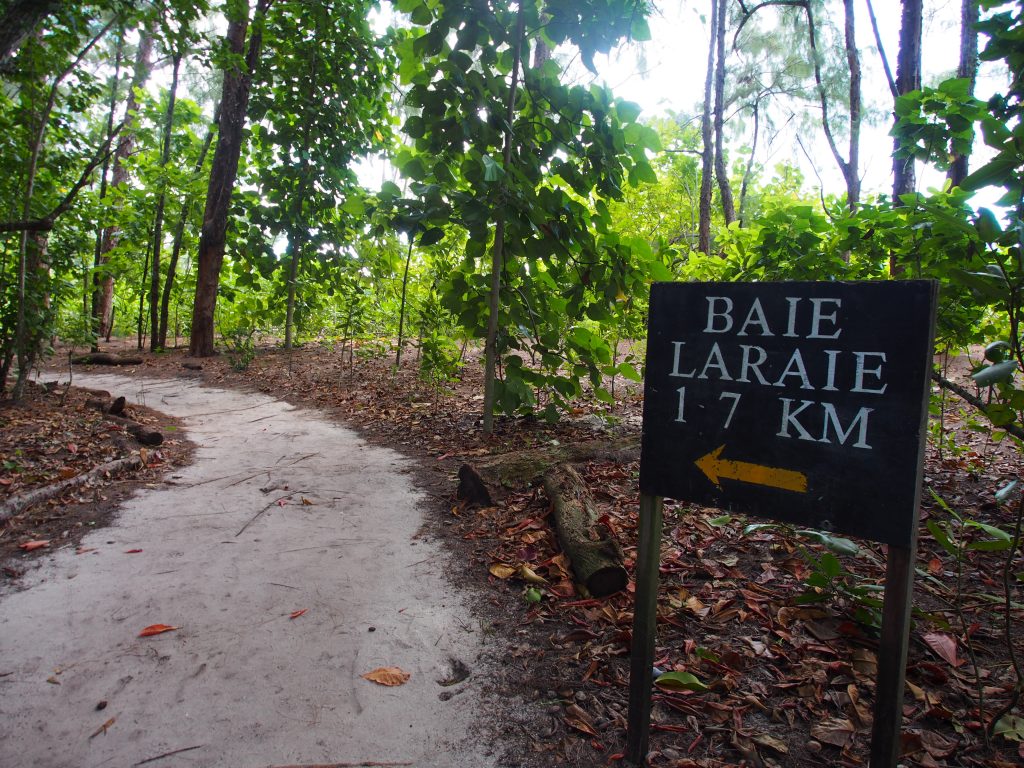 Immediately upon arrival at the Doctor's house, we left the barang barang with mommy on a bench while K and I went to look in the Doctor's house. The 1st floor was an exhibit on the history of the house and island that I didn't spend any time on as K wasn't interested while the second floor had some display associated with the wildlife of the island.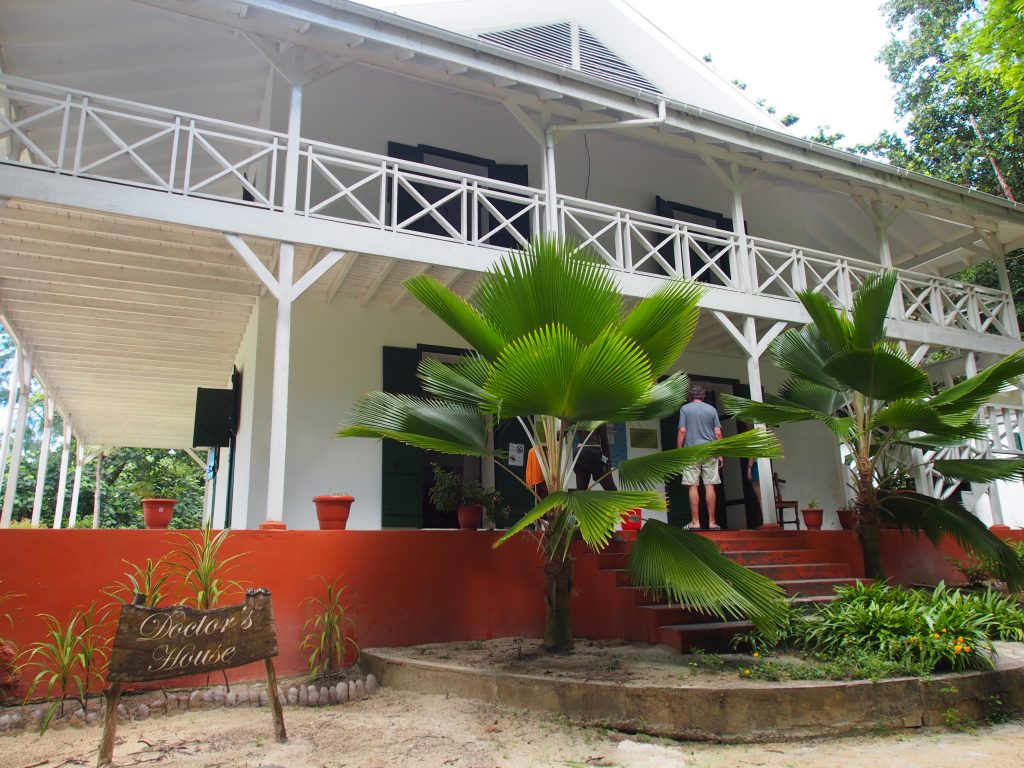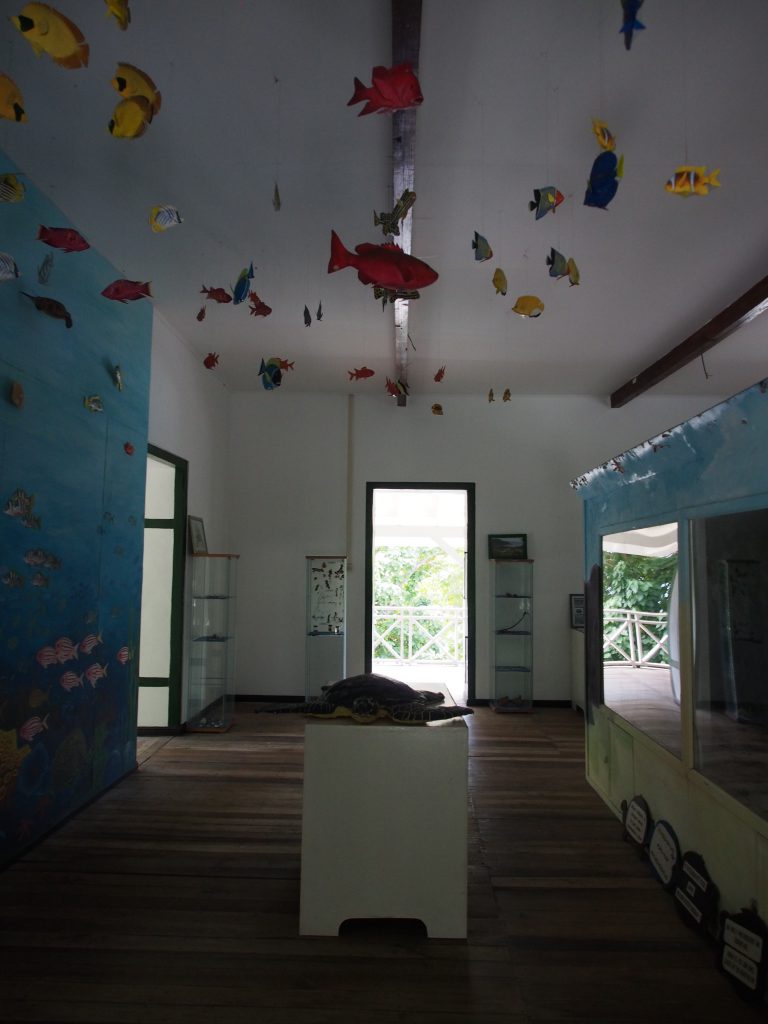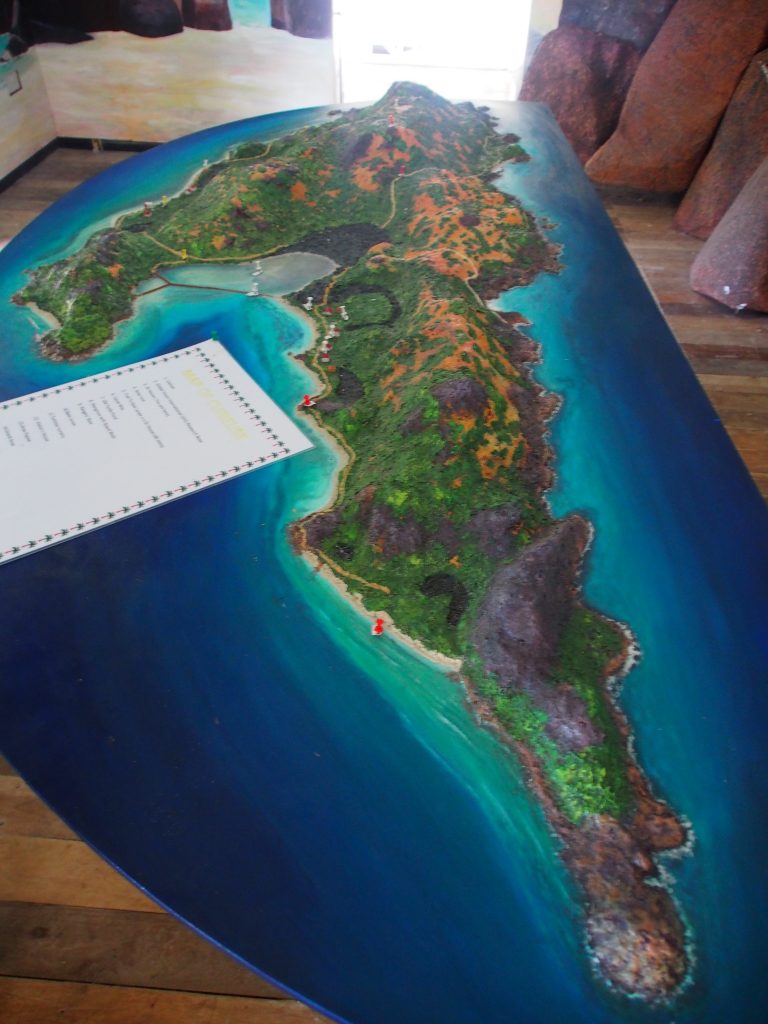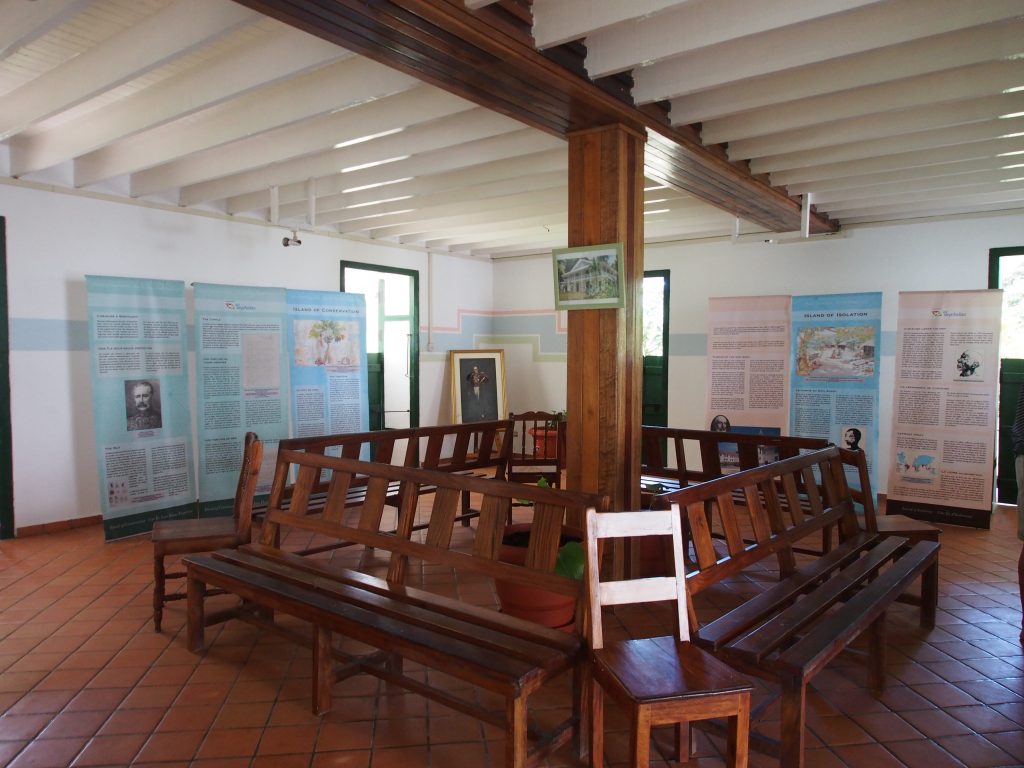 The boatman arrived a couple of minutes after 1130 and we all boarded the boat as he pulled it closed enough for us to get onboard (after I signaled for him to come closer as we were not dressed to get wet). Then it was a short 5mins boat ride back to Cote D'Or beach on Praslin.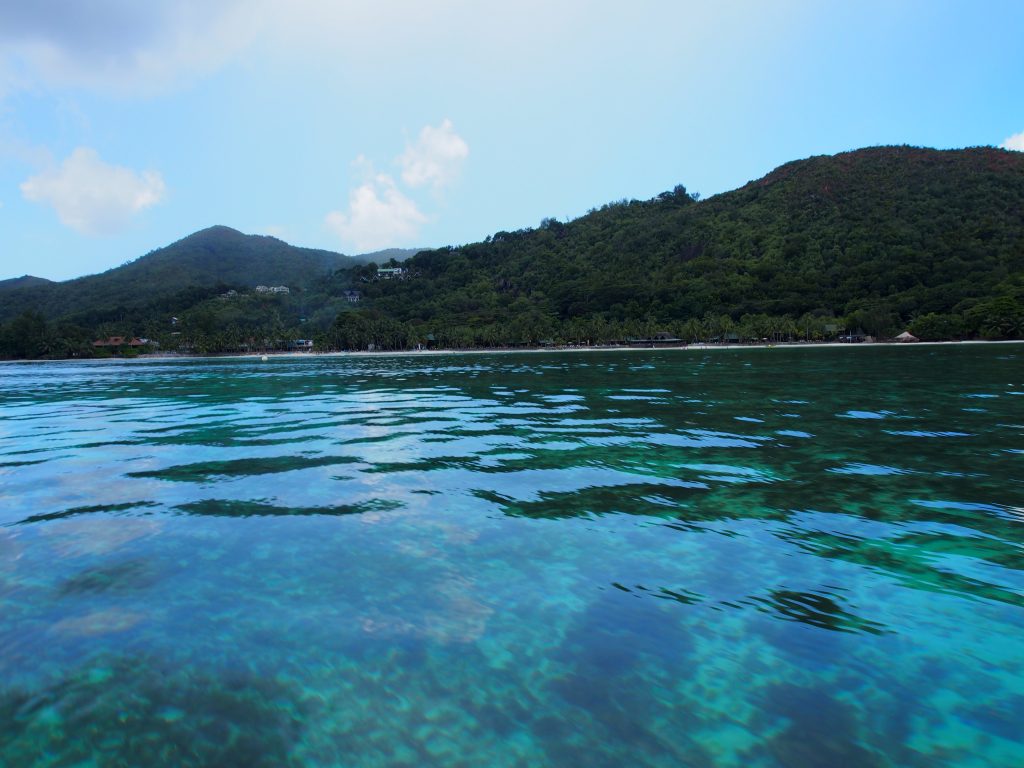 We thanked the boatman and the lady who helped us off the boat (the boatman also returned the island fees tickets to us which should have been returned earlier) and went to one of the showers to wash off the sand (K had a little bit of fun scooping pool water) and proceeded to drive back to the apartment. I got off to return K's meals containers and mommy brought back slippers for us to change us and we were then on our way to the best beach of Praslin, Anse Lazio.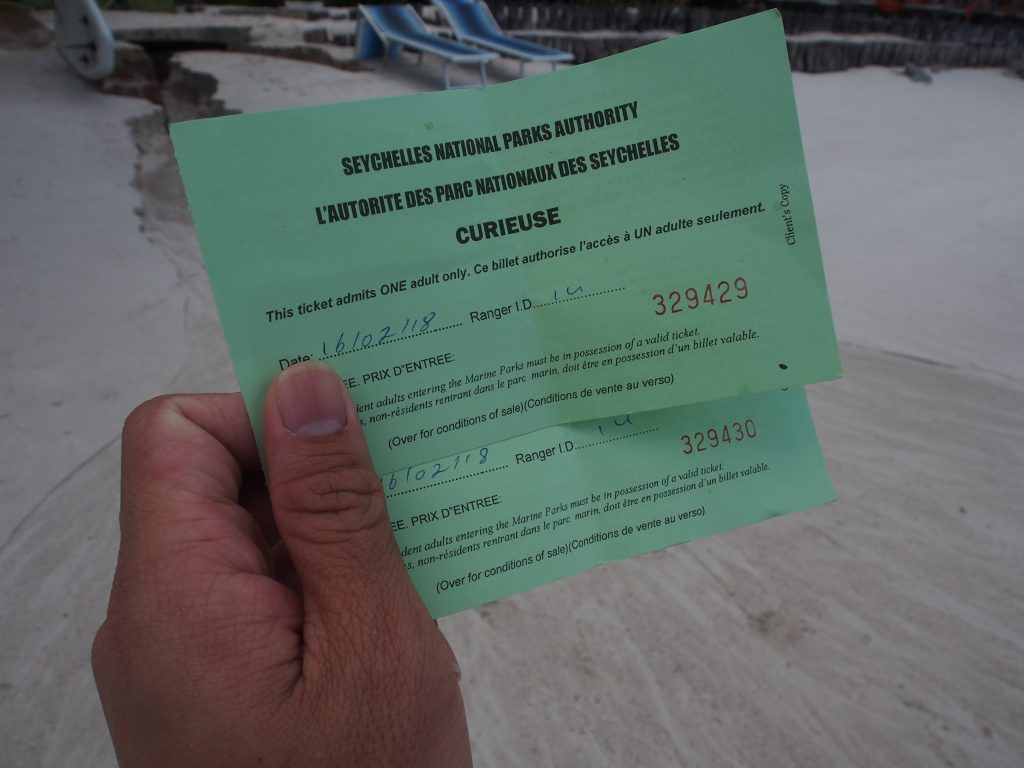 The drive there was supposedly about 20mins but there were a couple of curves up and down the hill. We passed through a couple of beaches that looked pretty too but didn't have time to stop. By the time we arrived, we saw a parking lot and a sign that say that we should park here as the lots near the beachfront would most likely be full. So as an obedient tourist, I did.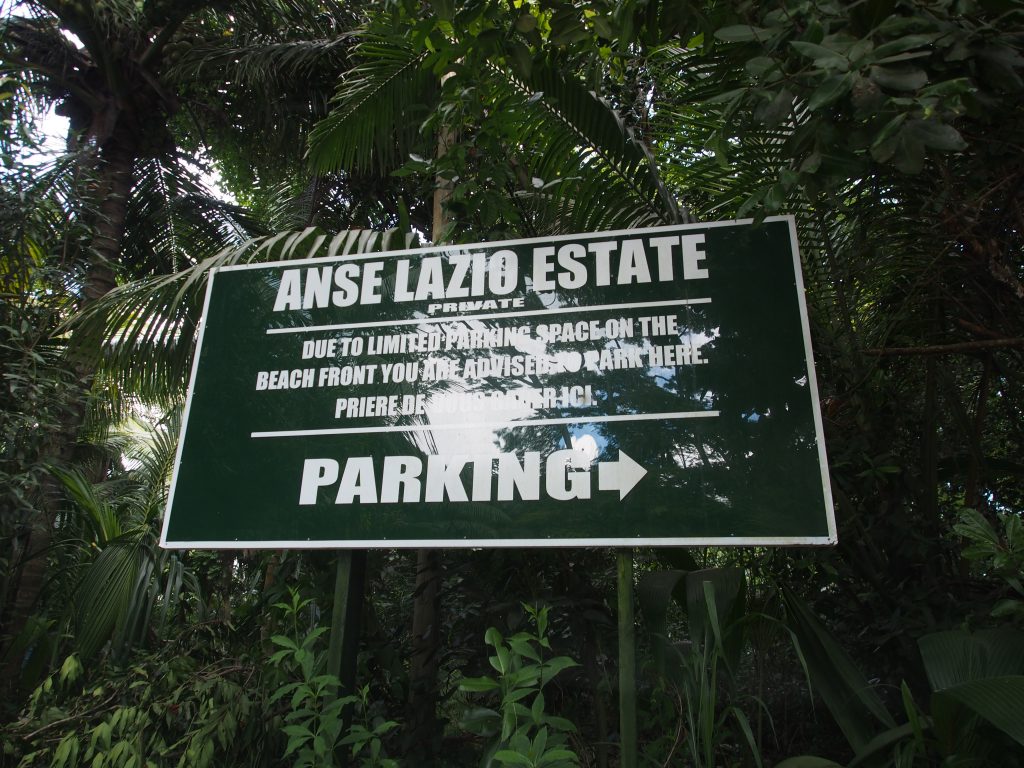 As K had fallen asleep, mommy carried him and I took the rest of the barang barang. We walked a short 5mins walk to the Bonbon Plume restaurant, passing by another carpark lot that looked almost full but I would have gotten a lot if I drove in. We also passed by a small fenced area where there were giant tortoises and one was making out so loudly (2nd one I saw this trip) that must have woken K up.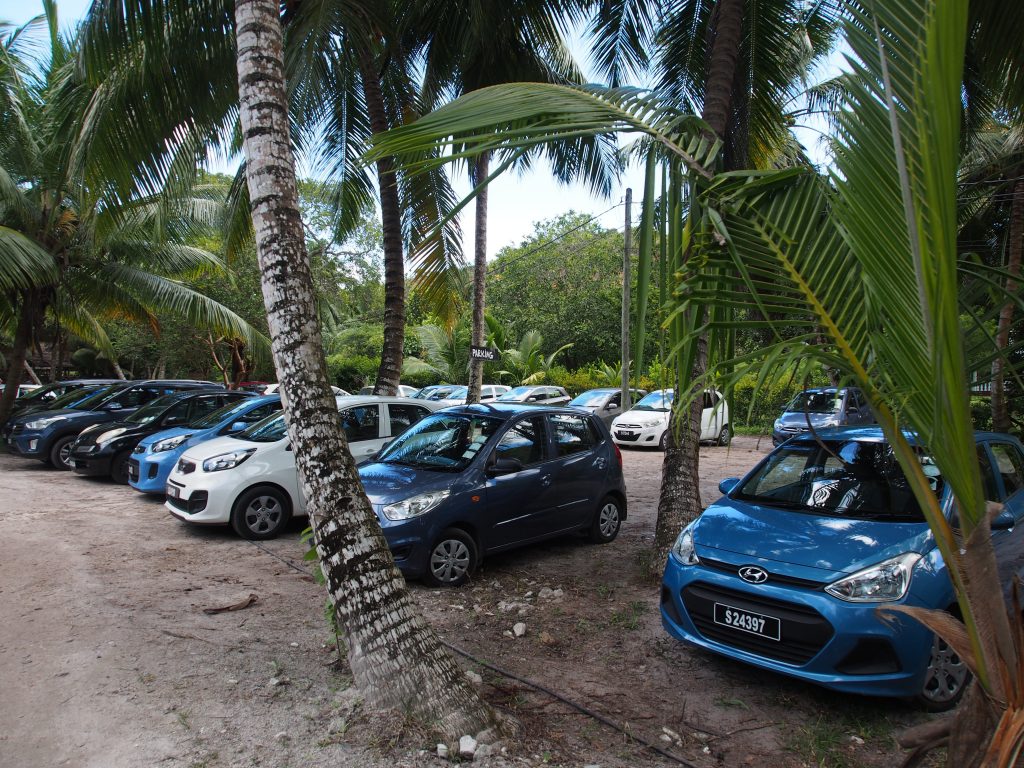 The restaurant was right in front of Anse Lazio beach and therefore the price came with it. We ordered crab curry and catch of the day and these came with a big bowl of rice, basket of bread and a small bowl of lentils. I was out taking some photos and arrived back to find the plates covered with my towel as mommy didn't have hands to wave the flies (again!) away as she fed K.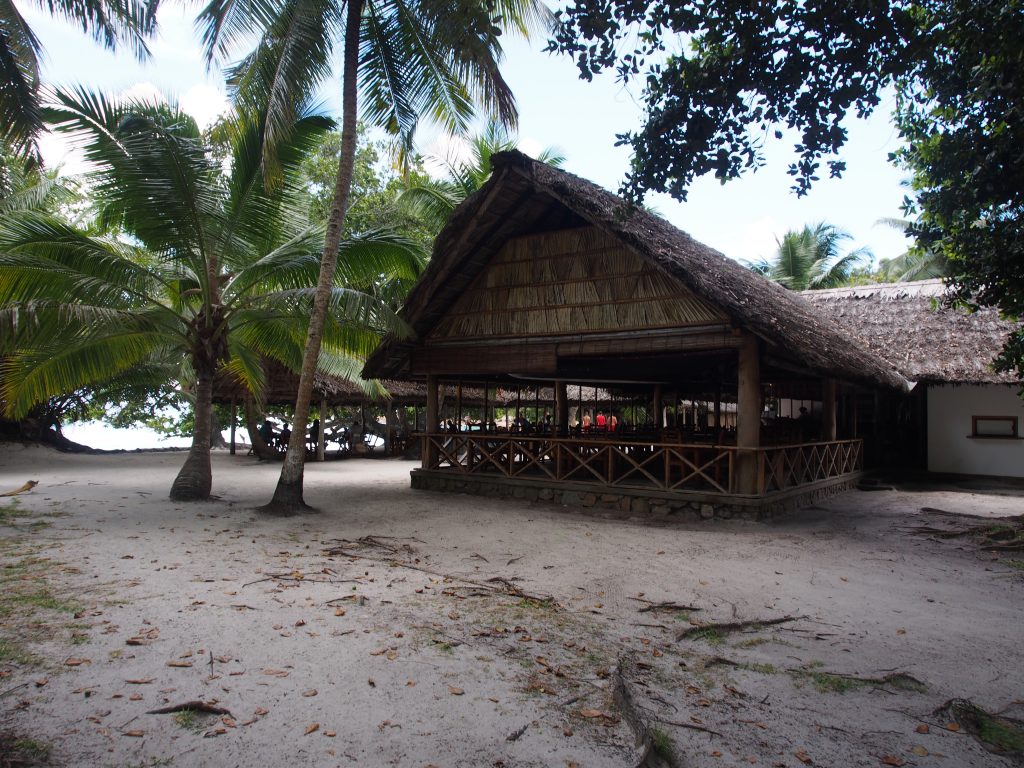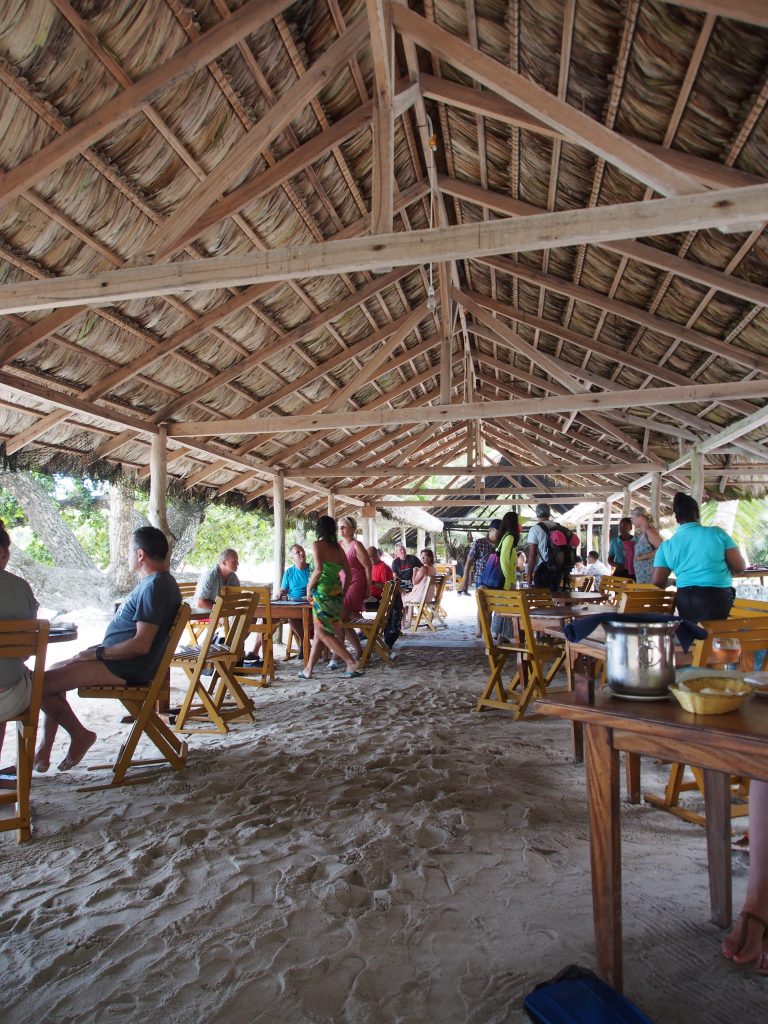 The fish was soft and nice as usual and I found the crab quite meaty and soft too, a little different from the crabs we had in Singapore. Mommy found it an issue to deshell and eat the crab but that was the only problem I guessed. The whole meal came up to 1025rupees as we had mango juice, apple juice, a coconut that didn't taste sweet unlike those in Singapore, and scoop of vanilla ice cream that K loved.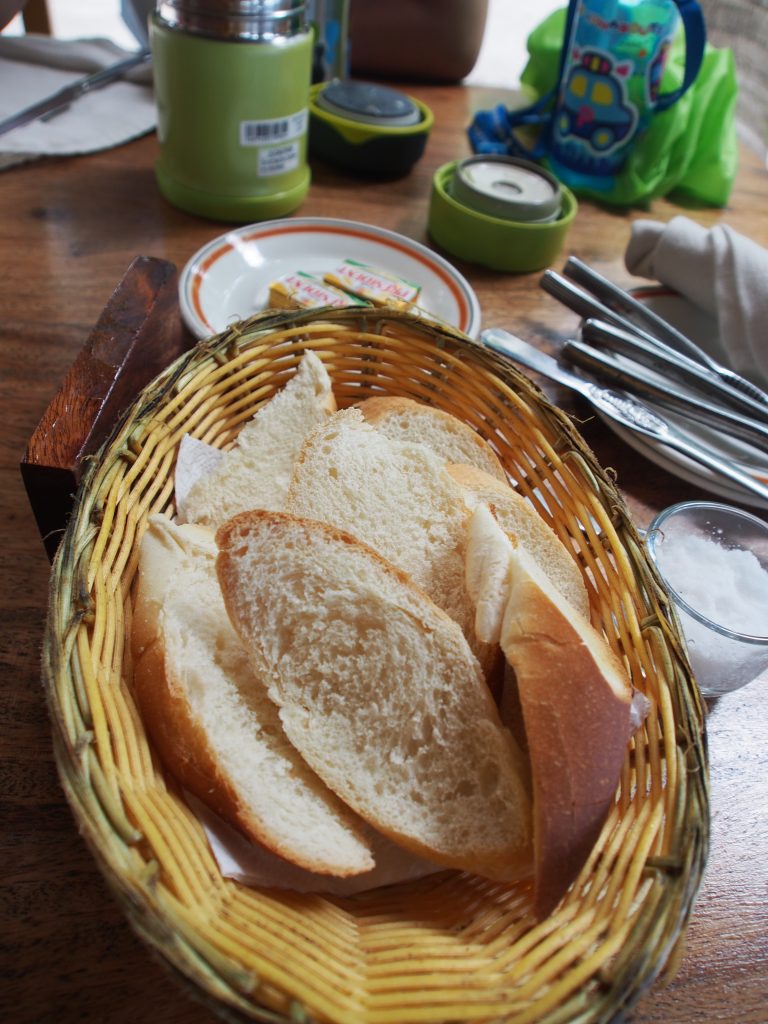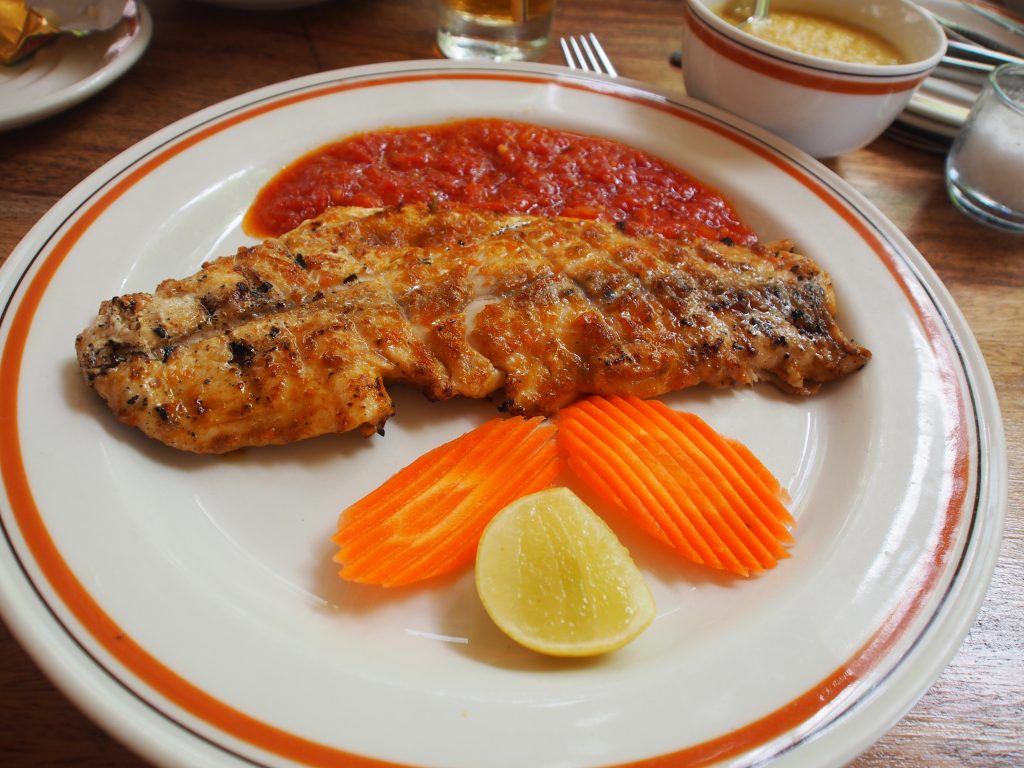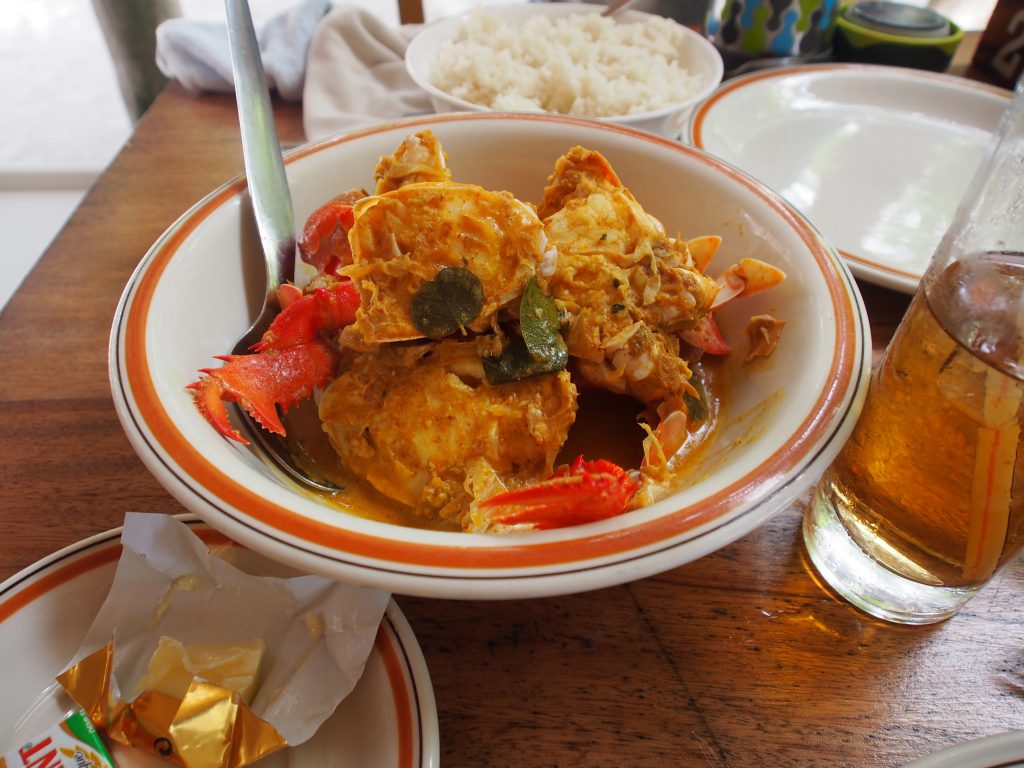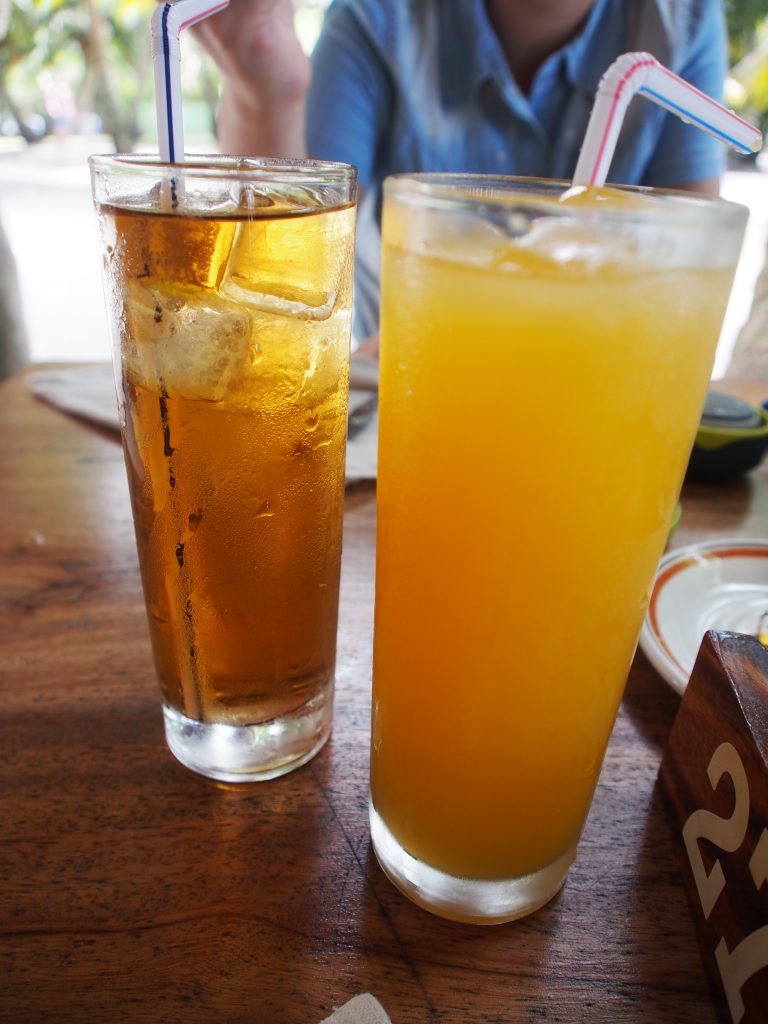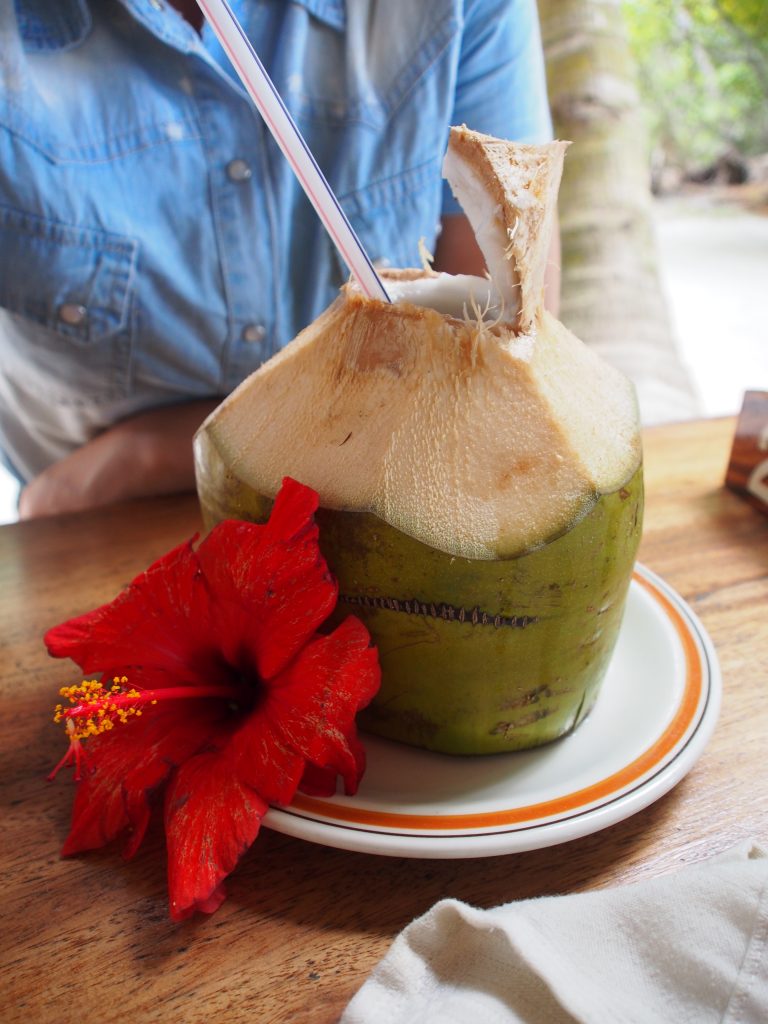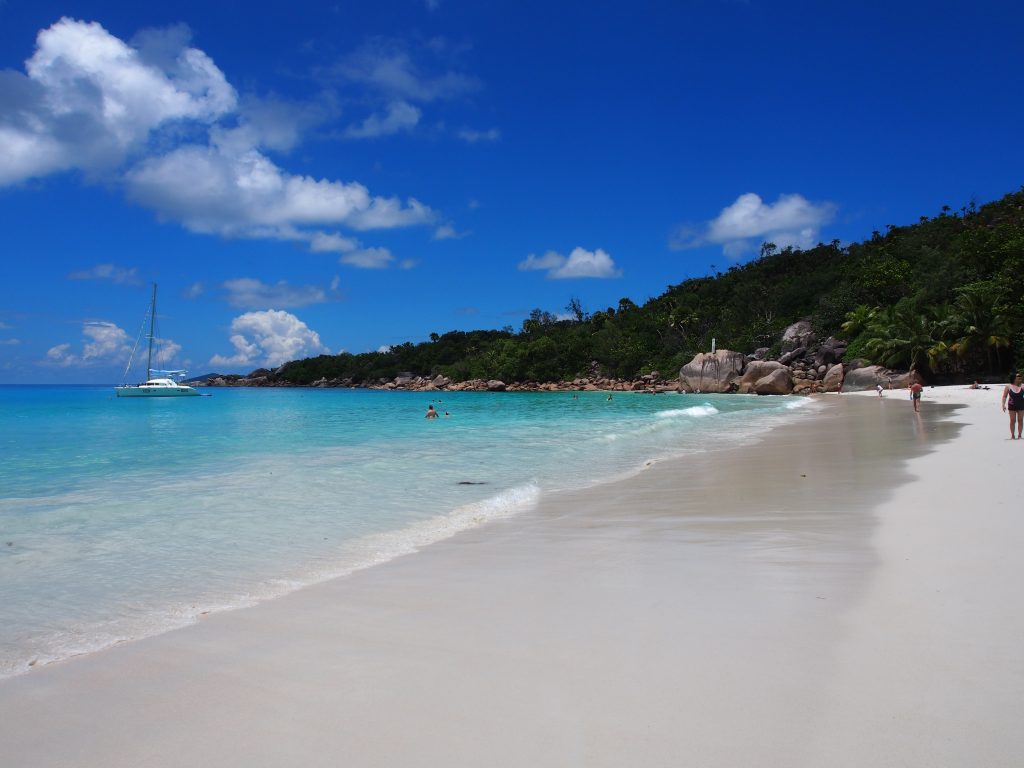 I brought K out to crash into the waves for a couple of times before we went to the toilet to clean up. Was warned by the staff there not to use the sink and was questioned if I was one of the restaurant guest in which I answered in a not so friendly manner. I asked for an alternative in which she brought us to the shower at the back and turned on the water for us to wash up. "Asked and we will show you." Yup, got it.

Brought K back partially wet and used the beach towel to cover him as we drove all the way back to the apartment. Immediately we washed down all the sand in the bathroom and got ourselves ready for the afternoon nap.
All three of us knocked out soon enough but the evening part was more of the same old same old routine, since there was no real night life in Seychelles. Mommy had cooked her dinner and after all of us took a bath, we proceeded out for dinner. Thought we could get it from the takeaway mobile but it appeared to have closed so we returned to Pirogue Restaurant . This time there was a band singing slow happy beachy songs while we had our meals. I made my way to KKT supermarket to buy a bottle of mineral water so that we had enough to cook K's meal the next day, before meeting mommy and K at the restaurant.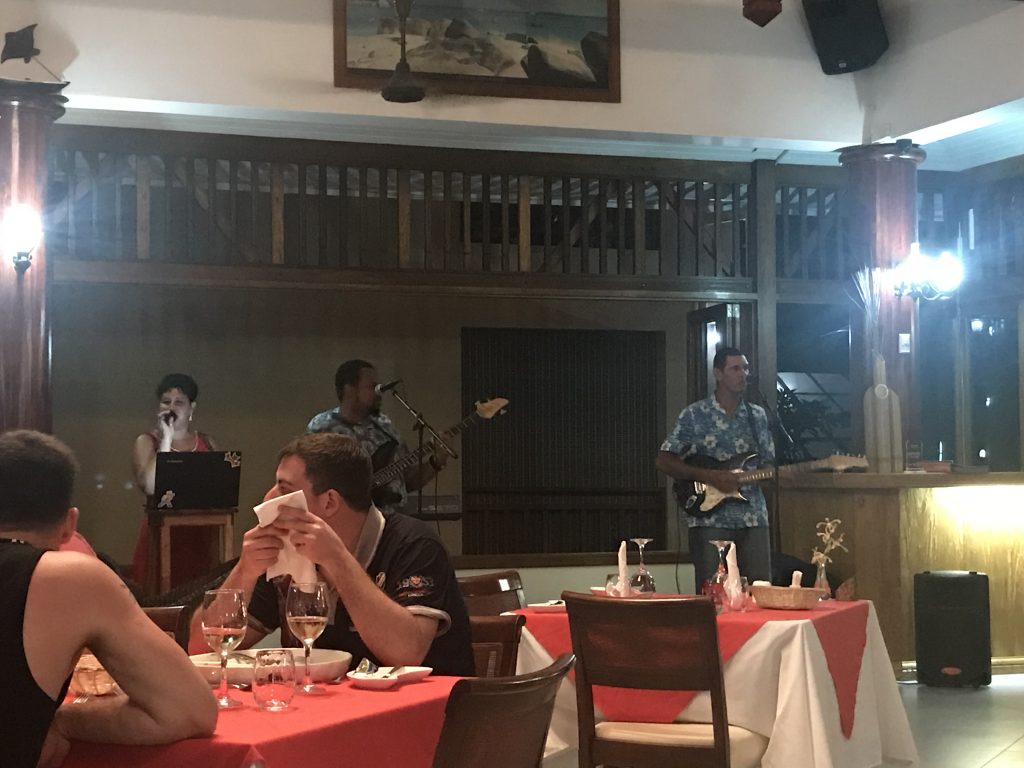 We ordered pasta for dinner, mine curried flavor with seafood while mommy's seafood with spinach, but because the cheese turned her off, we had to switch (since curry flavour covered cheese well). She spilled her lime juice and we shifted table so that I could eat better, suggested by one of the kind staff.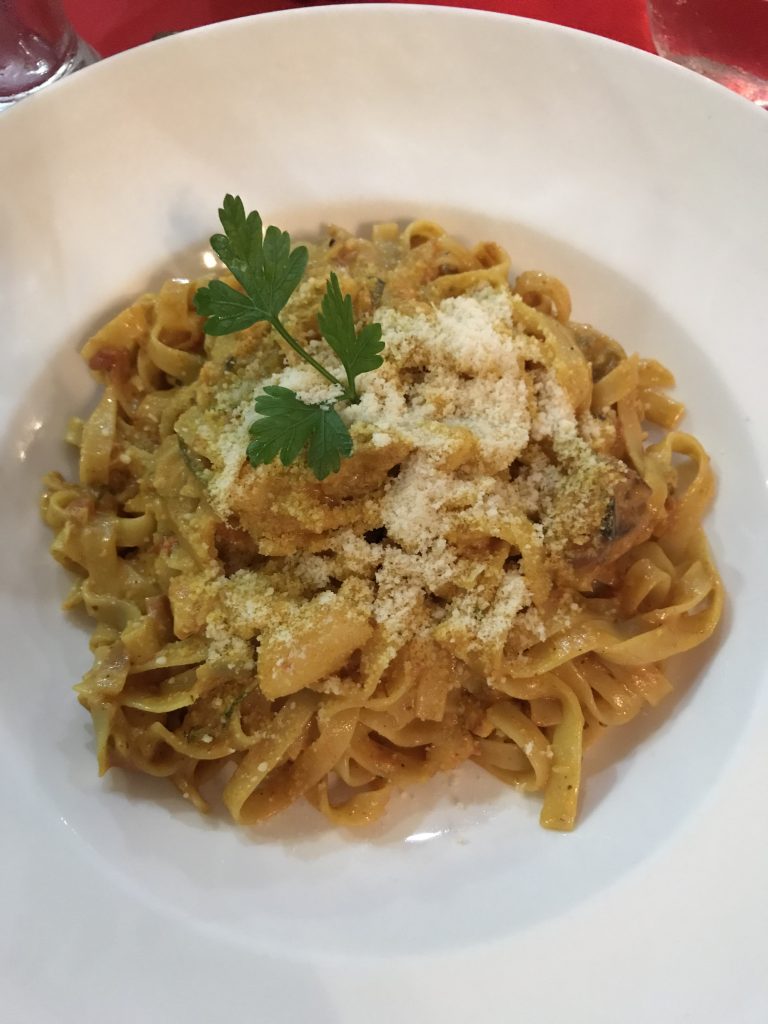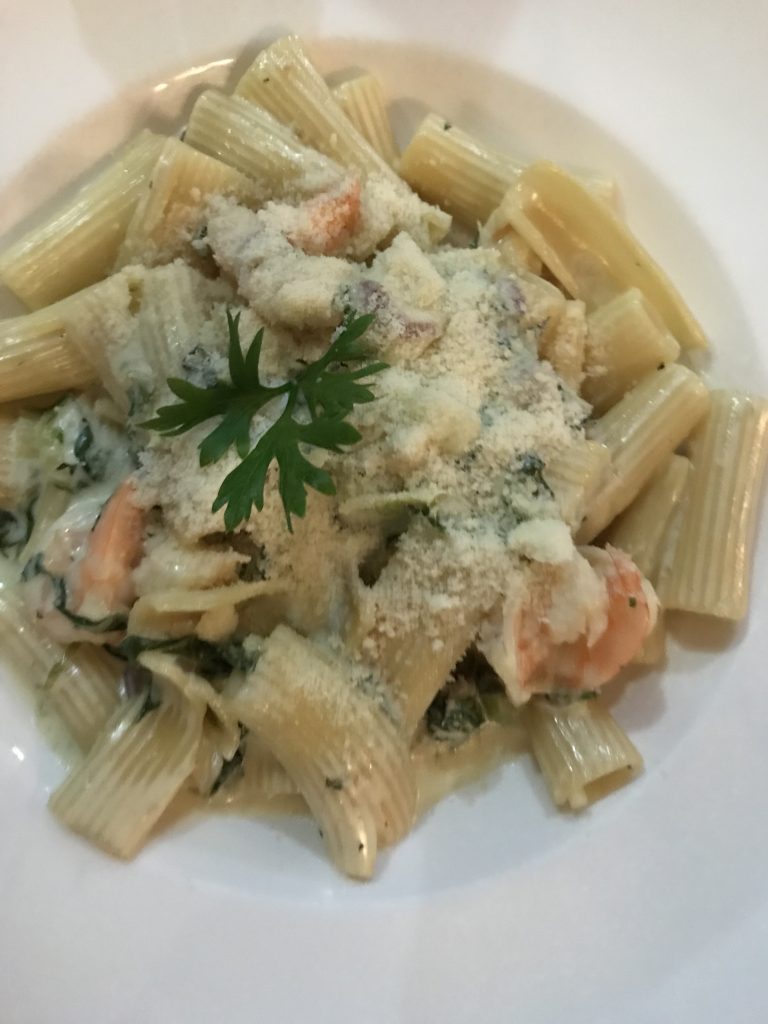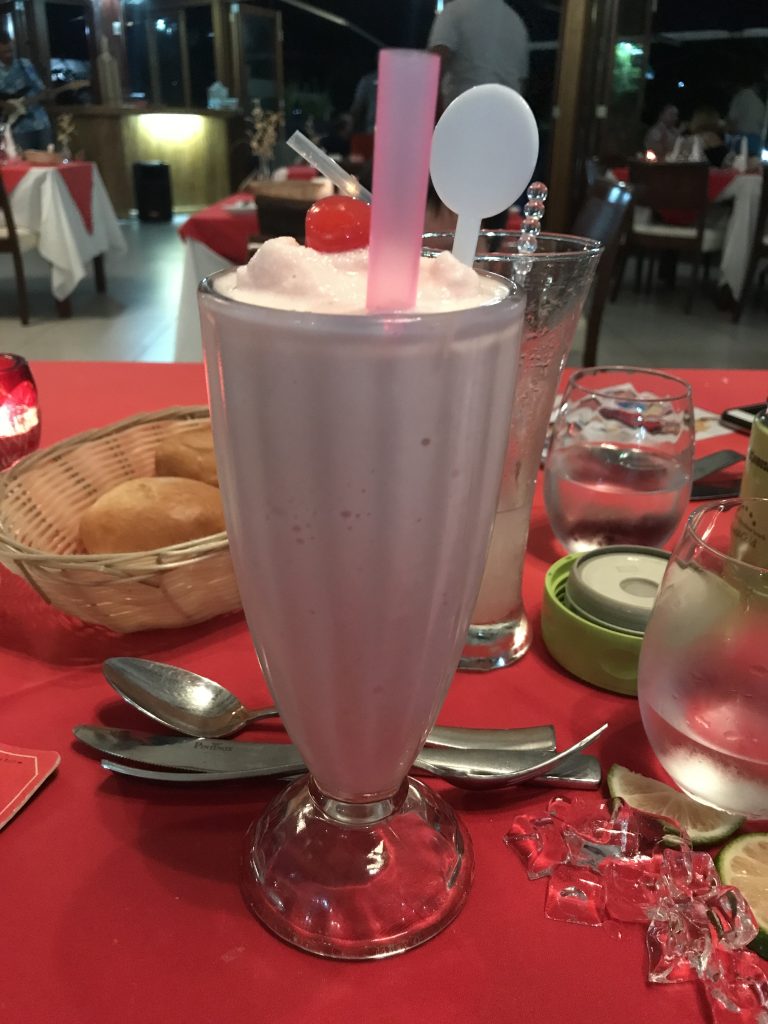 While K had fun with the steering wheel there, we finished the dinner in peace (more or less). With the addition of a mineral water for mommy to drink and my pretty nice coconut shake, the meal cost 605rupees.
We returned to the apartment for the routine night stuff with the addition of packing as this was the last night in Praslin. What made the night slightly more exciting was that we saw spiders in the room, not the common small ones that we were used to in Singapore, but those with the legs spread out reaching the size of my 3yr old son's hand. Not one but 2! Thankfully these crawlies were just as afraid as we were of them, they quickly ran out of sight.
After K's night cartoons of Messy goes to Okido and Jarmies, I struggled through 2 books of storytelling before we all went to bed.