Friday night traffic was expectedly a little heavy as we approached Changi terminal 2. Other than 2 traffic accidents, we made it in 40mins from bukit panjang to changi. But the sight at the scoot counter 11 was horrifying. Everyone was escaping on this long weekend. Although they tried to diffuse the crowd by opening another counter on the opposite, the queue was not moving quickly, even with the DYI print out of the boarding passes and the luggage stickers. We cleared the check in by 1145 after a few more counters opened. Luggage was checked in ( although luggage tags were reprinted and repasted) and we moved to the immigrations, the one further away from Scoot since we need to go through the manned counters and they were crowded too.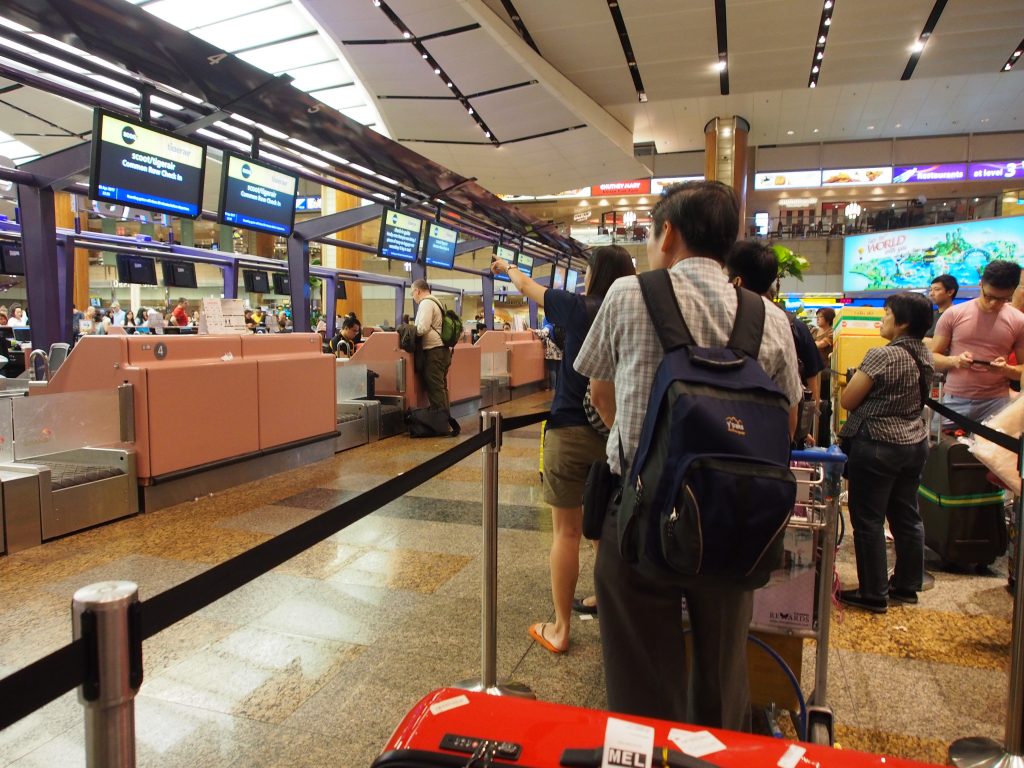 We thought of getting some reading magazines for K for his entertainment but the Relay bookshop didn't have any. Walked around and checked the 7-11 but there weren't any too. K spent some time plane watching before we got onto a few travellators to gate E26 for our boarding ( K went 2 more travellators ahead before I had to carry him back towards the gate).
The gate was crowded as expected and we took a slow walk to board the plane. Having booked the 3 center seats, the overhead compartment were empty which was good for us to store our bags. Whatever jam we had encountered through the night translate to the final jam on the take off as well – we took off at 2am, 40 mins later than schedule.
K had his milk on the plane and slowly dozed off on my lap as the plane took flight. Mommy also had no problem falling asleep. I felt pretty uncomfortable throughout and tried various sleeping positions. What was worse was the fact that I couldn't put my seat backwards since the passenger behind was a tall guy and his legs were blocking the recline. K moved from lying on my lap to lying onto a sitting position, lying over the armrest on mommy'a overcoat as a pillow.
6am and the plane was lighted up for a while for meals. We bought an Evian water bottle for SGD4 in cash, to quench thirst from the exceptionally dry airplane environment. K didn't wake from this but 30mins later, the lights dimmed again. I filled in the immigrations card details before going back to sleep.
8am Singapore time which translate to 10am Aussie time, the plane began its descent. K was awoken by then and we made milk for him to drink just before touch down. Taxi took 15mins and we only got off by 11am.
Our first stop was the diaper changing room. Although not the most cosy, it was adequately big and had a changing board to change out K's diapers. Going through immigration was a long queue, apparently for the automated lanes. For families with children under 16, we were asked to take the yellow lane which was much shorter and the queue moved pretty quickly. After that, it was a short wait at the belt and together with the luggage, we went to the customs.
Having seen so much on TV on the strict border security, we made declarations on the food that we brought from Singapore as we had fresh vegetables, peanuts, dried scallops and rice. We were asked to take lane to that led us to the custom officer whom proceeded with asking for a check. In the end, the fresh vegetables were confiscated as these were deemed disallowed. However I sensed he was also glad that we did the declaration and was friendly yet professional about it.
We exited the arrival hall and proceeded to a nearby Villa & Hut Kafe for something to eat. Ordered ham & cheese croissant and tomato and cheese toastie with Latte and juice, expensive meal of Aud26. Took a rest while K munched on some bread and on the croissant and used the free airport wifi to check in on Facebook.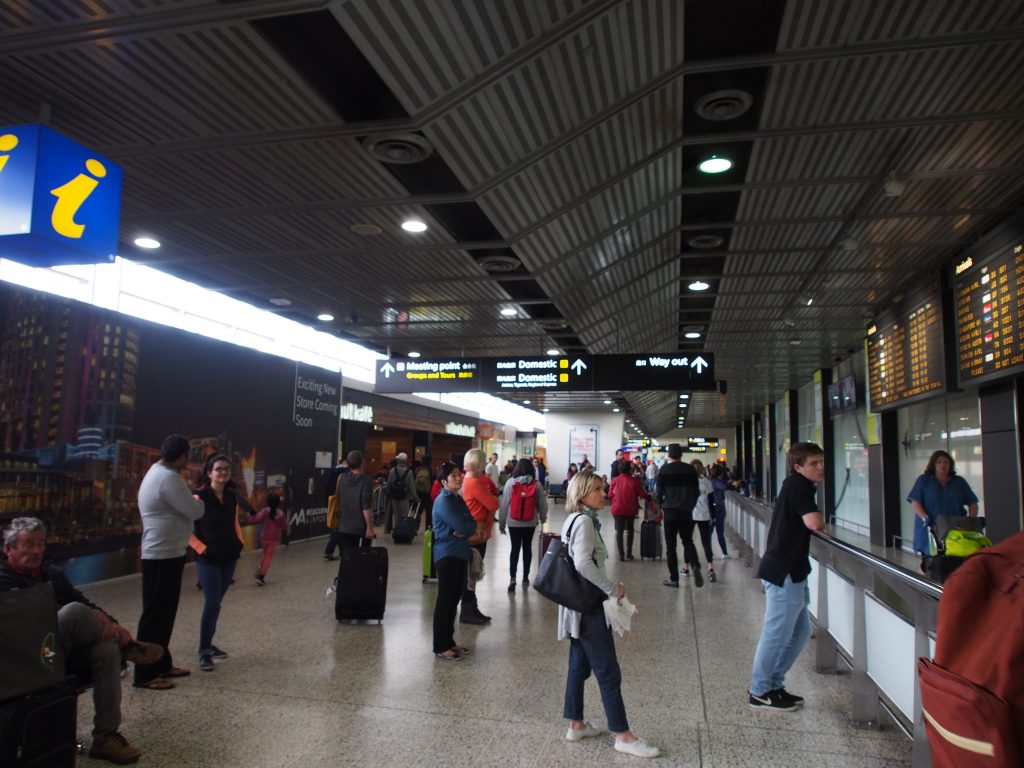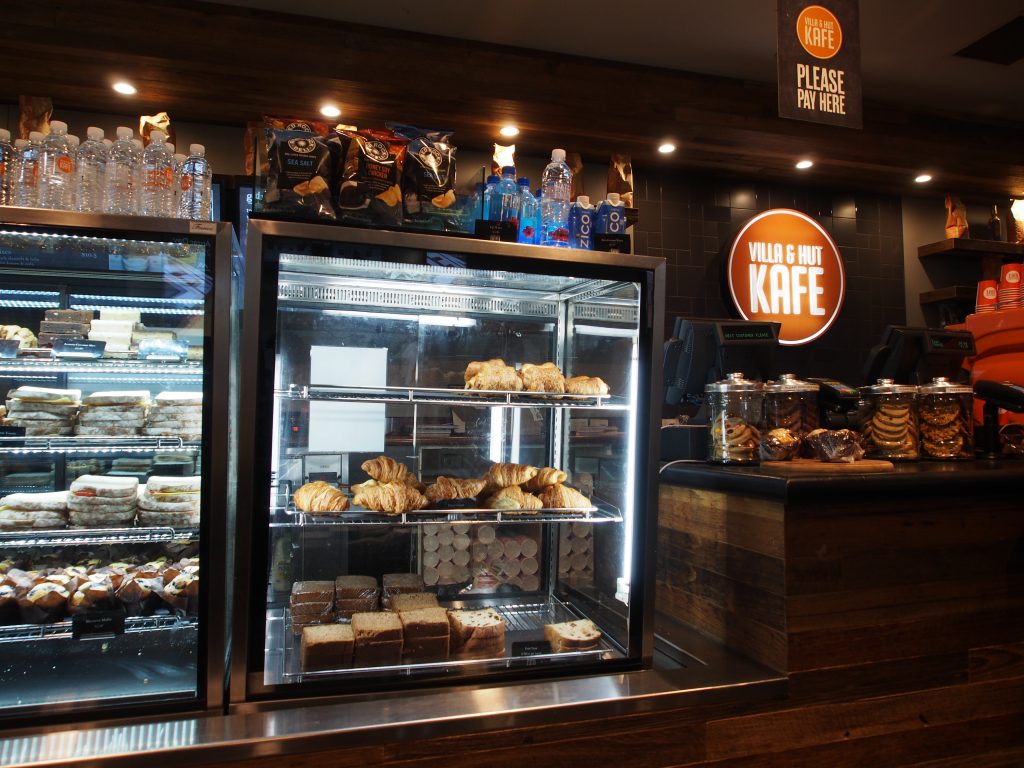 Next we headed towards the bus ticketing counter, we saw a vending machine with prepaid SIM from Telstra that costed aud30 but offered only 1.5GB in the day and 1.5gb during off peak. Couldn't check with the nearby counters as they were crowded too. Gave up and took the chance on the stores in Melbourne city.
The Skybus ticketing counter was just nearby and mommy bought the family tickets express bus to the city for aud36 in total. The bus came within 5mins and we boarded the bus at 1220pm. It was quite full bus and thankfully the bus staff helped us with the 2x heavy luggage by shifting the luggage at the rack to accommodate ourselves. We sat on the upper deck in separate single seats as mostly were taken and it was then a 20min ride to the city. Wifi was available on the bus and that kept me entertained for awhile as K rested and fell asleep in mommy's arms.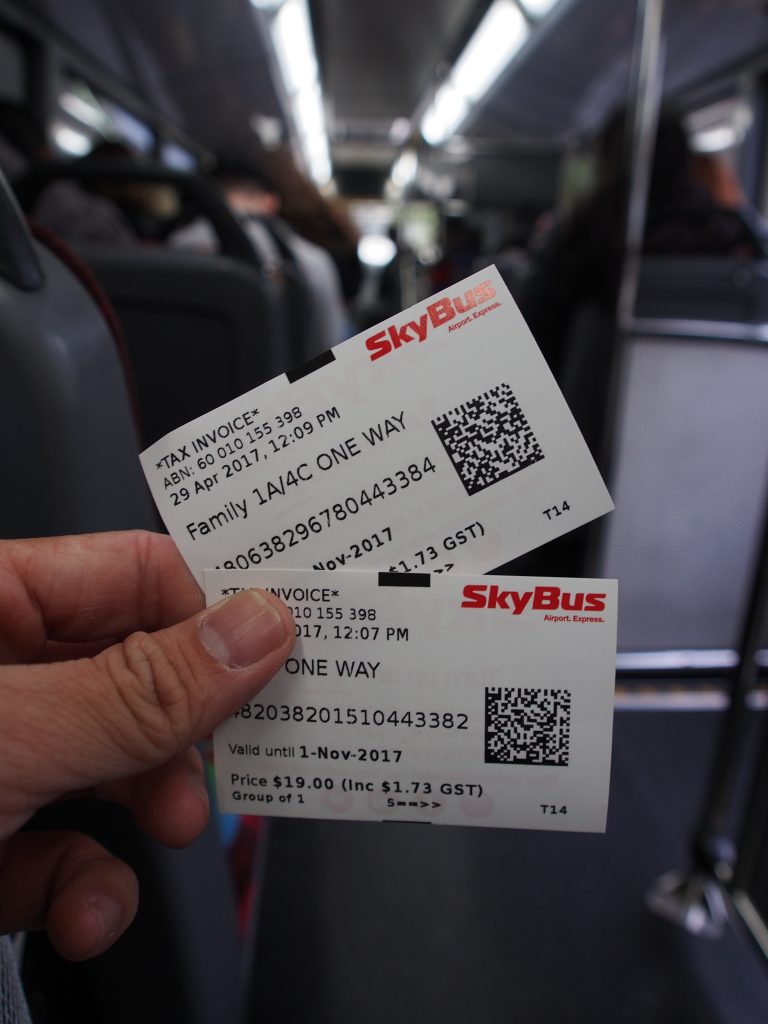 We arrived into a spacious bus station and as mommy carried K down the bus, I managed all the bags. Then we swapped roles taking over K at the station while mommy pushed the luggage towards our Airbnb apartment for 2 nights, at 288 Spencer street.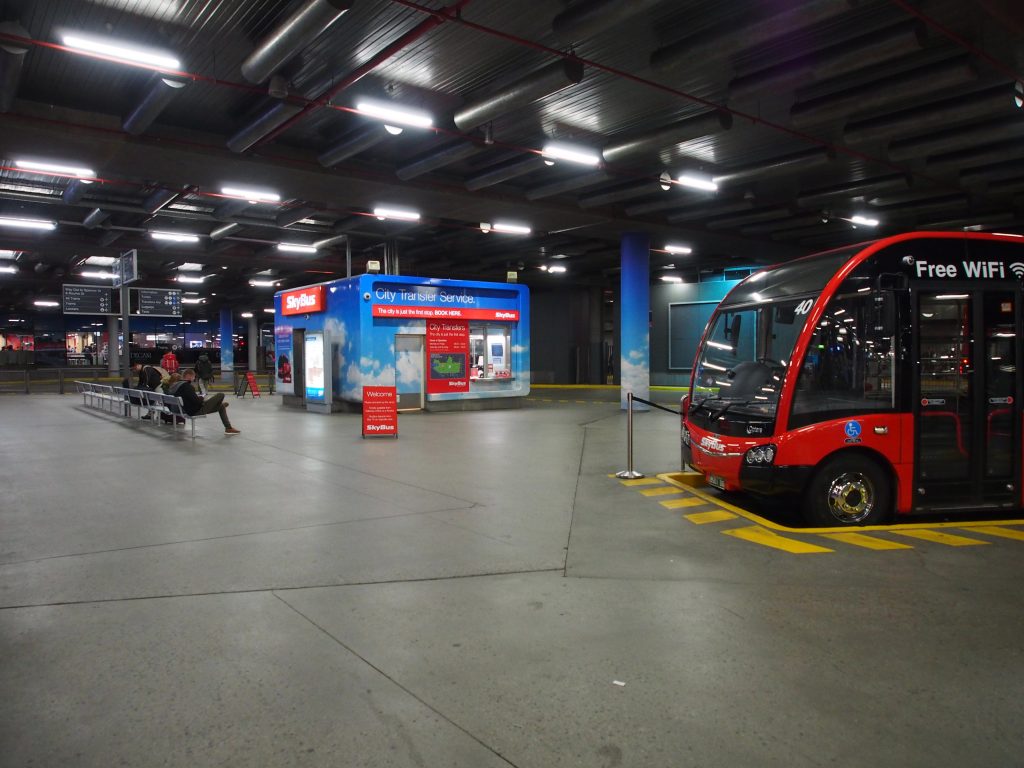 K woke up soon after from the walk and we arrived at the basement and gave a call to the contact in the email. Some 5mins later, the rep came and meet us and brought us up to 36 floor, the highest level of the building. Opening the main door revealed a apartment with a killer view, a panoramic of the river could be seen! The space was quite compact but not small and was comfortable for a living room and a kitchenette. K immediately liked it, tumbling around on the carpet.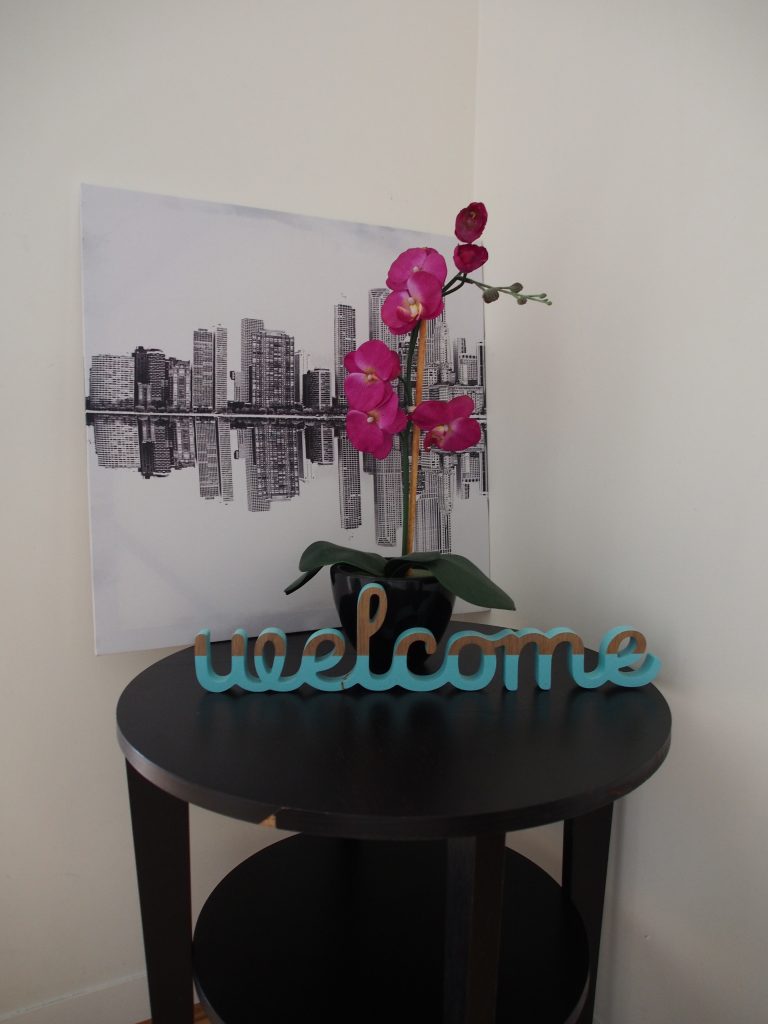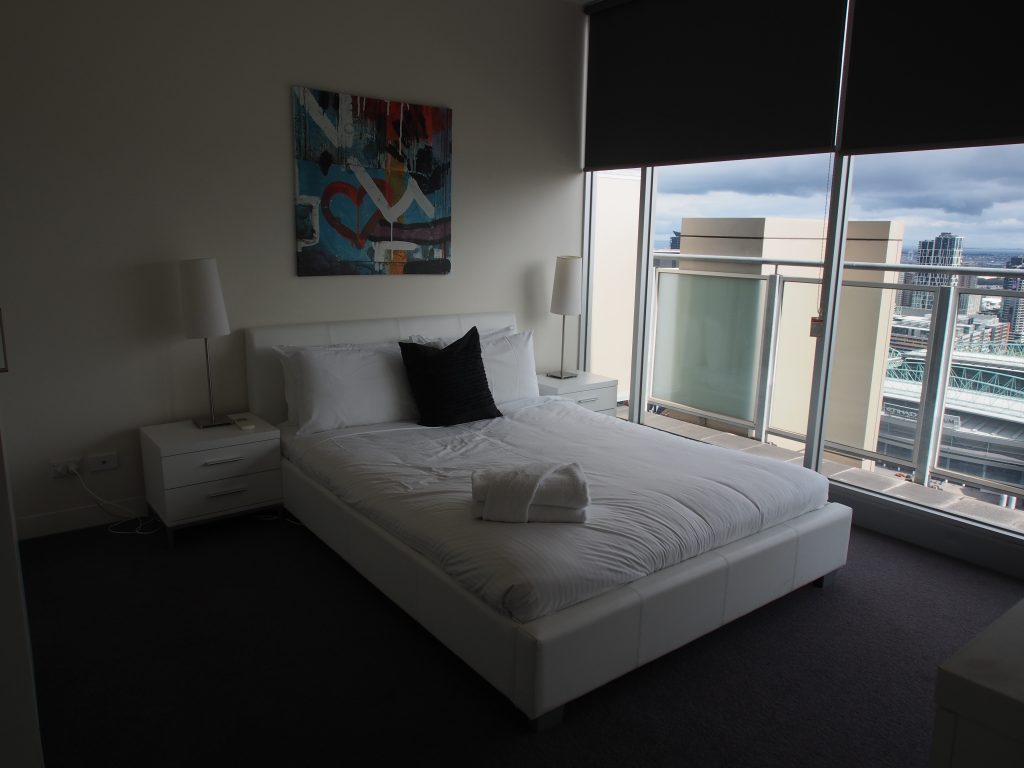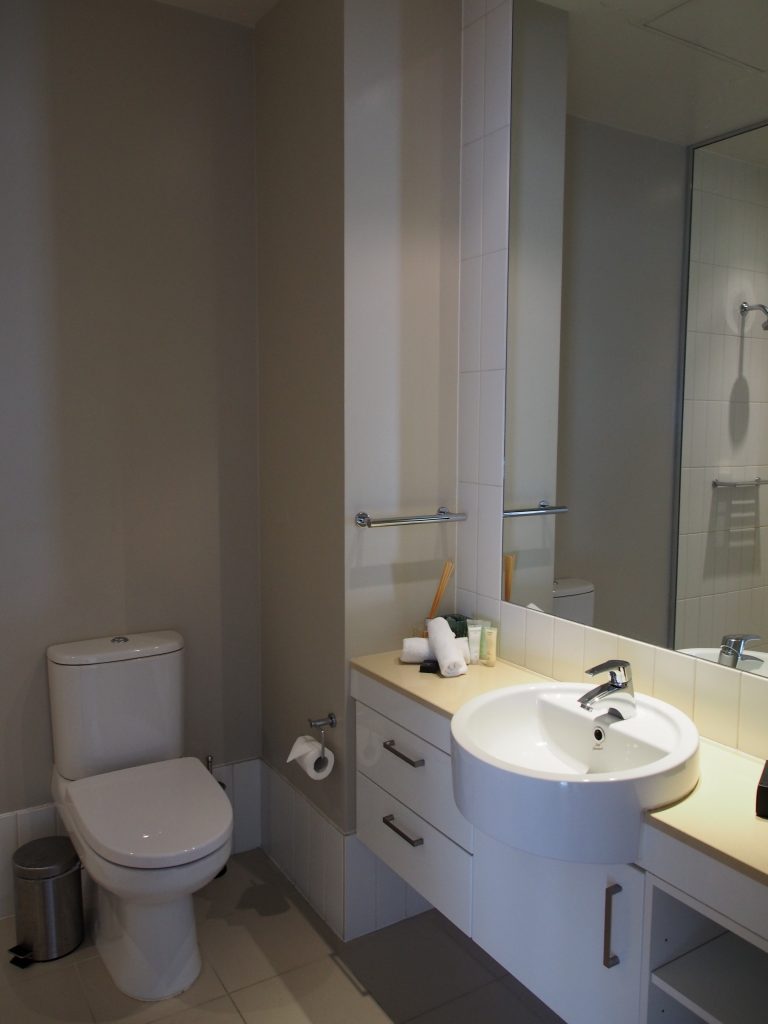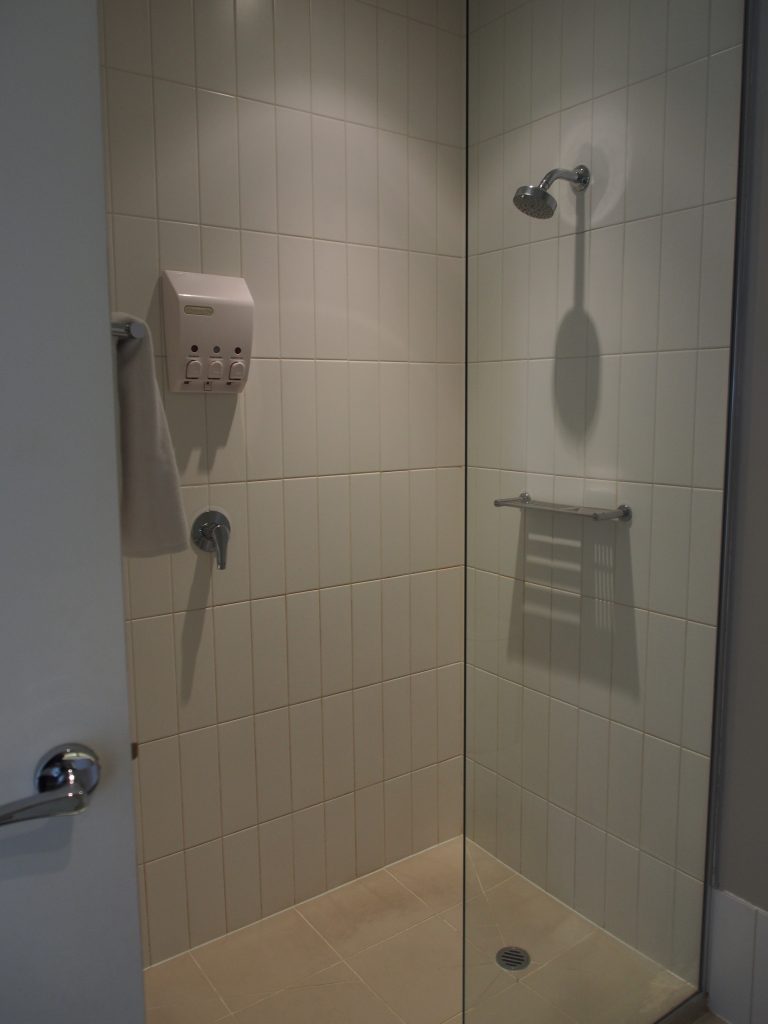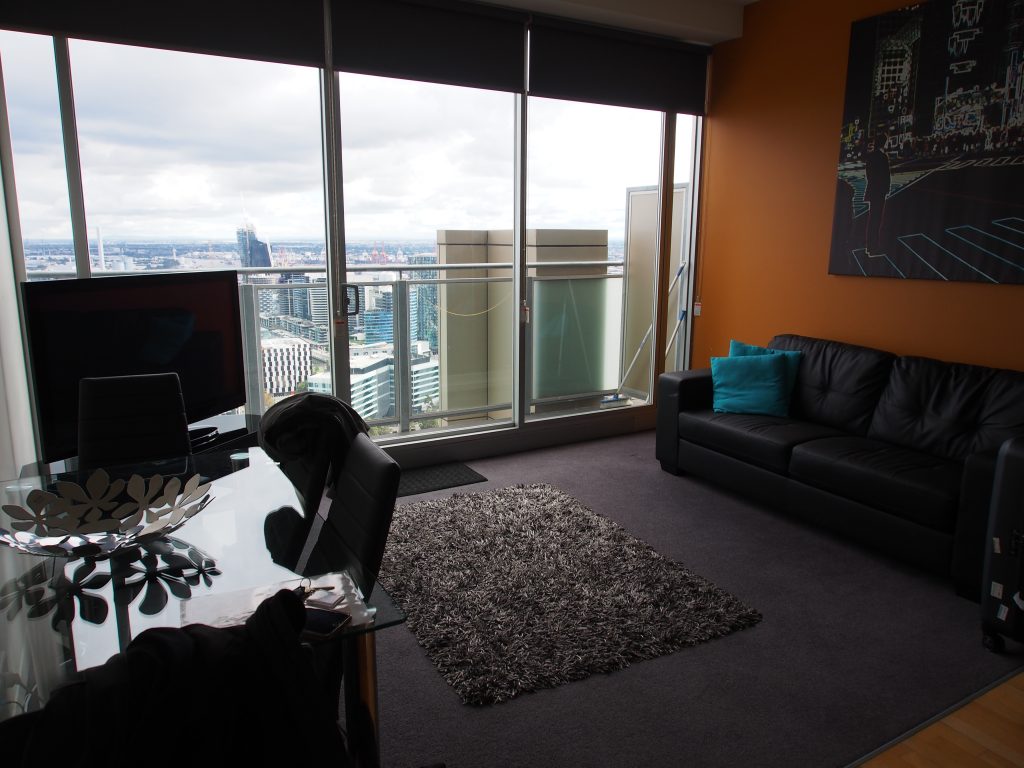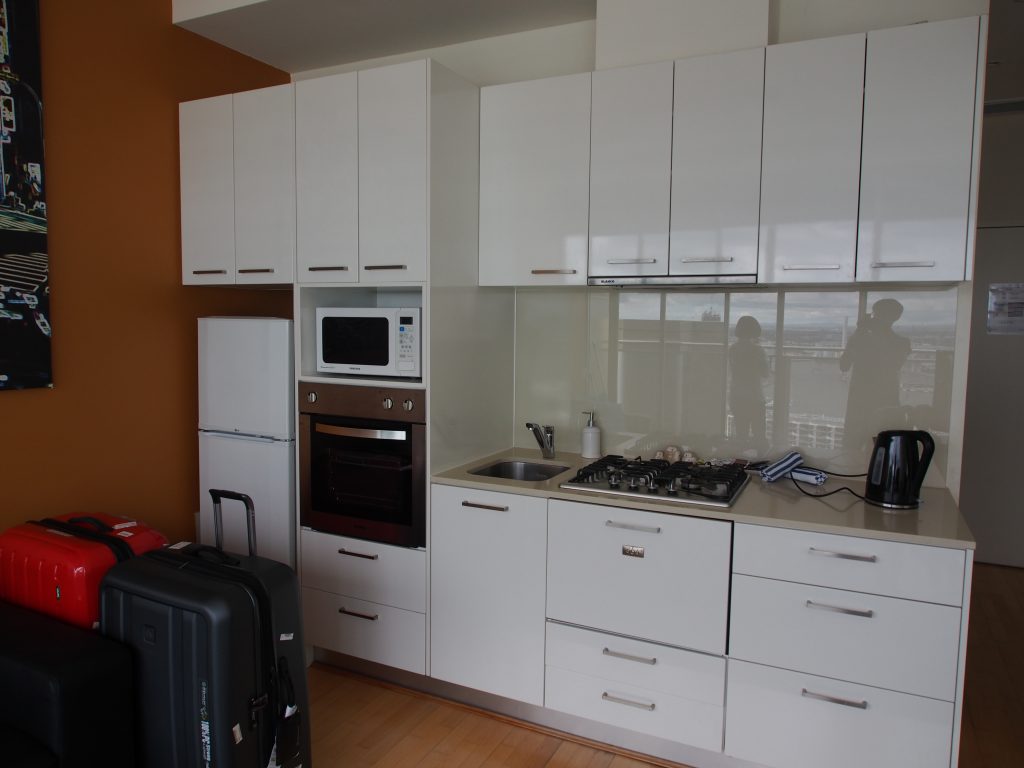 The rep completed the check in process, on a tablet and also explained the check out and left us to watch TV for a bit. After that, we walked back to the Coles supermarket right across the street to so some marketing, especially after the vegetables had been confiscated.
Coles was huge and while K had fun jumping on the square tiles on the floor, mommy consolidated the purchases that came up to be about Aud88. These included a pack of diapers that we had to buy as we didn't bring everything from Singapore due to a lack of packing space, a can of milk powder, which was cheaper in Australia and also lack of packing space and other stuff like water, organic fresh milk (cheaper than Singapore too) and vegetables.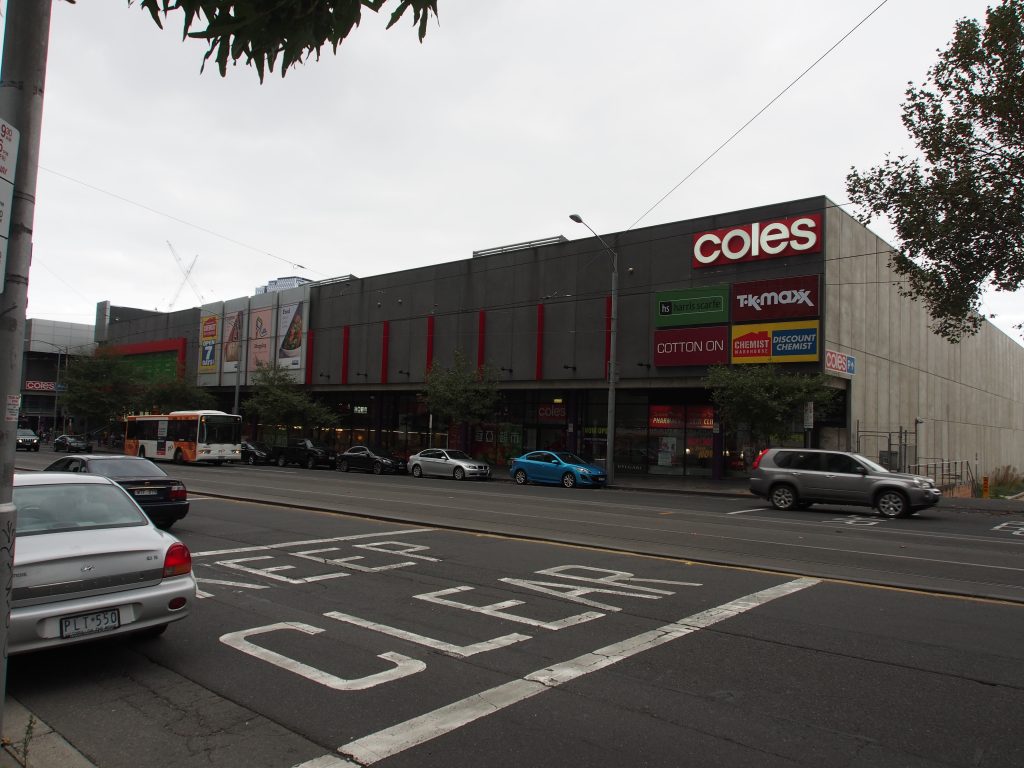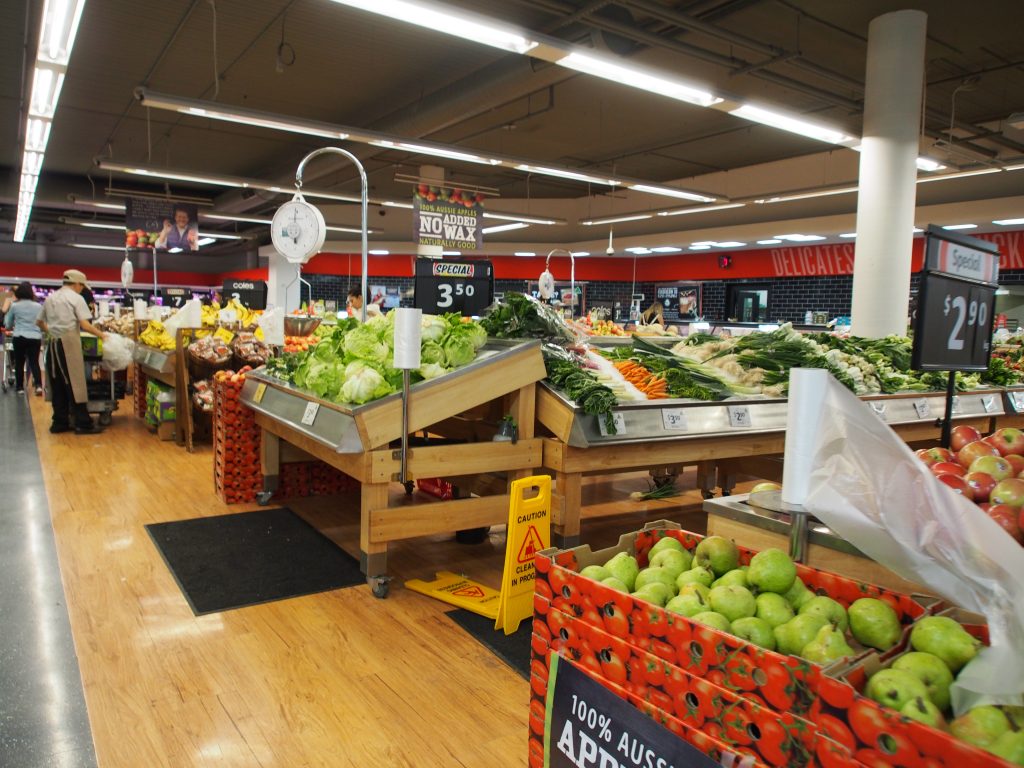 Walked back to the apartment with a toddler in one arm and tons of bags in another. Mommy started preparing macaroni and egg for K as he seemed to be hungry, asking for pasta while he had some yogurt first. We later oven cooked our meals that was also bought from the supermarket which was quite expensive (aud6 minimum) for something that was microwave food. It tasted ok though.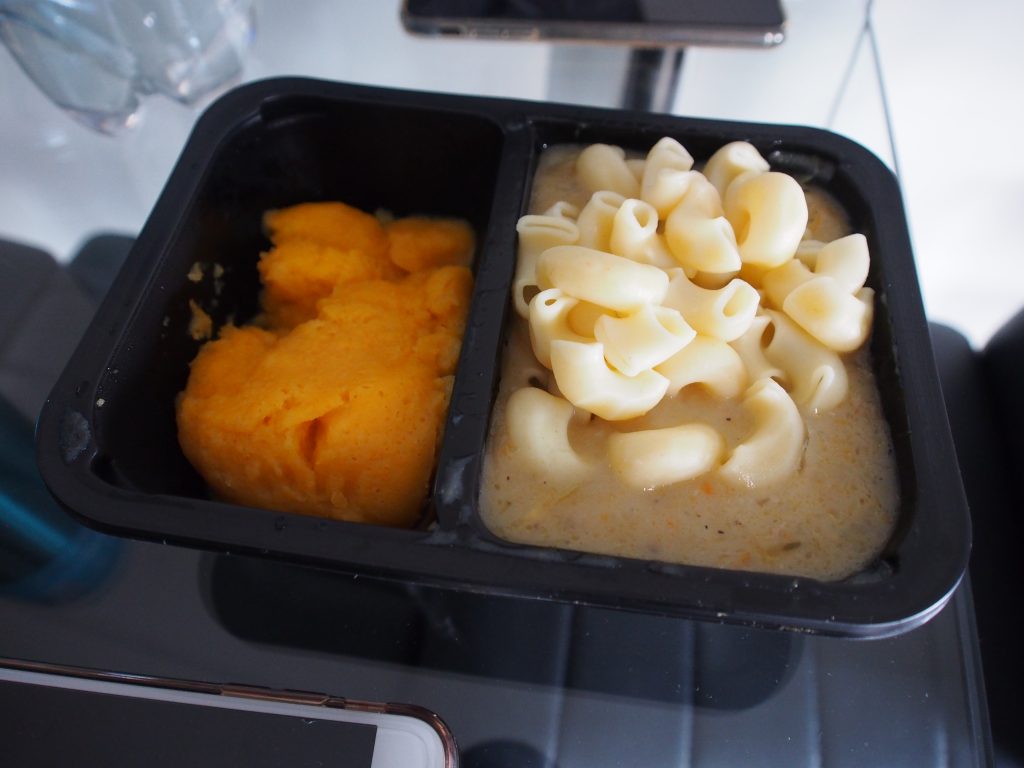 4pm and we all were tired. Did the afternoon nap routine and after a bottle of milk, we all knocked out. I had a diarrhea going on but was quick to return to the bed for a catch up on sleep.
730pm and the sky was already dark. The city electrifying lights painted a beautiful scene just outside the windows. Mommy woke up to prepare the dinner while I turned on the heating to warm the room and pumped up the bubble tub for K to bath. There was good warm water but this was expected in a modern city. Not sure if this would be the same as we ventured outwards later in the tour.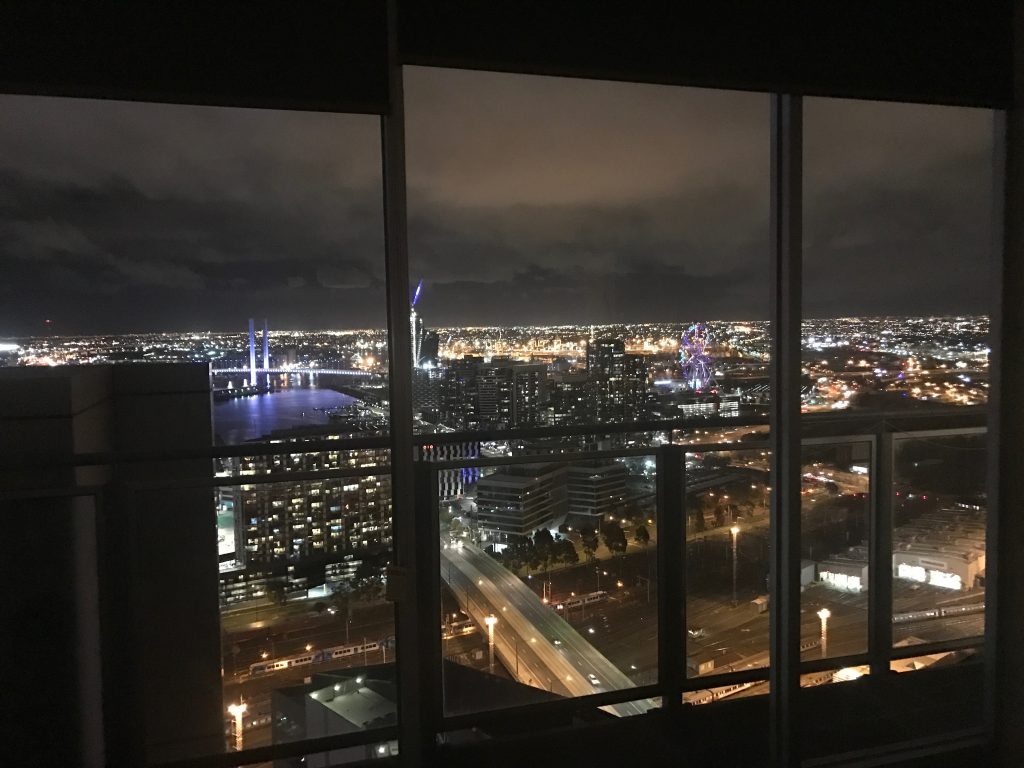 We took our turns to bath too and at about 9pm did we managed to get out of the apartment in search of dinner. Dressed in double layers to protect against the cold, we walked down Little Lonsdale street in search for a restaurant by the name of The Bass Coq, which was supposedly opened till late, based on Google search. We found it closed. Most of those still opened were a couple of Korean cuisine restaurants. After a walk around, we decided to go to one of them.
Dosirock Korean restaurant and it was all warm and cosy inside. This was not very crowded like some others found along the way and so we went in. There were't baby seats though and K had managed to just on the stool for the whole duration of eating his cooked rice and soup dinner mommy had prepared for him. We ordered the pork stew with extra ramen and it came with a portable stove.
The dinner was nice but we had to manage this extraordinarily curious boy who couldn't sit still and had to touch everything in sight. The stove was placed away from him and thankfully the utensils were not breakable as he dropped the cups so many times. We finished the meal and paid Aud34 with tips (aud34 with 10% off on cash payment) and I ended with a wetting my jeans as K toppled a cup of water.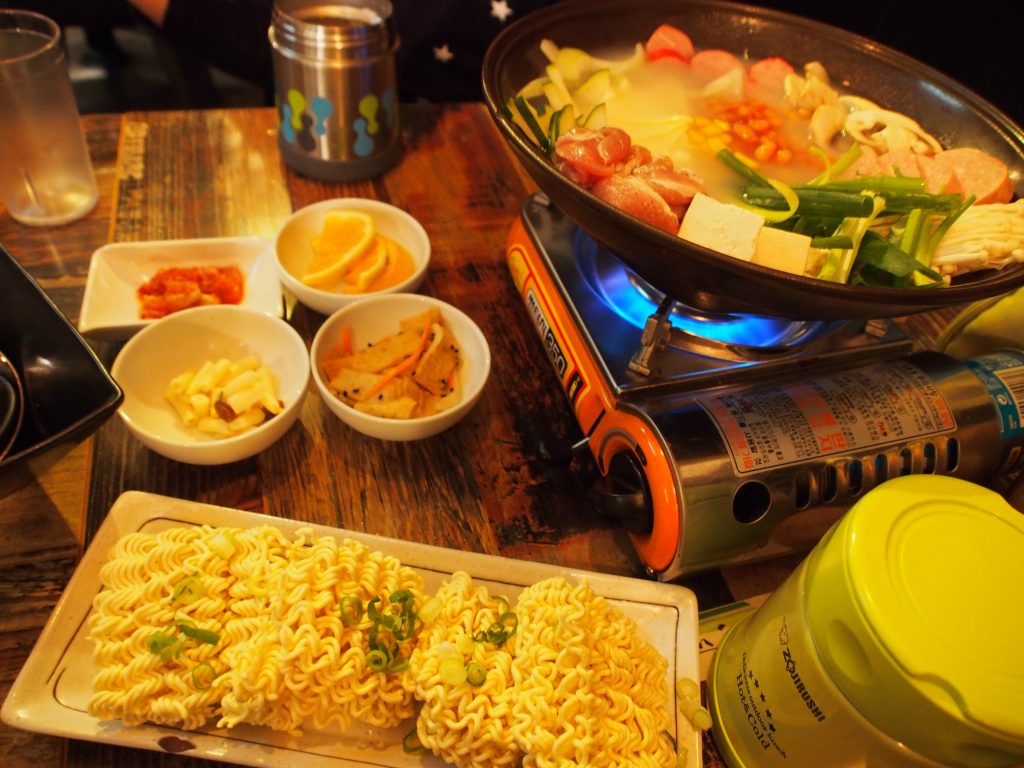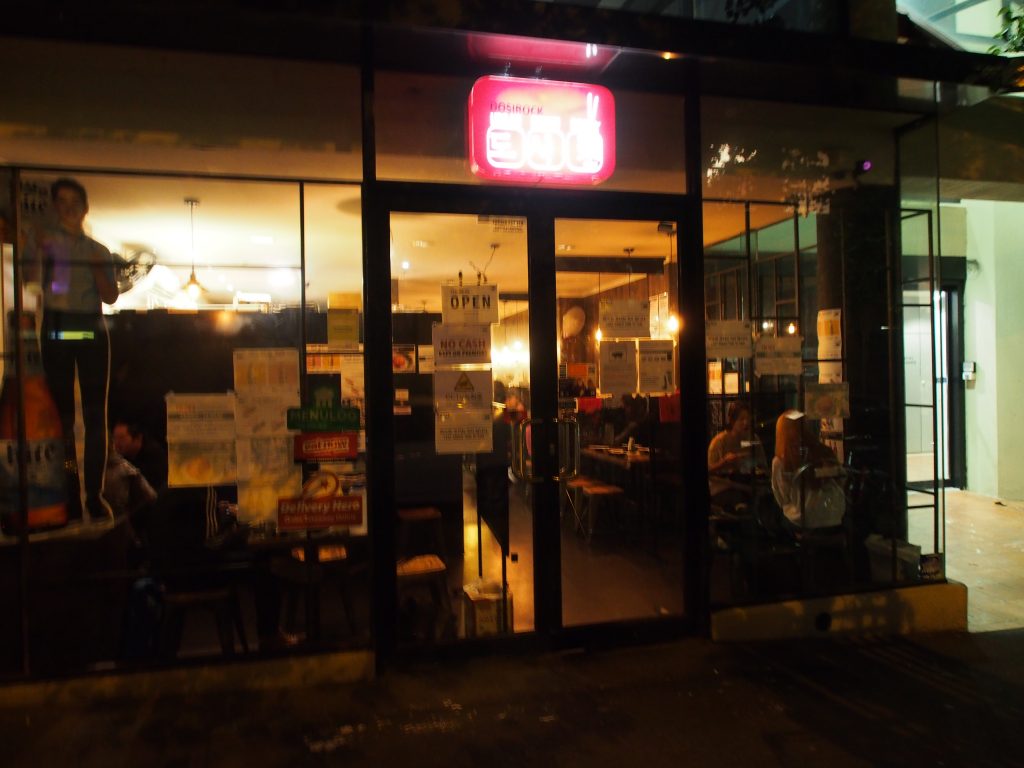 We walked back to the apartment and from 1030pm till 1145pm, spend it on TV which didn't have any toddlers program already at that time and some bedtime stories before lights off, ending an easy day at Melbourne.